It's a new year and we're wasting no time in treating a lucky winner with a free six-course dining experience at The Hunter Gatherer, plus a night's stay at the cozy Inn on the Creek Bed and Breakfast!
Yes, breakfast in included as well!
Enter your information to enter to win and keep reading about the luxury experience that could be yours!
Where is Salado, Texas? Cozy, small town Salado, Texas is about 50 miles north of Austin and about a two-hour drive from Dallas.
We rang in the new year in Salado with the perfect, romantic Texas getaway.
The day started by checking into the adorable Inn on the Creek.
This historically renovated inn was built in 1882 and features 22 guest rooms. It is the perfect place to curl up with a book or pour a glass of wine a relax near the creek.
We even had a chance to take a dip in the hot tub in the evening! How could we resist?
Our afternoon began as we ventured out with Chef Jacob to forage for ingredients for the gourmet dinner that would be served to us that evening.
We picked watercress, henbit, wild mint, and other greens along the inn's 14 acre property.
After foraging, we enjoyed a few craft cocktails while lounging in the aradonak chairs on the shore of the small creek.
Dinner was an impressive six-course meal with wine pairings and it highlighted local Texas ingredients, as well as the very items we foraged that afternoon.
Our meal started with champagne poached oysters, which were the tastiest golf oysters that we've ever slurped!
The next course at the Hunter Gatherer was a luscious soup with lobster, caviar and potatoes. The presentation was simply beautiful, don't you agree?
Rich and creamy foie gras was the star of the third course.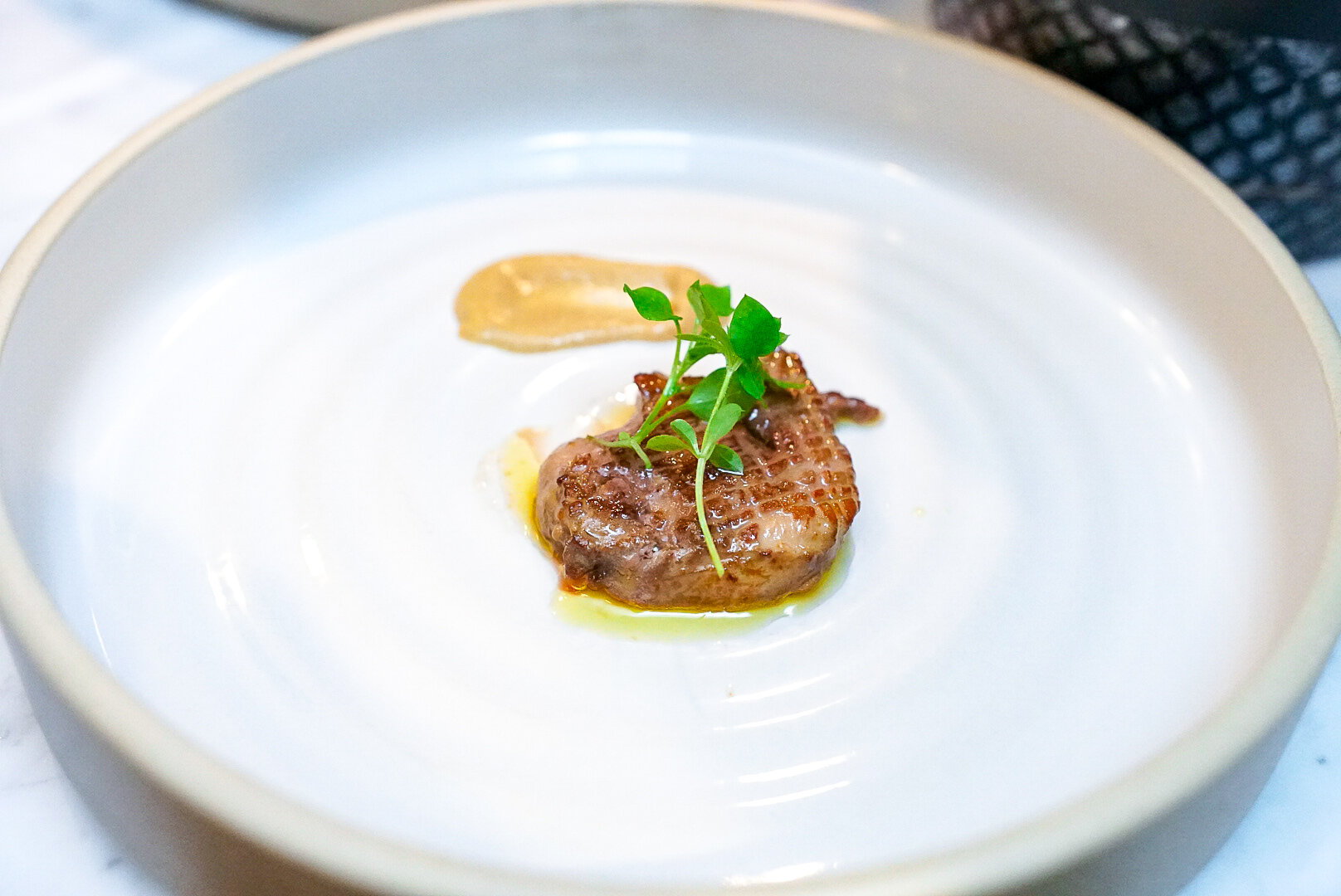 For the main courses, we enjoyed braised pork with sunchokes.
As well as the most tender premium waygu steak served with a sauce, tableside.
Finally, the meal concluded with a smoother-than-silk chocolate dessert.
The menu at The Hunter Gatherer changes regularly, but know that whatever is being served during your visit will be absolutely incredible.
Did you enter to win yet? What are you waiting for?!