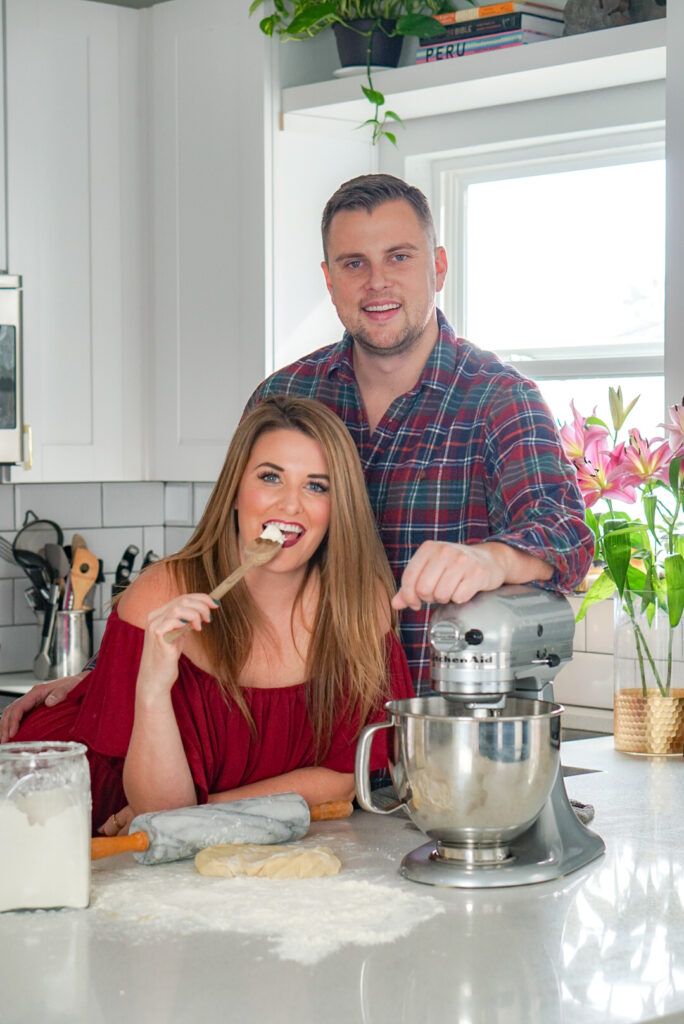 Hi! We're Gavin & Karen – lovebirds, homecooks and restaurant connoisseurs living in Austin, TX. Avid travelers, we enjoy taking trips to discover the best food this world has to offer.
In the fall in 2013, Karen was visiting Austin, Texas on a weekend getaway. Upon returning home to Minnesota, she matched with Gavin on Tinder.
Realizing they were 1,200 miles apart, they stayed in contact as internet friends until a month later when Karen took a business trip to Houston. Gavin took a day off work and drove over 3 hours to meet her for their first date.
From that point forward, they dated long distance until Karen relocated to Austin that next year.
Their love of food, cooking and travel inspired them to start Couple in the Kitchen while on a wine-filled trip to Sonoma, California.
Their blog is focused on building a strong relationship through frequent date nights, travel adventures, and recipes that they create together.
Karen grew up in Minnesota where she was a competitive figure skater and a University of Minnesota Hockey Cheerleader. She is a senior strategic consultant at large bank where she has built her career there since the age of 16.
She graduated with a degree in Advertising from the University of MN. Karen has visited 21 countries and 48 states (only New Mexico and Hawaii remain)!
Gavin grew up in Southern California, but caught the travel bug at a young age.
He's lived in Australia, China, California, Arizona, and Texas.  Additionally, during those stints of permanent residence, he circumnavigated the globe on a boat, and has been to well over 30 countries.
Gavin has a Masters in International Business and Law from University of Sydney, and a business degree from University of Arizona.
Outside of Gavin's love of Karen, cooking, and travel he's the co-founder of multiple active businesses from a restaurant group, to major food festivals, to a kombucha company, Greenbelt Kombucha.
Follow our journey to learn about new restaurants, discover fantastic food and cooking products, & try our fun recipes. If you have a new restaurant or food item that you think we would enjoy, please email us.
Thanks for visiting! Follow us on social media to see what we're up to and be sure to tag us if you make any of our recipes or leverage our travel advice.