Corpus Christi was the setting of this year's getaway for Gavin's birthday.
We usually celebrate our special occasions by traveling together.
In the past, we've celebrated Gavin's big day in Colombia, Germany, and Austria.
In 2020, travel looks a bit different so we decided to explore the coast of Texas and head to Corpus Christi.
We were pleasantly surprised by how much we enjoyed this little getaway, and it's only a short drive from Austin.
We researched some fun things to do in Corpus Christi for couples and wanted to share them with you to help with your Texas travel planning.
We specialize in travel itineraries for couples. Don't miss these guides for couples in Texas: Top Things to Do in Lubbock for Couples, Top Date Ideas in Frisco, and Drive Through Zoos in Texas. As well as these other guides for couples for around the world: Things to do in Maui for Couples and Date Ideas in Vancouver.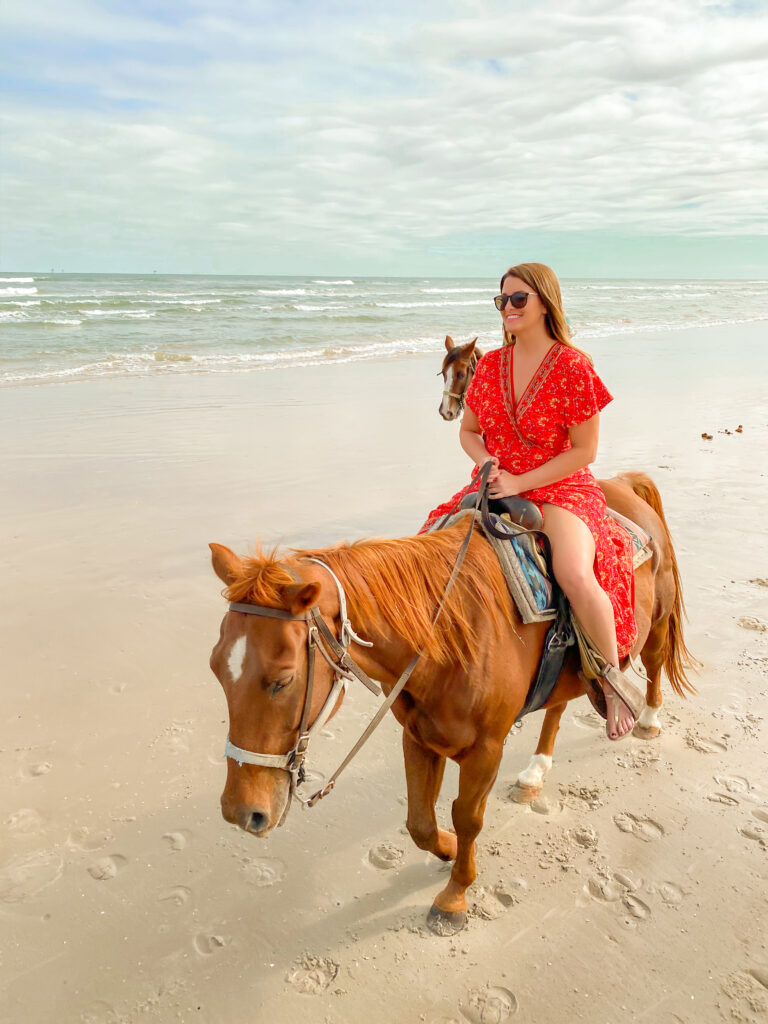 Horseback riding on the beach
Of all of the romantic trips we've taken and date night guides that we have written, can you believe we've never been horseback riding before?! (Well, unless you count camel riding in the Moroccan desert as horseback riding!)
We put a fix to that during this trip!
We found horseback riding in Corpus Christi right near Bob Hall Pier with Horses on the Beach Corpus Christi.
We booked an hour ride for the afternoon and we think it was the best thing to do in Corpus Christi.
You'll start by checking in and sharing your experience level with horseback riding.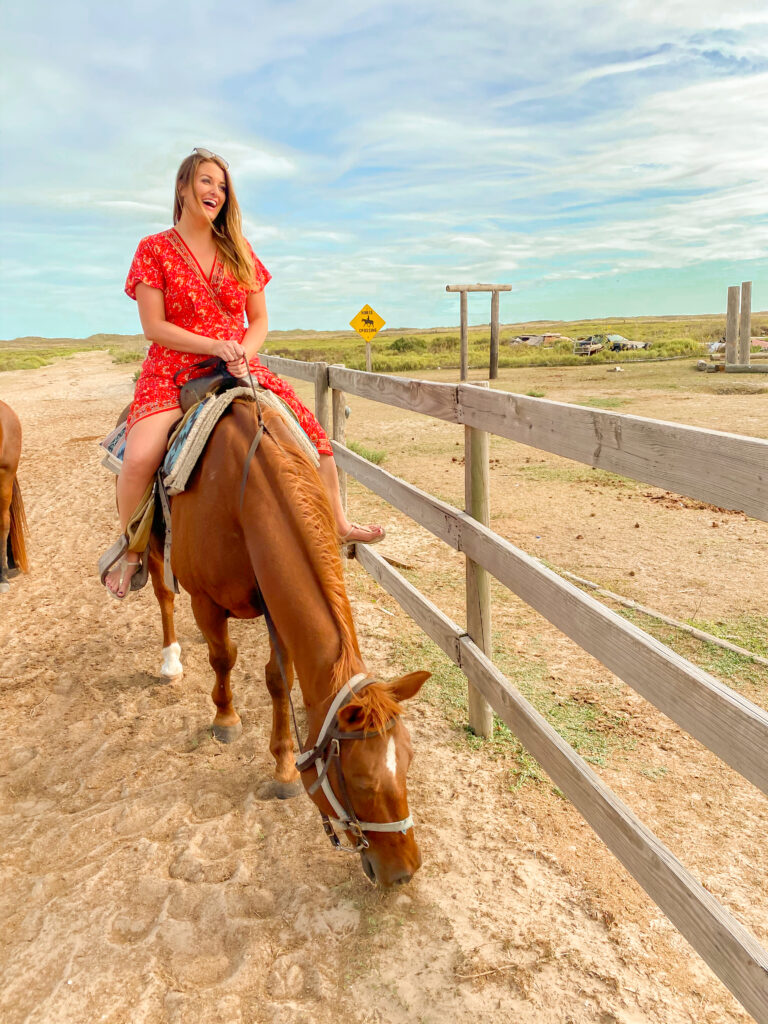 The staff will ask you if you are anxious about the ride, although we weren't, we knew that they were giving out the calmest horses to those who admitted they were nervous, so we raised our hand to ensure we had a calm and relaxing ride.
Karen was put on Cash while Gavin was riding Tallon.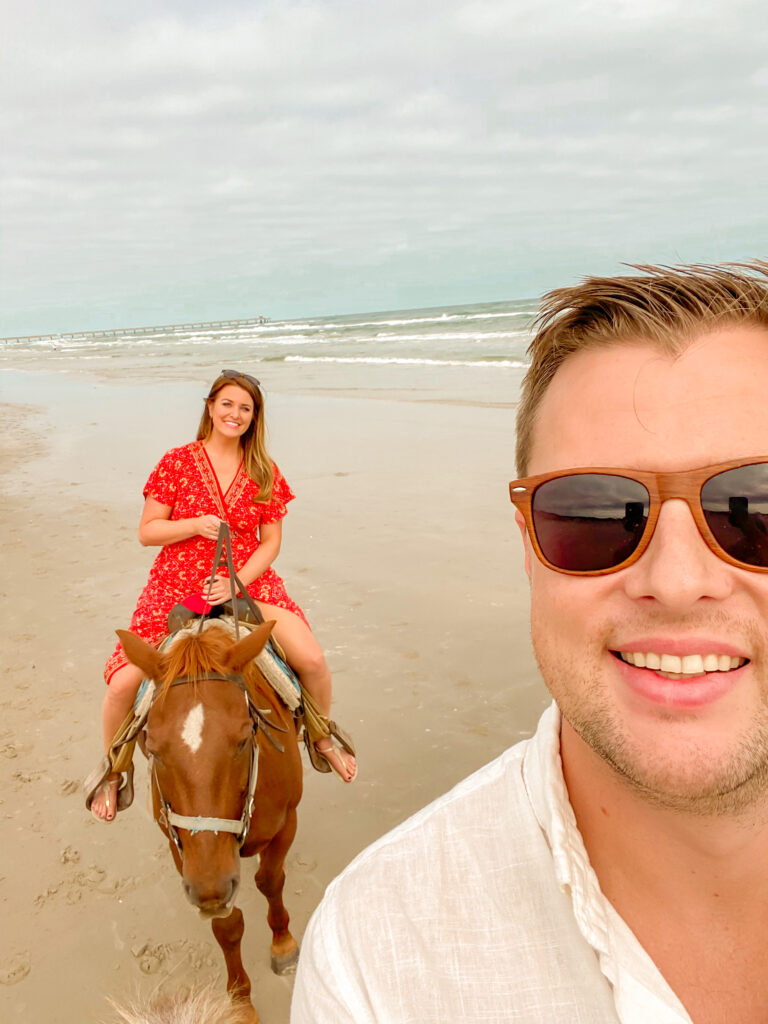 You ride in a group through the dunes to the beach, through the water, and there is even time for photo opportunities.
You can purchase your photos in the gift shop after the ride.
Looking for something even more romantic? They also offer an upgraded sunset package that lasts 90 minutes.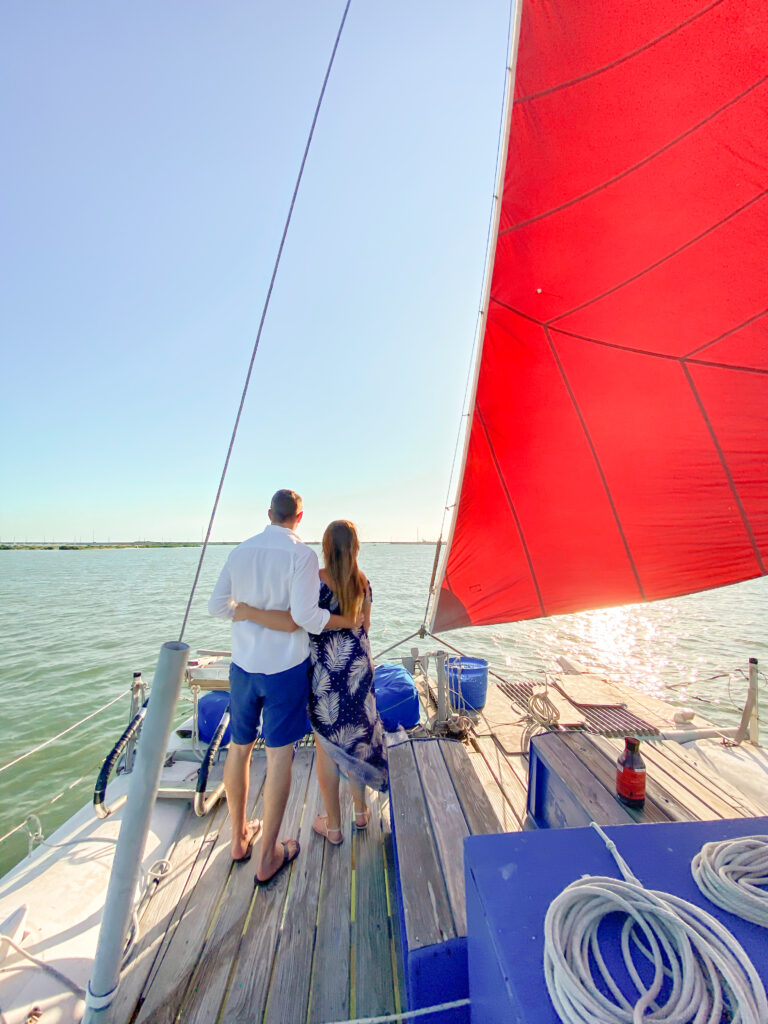 Plan a boat rental in Corpus Christi
While in Corpus Christi consider a romantic evening on a sailboat!
We celebrated Gavin's birthday by renting a sailboat with Handsome Sailor Charters.
There are a few companies offering boat rides in corpus christi, but you can also expand your options if you drive a little farther and look at Port Aransas boat rentals.
The cruise lasted two hours and they allowed you to bring your own food and drinks.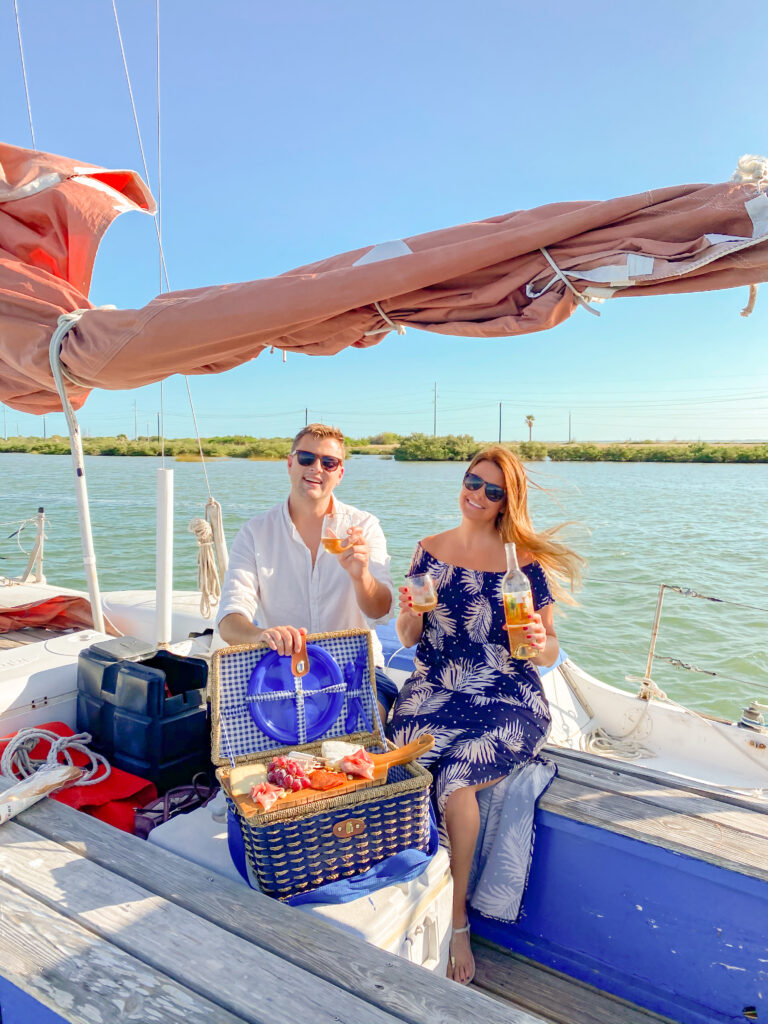 We prepared a picnic basket of fruit, charcuterie, cheeses and a bottle of our Couple in the Kitchen Charity Wine.
Want to pick up a bottle? Order through Slate Mill Wine Collective. All of our profits are donated to a covid-relief fund for restaurants in need.
Although the boat was not as fancy as we expected, we enjoyed the breeze in our hair as we relaxed in the sun.
The captain even played his guitar for us while we were sailing.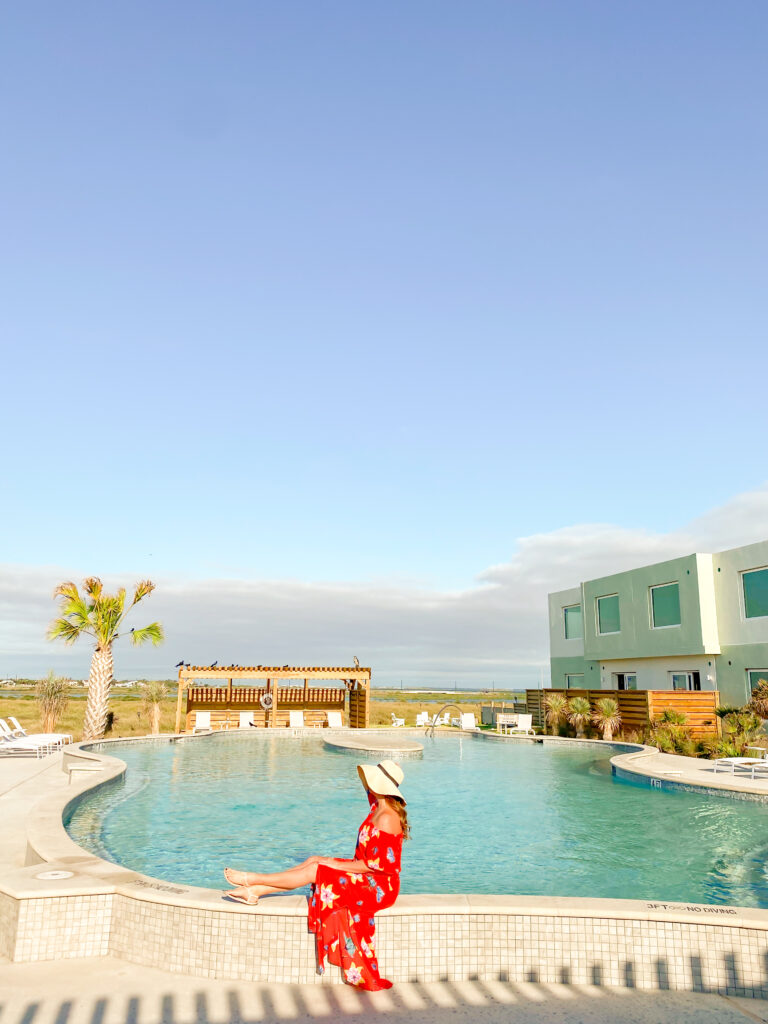 Stay at Lively Beach
We spent three nights at Lively Beach resort during our stay in Corpus Christi.
We love that Lively Beach was set a bit off of the beaten path. This meant we were immersed with the sound of waves instead of car horns and traffic.
Lively Beach has a number of options for rentals, some of which are pet friendly!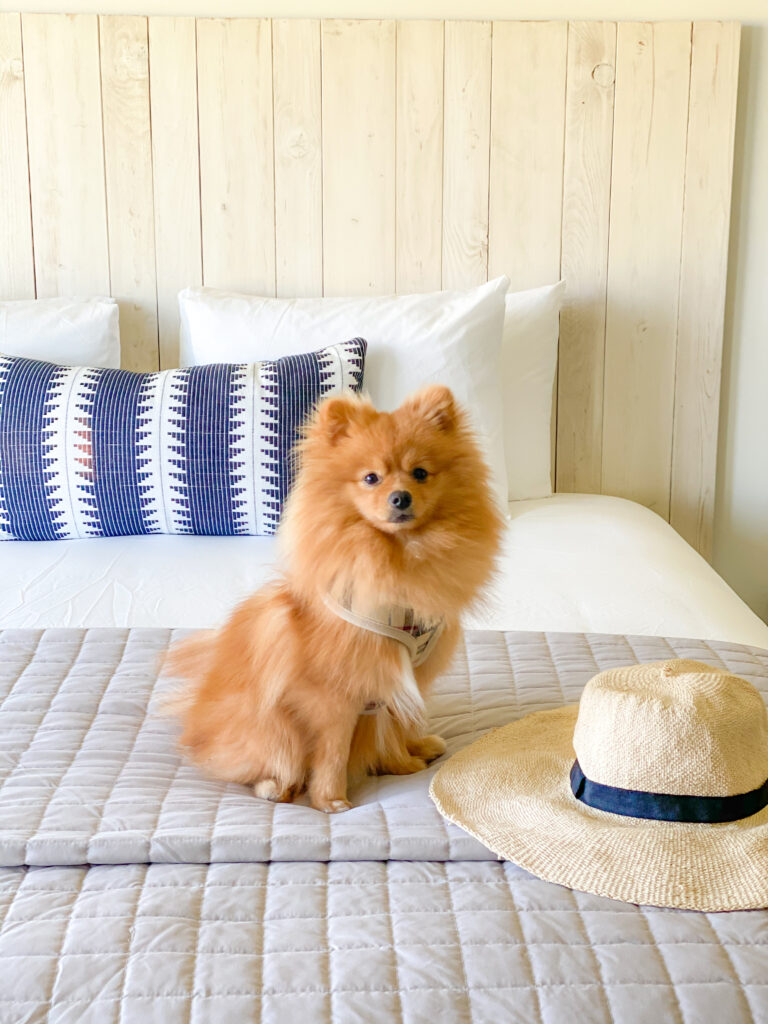 Lively Beach was so pet friendly we even met another pomeranian friend for Louie to play with.
Each unit offers a full kitchen so we loaded our fridge with food and drinks for the weekend.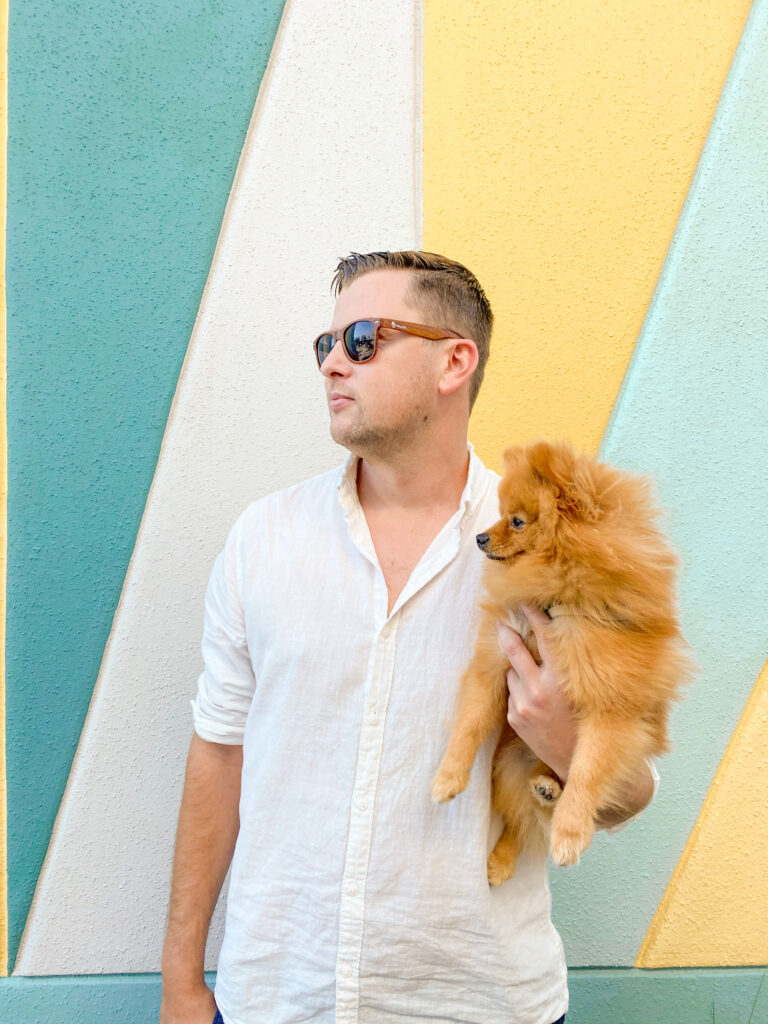 The property offers shared spaces like multiple BBQ areas, a rooftop terrace, an outdoor propane fire pit, corn hole area, and a gorgeous heated pool.
The pool even had a swim up seated bar area.
Lively Beach is situated behind the dunes so a short walk down the dock will bring you to beach access.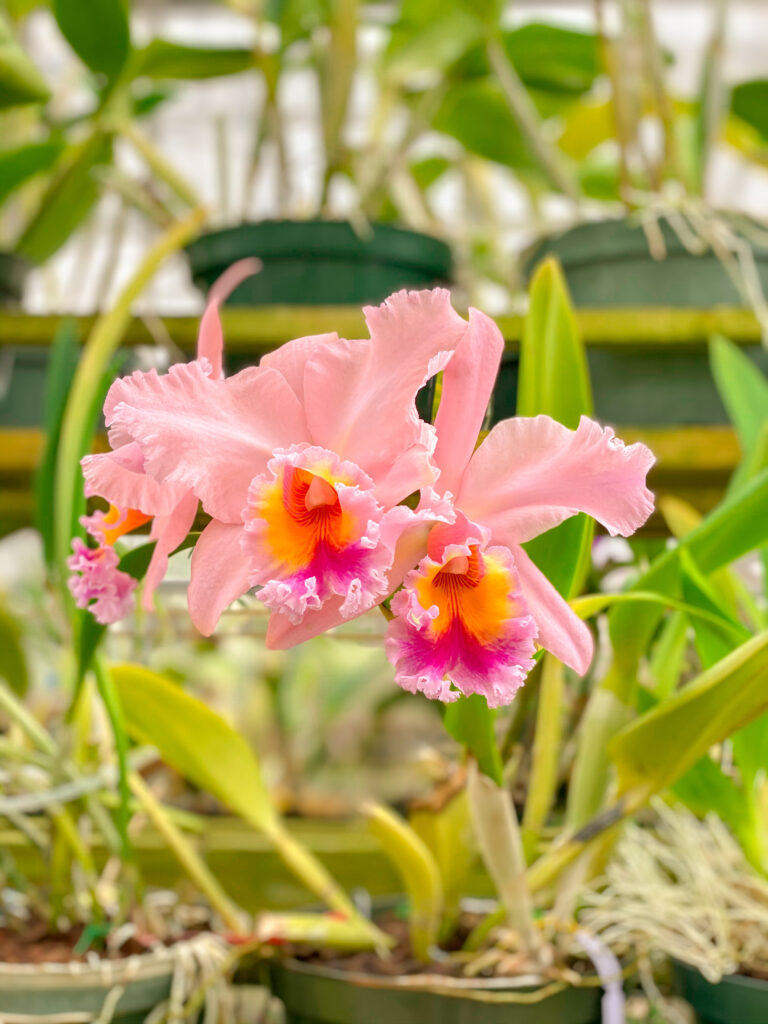 Visit the South Texas Botanical Gardens
Stroll along the blooms! The South Texas Botanical Gardens are acres of property that were filled with flowers, walking paths, a rose garden and even a butterfly house.
Leashed dogs are allowed if they are well behaved so we brought our puppy, Louie aka @fluffthefoodie.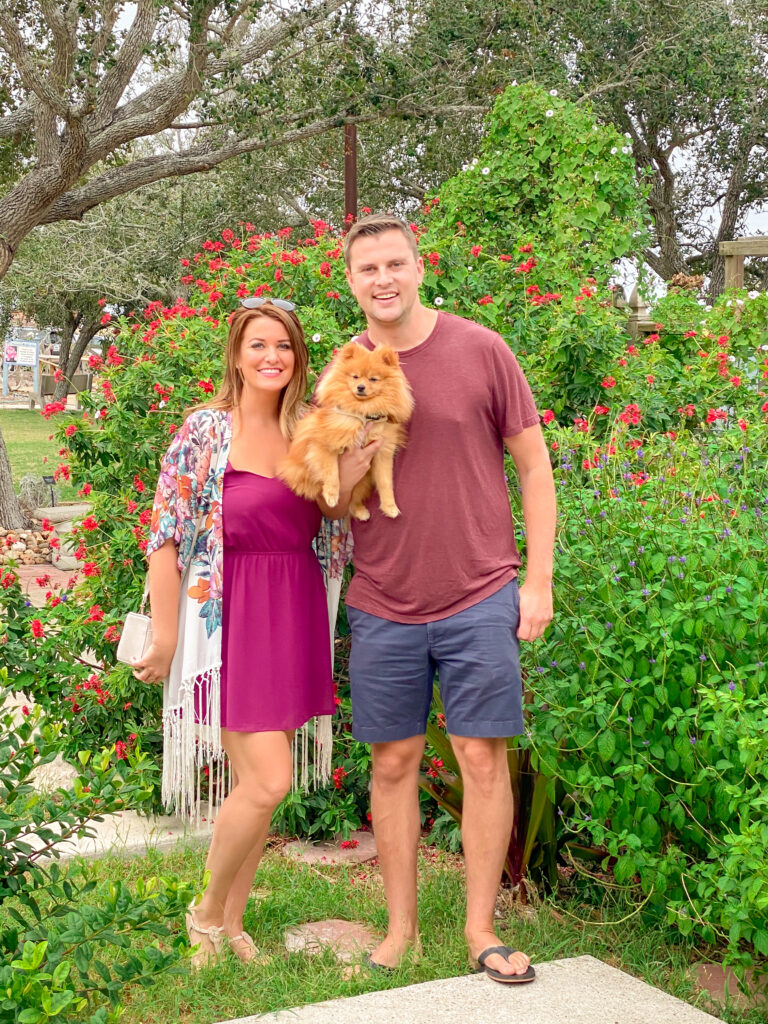 He had a total blast exploring!
While this is more of a rustic botanical garden compared to others, it's a nice place to wander.
We enjoyed the orchid room as well as feeding the exotic parrots and macaws on property.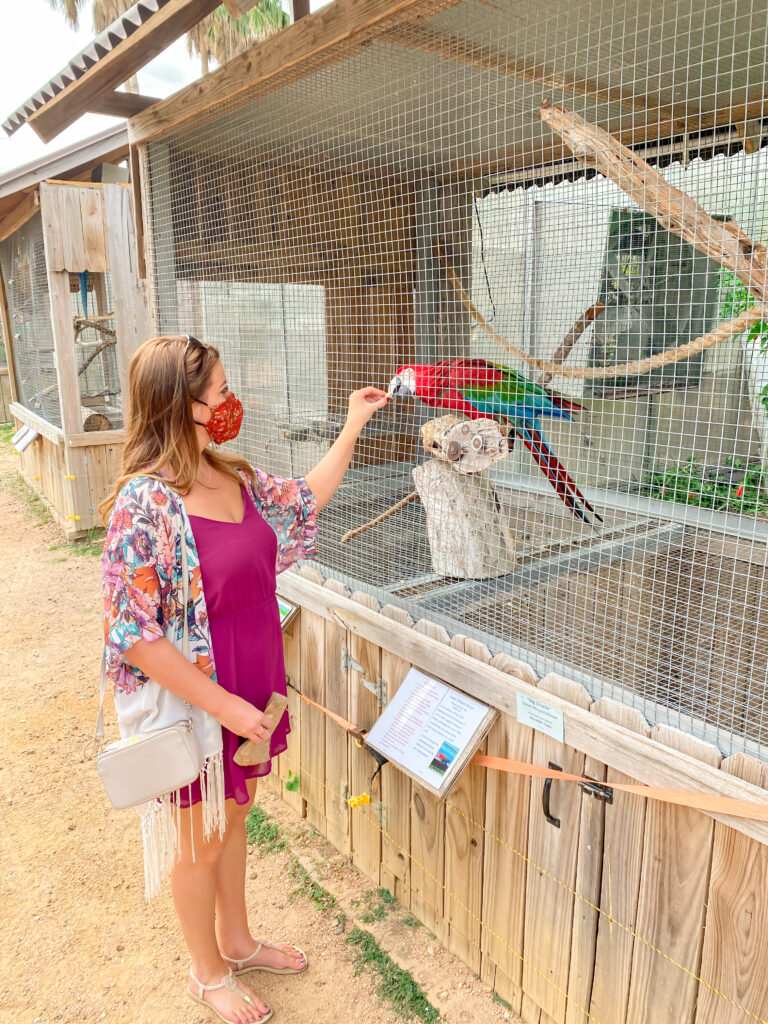 Pick up a bag of pistachios to feed the birds in the gift shop for $2.
One of the birds might even start talking to you if you sneak him a treat!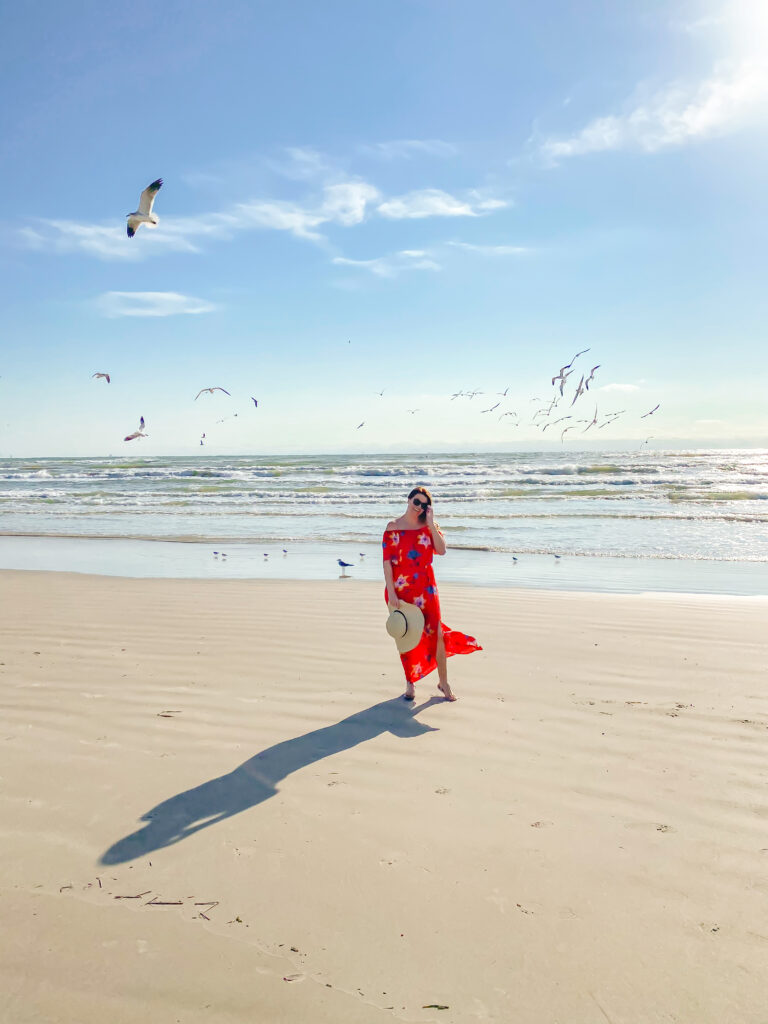 Take a romantic walk on the beach
"Enjoying long walks on the beach" isn't just a cheesy dating profile tagline, it's truly a fantastic thing to do as a couple.
We've been to other Texas beaches and their sand was grainy and filled with sharp mini shells.
Corpus Christi beaches totally exceeded our expectations, and their sand was soft like powdered sugar!
It may have been the weekend, but compared to other Texas beaches it was a lot less packed than what we've experienced elsewhere which was nice.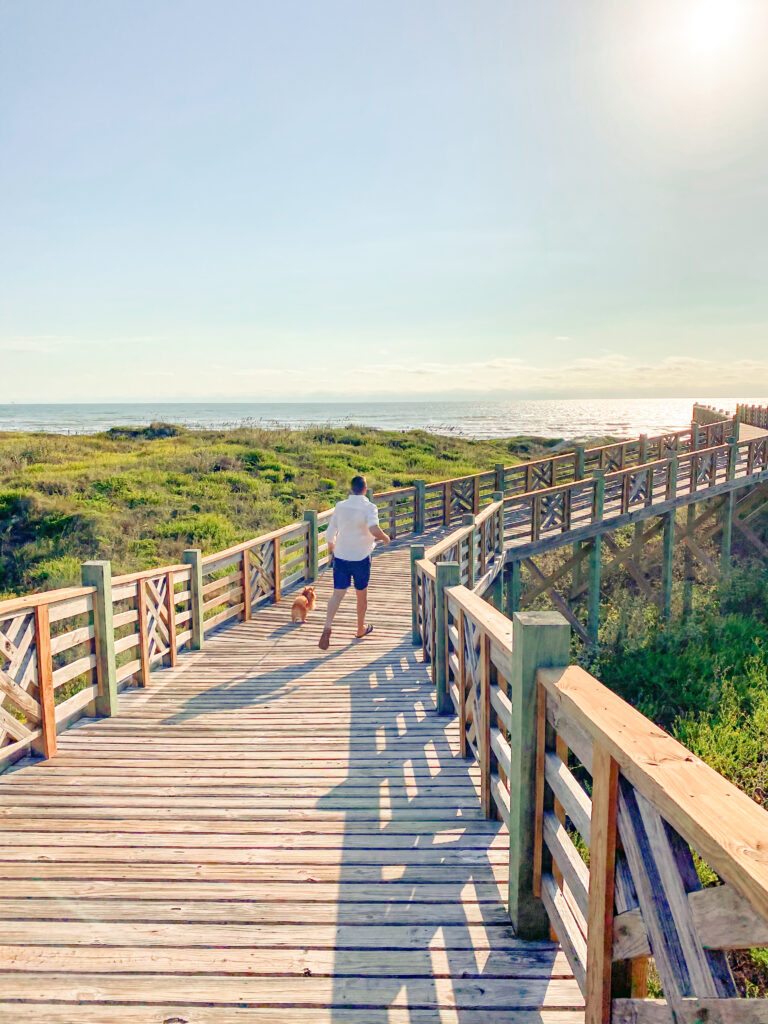 Looking for a romantic addition to do after a sunset walk?
You can start a beach campfire pretty easily by picking up some wood, a fire starter, and a lighter at the gas station 5 minutes from Lively Beach.
The gas station also has all the supplies you could need to make s'mores if you are in the mood for a sweet treat.
We loved our beach campfire so much, we stayed until the tide came up and started putting it out.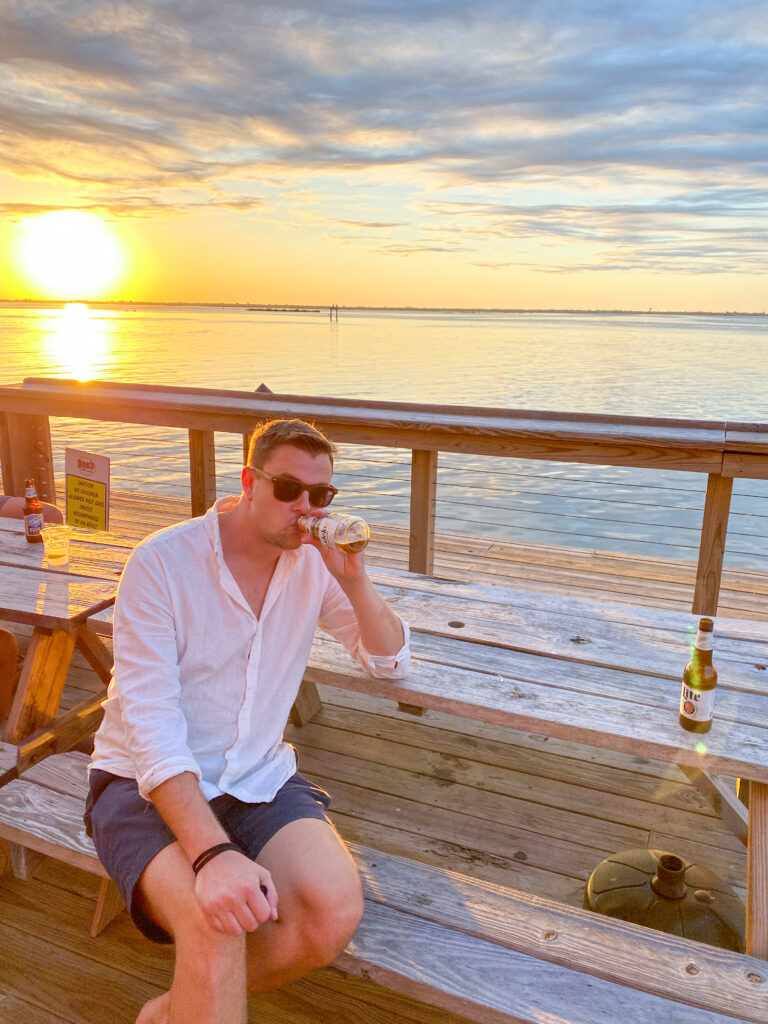 Enjoy a Corpus Christi waterfront sunset cocktail
While we cooked inside our condo at Lively Beach most of the time, we did venture out for a waterfront libation.
Doc's Seafood Restaurant is nestled less than 10 minutes away from Lively Beach.
We arrived in time for a fantastic sunset followed by live music!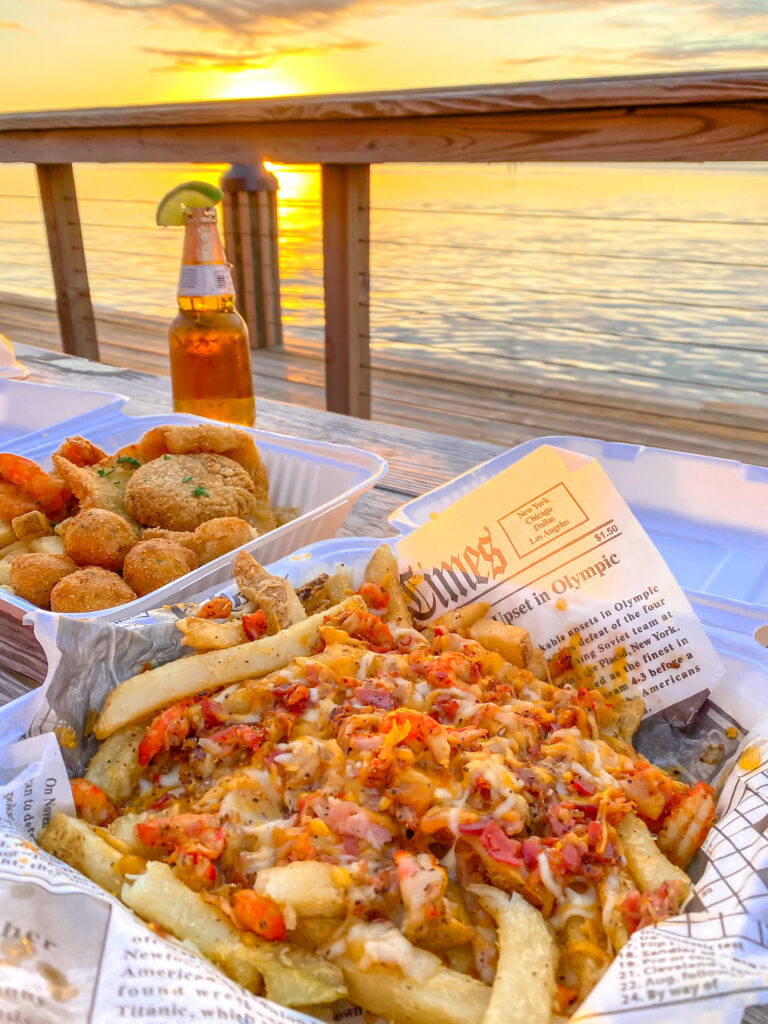 We tried the cajun fries, which were seasoned fries covered in crawfish, cheese and bacon as well as the seafood platter.
We definitely recommend the fried shrimp – it was our favorite part of the platter!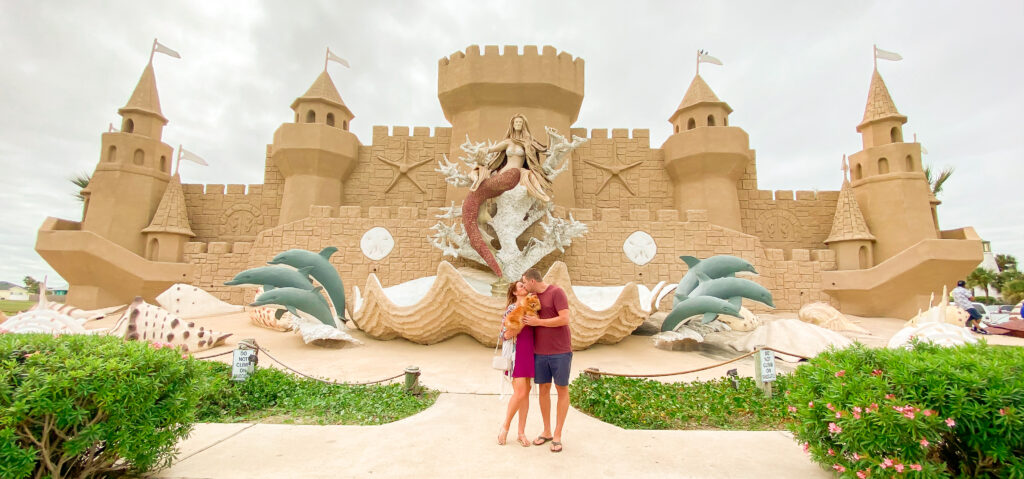 Take photos outside the gift shop sculptures
A bonus activity!
While this isn't quite romantic, we had a blast taking photos at some of the big sculptures outside the gift shops.
Corpus Christi's sandcastle sculpture is gigantic and will definitely catch your eye.
Swing by Ocean Treasures Souvenir Shop to get a photo outside of this iconic sandcastle building.
For a fun thing to do in Corpus Christi, head to Third Coast Beach Company to take some wacky photos near their massive shark entrance.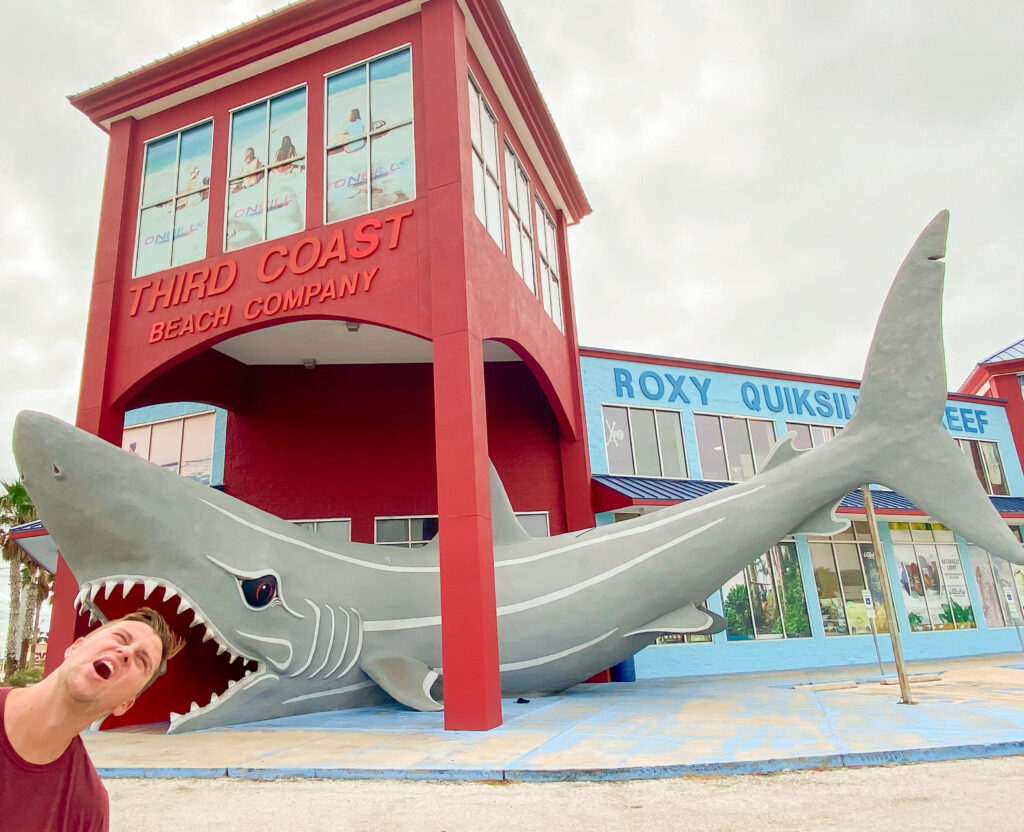 If you live in Texas and are in need of a relaxing beach getaway within driving distance we could not recommend Corpus Christie more.
We've been to a few Texas beaches, and this is easily our favorite beach weekend we've ever had.
From the soft sand to Lively Beach's relaxed vibe we cannot wait to come back for another romantic getaway to Corpus Christi.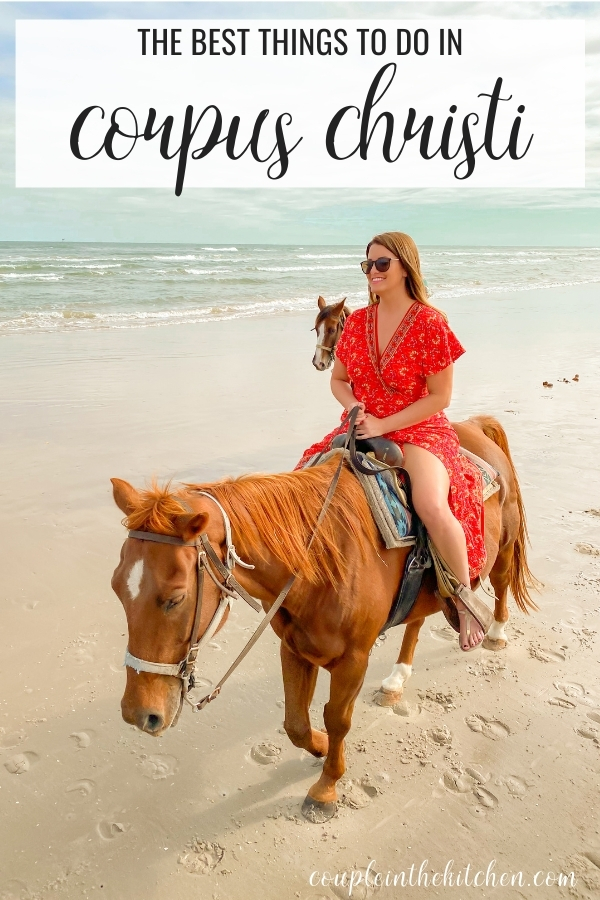 Got an itch to travel? Check out our collection of travel guides to find other US destinations to plan a road trip.
Click this link to pin this post for future reference. If you visit Corpus Christi based on our recommendations, let us know by tagging @coupleinthekitchen on social media!
If you'd like to automatically receive our posts in your email, register here.