In addition to Gavin's whirlwind proposal in Peru, we also celebrated our love by scoping out all the best restaurants in Lima, Peru.
We always loved Peruvian food after discovering La Mar in San Francisco, but after going straight to the source we realized that there are so many knock-your-socks-off restaurants in Lima, Peru.
We spent most of our time in Barranco, Lima, a trendy neighborhood close to the coast with stunning architecture and great food offerings.
Lima, Peru food features everything from unique desserts, to fine dining, to the most incredible sandwich that has ever crossed our lips.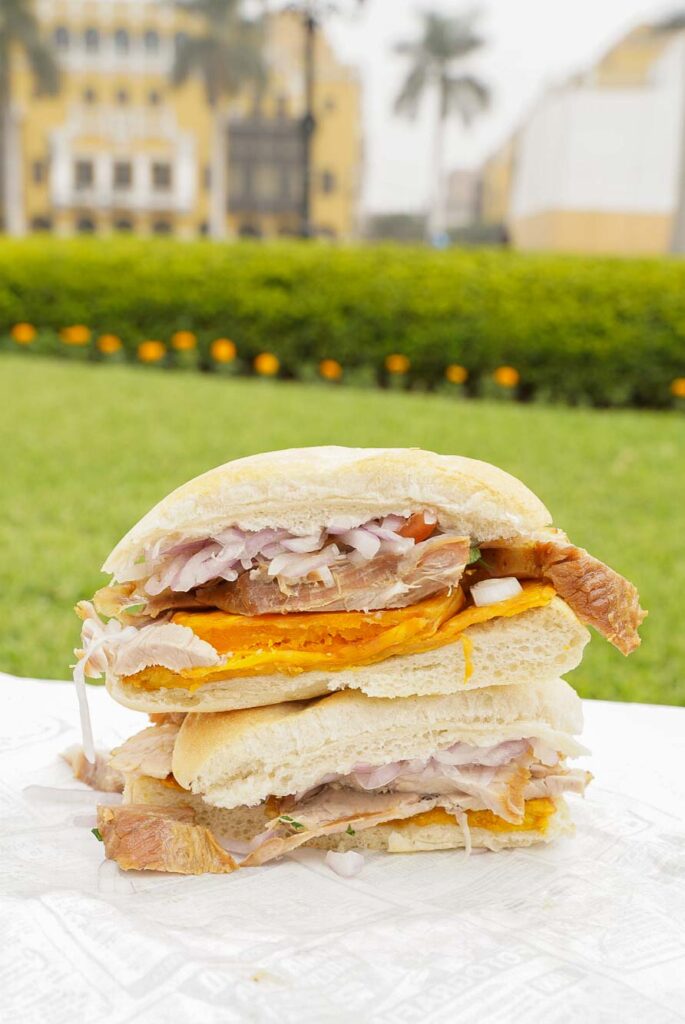 Best Sandwich in Lima
We cannot stress this enough, but when in Lima Sangucheria el Chinito should be at the top of your list for their pork and sweet potato sandwich.
We had the Chicharrón sandwich multiple times throughout the trip, and not only is Sangucheria el Chinito's version the best in the country, their sandwich was potentially the best sandwich we've had in our entire life.
Within the sandwich they roast the juiciest pork, place the pork on a super fluffy roll, add sweet potato slices, and then top with pickled onions and cilantro.
On the side of the sandwich they also provide a salsa that's packed with flavor and a touch of light heat.
Multiple locations.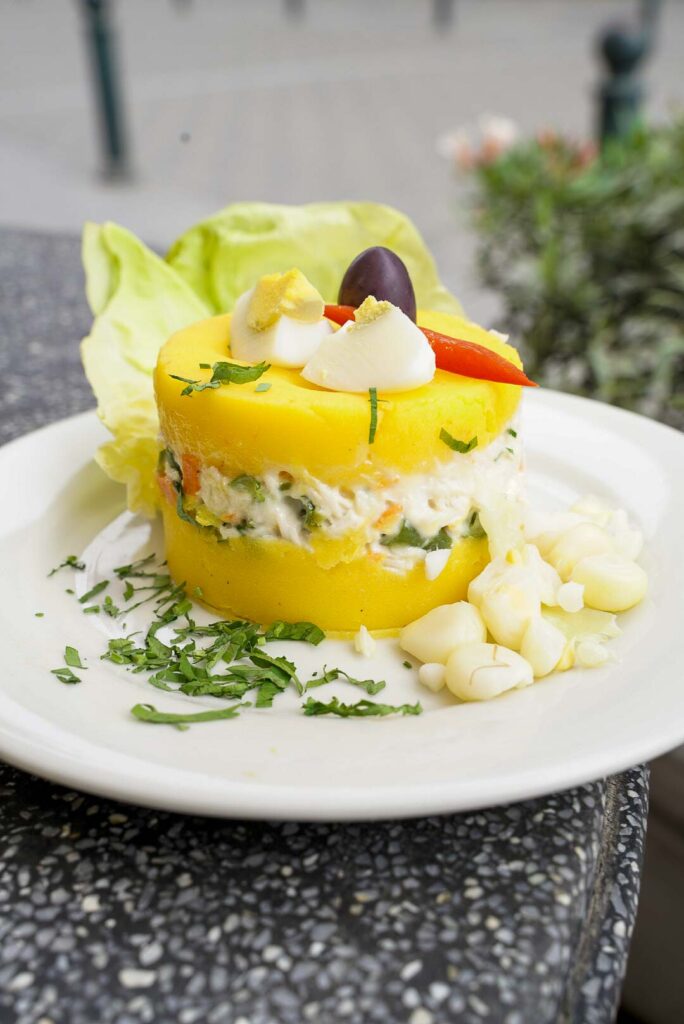 Best Place for Peruvian Causa
When you're planning your Lima, Peru restaurants to visit, head to Restaurante Bar Cordano for causa.
One of the most historic restaurants of Lima is a small classic cafe literally across the street from their version of the White House.
This classic watering hole has a ton of Peruvian history for drinking, talking politics, and eating their traditional Peruvian dish, causa.
When in Peru you will learn that they have the most varieties of potatoes compared to anywhere in the world; and causa may be their most traditional unique potato dish.
Causa is a meal packed into a potato salad.
The top and bottom layers are a mixture of mashed potato mixed with lime juice and aji amarillo (a delicious Peruvian yellow pepper). The middle is a filling of the restaurant's choice.
You'll find causa filled with tuna, lobster, crab , octopus, shrimp, avocado, or chicken.
Jr. Áncash 202, Cercado de Lima 15001, Peru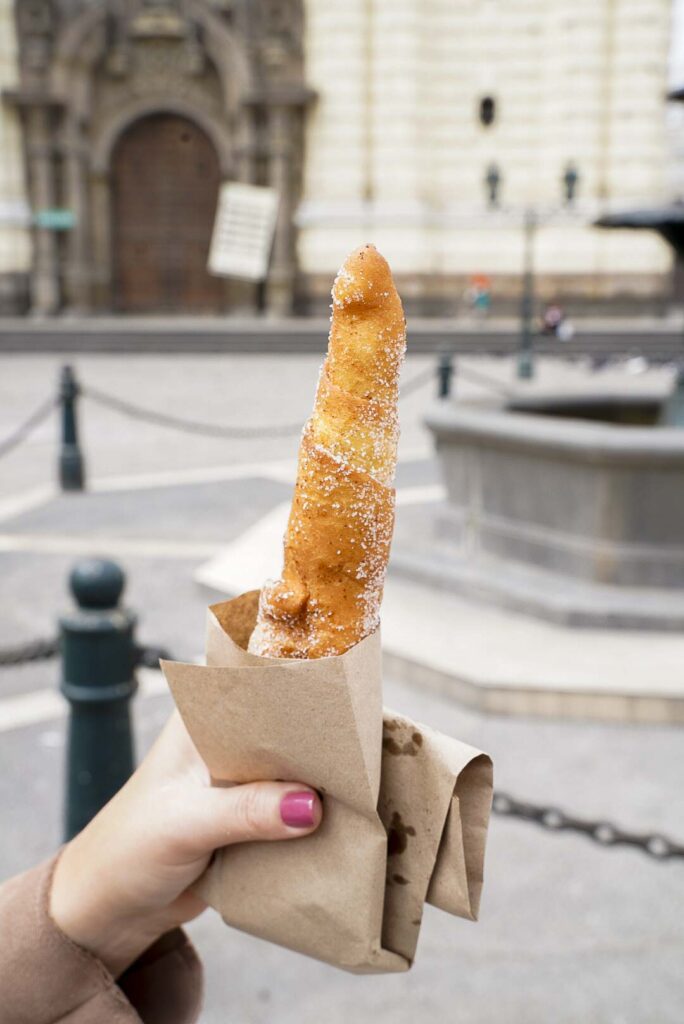 Best Dessert in Lima, Peru
The best dessert restaurant in Lima is Churros San Francisco.
After traveling all over Central and South America we thought we'd seen and tried all versions of churros, and the Peruvian churro is totally different from the rest.
The Peruvian churro is like a fresh donut in the shape of a baguette, and stuffed with your choice of manjar blanco (dulce de leche), crema pastelera (sweet cream), or Nutella.
Our favorite Peruvian churro was far and away the one stuffed with dulce de leche known as manjar blanco.
They're so big you could totally split them but after one bit you'll want one for yourself.
Jirón Lampa 268, Cercado de Lima 15001, Peru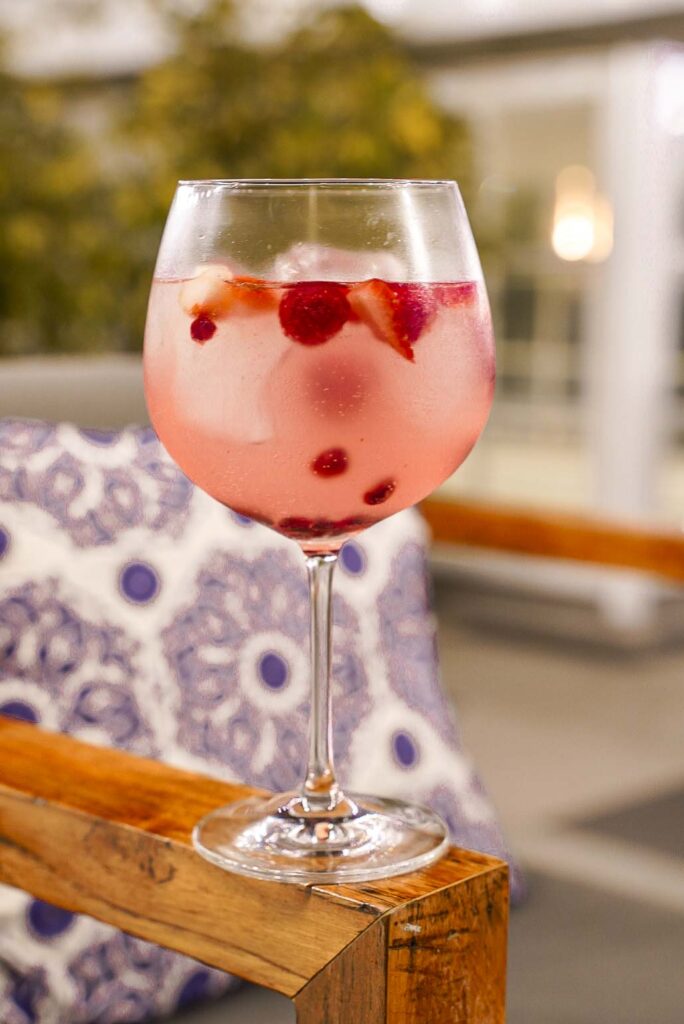 Best Lima Rooftop Restaurant
The rooftop bar of our Casa Republica Hotel is the La guardia rooftop.
It's a cool spot for a chilcano, capitan, and pisco sour cocktails.
We couldn't have picked a better Lima restaurant to hit when we landed because, is there anything better than starting your vacation with a local cocktail on a pretty rooftop near the beach?
The liquor of Peru is pisco, and traditionally in the US we only see it used in pisco sours, but what we discovered quickly is that pisco is used in cocktails from sweet, to sour, to bitter, to sweet.
Our favorite cocktail was a pisco chilcano. A pisco chilcano is similar to a Peruvian moscow mule made with Pisco, Ginger Ale, and Lime.
Casa Republica Hotel in Barranco, Jirón Sáenz Peña 208, Barranco 15063, Peru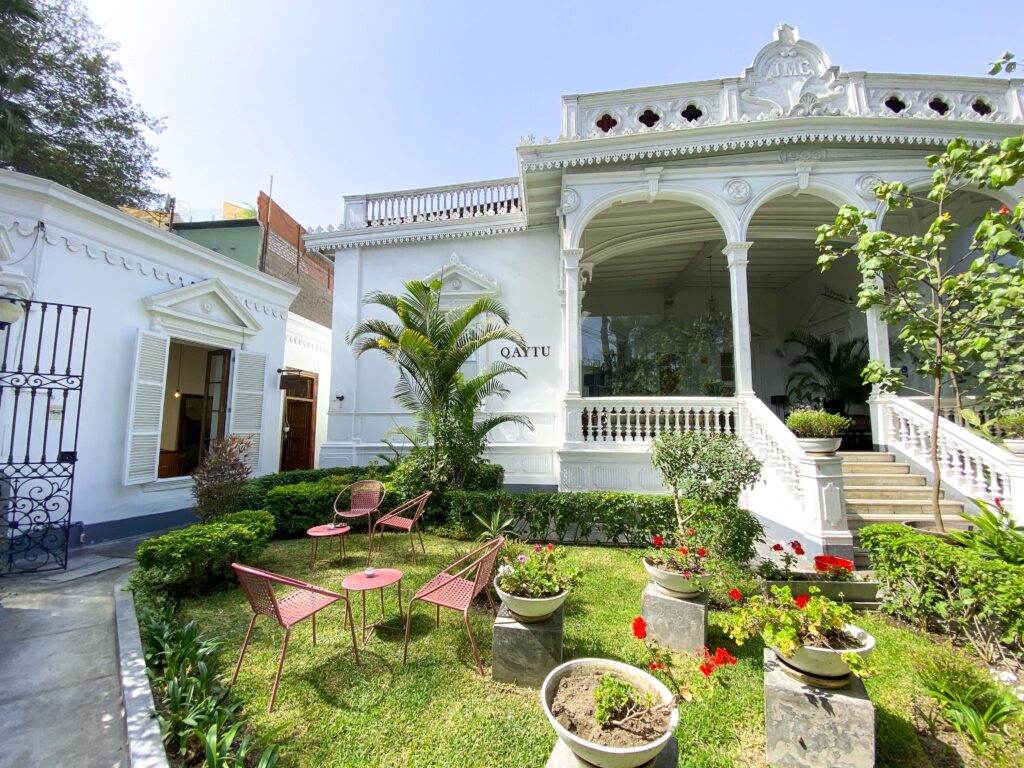 Cutest Lima, Peru Coffee Shop
Head to Felicia and Domingo for coffee in the oh-so-instagrammable courtyard.
Pink patio tables and fringy umbrellas adorn the lawn.
Stroll through the Juan Parra del Riego Cultural Center building next door for a marketplace for top Peruvian artisans to showcase their handmade products from the three core geographic regions across the country (jungle, mountains/highlands, and the coast).
Av. Pedro de Osma 135, Barranco 15063, Peru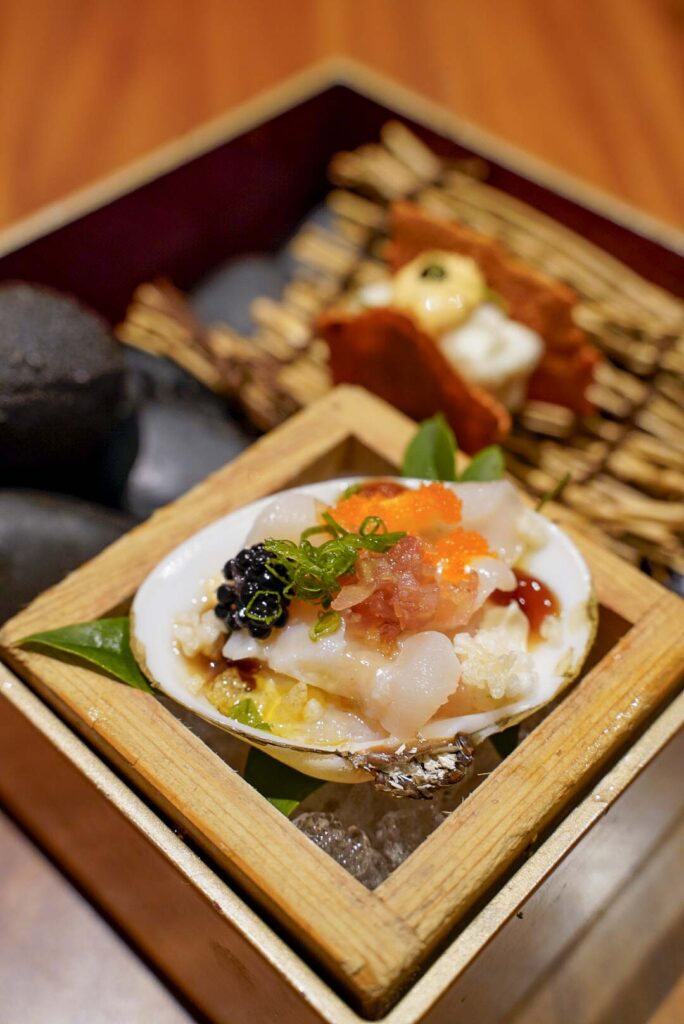 Best Sushi in Lima, Peru
Did you know that Lima has two of the top 10 restaurants in the world?
We were lucky to be able to get reservations at Maido, the number 8 restaurant in the world known for their Japanese meets Peruvian nekki cuisine.
We opted for Maido's 13 course menu with their alcohol pairing, and it was mind blowing.
In this 13 course menu we had artistic gastronomy dishes, incredible sushi like tuna toro sliced directly in front of us, and their version of traditional Peruvian dishes with their Japanese spin to them.
To go along with this meal they paired dishes with a cocktail.
We savoured beer made out of Peruvian quinoa and unique wines like a limited Peruvian potato wine that is only sold to them and one other restaurant in the country.
Maido in relation to normal Peruvian restaurants was expensive, but when compared to what it would cost to go to any of the top 100 restaurants of the world located in the US or Europe, it was essentially 75%+ cheaper.
If you're looking for a splurge-worthy, romantic restaurant in Lima, definitely get a reservation to Maido.
C. San Martin No. 399, Miraflores 15074, Peru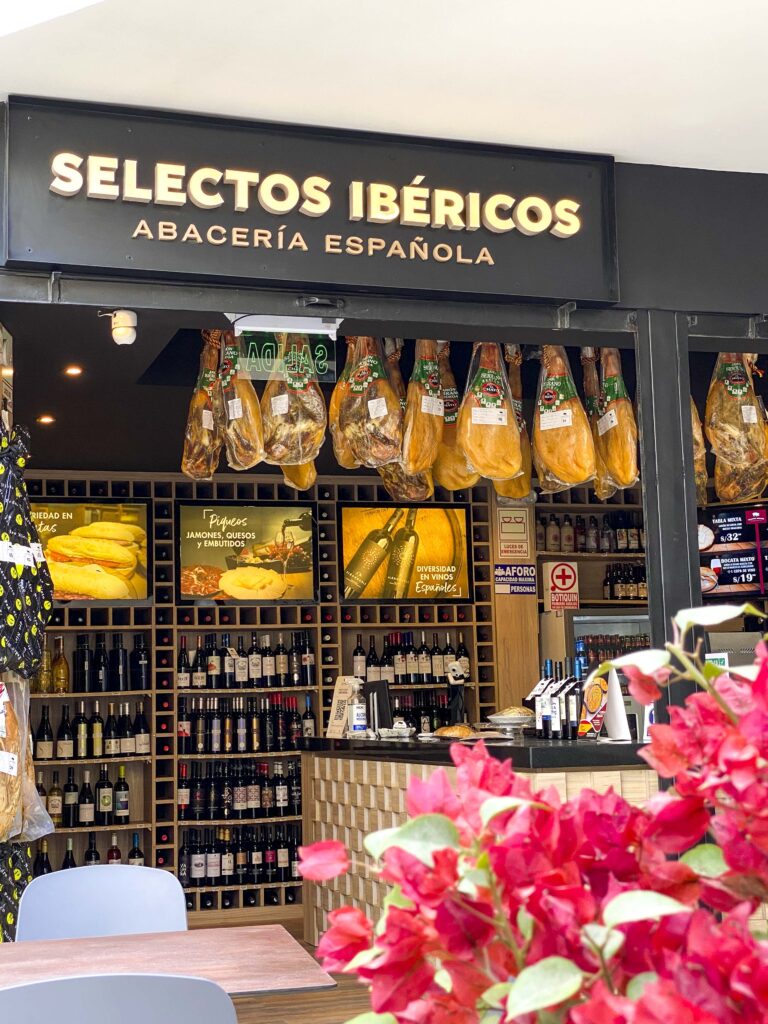 Best Lima Food Halls
There are a number of amazing food halls in Lima.
At the Primera Parada food hall get some Spanish Jamon, cheese, and wine at Selecto Ibericos. They offer a great platter at a terrific price.
Another great option is to head to the Mercado 28 food hall for a number of diverse restaurant options and a centrally located bar.
Our favorite bite from Mercadi 28 were the peruvian sweet potato donuts with honey.
Primera Parada: Av. Pedro de Osma 203, Barranco
Mercado 28: Balboa Strip Mall. Vasco Nuñez de Balboa with 28 de Julio, Miraflores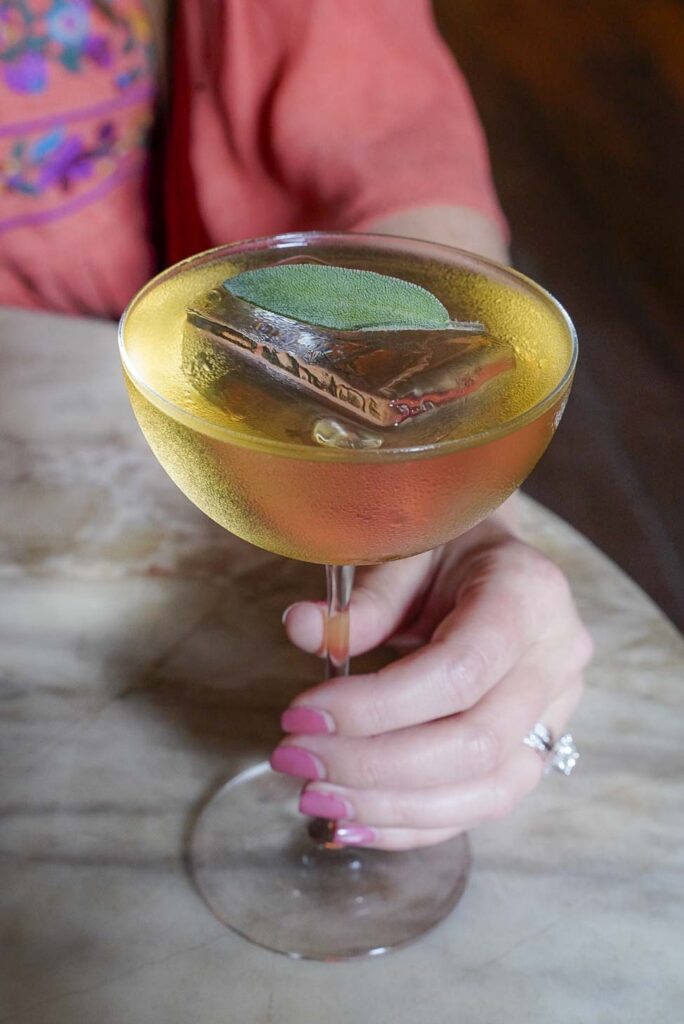 Best Spot in Lima for a Craft Cocktail
If you're looking for a craft cocktail, head to Siete Restaurante.
This Barranco hot spot has chic decor and expertly crafted libations.
You'll find unique local ingredients that you won't be able to find outside of Peru.
While the cocktails are quite a bit pricer than you'll find elsewhere in Lima, the vibe is cool and the cocktails are innovative and high end.
Jirón Domeyer 260, Barranco 04, Peru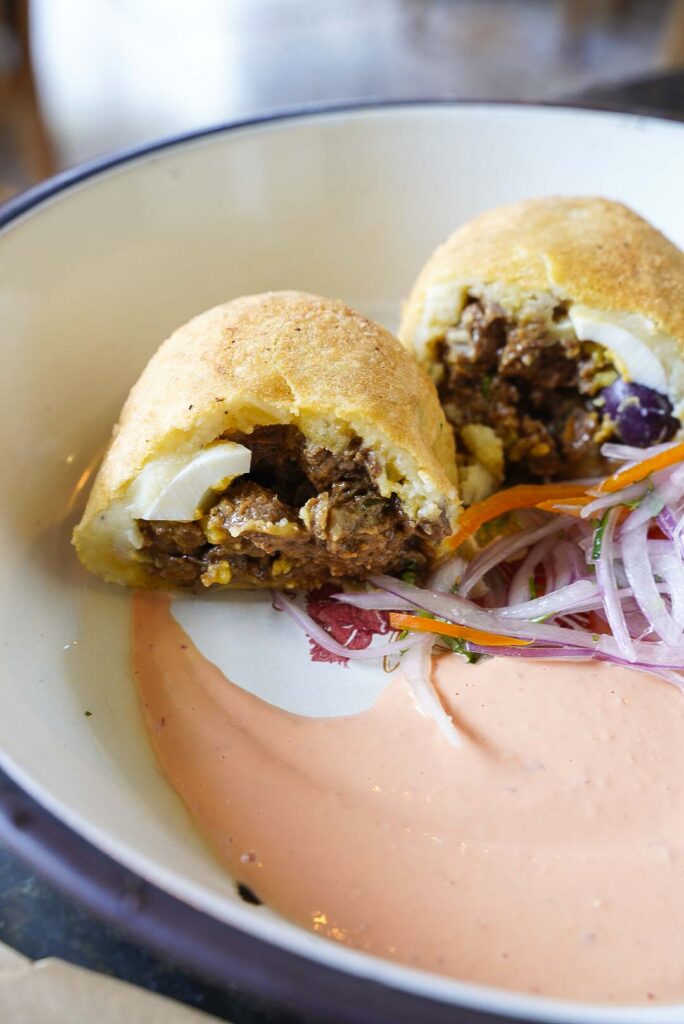 Best Place for Traditional Lima Cuisine
Isolina is a restaurant around the corner from Sangucheria el Chinito with a top floor.
We stopped in for some sangria and to share a papa rellena con harto relleno, even though we were already stuffed.
A papa rellena con harto relleno is a traditional dish of a stuffed potato with minced meat, criolla salsa and peruvian red pepper cream.
So delicious!
Av. San Martin 101, Barranco 15063, Peru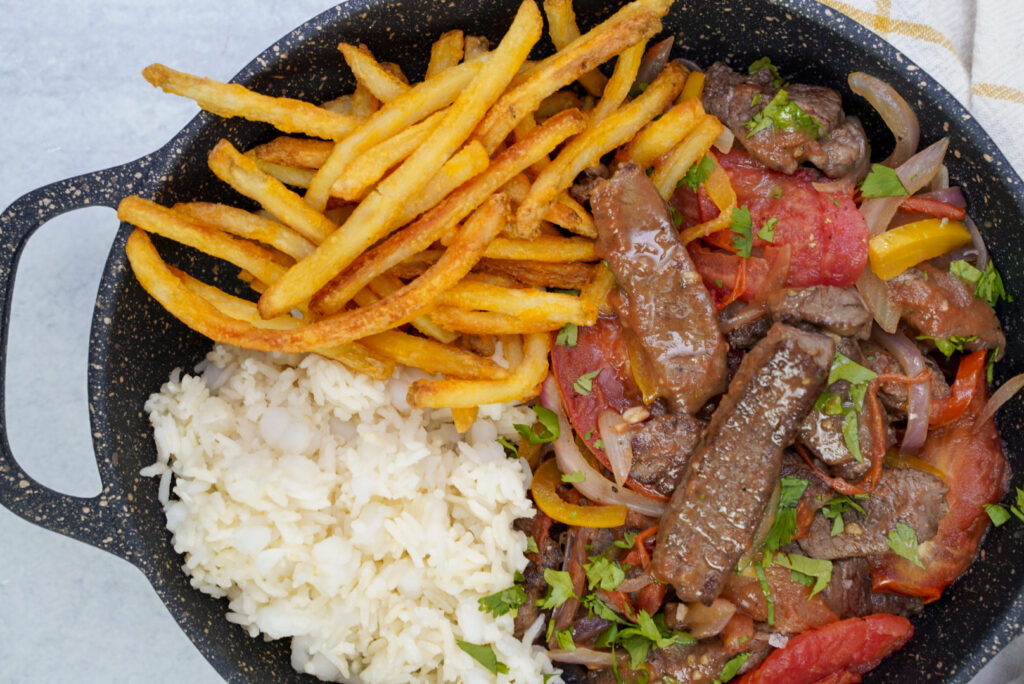 We're dreaming of the day we can get back to Peru!
Until then, we are bringing Peru to our kitchen with our traditional lomo saltado recipe and reminiscing of our time on Peru's Amazonian River with our Amazon river animal photography post (check out the baby monkeys, sloths, and even a real life piranha that we caught!).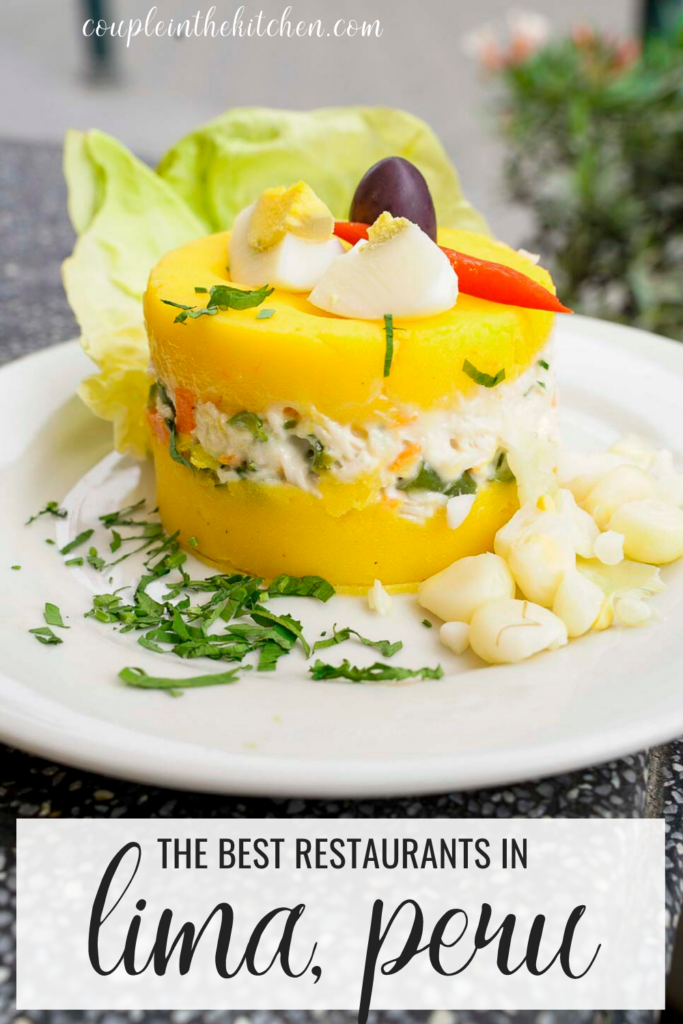 Heading to South America? Check out all of our guides on South American Travel.
Click this link to pin this guide to the best restaurants in Lima, Peru on pinterest.
Also, don't forget to follow us on instagram and facebook for more recipes and recommendations, we love to see when you visit our favorite places!