We just tasted our way across the shoreline in South Carolina and we're here to share the best seafood in Myrtle Beach!
Myrtle Beach is the seafood capital of South Carolina. So if you're a seafood lover like we are, you're in the right place.
We had a great time discovering all the top spots for foodies in between our time sunbathing on the powder sand beaches and competing in games of putt putt (Myrtle Beach is the mini golf capital of the world, afterall).
In this post, we share all the fresh seafood that you need to try and which popular seafood restaurant to get it from.
You'll be in good hands with great seafood, friendly service, and even some of the best places on the coast with an amazing view.
From the best seafood restaurants, to hidden seafood gems on the menus of various restaurants, we're sharing our recommendations for the best seafood in Myrtle Beach.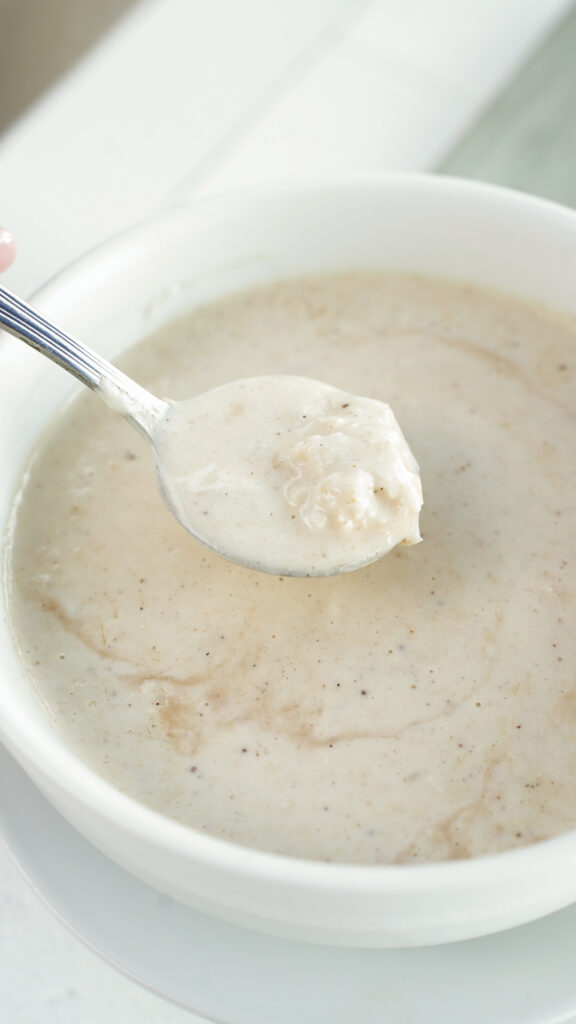 She-Crab Soup
One of the most iconic seafood dishes that you will find in Myrtle Beach is she-crab soup.
She crab soup is a creamy, bisque-like soup that is made with crab stock. Inside the soup you'll find pieces of crab meat and a little bit of a dry sherry drizzle on the top.
It's similar to a lobster bisque, but at the same time it is unique in its own delicious way.
The soup originated in the 1920s in South Carolina when a special meal was being prepared for President William Howard Taft.
The soup featured crab roe from female crabs, which is how it was dubbed the name she-crab soup.
We ate this amazing seafood speciality at a few different Myrtle Beach restaurants, but we would be remissed if we didn't mention the Sea Captain's House, one of Myrtle Beach's premium historic seafood houses.
They are famous for their award-winning she-crab soup. It is rich, creamy, and loaded with tender and sweet crab flavor.
One restaurant owner even told us that they don't have she-crab soup on their menu because they'll never beat the Sea Captain's House version.
So, they just tell their customers to go to Sea Captain's House whenever it's requested.
During dinner, the Sea Captain's House starts you off with a complementary basket of hush puppies.
These deep fried bites are the perfect companion to she-crab soup. You can also get crazy, and dip these fried bites of joy into the soup.
Not only was this spot one of the best places for legendary she-crab soup, but it also offers an incredible oceanfront view, which makes it perfect for special occasions or even just cocktails and their famous soup.
Crab Cakes
Another seafood item you need to try when searching for the best seafood in Myrtle Beach are crab cakes.
Tender lump crab is combined with spices and binding ingredients in order to provide you a big amount of crab, all in one bite!
It's a great way to enjoy the sweet taste of crab without having to deal with the sometimes laborious process of cracking the crab shells.
Throughout Myrtle Beach you'll find a number of variations of crab cakes.
Our first stop after landing in Myrtle Beach was to the Market Commons area.
We stumbled upon Tidal Creek Brewhouse. Not only was the Liberatore Italian Pilsner that we ordered so delicious, but they also have a full bar and a coffee shop (the espresso martini was incredible, if you're looking for a boozy, pick-me-up).
We ordered their fried green tomato and crab cake dish. It was a nice taste of the coast to share with their tasty brews.
We also enjoyed crab cakes at the Sea Captain's House while watching the sun set into the ocean. Their crab cake has minimal filler and was topped with a pear and green onion slaw as well as a light mustard cream sauce.
Crab cakes aren't only for dinner! We also stopped into Croissants Bistro and Bakery, which is right on the grand strand for brunch.
They have a number of benedict menu items that are all served on their signature croissants instead of the traditional english muffins.
Of course we opted for the crab cake eggs benedict, and it was delish.
No matter which of these places you visit for a crab cake, you'll know it will be amazing food.
We love to make crab cakes at home, be sure to try our recipe for Crab Cake Recipe with Ritz Crackers!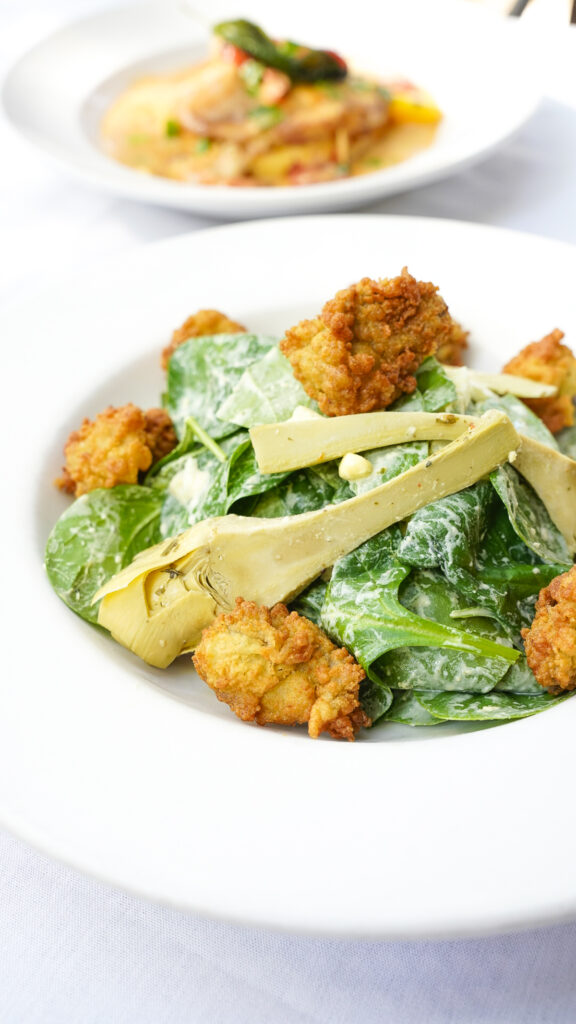 Oysters
We loved being able to actually see the oysters nestled along the piers of Murrells Inlet during low tide. That's how you know the oysters are REAL local.
Throughout seafood restaurants around town, you'll find raw oysters at the raw bar, oysters included in seafood boils, or even fried oysters.
We enjoyed local oysters while at Chive Blossom in the Pawley's Island area.
The oysters were deep fried to perfection, then topped on a salad with hearts of palm and big, beautiful artichokes.
There were so many fried oysters on the salad, it felt like two meals in one!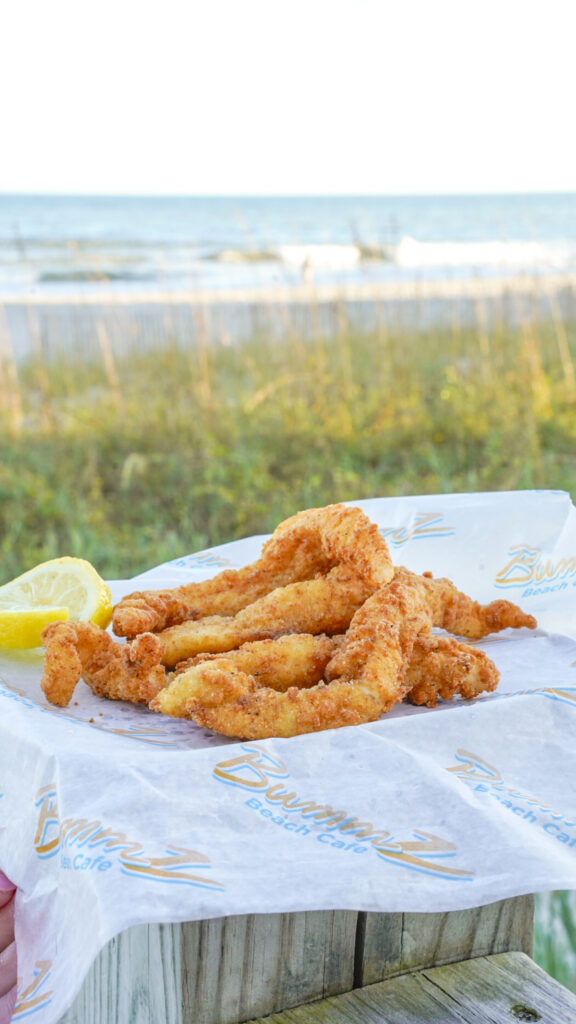 Fresh Catch of the Day
If you're looking for seriously fresh fish, Myrtle Beach is the place for you.
You'll notice a number of people hanging out on the piers with their hook and line in the water.
The most common fish that are caught off of the coast of the Myrtle Beach area are grouper, snapper, wahoo, king mackerel, and various types of seabass.
Many restaurants feature a catch of the day that comes in from local fishermen and fishing boats.
They are served as the "catch of the day entree" either grilled, blackened, or fried. You might also find that the fresh fish is often stuffed into fish tacos.
We loved the heading to Bummz Beach Cafe for their "groupa" fingers, which is a local favorite.
The fish strips are deep fried to perfection and served with various dipping sauces like tartar sauce or cocktail sauce.
This beachfront bar and restaurant is unpretentious, yet boasts amazing views of the shore from their patio and adirondack chairs.
It's a good place to enjoy amazing views and great food while still feeling warm, welcome, and casual.
We loved this spot so much that we went twice in four days, each time we were greeted with great service and live music right on the outdoor deck.
Seafood Boils
A seafood boil or steam pot is a great dish to share with your partner or a group.
Mounds of good seafood are boiled or steamed together until they're cooked. Then it's coated with seasonings.
A steam pot is served in a bucket with seafood crackers and mallets. Then you get cracking!
While this is a messy dish to conquer, all of the shells of the seafood help to create extra flavor, like it's a taste of the ocean.
Murrells Inlet is the perfect place to enjoy a steam pot seafood boil. There are numerous seafood restaurants nestled among the reeds and piers of this calm Myrtle Beach inlet.
When dining at the Inlet Prohibition Company, we sat on the deck overlooking the pretty seaside.
We ordered the crab steam pot which came complete with snow crab legs, fresh shrimp, clams, oysters, sausage, potatoes and sweet corn, all seasoned and ready to crack into.
It was a relaxing and delicious way to spend an afternoon.
Seafood Pie
While you may be familiar with seafood boils and crab cakes, seafood pie might be something you're unfamiliar with.
Seafood pies were common with fishermen, where fish and seafood were cooked with pastry for a filling taste of the sea.
While in Myrtle Beach we did find an elevated version of a seafood pie.
We tried a crustless tomato pie topped with shrimp with a crab cream sauce at Chive Blossom, an adorable restaurant near Pawley's Island.
It was rich and flavorful, with a consistency similar to a quiche.
This restaurant has an adorable patio right next to their herb and vegetable garden. It was a perfect lunch spot to enjoy the beautiful South Carolina weather.
Bang Bang Shrimp
Bang bang shrimp features crispy, deep fried shrimp tossed in a creamy sauce with a kiss of spice.
You'll find bang bang shrimp (also known as boom boom shrimp) on menus all across local seafood restaurants and sports bars.
It can be found as an appetizer or stuffed in tortillas as shrimp tacos.
We ordered a basket of bang bang shrimp while at Pier 14.
This is a great spot on the boardwalk with the sea at your feet. Stop by for a cold beer and a basket of bang bang shrimp before taking a ride on the Skywheel, the famous air conditioned ferris wheel that lights up the Myrtle Beach boardwalk.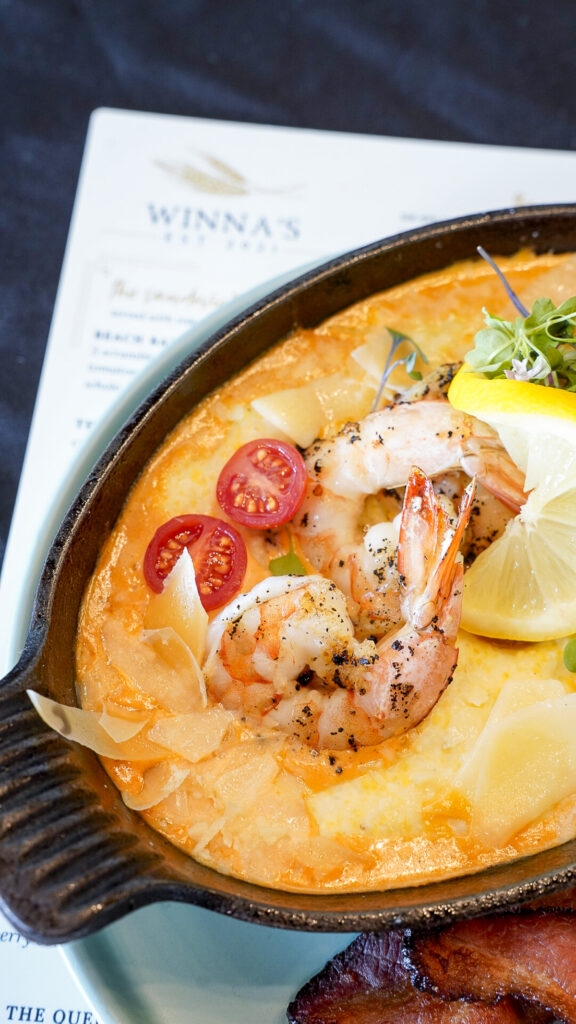 Shrimp and Grits
Nothing says Southern coastal cuisine more than a big bowl of shrimp and grits.
This classic dish is commonly found on brunch menus and features ground grits mixed with cheese, topped with seasoned shrimp, and sometimes gravy.
It's a flavorful and hearty way to start the day.
Winna's Kitchen offers the best shrimp and grits that we've tasted anywhere.
The secret is that the chef obtains her grits from a local mill. They're extra sweet and flavorful.
Not only do they have friendly staff, but they have the biggest heart.
Winna's Kitchen proudly offers "the #1" to anyone in the community that is in need of a meal. Guests have the option to add $5 to their bill to help fund this initiative.
(While you're there, be sure to also order their famous lemon ricotta pancakes!)
Local Seafood Market
Are you staying somewhere in Myrtle Beach with a kitchen or grill?
Support a local seafood market that gets all of the best East Coast and North Carolina seafood directly from boats.
Our favorite seafood market (which we were told also supplies a ton of restaurants) is Seven Seas Fish Market located in Murrells Inlet.
At Seven Seas, depending on the season you can find fresh oysters, different types of crabs (there were local stone crab claws when we were there), lobster, and a ton of fish like mahi mahi and grouper for you to create your own seafood platter at your rental or on the beach.
Outside of those items, they also have prepared items like crab cakes, soups, crab dip, and frozen goods made from delicious seafood.
If we had another day, Gavin was prepared to make a local stone crab feast because they looked so fresh and tasty!
Seafood Buffets
One thing you'll notice when you drive down Kings highway and see restaurant row is that there are SO MANY seafood buffets in Myrtle Beach advertising calabash seafood.
When dining with a family, it's a great way to feed a variety of tastes and preferences since they typically also offer a salad bar and a dessert bar in addition to all their seafood offerings.
We opted to dine at more traditional seafood restaurants in Myrtle Beach, so we were not able to make it to a seafood buffet.
However, we have heard that the most popular seafood buffets from locals are Captain George's and Captain Benjamin's Calabash Seafood Buffet.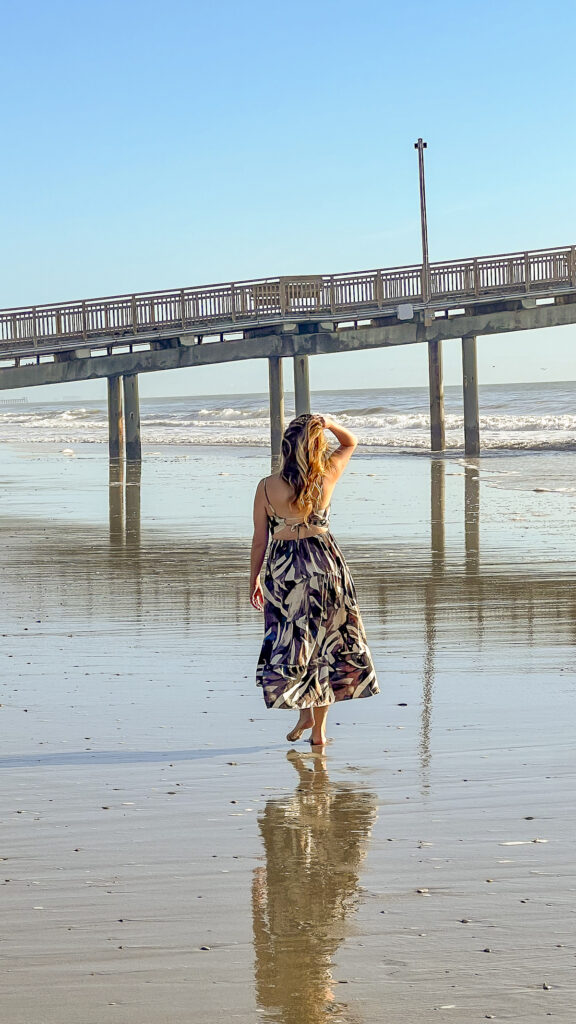 Planning a Trip to Myrtle Beach
We hope that these recommendations on the best seafood in Myrtle Beach already have your mouth watering and are building excitement for your trip to the coast.
Be sure to check out the Visit Myrtle Beach website for tons of additional information to help you plan your trip.
The site has guides on things to do, accommodations, golf courses, beaches and additional information on local restaurants.
Also, be sure to check out our instagram story highlight to see everything we did and ate in Myrtle Beach, it will help you in planning your trip as well.
We loved Myrtle Beach so much, we're already looking forward to our next trip to the Grand Strand to stuff ourselves with their amazing seafood.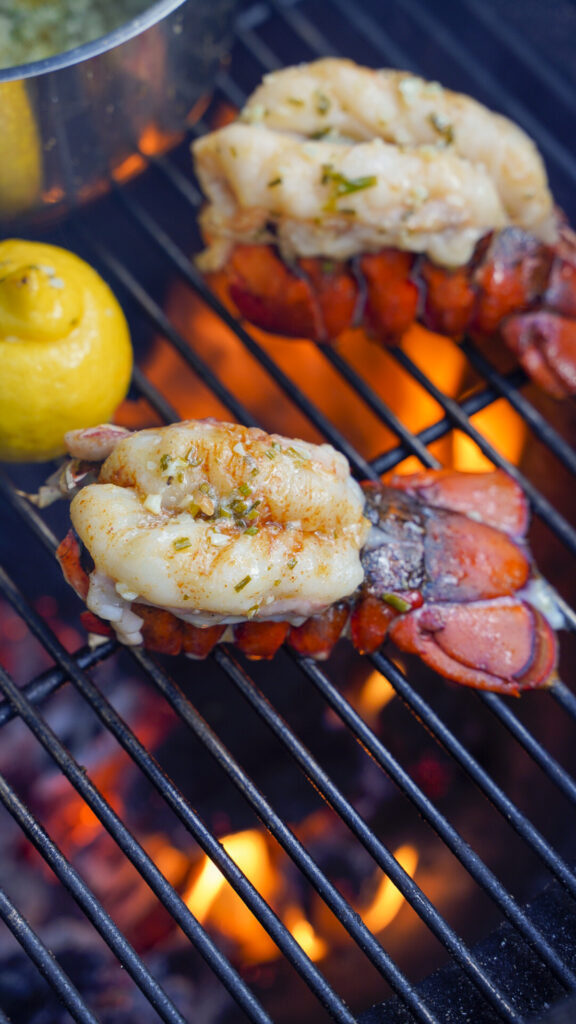 Love Seafood? Try Making These Dishes at Home:
Until we can visit Myrtle Beach again, we will be keeping the coastal spirit alive by whipping up these seafood recipes at home:
Click this link to pin this guide on the best seafood in Myrtle Beach on pinterest.
Also, don't forget to follow us on instagram and facebook for more recipes and romantic travel recommendations, we love to see when you visit our favorite spots!
Looking for more travel recommendations? Read all of our travel guides.
If you'd like to automatically receive our posts in your email, register here.