When visiting Santorini, Greece, you can't forget to stop by a Santorini winery!
Greece offers really interesting wines. Santorini specifically, has many features to the climate and soil which makes their wines even more special.
We're excited to share some characteristics about this Greek region's wines and our favorite Santorini wineries with you.
Santorini Wine Varietals
Although Santorini grows around 40 different indigenous grape varieties on the island, the Assyrtiko grape covers 80% of the grapes grown across all the vineyards, that's why white wine is most commonly found in the area.
Other varieties you'll most commonly encounter are the Aidani, Athiri, Mavrotragano, and Mandilaria grapes.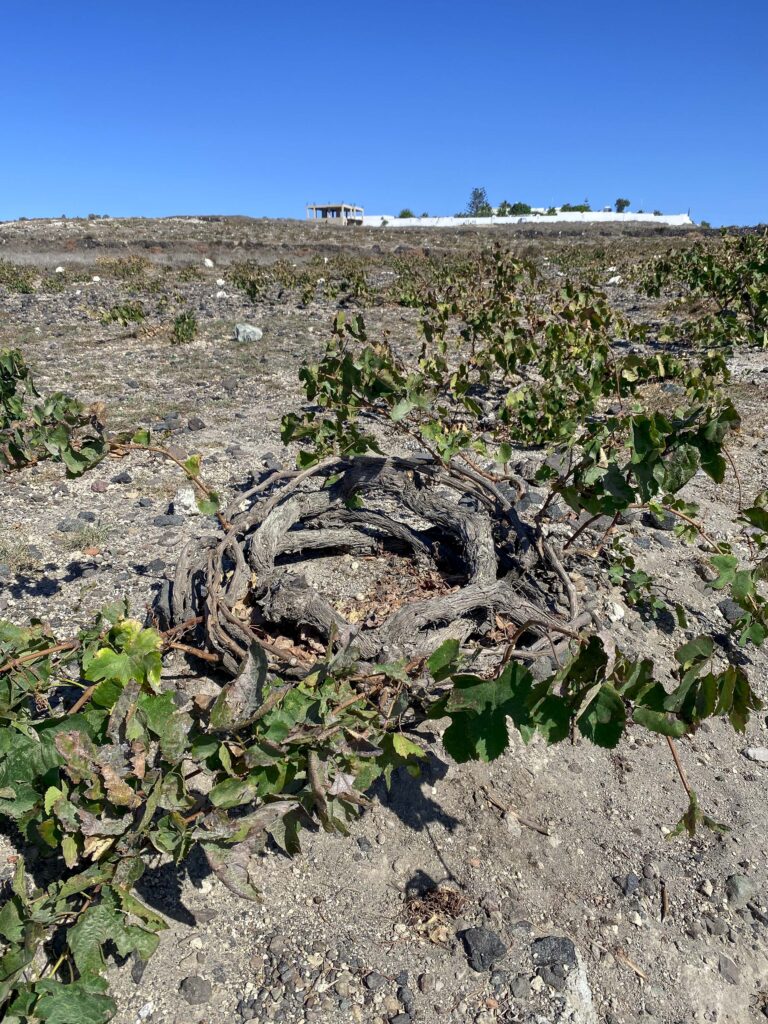 What makes Santorini Wines Special?
Santorini Winemaking Soil
Due to the volcanic soil in Santorini, grapes are grown in ground that is a mixture of lava, ash, and stones.
The nature of this soil makes it resistant to diseases, which means that the vineyards of the island have never been replanted, making the vines some of the oldest in the world.
You might encounter old vine Zinfandel in the Sonoma and Napa Valley regions of California, but it is pretty rare to find old vines from white grape varieties.
These old vines are one of the things what makes Santorini's terroir so special.
Santorini Winery Vines and the Kouloura
Another interesting aspect of wine produced in Santorini is that the vines are pruned in an uncommon way.
Greek islands encounter some pretty intense winds.
In a matter of minutes, your hair was can whipped into a tangled mess, so how do these decades old vines withstand the massive gusts of wind?
It's due to a unique pruning technique where Santorini winemakers wrap the new vines around the old vines in a low basket shape, called kouloura, which protects the grapes from the strong winds by keeping them low to the ground.
Santorini Winery Climate
The special volcanic soil of Santorini not only helps to reduce disease, but it helps with the irrigation of the grapes.
Most wineries in Santorini do not water their vines. The grapes grow from water of the humidity of the air and the natural rainfall.
The volcanic soil has high moisture where the soil absorbs water during the nighttime and gives it back to the vine during the daytime.
One could say that Santorini wines are some of the most sustainable wines produced in the world.
Best Santorini Winery
We spent a few days in Santorini tasting wines in local restaurants as well as a few vineyards.
When you're visiting the island, be sure to check out our favorite Santorini wineries.
They are all in the same area so you could even walk to all three of these vineyards in one day, avoiding the need to book expensive taxis or a wine tour in order to experience some of the best Santorini winery options.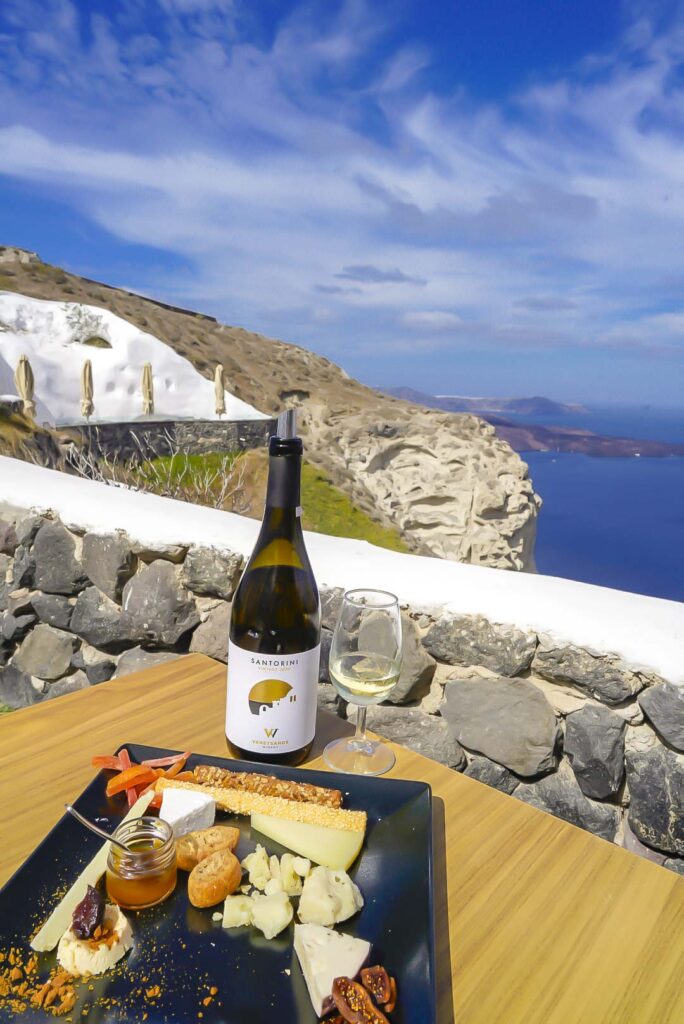 Venetsanos Winery
Venetsanos winery is a large winery situated on the side of a cliff overlooking the beautiful caldera of Santorini.
The wine tastings at Venetsanos comes with a choice of meat and cheese board or a selection of Greek cheeses to pair with each of the six wines in the tasting.
Tasting the wines on their own were delicious, but adding in local cheese is what made Venetsanos so memorable.
The creamy goat cheese that was selected to pair with the first two wines was incredible.
This cheese was creamy, yet dry and crumbly. It reminded us of a juxtaposition of goat cheese, cream cheese, and feta all in one.
By far this was the best goat cheese that has ever crossed our lips, and some really delicious white wines as well.
Venetsanos Winery, Caldera Megalochori, Santorini Island 847 00, Greece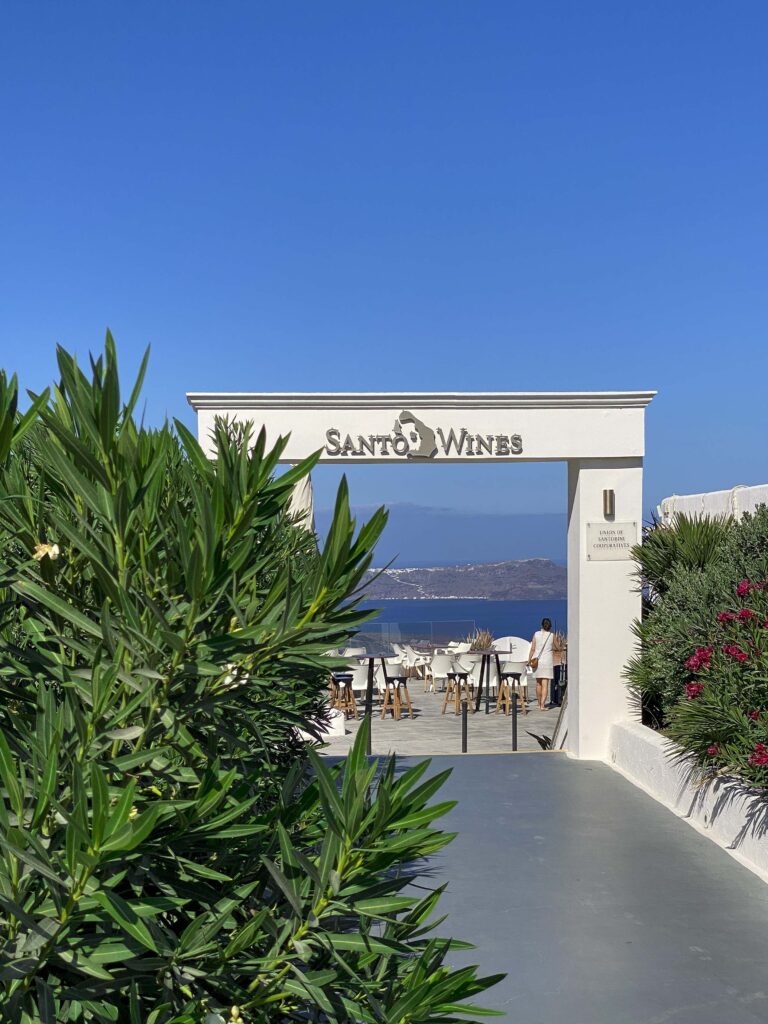 Santo Wines
Likely the largest winemaker in Santorini, Santo Wines is actually Greek government owned and operated.
Located just a few minutes down the coast from Venetsanos Winery, Santo Wines is expansive with breathtaking views and a very large selection of 20+ wines.
You can choose from a 6, 9 or 12 wine tasting option. Obviously, we opted for the 12 tasting flight to share because we wanted to taste as many of their wines as possible.
The wine tasting at Santo Wines was less intimate, with the wines coming on a tray with a written guide book on the tasting notes, food pairings, aging, and grape varietals.
Although the tasting was less of a guided tour through the wine, we appreciated the wide tasting selection option that other wineries did not offer.
Santo Wines offered a sparkling wine variety, which was delicious.
Although we typically prefer dry wines, this Santorini winery offered some dessert wines that were similar to a port wine.
Both of the grapes of the dessert wines were dried in the sun for 6-8 days, and both colors were similarly tawny like a dried fig; yet one wine was made of white grapes while the other was made of red grapes.
They were both delicious and unlike other wines we've tasted.
Santo Wines, Pyrgos Kallistis 847 00, Greece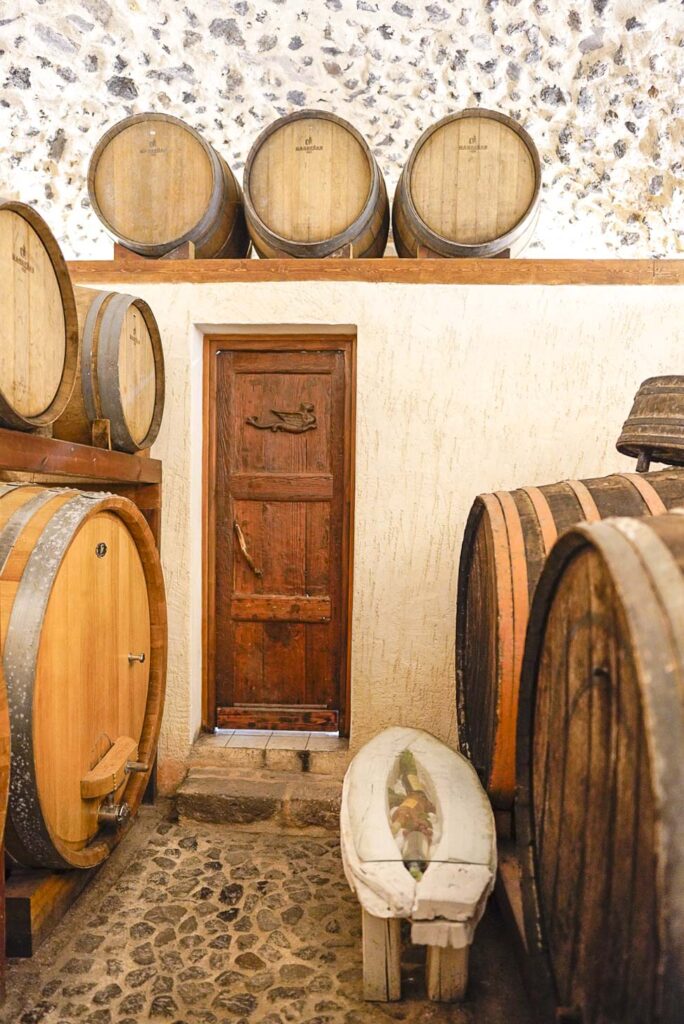 Gavalas Winery
While Santo Wines and Venetsanos Winery boast breathtaking views of the Santorini caldera and cliffside wine tasting, Gavalas Winery feels like a whole another world in comparison, yet it is only about 10 minute away.
Situated in the heart of Megalochori, an adorably small Greek village with winding cobblestone sidewalks, this Santorini winery is smaller, cozy, and family owned and operated for four generations over 300 years.
Gavalas Winery is one of the oldest Santorini wineries.
Take a seat at the picnic tables in the small courtyard and choose from a selection of wine tasting offerings, then ask for a tour of the winery which shows the history of Greek winemaking and antique tools.
We opted for the slightly more expensive Rare and Premium tasting which was completely worth the few extra Euros.
Gavalas Winery is the only winery in Santorini that creates wine from the indigenous rare grape varieties Katsano and Voudomato.
Thus, opting for the premium wine tasting lets you enjoy these rare varieties only available at this historic winery.
Gavalas Winery, Megalochori 847 00, Greece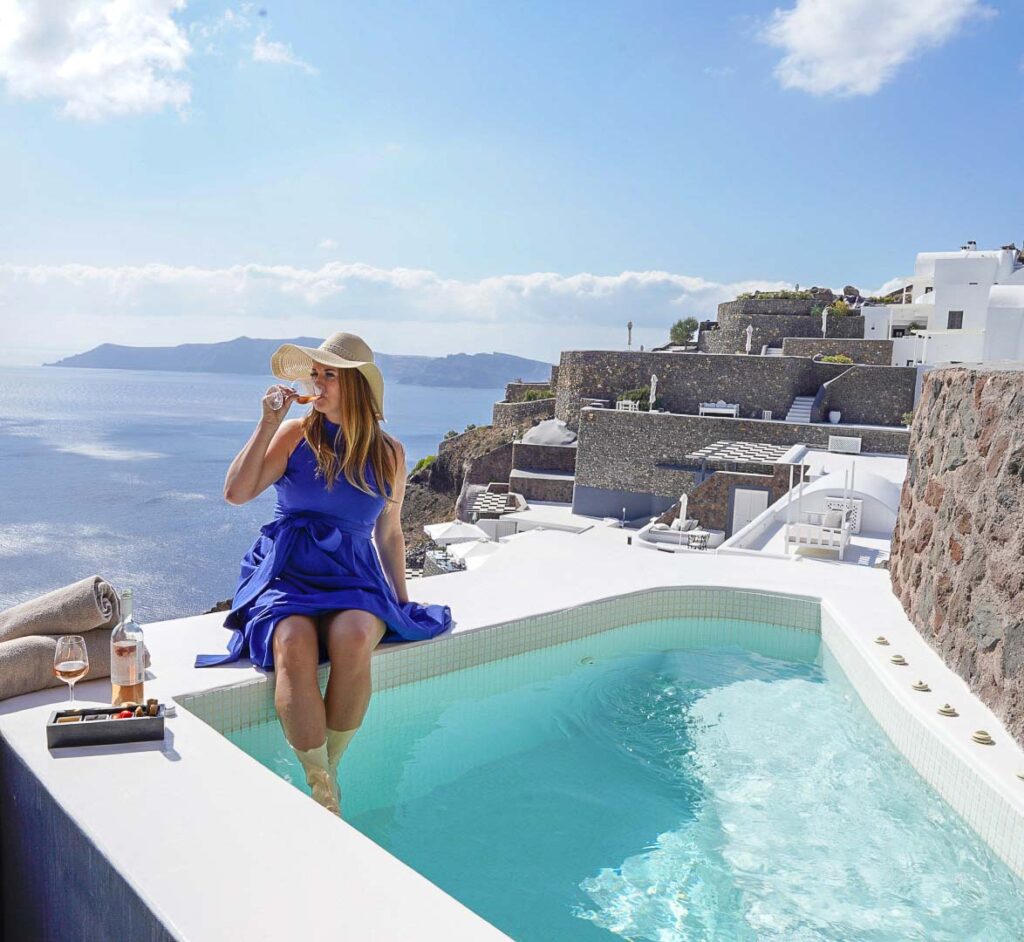 Greece is one of the most magical places in the world with really unique wines.
When planning your trip to Greece, we highly recommend also adding Milos, Greece to your itinerary. We wrote about the best beaches in Milos, Greece that will help ensure an incredible trip!
If you're as interested in wine travel as we are, you should check out our other guides: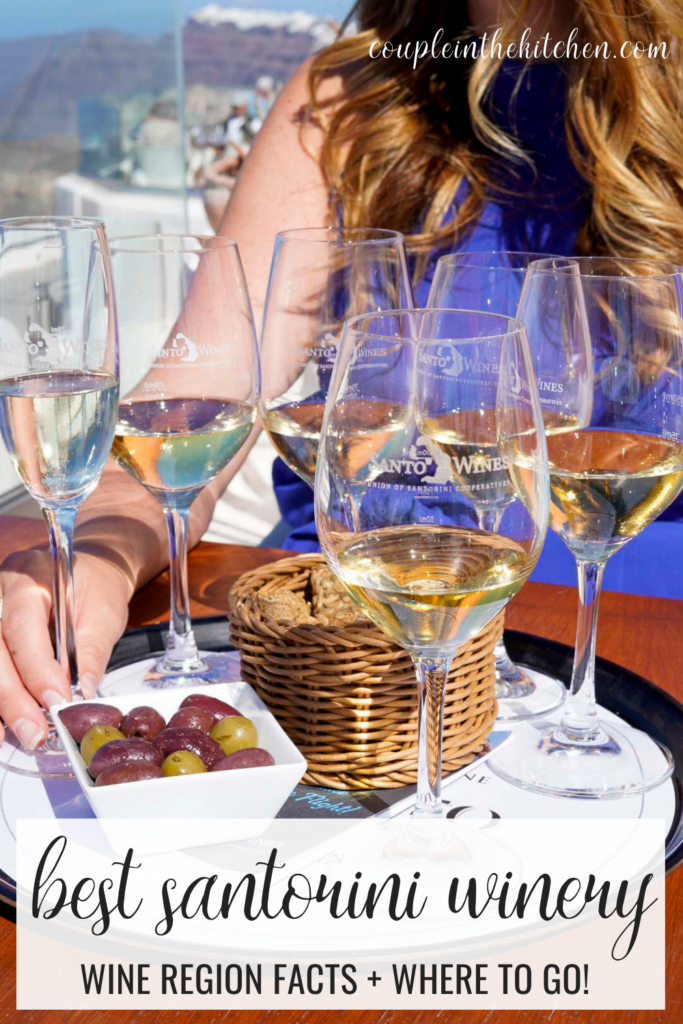 Click this link to pin this guide on the best Santorini winery spots on pinterest.
Also, don't forget to follow us on instagram and facebook for more recipes and romantic travel recommendations, we love to see when you visit our favorite spots!
Looking for more European travel recommendations? Read all of our Europe travel guides.
If you'd like to automatically receive our posts in your email, register here.