What are the best Milos, Greece beaches? We explored the island to find out!
Milos is an island in the Cyclades, Greece. It's one of the most beautiful places in the world with its unique beaches due to volcanic eruptions, rocky cliffs and turquoise waters! The beaches are utterly stunning.
Here are seven can't miss Milos beaches: Sarakiniko Beach, Firopotamos, Paliochori Beach, Paliorema Beach, Tsigrado Beach, Firiplaka Beach, and Kleftiko.
Milos Greece Map and Beach Guide
In order to help provide you a lay of the land, we created this Milos, Greece map with a guide of our recommended beaches.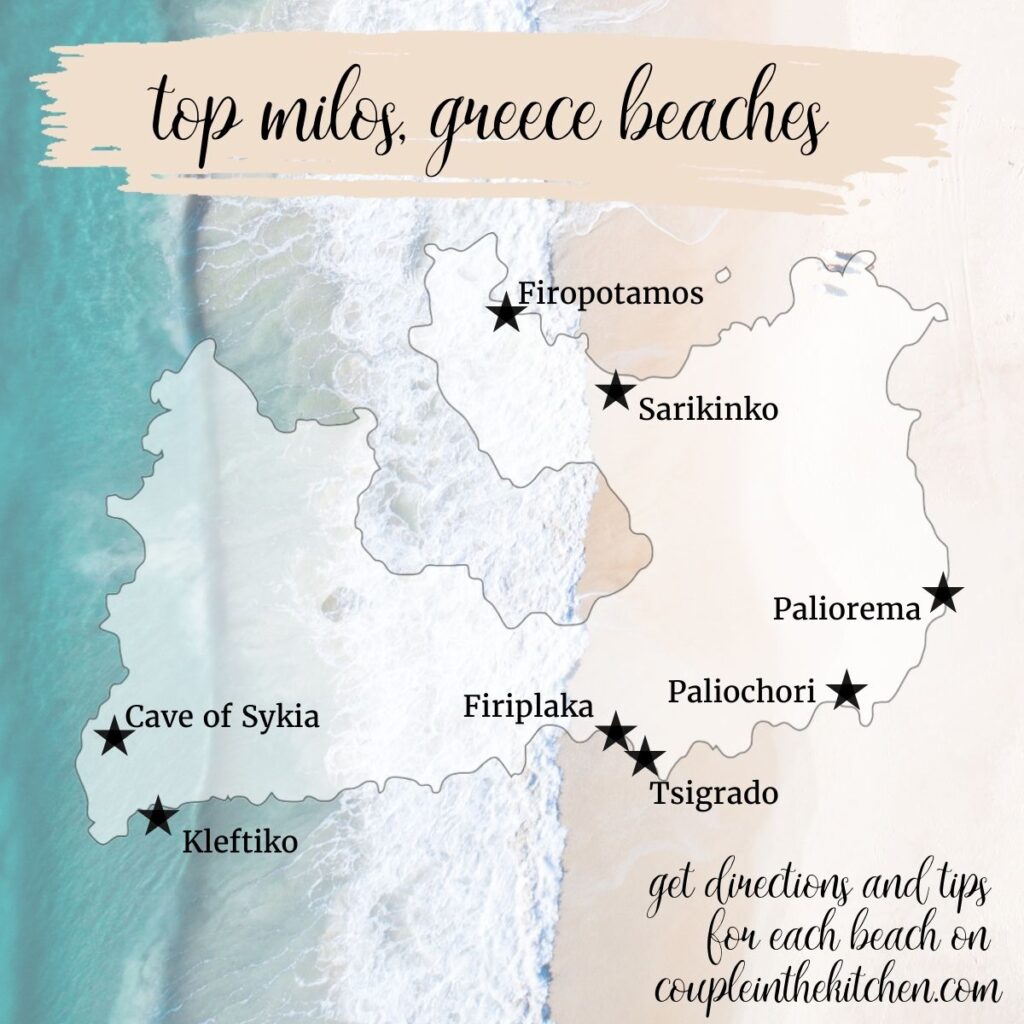 Most Unique Milos Beach: Sarakiniko Beach
Sarakiniko Beach is one of the most unique beaches in the world.
It feels odd to call Sarakino a beach since it is not a sandy beach, the surface is bone white stone, which originated from volcanic rock that was worn down from the waves and the wind.
This spot is definitely the most instagrammable spot in Milos. The white stone makes the already turquoise waters glisten even brighter.
We woke up at dawn thanks to jet lag, and took photos at Sarakiniko Beach while the sun was rising.
If you want to soak in the sun while on a lunar landscape, this is your spot.
Sarakinkos is only a 10 minute drive away from Plaka, a city center in an old city accessible only by foot with winding sidewalks, cafes, art shops, and restaurants.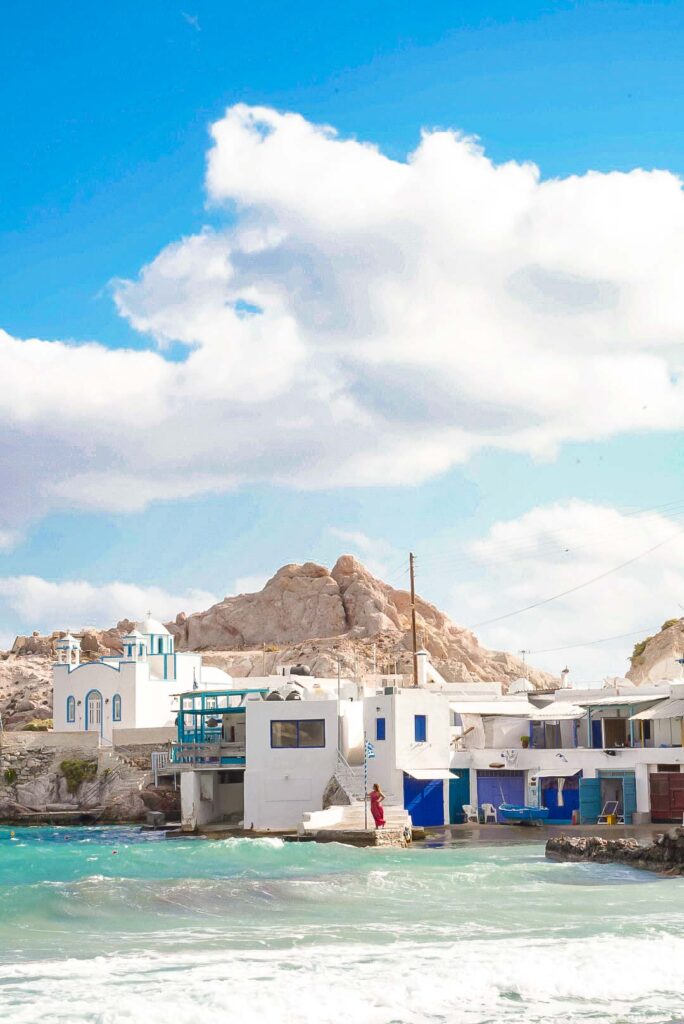 Most Picturesque Milos Beach: Firopotamos
Just a short ten minute drive from Sarakiniko, is Firopotamos Beach.
This adorable fisherman's village features picturesque homes on the coast.
A blue and white church on the tip of the coast makes for a terrific sight.
When we visited we encountered very strong winds, which caused the beach seats and umbrellas to be closed and the waves unfit for swimming.
During calmer days, you can sunbathe and swim at the small beach and visit a beach bar to cool off with a refreshment.
Even though we couldn't pop in for a swim at Firapotamos, we enjoyed walking around the area, taking photos, and watching the waves crash against this charming village.
Most Unique Milos Beach: Paliorema Beach
Have you ever sunbathed at a beach of old mining ruins?!
This is one of the most interesting beaches in Milos. It feels like an old ghost town since the Thiorichia sulfur mines were closed during WW2.
You'll even spot abandoned mining equipment, seemingly frozen in time.
Bring water shoes since the beach is rocky and you don't want to encounter any abandoned shrapemal or metal at the site..
We found these affordable water shoes online that look just like athletic shoes.
The sulfur from the mining area creates the gold and red colors of the rocks in the area.
This is a small beach, but it is very private. There were only four or five other people there while we were visiting.
You can explore the abandoned rooms and even walk into old mine shaft tunnels.
Keep in mind that there are no facilities or restaurants around Paliorema Beach so pack snacks and beverages.
Obviously we packed a bottle of Greek rosé wine.
We brought a waterproof cooler bag from home that protected our camera equipment near water, it also was the perfect cold picnic bag to pack wine for beaches like this!
This is a difficult beach to access, thus the privacy. You can arrive or by an ATV or car.
It's rough terrain so drive slowly. You want to park once you reach the wider area before the road starts to reach the final two hairpin turns.
Then walk the final .3 miles. Our water shoes worked perfectly for the hike down as well as for the beach.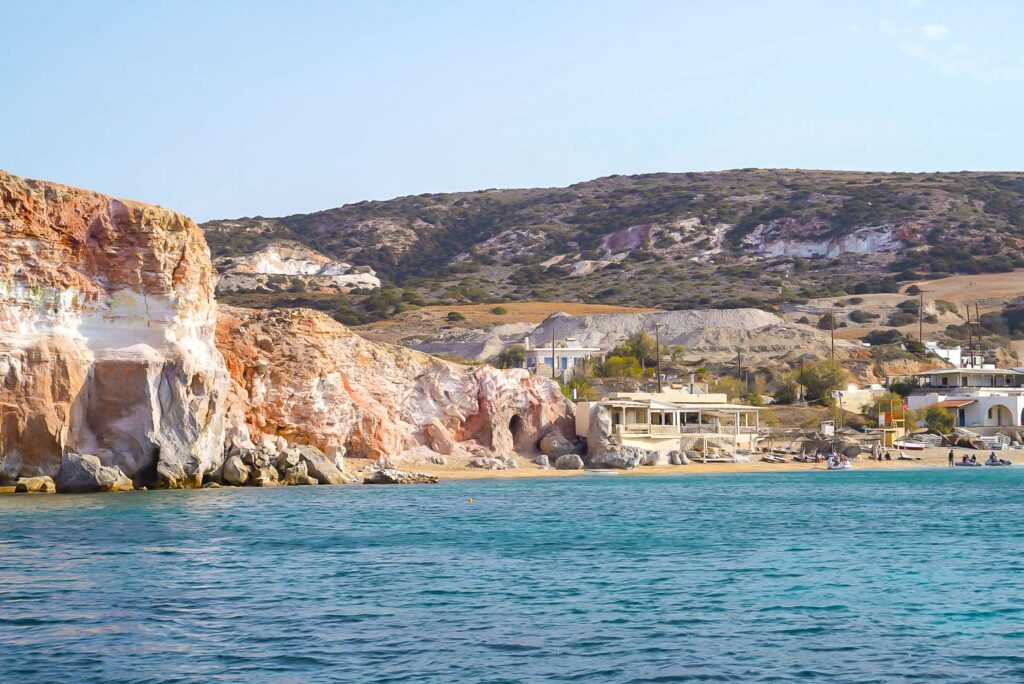 Best Milos Beach for Dining Options: Paliochori Beach
Similar to Paliorema Sulfer Mine Beach, the Paliochori Beach is at the the Southeast corner of the island.
It's probably best to start with an adventure in the old sulfur mines, then drive 25 minutes to the relaxing Paliochori Beach.
This beach is night-and-day compared to the desolate, ghost-town beach of Paliorema.
At Paliochori you'll find a number of restaurants and bars. (Treat yourself to a well-deserved drink after your Paliorema adventure!)
Along the pink and red rocks, you'll find bohemian cabanas with palapa umbrellas. We found the cabana and chair rentals to be overpriced, honestly.
This somewhat rocky beach boasts crystal clean water, so grab a snorkel if that's your thing!
Paliochori Beach's location also offers great protection from the wind, which makes it a great beach for relaxing.
We liked Firiplaka better for sunbathing but Paliochori is a great spot to choose for if you're looking for proper restaurant dining options on a beach.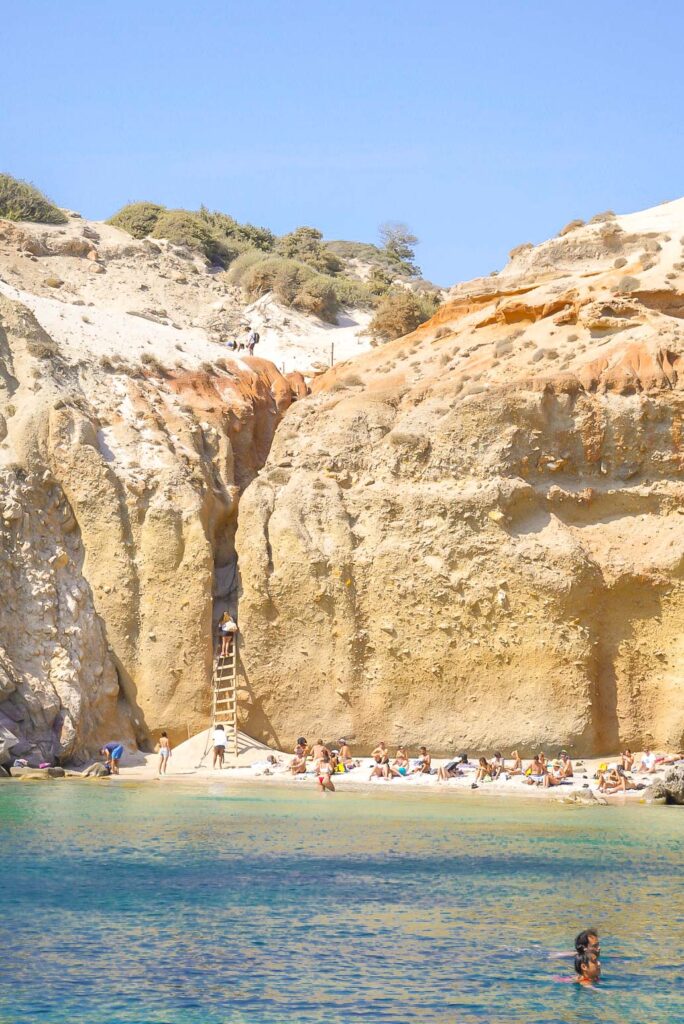 Most Adventurous Milos Greece Beach: Tsigrado Beach
A spot for the adventurous!
Tsigrado Beach is often referred to as one of the most beautiful beaches in Milos, but it is a challenge to get to.
The beach is very small, however, which means it can be crowded.
In order to access the beach, you'll need to climb down a pretty challenging ladder using a rope. As a result, make sure your hands are free and you're not carrying too many things. Bring a backpack!
After scaling down the cliff you'll be rewarded with crystal clear water.
Not in the mood for such an excursion?: Start at Firiplaka Beach and rent a kayak (it only costs about 10 euros). This way you can kayak to Tsigrado beach and avoid the climb down. It's also worth it to be able to float in the sea caves.
We arrived at this beach as part of our Volcano Boats Kleftiko tour, which means we jumped in via the boat, swam through the sea caves, and were amused to watch people struggle to get down the difficult latter descent.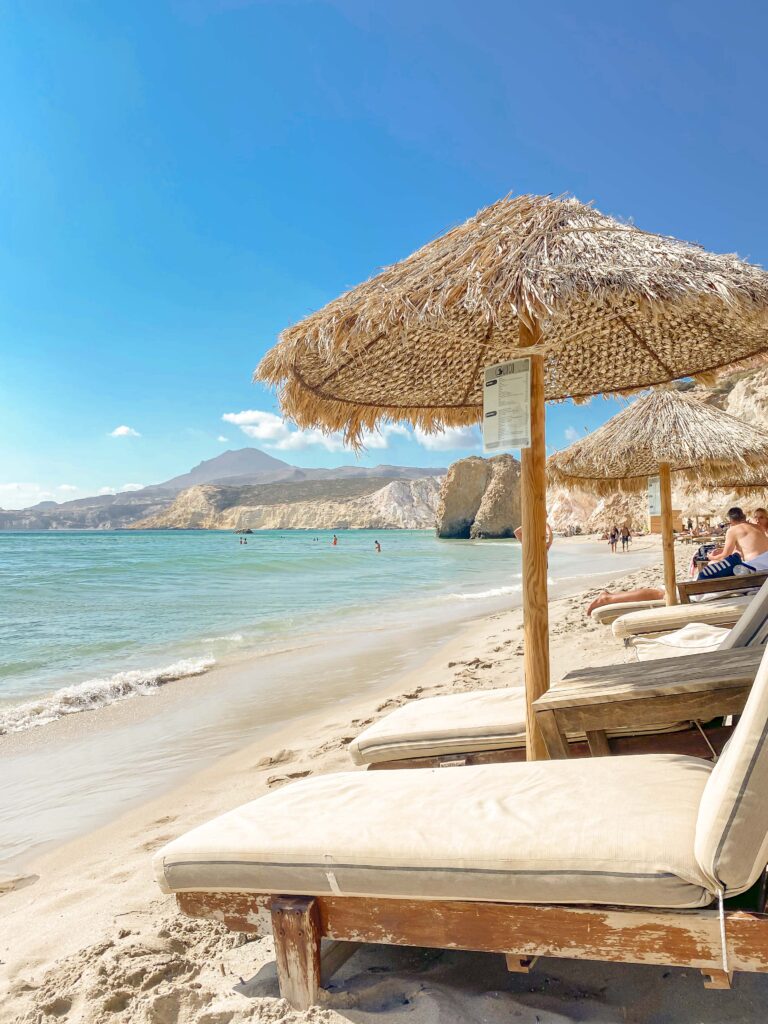 Most Relaxing Milos Beach: Firiplaka Beach
Only a 2 minute drive from Tsigrado Beach, Firiplaka is a great beach to visit before or after exploring Tsigrado Beach.
Firiplaka is a very popular beach with sunbeds and umbrellas. It was our favorite beach for relaxing.
You'll be surrounded by volcanic cliffs as you cool off in shallow waters that are great for swimming.
Firiplaka also offers a fine sand beach that is less rocky than other beaches.
During high tide, you'll have to access the beach by walking through some rocky shallow water. Consider bringing water shoes to this beach as well.
This is more of a traditional beach for sunbathing and swimming, but it is nice because the location often shields guests from the very strong Milos winds.
We rented beach chairs and an umbrella for about 25 Euros and bought a bottle of Greek white wine from the beach bar. They even stored the wine in an ice bucket for us.
There are also some small beach snacks available for purchase like Greek salad, chips, burgers and sausages.
Best Non-Traditional Milos Beach: Kleftiko and the Cave of Sykia
Okay, okay, this isn't a beach in the traditional sense, but it is a must-see attraction while in Milos.
Kleftiko is on the Southwestern side of Milos and is, for the most part, only accessible by boat.
There is a way to hike to Kleftiko, but leave that to experienced locals.
Kleftiko was previously a hiding ground for pirate ships and pirates would hide in the sea caves. Legend has it that some loot was yet to be found. Perhaps you'll find it on your visit!
We originally chartered a cruise on a sailboat with Trinity Yachts but the winds were so strong every single day we were in Milos, the excursion was cancelled. We were able to find that Volcano Boats was still operating since their specially designed powerboat is designed to handle bigger waves.
If you're visiting Milos, plan your boat tour for the first full day you are on the island. That way if strong winds cancel your voyage, you'll have time to try to reschedule your excursion.
You also might want to consider booking a speedboat instead of a sailboat to reduce the risk of cancellation due to winds, Greece is VERY windy!
Our boat cruise gave us the opportunity to swim and snorkel into sea caves, which was our favorite part of the day.
The Sykia, also commonly spelled Sikia Cave, is a collapsed sea cave, which created incredible rock formations in a cove. The water glistens blue and mineral deposits create a rock rainbow.
Normally we would be able to visit to Cave of Sykia via Volcano Boat tours, but it was inaccessible due to winds that day.
Our boat cruise was the perfect day exploring some of the beaches we already mentioned but from the sea!
The fact that the excursion came with a Greek snacks and drinks was also a bonus.
Now that you planned your beach itinerary, make sure that you have all the Milos beach essentials with our recommended packing list.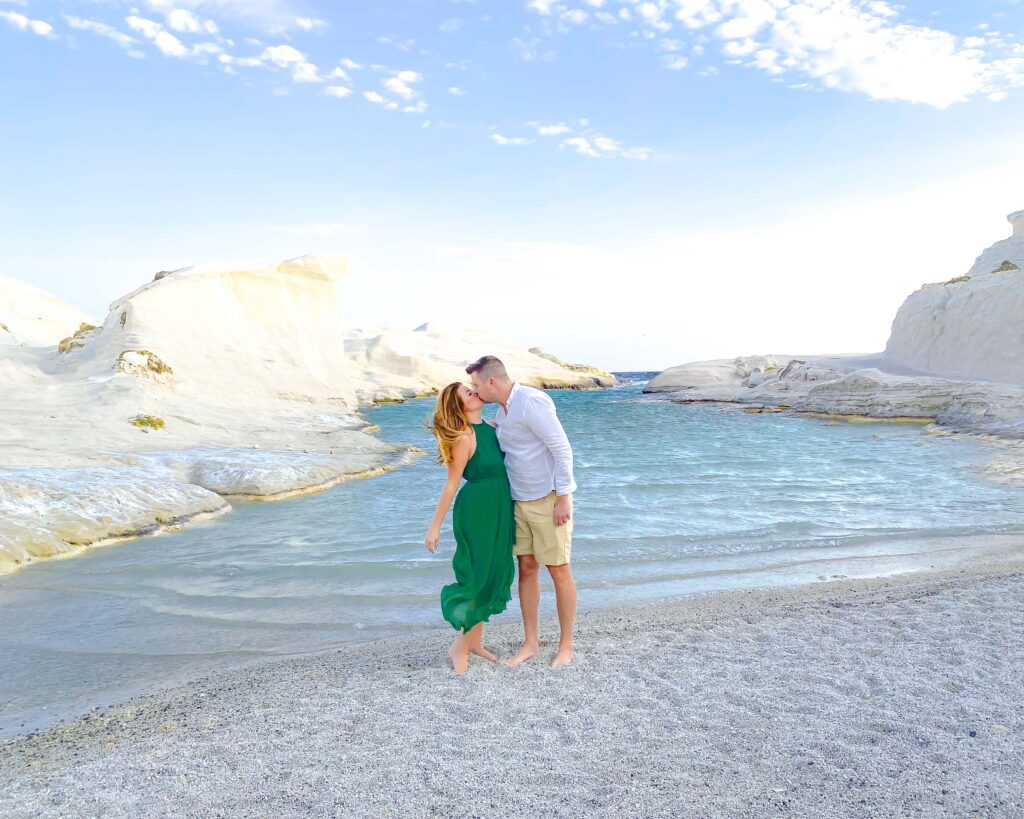 What to pack for Milos Beaches:
Click this link to pin this guide on the best Milos Greece Beaches on pinterest.
Also, don't forget to follow us on instagram and facebook for more recipes and romantic travel recommendations, we love to see when you visit our favorite spots!
Looking for more European travel recommendations? Read all of our Europe travel guides.
If you'd like to automatically receive our posts in your email, register here.