New Iberia is a small historic town in southwestern Louisiana, and if you're headed there, here's our list for the best local places to eat in New Iberia, Louisiana.
Also, once your stomach is full, we've packed this article with the best activities in New Iberia as well.
New Iberia features many well-preserved 19th-century buildings, two beautiful gardens that most big cities would dream for, and is located on the banks of Bayou Teche, a picturesque waterway that is popular with kayakers and other recreational boaters.
The town is also within easy driving distance of Avery Island, the home to the world-famous Tabasco factory.
When it comes to festivals, the city is famous for its annual Sugarcane Festival and El Festival Espanol de Nueva Iberia Festival which we were in town for. 
Top Places to Eat in New Iberia, Louisiana
New Iberia is known for classic Cajun and Creole food.  When in town be sure to try some gumbo, jambalaya, crawfish etouffee, one of the best po-boy shops in Louisiana, a local caviar, and other local specialties.
Best Po-Boy in New Iberia
Bon Creole Seafood is a hyper-local restaurant, and is probably the highest rated restaurant in New Iberia by locals, reviews, and the Daily Iberian.
They've been at their current location since 1982, and they've kept the restaurant, their great service, and delicious food in the family over generations.
Easily the best po' boy sandwiches we've had outside of New Orleans, both their fried shrimp and fried oyster sandwiches were great. If we had room for more, we really wanted to get their roast beef po-boy as well which also looked tasty.
What really sets their fried food apart, is the fact that they have multiple homemade spice blends for specific dishes and seafood.
Also, through their Imperial Orleans Caviar business, they're one of the only processors of bowfin caviar in Louisiana.  We never expected to eat caviar in Louisiana, let alone eat caviar made and processed in New Iberia for some of the best restaurants in the south. 
Places to Eat in New Iberia Louisiana for Date Night
Cafe Jefferson is located on the water inside of the Rip Van Winkle Gardens. This was our favorite lunch in town for the ambiance alone.
Located just past the entrance of the gardens and along the water of Lake Peigneur, Cafe Jefferson serves up classic Louisiana dishes.
We opted for two classic plates that we had yet to have in New Iberia, and both the muffuletta and crab meat au gratin were well worth it.
The muffuletta was HUGE! We only ordered a half sandwich, and it was the size of two normal sandwiches anywhere else in America.
If you've never had a muffuletta before, it's a popular Italian style sandwich that was created in New Orleans. A muffuletta is loaded with its signature olive salad, multiple cheeses, salami, ham, and mortadella.
The crab meat au gratin is a hot and cheesy crab dish that's perfect for sharing because it's delicious and loaded with crab, but oh so heavy. 
Best Boudin in New Iberia
Restaurant 1868! is serving up Louisiana Creole classics right at the Tabasco Factory, and you can pair every dish with any of the different Tabasco flavors.
This restaurant is one of the best places to eat in New Iberia, Louisiana because they do so many regional classics well.  
Their boudin was delicious, they even said it's won regional awards for the best boudin multiple years in a row.
We ate it made out of the traditional sausage casing, and you can also eat it in an egg roll with some Tabasco pepper jelly.
Other notable dishes were their crawfish etouffee and Cajun style gumbo.
What we didn't know until this restaurant was that Creole gumbo is the traditional thick gumbo most people experience when visiting New Orleans that's thickened with okra, but outside of Nola you're most likely going to experience Cajun gumbo which is a lot more soup-like.
Knowing the different gumbo styles now, we can say that we are cajun gumbo people now.
This meal was finished off with a bang when they brought out their homemade bread pudding that was delicious on its own, but to kick it up a notch they had us top the bread pudding with Tabasco's raspberry chipotle sauce.
It was unlike any dessert we've had before and will be ordering the sauce on the regular.
Most destination restaurants don't have good food, but with the magic of the Tabasco brand pepper sauce, great prices, and fresh food we can truly say this isn't a tourist trap.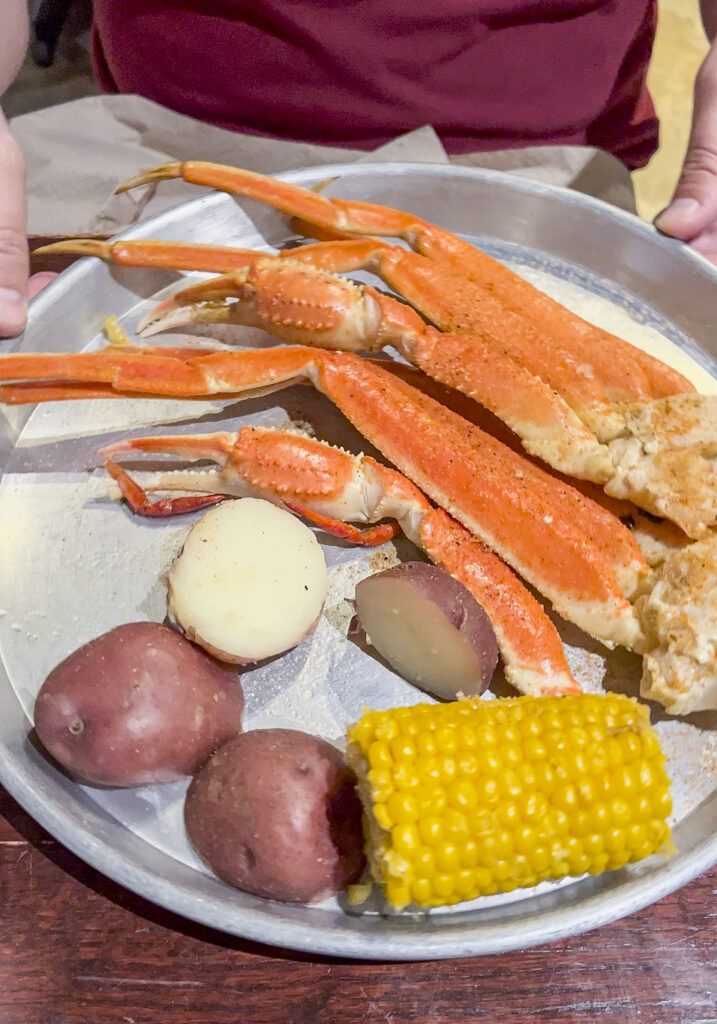 Best Cajun Boiled Seafood in New Iberia
Jane's Seafood is where you head to in New Iberia when you're craving large portion sizes of fresh seafood like snow crabs or a crawfish boil.
Their menu features three different types of crab, crawfish, and shrimp when in season and you can have them boiled in different spice levels.
They also have their own special dipping sauce made for the boils.
They do have an American Chinese food menu, but you should definitely go here for their seafood boils.
What amazed us the most beyond their large menu was the extremely low menu prices for the fresh shellfish.
In Austin, the most reasonable prices for excellent local seafood would be at least $15 more per boil, so we had a difficult time saying no to ordering more crab. 
If you LOVE a good crab boil, don't miss our Seafood Boil Recipe to make this at home!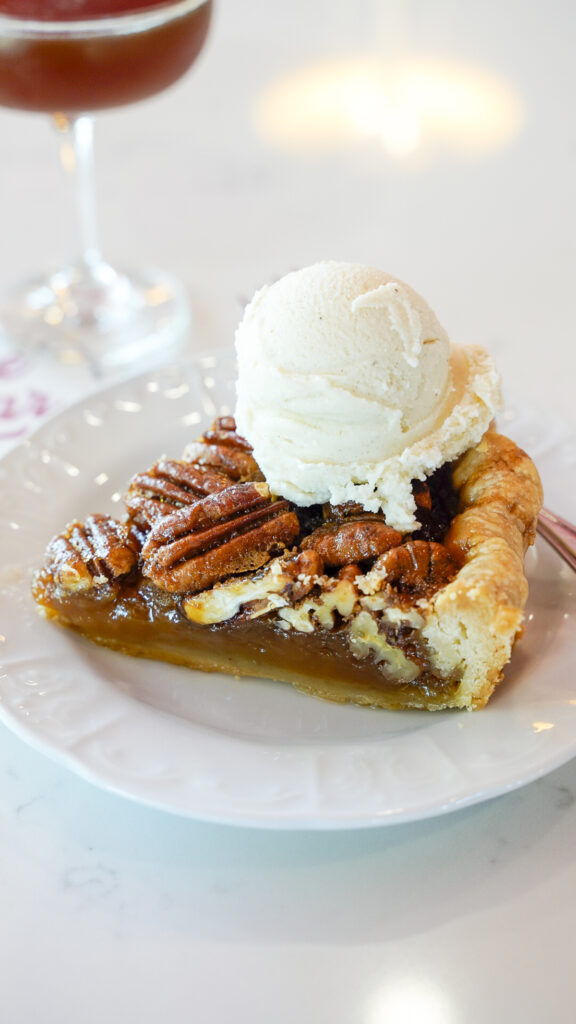 Best Pie in New Iberia
We got so lucky to stumble upon Cane River Pecan Company when we were strolling down W Main St. the first day.
Cane River makes a ton of homemade pies, they have a full bar, a gift shop, and live music.
We opted for their bourbon homemade pecan pie with a side of espresso martinis.
Their pies are high quality, and they have great drinks for New Iberia which doesn't have a notable craft cocktail bar.
This may have been the best pecan pie we've ever had.
We wish we could get this pie shipped to Austin via Uber Eats, but that delivery fee would be massive.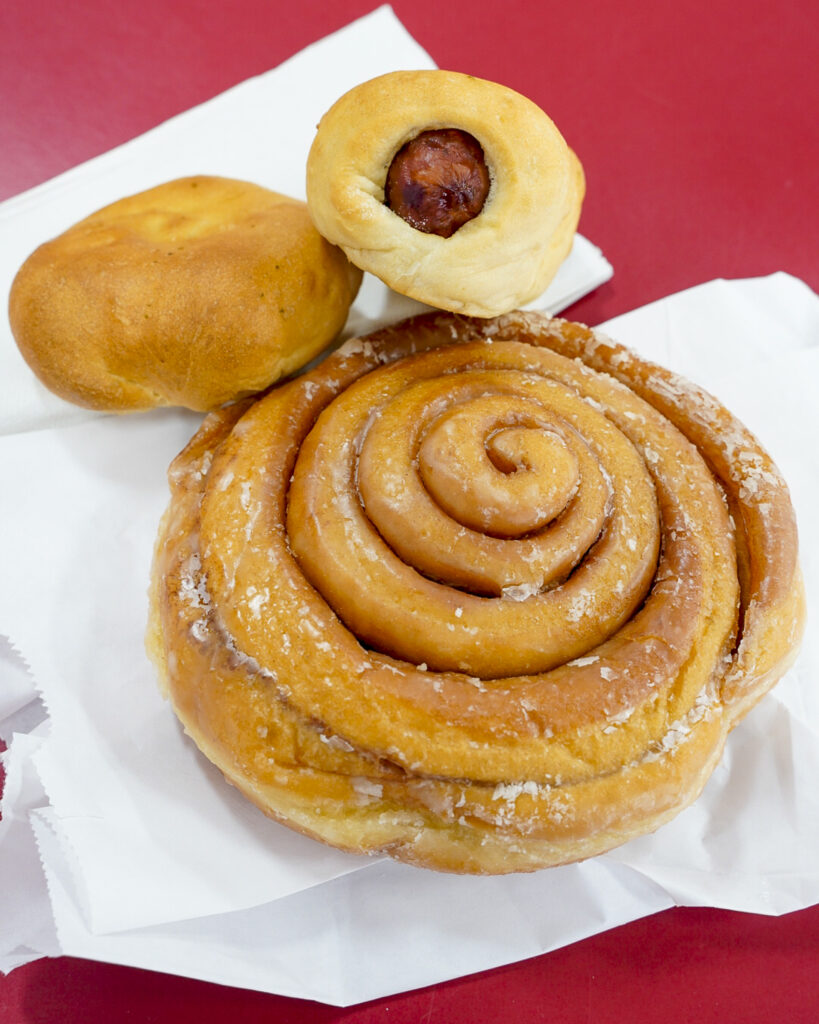 Best Breakfast in New Iberia
Meche's Donuts is the local fast food donut shop with a friendly staff, super fresh products, and awards to show for all of it.
We went for their king cake that you can get year-round, but you actually need to order 24 hours in advance and we missed that memo.
But, they kept our spirits high with a pillowy freshly baked cinnamon roll, and a boudin stuffed kolache.
Living in Texas we've eaten a ton of kolaches, and these boudin stuffed ones were some of the best we've ever had.
They had friendly service and their great food was fast and a good way to start the day.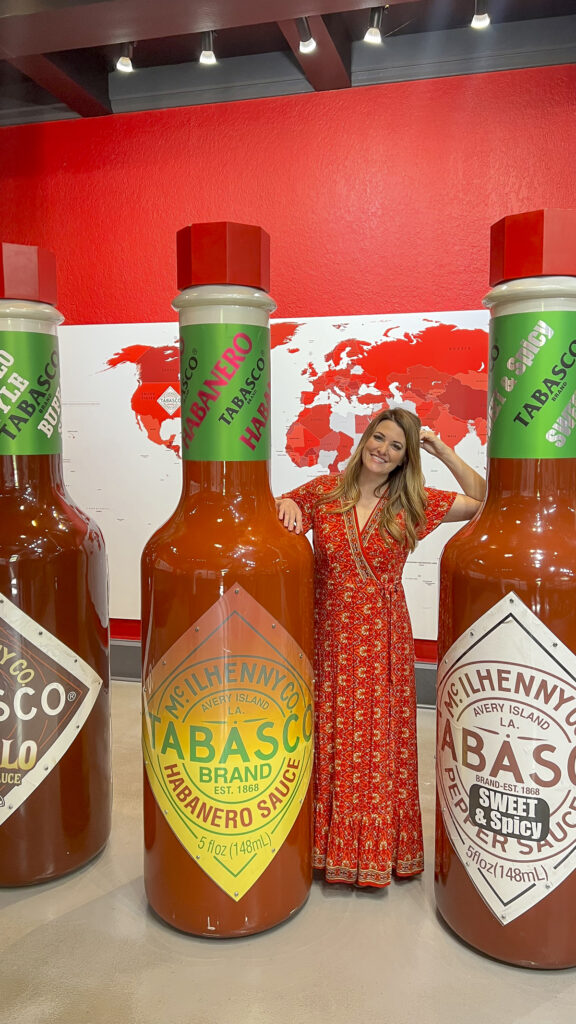 Top Things to Do in New Iberia
Explore Avery Island
No trip to New Iberia is complete without making the pilgrimage to Avery Island.
This nearby island is home to the world famous Tabasco hot sauce factory.
Tabasco makes all of their hot sauce for the world right on this island, and has been doing it for its entire history.
On the Tabasco tour you can learn about the history, sample all of their flavors, see the famous peppers growing, and see how it's bottled.
They also have a gift shop that even sells ice cream made with two Tabasco flavors. 
Rip Van Winkle Gardens
The Rip Van Winkle Gardens weren't originally on our itinerary, but you shouldn't make a trip to New Iberia without a stop at the gardens.
These gardens are one of the best-kept-secrets of Louisiana.
Originally owned by an actor that played Rip Van Winkle, this large property has surprises, beauty, and peacocks around every corner.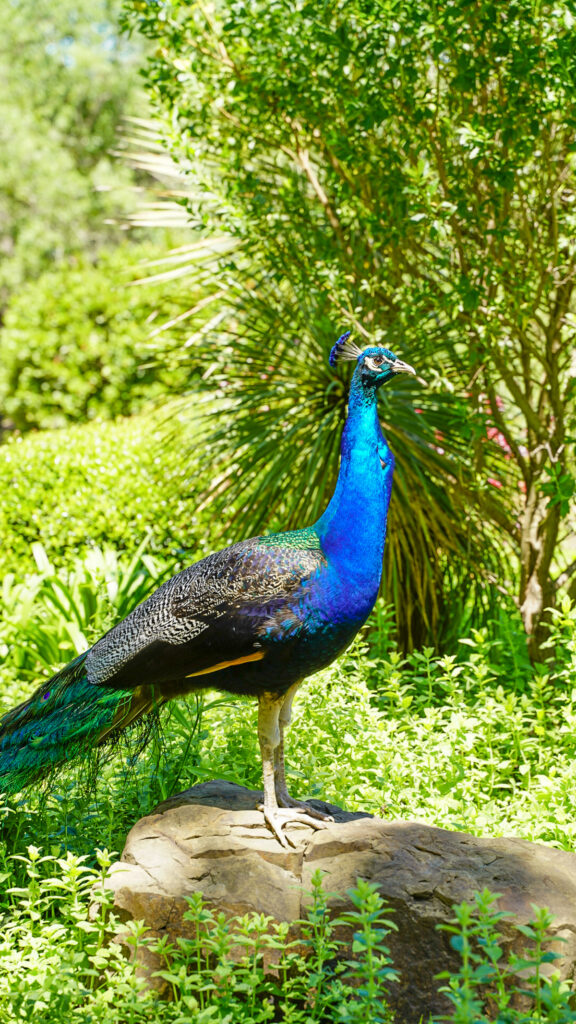 On the property there's a mansion, a delicious cafe, places for weddings, a bamboo forest, international statues, and 15 acres of tropical gardens.
We cannot express to you enough, this was the best place we visited on our trip to New Iberia.
Attend a Louisiana Festival
New Iberia has two big festivals every year.
We attended their Spanish festival, El Festival Espanol de Nueva Iberia, and they also have a large Sugarcane Festival as there's a ton of sugarcane farms in the region.
The Spanish festival celebrates the Spanish ancestry of the city.
They had live paella, tapas, and jambalaya cook-offs, a Spanish Queen pageant, and Spanish stage dances.
There was also a 5K walk called the Running of the "Bulls" where people could do the walk with their dogs. 
Jungle Gardens
Located near the Tabasco Factory, the Jungle Gardens were another gorgeous garden, but completely different from the Rip Van Winkle Gardens.
Jungle Garden is packed with wildlife!
While driving the property we saw multiple alligators, birds, and there were even signs that noted you could come across bears.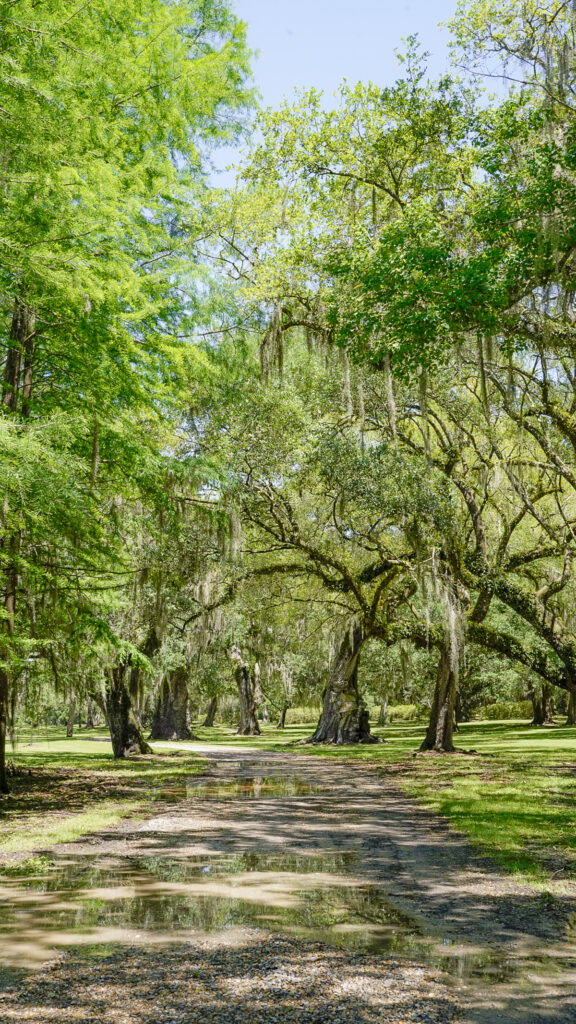 There's a full bird city colony formation for nesting for egrets and other water birds.
​Exploring the gardens while in New Iberia is truly one of the best things you could do while in Louisiana. 
Explore New Iberia Main Street
The historic Main street of New Iberia is worthy of your time.
There are multiple local bars, a few restaurants, our favorite dessert shop, and the main public square.
Bouligny Plaza is the main public square on Main Street. It hosts concerts, festivals, and other events throughout the year.
While we were there this was where the city Spanish festival was hosted. If there's something special in town on a Saturday night, it's probably at the square.
If you go east of the commercial area of Main Street you will also drive by a gorgeous stretch of the largest and most beautiful historic homes in New Iberia.  We stopped to take a picture of a few of them, and we also learned that a few of them are on Airbnb or are B&B's.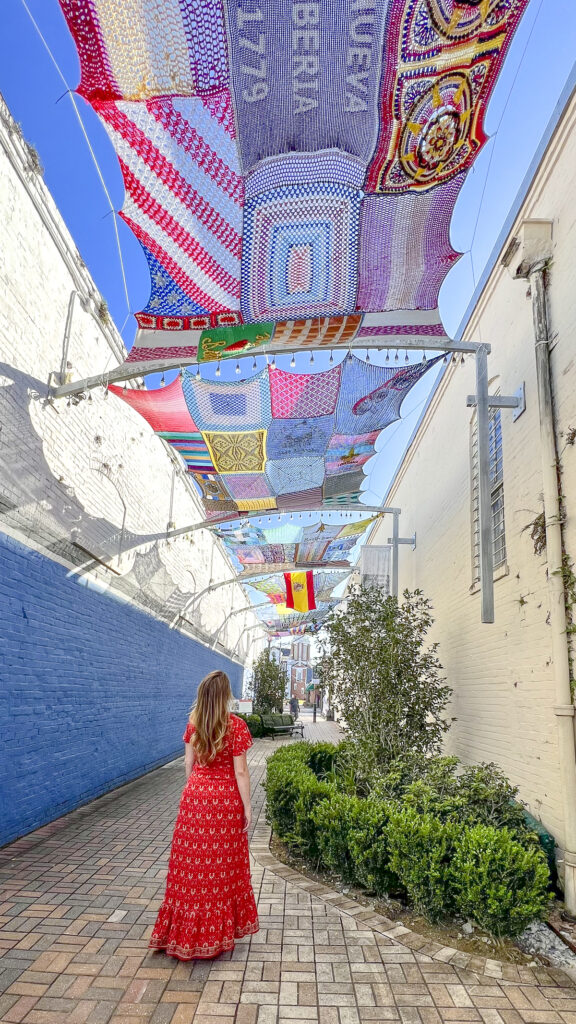 Take Photos at Church Alley
On E Main St. there's a small alley that has hanging European looking knitted blankets.
We've seen streets like this all over Europe, and this is such a fun photo-op spot that you and your family could have the feeling of a European vacation.
At the end of the alley there's a new coffee shop named Church Alley Cafe & Bistro.
When we were on the street it was after closing for the day, but keep this one bookmarked if you're looking for a locally owned coffee shop.
This was our first time in New Iberia, but for such a small city, we couldn't get over this great experience, the exceptional food, good service, and overall amazing people it had.
Anytime you're visiting New Orleans, Lafayette, or Baton Rouge you should definitely consider a quick road trip to New Iberia for their local food, the two magical gardens, and the Tabasco Factory on Avery Island. 
If you're interested in diving deeper into our New Iberia travel and want to see videos and more, download the Steller, the travel-focused social media app, and follow our account @TravelCouple.
Click this link to pin this guide on Great Places to Eat in New Iberia Louisiana on Pinterest.
Also, don't forget to follow us on instagram and facebook for more travel guides, recipes, romantic tips, and foodie recommendations. 
If you'd like to automatically receive our posts in your email, register here.