After a weekend getaway, we found some fantastic places to eat in Frisco, Texas.
Frisco is known for its culinary scene and offers a variety of dining options for locals and visitors alike.
Whether you're a foodie seeking a unique, upscale experience or simply looking for a delicious meal that meets all palates, Frisco has something to satisfy everyone.
In this round-up post, we'll explore some must-visit restaurants that showcase the diverse flavors and culinary talents found in Frisco.
They are also great selections that can be added to any of the activities listed in our guide to 25+ Date Ideas in Frisco.
1. Neighborhood Services
Located within the Omni Frisco Hotel,the restaurant Neighborhood Services is a dining destination that combines comfort food with an upscale twist.
The restaurant offers a warm and inviting ambiance, perfect for a casual lunch or a special evening out for a date night.
Their menu features a range of delectable dishes, including mouth watering steaks, seafood, fish, and burgers.
The wagyu beef reuben is a must-order item if you are visiting during lunch.
We also loved the deep fried asparagus spears with a creamy lemon dill dipping sauce.
With its charming atmosphere and delicious food, Neighborhood Services is a must-try in Frisco, especially if you are staying at the hotel.
11 Cowboys Way, Frisco, TX 75034
2. Cookie Society
Cookie Society in Frisco is a cookie lover's paradise.
This locally renowned bakery is a must-visit for anyone with a sweet tooth.
Cookie Society is known for its mouthwatering assortment of freshly baked cookies that are made from scratch using high-quality ingredients.
From classic chocolate chip cookies to unique flavors like peach cobbler and smores, their cookies are not only visually stunning but also incredibly delicious.
With their soft and chewy texture and perfectly balanced flavors, Cookie Society has gained a loyal following, it's even a favorite of Oprah Winfrey!
Whether you're treating yourself or looking for a gift, a visit to Cookie Society is sure to satisfy your cookie craving.
9320 Dallas Pkwy #160, Frisco, TX 75034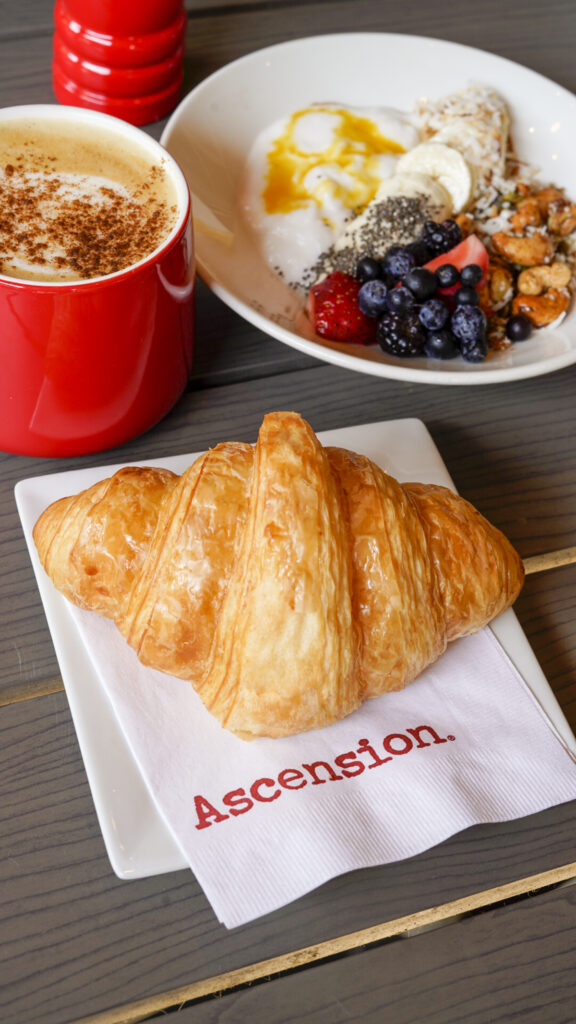 3. Ascension Coffee
If you're a coffee aficionado, be sure to visit Ascension Coffee in Frisco.
This specialty coffee shop prides itself on sourcing high-quality coffee beans from around the world, then expertly crafting them into delicious beverages.
You can even buy the beans to take them home with you.
Whether you prefer a velvety latte or a rich pour-over, Ascension Coffee will impress you with its attention to detail and quality beans.
Pair your beverage with one of their delectable pastries or a breakfast dish.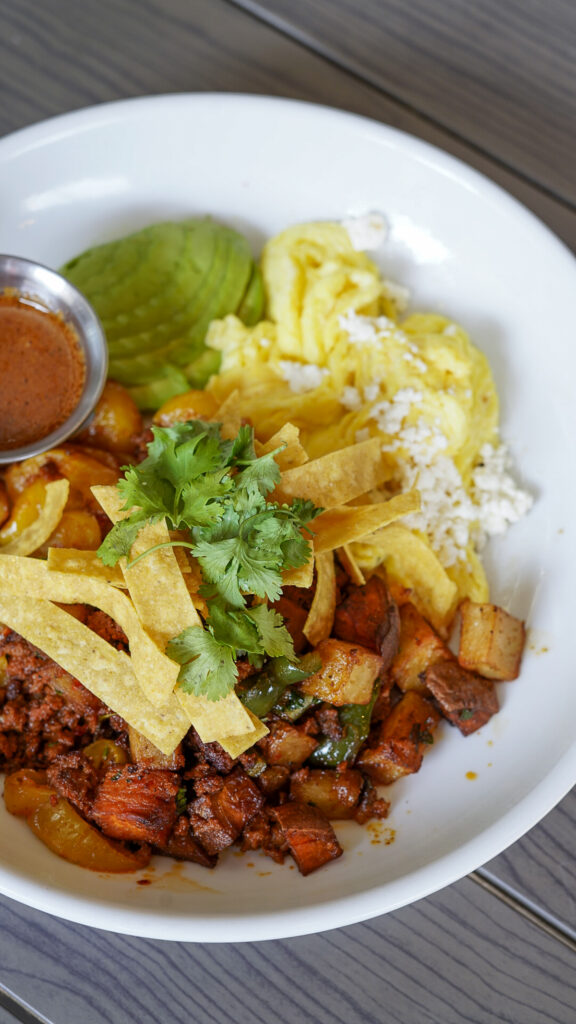 We were obsessed with the breakfast migas. Complete with a chorizo hash, scrambled, eggs and avocado, and then topped with an irresistible spicy chipotle vinaigrette sauce.
We also enjoyed the wagyu breakfast hash.
For lunch, you can pick up a salad or a sandwich.
Hot tip: if coffee isn't your thing, they are also a wine bar!
3625 The Star Blvd STE 300, Frisco, TX 75034
4. Tupelo Honey Southern Kitchen & Bar
If you're looking for Southern food in Frisco, Tupelo Honey Southern Kitchen & Bar is a must-visit restaurant for those craving comfort food.
Their menu showcases traditional dishes with a modern twist, all while using fresh ingredients.
We indulged in their famous fried chicken which was topped on macaroni and cheese filled waffles and topped with ranch and buffalo sauce.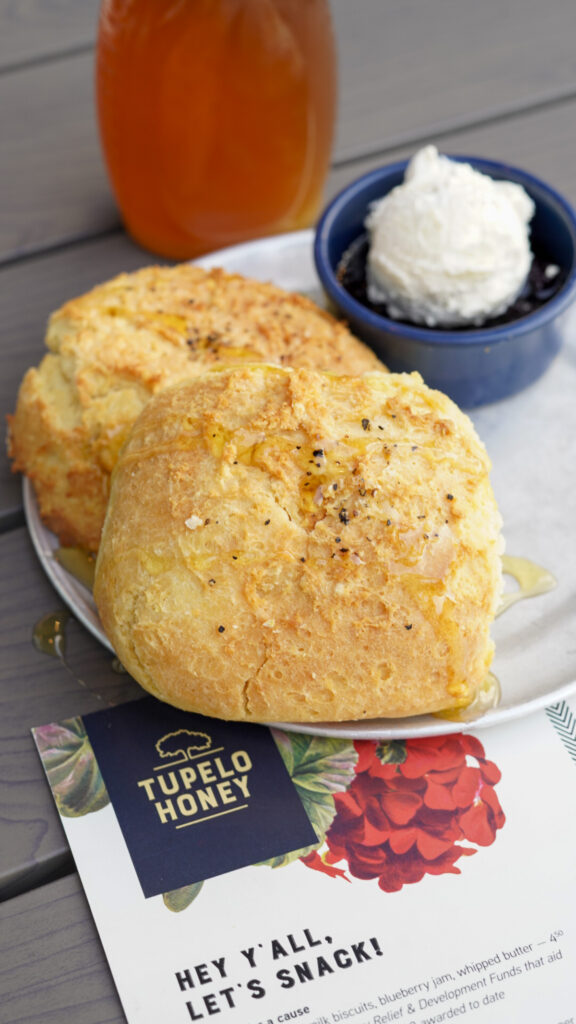 Be sure to add on an order of their biscuits, the proceeds from their biscuits go to Tupelo Honey Relief & Development Funds that aids Tupelo employees in need. $575,000 has been awarded to date!
With its warm Southern hospitality and mouth watering cuisine, it's no surprise that they have received a number of awards from Best Brunch, Most Booked, and a Diner's Choice Award.
6725 Winning Dr, Frisco, TX 75034
5. Rare Books Bar
For a truly unique dining experience that combines literature and libations, head to Rare Books Bar in Frisco.
We loved it so much that we also included it in our curated list of Top Date Ideas in Frisco!
This hidden gem offers a cozy and intimate setting to grab a nightcap or an elevated bite to eat.
The bar also features a very extensive selection of rare liquors. For a bourbon collector like Gavin, this was heaven.
From a food standpoint, enjoy elevated tacos, craft burgers, pasta and even more high-end bites like steak frites and a tomahawk pork chop.
Rare Books Bar is a haven for book lovers and food and cocktail enthusiasts alike.
Note: The Rare Books Bar is a speakeasy. Secret password required for entry when you dial the librarian from the phone at the entrance. You can find the password on their IG post for the week.
6959 Lebanon Rd Suite 110, Frisco, TX 75034
6. The Glen
Looking for dinner and a show? The Glen is the place to be.
This new spot in The Star District of Frisco offers Instagrammable décor and whiskey cocktails.
We loved the Flirt Bird cocktail that came complete with a floating rubber ducky.
You'll find fresh seafood towers, platters of oysters, and opulent caviar sections.
We ordered the "Millionaire's Corndog", which was complete with gold flakes and caviar.
Another appetizer that we enjoyed was the lobster carpaccio.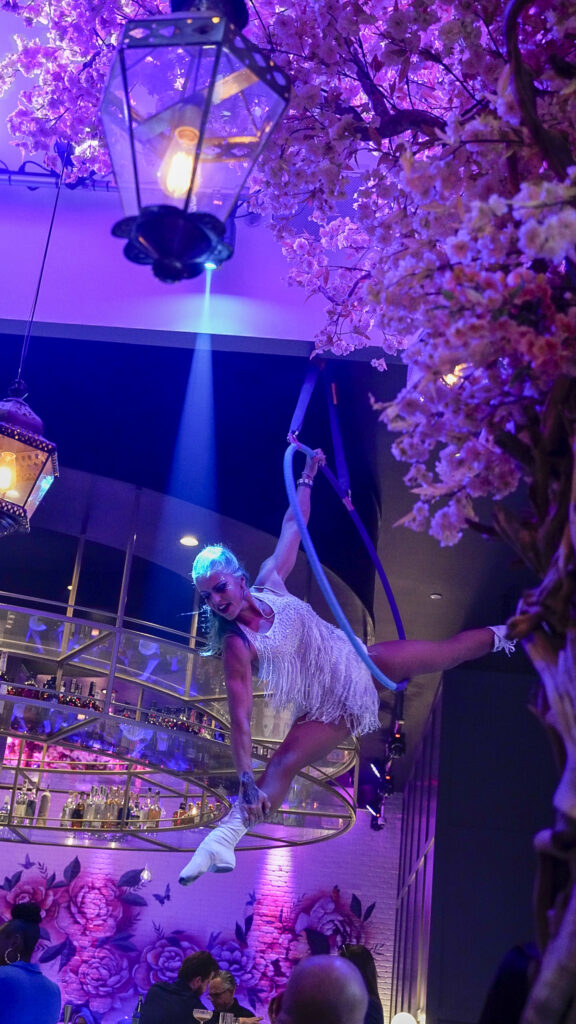 Be sure to save room for dessert!
Our dessert tower sure was one for the record books: complete with cotton candy, a luscious slice of layered cake with cream cheese frosting, and homemade churros.
The highlight of the evening is when the aerial artists start to perform!
6655 Winning Dr Suite 600, Frisco, TX 75034
7. The Common Table
If you're looking for a lively atmosphere alongside an impressive selection of craft beers, The Common Table is the place to be.
This gastropub offers an extensive beer list featuring local and international brews; there's something for every beer lover.
Pair your drink with their delicious pub fare, including gourmet burgers and shareable appetizers.
We attended the Common Table for their Hip Hop Brunch event.
You'll find boozy options like a mimosa tower, magnums of champagne, and breakfast shots on the menu.
You might even need a Hangover Helper, aka a shot of Pedialyte.
Brunch items range from a classic benedict, to breakfast flatbreads, to tacos and sandwiches.
We ordered the Hangover Burger which came on a croissant bun.
We recommend The Common Table for a lively group brunch for people who like to party.
6740 Winning Dr #1005, Frisco, TX 75034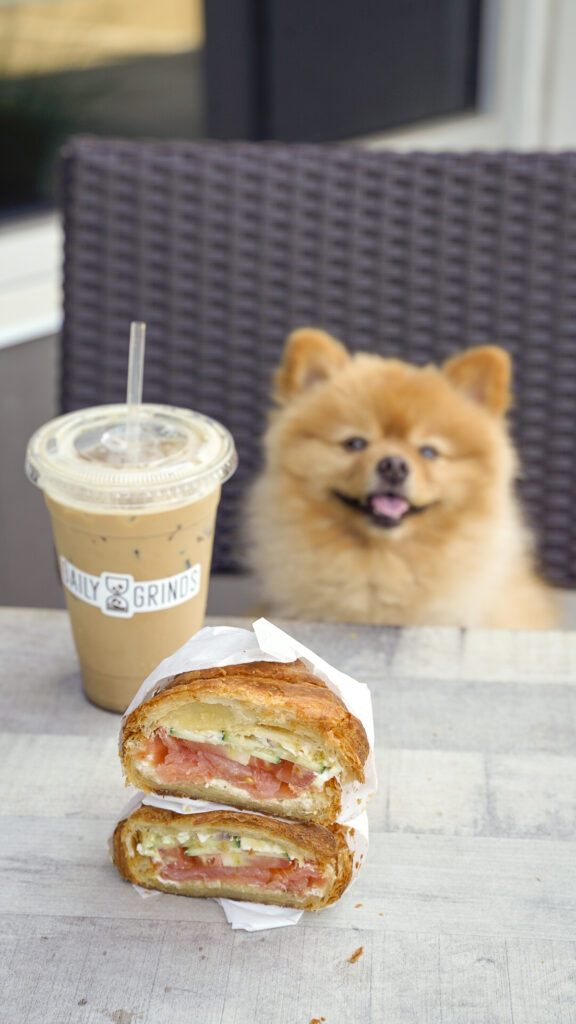 8. Daily Grinds
If you're looking for a local Frisco bakery and coffee shop, head to Daily Grinds.
They feature fresh made croissants that can be made into breakfast sandwiches.
While the menu is pretty small, it makes up for it in quality.
The croissants were warm, buttery, and flaky. We enjoyed a breakfast sandwich filled with soft scrambled eggs, cheese, bacon and aioli.
We also noshed on a homemade croissant filled with lox, cucumbers, tomatoes, and capers.
Grab a quick bite alongside a delicious dirty chai latte.
6750 Gaylord Pkwy Ste. 130, Frisco, TX 75034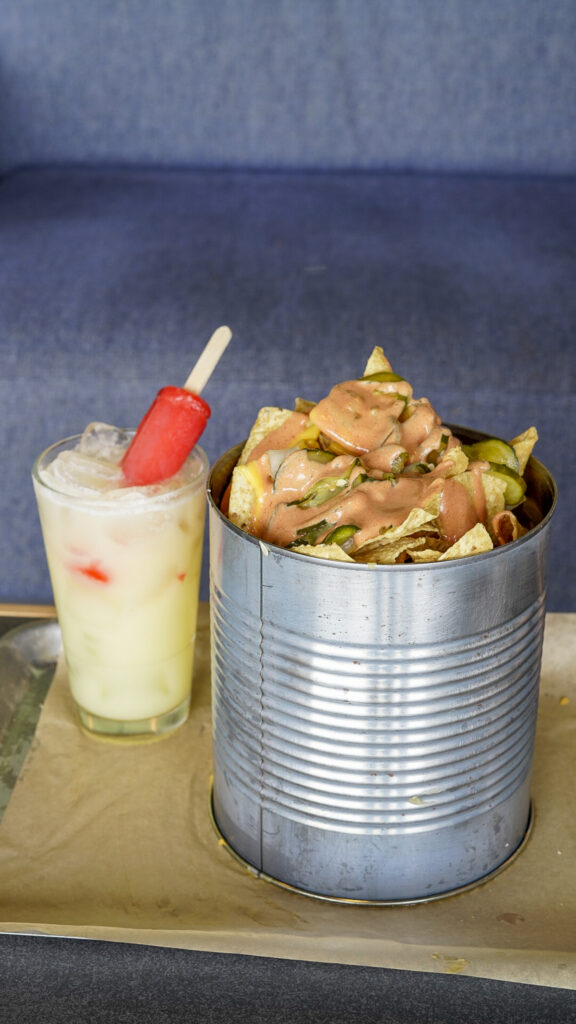 9. Ice House
The brand new Omni PGA Frisco Resort is a haven for any golf or resort lover.
There are THIRTEEN dining options at the Omni PGA Frisco Resort, so there is something for everyone.
We chose to dine at the Ice House for some Texas BBQ. They offer smoked ribs, sausage, brisket, and chicken.
The tin can nachos were loaded with BBQ burnt ends, cheese sauce, lots of toppings, and BBQ crema.
We savored the massive plate of nachos while whacking balls into the TopGolf driving range.
4341 PGA Pkwy, Frisco, TX 75033
10. eight | 11 Place
Located in the Frisco Rail District, eight | 11 Place is a great spot to grab a glass of wine with charcuterie.
The restaurant resides in an old, historic home and has a very charming patio.
The outdoor space features chairs surrounding individual fire tables with patio string lights twinkling from above.
Head there in the evening when live music is playing and it's perfect for a Frisco date night!
7080 Main Street Frisco, TX 75034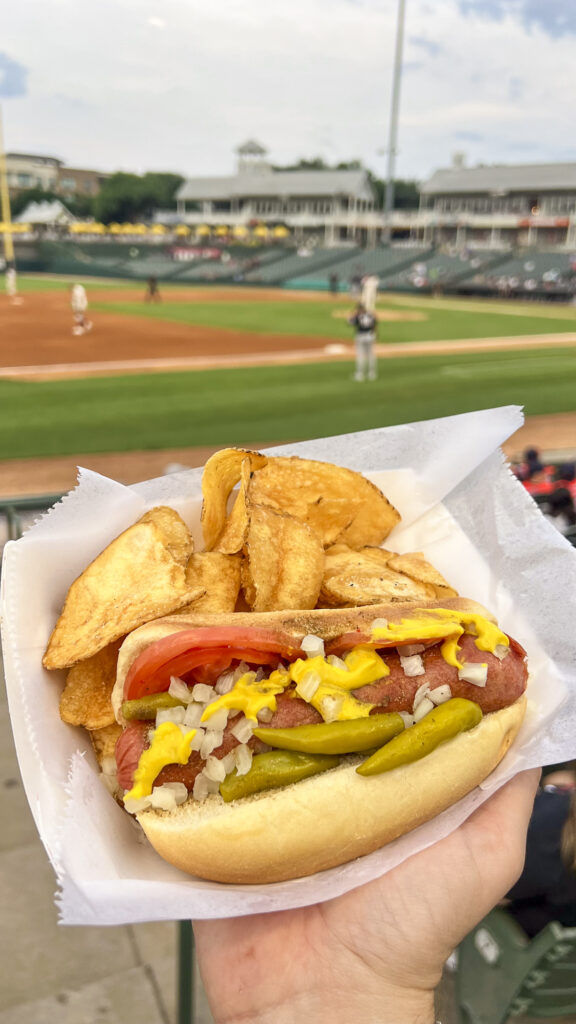 11. Food at the Frisco RoughRiders Game
For a unique dining experience, head to a Frisco RoughRiders baseball game and indulge in their food offerings while floating in their ballpark lazy river!
The stadium boasts a variety of concession stands and food spots that serve up classic ballpark favorites like hot dogs, nachos, and popcorn.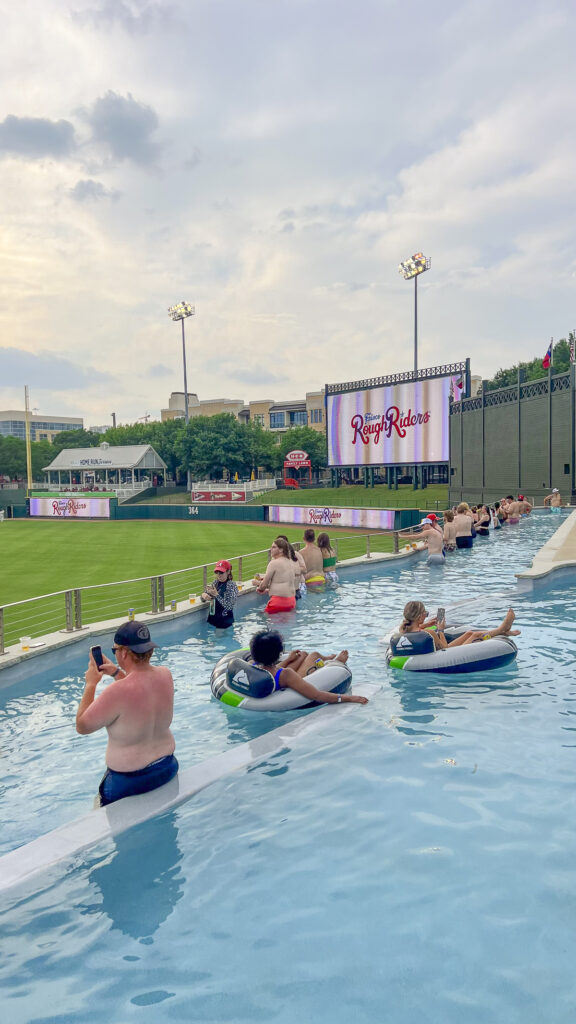 However, what sets this experience apart is the inclusion of local food vendors that offer a taste of Frisco's culinary delights.
As homage to the historic Texas beverage brand, you can find Dr. Pepper Milkshakes and Dr. Pepper Burgers!
Riders Field, 7300 RoughRiders Trail; Frisco, Texas, U.S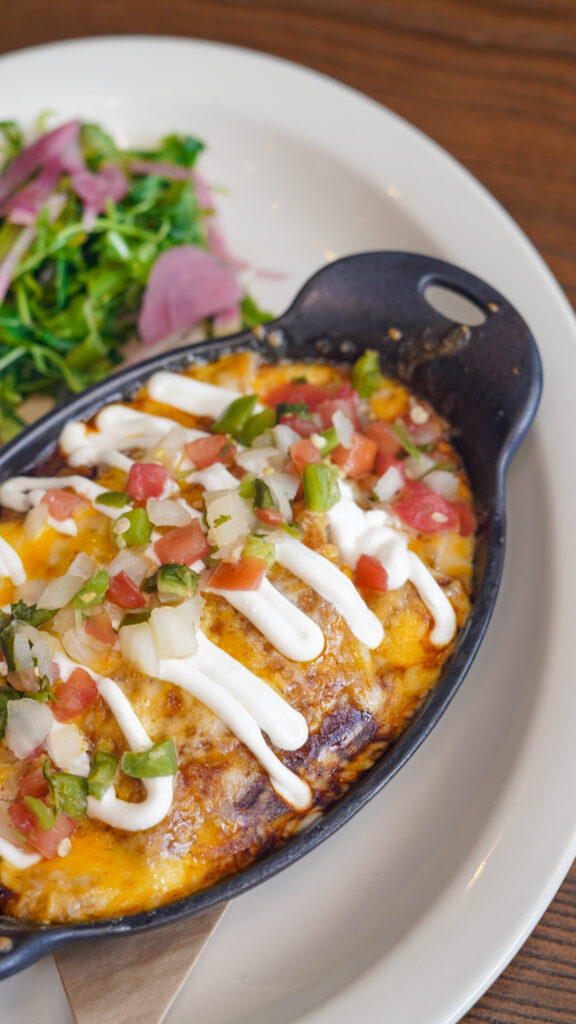 Frisco, Texas, is a culinary haven with an array of fantastic dining options.
From upscale restaurants, to hidden gems and unique food experiences, this city has it all.
So, whether you're a resident or a visitor, make sure to explore these great places to eat in Frisco and indulge in the diverse flavors that this vibrant city has to offer.
Looking for More Inspiration for Texas Travel? You'll Love these Texas Travel Guides:
Click this link to pin this guide on Great Places to Eat in Frisco, Texas on Pinterest.
Also, don't forget to follow us on instagram and facebook for more recipes and foodie recommendations.
If you'd like to automatically receive our posts in your email, register here.