We're just returned from a Texas road trip and discovered the best things to do in Lubbock for couples.
Lubbock is located in the northwestern part of Texas, USA. Lubbock is known for its thriving arts and cultural scene, delicious cuisine, and warm and friendly people.
It is also the birthplace of several famous musicians, including Buddy Holly and Waylon Jennings.
The city boasts of a rich history, with its roots dating back to the late 19th century. Lubbock is a bustling hub of activity and attracts visitors from all over the world, thanks to its many attractions, sports teams, and activities.
Lubbock, Texas is also home to a vibrant wine industry, with several wineries and vineyards scattered throughout the area. 
The region's semi-arid climate and fertile soil create the perfect conditions for growing grapes, and local wineries take full advantage of this to produce world-class wines.
Be sure to learn more about this region in our comprehensive Introduction to Texas Wine Region blog post.
Visitors can take a wine tasting tour and sample a wide variety of delicious reds, whites, and rosés, while learning about the winemaking process.
Many of these wineries also offer food pairings, live music, and other events, making them a great destination for a romantic getaway or a special date night.
In addition to wine-filled dates, here are the top things to do in Lubbock for couples.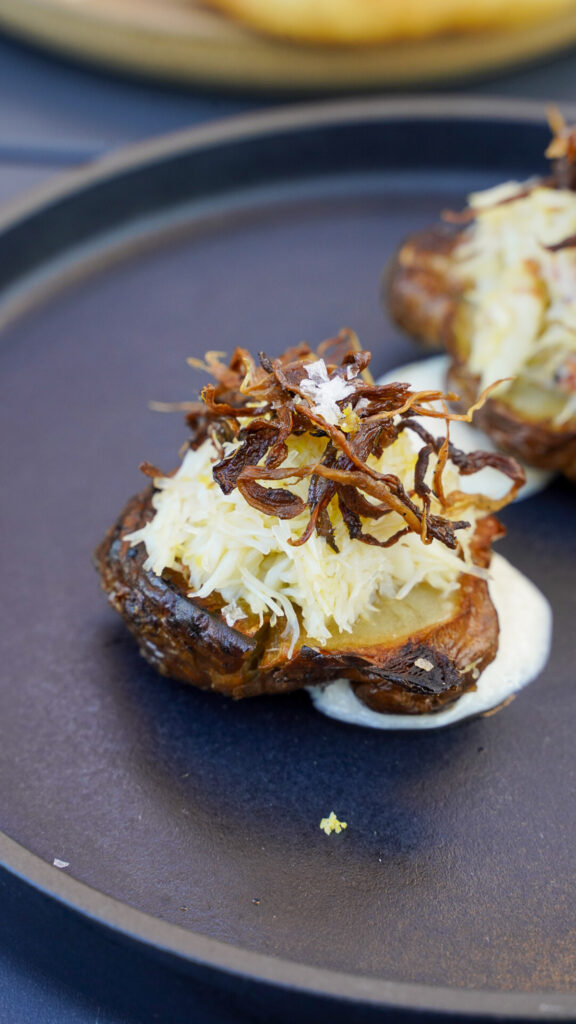 1. Enjoy a romantic meal at The Nicolett.
The most gourmet restaurant in Lubbock is The Nicolett.
Chef Finn Walter has accolades from Bon Appetit as the "50 Best New Restaurants in America" as well as a nomination for Best Chef Texas from the James Beard Foundation.
Enjoy custom bottles of wine created for the restaurant while you enjoy elevated dishes like peekytoe crab on sunchokes.
We celebrated our wedding anniversary in their charming outdoor greenhouse, which was the most romantic dinner. The ambiance alone make it one of the top things to do in Lubbock for couples.
One of our first dates as a couple was attending a ballet together on a trip to San Francisco.
Check their website for their performance calendar or even plan a holiday date night and grab tickets to see the Nutcracker.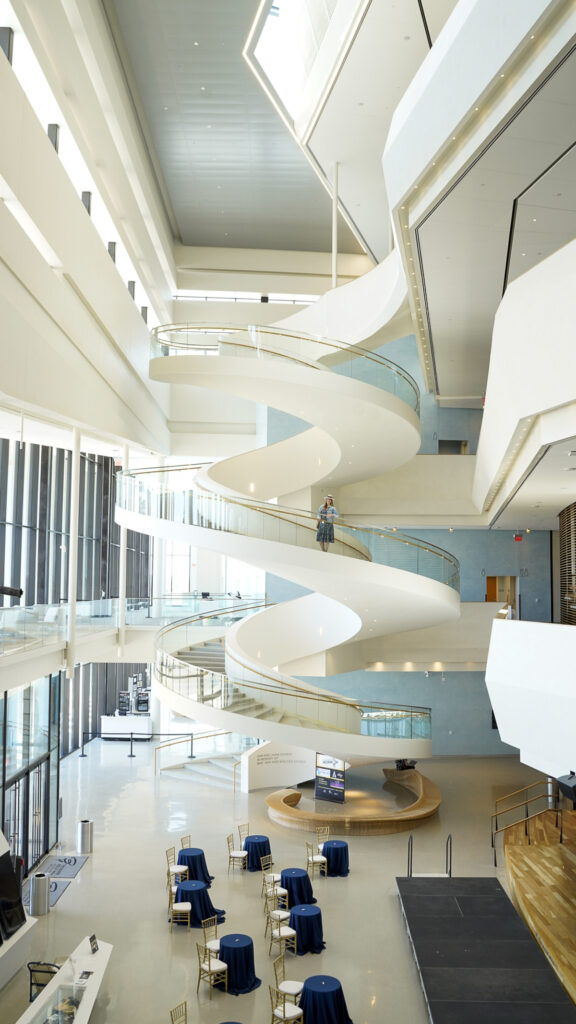 3. Catch a performance at Buddy Holly Hall.
If you're looking for date ideas, check the event schedule at the Buddy Holly Hall of Performing Arts and Sciences.
This modern venue features a variety of events from Broadway plays, to comedians, to concerts.
Start with a meal at Rave On, for a dinner-and-a-show date night.
Take a step back in time and learn about this history of ranching in the area.
Wander around old, historic ranch houses. On Thursdays you can take a trolly tour through the grounds.
If you plan your visit on a Saturday, enjoy historic demonstrations and reenactments.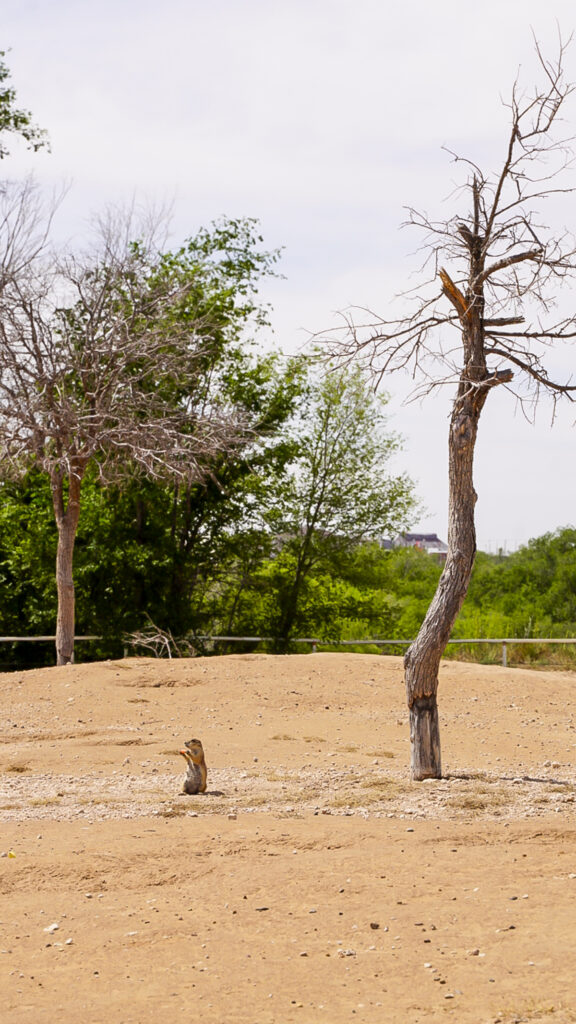 5. Enjoy a picnic at Mackenzie Park and take a trip to Prairie Dog Town.
Only a few minutes from downtown this park reminded us of Zilker Park in Austin. The major difference is the large very cute prairie dog community.
The Prairie Dog Town is a can't miss destination when in Lubbock because it doesn't take a ton of time, and you'll never see a larger group of black-tailed prairie dogs anywhere.
In addition to bumper boats, go karts, zip lining, adventure golf, and paddle boats, there is even gem mining.
This is a great substitute to the Joyland Amusement Park, which sadly closed.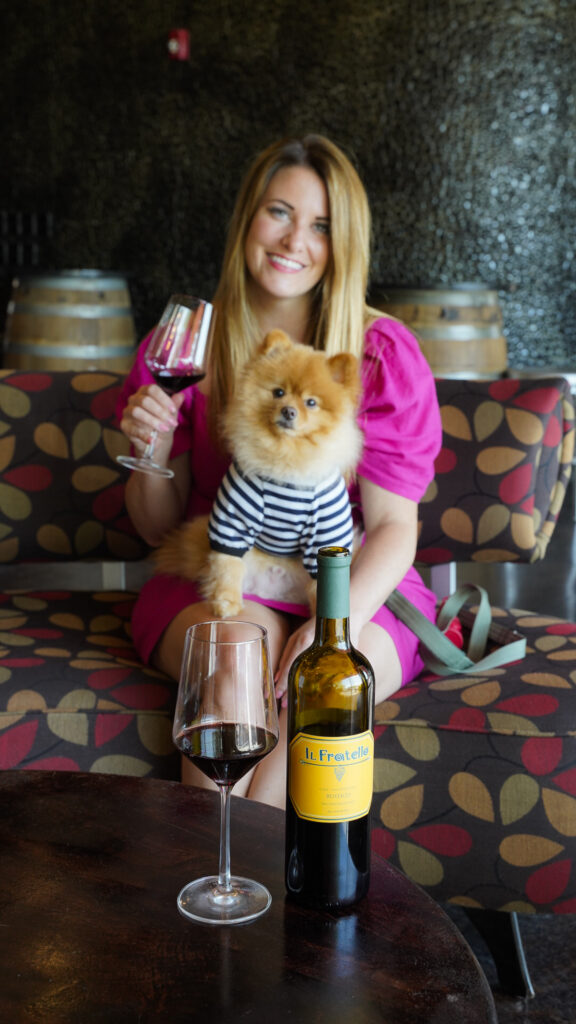 7. Go on a wine tasting at an award winning winery.
We are big winos, so one of the romantic things we did in Lubbock was go wine tasting!
We stopped by McPherson Cellars tasting room right downtown. It's a great way to learn more about how the Texas High Plains region is such a key contributor to winemaking in Texas.
Head to their weekly patio nights event for live music and a glass of their award winning wine.
8. Make it a lake date!
Buffalo Springs Lake is a short 15 minute drive from downtown.
It's a destination for camping, fishing, boating, and hiking trails. Admission is very affordable, and the lake is large enough for events.
Grab a picnic basket and a fishing pole and make a date out of it!
A movie date is always a great call, and Alamo Drafthouse takes it up a notch with their in movie dining and drink service.
Alamo Drafthouse movie theater also has special menu nights, and if you see a Master Pancake screening book it for your date because they're special comedy nights involving classic movies.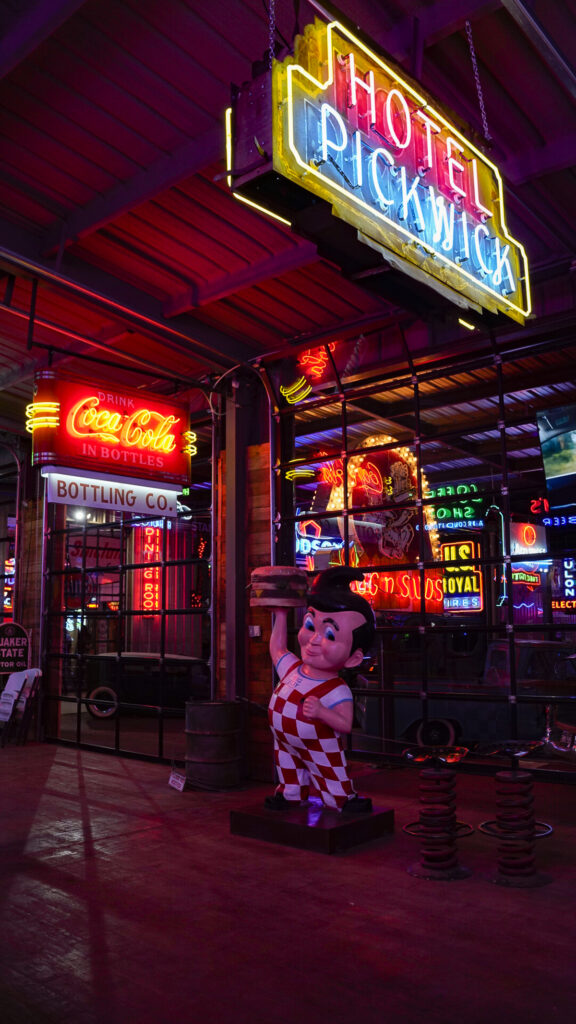 We went to Cooks which caught our eye from the highway and you'll instantly see it's known for cars, bars, and guitars. The second pull into the parking lot you're surrounded by classic cars and signs from old gas stations.
Once you walk in the doors you're surrounded by neon lights, and there's live music nightly. Their menu features Texas bar classics like chicken fried steak, burgers, fried appetizers, and hand cut steaks and chops.
You know Cook's is one of the best car bars in the country because they're also right next door to Rev Limit Customs, a custom car design shop.
If neither of these locations are in your plans, fear not, Lubbock is packed with live music at almost every brewery, restaurant, and bar.
11. Visit the Lubbock Lake Landmark and discover the area's rich history.
If you're into archeology this is one of the best places in Texas to soak in the natural history.
You can even volunteer to be part of the archeology and paleontology research field crew.
Who knows, maybe you'll uncover a mammoth that used to roam the Lubbock area!
12. Shop for Western wear and make a custom hat at Flint Hat and Boot.
For a true taste of Texas, try on some cowboy boots at Flint Hat and Boot.
You can even design a custom made hat in store.
Don't have time to pop in? No sweat, they can also ship their custom hats worldwide.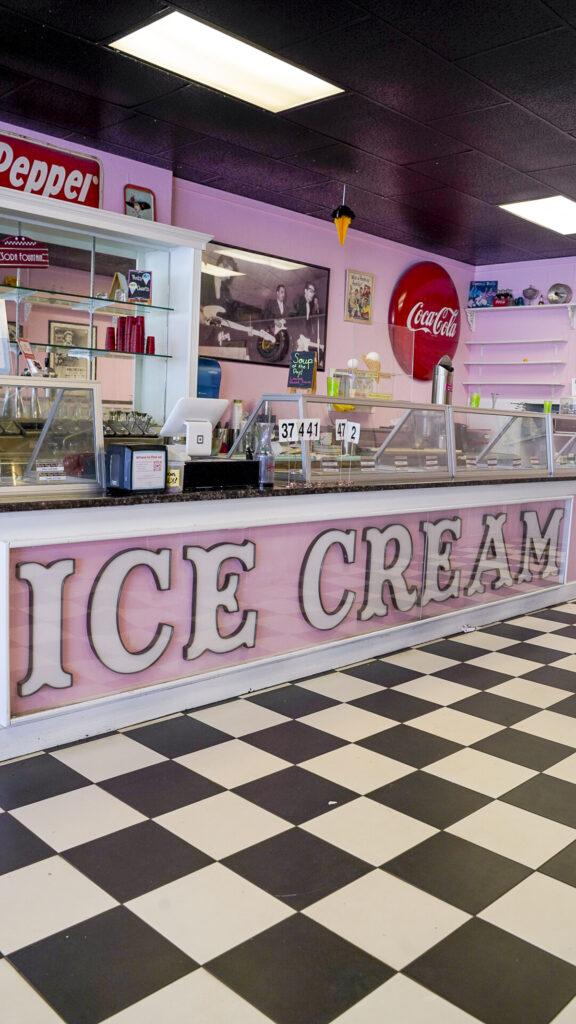 This spot for sweets is a step back in time!
You'll feel like you're dating in the 1950s when you pop a coin in the jukebox and split a milkshake or a classic banana split.
In addition to 250+ science exhibits, you'll find Lubbock's only public aquarium.
Also, during springtime you'll be able to visit their Butterflies Alive! Event in a 3,000 square foot butterfly garden surrounded by flowering plants.
If you have extra time you can also check out an IMAX film at their Omni Theater.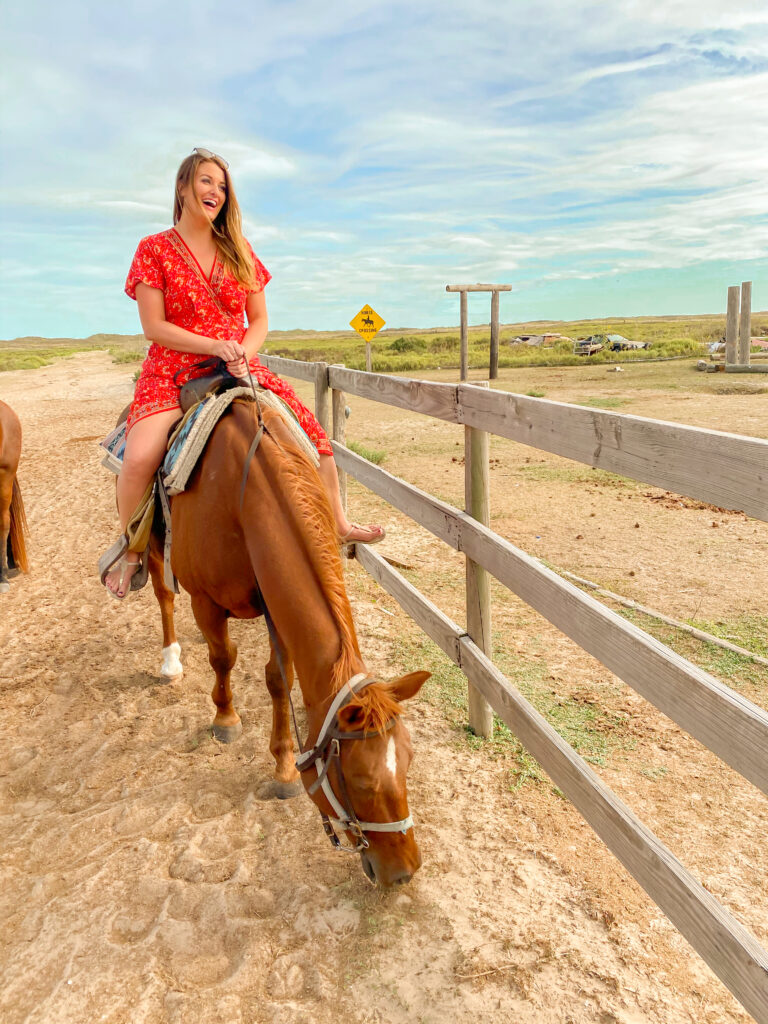 15. Go on a horseback riding adventure at Casa Del Sol.
A horseback riding date couldn't be more romantic.
We haven't had the opportunity to go horseback riding in Lubbock yet, but when we took a ride on the beach when we were writing about the Best Things to do in Corpus Christi for Couples, we had such an incredible time together.
16. Take a painting class together.
Head to the Lubbock Municipal Garden & Arts Center for a hands-on painting date.
The center offers a number of classes that celebrate the arts and you can select the type of painting class you'd prefer based on the subject and topic.
Classes occur weekly on Saturdays, so make a happy hour reservation afterward for a great date idea.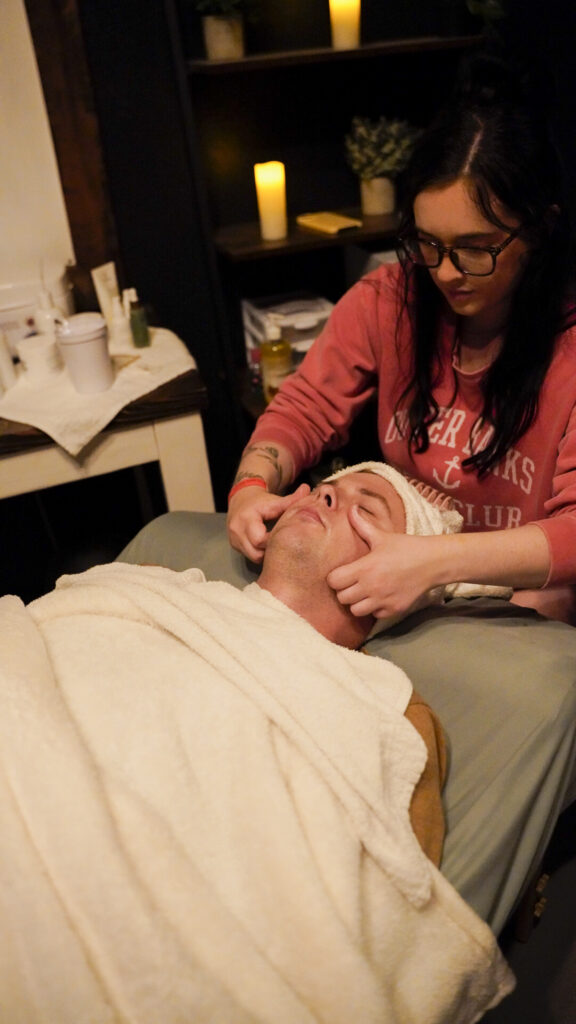 A couple's day at a spa is always a good idea. At Cypris Wellness Spa you'll find a number of holistic and beauty treatments from halotherapy in an infrared sauna, to a facial, to a salt float to even a foot detox.
We sat side by side in an ionic foot detox and watched the water change as supposedly toxins escaped from our body. The result of the color change in the water was astonishing!
The atmosphere is relaxing and very approachable.
There's so many things in Lubbock that can give you a fun 1950's feel like the Holly Hop Ice Cream shop, and this drive-in adds to the feels more.
Unlike the classic feel a drive-in can give you, it's great that you can see movies that are new releases.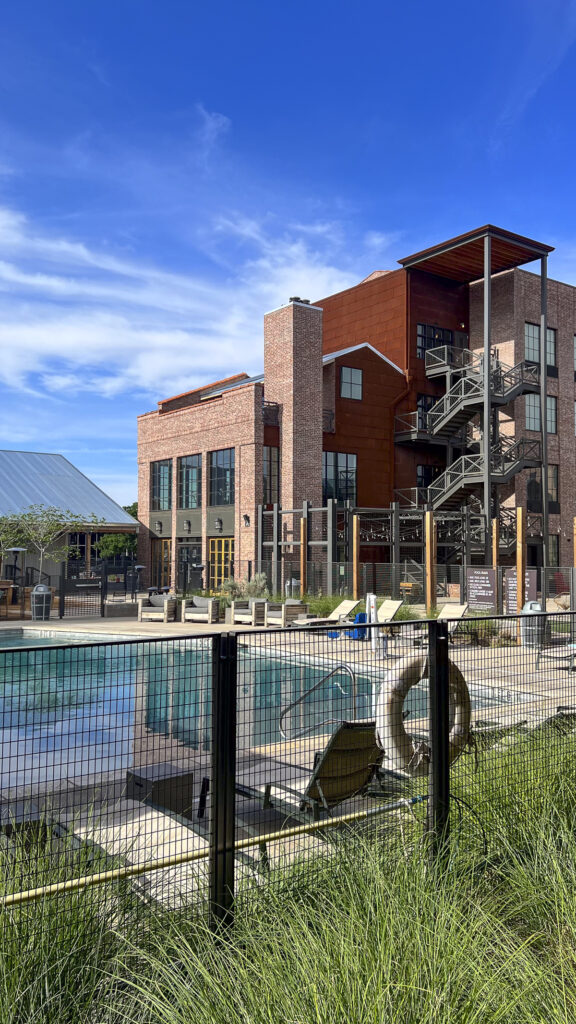 19. Visit the charming Cotton Court Hotel and listen to live music in the courtyard.
The Cotton Court is a destination for locals and tourists alike!
The hotel is very charming with décor that is both modern and a historical nod to the region's culture.
The entire hotel surrounds a communal courtyard with firepits, hammocks, and rocking chairs. It's a great place to sit back and relax.
Enjoy live music in the courtyard on the weekends, even if you're not a hotel guest!
20. Enjoy a fun and unique date night at The Range.
One of the more fun things to do in Lubbock is to have a date at the Range.
Rather than go to one of the traditional golf courses, this spot is strictly a driving range for entertainment.
Grab a beer, enjoy the outdoors, and swing a club!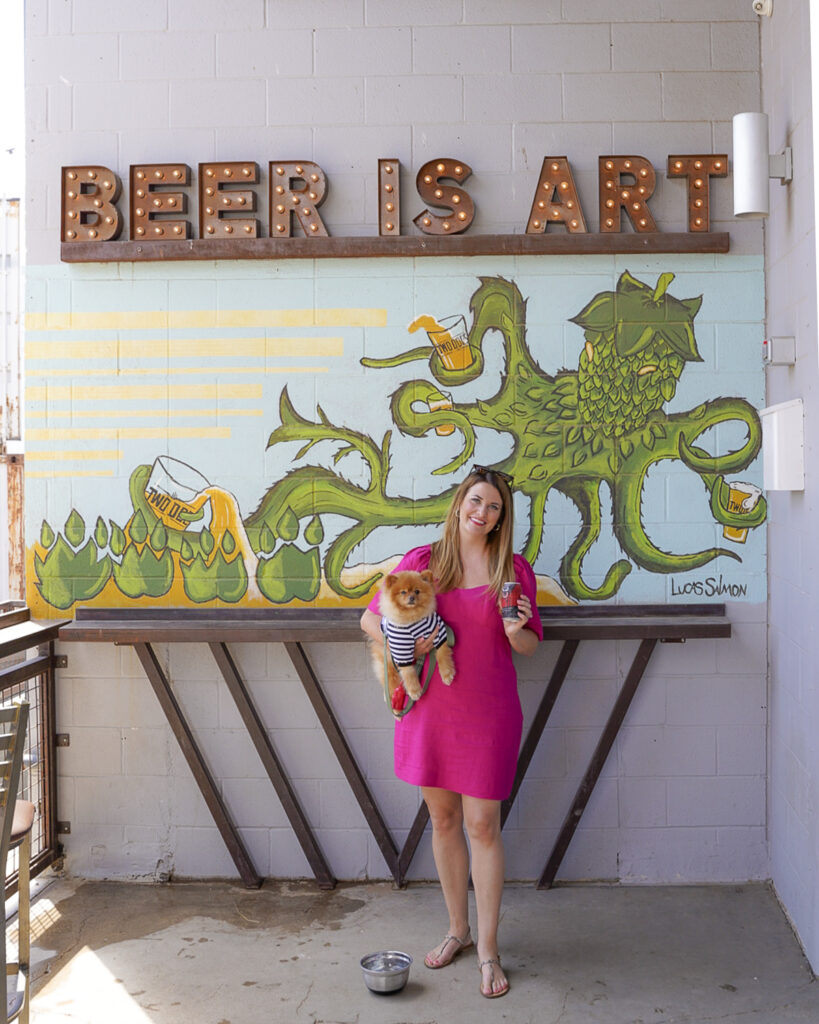 This dog friendly spot has both an indoor tap room and a large outdoor patio.
We enjoyed two flights for a total of eight of their brews.
Our favorite beers that we tasted were their Joyland, their bock, the porter, and the fruity-yet-sour blackberry gose.
Catching a Texas Tech football game is always a fun time. When you're in a college town you can feel everyone's passion at college football games, they are almost one with the team.
It's also amazing the amount of star football players that come out of Texas Tech like Patrick Mahomes.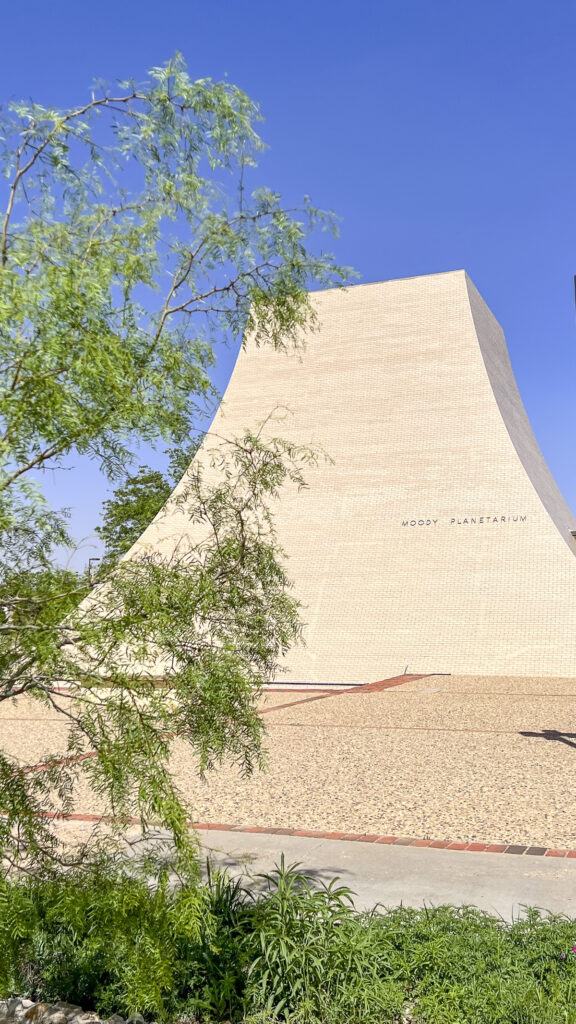 They offer multiple laser shows differing from space exploration to music hits.
When we experienced this it was a 30 minute show featuring a laser interpretation of classic songs from NSYNC and the Beatles.
Looking to have some fun with your partner?
Head to Main Street Entertainment Center to challenge your date to a game of bowling, laser tag, mini golf, billiards, or more.
They even have food and a full bar.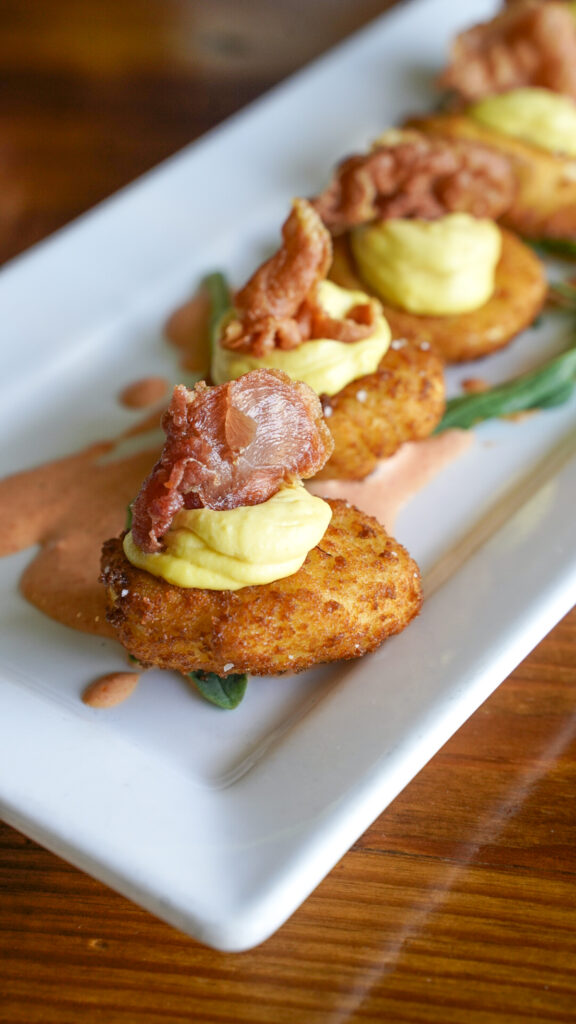 25. Enjoy a delicious meal in the heart of downtown at the West Table Kitchen & Bar.
Located inside the historic Pioneer Building, the West Table is a charming restaurant that is the perfect place for date night.
Select a craft cocktail (we loved the Suit and Thai cocktail), or enjoy a beer that they brew in house.
The menu changes frequently, but expect oysters, faire with a Southern influence, and premium beef.
26. Take a pottery class together at the Mud Room or the Clay Cafe.
Getting creative and artsy as a couple is always a great idea for a date activity.
At Mud Room and Clay Cafe you can do pottery, paint, and mosaics.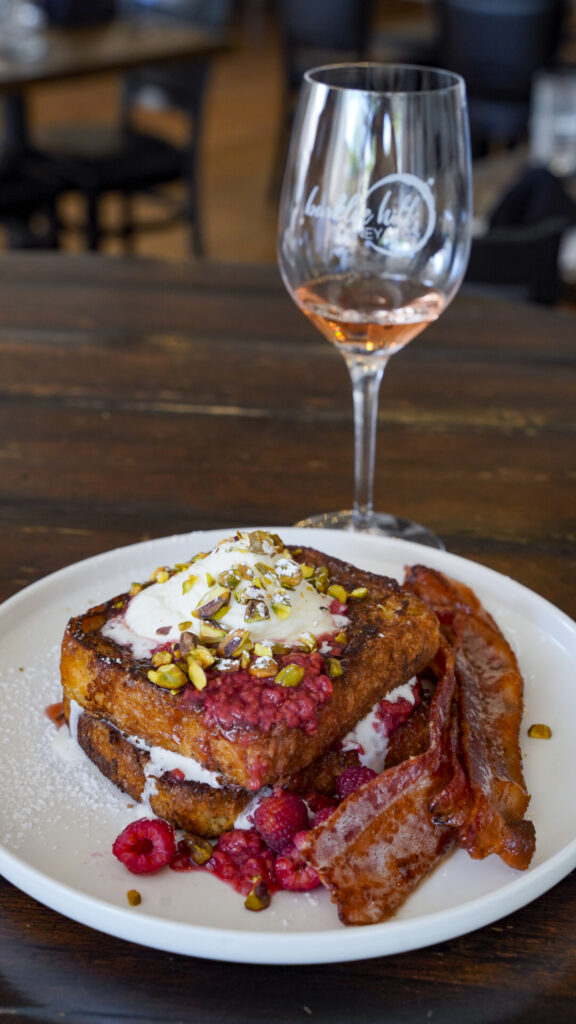 27. Have a boozy brunch with a wine tasting at Burklee Hill Vineyards.
Right in downtown Lubbock, Burklee Hill offers the wines they make in collaboration with a High Plains winegrower alongside delicious dishes.
We savored a five glass tasting alongside their french toast with raspberry rosé jam.
While we preferred some of the other winemakers in town, the space was very cute and the food was delicious.
Texas, and Lubbock as a whole, is surrounded by art. All around the campus there are installations featuring both classic and modern art.
Taking a romantic stroll through the beautiful Texas Tech University campus is free, dog-friendly, and an activity you can do morning, day, or night.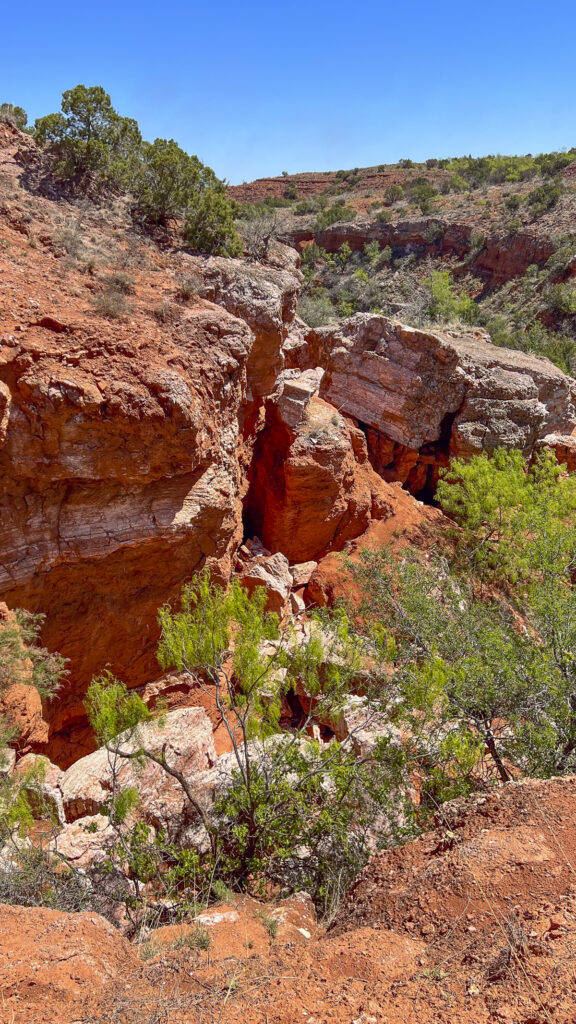 An hour and a half outside of Lubbock feels like another planet!
If you enjoy nature, geology, and the outdoors, take a day trip to Caprock Canyon.
You'll be greeted by free-roaming buffalo as you enter the 15,000 acre park.
Explore various hiking trails along the red rocks and canyons. You'll also run into prairie dogs at a section of the park.
If you're a fan of aviation, make a trip to the silent wings museum.
This unique museum preserves the history of World War II glider program.
We had a chance to take a ride on a glider plane back home in Austin, Texas and it was interesting to learn about the physics behind these motorless airplanes.
Support the community arts by attending a play at the Lubbock Community Theatre.
A new show premieres every month or so, therefore be sure to check their schedule to plan for upcoming shows.
Admission is free at this 93 acre open space.
Plan a visit on a nice, spring day to enjoy the flowering plants and fresh air as you stroll hand-in-hand during your date. You'll likely spot birds, butterflies, and other wild animals.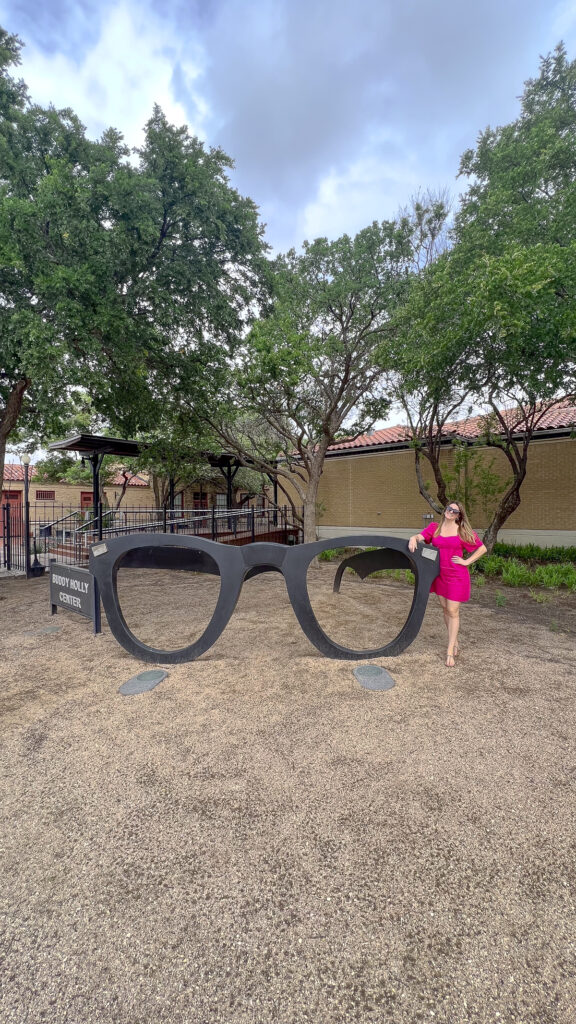 33. Learn about a musical legend at the Buddy Holly Center.
Buddy Holly was born and raised in Lubbock and many parts of town pay tribute to this musical icon.
Take a visit to the Buddy Holly Center to learn about Buddy Holly's career, the impact he had on the music industry, and see many artifacts.
34. Take a bar crawl at the historic and charming Depot District.
The Depot District offers a number of wineries, bars, and restaurants all within a historical area.
Grab a drink at a vibrant patio like The Garden, then head to a wine tasting at McPherson Cellars, and end with a nightcap and live music at The Blue Light.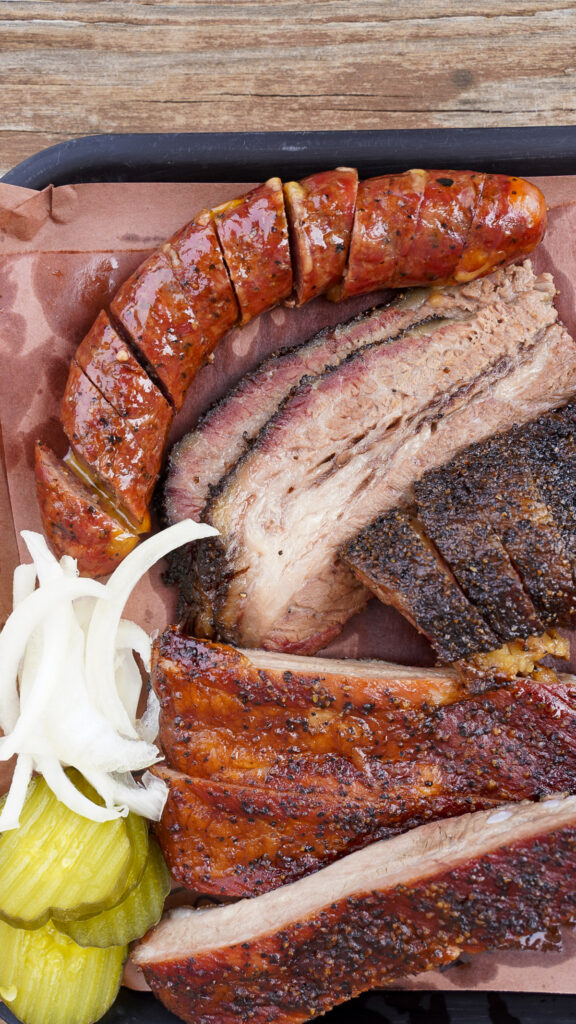 35. Get messy eating together at one of the top 10 BBQ joints in Texas.
One of the best things to do in Texas is to eat BBQ! Visit Evie Mae's Pit Barbecue, one of the best restaurants for BBQ in all of Texas!
Texas Monthly publishes their coveted list of the top 50 BBQ joints in Texas every year and Evia Mae's cracked the top ten! We tasted the pork ribs, brisket, sausage and burnt ends.
All of the items were delicious, but the German sausage and the burnt ends were standout outstanding!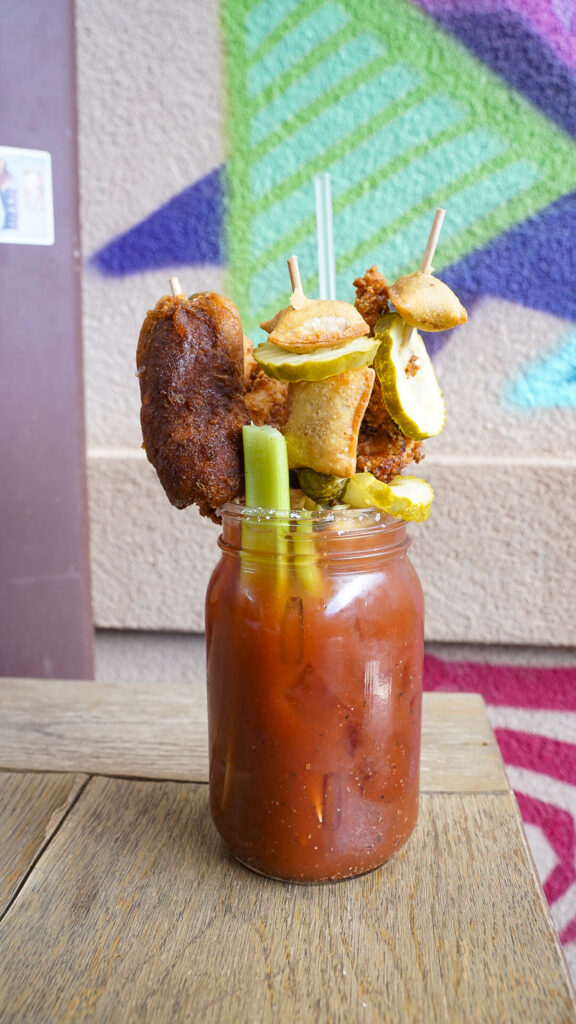 36. Share the world's largest fried cheese sticks and a massive Bloody Mary at the Savage Tavern.
When it comes to things to do in Lubbock for couples, obviously our list includes cool foodie finds.
The Savage Tavern is the place to be for a crazy brunch!
Their fried cheese sticks are easily the largest we've ever seen on planet earth. They are probably the size of an entire cheese block sliced in half, and you get both halves. It's greasy, but oh so delicious.
Outside of that, they also have the best giant Bloody Mary we've had outside of the Midwest. They make their own Bloody Mary mix.
Then they top the bloody with a fried kolache which is like the best corn dog you've ever had, fried pizza rolls, fried chicken tenders, and fried olives.
Home of Texas Tech's basketball and volleyball teams, United Supermarkets Arena also brings in big name musicians.
Check their events calendar and catch your favorite performer while they are on tour visiting Lubbock.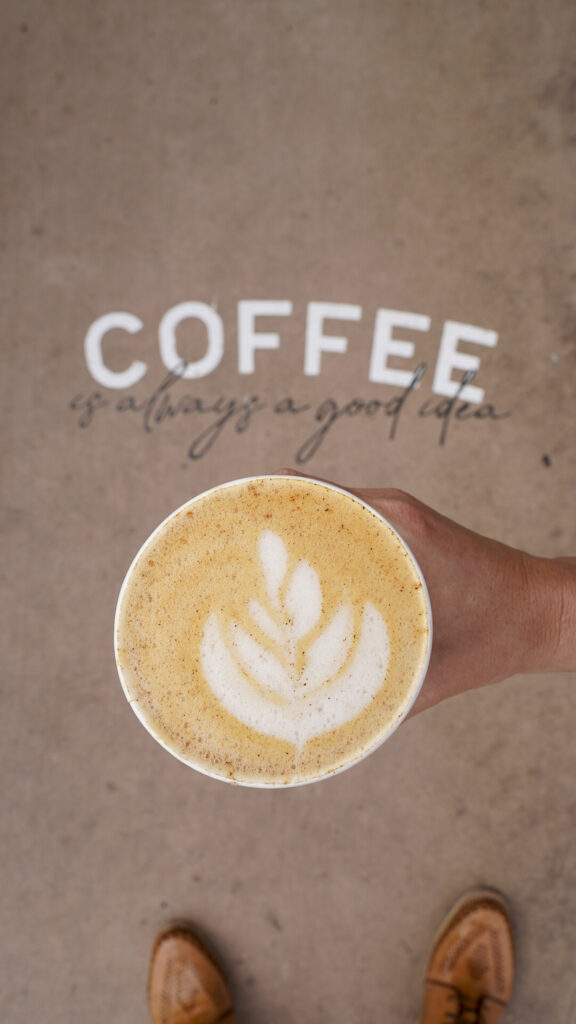 38. Enjoy a coffee date.
Head to Ninety Two Bakery Cafe.
This adorable coffee shop and order the oatmeal cookie latte. It's unique and delicious!
We also enjoyed the baked in-house gruyere and ham danish pastry. If we lived in Lubbock this would be our coffee go-to spot.
39. Go on a unique and fun date night at an escape room.
Ever since we did our first escape room together while in Kansas City, we've been hooked.
Lubbock Escapes, Trapped! Escape the Room, Time Crunch Escapes are all options for a date at an escape room.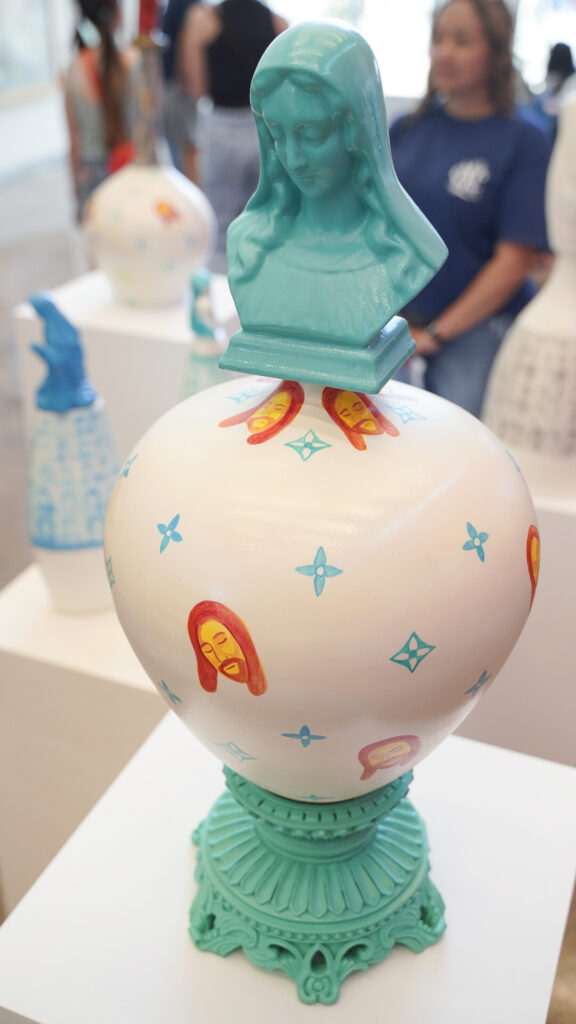 40. Attend the First Friday Art Trail.
This monthly event celebrates art in Lubbock.
In addition to art being displayed, you'll find food trucks and local vendors selling goods. The event is even pet friendly!
Even if it is not first Friday, you can still catch some art at the Louise Hopkins Underwood Center for the Arts.
On a nice day, take a stroll through 28 acres of land showcasing over 160 windmills.
The American wind power center is actually the largest collection of windmills in the world. It's a really unique date idea!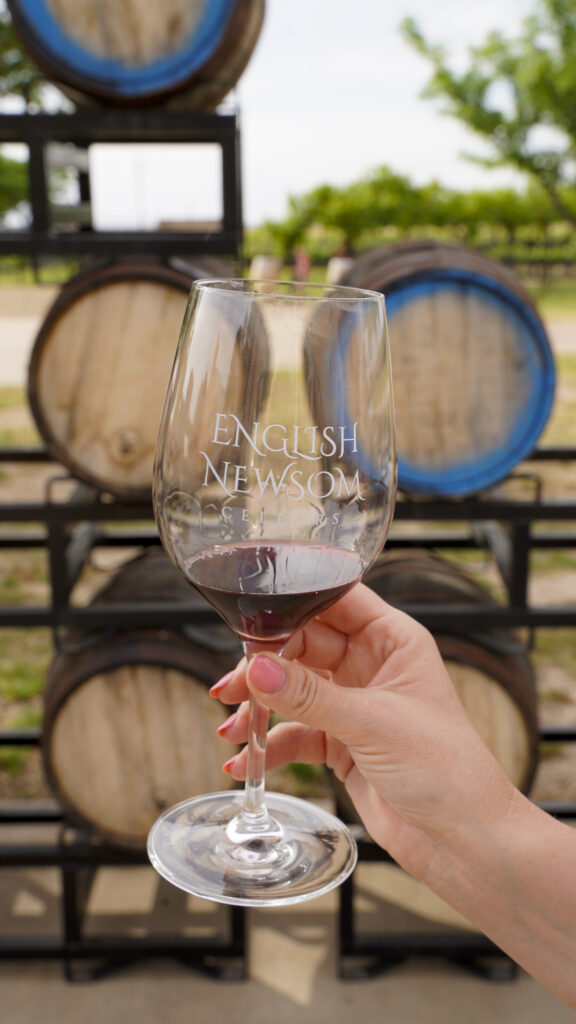 42. Attend a food and wine pairing event.
In addition to the famous Wine Wednesday with $5 wines, English Newsom Cellars also offers monthly wine and food pairing events.
The winery is very picturesque which is one of the best things to do in Lubbock for couples, because it is one of the few Lubbock tasting rooms that is on the vines!
While there were not any concerts when we were in town, when we were searching for Date Nights in Dallas, dressing up and having a date night at the symphony was a very special night out.
There you have it! We hope this list of 43 Things to Do in Lubbock for Couples brings you inspiration for a new and interesting date night or helps you plan your itinerary during your trip to Lubbock!
In addition to the Top Things to do in Lubbock for Couples, Check out These Other Texas Travel Guides: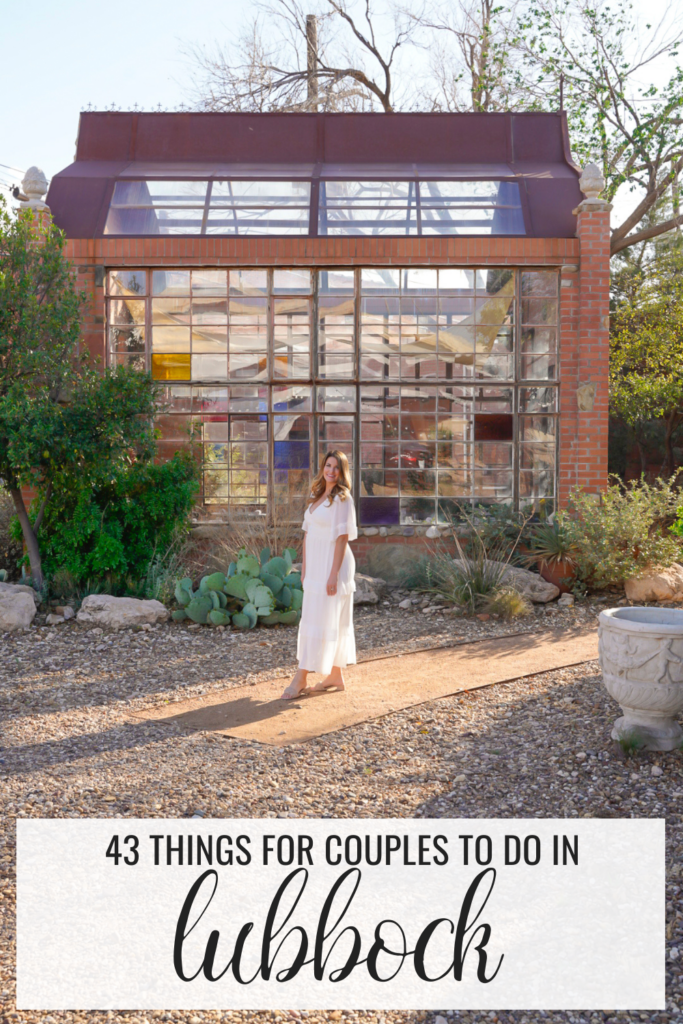 Click this link to pin this guide on Things to do in Lubbock for Couples on Pinterest.
Also, don't forget to follow us on instagram and facebook for more recipes and foodie recommendations.
If you'd like to automatically receive our posts in your email, register here.