Our city is known for so many delicious cuisines, and they definitely don't fall short of incredible Austin pizza joints.
What makes the Austin pizza scene one of the best in the country is the fact that Austin has so many pizza varieties, from New York-style pizza to the lesser known, but very delicious, Detroit-style pizza.
Instead of ranking Austin pizza restaurants, we laid our list out based on our favorite pizzas based on the cooking style.
Here are our picks for best pizza in Austin, Tx: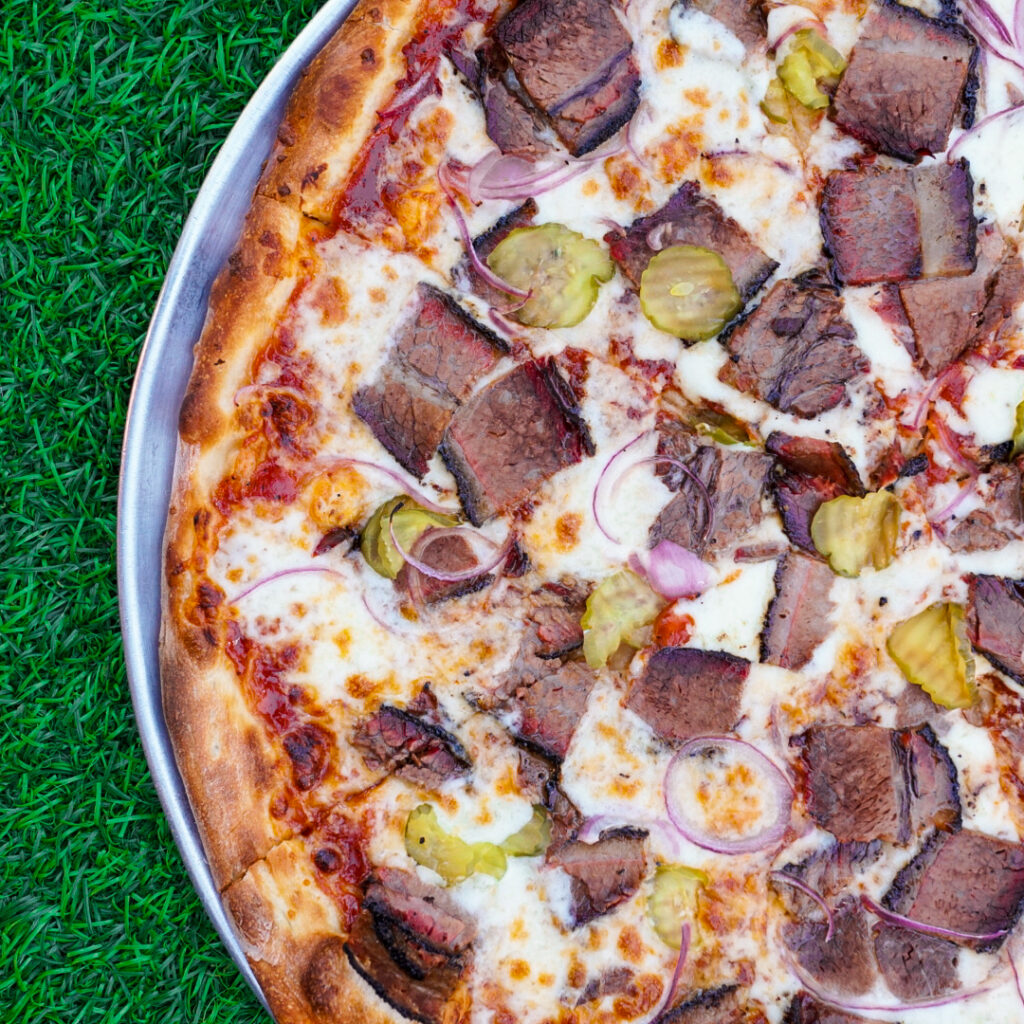 Best Texas-Style Pizza in Austin: Toss Pizzeria & Pub
If there was an Austin-style pizza it would be modeled after Toss Pizzeria and Pub.
They have a wide variety of pizza options, but the most "Austin" pizza you must try is their brisket pizza.
Toss Pizzeria partners with Terry Black's Barbecue to pair their brisket with a perfect combo of cheese, barbecue sauce, onions, and pickles.
Outside of their brisket pizza, we highly recommend their pulled pork pizza, carnivore pizza, and their traditional pepperoni pizza with their special seasoning.
They also have the best Austin pizza garden for watching games year round as they're dog-friendly, have heaters, and plenty of TVs.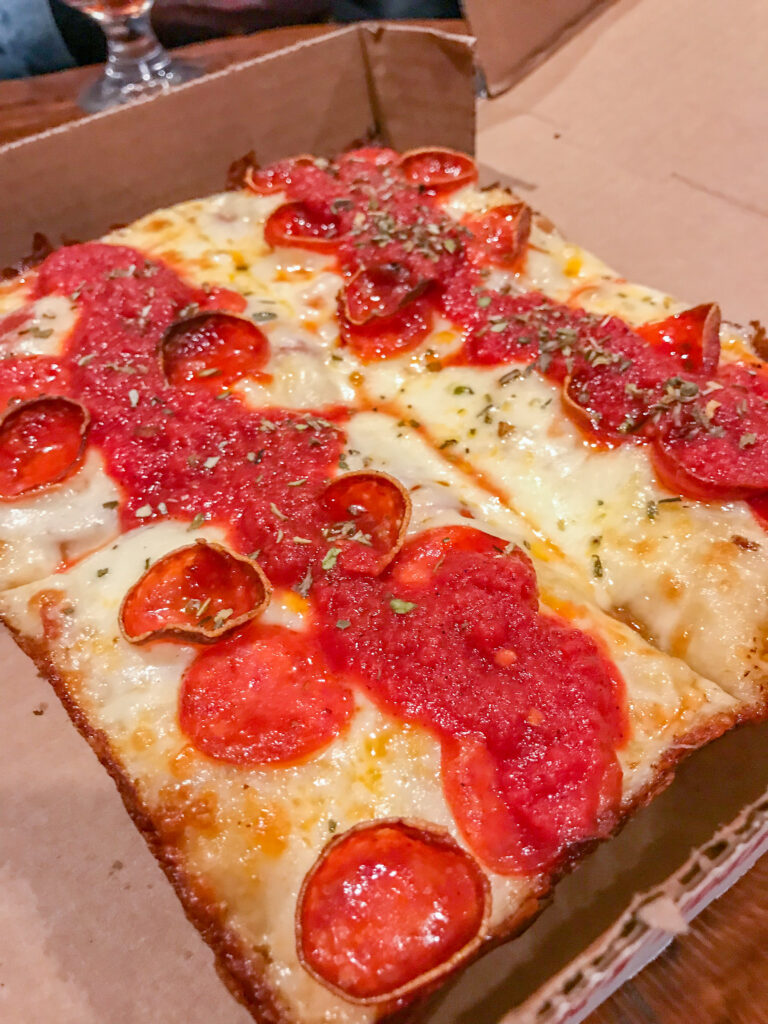 Best Detroit-Style Pizza in Austin:Via 313 Pizza
Via 313 is one of the highest-rated pizza joints in the entire country, and we couldn't agree more. It's the vest best pizza if you love crust!
Via 313's Detroit-style square pizzas are an extremely buttery pan pizza with a ton of delicious cheese. The pizza typically has the pizza sauce on top of the pizza over just the middle of the pizza.
Our favorite Via 313 pizza that you much try is the Detroiter which is an upgraded pepperoni pizza.
For this delicious pizza it uses two types of pepperonis. Under the cheese they have smoked pepperonis, and on top of the cheese they put a large amount of small natural casing pepperonis.
Another out-of-the-ordinary pizza to order is their Cadillac with prosciutto, gorgonzola, fig preserves, and balsamic glaze.
Best New York-Style Pizza in Austin: Home Slice Pizza
Austin's most visited pizza joint is Home Slice, with their original location being located in the heart of South Congress.
Home Slice Pizza Austin is known for having the closest thing Austin has for New York-style pizza.
Similar to the big apple, they have a slice shop where you can walk up and pick up their traditional cheese or pepperoni slices. Dine right on S Congress Ave on a picnic table!
You can also dine in or choose a whole pie for carryout pizza.
If you're ordering a whole pizza, our favorite pizza is a "secret" staff favorite with fresh mozzarella, pepperoni, fresh basil, and fresh garlic. We love it with a side of ranch dressing!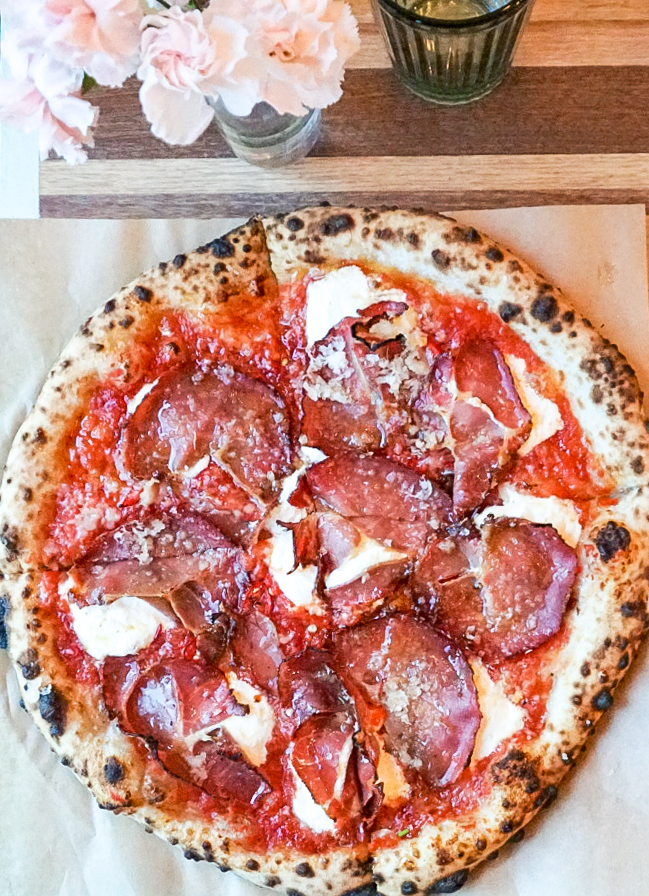 Best Neapolitan-Style Pizza in Austin: Bufalina Pizza
This pizza place is one of the best places for happy hour in the Austin area.
Get Bufalina's Neapolitan pies made right in front of you in their wood fired oven for half price! You can also enjoy half price bottles of wine and $5 house wine pours.
Be sure to plan ahead before the pizza craving strikes, their happy hour special draws a big crowd with a wait. We'd recommend getting there right when they open at 4pm to ensure you can get seated prior to the happy hour specials ending at 5:30, in case there is a wait.
Their menu features everything from a classic margarita red pie, to olive oil pizzas, to white pies. You can also visit their north Austin location, Bufalina Due, which also offers takeout.
Best Roman-Style Pizza in Austin: The Meteor Pizza
Roman-style pizza is square shaped like Detroit-style pizzas, but it's much larger and you typically pay by the slice, based on weight.
Just select your pizza of choice based on what they have prepared.
The Meteor will cut the pizza with scissors and throw it back in their pizza ovens for a quick re-heat.
Our favorite Roman-style pizza slices are any slices featuring thinly-sliced potatoes as well as their Italian margarita pizza.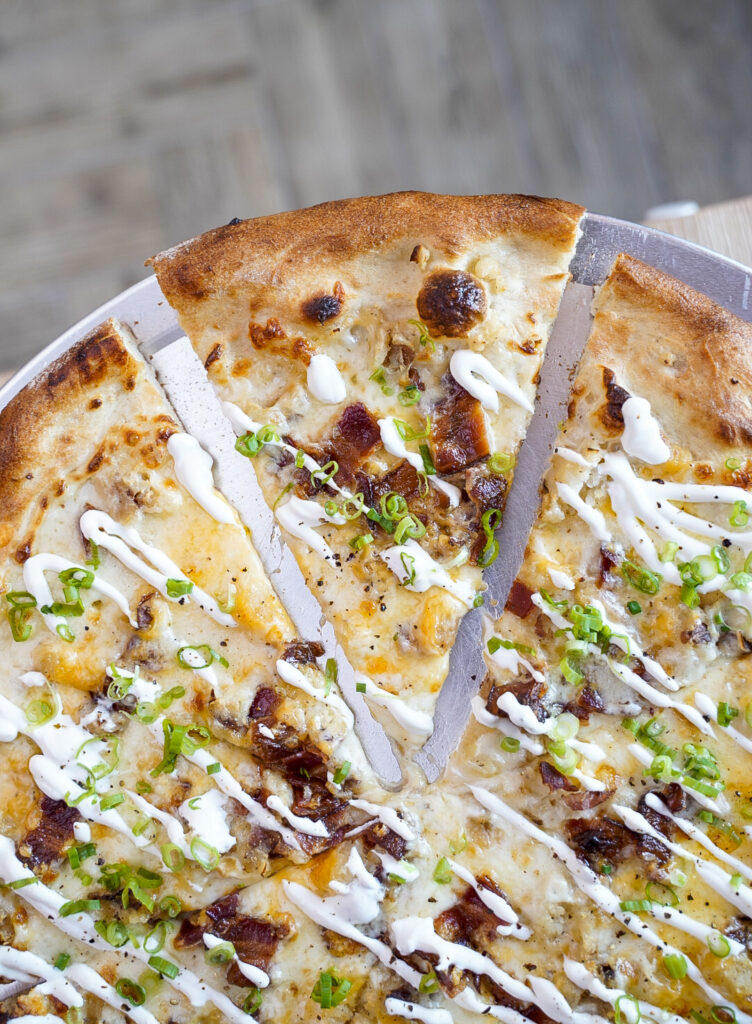 Most Unique Pizza Restaurant in Austin: Swift Pizza Co.
This east side spot is the newest Austin pizza restaurant.
At Swift Pizza Co. the decor is fun, nostalgic, and whimsy. Just as we'd expect from the expert restaurantiers and designers behind Jacobys and Grizzeldas.
There is monster wallpaper, a bar covered in colorful yard sticks, and toys from our childhood on display.
The pizza options are also just as whimsy. Get the cheeseburger pizza or the baked potato pizza with bacon.
There is even a pizza topped in pimento cheese!

Best Pizza Brewpub in Austin: Pinthouse Pizza
If you love a good brewery, look no further than Pinthouse Pizza Austin.
They make one of Austin's favorite beers, the Electric Jellyfish IPA, and they make homemade pizza in-house.
On the pizza side, always keep an eye out for their "Off the Map" pie of the month because they always have inventive toppings like mac and cheese pizza.
We like to try a specialty pizza as well as go with classic options like pepperoni pizza.
Best New Austin Pizza Restaurant: Sammatoro
This NY-style pizza spot started as a food truck on the east side.
After such high demand they opened a West location just north of downtown Austin, near north campus. You'll find delicious pies at Sammatoro.
We love ordering the vodka pie with fresh basil, pepperoni, and fresh mozzarella on top.
In addition to delicious New York City pizza, this spot offers some menu items that you would find at a typical Italian restaurant like arancini and meatballs.
A limited menu is available for pickup and pizza delivery.
Austin has a ton of pizzerias that we still need to try, so if your favorite pizza joint isn't on the list let us know in the comments or DM us on Instagram and we will head on in to give it a try!
Hey pizza lover! Consider whipping up one of our homemade pizza recipes like our Cheeseburger Pizza, Black and Blue Pizza, or our Pear, Brie and Bacon Pizza recipe.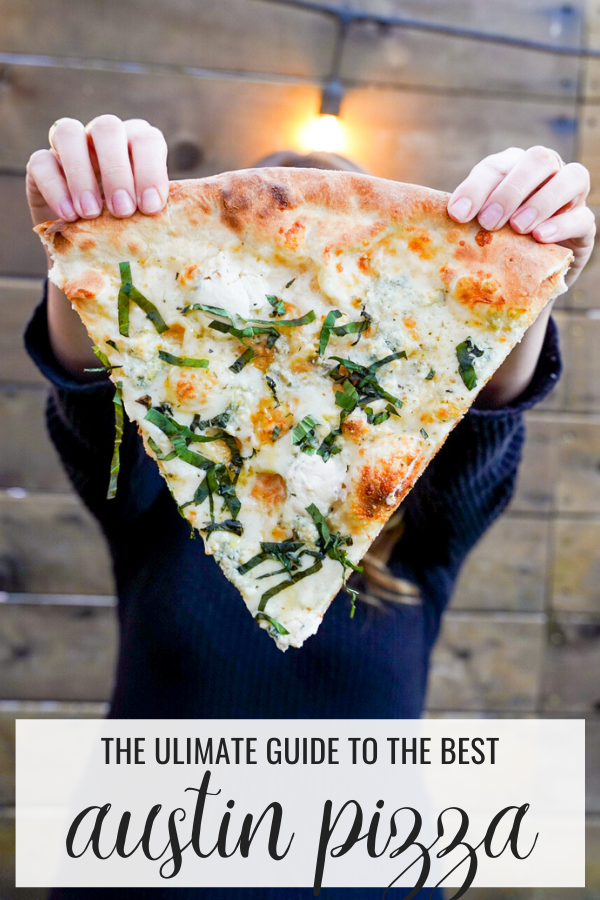 Click this link to pin this guide to the best Pizza in Austin on pinterest. Also, don't forget to follow us on instagram and facebook for more recipes and recommendations, we love to see when you make our recipes!
Looking for more Austin recommendations? Find them here.
If you'd like to automatically receive our posts in your email, register here.