During our trip to South Africa, we knew we wanted to allocate a few days to relax in wine country. South Africa produces some of the worlds best wines and at a really affordable price.
We decided to spend time specifically in Elgin, which has a cooler climate than Stellenbosch, even those towns are quite close to each other.
More calm and intimate, Elgin is not as touristy as the more well-known Stellenbosch. It is the only South African wine region surrounded by 4 mountains, creating a unique microclimate that produces some spectacular wines.
They are most well-known for their fruity sauvignon blanc, pinot noir, and chardonnay and also produce and export a large amount of apples.
Getting to South African Wine Country
A simple, one hour drive from the Cape Town International Airport will get you to Elgin.
We were a little nervous about getting there, as we've never driven on the opposite side of the road. Make sure you request an automatic transmission, pay attention, make mindful turns, and you'll be fine.
After renting a car at the airport, we found the directions were super simple. Upon leaving the airport, we merged onto the freeway and only had to take two turns to get to our destination, South Hill Winery.
You'll wind up the mountainous hills while overlooking the coast and will pass the wine-growing towns like Stellenbosch on the way.
It's a beautiful drive, just be sure to account for traffic if you're driving during rush hour times.
Wineries to Visit in Elgin
There are a number of spectacular wineries in Elgin to visit.
Here are the favorites that we visited while staying in this cool climate wine growing region.
Charles Fox – This is the winery to visit for sparkling wine as it is one of the few sparkling wine producers in the whole area.
We decided to share the full tasting for 80 South African Rand (super affordable) for five wine tastes, which in reality were more like five large glasses. We loved the reserve rose.
The cooler climate in Elgin allows Charles Fox to grow some grape varieties that also grow in Champagne, France. It's rare, has a greater fruitiness and can handle the cold.
Charles Fox produces all estate wines, enjoy a glass while overlooking the picturesque valley.
Valley Road, Elgin, 89, 7180, South Africa. https://charlesfox.co.za/
Almenkerk – The most modern tasting room in Eglin, Almenkerk offers some great views of the valley.
We were greeted with some apples that were picked off of the orchard a mere hours prior, they were unbelievably juicy and delicious!
Upon grabbing a seat on the patio and were offered homemade chips and veggie crisps as we learned about their wines.
All the wine varieties were great and they offered a really interesting Chardonnay.
Viljoenshoop Road 50 Elgin, Grabouw, 7160, South Africa https://www.almenkerk.co.za/
South Hill Winery – South Hill showcases local art in their tasting room and has one of only two wine mazes in the world. Wander around the vines and sculptures until you find your way to the end.
You can also enjoy the additional walking trails throughout the property.
We really enjoyed their large selection of wines across three different labels. We absolutely loved the King of the Hill Chardonnay.
South Hill offers the top-rated rose in South Africa and a delicious sauvignon blanc as well.
We drank a number of glasses while staying cool from the South African sun.
113 Elgin Valley Rd, Elgin Valley, Grabouw, 7160, South Africa. https://southhill.co.za/
Oneiric – A winery with a cozy and rustic feel, just like Grandma's house. They even sell homemade buttons in the tasting room!
Oneiric had a really wide selection of wines, across two labels, so there are two tasting flights to choose from, either Oh! or the Oneiric label.
We had the opportunity to do some barrel tastings and meet the winemaker while we were visiting, with made for a memorable afternoon.
76 Highlands Rd, Elgin, 7180, South Africa. http://oneiric.co.za/
Paul Wallace – This is the place to go for wine and chocolate pairings.
We were greeted by three of the sweetest dogs and spent time talking with the owners. He was previously a wine consultant for many years prior to starting his own vineyard, which is a testament to the quality of wine being produced.
We tasted gourmet chocolates designed to pair with their wines. A favorite of ours was the lemon poppyseed white chocolate.
We decided to take some home as well as a bottle of their Black Dog wine, in homage of our time spent with their pups.
Additionally, we've never seen a sauvignon blanc dessert wine, and it was so good we had to take a bottle home as well.
Schedule your chocolate and wine pairing ahead of your visit.
Farm #63,Wallovale Vineyards, Highlands Rd, Elgin, Grabouw, 7180, South Africa. https://www.paulwallacewines.co.za/contact.htm
Where to Eat in Elgin
We didn't know what to expect when it came to Elgin's culinary scene, as many restaurants are only open for lunch, but were wowed by the dishes we ate.
When planning a trip to Elgin, make sure that you make a reservation for dinner each night as many restaurants in Elgin are closed select evenings or are only open by reservation.
Rojaal – We absolutely loved Rojaal, pronounced royal.
This spot featured adorable, shabby chic decor, walls showcasing a gallery of framed mirrors, retro tables, velvet wingback chairs and even bathtubs that have been turned into loveseats.
Rojaal has an Afrikaan menu with a twist. We savored fusion dishes like traditional bobotie made into an eggs benedict.
Open for breakfast, lunch and tapas, you might also just want to stop in for a bite of one of their many desserts.
We couldn't get enough of their amazingly moist carrot cake. It was unique, made with toasted coconut strips, cranberries, and pumpkin seeds. Presented with a fig, raspberries, a rose and glitter, it was seriously insta-worthy!
Viljoenshoop Rd, Grabouw, 7160, South Africa. https://www.facebook.com/RojaalEst2016/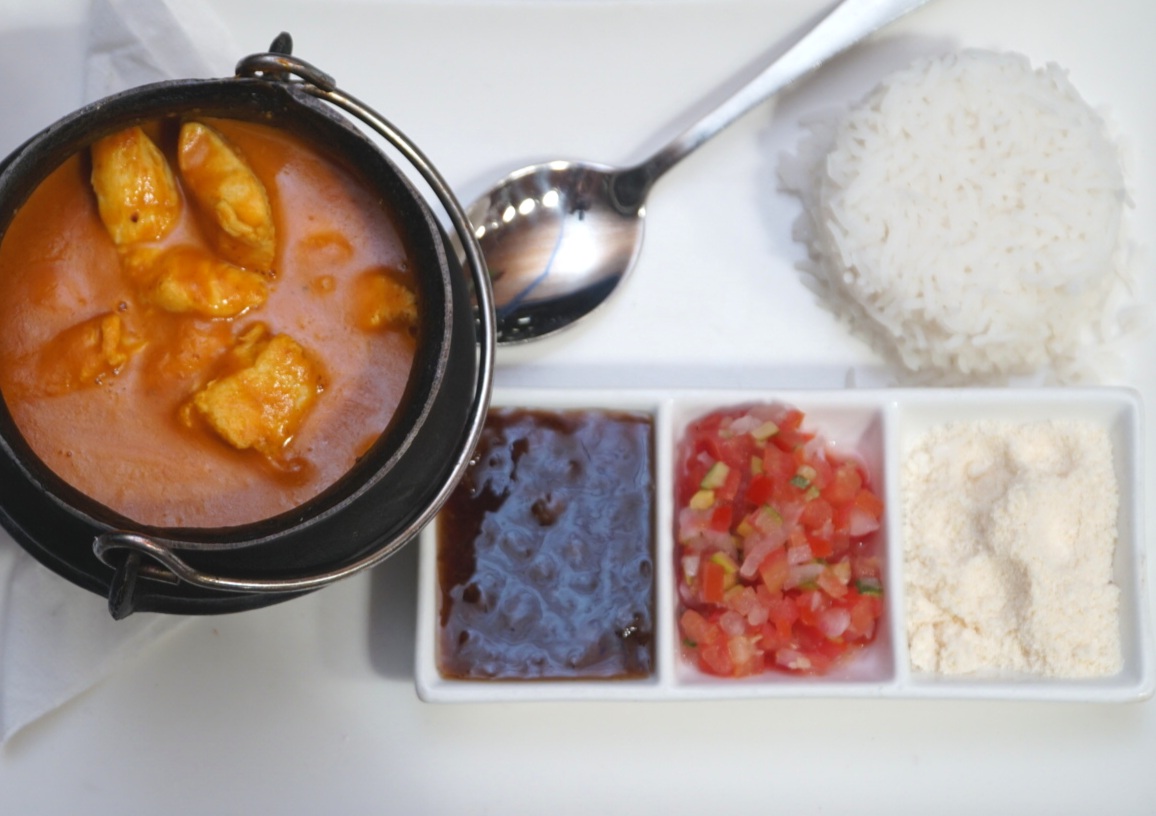 Old Mac Daddy – There are not too many places are open for dinner and Old Mac Daddy was definitely the happening spot.
The lively dining room had guests staying on property as well as visitors from nearby.
We enjoyed one of their cast iron potjies, a traditional dish from South Africa. This curry was incredibly tender and juicy.
Come early for an activity like kayaking, fat tire bikes or archery before your meal.
Elgin Valley Rd Elgin, 7160, South Africa. https://oldmacdaddy.co.za/
Elgin Railway Market – You can't miss this steampunk food market! It's a massive destination with impressive iron detail, restaurant stalls, and beer & wine inside. You'll even find a rock climbing wall outside!
The Railroad Market is only open on weekends when the steam train comes in from Cape Town.
However, on Wednesday evenings one restaurant stall is open, which rotates weekly.
We spent time with locals, enjoyed a bottle of South Hill white wine, and noshed on some Italian fare.
Oak Avenue, Elgin, South Africa http://www.elginrailwaymarket.co.za/
South Hill Winery – A truly lovely spot for breakfast or tapas.
We stayed at the cottages at South Hill Winery and enjoyed breakfast there each morning.
They feature Truth coffee, which has been regarded as some of the best coffee in the world. We also couldn't get enough of their mushroom toast!
After a day of wine tasting throughout Elgin, we returned to South Hill for a cheese board and tapas with their wine tasting experience on their beautiful and relaxing grounds.
Our favorite plates included their lamb lollipops, house meatballs, and their incredible potatoes. We need to replicate that recipe at home!
113 Elgin Valley Rd, Elgin Valley, Grabouw, 7160, South Africa. https://southhill.co.za/
Peregrine Farm Stall – For a quick lunch, we stopped into this specialty market.
This small market also offered counter-service eats like their pot pies and a huge biltong beef jerky bar.
They're specifically famous for their springbok pot pie.
Peregrine Farm Stall also has a large wine selection, some produce, and other goods that are great to have on hand during your stay in Elgin.
N2 & R321, Grabouw, 7160, South Africa. http://peregrinefarmstall.co.za/
Where to Stay in South African Wine Country
South Hill Winery – We loved staying at South Hill. Their cottages were nestled right next to the vines and apple trees.
It was an easy place to stay on site, as their restaurant was just steps away with delicious breakfast offerings.
We spent an afternoon drinking a bottle of their rose and napping on cushions next to their beautiful pool.
Our room had French doors overlooking the vineyard, a large tub, rain shower, and kitchenette. It was the perfect mix of chic and cozy, and perfect for a romantic getaway.
We highly recommend South Hill as a destination to stay, whether you're looking for a honeymoon destination or have a big group of friends and need a large home rental.
113 Elgin Valley Rd, Elgin Valley, Grabouw, 7160, South Africa. https://southhill.co.za/
Old Mac Daddy – While only dined at Old Mac Daddy, we did come to find that they have some super quirky and unique lodging options.
Old airstream campers are transformed into themed hotel rooms.
Old Mac Daddy probably has the largest occupancy of all spots in Elgin so you'll find a more lively atmosphere here.
Elgin Valley Rd Elgin, 7160, South Africa. https://oldmacdaddy.co.za/
Paul Wallace – After speaking with the owners of Paul Wallace winery, they gave us a quick tour of the two cottages available to rent on the property.
Complete with 2 bedrooms, a living space, and small kitchenette, you'll have everything you need for a quiet stay, relaxing in wine country.
Farm #63,Wallovale Vineyards, Highlands Rd, Elgin, Grabouw, 7180, South Africa. https://www.paulwallacewines.co.za/contact.htm
Now you have everything you need to plan a relaxing, wine-filled trip to South Africa's cool climate wine country.
Be sure to leave extra room in your suitcase for wine. The price for high-quality bottles of wine ranged between $4-$12 USD (a total steal) so we ended up bringing seven bottles home with us!
Click this link to pin this post for future reference. If you visit one of these spots based on our recommendations, let us know by tagging @coupleinthekitchen on social media!