Visiting the Jemez Hot Springs was definitely a highlight of our trip to New Mexico!
There are many New Mexico hot springs, but Jemez Hot Springs is a great option since it is a short day trip from both Albuquerque and Santa Fe, New Mexico.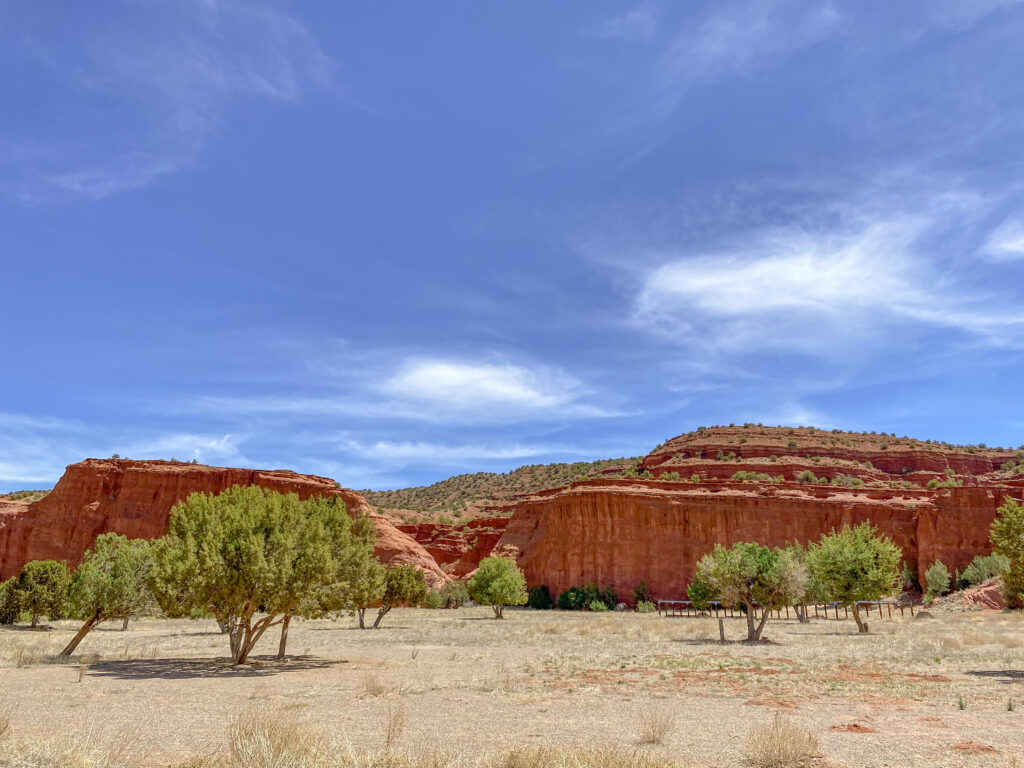 Getting to Jemez Springs New Mexico
The drive to the Jemez Hot Springs is a beautiful journey.
From Albuquerque, you'll take a 60 mile drive to these natural hot springs in New Mexico.
Wind your way through brilliant red cliffs and mountains. The drive takes about 90 minutes from Albuquerque.
On the way, you'll drive through the Jemez Pueblo, a federally recognized tribe of native people.
If you're coming from Santa Fe, it is also a quick day trip.
Getting to Santa Fe New Mexico Hot Springs is only a 71 mile drive to Jemez.
This is gorgeous hour and half route to the hot springs.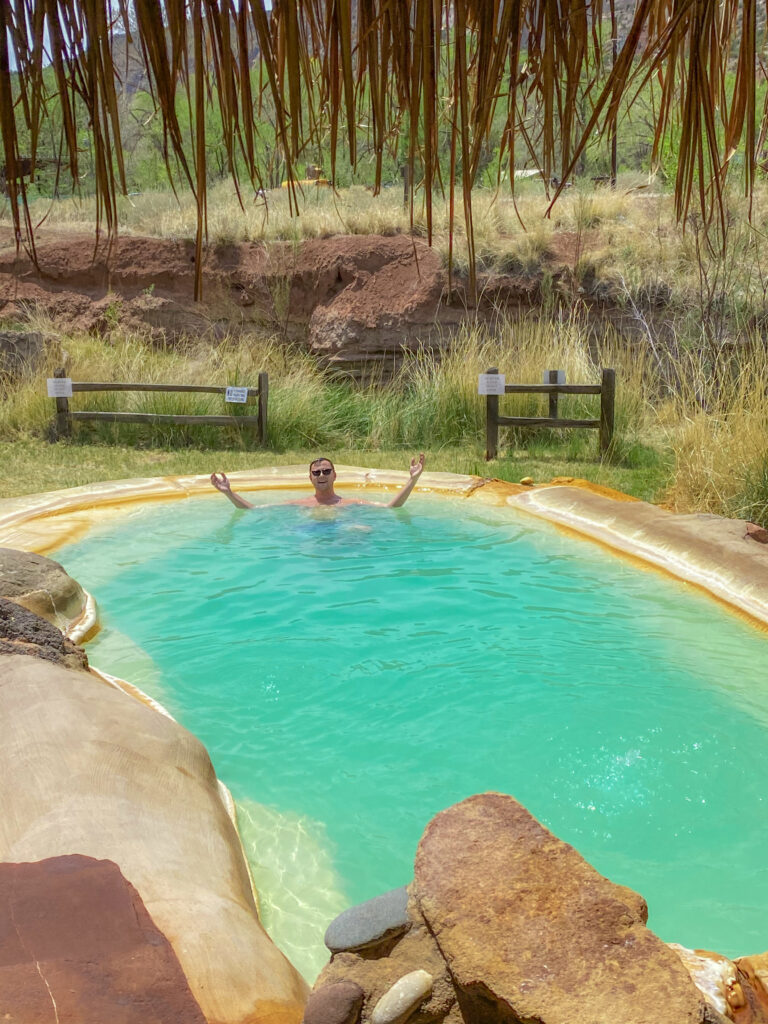 What to expect at the Jemez Hot Springs
Once you arrive, you'll head to a small check in area.
This is where you will buy your pass to the hot springs by the hour.
One hour is $25 and two hours is $50 per person.
We both decided that since we made the journey, soaking up all the beauty of the valley warranted paying for two hours of time.
In our opinion, two hours was the perfect amount of time.
Remember to allocate time for showering before you get into the springs, time for showering after you leave the springs, and time to change clothing.
Jemez hot springs has 4 pools of varying temperatures. We thought of them as warm, warmer, warmest, and hot.
There were differences in the temperatures of the pools, but it wasn't a super noticable change from one pool to the next.
The Jemez hot springs also offers a number of cabana, seating areas, and lounge chairs to relax on.
This was amazing because we wouldn't be able to spend 2 full hours soaking in the water.
Being able to hop in and out once we got too warm was perfection.
It created a relaxing spa feel whether you were in the water or not.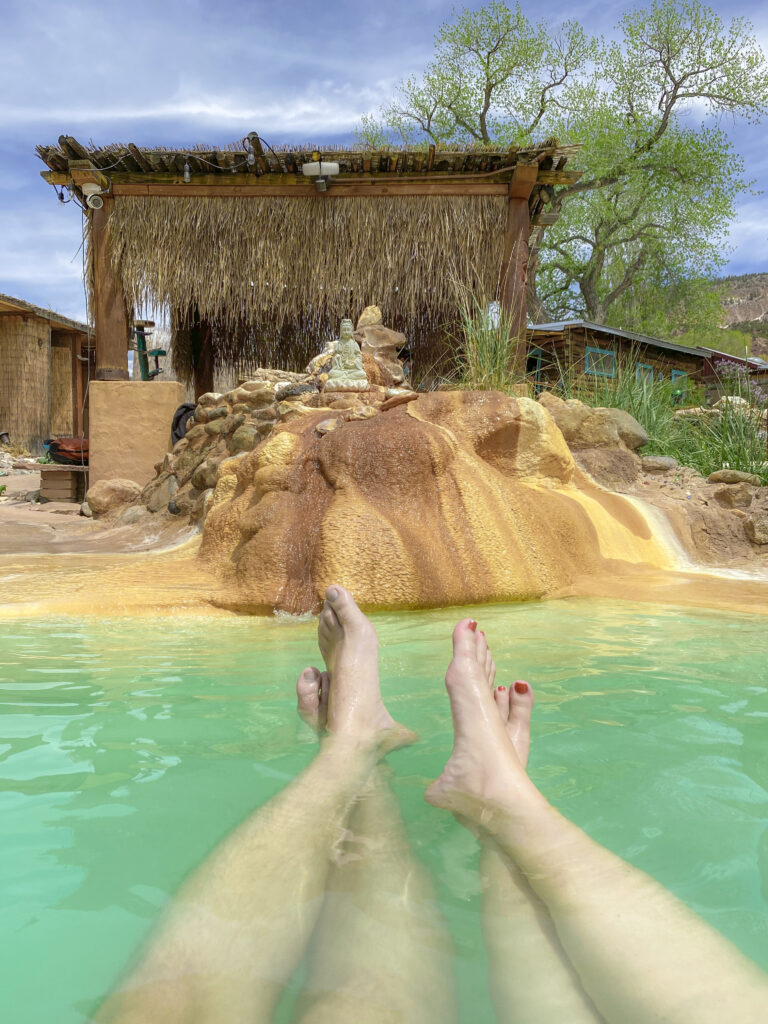 Does Jemez Springs take reservations?
Jemez Springs does not take reservations.
They operate at a limited capacity so get there early!
We arrived one hour after opening and still had over an hour to wait.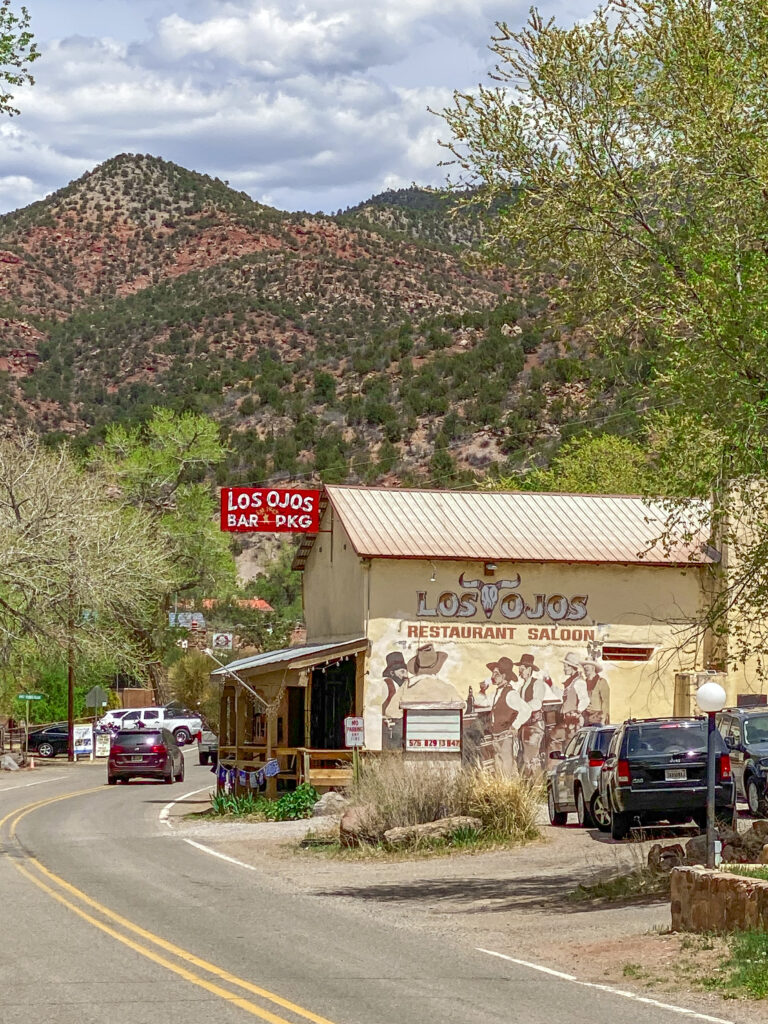 What to do in Jemez
If you are faced with a wait like we were, there are a few things that you can do in this quaint little mountain town.
Head to Los Ojos Restaurant & Saloon for a drink and a snack. This Jemez restaurant and bar is FULL of wild west character.
You'll notice animals mounted on the walls, horseshoes welded to the windows, and antlers and guns adoring the walls.
Los Ojos even makes their own beer. Gavin was really impressed by their red ale, while Karen sucked down a massive margarita.
Jemez Springs does not sell or allow alcohol on site, so this is your place if you are looking for a pre-dip libation.
There are also a few jewelry, art, and pottery shops along the road as well as a bakery.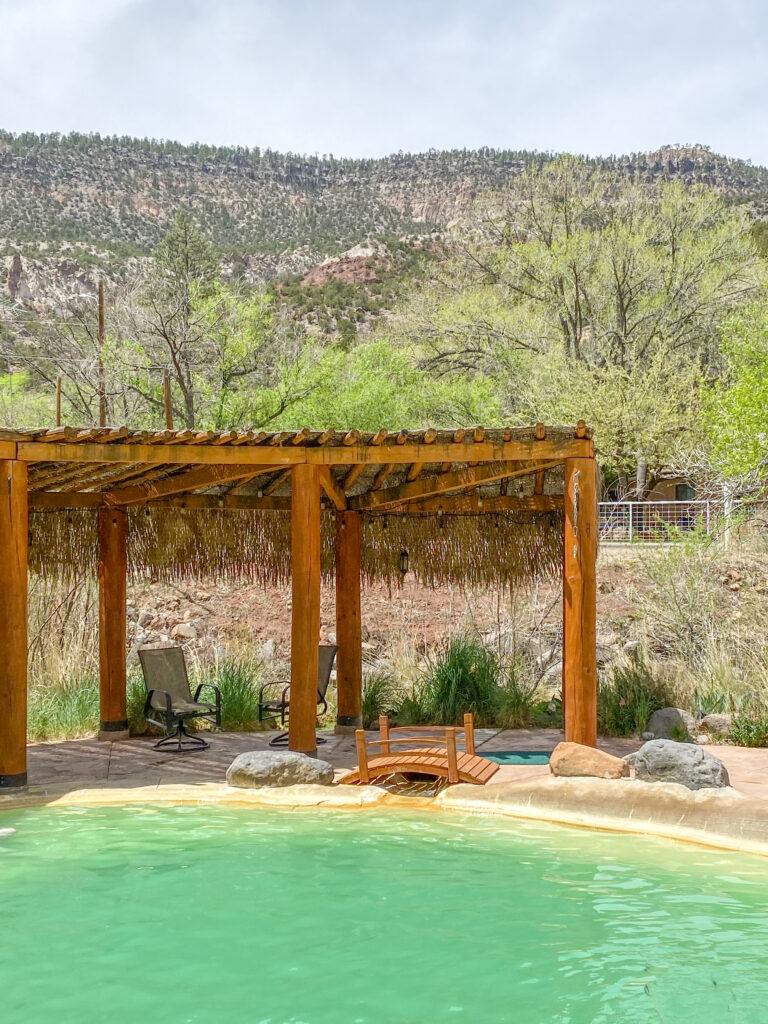 What to bring to Jemez Hot Springs
Remember to bring a towel and a bottle of water to stay hydrated while in the hot springs.
If you forgot one, they have the option to rent a towel or robe from the check in area.
We also recommend bringing soap or shower gel for when you wash off prior to your departure.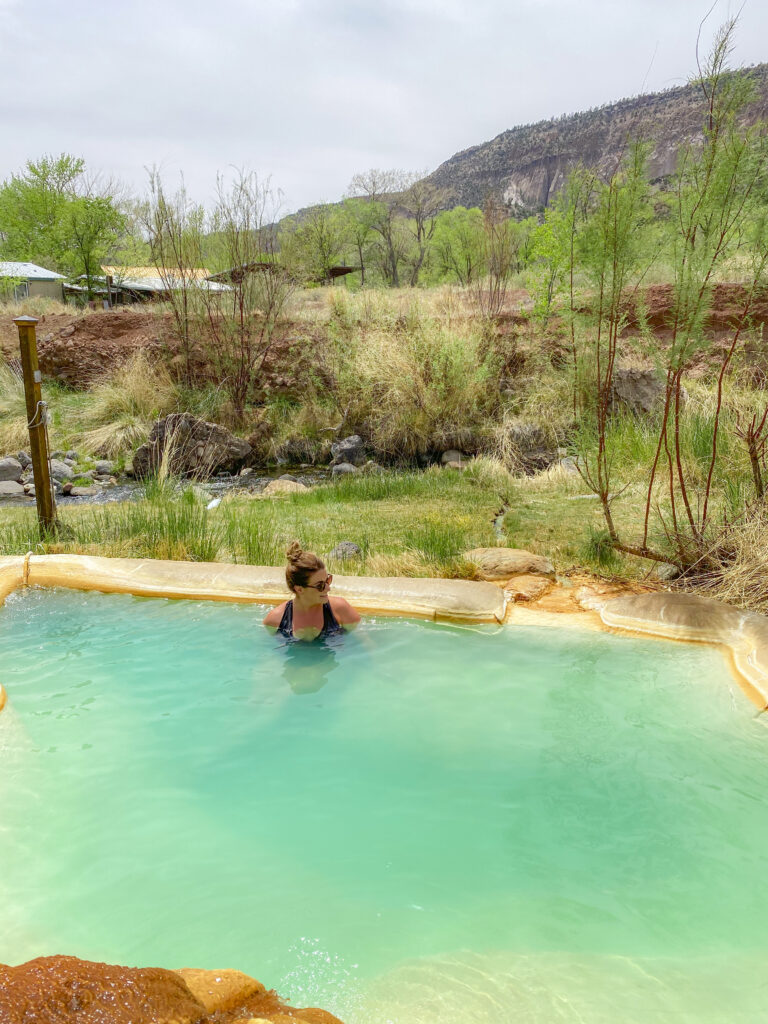 What NOT to do in Jemez Springs
Make sure that you are not wearing any lotions or sunscreens in the springs in order to protect the river. The water from the hot springs runs directly into a nearby river.
The Jemez Hot Springs New Mexico does allow you to wear sunscreen on your face.
Avoid dipping your hair into the water as this could also cause products to wash into the water supply.
Cell phone usage for calls and music is prohibited (don't ruin the rest of the guest's zen!) but you can use your cell phone to take photos.
Alcohol is also not allowed in the hot springs, for safety reasons.
The Jemez hot springs does sell smoothies, water, coconut water, and tea though.
Our time at the Jemez Springs was a blissful retreat and an easy day trip, we highly recommend visiting!
Be sure to check out our other guides on New Mexico before you plan your trip.
Access New Mexico True for lots of travel resources from Visit New Mexico.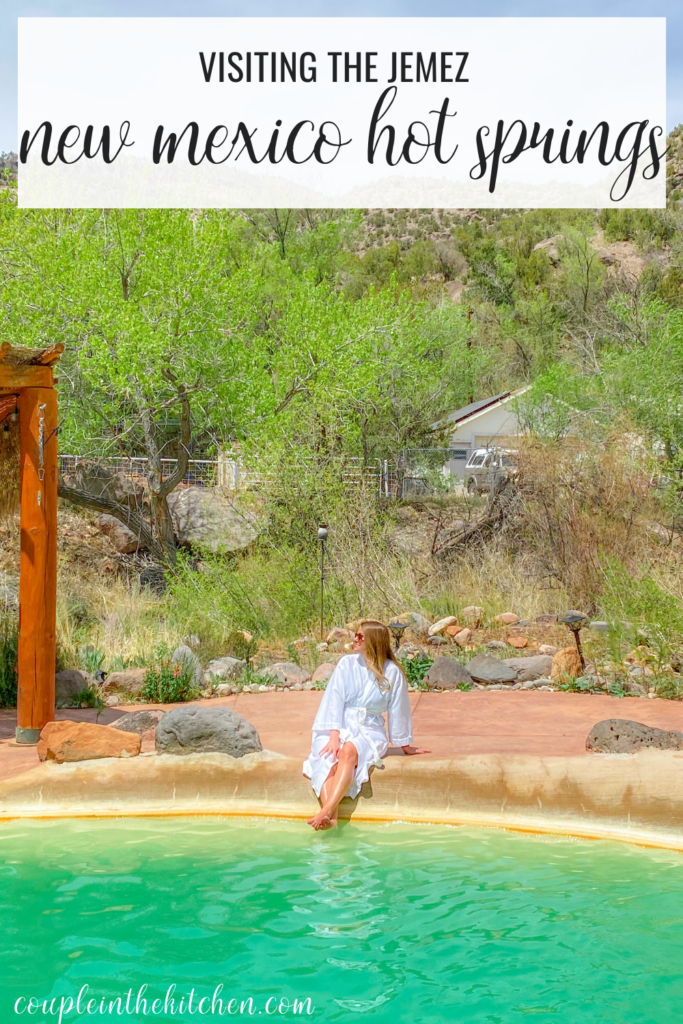 Click this link to pin this New Mexico Hot Springs guide on pinterest. Also, don't forget to follow us on instagram and facebook for more recipes and recommendations, we love to see when you visit our favorite places!
If you'd like to automatically receive our posts in your email, register here.