Karen is on a mission to visit all 50 states of the US. With only four states to go, we decided to take a long weekend over Independance Day to check another one off of the list. Arkansas is a neighboring state to Texas, so a road trip was in order!
We reached out to our foodie friends on Instagram to get recommendations on what part of Arkansas to target. We heard a lot of praises for Fayetteville, a few recommendations for Little Rock, and then a tip to visit little-known Hot Springs, Arkansas. The name itself was intriguing enough! We began our research and realized that this is a perfect location for a road trip. Hot Springs is about an 8 hour drive from Austin, Texas. We decided to stay the night in Dallas in order to break up the drive, which made this road trip super easy.
Hot Springs is a small, yet historic town located in the Ouachita Mountains in Hot Spring National Park. Birthplace to Bill Clinton, Hot Springs sits on natural thermal hot springs, as 47 springs on the western slope of Hot Springs Mountain leads downtown into the city. About a MILLION gallons of 143 °F water flows from the springs each day. The water was thought to have healing powers, which led Hot Springs to be a thriving city in the start of the 20th century. Major League Baseball brought legends such as Babe Ruth here for spring training, notorious gangsters like Al Capone frequented the bars and clubs, and people from all over the world traveled to Hot Springs to bathe in the "healing" spring water.
The entire town has a feeling of history and mystery. The local mines are the source of many gemstones and minerals. You'll notice many gift shops along the row of old, grandiose buildings are selling geodes and crystals. In fact, you can even mine for your own gemstones nearby. Arkansas has the world's only diamond mine that is open to the public. It is a 37 acre plowed field that is the surface of the world's eighth largest diamond-bearing volcanic crater. What's cooler? If you find a diamond there, it is yours to keep!  While we didn't have the time (or the energy) to mine for diamonds, we did have a fantastic stay and at delicious food while visiting Hot Springs.
Things to do in Hot Springs Arkansas
The Springs of Course! Visit Bathhouse Row – There are 8 gorgeous bathhouses in a row on Central Avenue. A few of which that are still in operation today. We chose to visit Quapaw Baths as this bathhouse offered more spa services than others.  A general admission pool ticket will grant you access to the natural hot spring tubs. Think of it as giant hot tubs, varying in temperature, with water piping in straight from the spring below. We scheduled a romantic getaway to the sun room. The sun room is a private bath for two, that is piped in with hot, spring water straight from the natural spring. We added some tranquil bath salts (you pick your preferred scent) and relaxed for a 30 minute whirlpool session. After the bath, we headed into the natural steam cave. Walking through the cave, we were seated on wooden benches next to a bubbling hot spring flowing with scalding hot water. The hot water causes the cave to warm to around 120 degrees. We joined a small group in the cave and used buckets of ice cold water to cool our skin whenever the cave was feeling too hot. We highly recommend those treatments. It was a unique, romantic, and natural experience that you can't find anywhere else! http://quapawbaths.com/ 413 Central Ave, Hot Springs National Park, AR 71901
Hot Springs Visitor Center – Unexpectedly, this was one of our favorite places to explore in Hot Springs! The visitor center features a free museum where you can check out what the historic bath houses looked like 100 year ago! Learn about some of the "unique" spa treatments from yesteryear and also be sure to stop on level three to see the gymnasium where Babe Ruth used to exercise. https://www.nps.gov/hosp/planyourvisit/visitorcenters.htm 369 Central Ave, Hot Springs, AR 71901
Garvan Gardens – We greatly underestimated the size of this lush garden. It's over 200 acres so be sure to plan enough time to explore. We had an appointment at the bathhouse that afternoon so we opted to pay for a golf cart tour, which took about an hour. If you walk the gardens you could spend a lot more time exploring. The cart tour guides you through the winding pathways, across bright floweral displays and spring waterfalls. We called out to peacocks and fed the fish at the koi ponds in the Japanese gardens. It's a great way to add even more zen to your spa day.  http://www.garvangardens.org/  550 Arkridge Rd, Hot Springs, AR 71913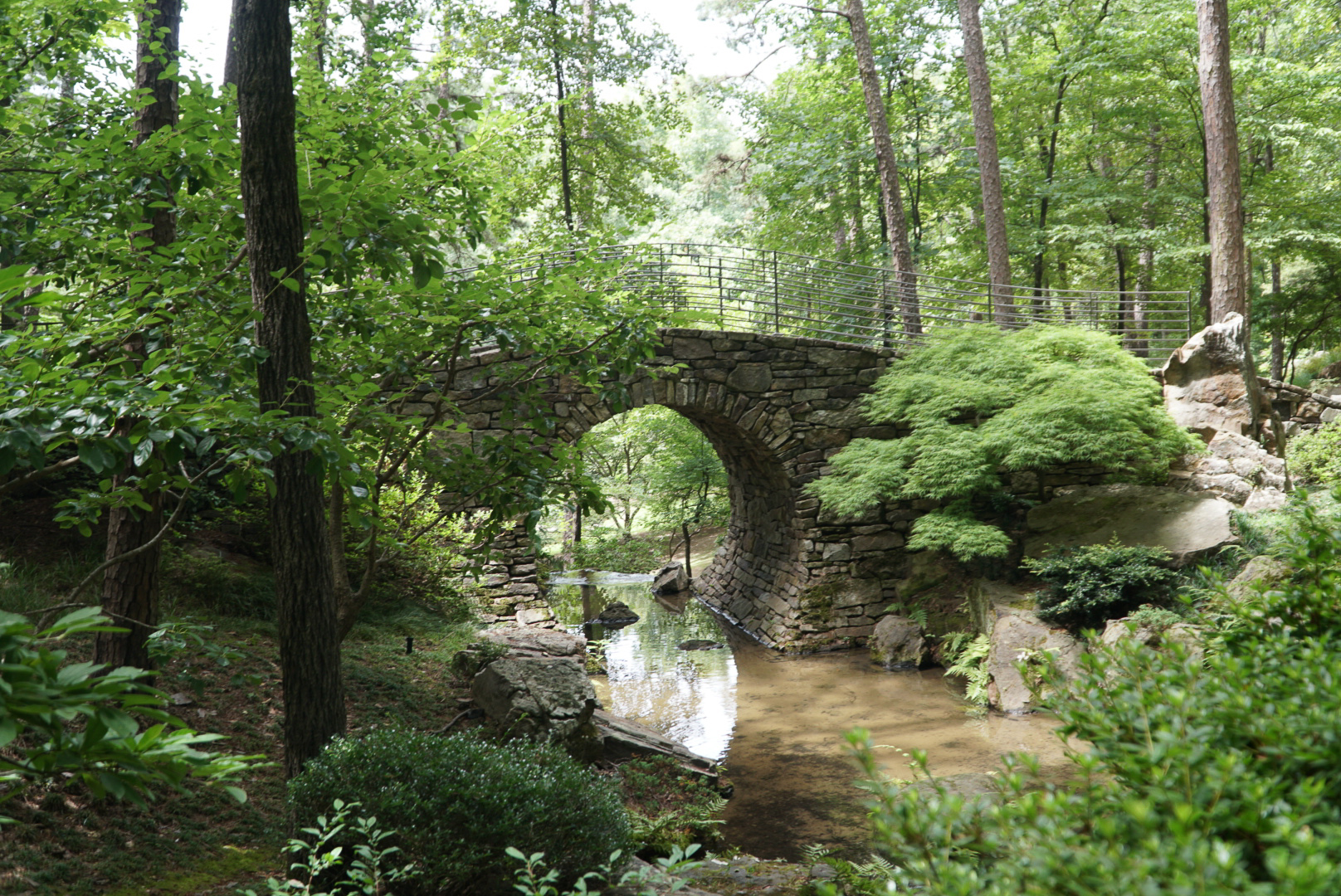 Anthony's Chapel – This spot is right next to Garvan Gardens, but it is a completely free attraction. Probably some of the coolest architecture we've seen, this chapel is constructed with glass and beams, creating transparent walls that feature the gorgeous surrounding forest. It is the epitome of peace and tranquility and one of our favorite stops on our trip.  It's also a stop that you can do on your way in and out of town as it's right on the edge of the city. http://www.garvangardens.org/  550 Arkridge Rd, Hot Springs National Park, AR 71913
Explore Old Town – Old town Hot Springs is a great place to wander. We enjoyed the historic architecture of the bathhouses and neighboring buildings. Shop your heart out at Bathhouse Soapery for body scrubs, bath salts, oils and lotions. We bought some wine scented bath salts! Pop into gemstone shops to learn about the healing powers of the minerals and crystals mined nearby. Grab some sweets at any of the ice cream and candy shops along Central Avenue.
Visit Mountain Tower – Take in the marvels of the mountains in Arkansas on the Hot Springs Mountain Tower. Start by hiking up to the tower or driving up the mountain if you would prefer, as there is plenty of room to park your car. Start by buying your admission pass in the gift shop and head to the elevator to ascend the tower. We explored the tower at sunset and enjoyed the fresh air and breathtaking views.  https://hotspringstower.com/ 401 Hot Springs Mountain Dr, Hot Springs, AR 71901
Go on a Haunted Tour – After having a few cocktails in Old Town, we opted for some late night entertainment by joining the 10pm Haunted Hot Springs Tour. A tour is also offered at 7:30pm. This tour provided a lot of history of Hot Springs and some of the tragedies that occured in this historic town. There weren't that many ghost stories shared, but it was still an entertaining evening and an easy walking tour.  http://www.hotspringshauntedtours.com/ 430 Central Ave, Hot Springs, AR 71901
Where to eat in Hot Springs
The Avenue – Located inside The Waters Hotel, we were floored by how delicious the food was at the Avenue. The broccoli tots with Huitlacoche crema were so flavorful and masterfully prepared. The lobster dumplings offered huge pieces of lobster. The mac and cheese was super indulgent and it is massive as a side dish. This is also a great stop to enjoy a craft cocktail while you're exploring bathhouse row. Theavenuehs.com 340 Central Ave, Hot Springs, AR 71901
The Pancake Shop – Feels like you're eating at grandma's house! The Pancake Shop in Hot Springs has been around since 1940. They are known for their buckwheat pancakes, but our favorite was the apple fruit-filled pancakes. Fresh apple was baked right into the flapjacks! You also can't go wrong with their farm-to-table sausage and fresh squeezed OJ. http://www.pancakeshop.com/our_location.php  216 Central Ave, Hot Springs, AR 71901
Fat Bottomed Girls Cupcakes –  Grab some sweets and get a giggle from the quirky gifts at Fat Bottomed Girls cupcake shop, which was featured on Food Network. Gavin was quite impressed with the Ooey Gooey Buttercake cupcake he tasted. Also, their cream cheese icing is so delicious they even sell it in mini cups if you want to eat that straight up! https://www.fbgcupcakes.com/ 120 Central Ave, Hot Springs, AR 71901
Kollective – As avid tea and coffee fans, Kollective was an oasis! Offering over 40 teas in addition to well-curated coffee offerings, including their own custom nitro cold brew.  This is a great place to start the day. We also enjoyed a number of their breakfast items, which offered many healthy and vegan options. 110 Central Ave, Hot Springs, AR 71901
Best Spots for Hot Spring Nightlife and Drinks
The Ohio Club – We adored the Ohio Club. So much so, that we stopped in each day that we were in town. The Ohio Club was a bar and gambling establishment to greats like Babe Ruth, Mae West and even Al Capone himself. During prohibition, the bar turned into a cigar store as a front for their illegal operations. The bar is the oldest in the entire state of Arkansas. It features gorgeous wood detail, historical artifacts, a solid whiskey collection, tasty cocktails, live music every night, and even their own brew which is made across the street at the Superior Bathhouse Brewery. https://www.theohioclub.com/ 336 Central Ave, Hot Springs National Park, AR 71901
Maxines – Another bar with a lot of history. Maxine's used to be a brothel back in the day. Today, this is a hip bar that features pool, darts, eclectic decor, and live music on most nights.  http://www.maxineslive.com/ 700 Central Ave, Hot Springs, AR 71901
Superior Bathhouse Brewery – Take a "beer bath" at the world's only thermal water brewery. Initially we thought it literally meant to take a bath in beer, we were on bathhouse row, after all. In reality, it meant to taste a flight of all 18 beers on draft. The beers were all really good, our favorite was the saison. http://www.superiorbathhouse.com/ 329 Central Ave, Hot Springs, AR 71901
SQZBX Brewery and Pizza – Another brewery in walking distance from Bathhouse Row is SQZBX, pronounced squeezebox, in ode to the owner being a professional accordionist. The beer comes directly out of the holding tank, it's not even put into kegs! Grab a salad and homemade pizza while you taste what they have on draft. https://sqzbx.com/ 236 Ouachita Ave, Hot Springs, AR 71901
Starlight Club – This spot has it's grand opening while we were visiting! Located next door to the SQZBX Brewery and Pizzeria, this retro bar features charismatic decor. In order to enter you must have a membership. Don't fret, it is only $3! 232 Ouachita Ave, Hot Springs, AR 71901
Hot Springs Hotels
Prior to coming to Hot Springs, we worked to research lodging. We found this to be a little tricky. There were cute cottages on Lake Hamilton as well as hotels across the town. Bathhouse row also offered historic hotels, with old-time furniture and details.
We finally made a Hot Springs lodging decision, with the advice of Visit Hot Springs. We couldn't be more happy with our stay at The Waters Hotel. The Waters was recently opened so it features new, modern furnishings in a historic building. The Waters Hotel used to be a doctors office and features elaborate tile floors, gorgeous wood detail, and marble steps that are over 100 years old. The location was perfect as it was across the street from all the Bathhouses and was walking distance to so many cute shops and restaurants. https://thewatershs.com/ 340 Central Ave, Hot Springs, AR 71901
We hope this guide inspires you to spend a long weekend in Hot Springs! With three states left to go, you know you'll see us wrapping up all 50 US states in no time!