We love venturing out to Texas wine country (so much so that we bought a Fredericksburg cottage that we rent out as a bed and breakfast – more details coming soon!), and visit so often we have eaten through many, many Fredericksburg restaurants!
While a number of years ago, people might argue that there were not very good restaurant offerings in Fredericksburg, we have been very impressed with some of the recent openings.
Where you used to find dated restaurants now you'll find new hot spots with modern decor, talented chefs, and farm-to-table cuisine.
We curated our list of favorite Fredericksburg restaurants, based on recommendations:
Best Fredericksburg Restaurant for Coffee and Breakfast
Vaudeville
We like to start our day at Vaudeville.
This downtown Fredericksburg restaurant is part cafe, part boutique, and part art gallery.
Dine at the market on the bottom level then browse the high-end boutique on the main level. The top level features uncommon objects and a special events space.
We think this spot has the best coffee shop in Fredericksburg, complete with a great pastry selection.
During the day you can also nosh on Vaudeville's soups, salads, power bowls, or their special of the day.
Limited patio seating is available at the front of this gorgeous Fredericksburg building right on Main Street.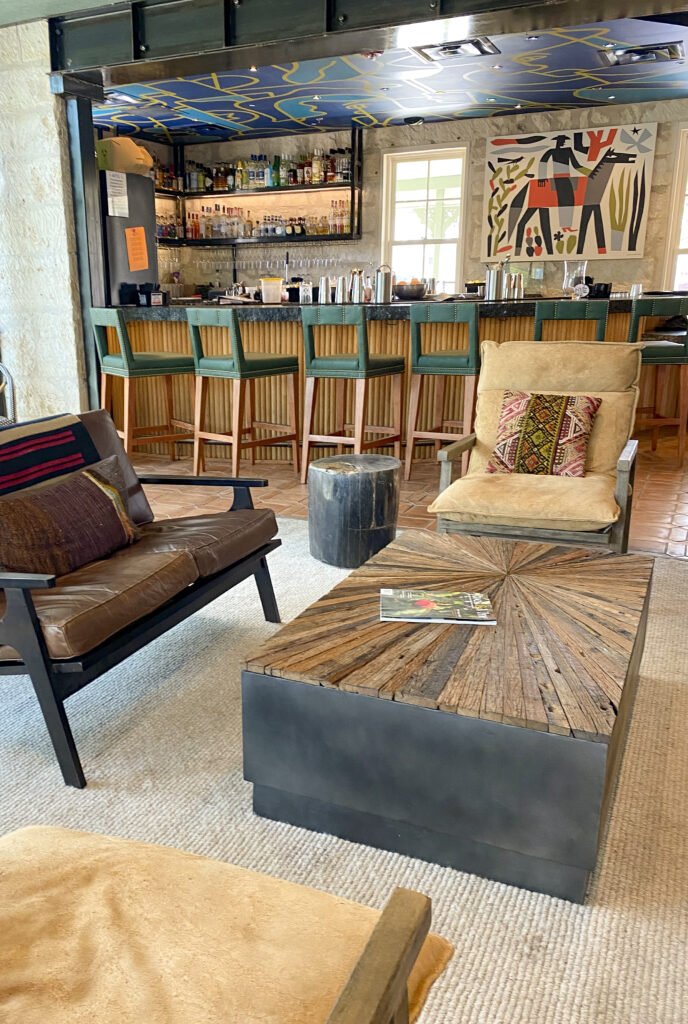 Best New Fredericksburg Restaurant
Hill and Vine is a stunning new spot in town with a massive outdoor area.
While some menu items are better than others, we love Hill and Vine for the atmosphere, some favorite dishes, and the fact that they are open every day.
If you are ever visiting Fredericksburg on a Monday or Tuesday you'll find a LOT of spots are closed, so we're extra thankful that Hill and Vine is open.
Be sure to order the onion rings, they are massive and honestly we could eat the chimichurri ranch by the spoonful.
Karen loves to order the steak and grains salad, a smoked tri-tip salad. Hot tip: ask for extra kale if you're looking for more of a traditional salad.
This spot does not take reservations so plan on putting your name in early, then spend some time having a drink on their patio or wandering Main street.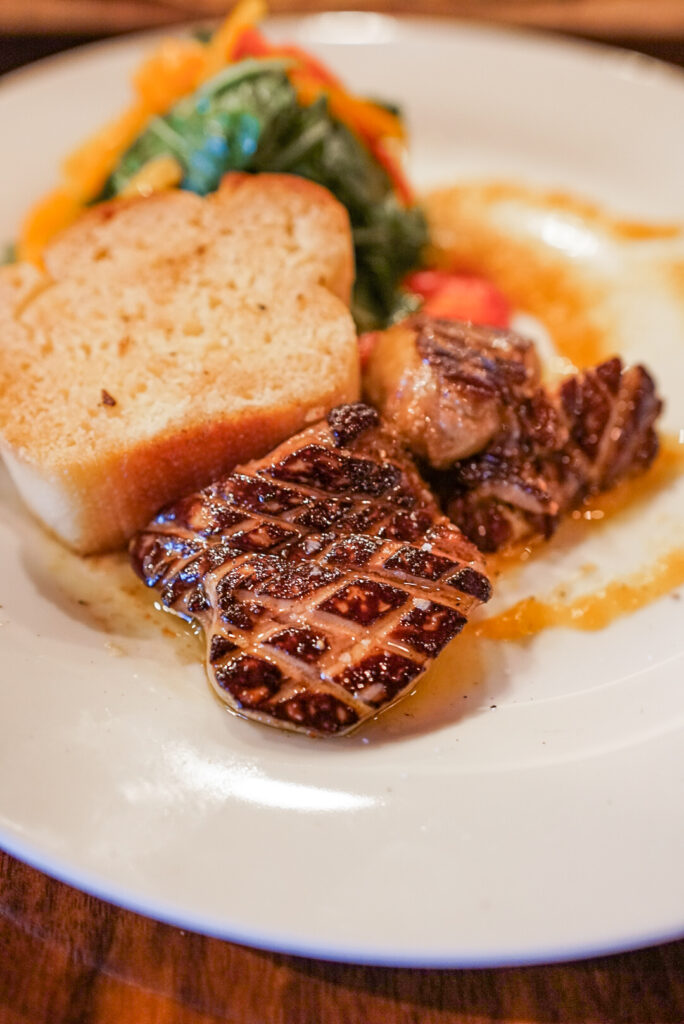 Best Fredericksburg Restaurant for Special Occasions
Otto's
We are big, big fans of Otto's German Bistro.
We adore the cozy ambiance and upscale German comfort food of this restaurant close to Main Street.
You can't dine at Otto's without ordering the duck schnitzel. It's a traditional German meal with a richer, gourmet twist.
The duck schnitzel comes complete with käsespätzle. This cheesy rustic dumpling is similar to a pasta covered in cheese and is our all-time favorite German food.
The dish is also served with cranberry marmalade and pickled peppers which offer an achicity to offset the rich entree.
Another notable dish is their Flammkuchen. Similar to a flatbread but coming from the German/French boarder, this appetizer is topped with crème fraiche, homemade gravlax, braised onions, arugula salad, and horseradish.
We appreciate that Otto's leverages local farmers for their ingredients and has a great wine list.
Reservations are highly recommended as this is a very popular downtown Fredericksburg restaurant.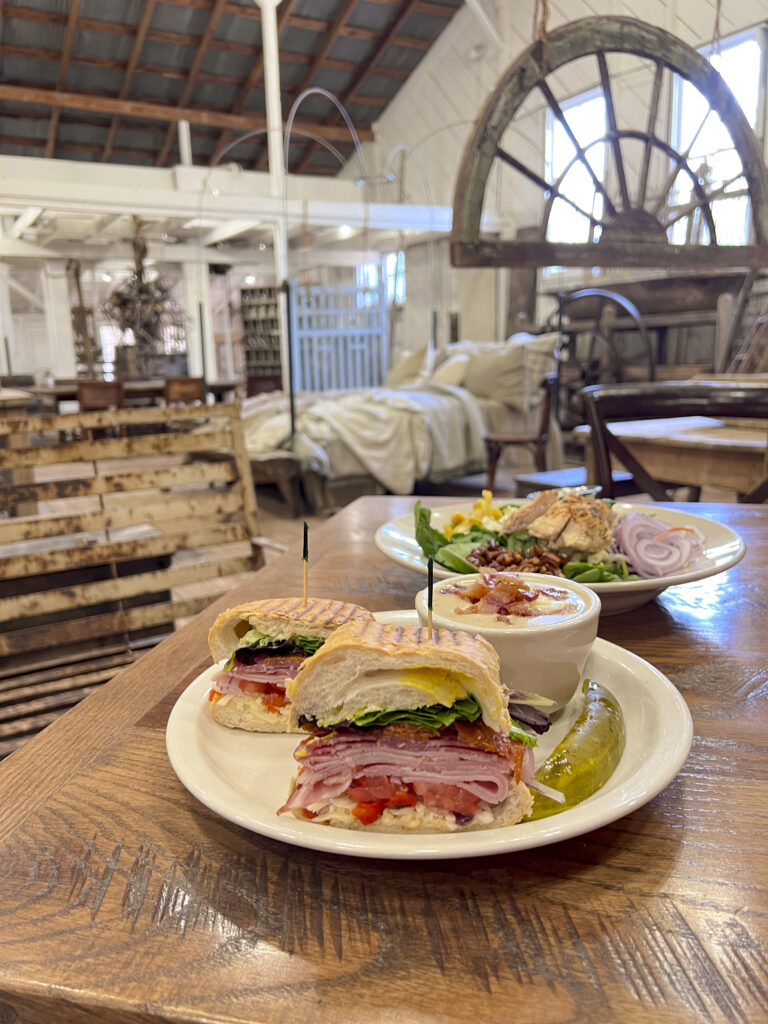 Best Fredericksburg Restaurant for Lunch
Woerner's Warehouse
There is a section off of Main Street that has some of the cutest shops and Woerner's Warehouse is smackdab in the middle, literally.
Dining inside Woerner's Warehouse is the the middle of a shop!
The soups, salads, and sweets are delish. It's popular, so start by putting your name on the list and then burn some time by wandering through the adorable shops next door.
For high end antiques curated from Europe, head to Carol Hicks Bolton Antiquities.
Across the street you'll find a great home decor store called Blackchalk Home and Laundry.
Note, this place is closed on Sundays and closes at 3pm every other day.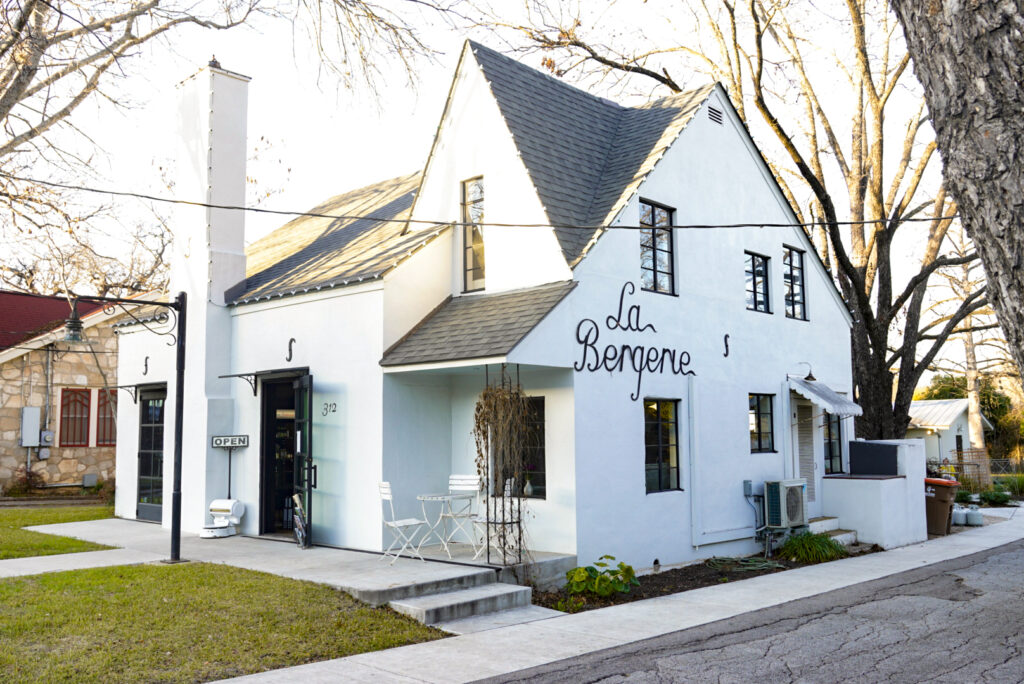 Best Fredericksburg Restaurant for Wine and Cheese
La Bergerie
What we love about La Bergerie is that it is a Fredericksburg restaurant but it feels like you're transported to Europe.
Upon walking to La Bergerie, you'll find a cute market with lots of wines.
Check in with the casher to be seated on an adorable twinkle-light-lined patio.
You'll enjoy some well-curated cheese or charcuterie plates while you order some interesting picks from their wine selection. All of their charcuterie is cured on-site with heritage Texas meats.
Where else can you find that?
La Bergerie is the perfect place for happy hour. Since it is right next to Ottos, you may want to start here before your reservation..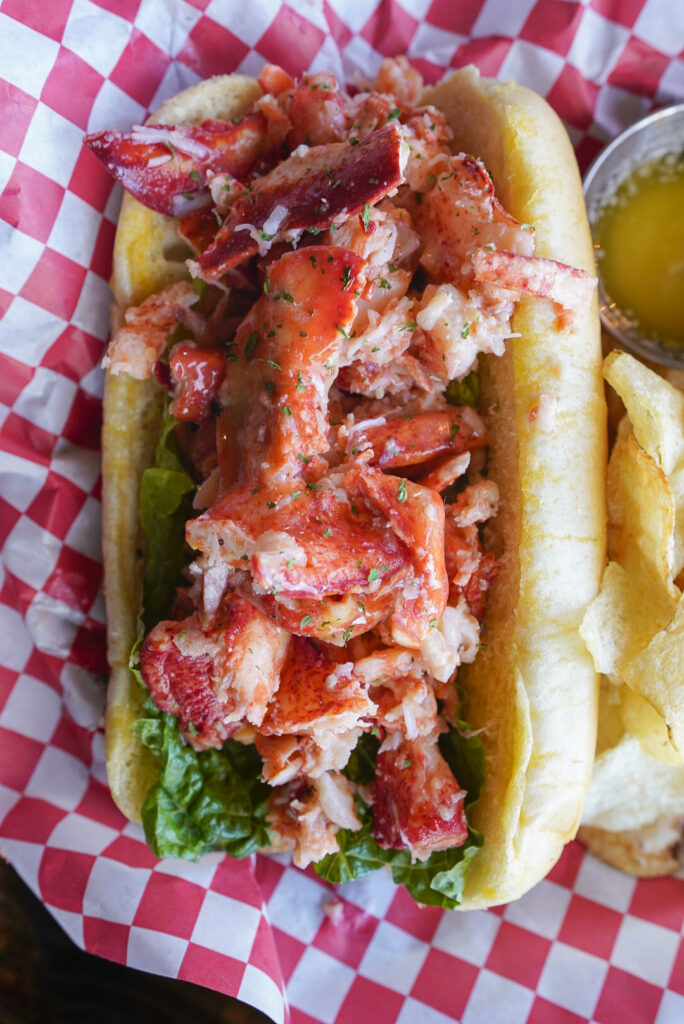 Best Fredericksburg Restaurant for Seafood
The Stable Cocktail Bar is a bit of a hidden gem in town.
This small, unsuspecting spot flies in fresh lobster for their lobster rolls.
Choose from their Spicy Lobster Roll that includes crab meat or the Nantucket Lobster Roll which is knuckle and claw meat with butter and a kiss of mayo.
The sandwiches aren't cheap, but the portion size is massive. We are completely content sharing a lobster roll here when the craving hits.
In addition to lobster rolls you can get lobster mac and cheese, a shrimp po boy, and charcuterie.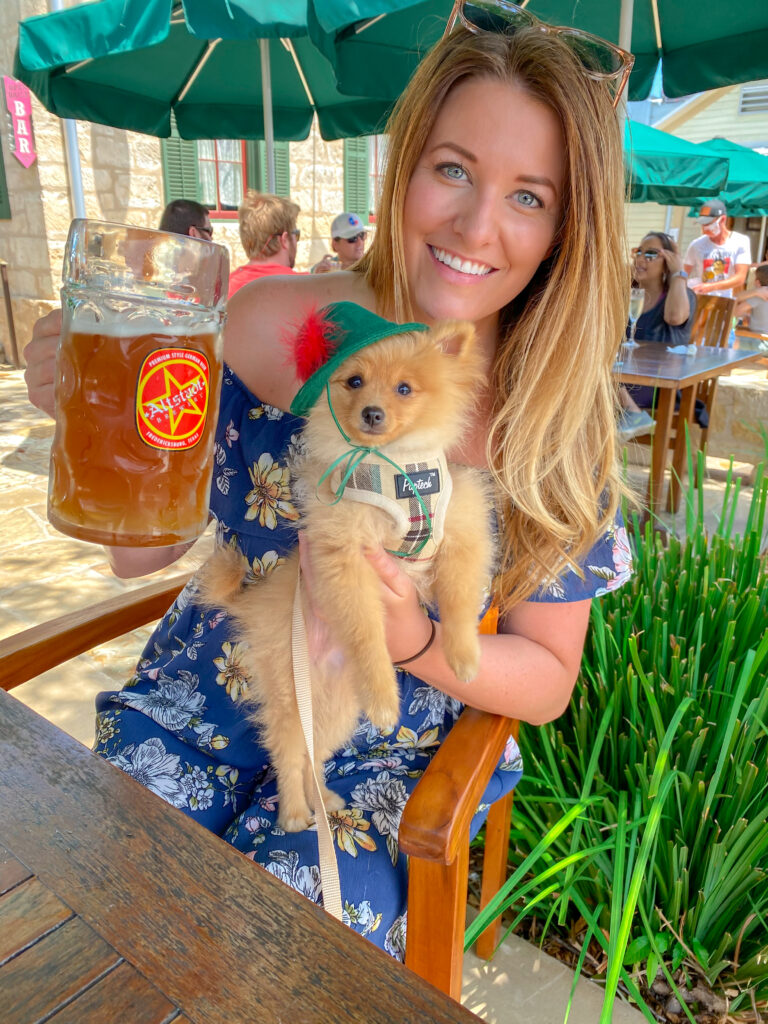 Best German Fredericksburg Restaurant
Altdorf Biergarten
While we typically would be cautious of a restaurant that serves up both German and TexMex food, we actually think Altdorf Beirgarten might be our favorite pick for traditional German food.
We love that they have a renovated building with a great patio right on Main Street in Downtown Fredericksburg.
We really love that they also have a live music calendar.
Even when we aren't searching for German food, we head here for the patio, music, and beer.
(The German sausages and cabbage are just a bonus!).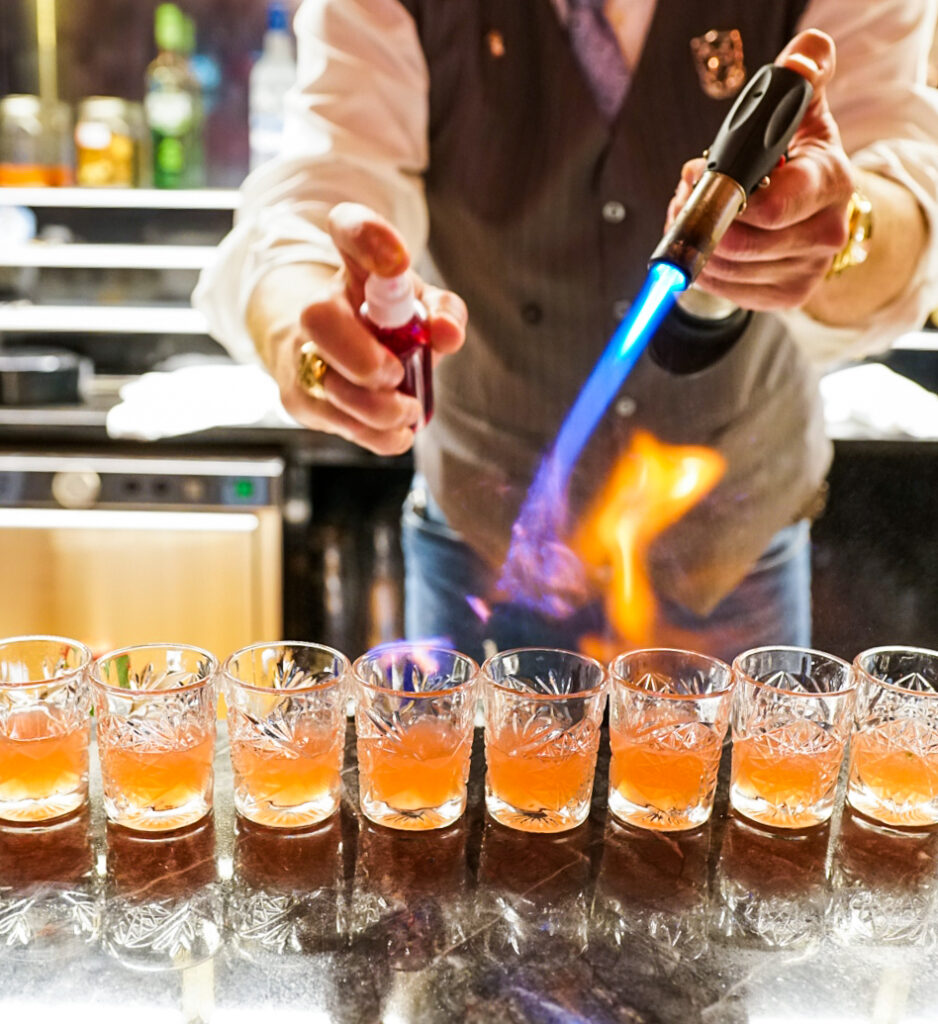 Best Fredericksburg Restaurant for Cocktails
Chase's Place Cocktails + Kitchen
Heading to Chase's Place is our favorite place in Fredericksburg for a nightcap or a great cocktail.
The deco furnishings are plush and cozy and transport you to the 1930s!
Chase's Place has an incredible bar complete with a ladder to reach their wide liquor selection.
Chat with the bartender to get a craft cocktail customized to your palate.
Not a fan of cocktails? This Fredericksburg cocktail bar also offers a curated selection of local, Texas Hill Country wines (and even local cider beer)!
Chase's Place also offers dinner and snacks. Try the pulled pork fries or the bacon wrapped quail to curb your appetite while you stay, you won't want to leave!
If you're already staying in Fredericksburg Tx, we hope this list was helpful in guiding you to some of the best Fredericksburg restaurants.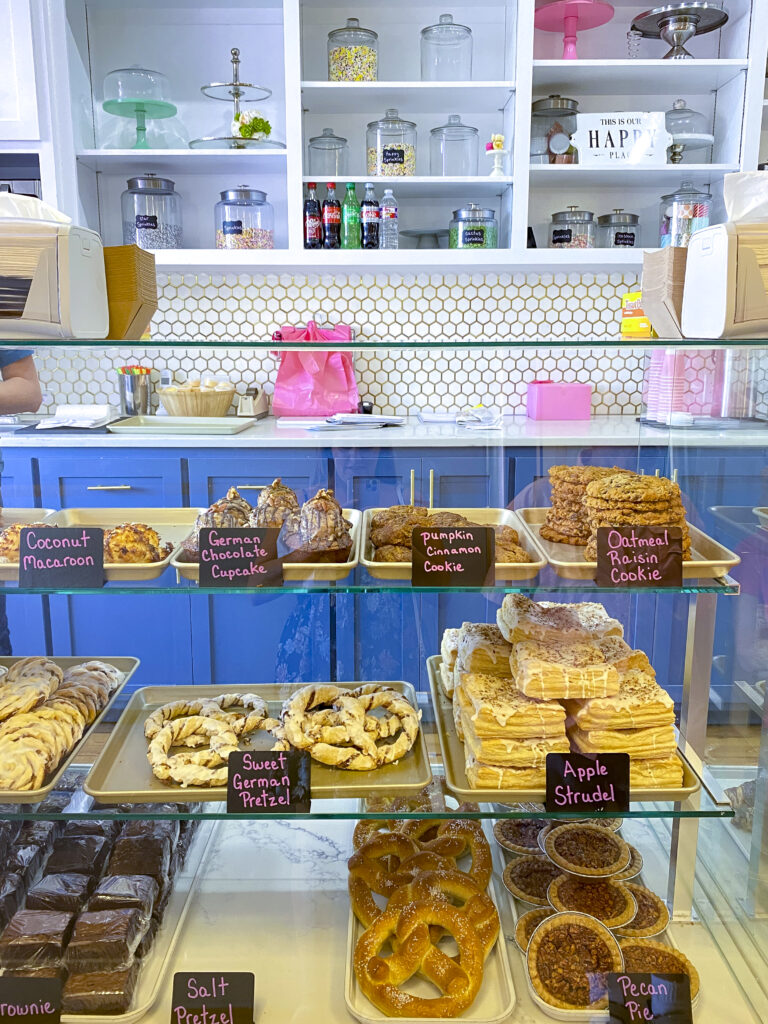 Best Fredericksburg Bakery
Pritzer Sweet Shop
The Pritzer Sweet Shop is a quaint little bakery right on Main Street.
They're known for their sweet German pretzel, which is similar to a cinnamon twist, but we're huge fans of their cookies!
Pritzer honestly bakes up the best cookies that we've ever tasted.
With fun cookie flavor combos like "cinnamon toast crunch cookie" or cookies with bacon inside, you'll be delighted by their incentive offerings.
Hours are limited, only opening at 11am on most days, so don't plan on coming here for a breakfast pastry, but it's a perfect sweet treat to stock up for your midday sweet tooth.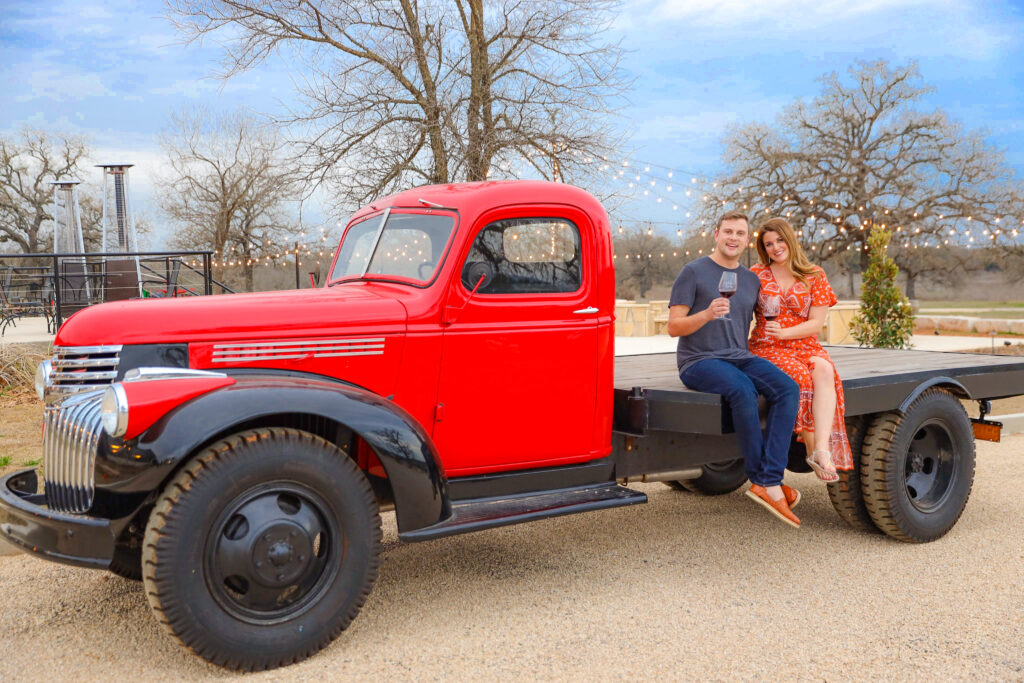 Planning a trip to Fredericksburg Tx?
We'd love to have you stay in our Fredericksburg rental – stay tuned for booking information!
Our three -bedroom, newly-renovated oasis features cozy, modern decor and a tranquil, private backyard. All just a few blocks from Main Street and these delicious Fredericksburg restaurants!
Click this link to pin this guide to best Fredericksburg restaurants on pinterest. Also, don't forget to follow us on instagram and facebook for more recipes and recommendations, we love to see when you visit our favorite spots!
Looking for more Texas travel recommendations? Find them here.
If you'd like to automatically receive our posts in your email, register here.