We were on the hunt for the best things to do in Lake Tahoe when we escaped the Austin heat to visit family and work remotely out of California this month.
After spending a week campervanning through Sonoma County, and then visiting friends in San Francisco, we headed to Gavin's family's cabin in Lake Tahoe.
We spent two weeks finding the best restaurants in Lake Tahoe and finding fun things to do.
Tahoe is one of the best August vacations in the USA and we were lucky to spend almost three weeks there in August.
Here are our top ten favorite things to do in Lake Tahoe during the summer.
10. Ride the Heavenly Gondola
Lake Tahoe in summer means that skiing isn't available, but it doesn't mean you have to miss out on Lake Tahoe's iconic mountains.
Head to Heavenly Mountain Resort and take the gondola for stunning views of all of Lake Tahoe.
We highly recommend that you head up the mountain early before lunch because the activities close at 3:30pm on the dot.
Once you take the gondola up, hop off at the first stop to take photos at the scenic overlook and explore the hiking trails.
There is even a small cafe to grab a beverage and a snack while you relax and take in the view.
Get back on the gondola and climb even more elevation to reach the Heavenly resort activity area.
Activities include the alpine mountain coaster, zip lining, climbing wall, and even panning for gemstones.
9. Gamble at Casinos in Lake Tahoe
The interesting thing about Lake Tahoe is that it straddles two states, California and Nevada.
When you cross the state line in South Lake Tahoe you'll immediately meet a number of casinos on the state line.
South Lake Tahoe Casino options include Harrahs, Harveys, The Hard Rock Casino, Ballys, and Dotties.
Since these are Nevada casinos, they offer free drinks while you are gambling, so it's a great nightlife activity in Lake Tahoe.
Gavin is a big fan of poker and Harvey's Casino is the only casino with a poker room.
He won each of the nights we played poker, even hitting a straight flush and earning an extra poker bonus payout!
After poker we played a few slot machines and won two of the "minor jackpots" and even a "major jacktop" of over $1500!
Talk about a successful casino trip, the winnings helped to fuel all the restaurants in Lake Tahoe that we were exploring!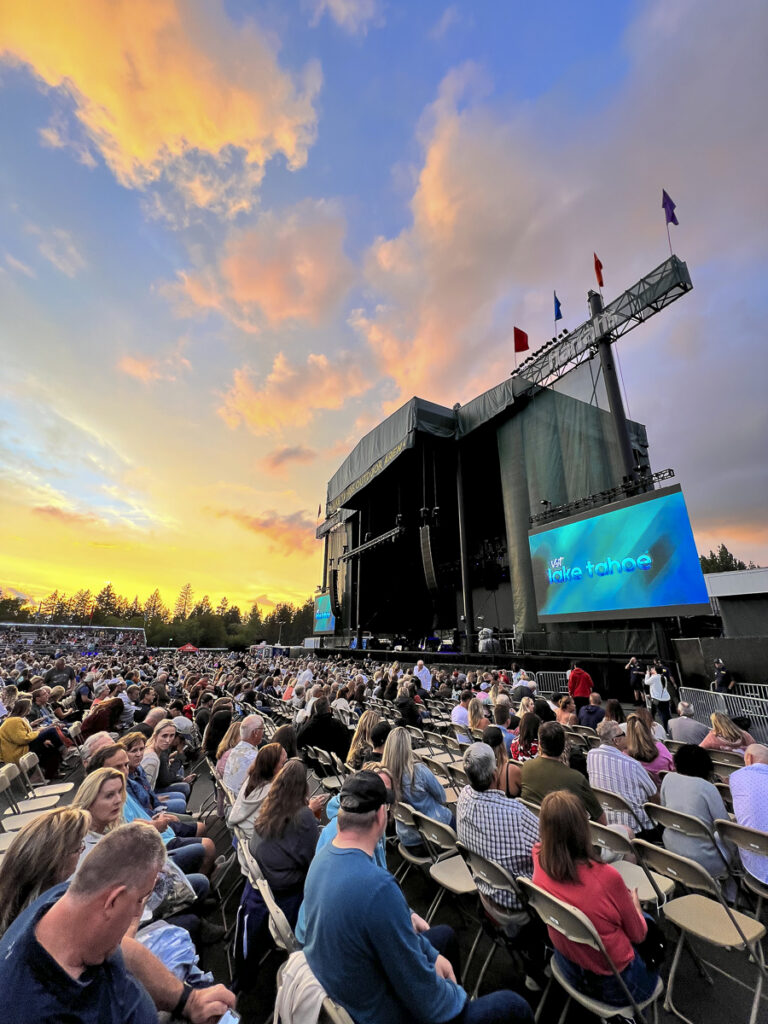 8. See Lake Tahoe Concerts
Lake Tahoe has perfect summer nights, so why not spend time outside listening to live music?! Many restaurants, beaches and even the outdoor walkway area of Heavenly offer free concerts throughout the summer.
If you're looking for bigger headliners, Lake Tahoe has you covered as well.
Right behind Harvey's Casino you'll find the Lake Tahoe Outdoor Arena.
While we were visiting we noticed a lot of great musicians had shows in their Summer Concert Series, so we bought tickets to see the band Train while we were in town.
We have a few tips on how to save money while attending a show at the Lake Tahoe Outdoor Area.
First of all, the amphitheater is pretty small and intimate, so even if you buy cheaper tickets in the back, you'll still be pretty close to the stage.
Secondly, we were going to buy tickets online and found there a lot of online booking fees.
You can buy tickets right at the box office at the arena and save yourself close to $50 per ticket compared to buying them through Ticketmaster – score!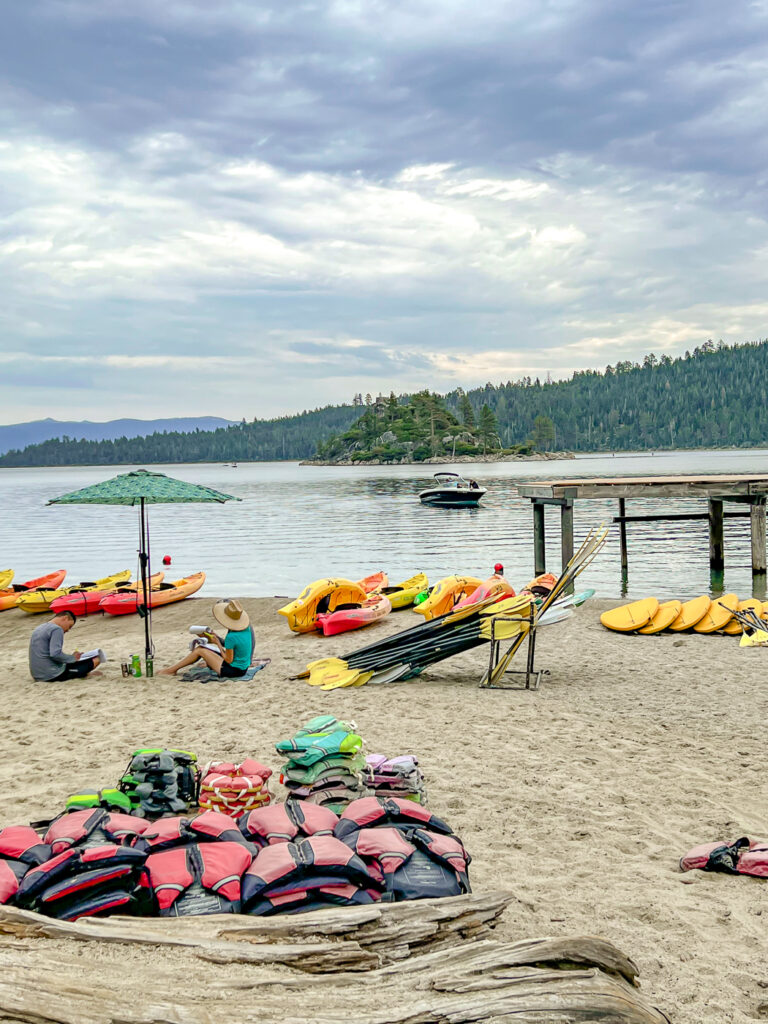 7. Hit the Water
Lake Tahoe is known to be one of the most breathtaking lakes in the world, so naturally spending time on the water is a terrific thing to do in Lake Tahoe in summer.
Rent a kayak or paddleboard, hop on a boat, even go fishing.
We spent an afternoon kayaking along the coast and even brought a book to float, relax, and read on the water.
There are even crystal clear kayaks and paddleboard rentals in Lake Tahoe!
Since the water on Lake Tahoe is so clear, you would be able to see right through your boat to the bottom of the lake during your kayak adventure.
The clear kayaks are really popular and book up quickly so sadly we did not have time to book this excursion.
In South Lake Tahoe you can rent a crystal clear kayak with Clearly Tahoe.
Or if you are in North Lake Tahoe by Kings Beach, book an outing with Wild Society.
For a fishing trip, you can join a group tour fishing from Tahoe Sport Fishing or even go fly fishing in a nearby river with Tahoe Fly Fishing.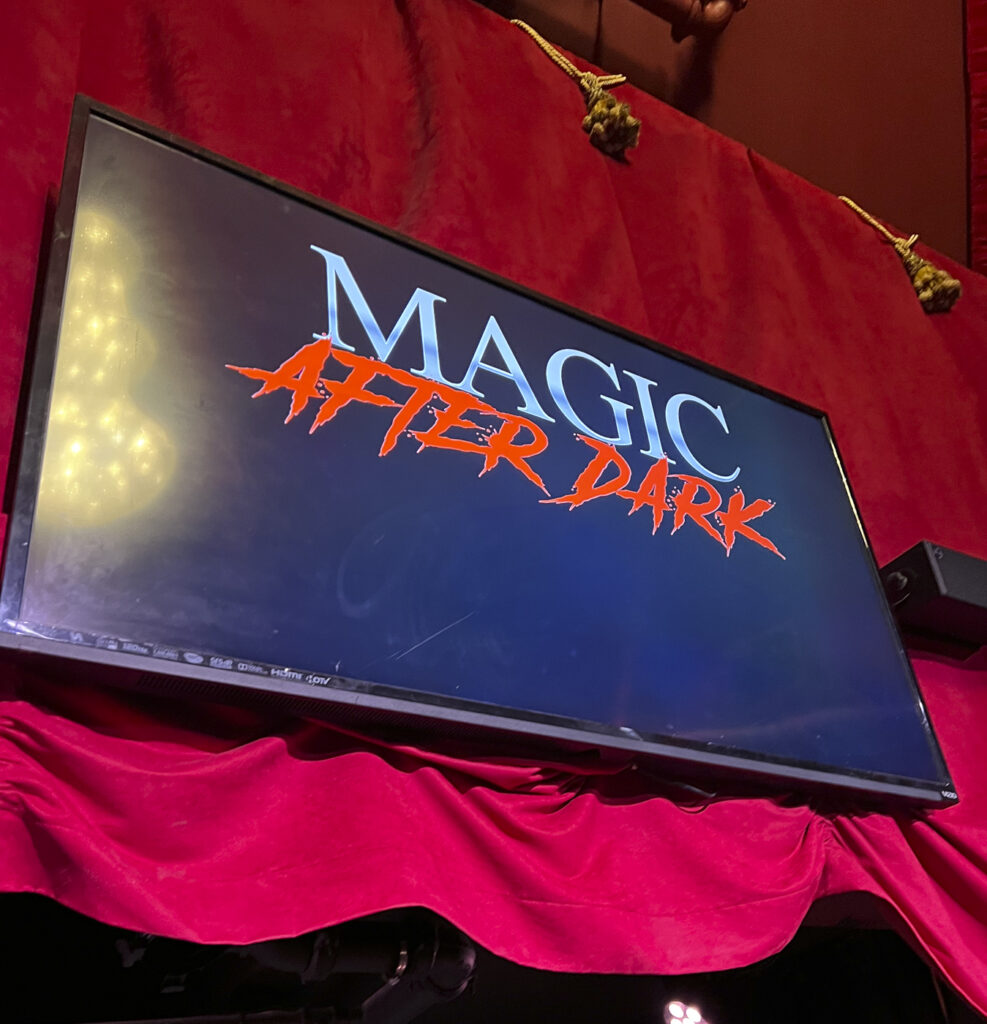 6. Lake Tahoe Magic Show
The Loft Theater and Lounge is a chic lounge offering craft cocktails and high end tapas-style dishes.
Their cocktails were whimsy and high end, featuring smoked old fashioneds and even a gin cocktail with a flavor bubble you get to pop.
From a food perspective, the majority of the menu offers small plate, tapas style options. The Loft recommends ordering 2-3 plates per person. You can read more about our recommendations in our guide to the best restaurants in Lake Tahoe.
After you eat, it's time to experience their magic show.
They feature their more family-friendly magic show daily, but each Friday at 9pm they host Magic After Dark, which was the show we attended.
This adult-themed magic show was more of our style since it had dirtier jokes and a more risque assistant.
The theater was small so it was a very interactive, personal, and fun thing to do on a Friday night!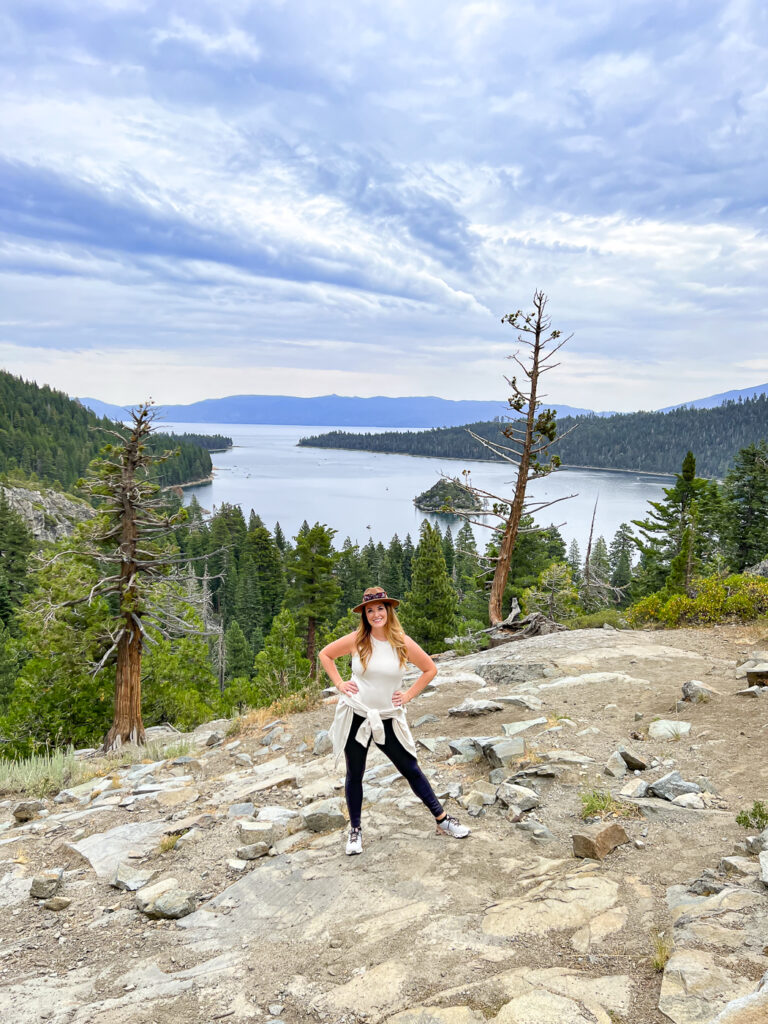 5. Emerald Bay Hike to Vikingsholm Trail
Emerald Bay is probably the most famous area for Tahoe photography, so naturally it's a great place for a hike as well.
We highly recommend going to Emerald Bay early, and if possible, on a weekday.
The parking lot of Emerald Bay State Park fills up very quickly and finding parking on the highway is tough and somewhat dangerous.
Thus, getting a spot at the parking lot is optimal. Parking is $3 for one hour or $10 for the day.
You'll start at the rim of Emerald Bay and can get some pretty spectacular views and photos right at the rocks next to the parking lot.
From there, you can walk south on the highway about 5 minutes to the Upper Eagle Falls waterfall, or decide to start your descent on the Vikingsholm trail.
The hike on the trail to Vikingsholm is somewhat of a steep decline. Its trail is gravel, about one mile long, and takes about 20-30 minutes each way.
Note that sadly dogs are not allowed on the trail.
Once you get to the bottom of the scenic trail lined in tall trees, you'll reach Vikingsholm.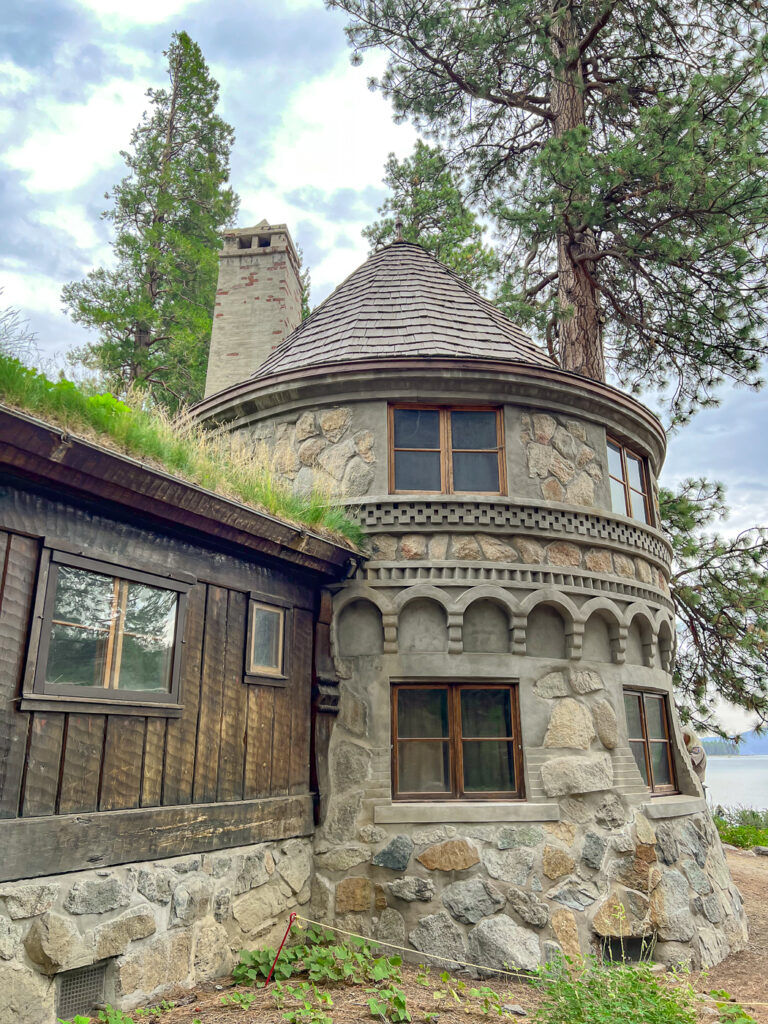 The Vikingsholm castle is a mansion which features Scandinavian architecture and antique furnishings.
During summer months, you can go on a 30-minute tour of the interior of Vikingsholm for $15.
Or you can explore the exterior grounds and beach for free. We wish we had more time to spend a few hours at the beach!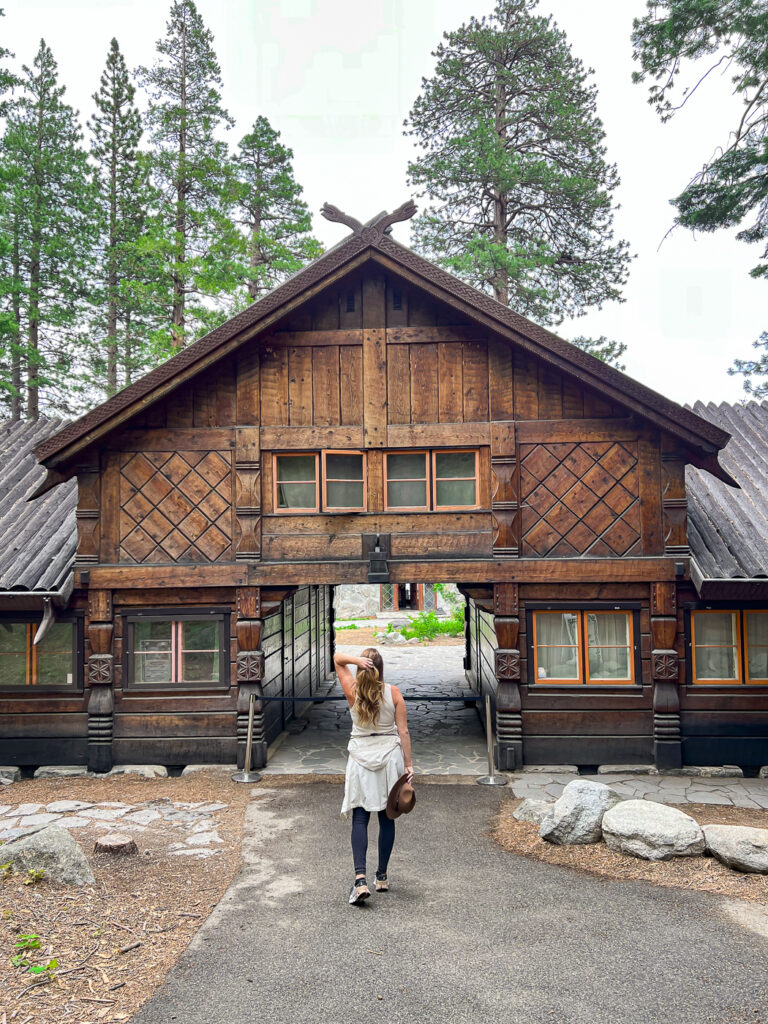 Vikingsholm faces the only island on Lake Tahoe, Fannette Island, which features the ruins of the old treehouse that the owners constructed.
Bring your own kayak or rent one at the shore and you can paddle to the island to explore.
Fair warning, the Vikingsholm kayak rentals are only available at one shop, Kayak Tahoe, and as a result are pretty pricey compared to other Lake Tahoe rentals.
Depending on the weather, rentals may be limited to only one hour (which was the case when we were there). This meant that we didn't think we would have enough time to paddle and explore the teahouse in only one hour.
Once you are finished at Vikingsholm, consider continuing on the hiking trail to Lower Eagle Falls, another waterfall overlooking Emerald Bay.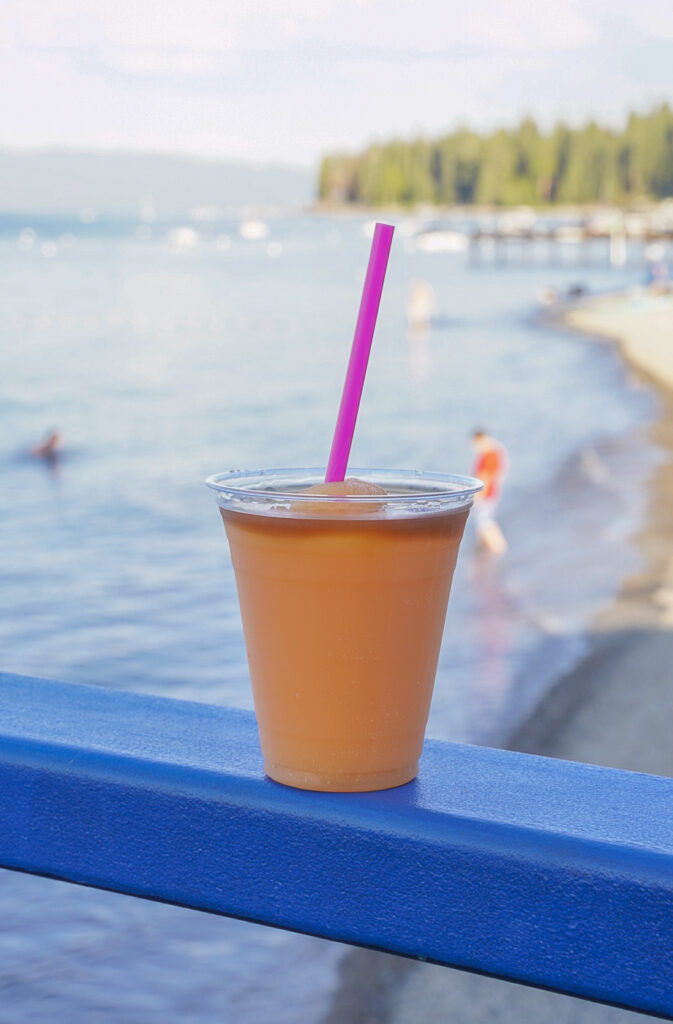 4. Enjoy Waterfront Rum Cocktails
One thing you'll find across many of the popular waterfront restaurants are their signature frozen rum punches with a rum floater.
A number of restaurants and bars across the lake whip up their version of the "unofficial Tahoe cocktail", so of course we decided to try them all and find our favorite.
The Chambers punch at Chambers Landing was flavorful without being too sweet and seriously delicious. We loved this cocktail the most.
Up next, is the Wet Woody from Gar Woods. The view is lovely but we thought the cocktail was too sweet for our tastes. A friend of ours recommended adding a shot of cream to your Wet Woody.
We also tried the rum punch at the River Ranch Lodge and Restaurant after our Truckee River Rafting excursion. It was refreshing but not quite as flavorful as the others.
Sitting back and relaxing on the water is what Lake Tahoe is all about, so why not do it with a frozen cocktail in your hand?!
3. Truckee River Rafting
If you are driving down Highway 89 on your way to Tahoe City, you can't miss all the rafts floating down the adjacent river.
We booked a trip with Truckee River Rafting company to experience Lake Tahoe rafting for ourselves.
Although we'd call this trip more of a float trip than an actual rafting experience (our white water rafting trip in Chiang Mai, Thailand was WAYYY more intense), it was still a ton of fun.
When we did our rafting trip, the rapids were only level 1 rapids and there were only about four instances where we encountered whitecaps.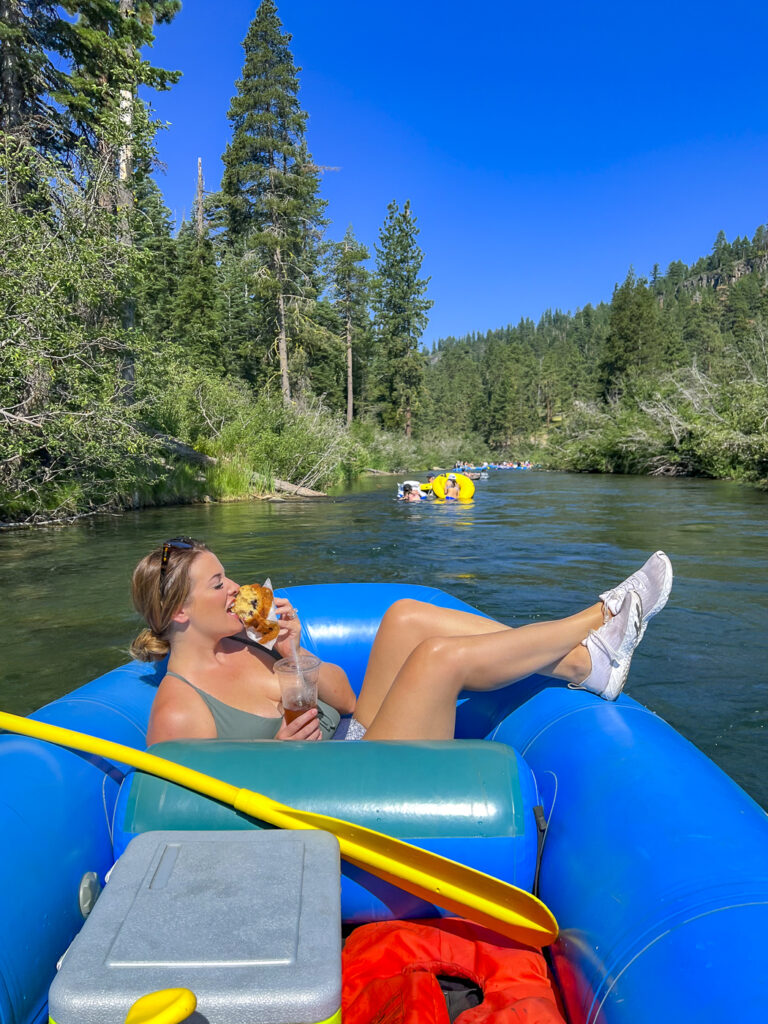 We packed some treats from the Tahoe House Bakery as well as some drinks and hit the water.
Booking a rafting trip includes everything you need for a fun day: a large raft, paddles, and transportation back to the parking lot once you reach the end of the river.
We soaked up the sun as we passed the towering pines that lined the sparkling clear water.
Halfway down our float we even ran into a spontaneous concert where a local Reggae band hauled their equipment to an island and played a free show.
At the end of the trip you'll disembark at River Ranch Lodge and Restaurant.
Grab a seat on their expansive patio overlooking the river and treat yourself to their frozen rum punch or a frozen margarita. Lunch food is also available on the patio.
Be sure to check the website for rafting availability as the end of the season is determined by the water levels on the river.
2. Emerald Bay Boat Tour and Wine Tasting
We absolutely loved our sunset boat cruise to Emerald Bay with the Tahoe Tastings Wine Tasting Cruise.
Hop aboard the Golden Rose, an antique wooden yacht from 1953.
The furnishings were cozy and timeless with both indoor and outdoor seating.
There are four cruises a day, and we opted for the sunset cruise.
We savored eight wines that were mainly focused on wines from Northern California.
The tastings were solid sized pours and you can purchase additional glasses or bottles of wine, if you choose to do so, after the tastings are complete.
We also added a charcuterie box from On Board but you can also bring your own snacks to enjoy throughout the cruise.
Private tours are available as well, which would be great for a bachelorette or birthday party.
Secret Cove Lake Tahoe Beach
Without question, our favorite thing to do in Lake Tahoe is to hike into Secret Cove.
Secret Cove is a sandy beach with crystal clear water and a turquoise shoreline.
Giant boulders line the beach which are perfect for sunbathing.
Although this is technically a nude beach, most people were clothed.
We think the fact that you need to hike to the beach and clothing is optional helps to deter a lot of excess people from this gem.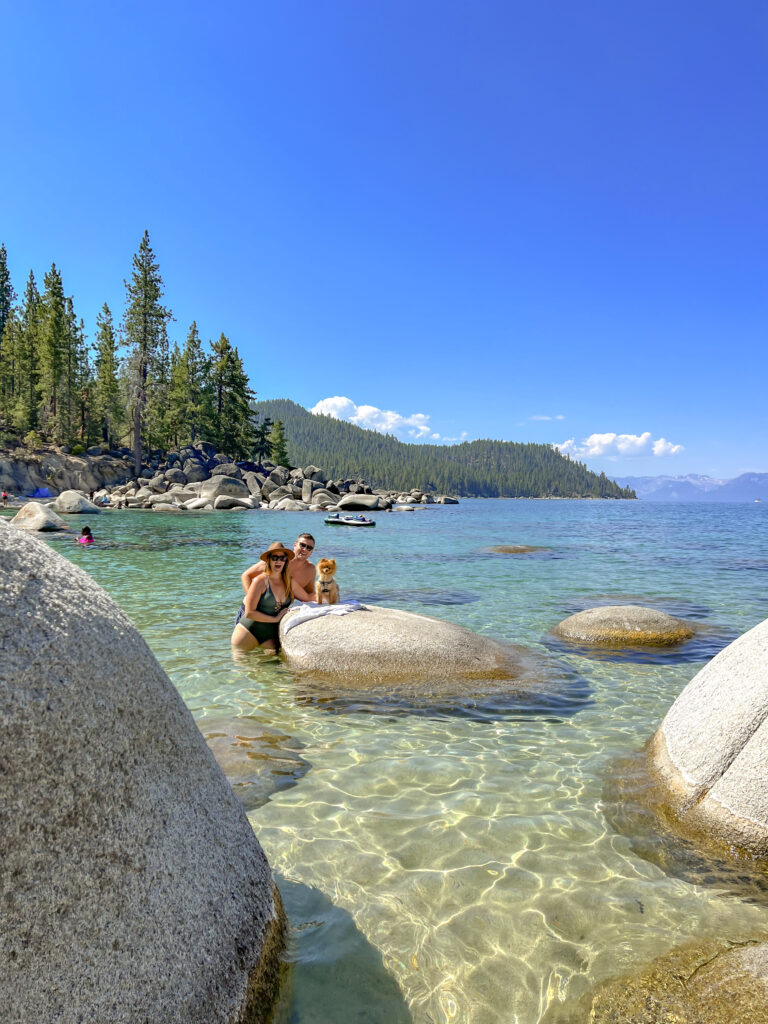 Read our full guide on Secret Cove Lake Tahoe in order to know where to park and what hiking trail to take to access this beautiful beach.
Not only is Secret Cove one of the warmest beaches in Lake Tahoe, it is also the most picturesque, so it's the best place to immerse yourself in Lake Tahoe.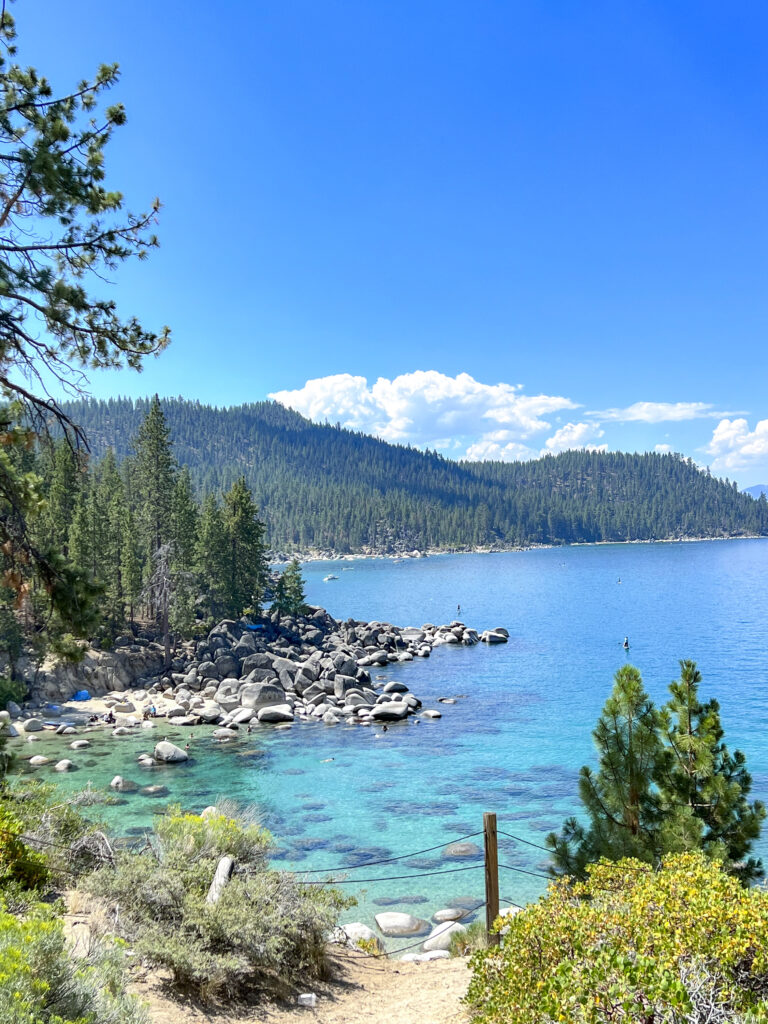 We had such a lovely escape at the lake and packed our schedule with excursions to find the best things to do in Lake Tahoe.
If you are traveling around Lake Tahoe, consider hopping a ride on the TART, a free shuttle connecting North Lake Tahoe and Truckee.
We know if you book any of these activities or dine at any of our Lake Tahoe Restaurant recommendations, you'll have an amazing stay as well.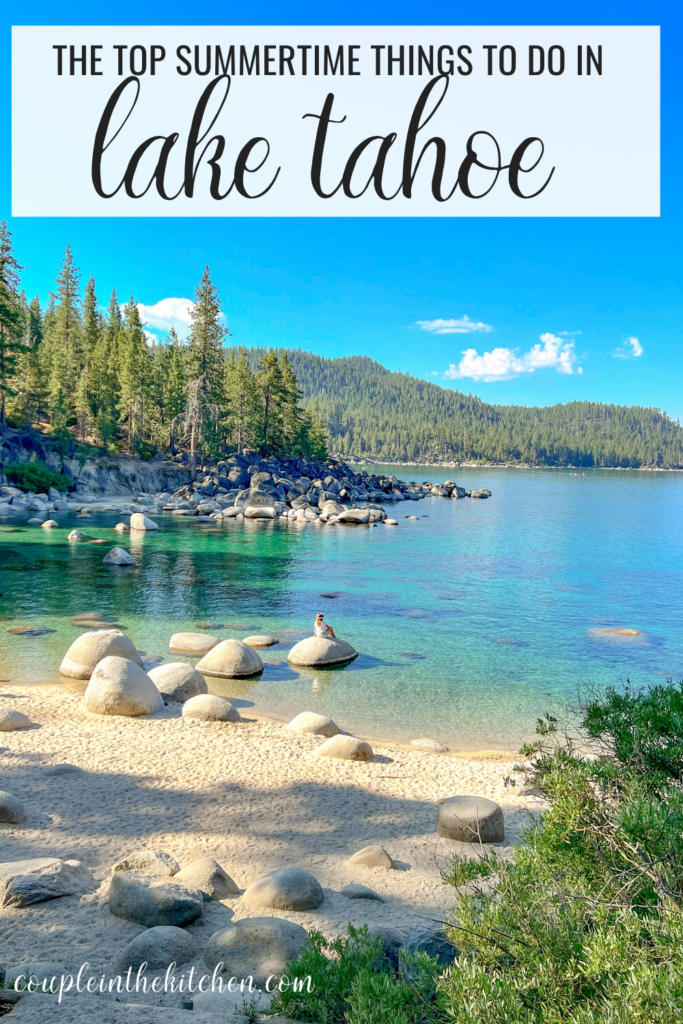 If you book a trip to Lake Tahoe, let us know by reaching out to @coupleinthekitchen on social media!
Click this link to pin this guide to the Ten Best Things to do in Lake Tahoe on pinterest.
Also, don't forget to follow us on instagram and facebook for more recipes and recommendations, we love to see when you visit our favorite spots!
Looking for more US travel recommendations? Read all of our USA travel guides.
If you'd like to automatically receive our posts in your email, register here.