We just got back from an incredible New Mexico road trip, and we absolutely loved our stop in Taos.
Taos is in northern New Mexico, and is known for its art, food, skiing (during winter), and it's natural beauty from the surrounding mountains to the Rio Grande Gorge.
We stayed at both a luxury hotel and a glamping site, we shopped, ate, and experienced the town in many ways.
Here's our list of best things to do in Taos.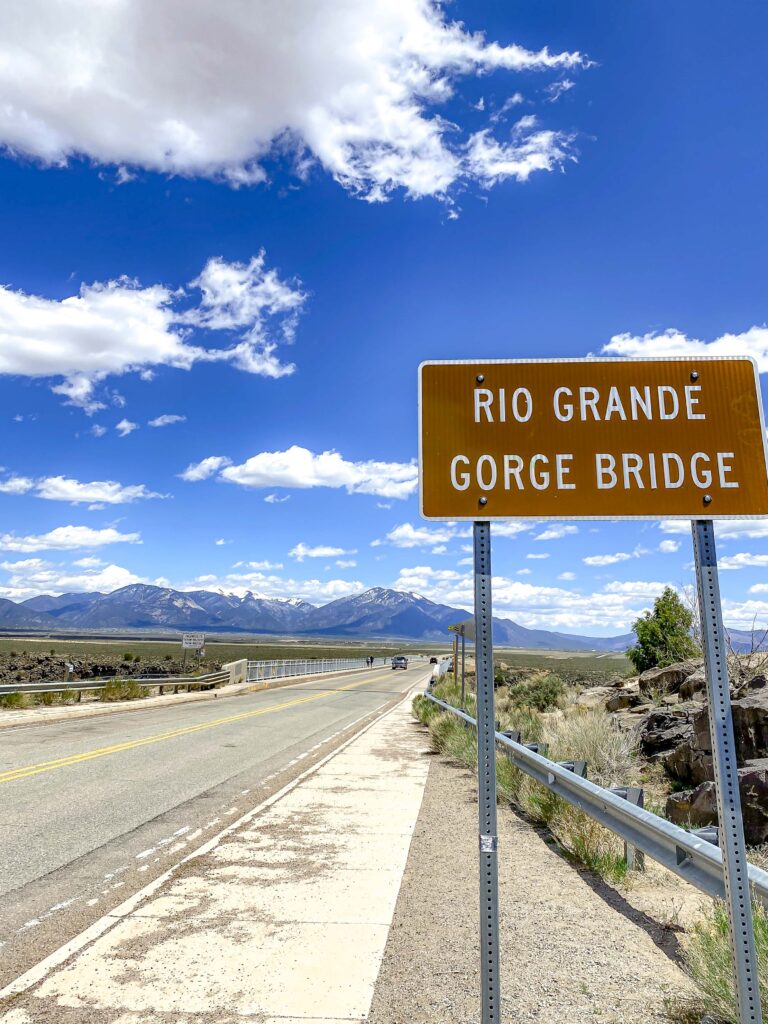 Check out the Rio Grande Gorge bridge
If you drive into Taos, New Mexico via Highway 64, you'll be in awe when you drive over the bridge over the Rio Grande River.
This bridge is overlooking part of the deepest portion of the Rio Grande gorge and is one of the highest bridges in America.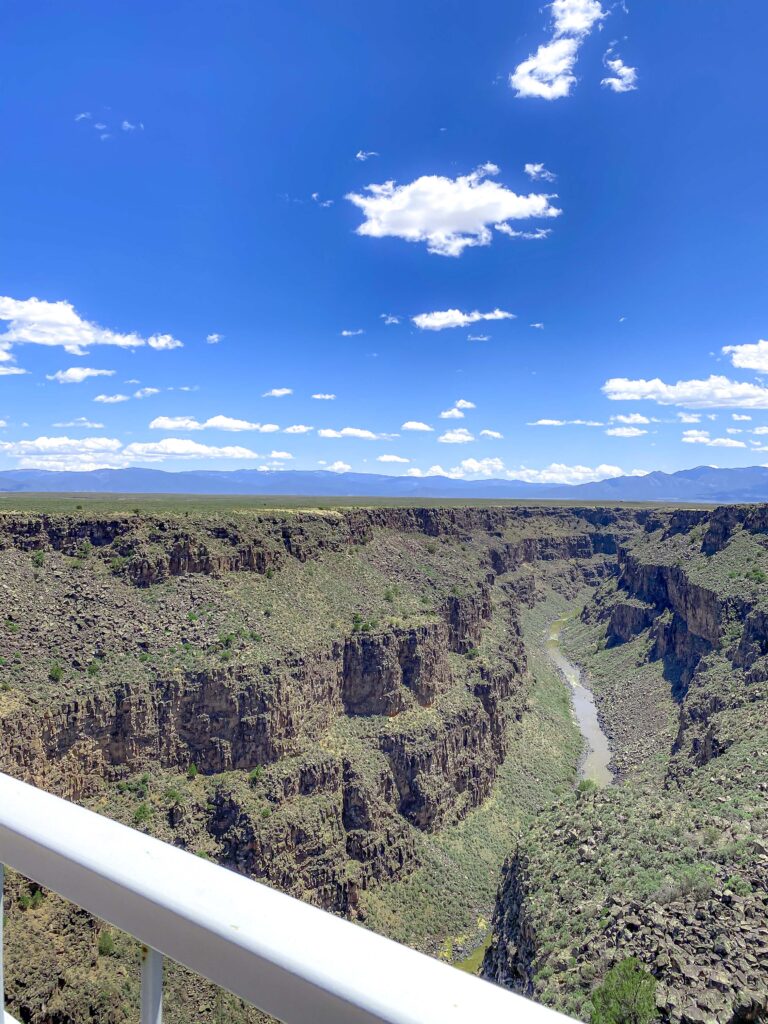 The gorge descends 650 feet from rim to river, and looking down and around you will see breathtaking views and maybe even spot some amazing wildlife.
When we parked to walk on the bridge we spotted a herd of bighorn sheep that were relaxing just a few feet from us.
To learn more about the gorge, check out this article to learn how the Rio Grande Gorge was formed.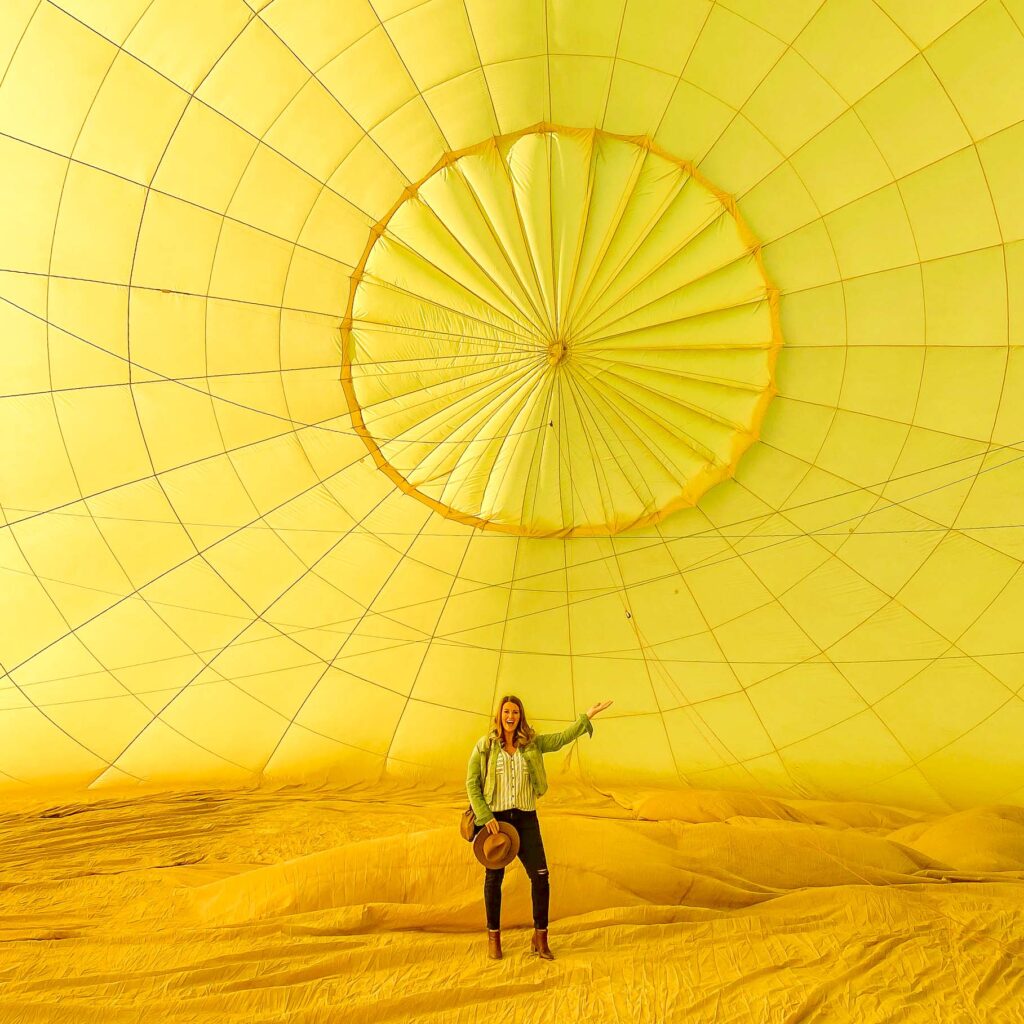 Take a Taos hot air balloon ride
Rise and shine, it's hot air balloon time!
When in Taos riding in a hot air balloon should be at the top of your bucket list.
Of all of the things to do in Taos, this hot air balloon adventure was our favorite, hands down.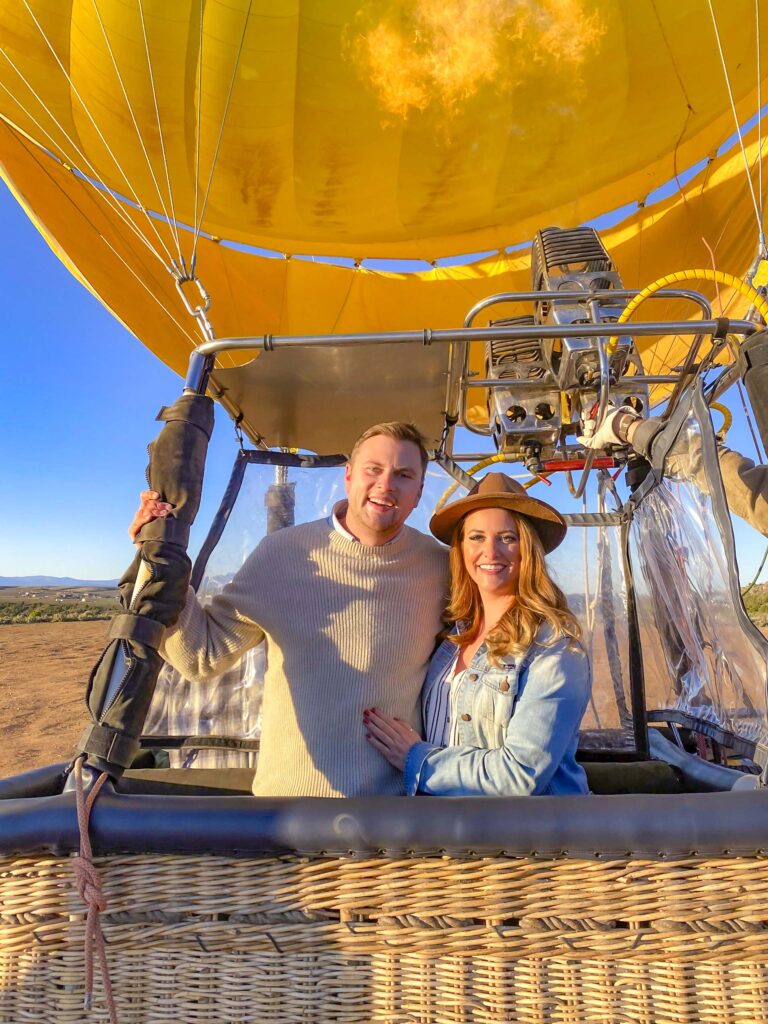 New Mexico is easily the hot air balloon capital of the US.
When road tripping through New Mexico there are plenty of opportunities for you to check the hot air balloon experience off your list, but we think you should save it for Taos.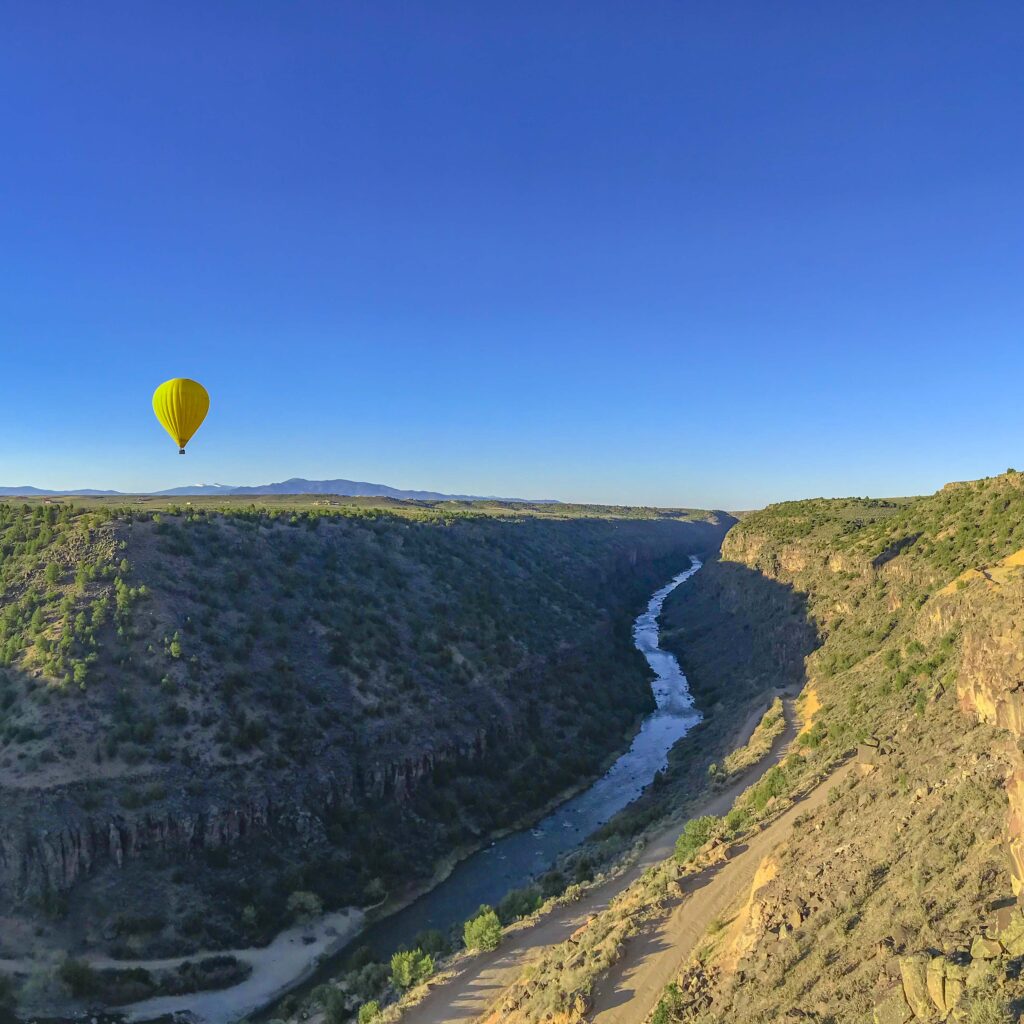 The reason why we think hot air ballooning in Taos is the best is because of the gorgeous gorge, and Rio Grande Balloons ability to float over and into the gorge.
We also loved that when ballooning in Taos it felt safer because we didn't have to worry about any city elements as it's 100% over nature.
We recommend scheduling your hot air balloon ride for the beginning of your trip to Taos, that way if your excursion gets cancelled due to weather or strong winds, you have the opportunity to reschedule for another morning.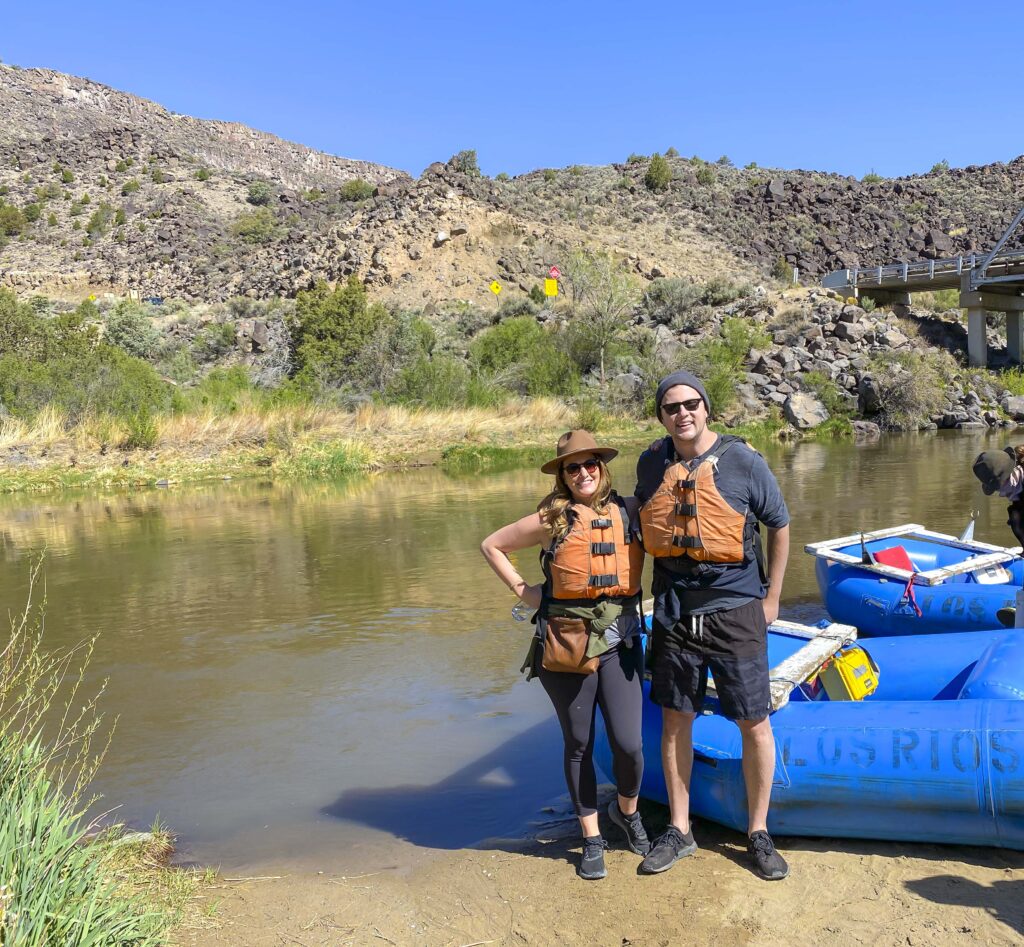 Go Rio Grande rafting!
If you haven't noticed we're talking about the Rio Grande river and gorge a ton, but experiencing it in different ways is just so much fun!
We were lucky enough to do one of the first rafting trips with Los Rios River Runners since Covid hit, and we were able to do it with a Native American guide.
On this river rafting trip it was very relaxed, there weren't any rapids, and we didn't even have to paddle (if you're looking for a more action-packed rafting trip, Los Rios offers that as well).
The Native Cultures Feast and Float rafting trip was unlike any we've ever been on. This New Mexico rafting trip was geared towards learning about the Native American history of the area and to enjoy the beautiful natural scenery.
What was also incredible about this activity came at the end of the experience – FOOD!
After a beautiful float trip we had the opportunity to sit down with the Native American guide and his family to enjoy a traditional Native American meal.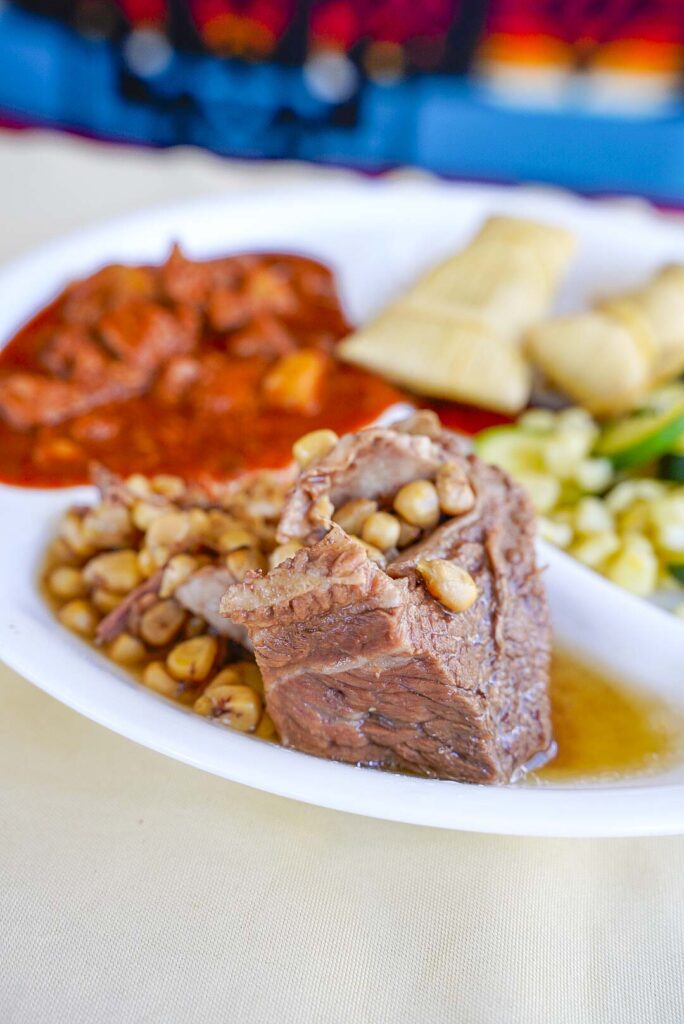 We love tasting new foods and cuisines! We savored red chile stew as well as short ribs with chico corn (traditional small kernels of corn that have been steamed in the husk and then dried).
Made in a traditional Native American oven, we also ate homemade bread and a tasty homemade prune pie dessert dessert.
We cheers'd to a lovely half day excursion with Native American cota tea.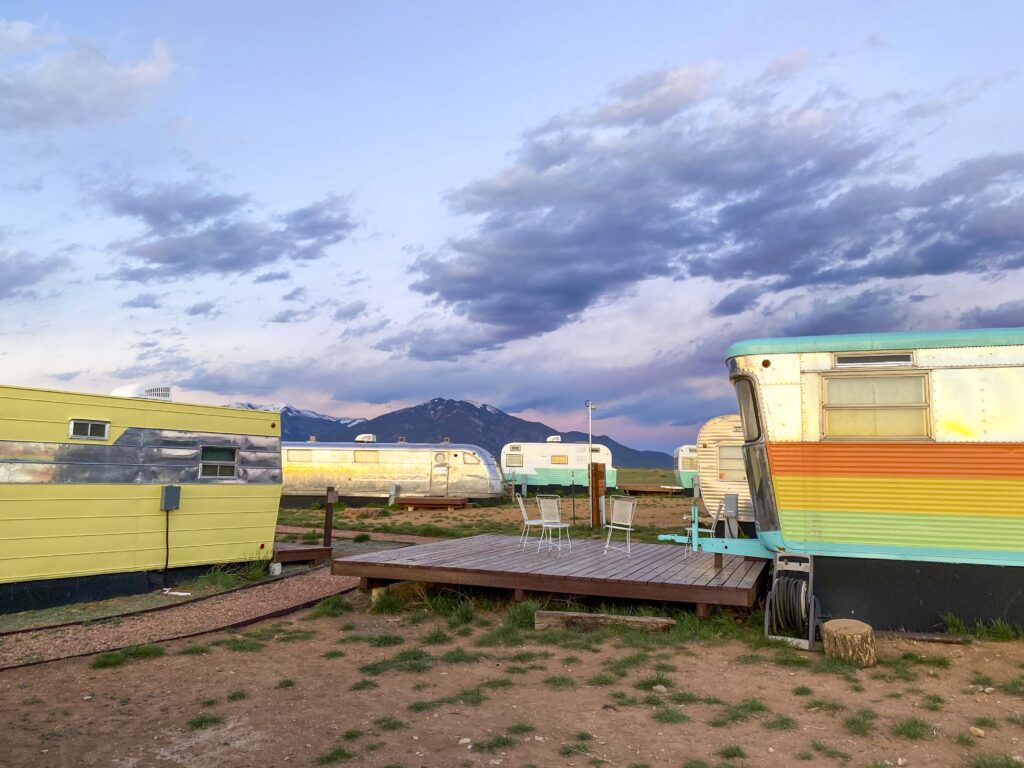 Experience Taos New Mexico glamping beneath the mountains
Glamping is always a good idea because it mixes luxury with the outdoorsy feeling you get from camping.
What makes Hotel Luna Mystica special compared to a normal glamping experience is the fact that you will be staying in a hyper-curated vintage trailer.
Nestled at the base of the mountains, you'll stay in a unique retro airstream or RV.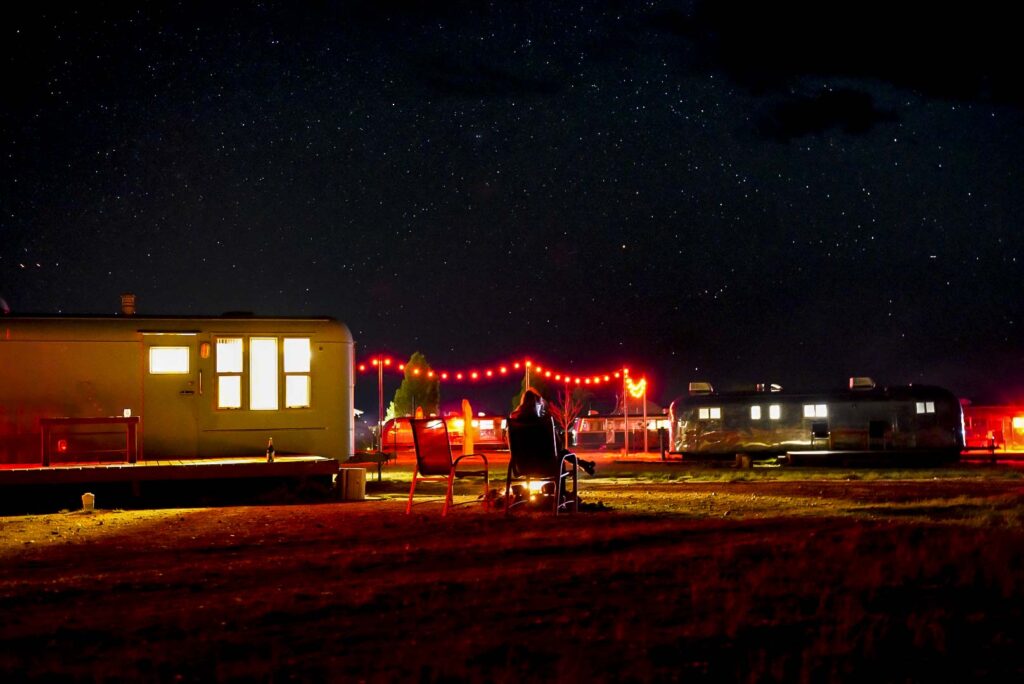 Each accommodate is unique, many painted in bright colors or rainbows, as come with a deck and a campfire ring for the perfect night of fresh Taos air under the stars.
We visited in April and there was even still snow on the mountain peak when we peered out our glamping window.
25 ABC Mesa Rd, El Prado, NM 87529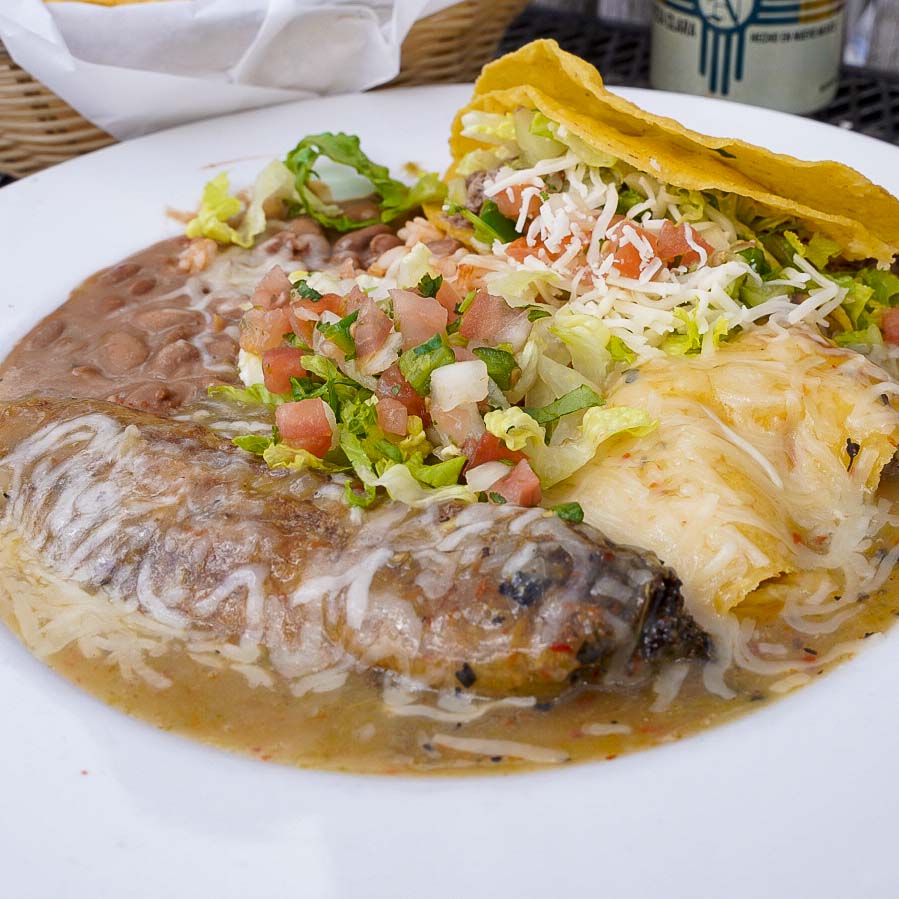 Eat New Mexican food!
New Mexico is known for chiles and you'll find your fair share of them in Taos as well as throughout the Land of Enchantment.
When ordering New Mexican food, you'll have your choice of red chile or green chile sauce.
The red chile sauce is bold and smoky, while we think the the green chile sauce brings more flavor from the pepper.
Try ordering your dish "Xmas style", which means you get both the green and red chile on our dish.
When in Taos, the best spot for New Mexican food is La Cueva Cafe.
The chile rellanos are the best rellanos we have ever tasted.
A hatch green chile stuffed with cheese, fried, then smothered in authentic New Mexican chile sauce?! How could you go wrong?!
135 Paseo Del Pueblo Sur, Taos, NM 87571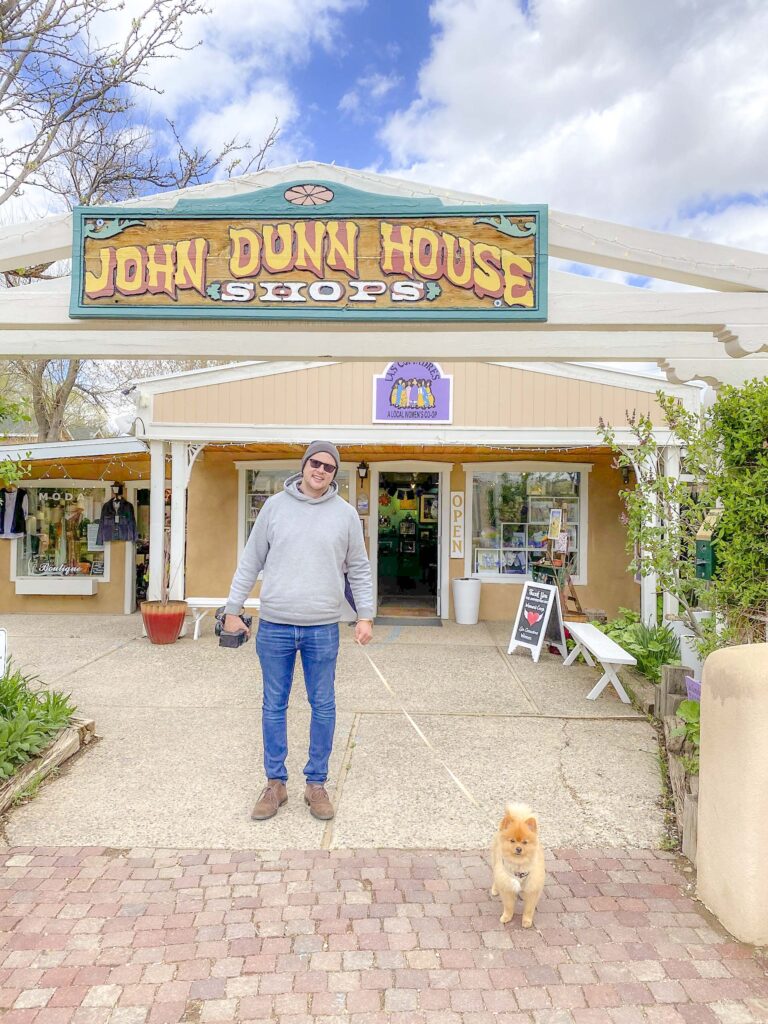 Taos Shopping
There are so many art galleries, boutiques and jewelry stores in Taos, which makes wandering around town pursuing the goods a nice mid-day activity.
There are a LOT of shops to choose from all they are all nestled in a nice walkable area around town squares, fountains, and some gardens.
The John Dunn Shops were our favorite collection of stores.
Karen loved Moda Taos and picked up a top as well as some cute accessories.
For menswear, head to Clarke & Co Taos for cozy flannels with some western flair.
Gavin picked up a unique belt with buffalo nickels attached, that only a true hipster could appreciate.
We also love pursuing Ampersand Old and New, a shop with adorable decor, with both new items and well-curated antiques
120-124 Bent St, Taos, NM 87571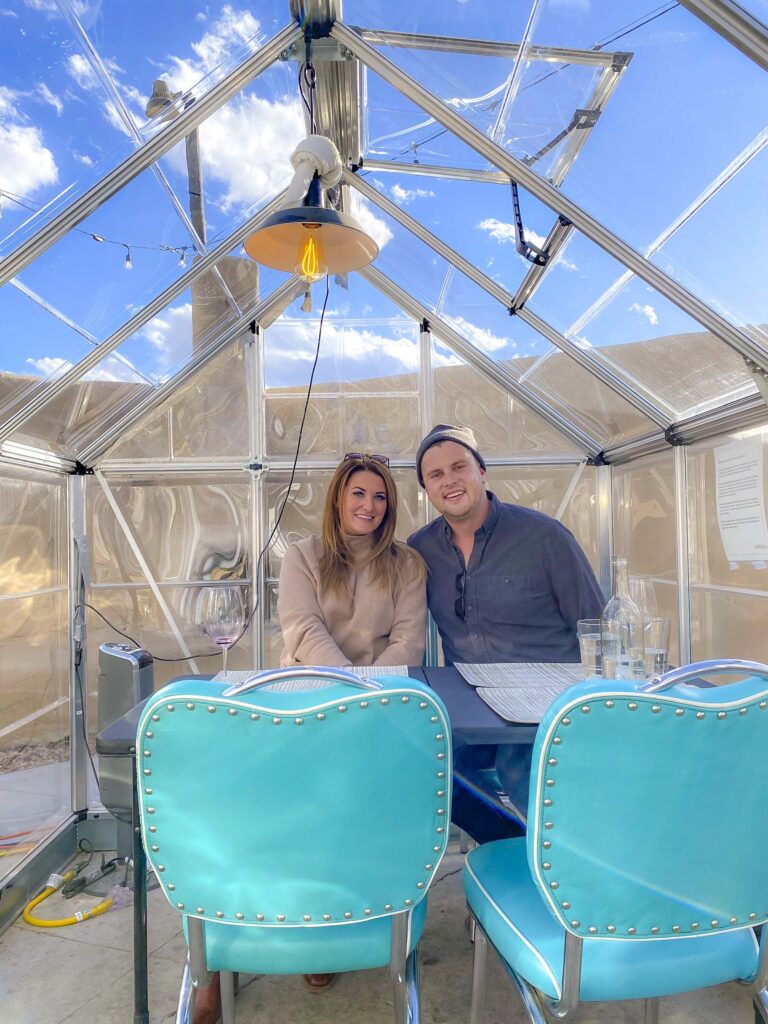 Dine on a patio while taking in the Taos mountains
Have you ever dined under a real life version of a snow globe?
Neither had we, but wow dining in the clear patio "greenhouses" at Medley Taos was such a fun experience and the mountainside views were magical.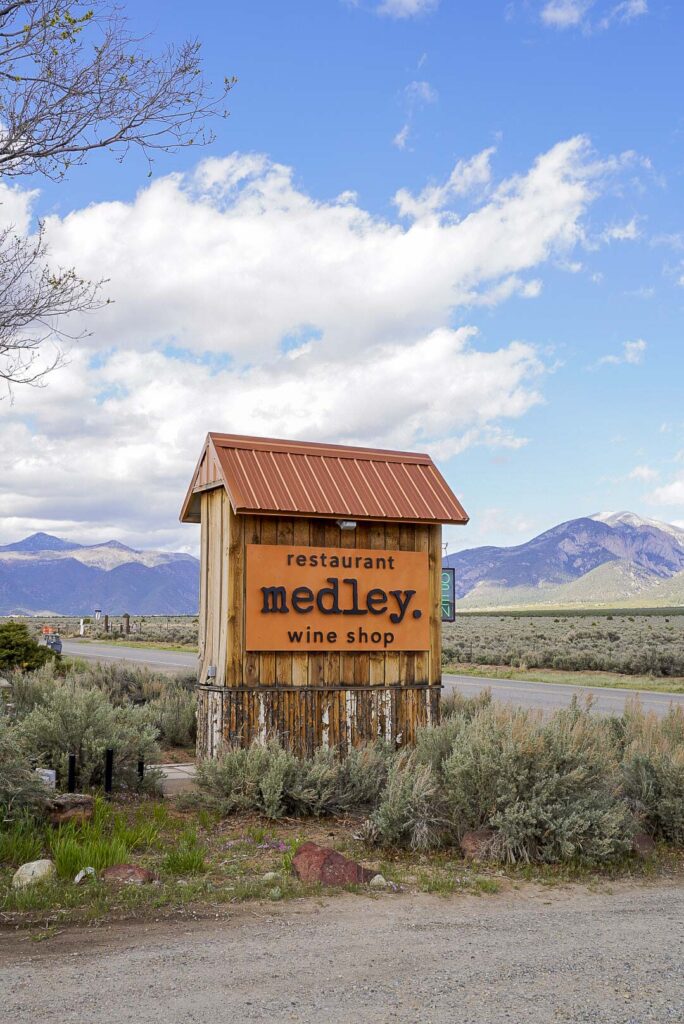 The outdoor "greenhouses" might only be up for the cooler months, but regardless, the magical views of the mountains from the patio are breathtaking.
The food at Medley was probably the best in town as well.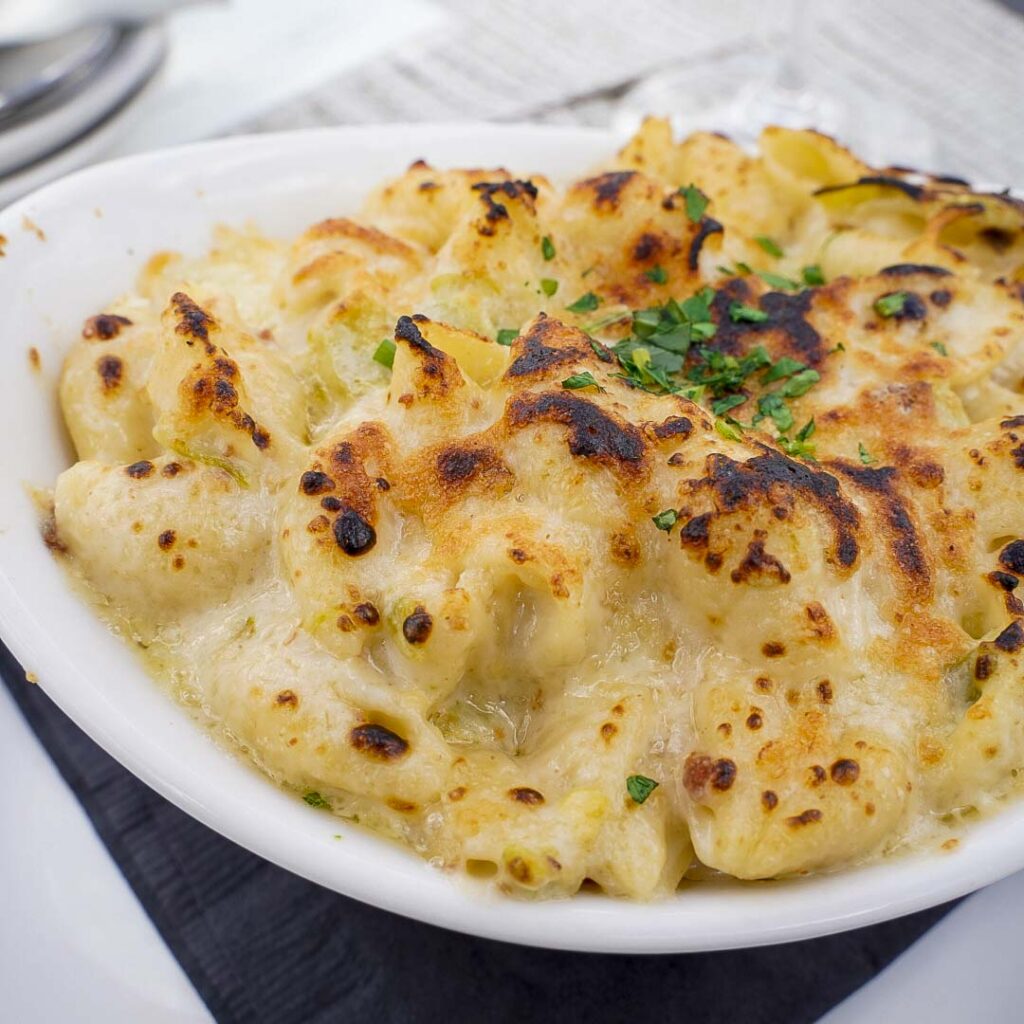 Their homemade green chili and bacon mac and cheese is dream-worthy. We'd probably say it was one of the best mac and cheese dishes we've ever had.
Head here for happy hour for wine and cocktail specials as well as discounts on some small plates.
100 NM-150, El Prado, NM 87529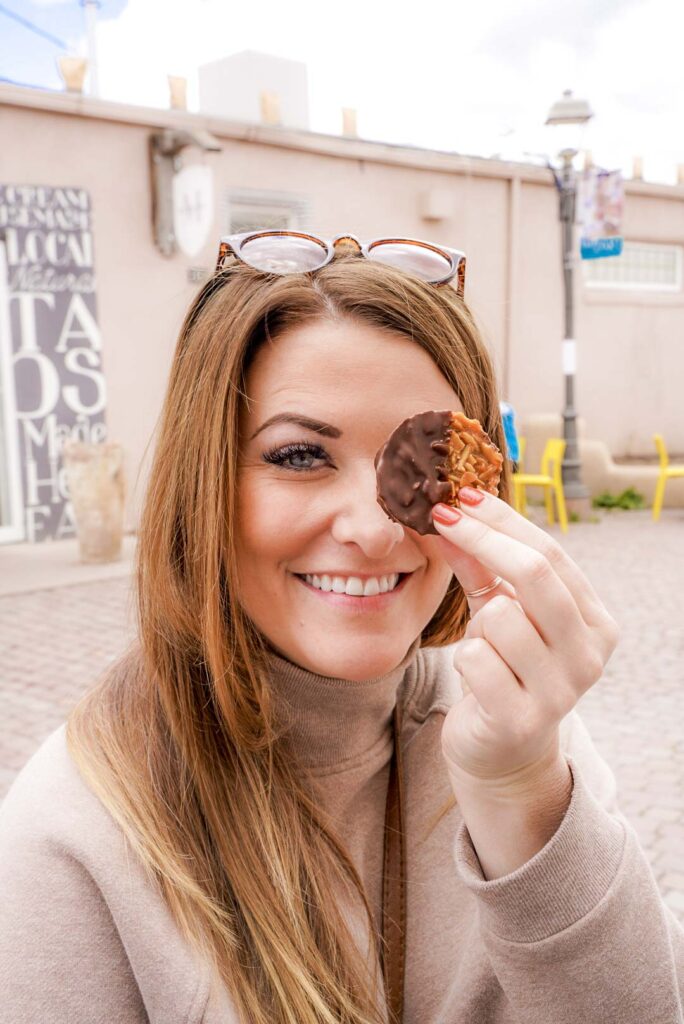 Taste artisanal chocolates
Chokola Bean to Bar produces high quality chocolate straight from the bean. It's organic, small batch, and the flavors are well curated.
This chocolate shop is located right nearby the John Dunn Shops, so take a break from window shopping to nosh on something sweet!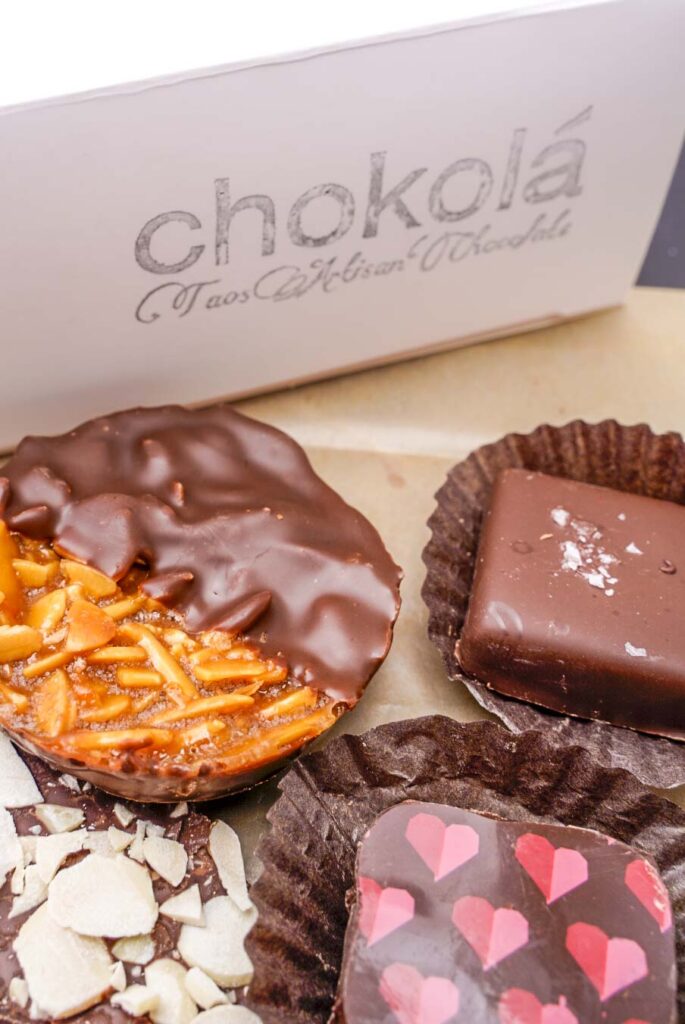 You'll find chocolates in the display case as well as packaged bars to bring home as a souvenir.
Chokola also offers sipping chocolate while reminded us of the treat we sipped at a cafe Paris while getting photos at the Eiffel Tower.
You can drink the sipping chocolate on its own, but be sure to try the aztec sipping chocolate in a latte! You won't regret it!
100-198 Juan Largo Ln, Taos, NM 87571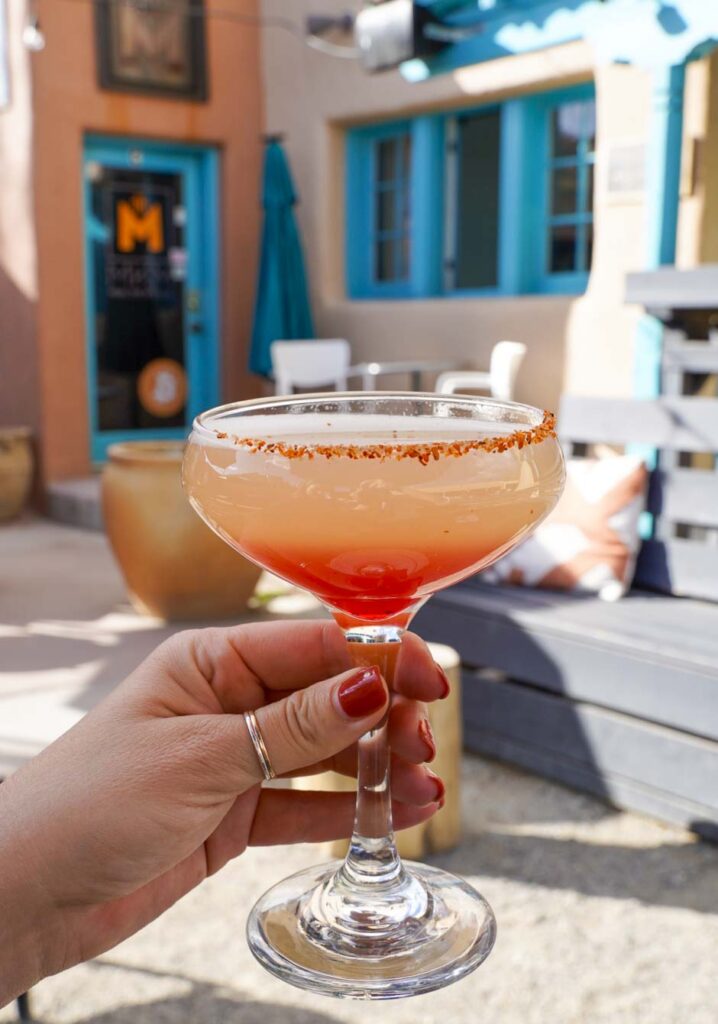 Get a chile-infused vodka cocktail
New Mexico is the land of chiles, so why not bring the local goods too?
Rolling Still Taos is a distillery and cocktail bar in the heart of downtown Taos.
The cocktail lounge features modern, chic decor and a small patio for spirit sipping.
If the thought of chile-inflused booze gives you heartburn just thinking about it, opt for a plain vodka or even the lavender-inflused vodka that Rolling Still distills.
110 Paseo Del Pueblo Norte Suite #D – Taos, NM, 875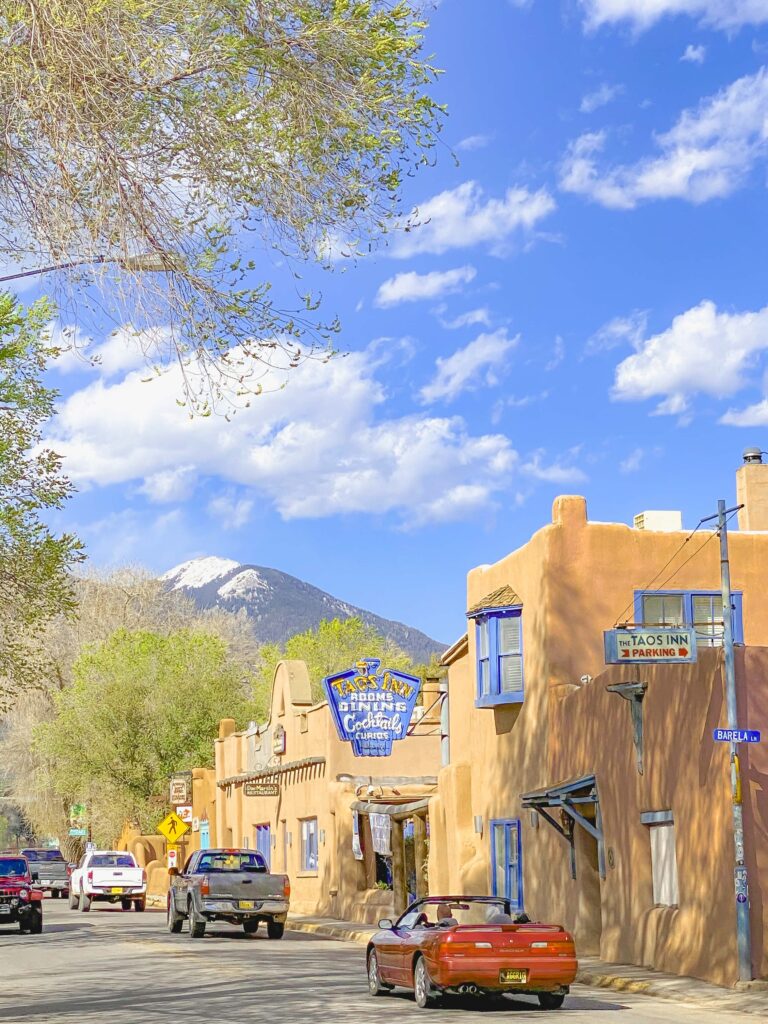 Writing this travel guide and reminiscing on our favorite things to do in Taos has us yearning to book another trip to visit!
This cozy little mountain town is a must-see when visiting New Mexico.
During your travels, you should also pop into one of the many hot springs across New Mexico.
Our guide to Jemez Springs is a good place to start.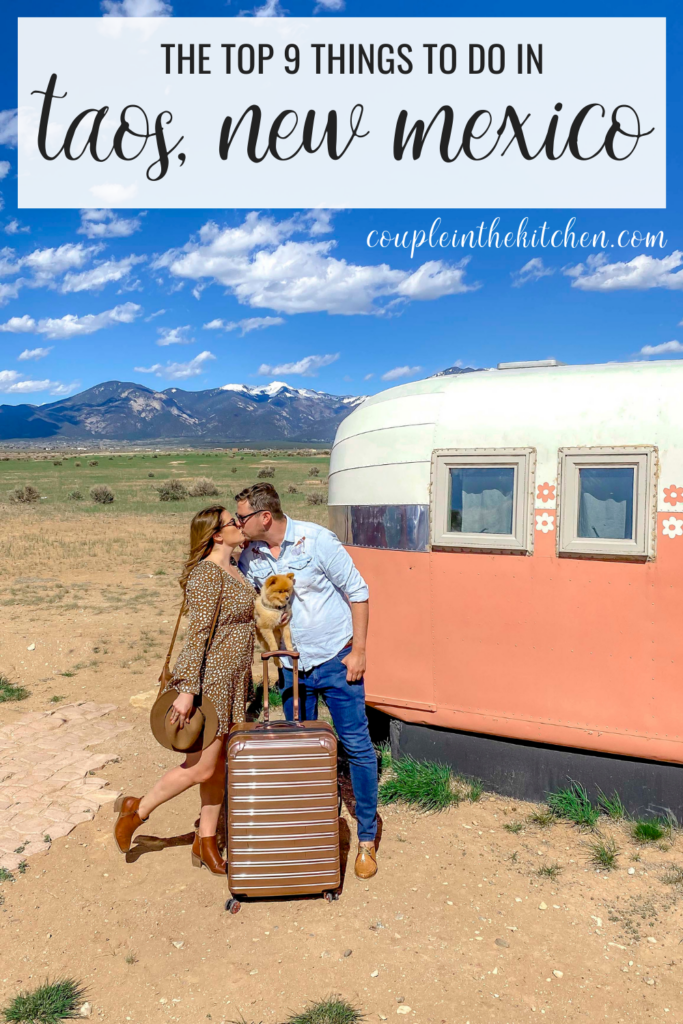 Click this link to pin this guide to the best things to do in Taos, New Mexico on pinterest.
Also, don't forget to follow us on instagram and facebook for more recipes and recommendations, we love to see when you visit our favorite spots!
Looking for more US travel recommendations? Read all of our USA travel guides.
If you'd like to automatically receive our posts in your email, register here.