Looking for the best things to do in Sonoma County? From winos, to happy campers, to foodies, to outdoor enthusiasts, our roundup has something for everyone.
While most folks think of Sonoma only for vineyards and wine, Sonoma County is one of the most diverse counties in the country.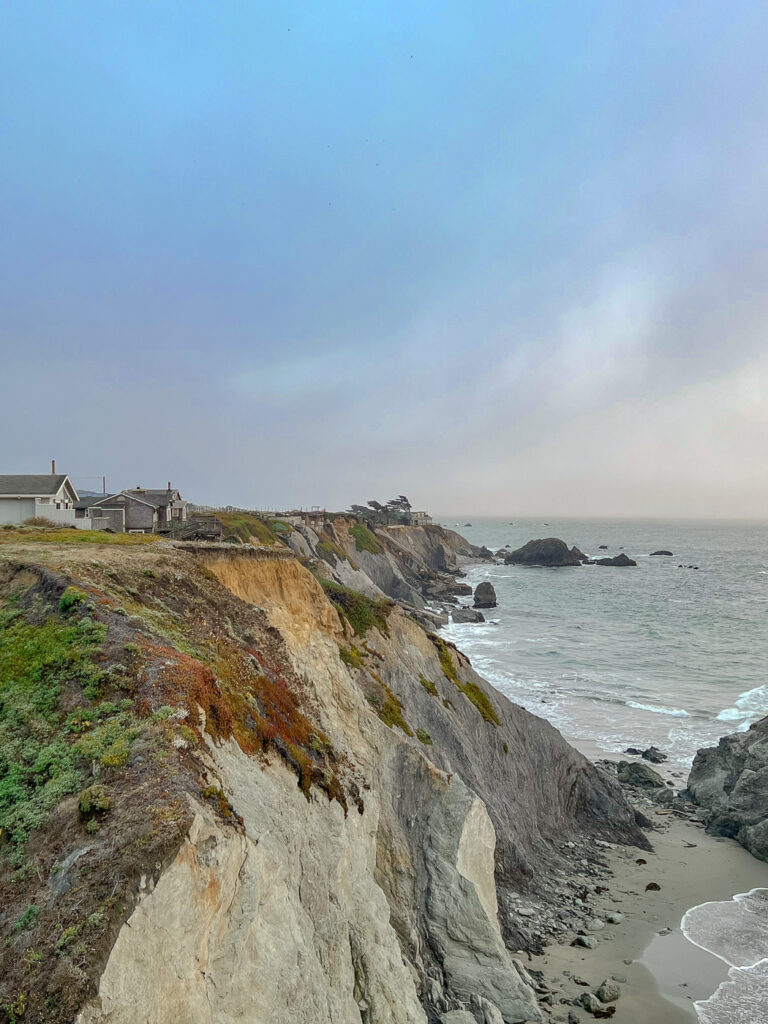 We took a campervan from San Francisco through Sonoma County for the ultimate California adventure.
Traveling in Sonoma Valley, we found that we went from fishing in a tank top in the sun, to seeing our breath in sweatshirts on the coast within a short 15 minute drive!
Moral of the story: plan for everything, pack lots of layers and get ready for some fun in this iconic wine region.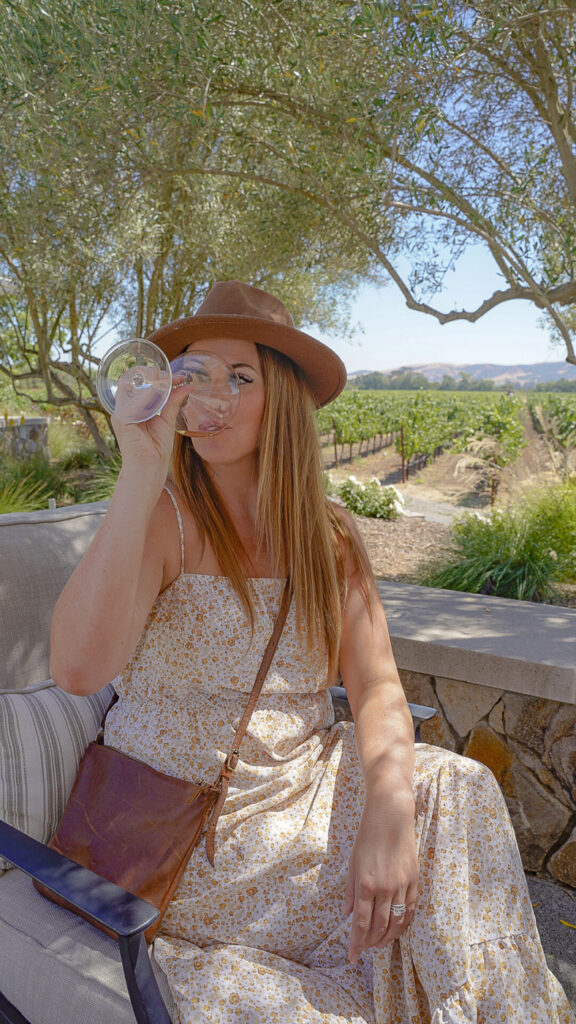 Wine Tasting in Sonoma County
Wine tasting is the most obvious of the things to do in Sonoma County, so we will start there.
Sonoma is actually our favorite place for wine in all of California.
Napa Valley usually gets more of the attention, but we love the beauty and small town feel that Sonoma County offers. They really make some world-class wines!
You'll find a lot more smaller, family run vineyards and likely less tour buses packed with tourists.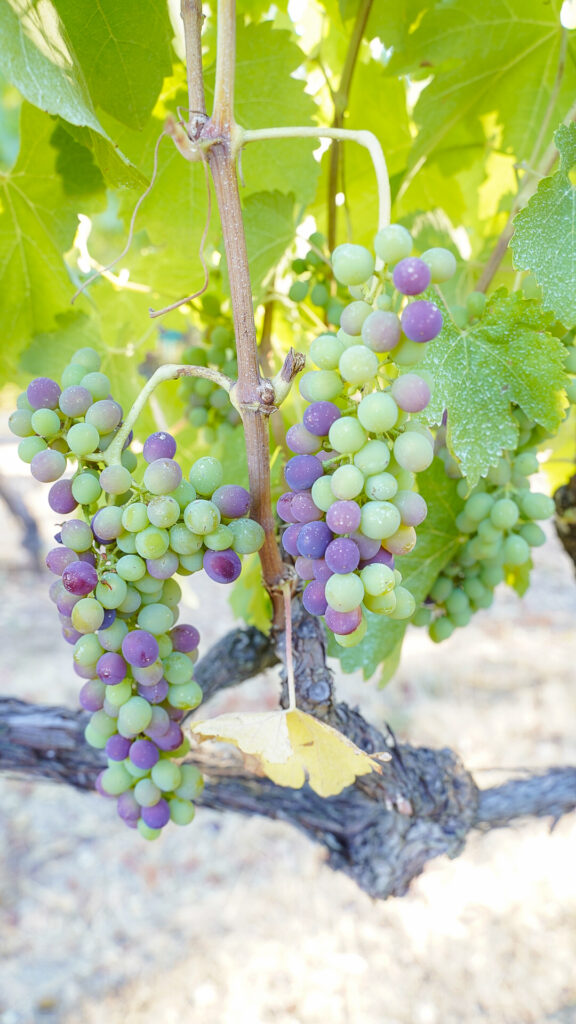 Sonoma County has over 425 wineries with varying styles based on the fact that this county stretches over many climates, from the Russian River Valley to Dry Creek Valley to the coast.
You can choose to book one of the many Sonoma County wine tours, or just strategically plan your tastings yourselves by scheduling appointments at wine tasting rooms.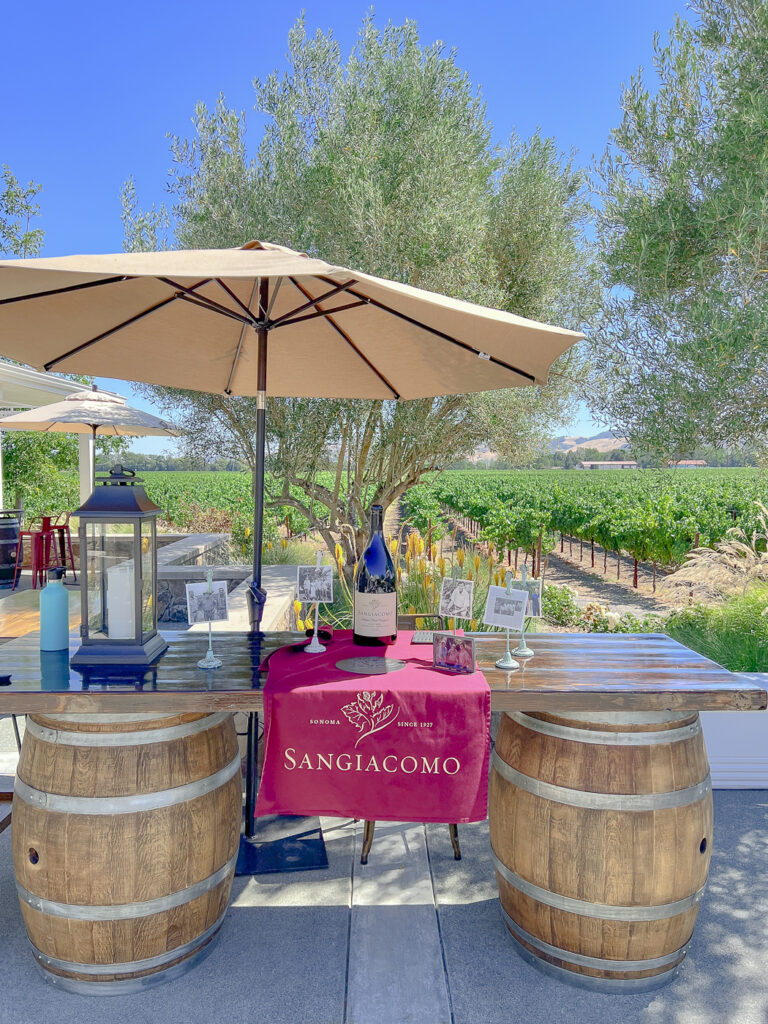 Be sure to read about our favorite vineyards in our guide to the best wineries in Sonoma County. 
Build your wine tasting itinerary based on each city or even opt to buy a wine tasting pass from Visit Sonoma County for discounted tastings at participating wineries.
You can even download a free winery map to help you plan your visit.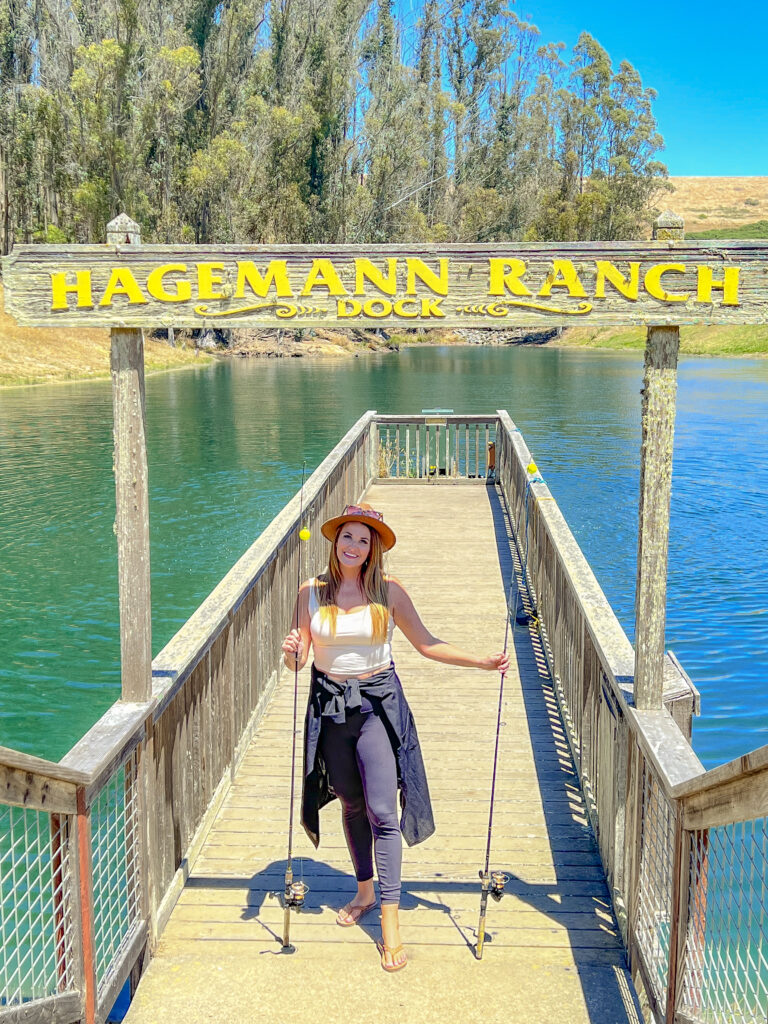 Sonoma County Trout Fishing
Looking for an (easier) outdoor adventure? Head to Hagemann Ranch to fish for trout.
This ranch in Bodega Bay features a natural lake that the ranch stocks with rainbow trout, so odds are you will catch a fish in no time.
In fact, Karen pulled her first trout out of the lake before Gavin had even baited his hook!
You don't even need to bring your own fishing pole or worry about getting a fishing license.
Hagemann Ranch has everything you need to start fishing right away so it's one of the best outdoor activities that doesn't require much planning.
There is no catch and release at this ranch. Whatever fish you catch, you pay for by the inch.
You can have them filet your fish for you or you can do it yourself on their deck.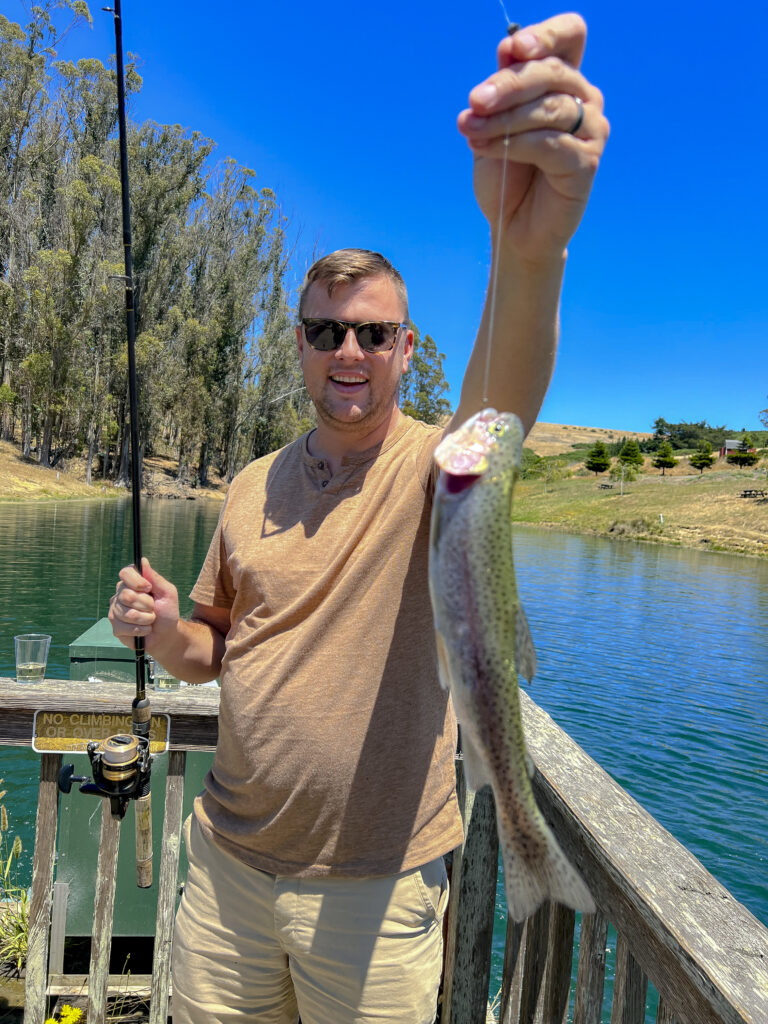 We butter-poached these rainbow tour filets in the kitchen of our campervan and it was delicious!
All you need to do is season your trout with salt and pepper, and cook it in a skillet with a generous portion of butter.
Spoon the melted butter over the trout throughout the cooking process to baste your fish with flavor.
There weren't any large grocery stores in Bodega Bay. So for a side dish we had to settle for Rice-A-Roni, but we cooked it slowly, added broth and butter, and stirred it consistently to make our form of a risotto.
It was actually delicious with the trout!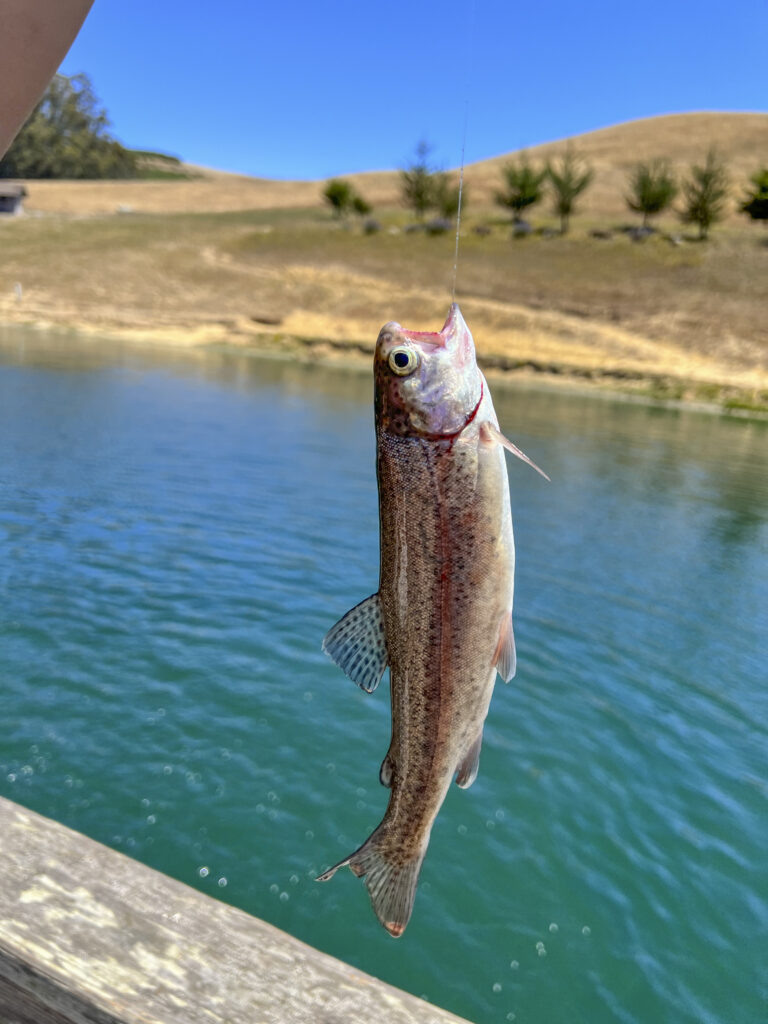 Overall the cost per fish was somewhat expensive, (we probably would have paid less for rainbow trout at the fish market), but the experience was a blast.
Feel free to bring a cold beer, a bottle of wine, or a picnic basket to make your finishing trip even more enjoyable.
We drank a bottle of Riesling from Laurel Glen Vineyards from our winery tasting the day prior, and it was a lot of fun.
Be sure to check the hours of the trout fishing ranch prior to planning your visit, it is closed some weekdays.
This Sonoma County trout fishing spot also offers horseback riding on trails throughout the ranch.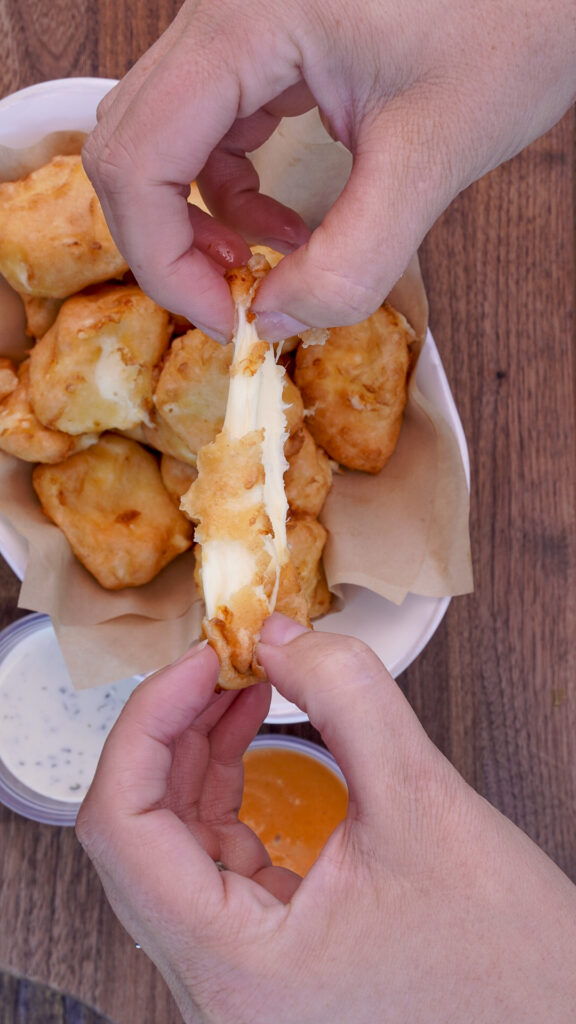 Cheese Tasting in Sonoma County
Another interesting attraction that Sonoma County offers is the California cheese trail in Petaluma.
While we were not able to venture back to Petaluma for their official cheese trail, we were able to have a terrific cheese tasting at Valley Ford Cheese and Creamery in Valley Ford.
This family-run cheese factory creates Italian style cheeses made from 100% Jersey cows milk from an organic pasture, which the family also manages.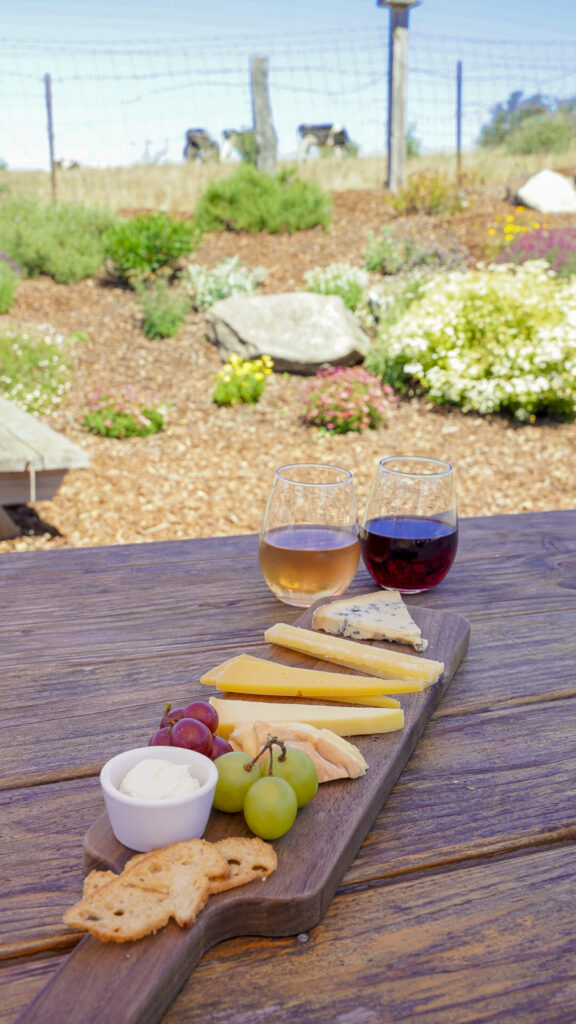 We enjoyed some wine on the gorgeous patio lined with beautiful small gardens, overlooking a pasture and tasted each of Valley Ford's cheeses.
Without question, our favorites included the 18 month aged Estero Gold Reserve, the slightly salty gorgonzola, and the creamy Farmer's cheese.
The Farmer's cheese was soft like a cream cheese, but more savory. We put this on some sourdough toast with smoked salmon and a soft boiled egg and it was a dream!
Be sure to come hungry, in addition to the cheese tasting, you can get a pretty fantastic lunch at this spot too.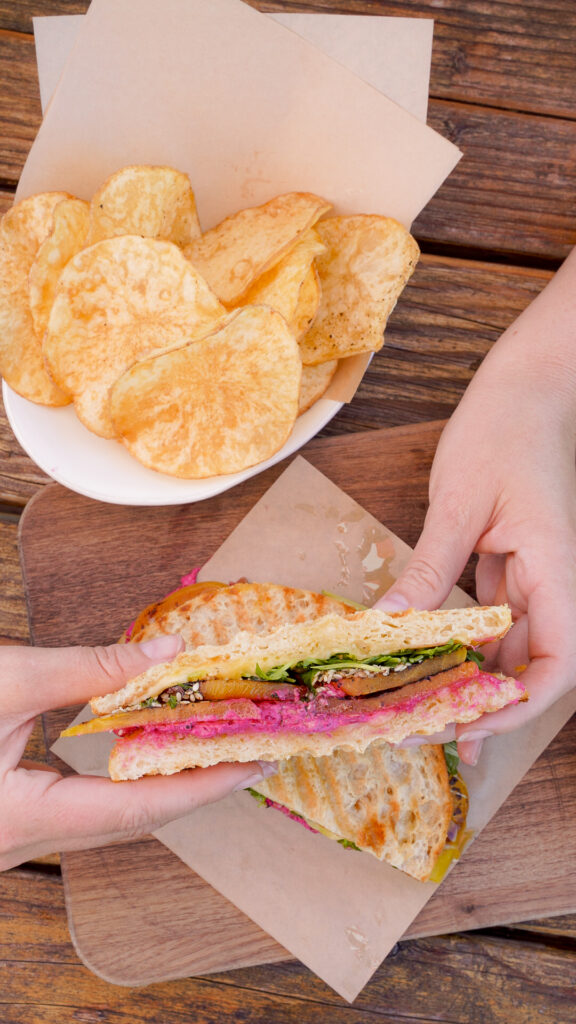 The homemade focaccia bread created an incredible grilled cheese. The panini stuffed with roasted veggies and of course their handmade cheeses.
You can also pick up fried cheese curds, beautiful deviled eggs, and even homemade ice cream.
Talk about some true farm-to-table cuisine! The family raises the cattle, makes the cheese on site, and then cooks their menu items with their handcrafted cheeses.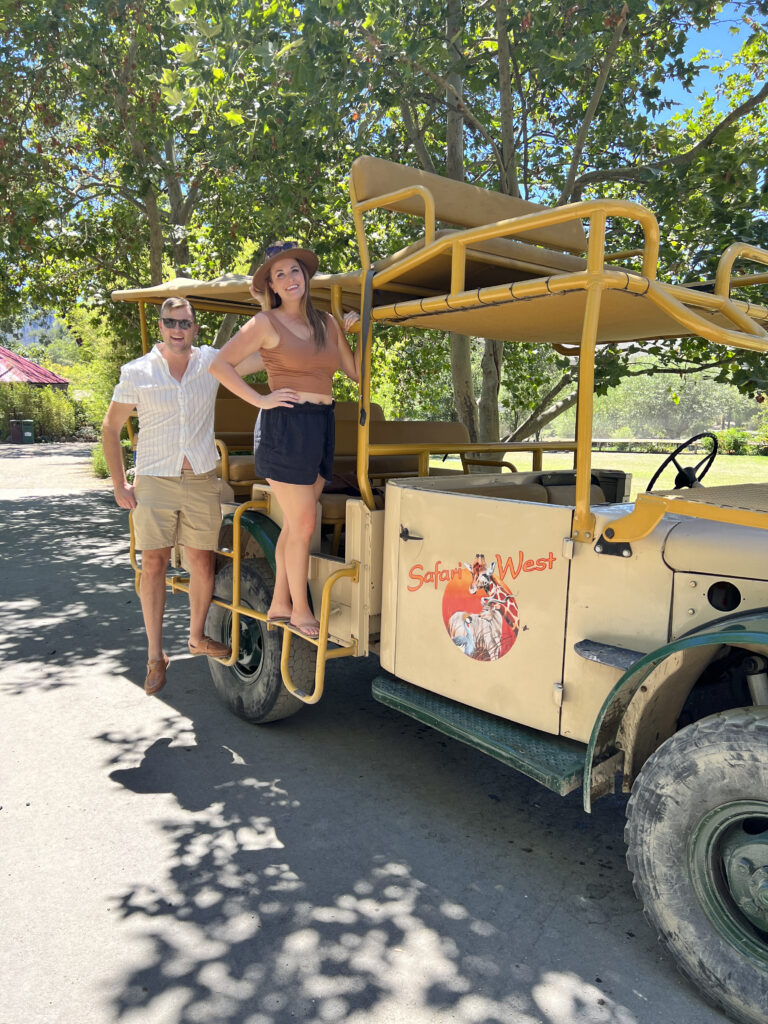 Safari West Animal Experience
For a truly wild time, why not head on a safari while in Sonoma County?!
Yes, you read that right. You can hop in an open air jeep-style vehicle and cruise around 80 species of wild animals in the heart of California.
Safari West is a 400 acre wildlife preserve and it takes around three hours for the safari experience.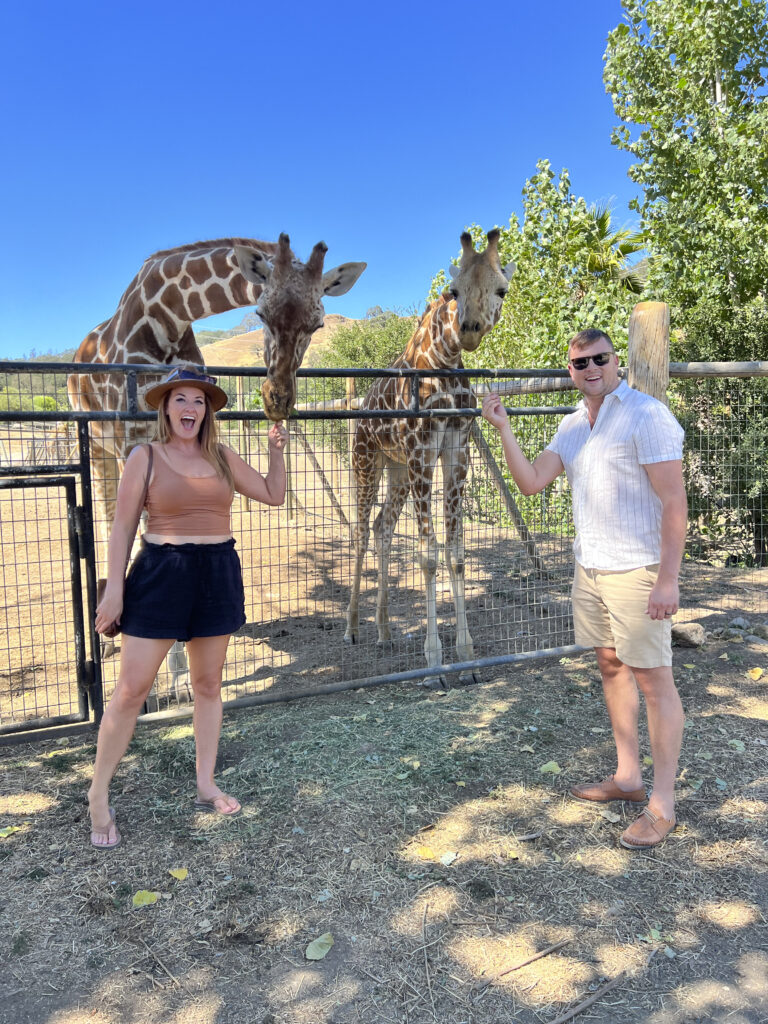 Looking for something special? Check out the safari speciality experiences page to book a private safari, behind the scenes experience or even a wine tasting safari.
We had the opportunity to feed some giraffes and it was really intimate and special.
You can even go glamping in a safari tent and spend the night alongside the animals!
It was one of the fun things to do early in the day before heading to Sonoma wine country for some pinot noir and chardonnay!
We found Safari West to be a really popular destination for locals and tourists alike, so be sure to plan ahead when securing tickets.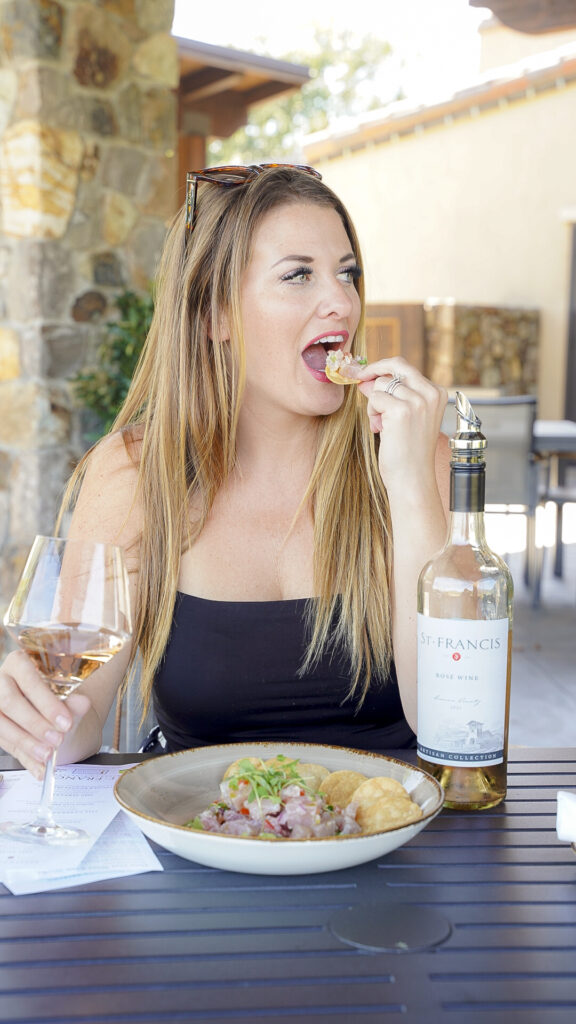 Sonoma Food and Wine Pairing Experience
St. Francis Winery and Vineyards is a picturesque wine stop as it is, but if you're a true foodie you can't miss their food and wine pairing experience. 
Choose from either the five-course fine dining experience or the estate pairings experience.
A number of years ago we indulged in the five-course fine dining experience and it was truly remarkable.
So often wine pairings are built around creating a dish and then finding the best wine to pair with the recipe.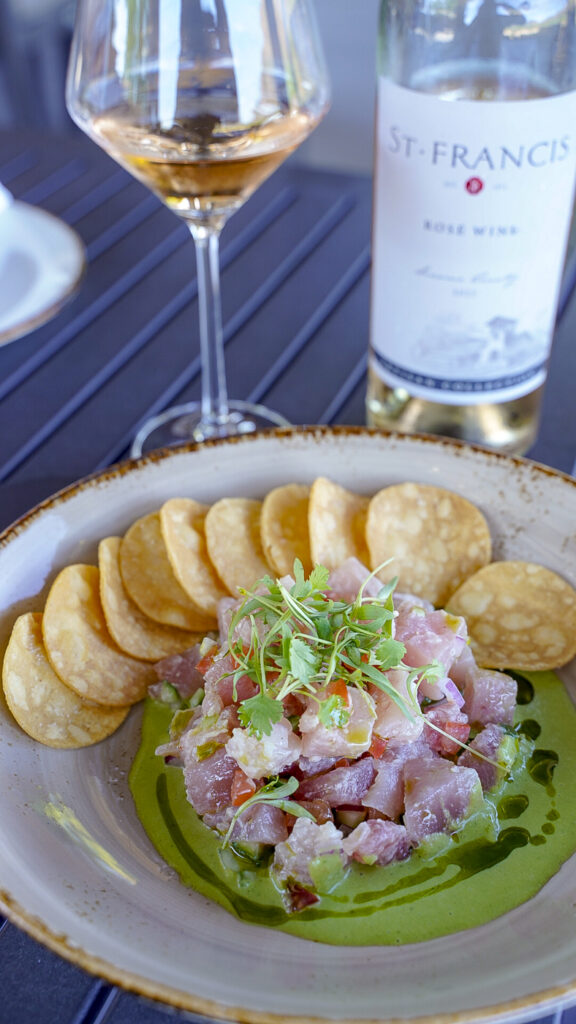 St. Francis uses renowned chefs to do the opposite.
They start with delicious wines and design a recipe specifically to compliment the specific wine.
The fine dining experience offers five courses with five wine tastings per person.
On this last trip to Sonoma, we tried the estate pairings.
Located on the beautiful patio overlooking the mountains and vines, we each enjoyed four wines paired with an appetizer-style dish to share with each tasting.
Everything was delicious but the ricotta cocoa fritters for dessert definitely stole the show.
The menu changes so even if you have done the St. Francis food and wine pairing in the past, it is totally worth doing again!
They offer some of the best food and is a perfect place for wine lovers!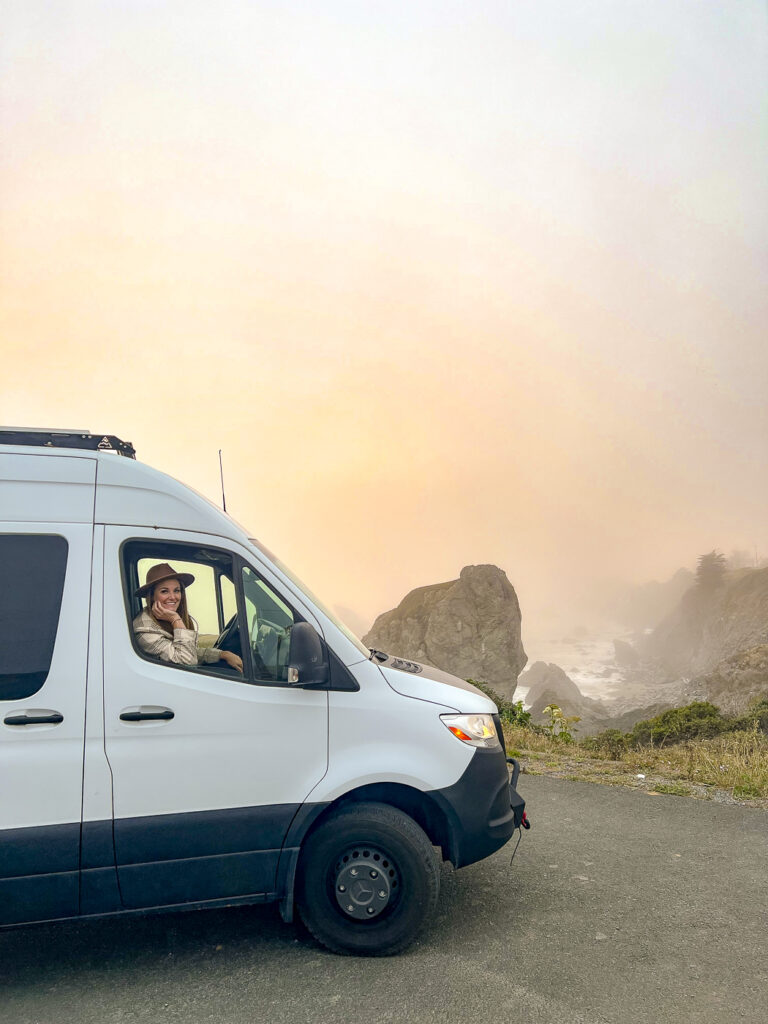 Sonoma County Camping
We had the most unique camping experience on this trip!
Sonoma County offers many campsites through their state parks, but as you can imagine, they are in pretty high demand.
Some campsites book up six months in advance!
Since this campervan trip was somewhat last minute, we snagged a one-night camping spot at Wrights Beach in Sonoma Coast State Park.
This Sonoma coast state beach is regarded as one of the best coastal campsites in Sonoma County.
We needed to get creative for our other nights of camping.
Gaivn stumbled upon something called Harvest Hosts, where for a $99 annual membership fee you are allowed to camp on vineyards and farms.
Sonoma County has no shortage of farms and vineyards so it was the perfect solution.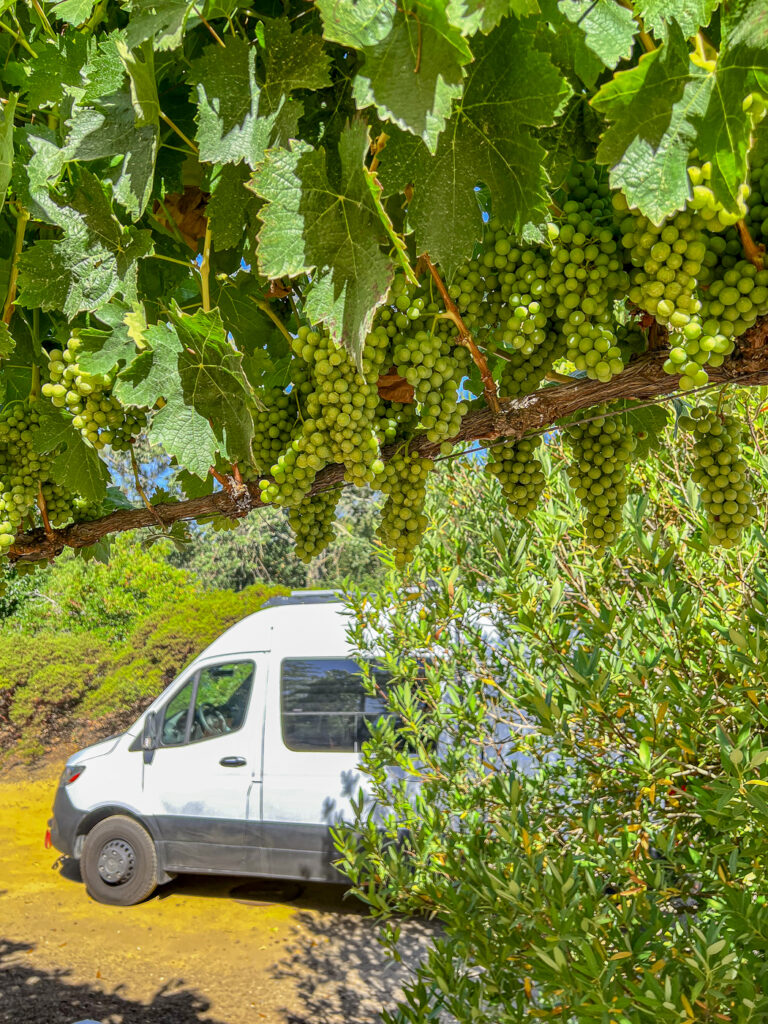 The first night we stayed in Healdsburg on some private wooded land at Russell Vineyards. 
Bruce, the owner, even met us to give us a tasting of his Syrah wines that he grows on his quaint two acre vineyard.
Our next overnight stay was at Mayo Family Winery in Glen Ellen. 
We love Glen Ellen for the adorable art galleries scattered amongst some of the top Sonoma wineries.
Mayo Winery offered many varieties of wines to taste (we picked up a bottle of the old vine Zinfandel since that was our favorite), and let us camp among the vines behind their tasting room.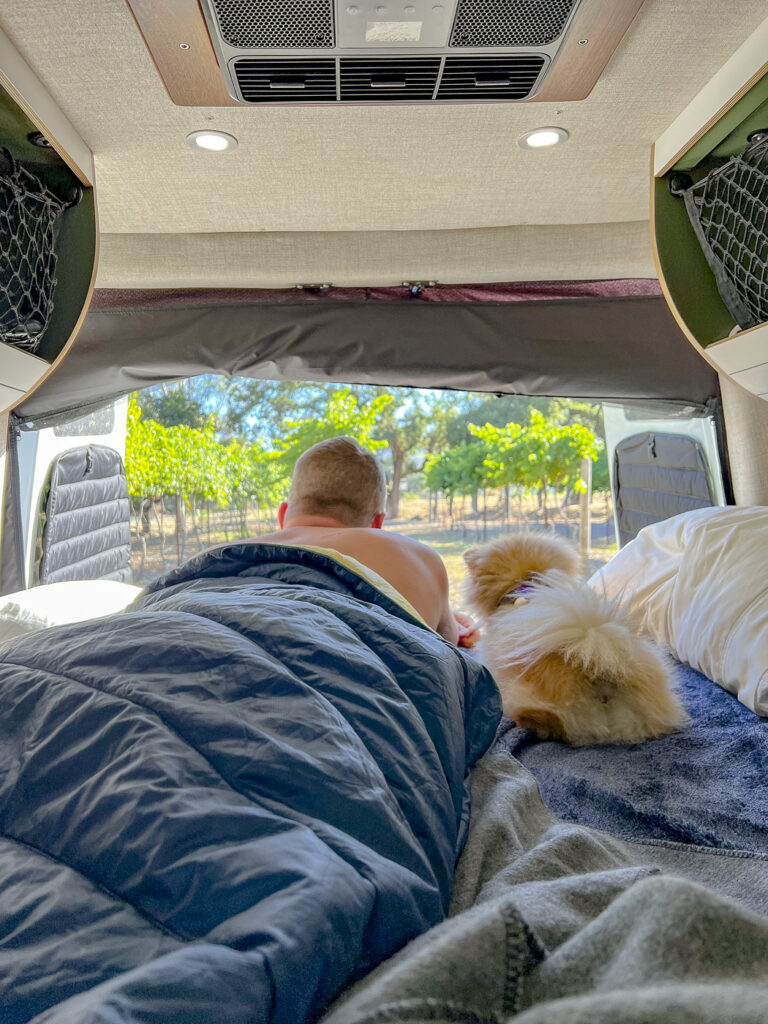 The campsite even had an adorable picnic area to use as guests, it was such a great spot!
Overall, Sonoma County has so many options for camping, especially when you think outside of the box beyond traditional campgrounds.
We loved getting a mix of camping on wineries as well as camping right alongside the Pacific Ocean.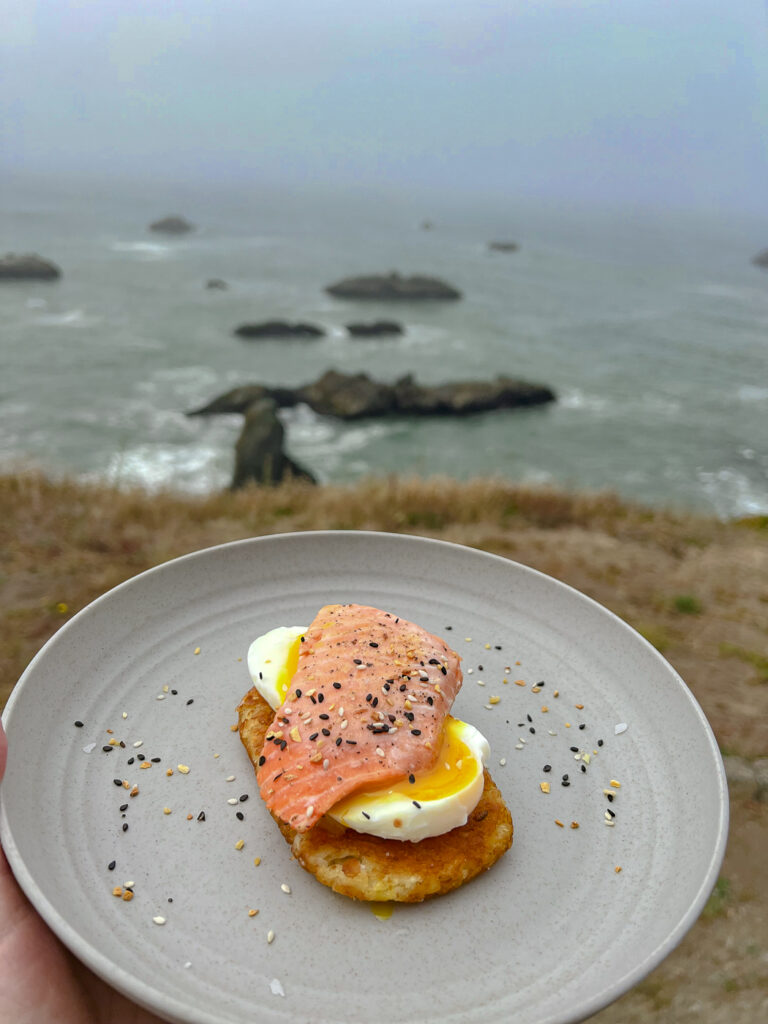 Picnic on the Coast
There are so many beautiful overlooks on the scenic drive up Pacific Coastal Highway 1.
Although camping is not allowed, many of these overlooks feature picnic tables. This makes it the perfect place to hang out and have a picnic lunch overlooking the stunning rocky coast.
Since we were in a campervan, we actually parked the car and made some meals facing the gorgeous view.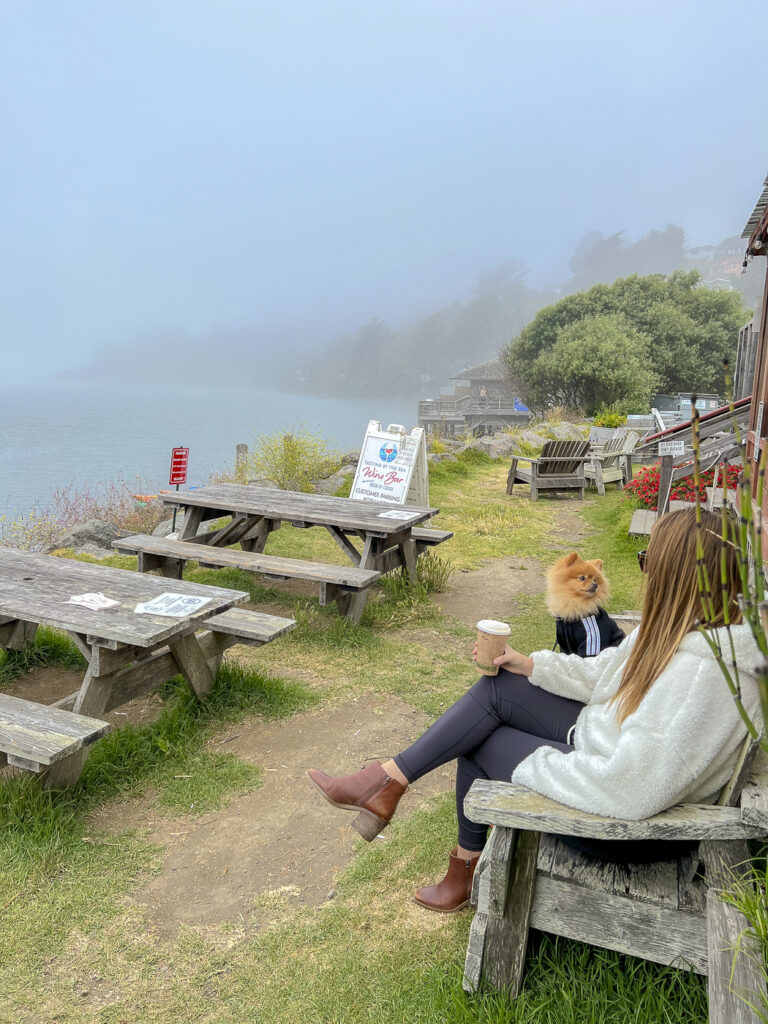 If you're cruising around in a vehicle without a built-in kitchen, pick up some gourmet cheeses, sourdough bread, charcuterie and wine and have a picnic.
The sounds of the waves are so relaxing and romantic and the coast is a natural beauty.
Many overlooks also offer a walking path down to the shore where you'll find people walking the beach, reading books on blankets, and having a beverage on beach chairs.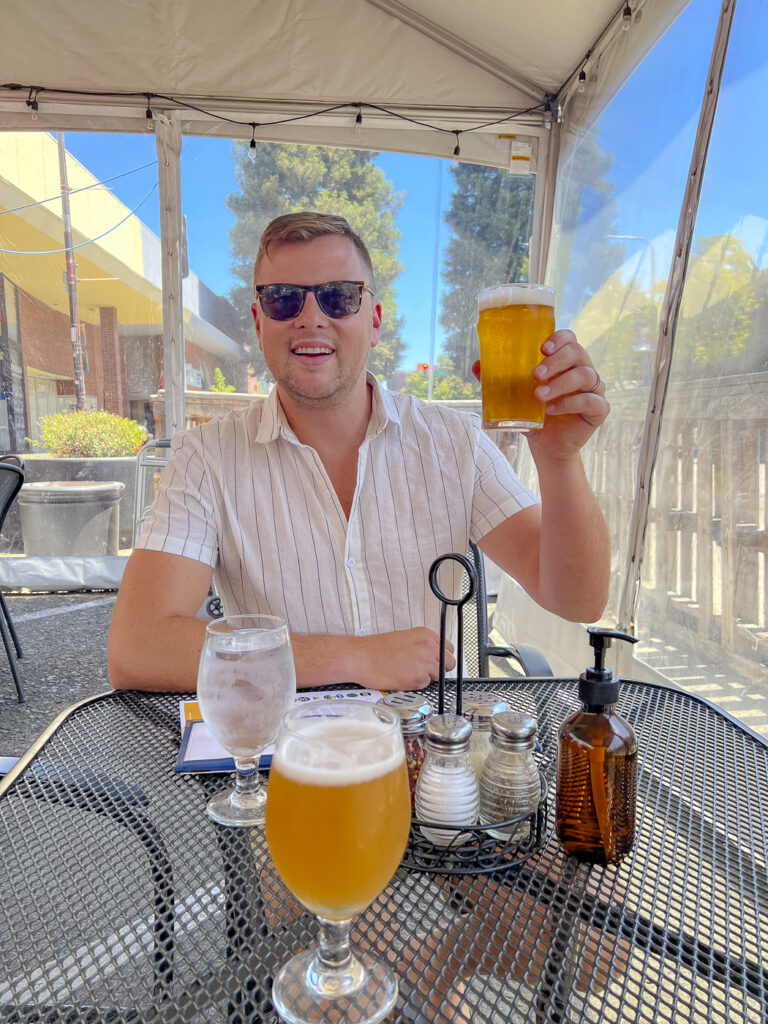 Sonoma County Breweries
Yes, Sonoma gets a lot of applause for their wine, but they also have some pretty notable breweries as well.
Russian River Brewing Company is known to create one of the highest regarded IPAs in the country: Pliny the Elder. 
You can taste their beers at either the Santa Rosa location or at their brewery and pub in Windsor. Both locations offer a variety of brews and food options.
Lagunitas Brewing is another great brewery option. 
Although Lagunitas is a national brand these days and also has tap rooms in Chicago and Seattle, the beer was born in Northern California and has been situated in Petaluma since 1995.
We've heard amazing things about the patio at the Petaluma Lagunitas brewery!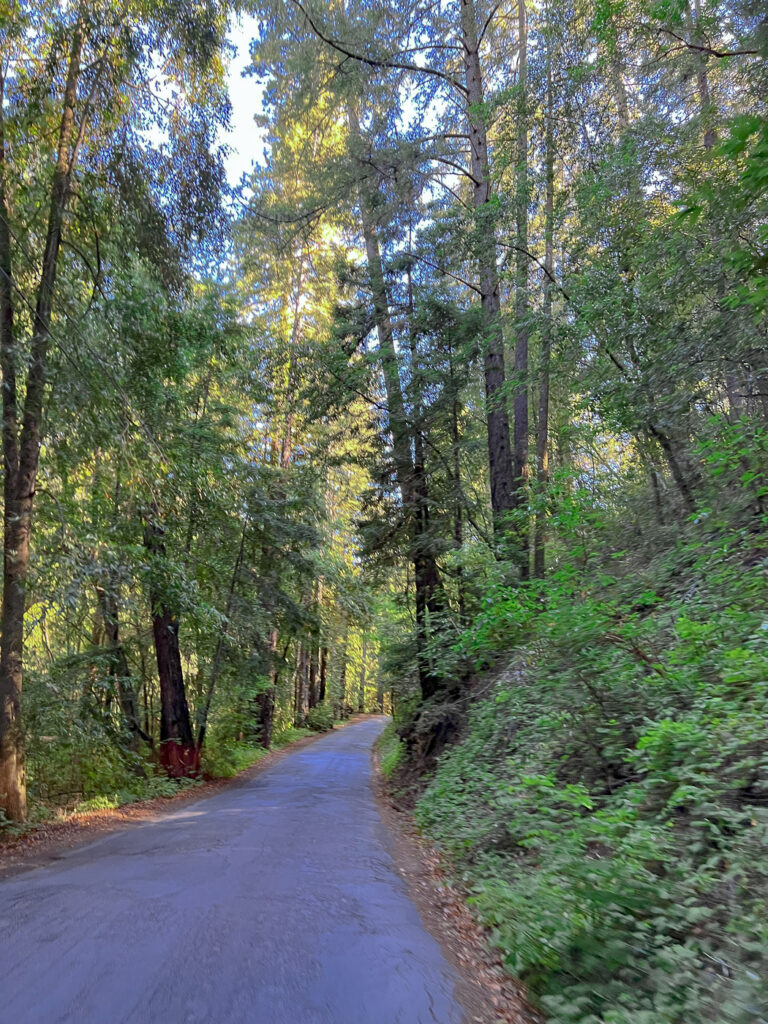 See the Redwoods in Sonoma County
Sonoma County is a great place for nature lovers.
While we were immersed in redwoods while driving through parts of Sonoma County, you can specifically head to Armstrong Redwoods National Park Reserve for a great place to wander among the redwood forests.
Some of these trees are over 1,400 years old and stand at over 300 feet tall.
Stroll along California's iconic redwoods on miles of trails at this national park.
These popular trails at the Armstrong Redwoods are considered easy hikes, but note that dogs are not allowed on hiking trails, only in the paved areas.
The parking fee is $10, but entrance is free.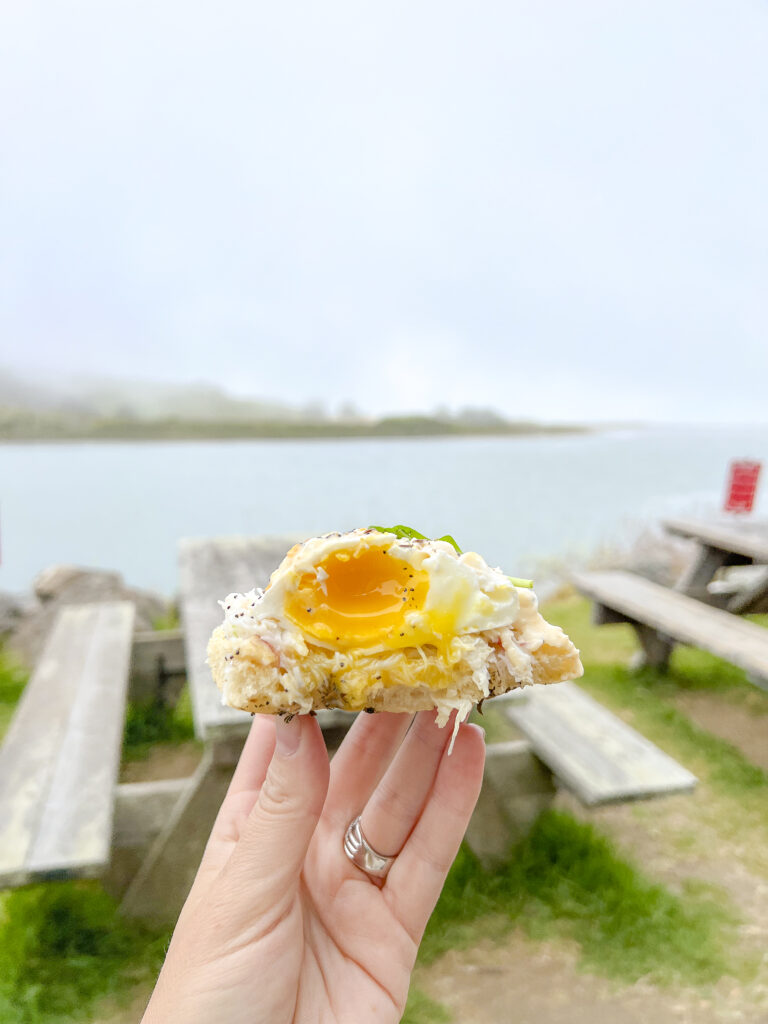 Eat Fresh Seafood
Since Sonoma County stretches to the coast, it would be a shame to not eat fresh seafood!
You'll find fresh fish, oysters, clams, mussels, and crabs sold at restaurants along the coast.
While near Bodega Bay, we visited both the Fishetarian and The Tides Wharf fish markets. 
We bought some fresh caught salmon to cook in our campervan. Plus, we bought a cup of clam chowder soup to warm up against the chilly, foggy coast.
One of our most memorable bites was our dungeness crab focaccia toast with an egg during a coffee stop at Cafe Aquatica near Jenner, CA.
This small coffee shop features a lot of outdoor seating on adirondack chairs and picnic tables on the bay.
We could have hung out for hours! Hot tip: they have live music on weekends and there is even a wine tasting spot next door.
These were our favorite things to do in Sonoma County. Sprinting around in a Campervan made it so easy to immerse ourselves in the area!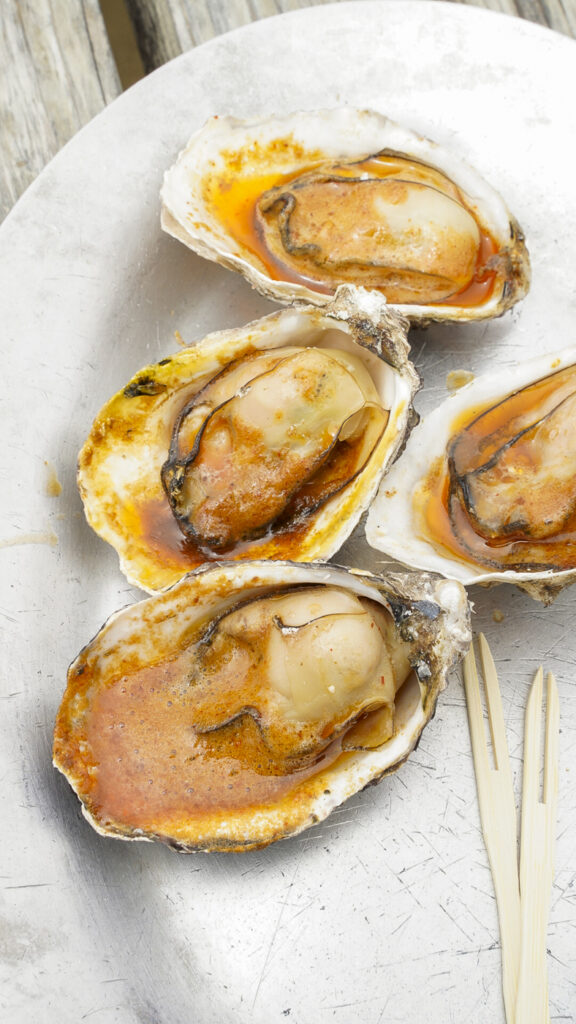 If you book a trip to Sonoma County, let us know by reaching out to @coupleinthekitchen on social media!
If you're as interested in wine and travel as we are, you should check out our other guides:
Click this link to pin this guide to the Top Things to do in Sonoma County on pinterest.
Also, don't forget to follow us on instagram and facebook for more recipes and recommendations, we love to see when you visit our favorite spots!
Looking for more US travel recommendations? Read all of our USA travel guides.
If you'd like to automatically receive our posts in your email, register here.