Boho style is so on trend right now. Morocco is the perfect place to pick up home décor and accessories at a STEAL! We did a lot of research on shopping in Morocco prior to this trip. Originally, we were planning on shipping items back home but after doing some reading we learning that the post office/shipping companies in morocco have massive lines and usually end up losing half of the international shipments anyways. As a result, we packed our clothes in a carry on sized luggage and stored that in the empty large suitcase. We only had to pay for the one bag on the flight to Morocco, then after shopping to our hearts desire, we filled the empty suitcase with all of our souvenirs and just checked that bag home. It gave us peace of mind that the items wouldn't get lost and was a lot cheaper than shipping it anyways. If we were to do it again, we'd also bring a collapsible duffle bag in the suitcase so we could take home even more goodies.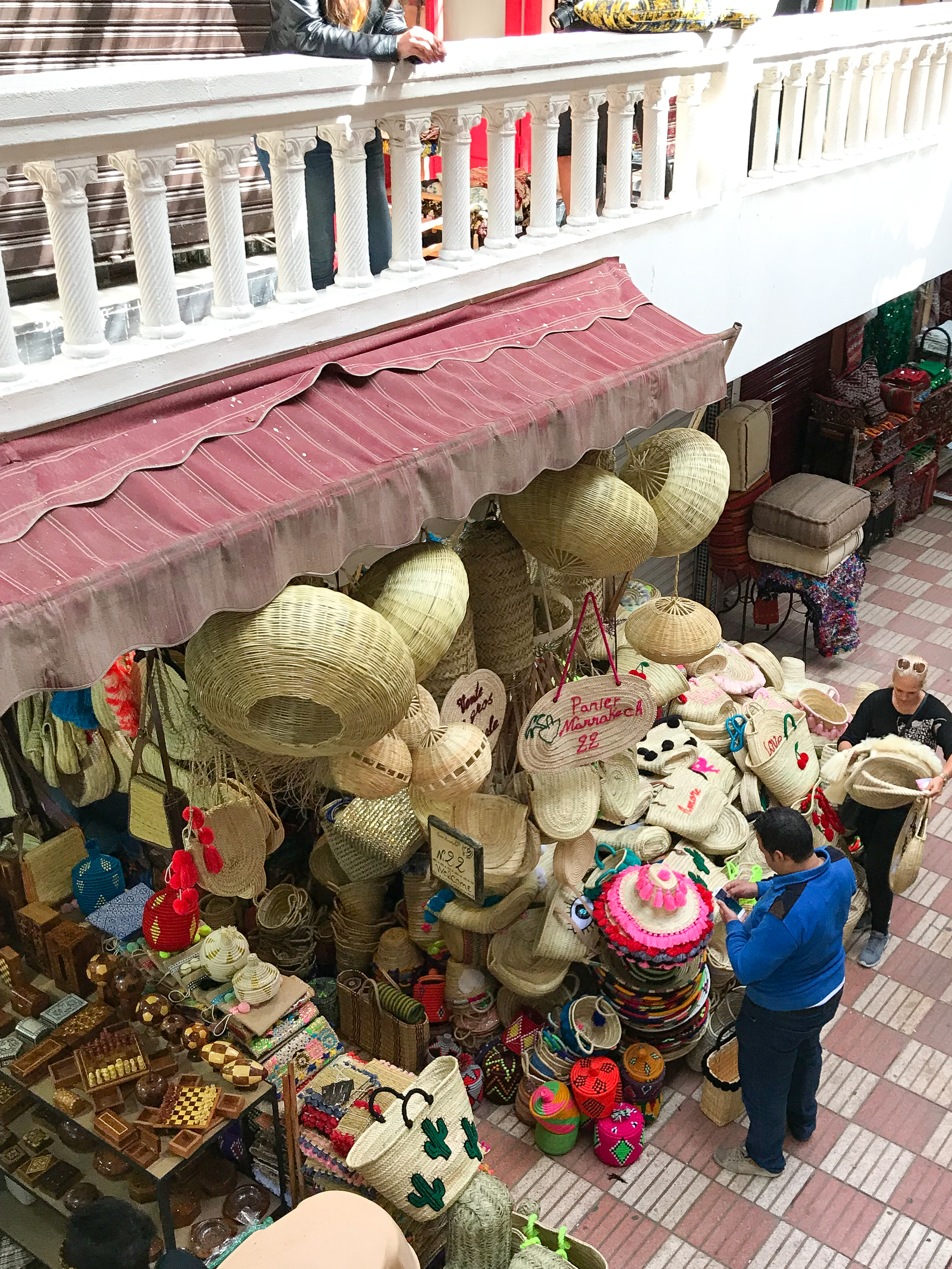 Shopping in Morocco is interesting… When shopping in the medina, no prices are listed and it is the most extreme haggling we have ever encountered anywhere. The first price that vendors quoted was often FOUR TIMES higher than the final price that resulted. Don't be afraid to walk away. Often enough, you will get alllll the way down the street before they start calling you back. In an attempt to help you with your shopping so you don't get ripped off, here is what we were able to negotiate Moroccan souvenir prices down to.
Leather Poufs: There are many, many colors, sizes and designs. We went to A LOT of shops to try and get the best price, which ended up being $21 each when we bought two smaller sized leather poufs. The tanneries will try to sell you these for $120 USD each – steer clear! If you get a lower-quality leather pouf you can get them for as low as $10 each.
Moroccan Rugs: Buying a high-quality rug is a super stressful experience. Usually, there are two types of rug dealers: the casual vendor selling rugs with other items where they are hanging up outside the shop, and then there are the full-blown rug shops. The rug shops are actual rooms that you enter where you are greeted with Moroccan tea. A team of sales consultants unroll about 35 rugs for you to look at varying in traditional styles. Once you find a rug style that you like (we preferred the berber rugs), they start showing you all kinds of rugs in that style in different sizes and colors. Once you narrow down one or ones you like (they talk all about how there is a 15 rug purchase limit), they finally share the price. We were shocked at our first rug dealer when they told us the rug was $2500 USD. Ummm… what?!? We weren't about to drop that much money! We politely passed but they tried to negotiate, and we shared that we were not going to spend more than $250 on a rug. Our pushy tour guide (read about Fes tour guides here) kept bringing us to more and more rug shops, obviously hoping we would buy one so he could get an under-the-table commission. He finally brought us to the Berber rug school (after we told him that we didn't want to go to any more rug stores), and we found a rug that we liked. They told us the price was $1500 and finally we were able to negotiate down to $350 (crazy difference, right?!). The vendor, clearly annoyed that we got the price lower than he wanted, tightly wrapped the rug up so it could be stuffed in a suitcase or carried on a plane. Rug prices are supposed to be regulated by the government but we found that most vendors ignored this guideline. Be smart and frugal when rug shopping, the upcharge is INSANE.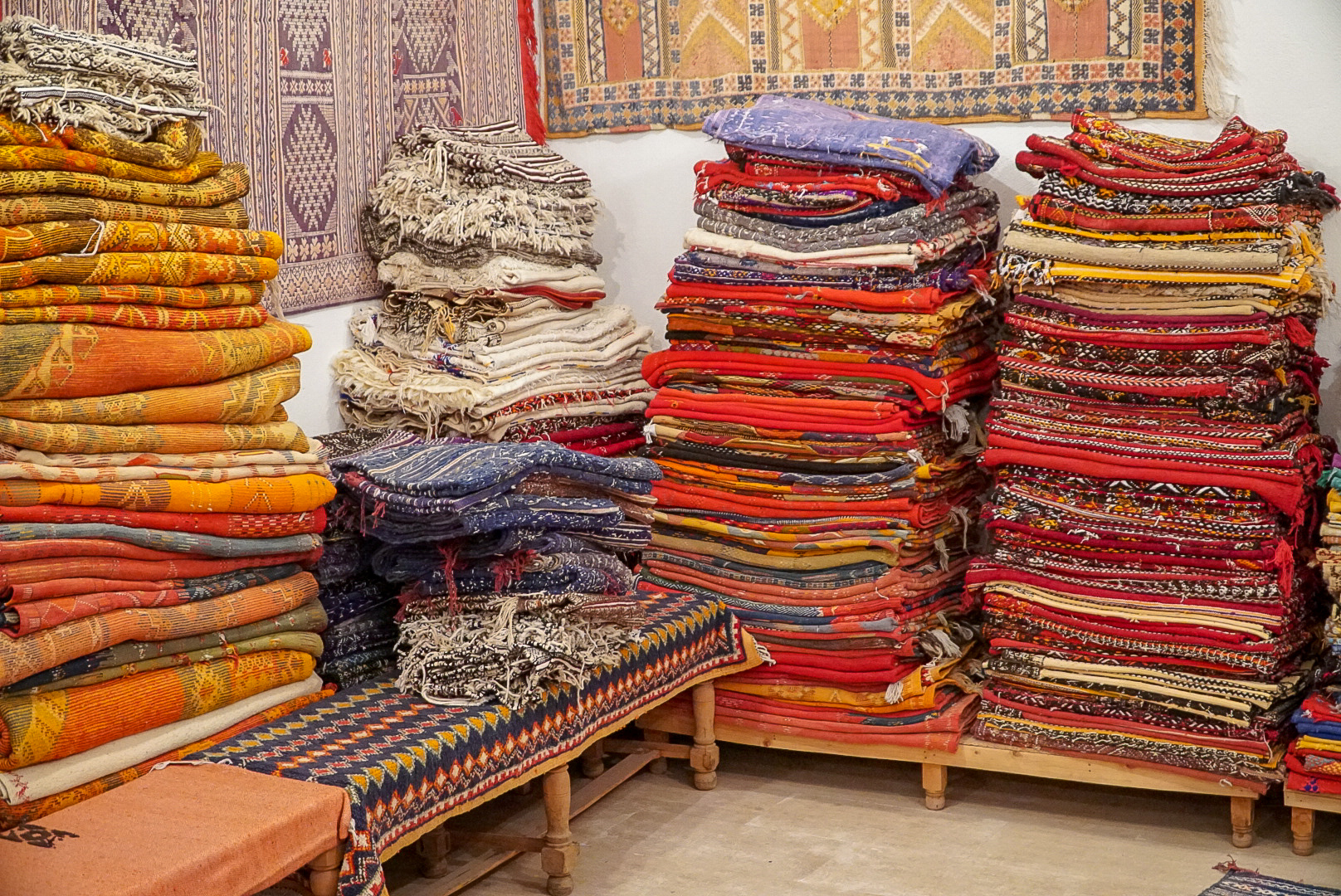 Blankets and pillow covers: Marrakech has a lot of cute blankets and textiles. We bought a medium sized white blanket with gold stripes and white tassels for $20 USD, where the original price shared was $50. A lot of vendors sell the same stuff so if they do not come down in price enough, walk away and find it at another stall. We found matching pillowcases a block or two away and bought them for $7 each (we're pretty sure we could've likely gotten them for cheaper). Warning! Be sure to carefully inspect the item before you buy it! As we were about to walk away with the pillowcases, Karen noticed that they were not the same size. We made them run and bring back 10 different pillow cases in order to find two that were relatively the same.
Basket handbags: These are super cute! You'll find many with colorful tassels and stitched phrases. The basket store near Café Des Espices had the biggest selection and would even handstitch whatever you wanted to add to them. Karen bought a large circular basket tote for $12 USD (but in hindsight probably could've gotten them down to $8 or $10, this was at the end of our trip and honestly, we were getting exhausted by the vendors).
Leather goods: Leather boots, shoes, belts, and bags can be found all over. Marrakesh has some cute leather and textile duffle bags as well as some cool, hipster boots. Gavin bought a leather belt (supposedly made of camel) for $6, while Karen opted for a goat leather fringe backpack for $18.
Argan oil: Argan trees are only found in a small region in Morocco and the oil is great for your skin and hair. Some shops were trying to sell us a small bottle for $20 USD, but we read that many vendors just fill the jar with vegetable oil. We picked up Argan oil at the Carrefour Market (also check a pharmacy) to ensure we got authentic argan oil and a 50ml bottle was only $5.
We hope this guide helps to provide you a guideline of what you should be paying in morocco so you don't get swindled. Shopping in the medina was stressful, but also a lot of fun!
Check out our other Guides on Morocco: