Let's talk about the best Lake Tahoe Restaurants in both South Lake Tahoe and North Lake Tahoe.
We've been spending a good portion of our summer in Lake Tahoe at Gavin's family cabin.
Naturally, we put in thorough research on all the restaurants in Lake Tahoe, created a game plan, and ate our way through the whole region.
Across many meals, many miles driven, two states, and probably 10 extra pounds, we've put together a list of the best Lake Tahoe restaurants.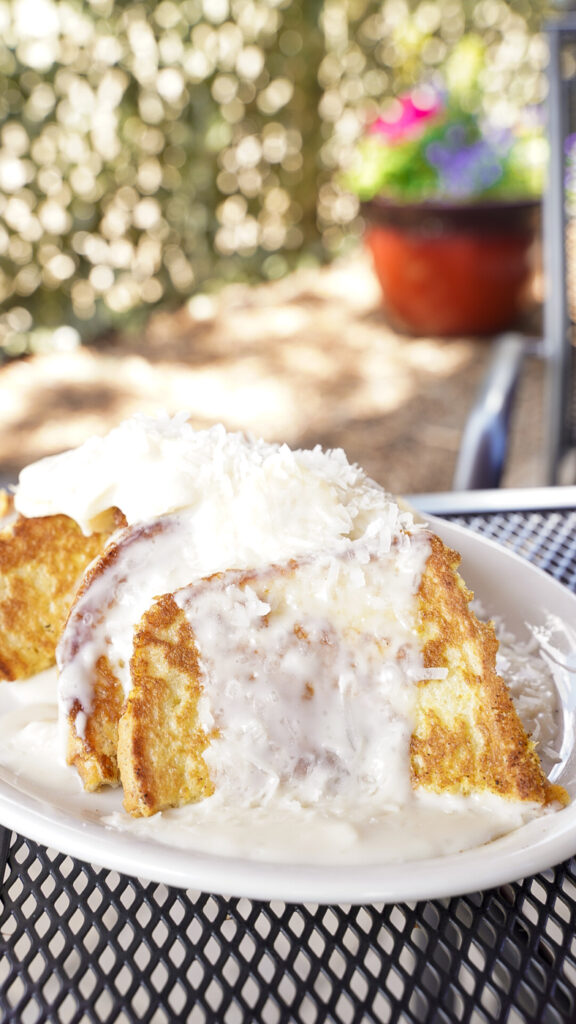 Best Breakfast in Lake Tahoe
There is a reason why the Getaway Cafe has basically perfect reviews online.
This Lake Tahoe breakfast and lunch spot is seriously delish.
Karen is not a sweet-toothed person and never typically orders pancakes/French toast/waffles for breakfast, but Getaway Cafe changed her mind.
Their coconut crusted sourdough French toast comes with homemade coconut cream sauce and bananas. It was unreal.
The fact that the French toast is made with sourdough bread ensures this breakfast dish doesn't taste too sweet.
You're able to add on a single coconut crusted French toast to an entree or go for the whole shabang.
A standard order comes with SIX slices of French toast (that's basically half a loaf of bread!) so it's a great dish to share or just plan on taking leftovers home.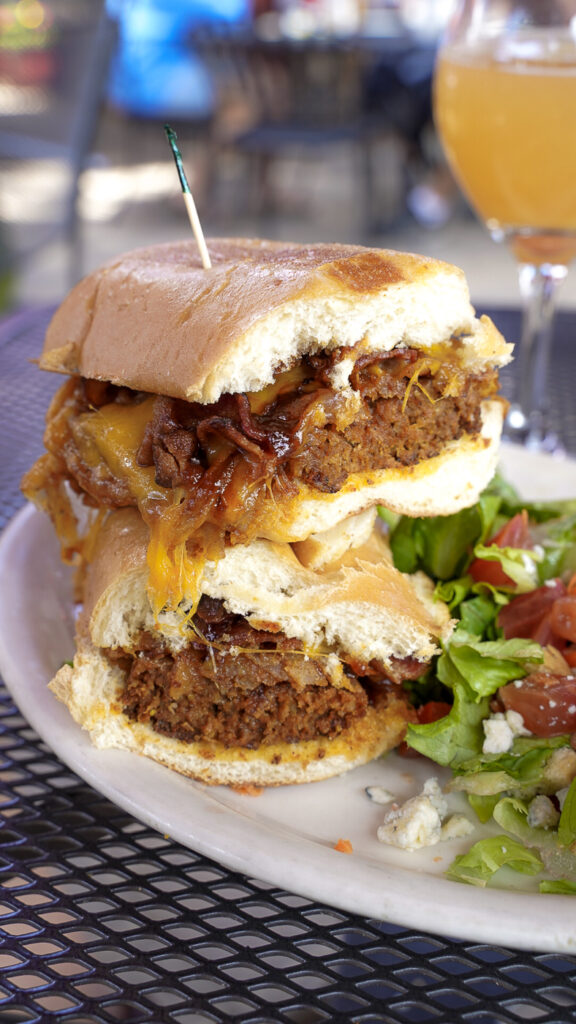 We also tried their chorizo chilaquiles, which were tasty and a bit spicy, as well as their Cowboy meatloaf sandwich from the lunch menu.
It was the best meatloaf sandwich we've tasted. A blend of beef and Italian sausage, smothered in melted cheese with bacon.
Talk about yum!
South Lake Tahoe, 3140 US-50, South Lake Tahoe, CA 96150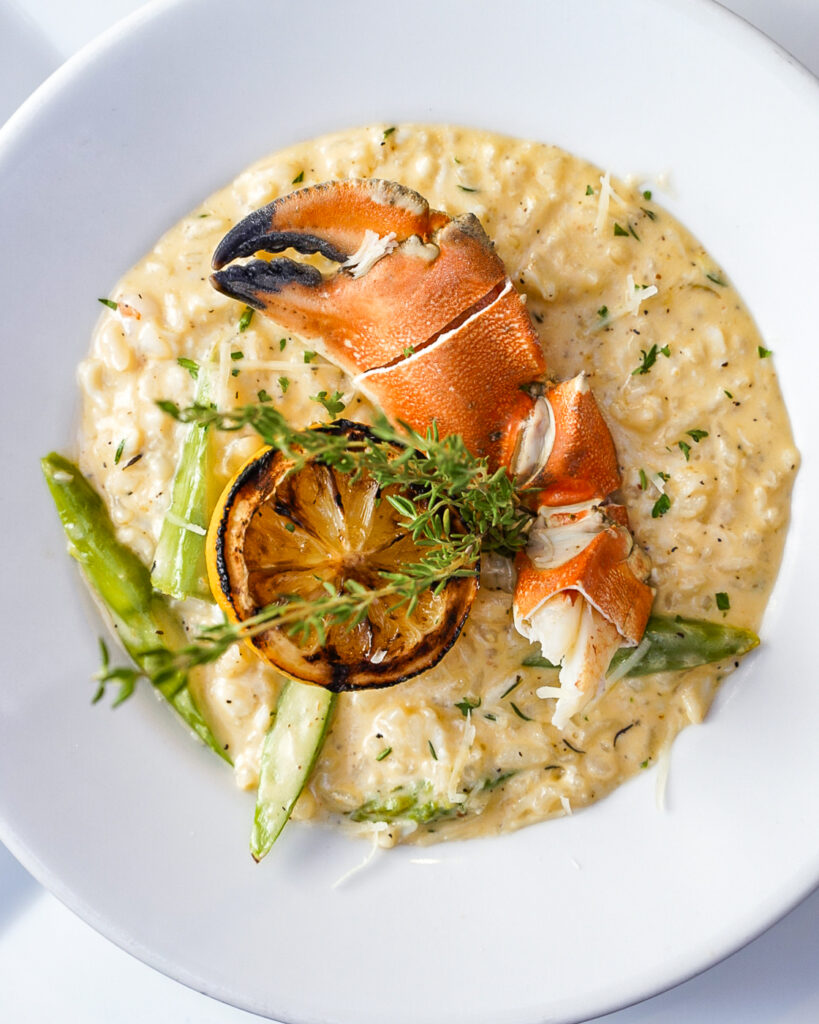 Best Spot for Dinner and a Show
The Loft Tahoe is a perfect date night spot in South Lake Tahoe.
We were mainly interested in their magic show, but we're floored by how delicious their food was too!
This chic lounge whips up craft cocktails and tapas-style dishes.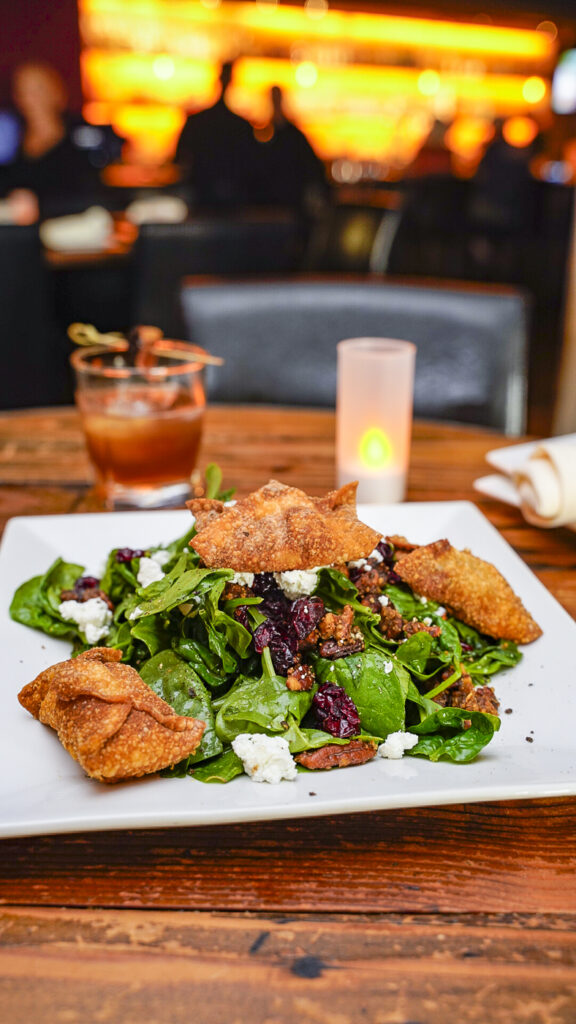 We sipped on a "smoke and mirrors" smoked old fashioned, a fantastic mango margarita, and even the "Now You See It" gin cocktail with a smoke bubble on the top that you get to pop.
From a food perspective, most of the dishes are small-plate tapas-style options where The Loft recommends ordering 2-3 plates per person.
We thought the plates would be tiny like most tapas restaurants but were pleasantly surprised by the portion sizes of the "small plates".
We noshed on a spinach salad with goat cheese, candied pecans, and duck wontons to start.
From there we tried the duck tacos with pineapple, which were seriously outstanding.
The seafood risotto was the best risotto we found outside of Italy.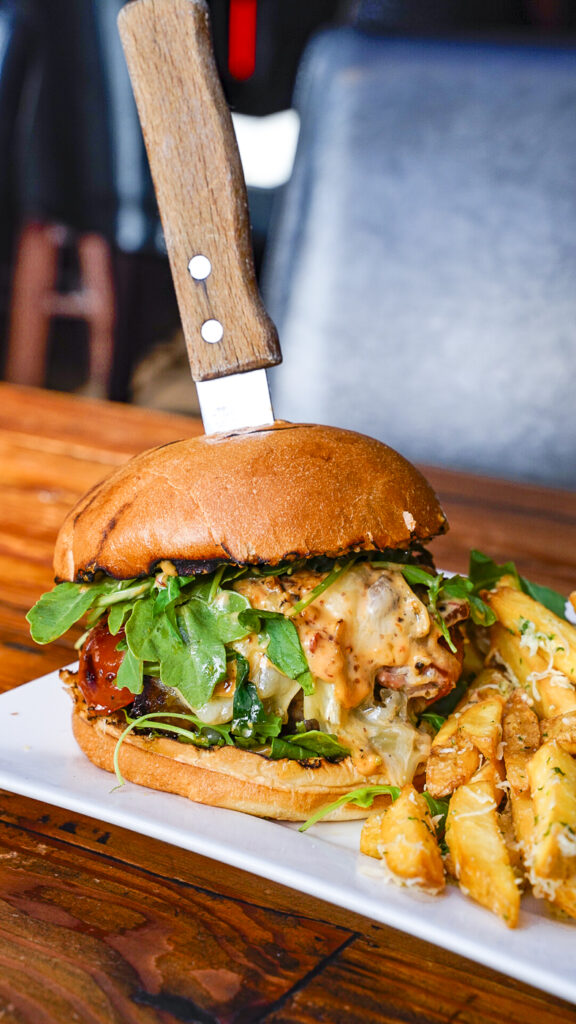 Finally, the short rib burger from the large plate menu was MASSIVE.
After a tasty meal, it was time for the show.
The Loft offers their magic show daily, but each Friday at 9pm they host Magic After Dark.
This adult-themed magic show has dirtier jokes and a more risque assistant.
It was interactive, personal, and a really fun thing to do on a Friday night.
South Lake Tahoe, 1001 Heavenly Village Way, South Lake Tahoe, CA 96150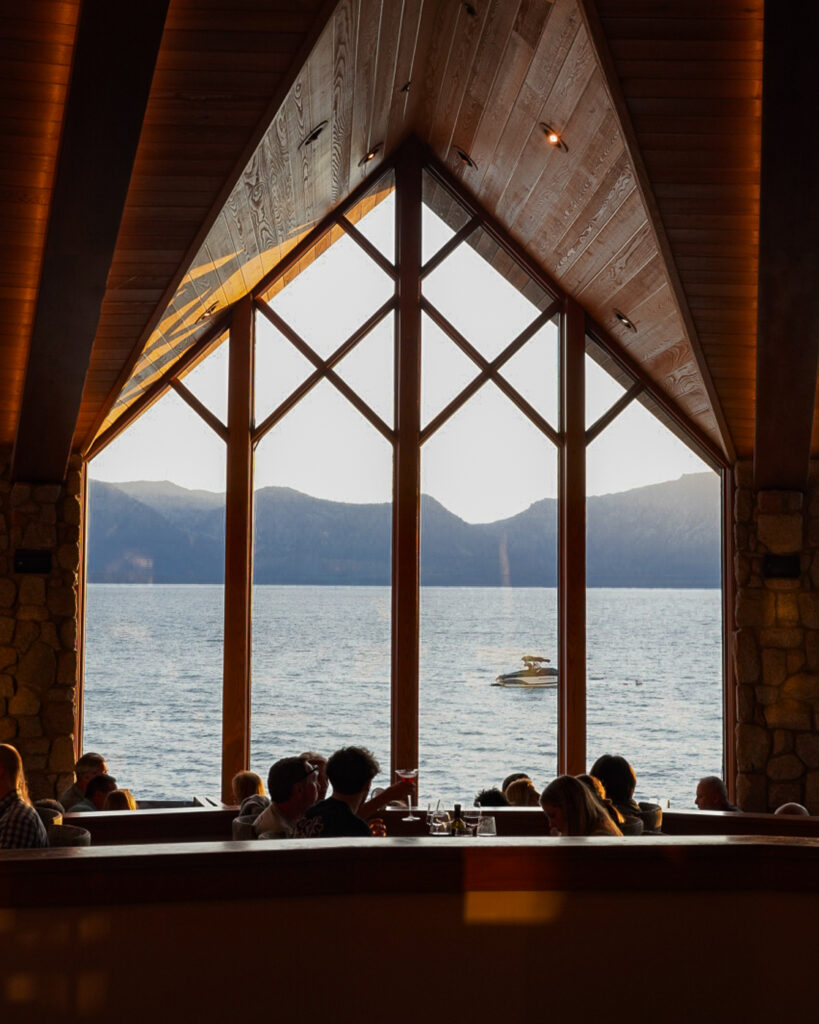 Best South Lake Tahoe Restaurant for Fine Dining
If you're looking for a special occasion restaurant in South Lake Tahoe, head to the stunning Edgewood Restaurant.
With massive windows overlooking the lake, the ambiance of Edgewood is incredible.
Plan your dinner reservation around sunset and you'll be in for a real treat while savoring craft cocktails.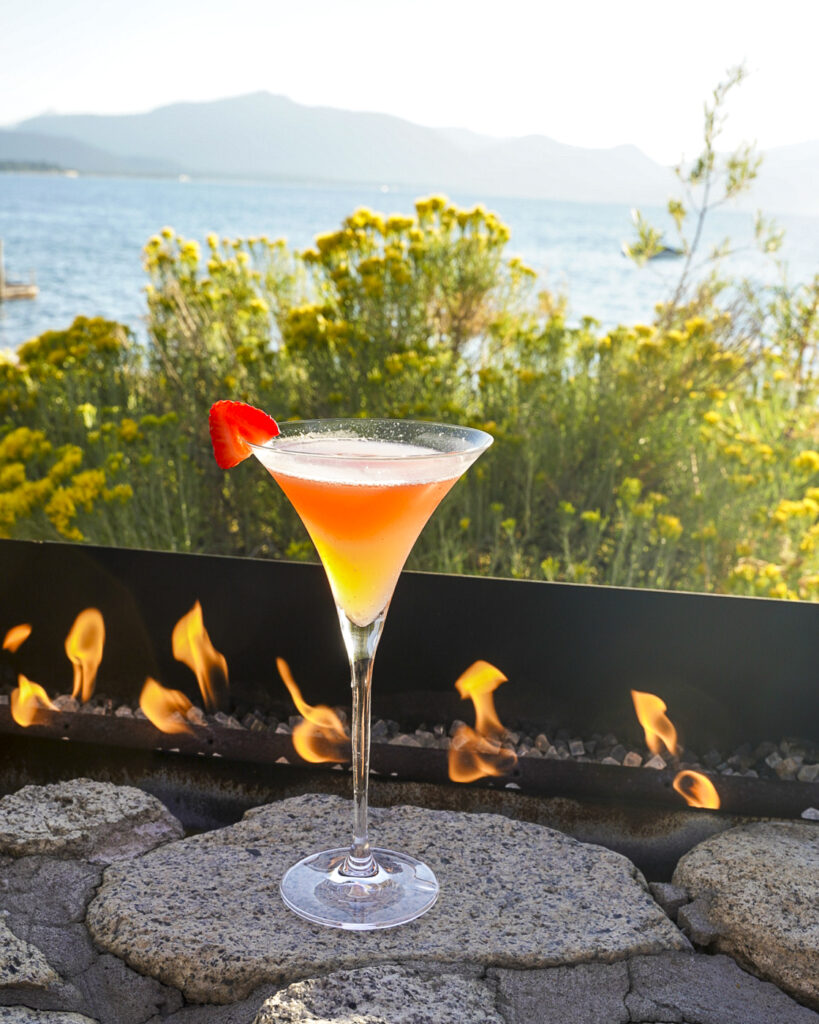 You'll be welcomed with an amuse-bouche, a small plate of five delectable samples.
As an appetizer we enjoyed the house made bread and a beautiful octopus and cuttlefish starter.
For entrees, Gavin watched as fresh black truffle was shaved over his lobster dish with pasta.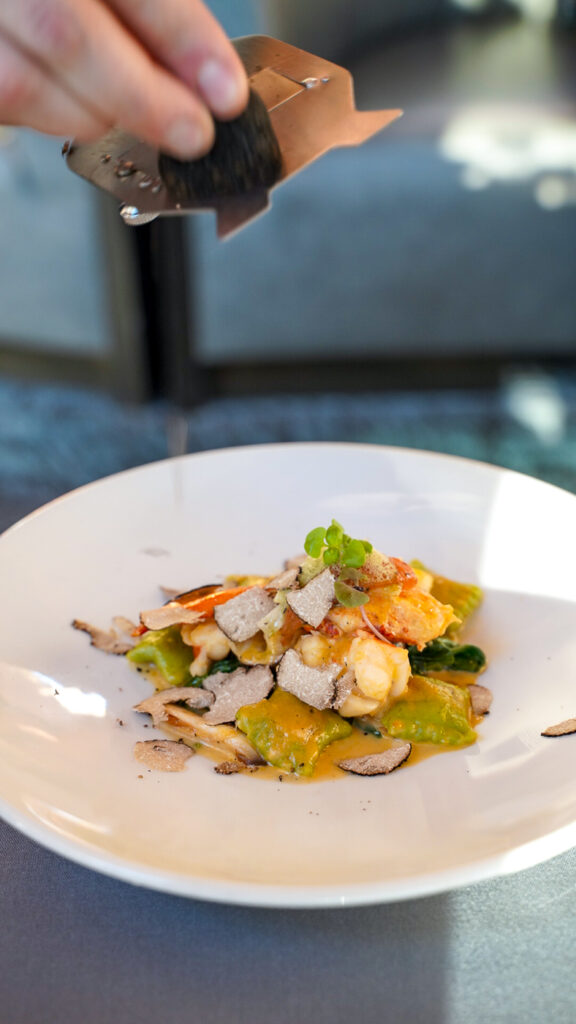 Karen enjoyed the rabbit entree which was our favorite bite of the evening.
Keep in mind Edgewood is a fine dining establishment which means portions may be smaller than a typical restaurant, so plan on ordering some starters before heading straight to your entree.
South Lake Tahoe, 180 Lake Pkwy, Stateline, NV 89449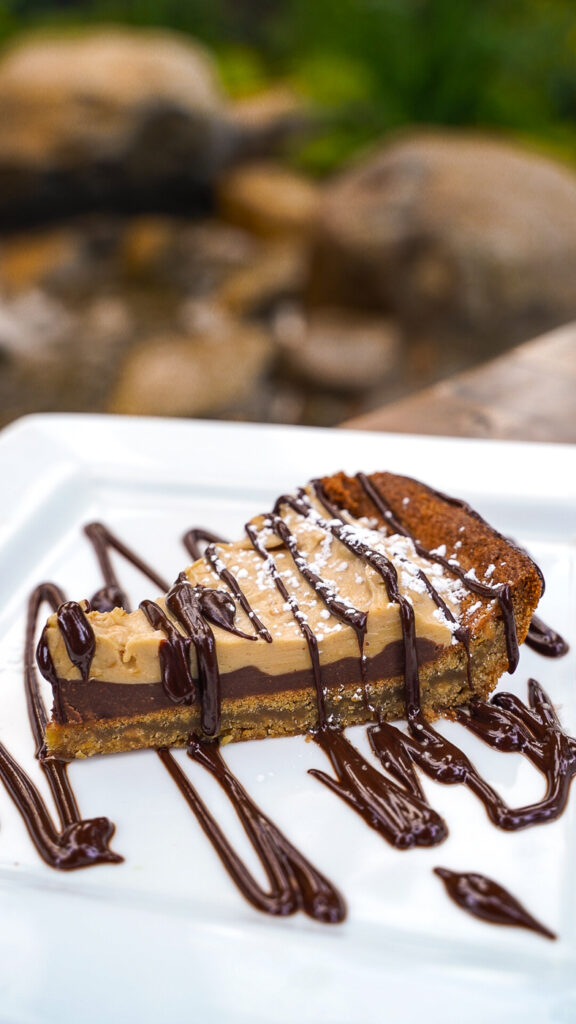 Best Lake Tahoe Patio
A historical landmark on the westshore, the Swiss Lakewood restaurant has kept the best Swiss classics.
They also are introducing new flair with some of its non-traditional dishes and beautiful outdoor patio with live music and relaxing waterfall features.
While in Tahoe we dined at Swiss Lakewood twice.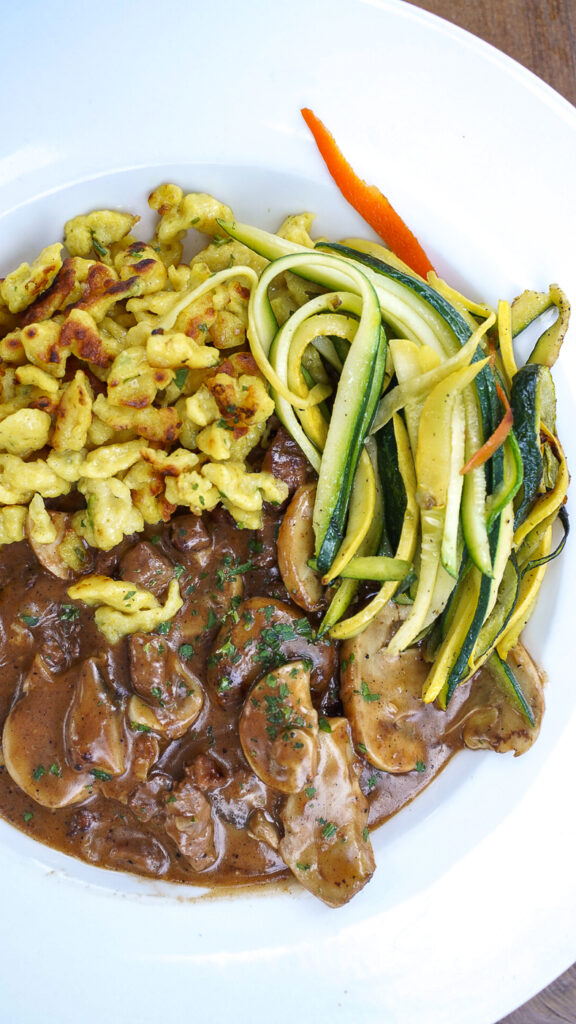 The first time we stopped for a quick bite at the bar and we both split the veal emince, a traditional "Zurich style" veal dish cooked in a creamy mushroom sauce with fresh vegetables and chive spätzle.
The sauce on this dish was so cozy and perfect for Lake Tahoe we knew we would end up coming back for a full meal.
For our second time dining, we made sure to make reservations ahead of time so we could guarantee seating on their newly renovated patio.
We highlighly recommend making reservations for Swiss Lakewood, and many restaurants around Lake Tahoe because in busy seasons they definitely book days ahead of time, even on weeknights.
While enjoying their beautiful patio we had to order the veal emince again, but wanted to try other things as well.
We also ordered the scallops, oysters rockefeller, crab cakes, and french onion soup.
Of the seafood dishes that we ordered our favorite was the least traditional dish, their thai inspired scallop dish with risotto and a pineapple coconut cream sauce.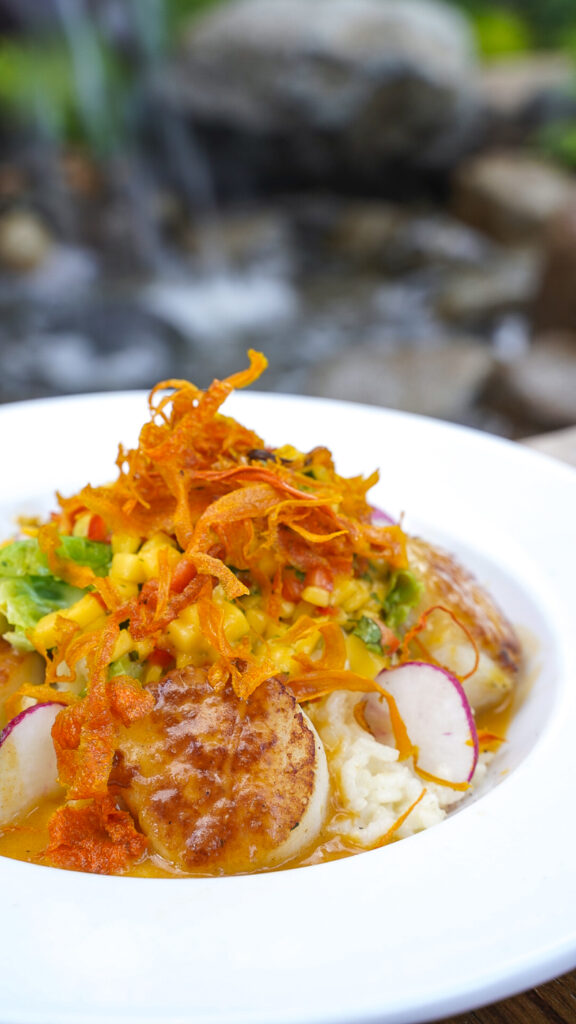 The scallops were cooked perfectly, and it was a risotto unlike any we've had before.
For dessert we had a grand marnier souffle that you need to order at least 30 minutes ahead of time.
Our favorite dessert was a peanut butter chocolate pie that was like a Reese's peanut butter cup in pie form.
We know you'll love the food just as much as the charming patio ambiance.
West Lake Tahoe, 5055 W Lake Blvd, Homewood, CA 96141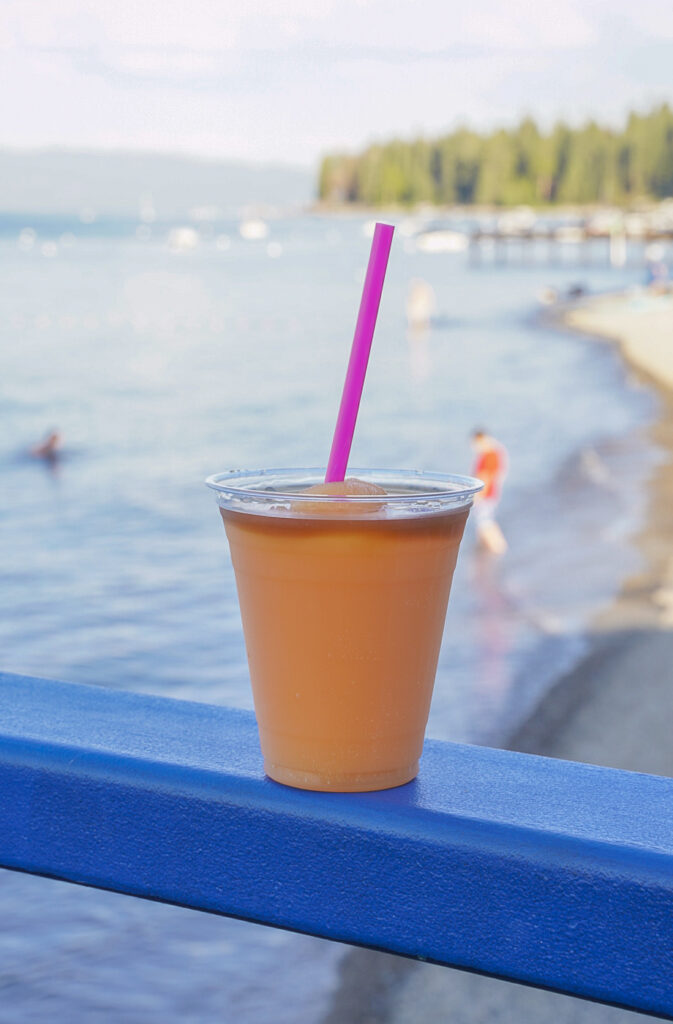 Favorite Lakeside Restaurant for Cocktails
As we shared in our guide on the Best Things to do in Lake Tahoe, most lakeside restaurants have their version of a frozen rum punch.
After tasting our way through many of the top recommendations, Chambers Landing Bar and Grill wins the best Lake Tahoe cocktail in our eyes.
Head to Chambers Landing pier bar by foot or by boat and order the Chambers Punch.
This slushy cocktail is packed with 151 rum as well as silver rum, and is topped with (you guessed it) another rum float!
It's full of flavor and surprisingly not too sweet.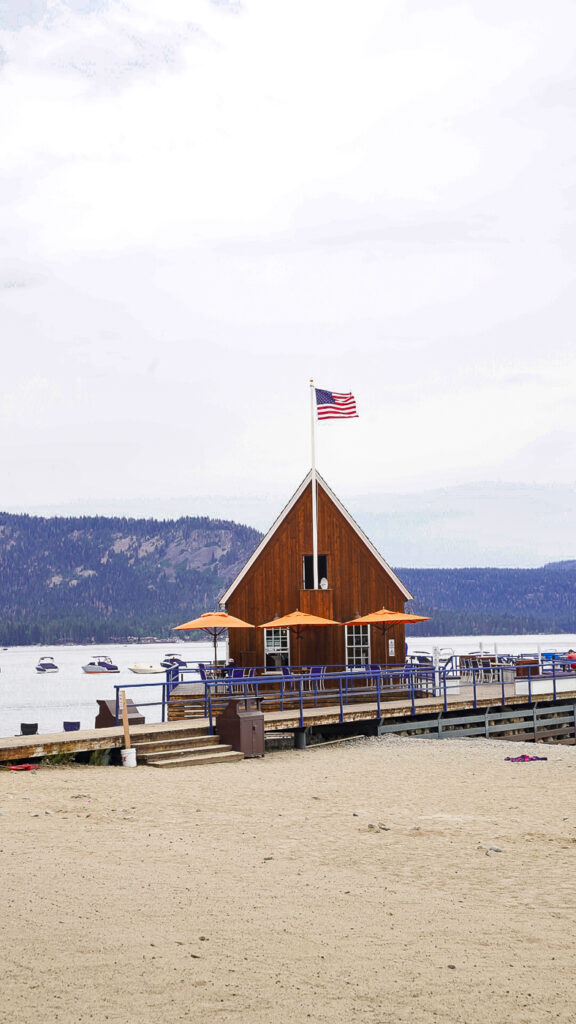 You can also head up to the Main restaurant at Chambers Landing for a Chambers Punch and lunch bites like salads, tacos, and sandwiches and still take in a view of the water.
We really enjoyed the Mexican street corn from the appetizer menu.
Chambers also offers a higher end dinner menu, but we were only able to stop by for lunch.
West Lake Tahoe, 6300 Chambers Lodge, Homewood, CA 96141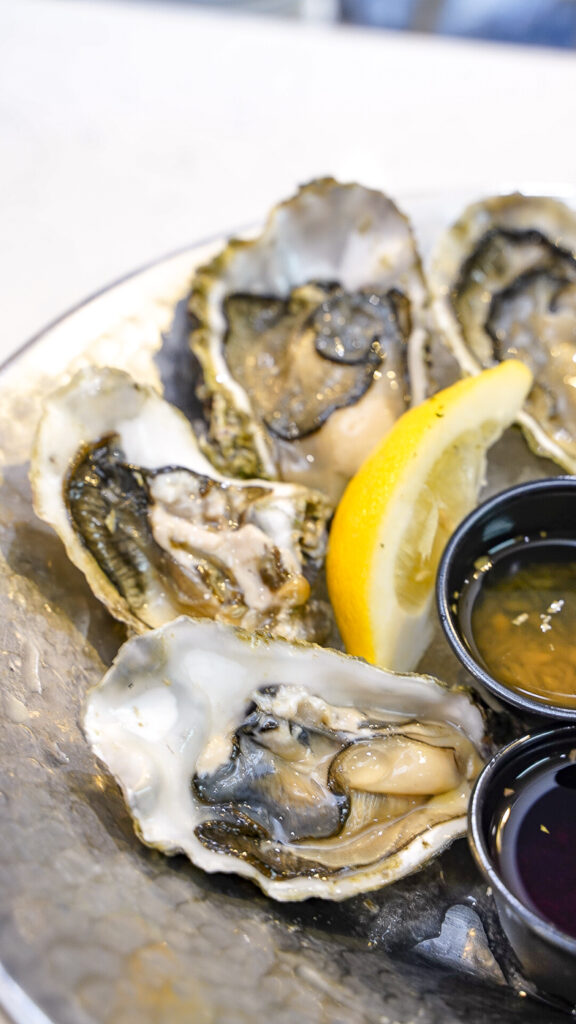 Lake Tahoe Oyster Bar
The Oyster Bar is the spot to be in South Lake Tahoe for all things shellfish.
The name is true, they are an oyster bar with raw and creative oyster shooters, but our favorite dishes included all of the shellfish in the mix.
The star dish was their iteration of Bouillabaisse, a traditional French fish stew, and theirs was LOADED with lobster, crab legs, shrimp, clams, mussels, and cod.
The broth was packed with all of the umami shellfish flavors, wine, tomatoes, garlic, and more.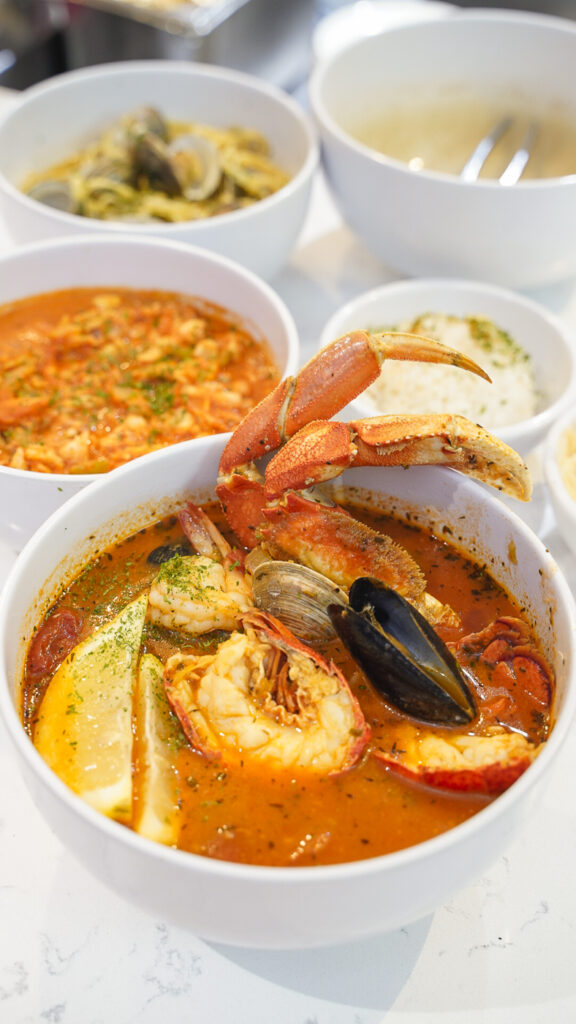 Once we made it through all of the shellfish, we continued eating the broth over rice and pasta.
The other notable dish was their version of white wine clams linguine.
What we also loved about the restaurant is that it's an experience because they cook all of your dishes right in front of you at the bar, and serve them right off of the pans and pots.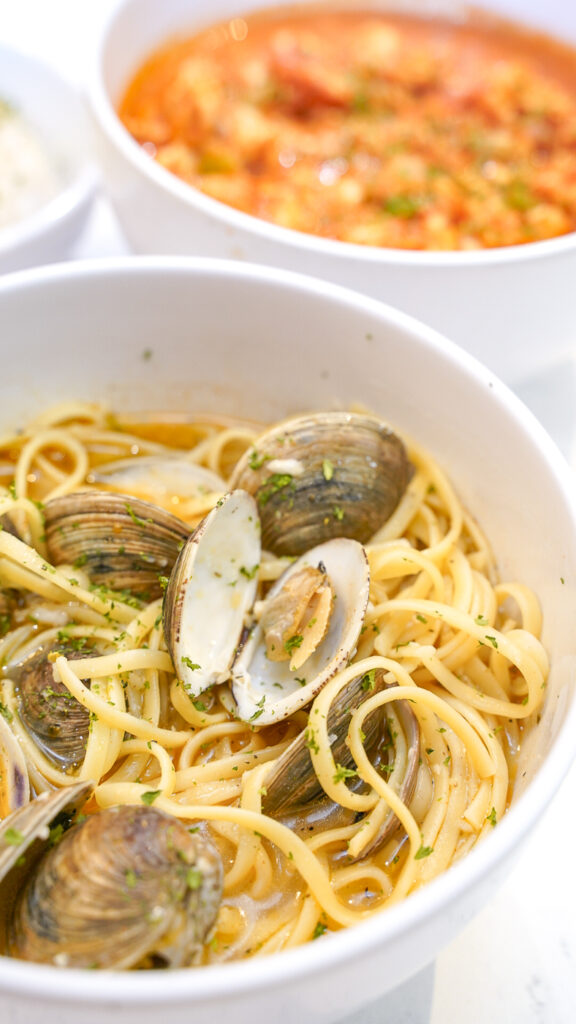 The Oyster Bar is located inside of the Hard Rock Casino. The space is pretty small and they do not take recommendations.
Be sure to arrive early an plan for a slight wait in a line since it's so popular.
South Lake Tahoe, Hard Rock Hotel and Casino 50 US-50, Stateline, NV 89449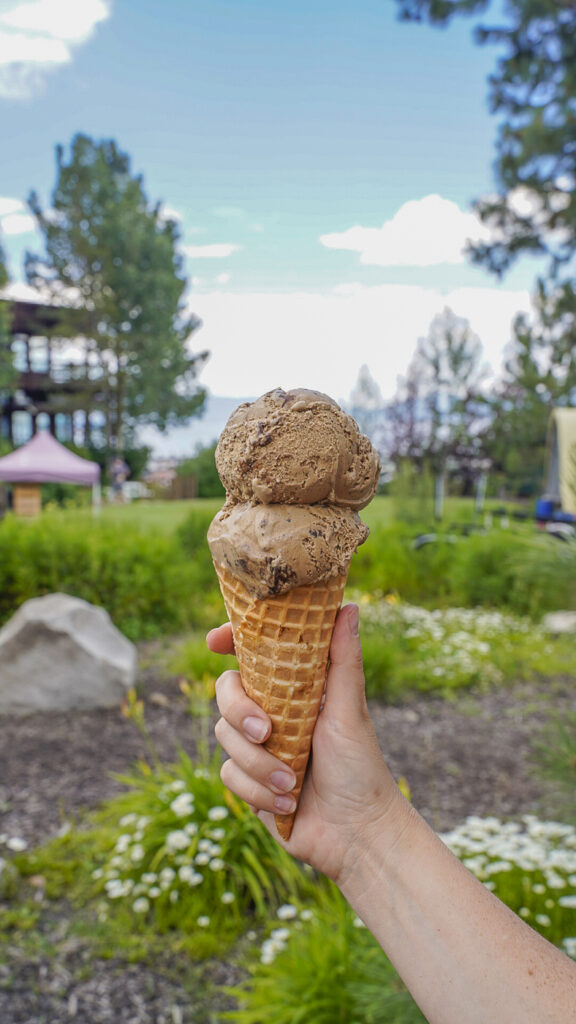 Top Lake Tahoe Pizza & Ice Cream
Whether you're in Tahoe for a few days or a couple weeks, knowing where to find the best pizza and ice cream is always a must.
When in North Lake Tahoe you have it easy because Mountain Slice Cafe and Creamery is pumping out amazing giant pizza pieces by the slice with premium ingredients, and GIANT ice cream scoops.
We stopped in a couple times for ice cream, our favorite scoop was their mud pie flavor.
They don't have much seating, but they're a short walk to the lake so we took our cone and ate it while walking the close lakeside trail.
For pizza slices, one slice was enough to fill up Gavin, and he loves to eat!
Their specialty slice menu has a ton of options from classics to adventures. We ordered the Faba which is topped with pepperoni, Italian sausage, bacon, garlic, and ricotta. It was terrific!
Tahoe City, 690 N Lake Blvd, Tahoe City, CA 96145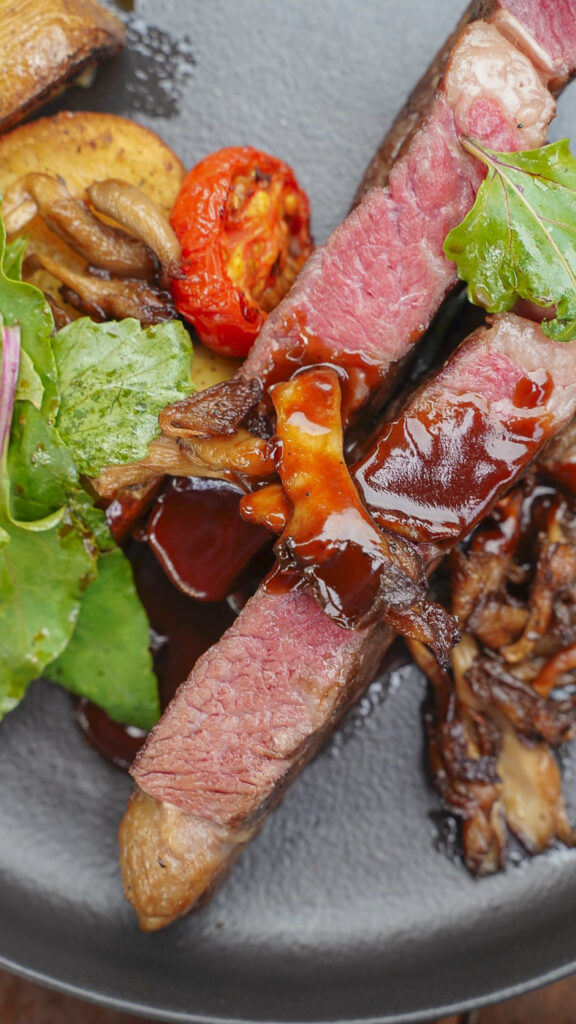 Best Restaurant in Lake Tahoe
Last but definitely not least, our favorite restaurant by far throughout all of Lake Tahoe was easily Six Peaks Grille.
Located within the historic olympic village at the Resort at Spa Creek you'll find this rooftop restaurant overlooking a gorgeous mountainside.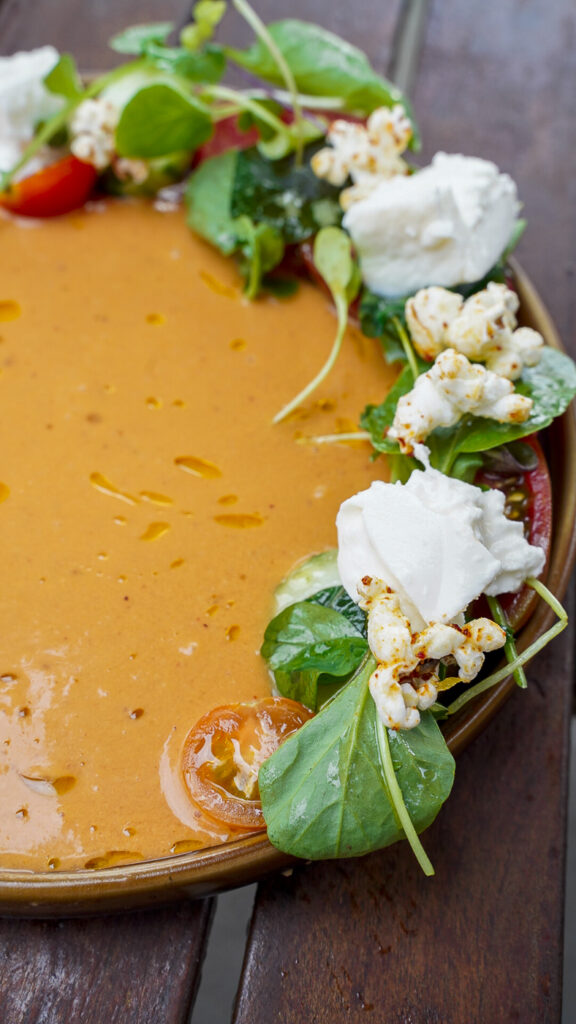 We dined during the sun setting over the mountain tops, and started with the best tomato gazpacho we ever had. This cool tomato soup had chunks of homemade burrata, cucumber, watermelon, and popcorn.
We typically would pass on gazpacho when we see it on a menu, and this cold soup was one of the best soups we've ever had. We practically licked the bowl clean!
Our next dish was a crab packed "salad" where the crab was fully present on the plate and accompanied by avocado, asian pear, kumquat, and a light buttermilk vinaigrette so you can fully appreciate the crab.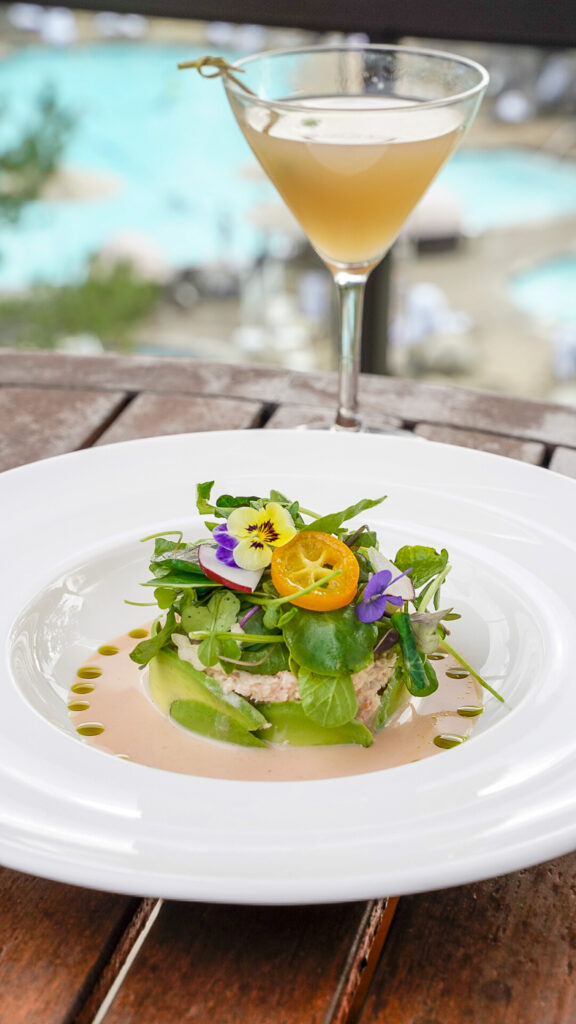 For sides you can never go wrong by ordering the chef's choice mac & cheese. For our night the chef shaved fresh truffle over the plate, and if you know us we love truffles over anything.
Specials of the night were all incredible, the chef works with local produce providers to cook items when they're in the highest quality so always ask for their specials.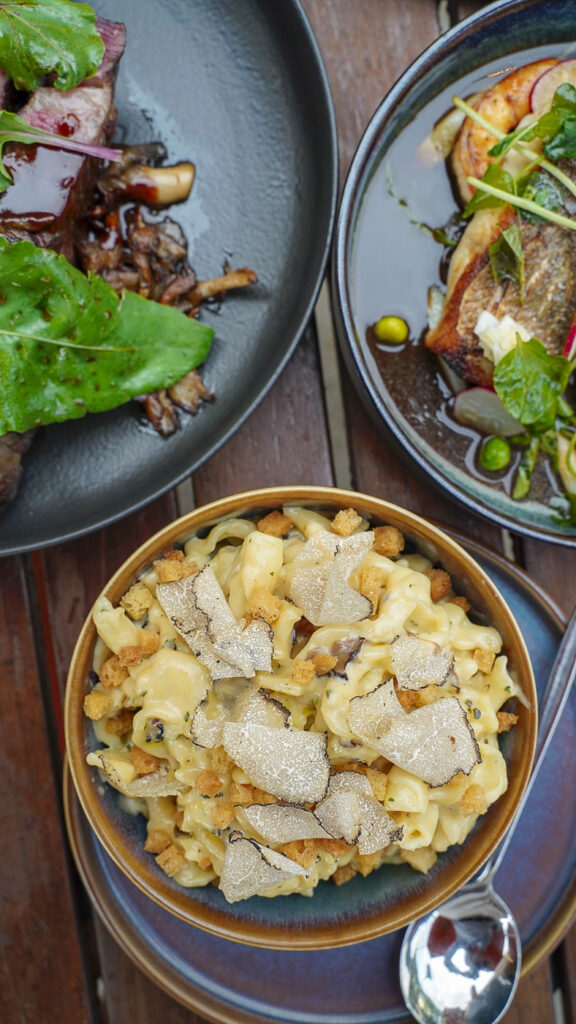 For our dinner the specials were red snapper and a 48 day dry aged ribeye.
The 48 day aged rib eye was a rich and perfectly cooked steak that was paired with a foie gras sauce, crispy potatoes, and roasted oyster mushrooms.
This was everything you could ever want with a steak and more.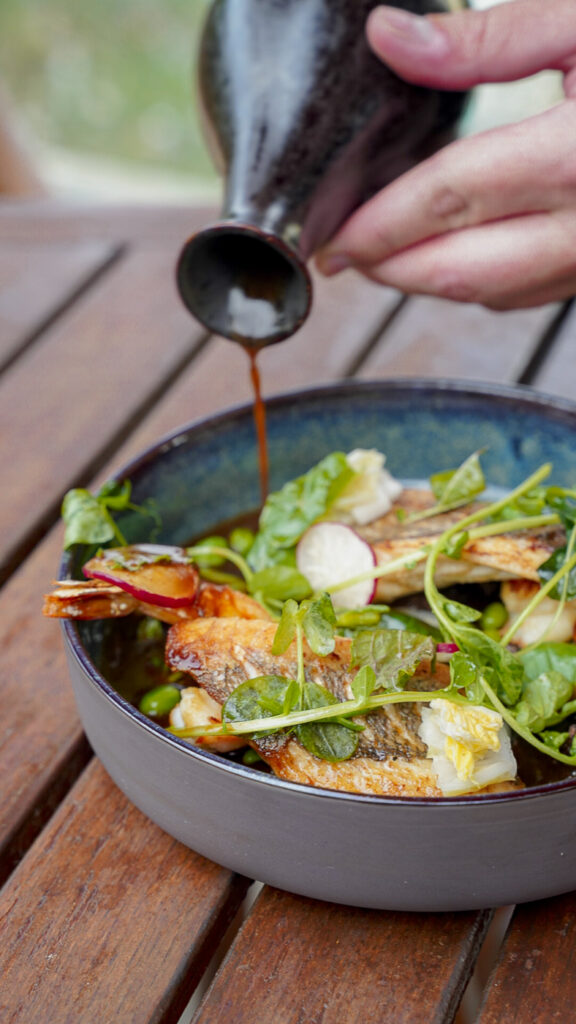 What was shocking to us is that the red sea bream snapper was even better than the steak. It was cooked to perfection with crispy skin.
The snapper was put into a smoked fish broth that made the dish eat like a hearty red meat plate even though it was all seafood.
North Lake Tahoe, 400 Squaw Creek Rd, Olympic Valley, CA 96146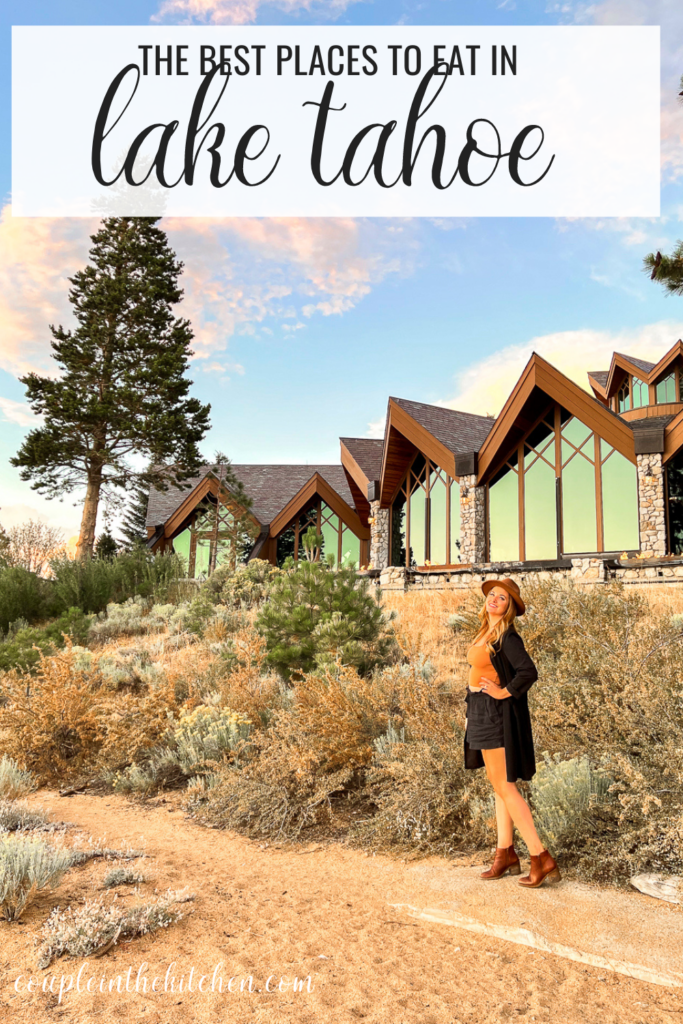 In between all these delicious meals, we stayed active exploring the Best Things to do in Lake Tahoe, be sure to check out those recommendations as well!
We truly did eat our way through Tahoe in order to provide you recommendations on the best Lake Tahoe restaurants.
We're there any hot spots we missed? If so, leave them in the comments!
If you book a trip to Lake Tahoe, let us know by reaching out to @coupleinthekitchen on social media!
Click this link to pin this guide to the Best Restaurants in Lake Tahoe on pinterest.
Also, don't forget to follow us on instagram and facebook for more recipes and recommendations, we love to see when you visit our favorite spots!
Looking for more US travel recommendations? Read all of our USA travel guides.
If you'd like to automatically receive our posts in your email, register here.