Willamette Valley (pronounced will-AM-it, like will-AM-it, dammit) is famous for pinot noir wine.
In fact, Willamette Valley was named a top wine growing region of the world in 2016.
There are plenty of fantastic wines and sweeping vineyards to enjoy while you are in Oregon wine country (over 500 wineries, actually).
In between all your vino stops, you really need to get out and explore many of the amazing experiences, towns, and sights throughout Willamette Valley.
You can also check out our video journey and recommendations by viewing this Instagram Story highlight covering our whole trip to Oregon.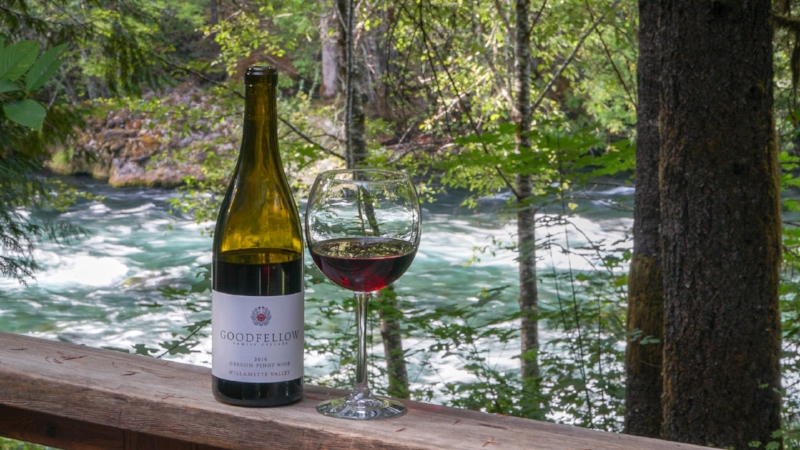 Try your luck fly fishing on the McKenzie
Seriously this was our favorite activity while in Oregon.
The McKenzie River is beyond stunning and the best way to experience it is by hopping in a drift boat with a fishing line in the water.
Even if you aren't into fishing, the float down the river was memorable all on its own.
The boat captain will maneuver your small boat through both rapids and serene waters on this three-hour journey.
We loved the scenery and fresh Oregon air. We were happy with our trip even without catching fish initially.
Then during the end of the trip, we were getting all the trout to bite. It was exciting and thrilling to reel those fresh trout into the boat.
By booking your journey with Helfrich Outfitters everything is included: fishing guide, boat, poles, and even your fishing license.
https://www.helfrichoutfitter.com/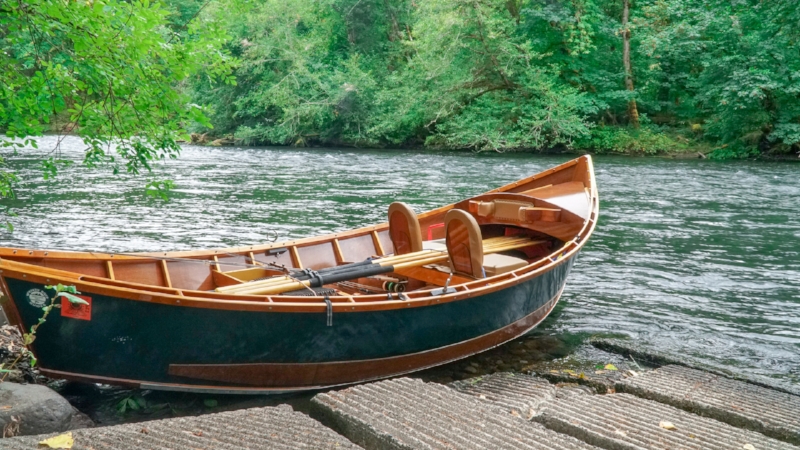 Take a ride at the Albany Carousel Museum
Even if you're not a "carousel person" you'll enjoy this spot, no matter your age.
This museum is 15 years in the making and is completely volunteer run. Catch a tour to watch each animal getting hand carved by volunteers, which takes up to seven years.
After that, the animal heads upstairs to be painted, which takes another year and a half.
With 30 animals left to carve, this carousel will be showcasing the volunteer talents for years to come.
The carousel museum is free to enter and, $2 a ride.
http://albanycarousel.com/ 503 First Ave West, Albany, Oregon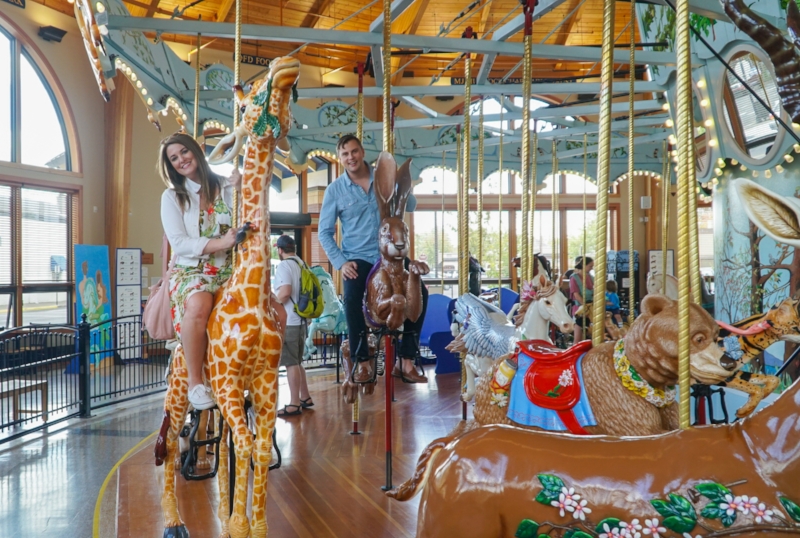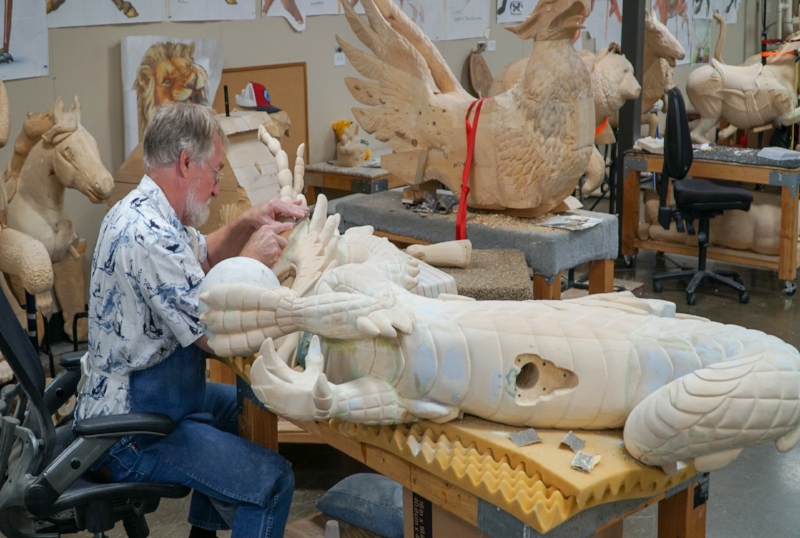 Make a friend at the Cascades Raptor Center
This is a great activity for families.
Get up close and personal with bald eagles, hawks, owls, and 60 other unique birds.
The Cascades Raptor Center has one of the largest collections of native raptor species in the Pacific Northwest and rehabilitates injured birds.
http://www.cascadesraptorcenter.org/ 32275 Fox Hollow Rd., Eugene, OR 97405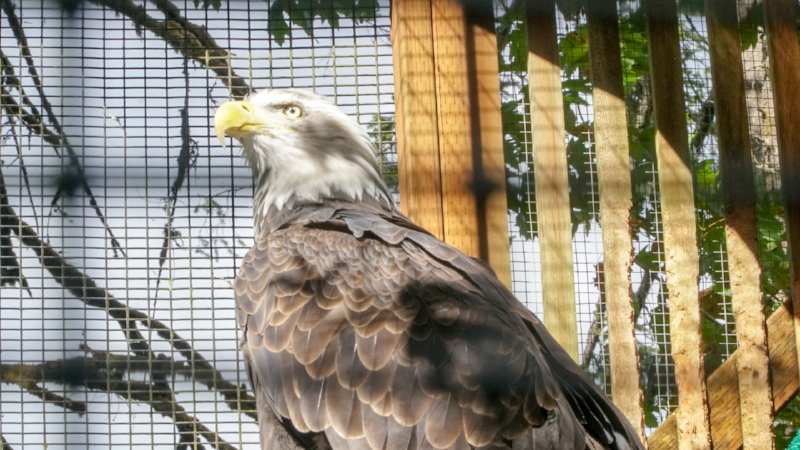 Dine in a historic train car
Head to the Oregon Electric Station to view a historic train depot converted into a bar and restaurant.
You can even dine in the old train cars!
They offer a huge wine list and a fantastic dungeness crab mac and cheese.
http://oesrestaurant.com/ 27 East 5th Avenue, Eugene, OR 97401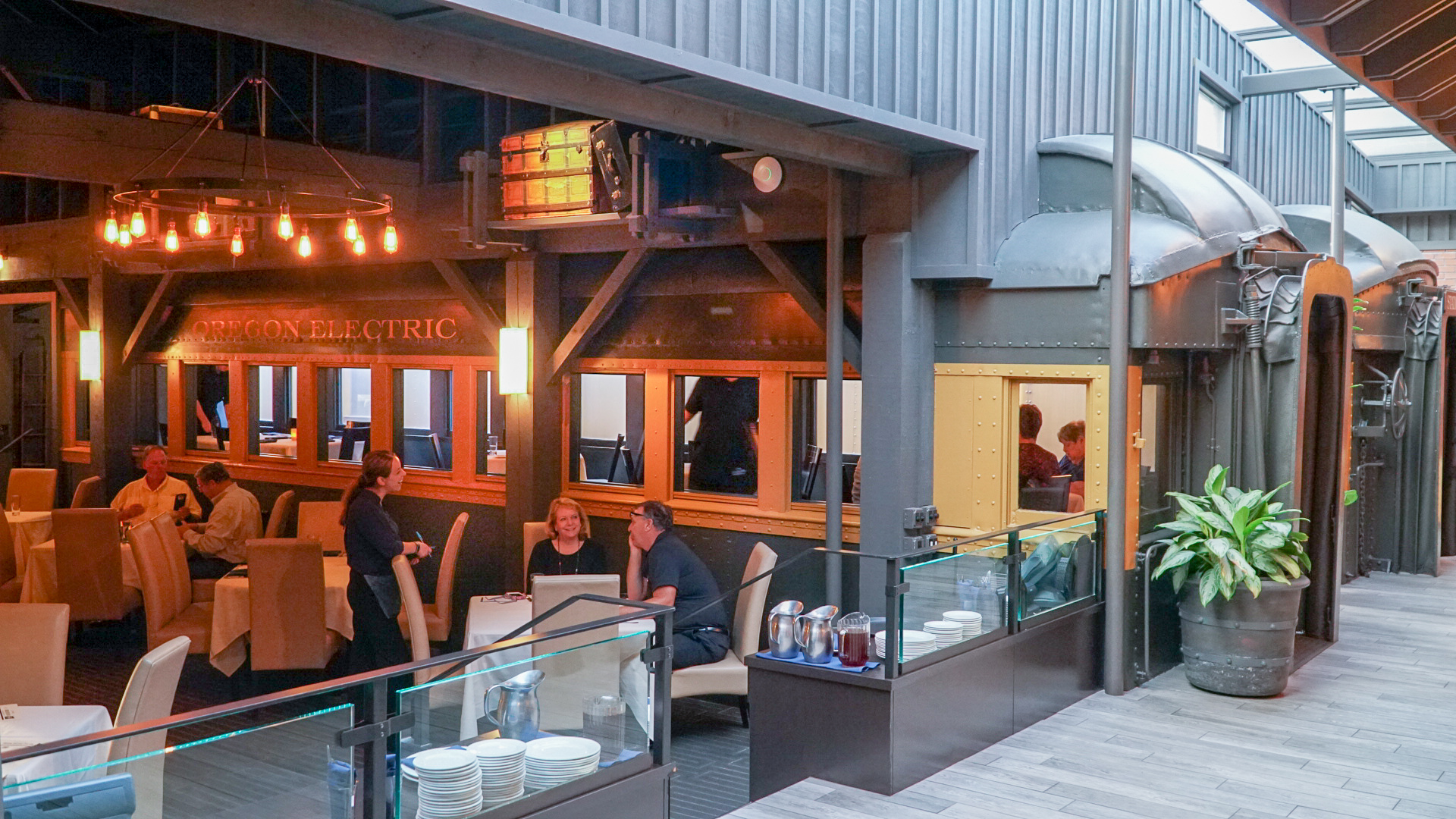 Explore the Eugene Ale Trail
Take a break from drinking wine to drink… beer?
Oregon has a plethora of breweries and distilleries and Eugene even put together an ale trail for visitors.
This guide acts as a passport. Visit breweries (and distilleries), get a stamp, and win prizes.
Pick up the official passport at a participating brewery or bottleshop, the Adventure Center in Springfield or the Downtown Eugene Visitor Center.
https://www.eugenecascadescoast.org/eugene-ale-trail/
Tour Eugene Street Art
In preparation for the 2021 IAAF track championships, the city of Eugene is bringing in artists from all over the world to paint 20 murals before 2021.
Many of the Eugene murals are already completed.
Take a stroll around town, snap some pics, and explore!
Get recent updates and locations of the art at 20x21eug.com.
Check out Clear Lake
Clear Lake boasts clear-as-day water as a result of a volcanic activity over 3,000 years ago, which initially created the lake.
Clear Lake's year-round cold water preserved all of the trees killed by the volcano, and you can see them 100 feet below.
Rent a kayak or canoe to explore this geological gem. Or just sip your pinot noir from the dock like we did.
https://linnparks.com/parks/clear-lake-resort/ NF-775, Sisters, OR 97759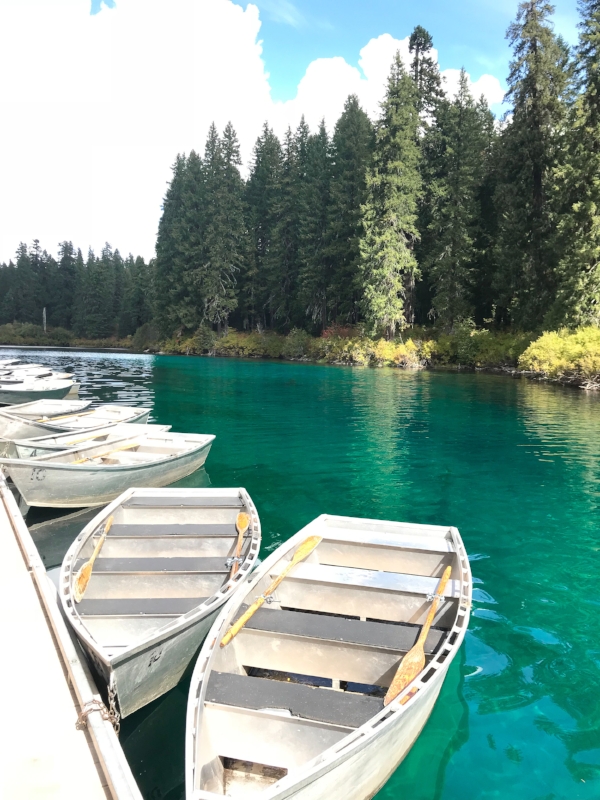 Go chasing waterfalls
Willamette Valley has a TON of hiking trails.
We trekked on the trail at the Sahalie and Koosah Falls, which is one of the best bang-for-your-buck hikes in all of the Pacific Northwest.
Steps from the parking lot, you run into your first waterfall. There are many more on the hike, which is a relatively flat and easy 2.6 mile jaunt.
This hike is minutes away from Clear Lake.
https://www.eugenecascadescoast.org/7-waterfalls/sahalie-and-koosah/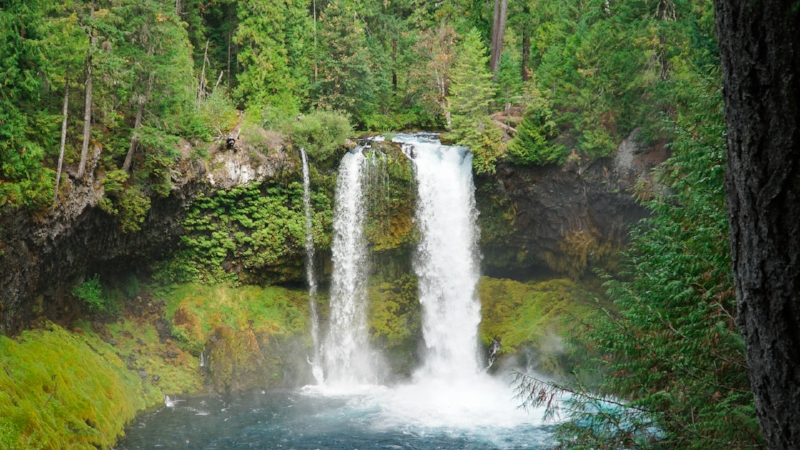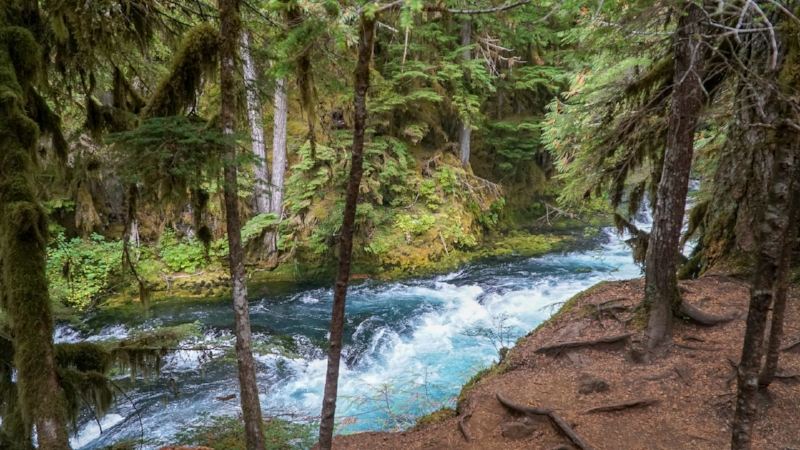 Eat, Eat, Eat!
Oregon has a strong focus on farm-to-table cooking, access to great seafood, and is a top producer of hazelnuts.
Keep your eye out for their famous marionberries as well!
Some of our favorite restaurants include:
Marché (Eugene, OR) – This french bistro cooks up some really delicious food.
We went to breakfast and Gavin noshed on boudin and eggs.
Karen opted for the fish plate which was packed with scrumptious smoked salmon, pickled mussels, smoked oysters, and a fish confit with bread.
https://marcherestaurant.com/ 296 E 5th Ave, Eugene, OR 97401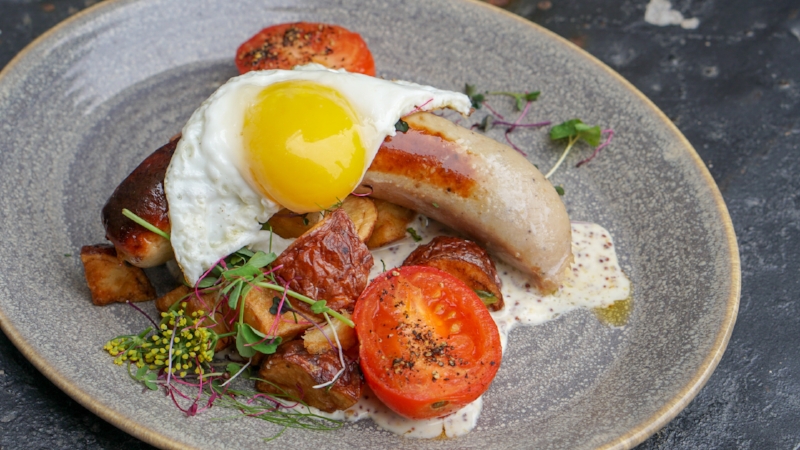 Provisions Market Hall (Eugene, OR) – Next door to Marché lies this cute foodie shopping boutique.
Complete with a florist, market, bakery and a food hall upstairs.
https://provisionsmarkethall.com/  296 E 5th Ave, Eugene, OR 97401
Sybaris Bistro (Albany, OR) – Across from the Albany Carousel Museum, this restaurant puts a gourmet lens on farm to table food.
Their cozy ambiance is highlighted with a huge wood fireplace.
Their menu changes seasonally.
https://sybarisbistro.com/ 442 W 1st Ave, Albany, OR 97321
Obsidian Grill & Beer Garden (McKenzie River, OR) – Right down the road from our adorable Belkin Cabin was this terrific beer garden located behind the McKenzie General Store.
Come here for a casual vibe, pretty views, yard games, and firepits.
Get the loaded fries with bacon and beer cheese.
https://www.mckenziegeneral.com/  91837 Taylor Rd McKenzie River, OR 97413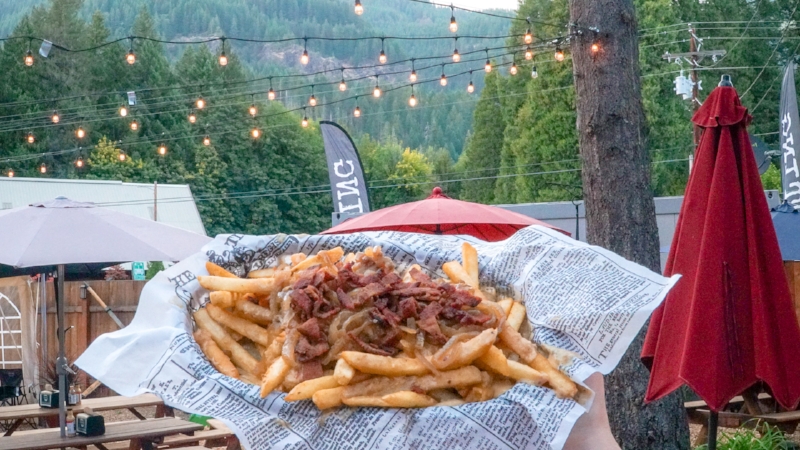 We were captivated by the beauty of Willamette Valley.
We hope this guide inspired you to add some additional adventures to your trip to Oregon wine country (feel free to bring a bottle or two of vino with!)
Click this link to pin this post for future reference. If you visit one of these spots based on our recommendations, let us know by tagging @coupleinthekitchen on social media!