Greetings from Secret Cove Lake Tahoe, one of the most stunning beaches in America.
Secret Cove features crystal water, a stunning landscape, and can only be accessed by a hike.
This guide will tell you everything you need to know about reaching this hidden gem.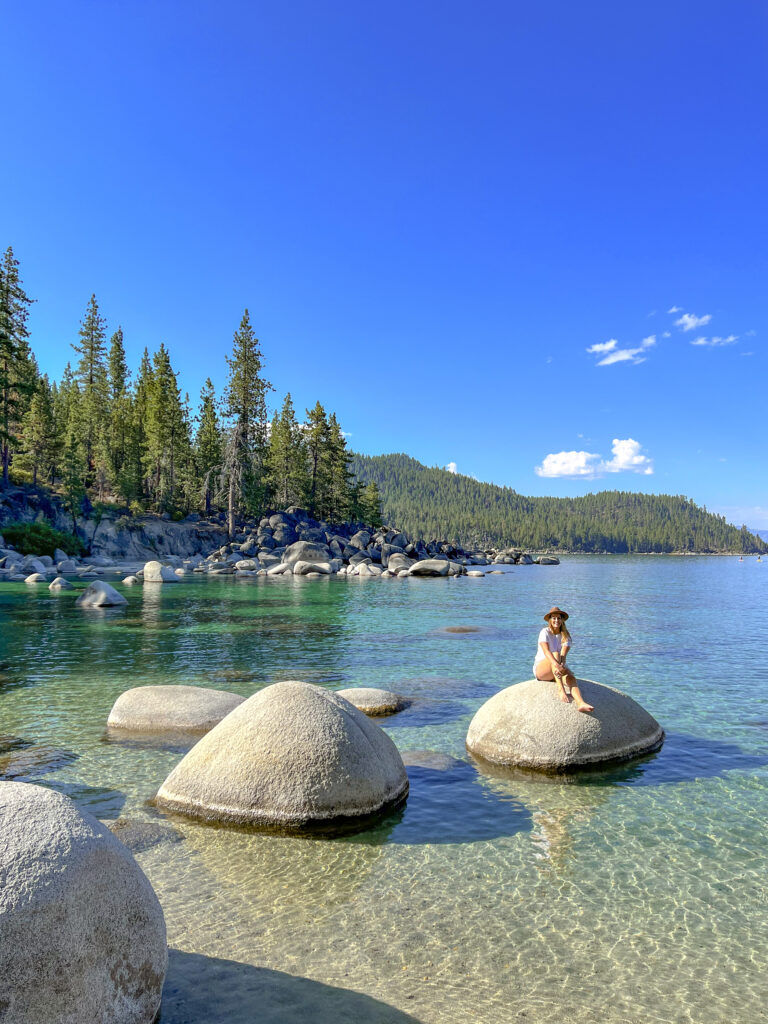 What is Secret Cove?
Secret Cove is Lake Tahoe's most treasured beach!
The water is even more majestic than Emerald Bay, boasting turquoise and blue shoreline and crystal clear water.
Secret Cove is a sand beach adorned with picturesque boulders and rocks.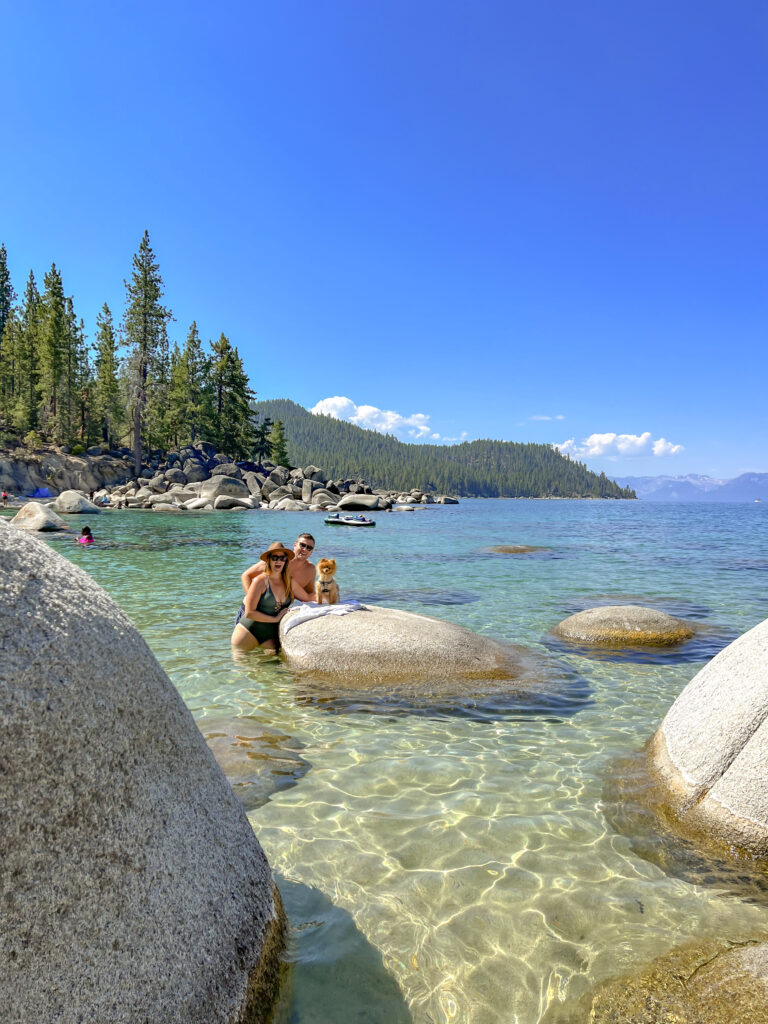 You can choose to bring a towel and lawn chairs to lounge on the beach, or pull up a boulder like we did.
We spent hours laying on a flat boulder, drinking wine and sunbathing.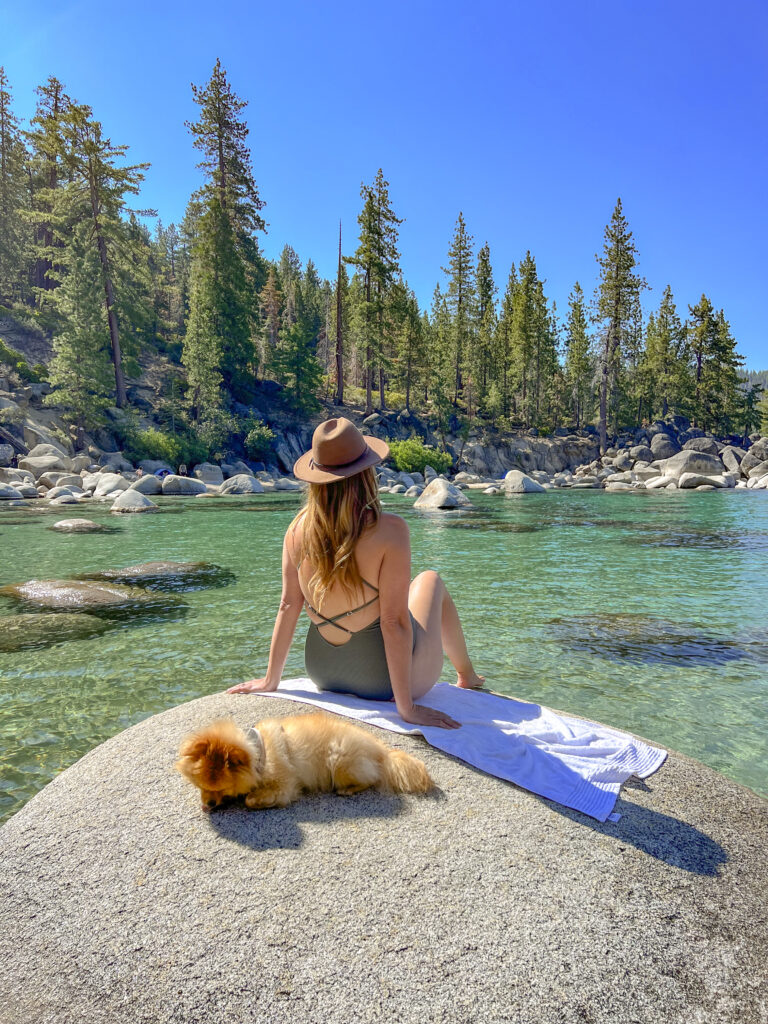 Is Secret Cove Tahoe Dog Friendly?
Absolutely! We took our pup Louie on the hike to Secret Cove and he loved it.
Louie hung out with us on a boulder for hours, splashing at the waves that crashed on the rock.
There were a number of other dogs at Secret Cove, even some pups that hopped on their owners paddleboards!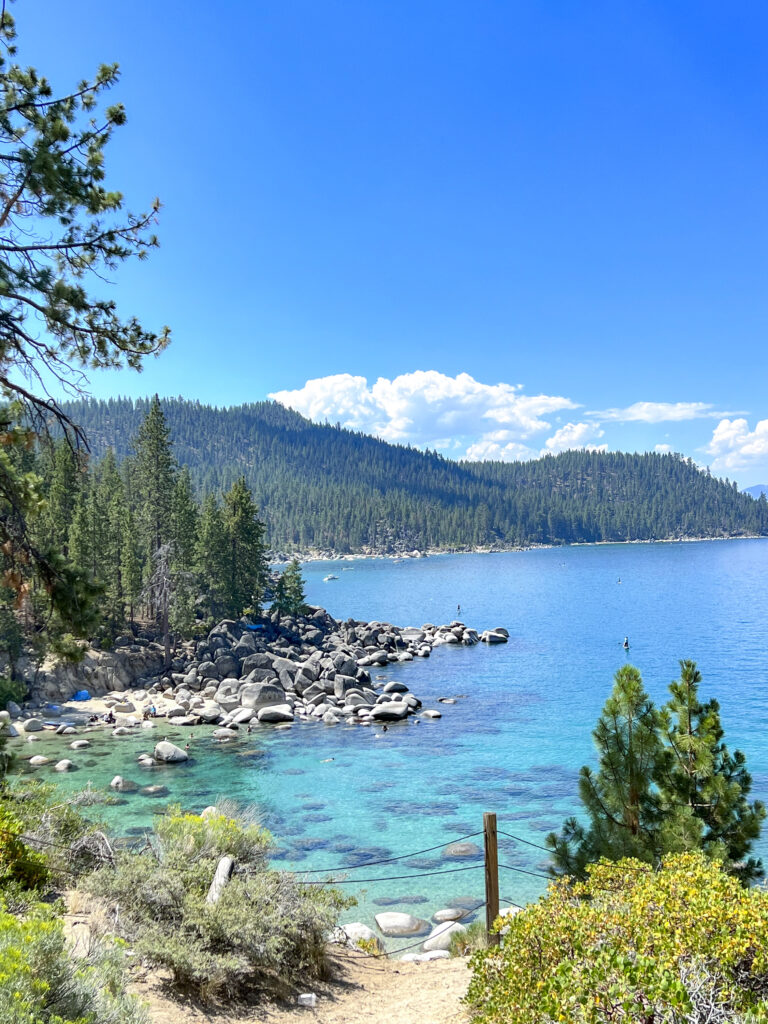 How to Get to Secret Cove
To get to Secret Cove, you'll want to drive to the Eastern side of Lake Tahoe, which is in Nevada.
Plan on parking in the Chimney Beach parking lot.
It's a good idea to get there early. We arrived around 8am in order to get photos in good lighting and without a lot of beachcombers around.
At 8am there were only three other people on the beach.
By the time we left at noon, the parking lot was so packed people were fighting over parking spots.
The parking lot is somewhat small and it is used for multiple beaches and hiking trails.
Once you are parked, follow the gravel road leading out of the parking lot.
You'll walk about a half of a mile before you reach a set of bathrooms and a wooden sign board.
This is your signal to turn right.
Follow the more narrow path all the way down to reach the Lake Tahoe Secret Cove.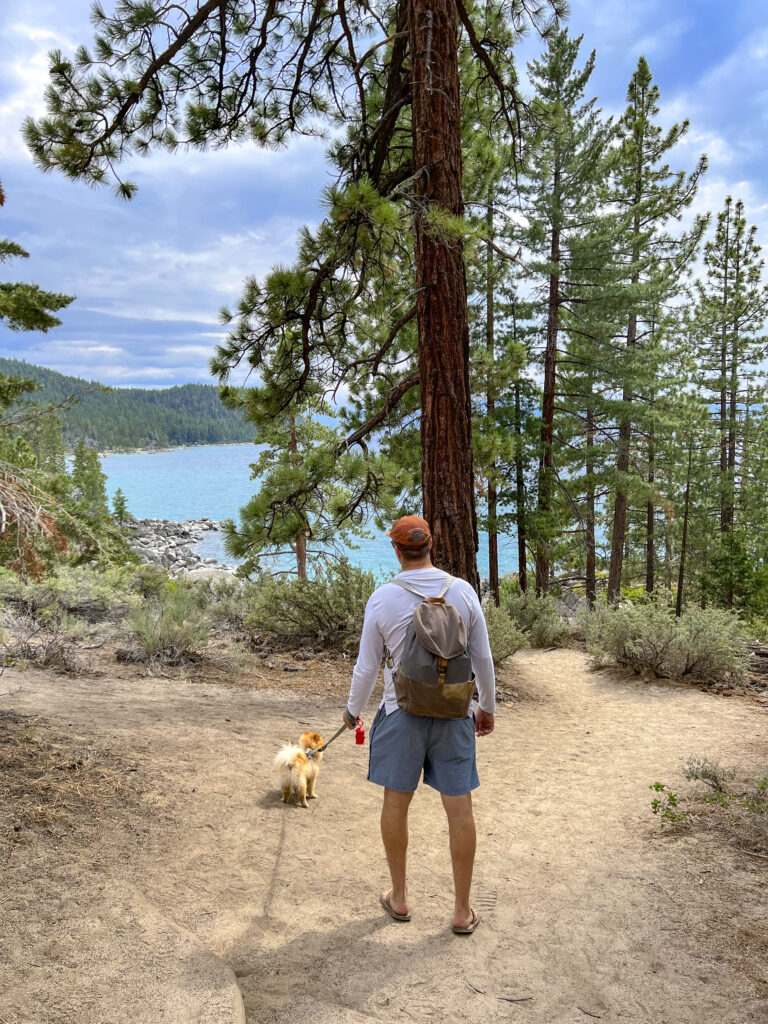 Hiking to Secret Cove Tahoe
The Secret Cove hike was actually easier than expected.
The first half of the hike was a flat gravel fire road.
Once you turn right after the bathrooms, the trail will narrow and start to slope.
The final stretch of the hike is more steep, but you'll be rewarded with views of the breathtaking cove.
We actually did the hike in our affordable yet stylish water shoes and were totally fine.
Overall the hike to Secret Cove is about one mile each way and relatively easy.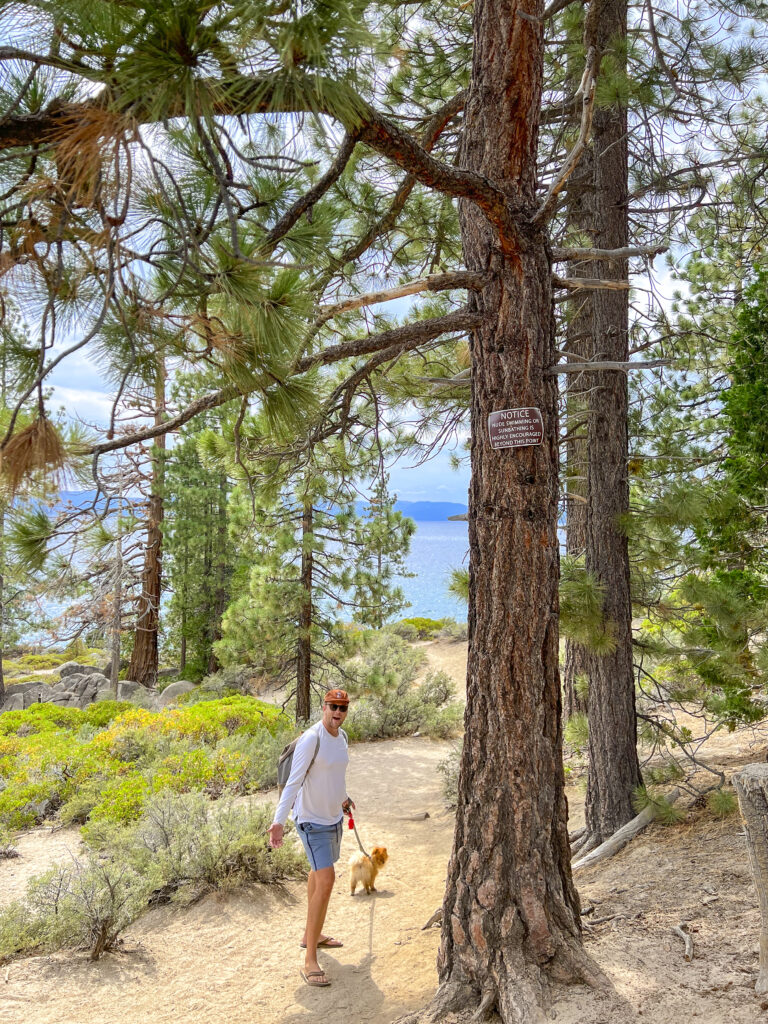 Secret Cove Nude Beach
Yes, you read that right, Secret Cove is a clothing optional beach, so please be prepared.
Even though Secret Cove is a nude beach, it doesn't mean that everyone is in the buff.
Our first time to this secluded oasis there were about five people out of 70 beachgoers that were nude.
During our return to Secret Cove a few days later everyone was clothed.
There are signs on your hike that warn patrons that this is a clothing optional beach and even one sign that encouraged nudity.
There are also posted rules about not gawking or taking photos of those who choose to partake in the clothing-free option.
Feel free to get as bare as you dare, just be respectful.
Now you know everything that you need to reach the gorgeous Secret Cove!
Be sure to check out our future posts on the best things to do in Lake Tahoe and where to eat in Lake Tahoe.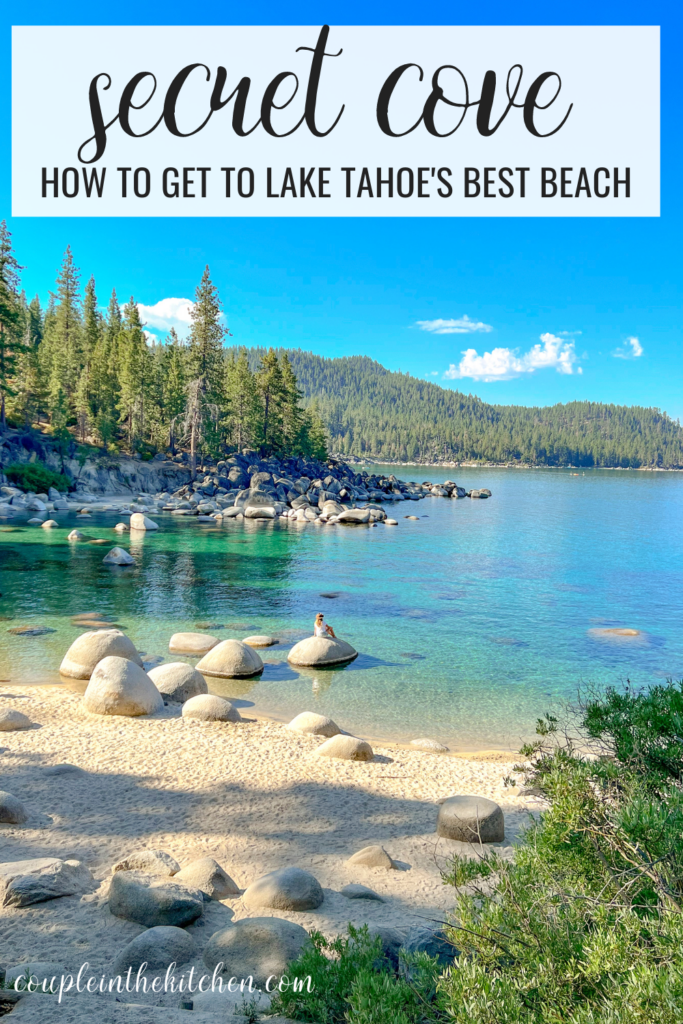 Click this link to pin this guide on Secret Cove Lake Tahoe on pinterest.
Also, don't forget to follow us on instagram and facebook for more recipes and recommendations, we love to see when you visit our favorite spots!
Looking for more US travel recommendations? Read all of our USA travel guides.
If you'd like to automatically receive our posts in your email, register here.