Droves of visitors travel to Cinque Terre every year to hike the trails that connect the five towns that make up the Cinque Terre.
You'll take in the breathtaking blue water as you embark on a journey to visit these colorful and quaint coastal towns.
Check out our guide on Cinque Terre to learn more about each of the cities and the food scene.
Our biggest piece of advice for traveling to Cinque Terre is do not put all your eggs in one basket. Have a backup plan!
We planned the perfect two-and-a-half-day itinerary for Cinque Terre.
We planned on starting with a day dedicated to completing the famous hike through the hills connecting the villages.
Then, we planned a boat cruise on day two in order to see each of the cities by sea, complete with a homemade Italian lunch.
What we didn't plan on was thunderstorms and downpouring rain during our visit.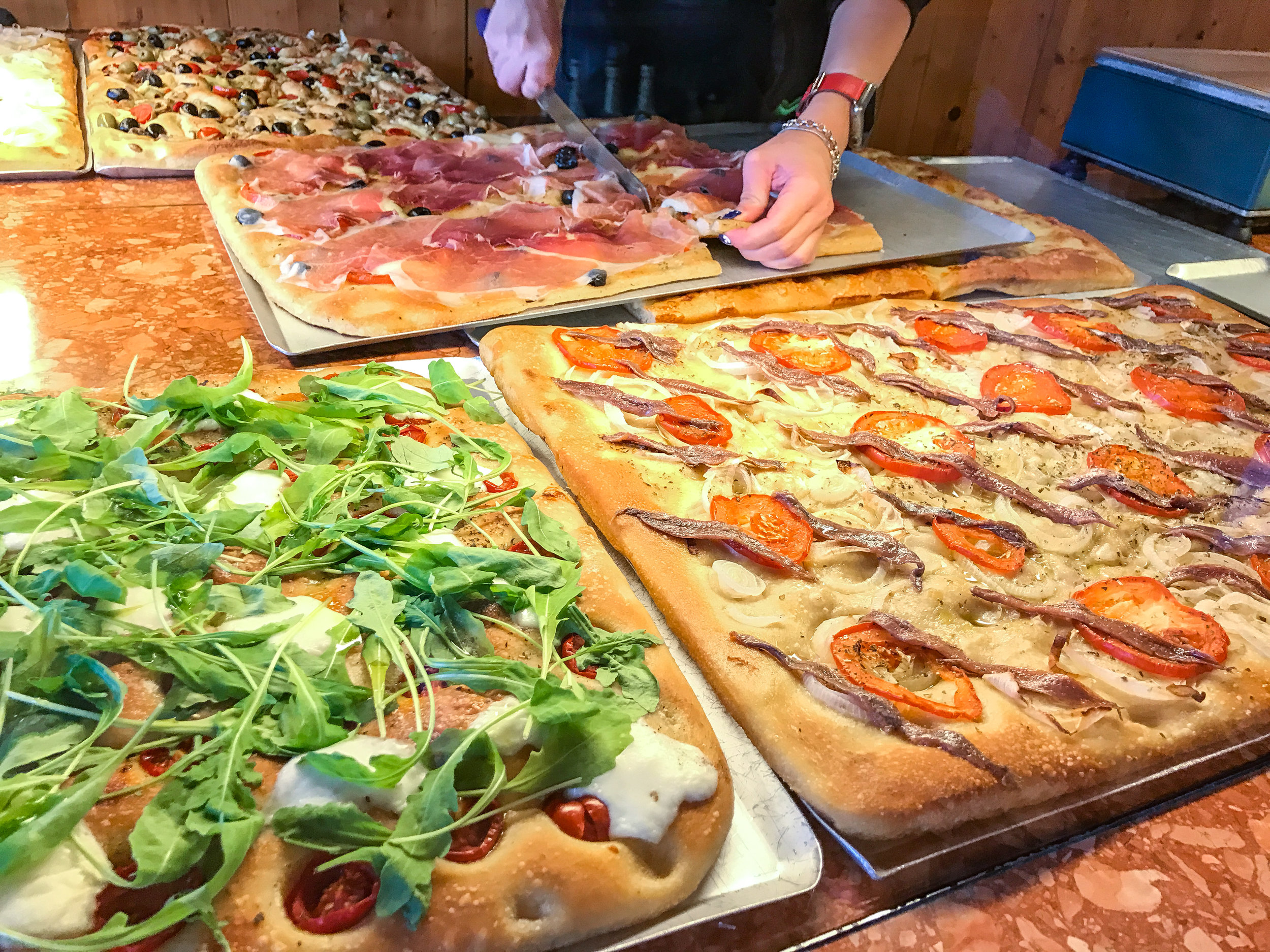 At dawn of our first morning, we woke up early to start our hike.
Most guides recommend starting the Cinque Terre hike early before the trails get too crowded and the temperature increases.
While walking to the trail, we were forced to wait out the rain by sipping on cappuccinos and noshing on carbs (aka our morning focaccia).
We soon learned that in a rainstorm, the hiking trails turn muddy, slick, and can be prone to landslides, so the trails close.
We found ourselves wasting time by googling "what to do in Cinque Terre in the rain" (We didn't find very usual information on this topic, most said to take a train to Pisa).
We were determined to stay in the charming Cinque Terre and we compiled a list of rainy day options in this travel guide to help better prepare all of you!
Oh, and if you were curious about that boat tour, you'll be disappointed to learn that it was canceled as well since the storms led to poor sea conditions in the days following.
In fact, all Cinque Terre ocean tours and rentals were closed in the area.
When traveling to Cinque Terre, keep an eye on the weather forecast, save this posts as a guide, and schedule a backup tour as needed.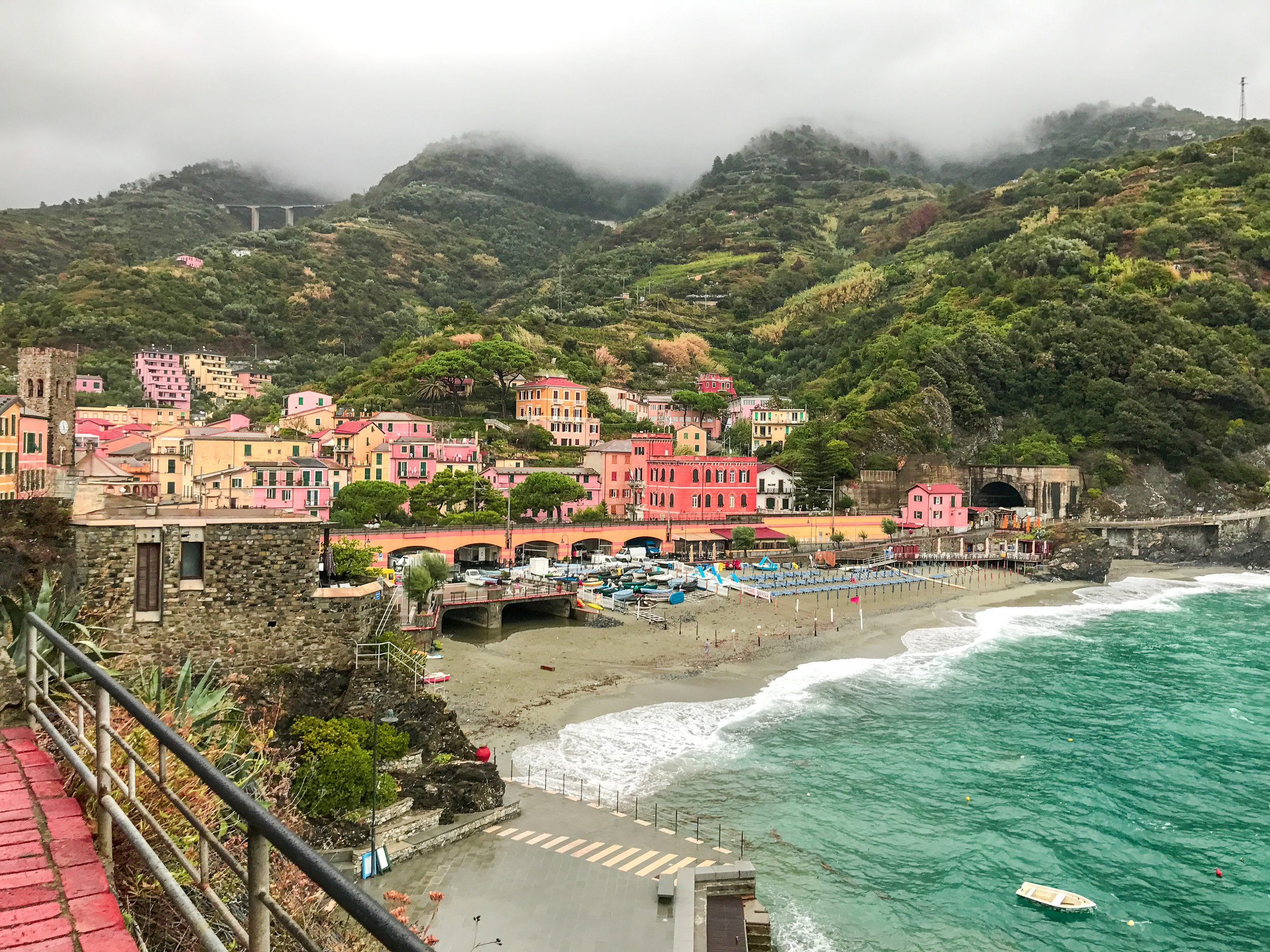 What to do in Cinque Terre when it's Raining
Hop on the Train to tour Cinque Terre – Remember when we wanted to hike the Cinque Terre but the trails were closed due to the rain?? Well, that was a major blessing in disguise.
A day pass to take the Cinque Terre train, which includes unlimited rides through Cinque Terre, was only 16 euros.
With trains coming every 15 minutes, this made it super easy to quickly zoom from one town to the other.
Once you arrive to one of the cities in Cinque Terre, you will still need to climb steep hills, stairs, and pathways.
Moral of the story: even though we didn't "hike the Cinque Terre" it was still a HIKE!
Our fitness watches clocked in over 18,000 steps and 80 stories climbed. Our adventure was still a workout and a terrific experience.
Plus, if you take the train from town to town it helps to save you time that can be used to explore the villages.
http://www.cinqueterre.eu.com/en/cinque-terre-timetable
Eat! – One of our favorite hobbies!
You can't go wrong eating some specialties like focaccia, fried seafood, and pesto pasta while you wait for the weather the clear up.
Keep in mind that some restaurants and shops may close during the rain (especially in the smaller towns like Cornigilia).
Head to larger towns like Monterosso or Riomaggerie.
Be sure to wear smart shoes that are not slippery and grab a STURDY umbrella as winds on the cliffs get pretty wicked during a storm.
Gavin made the mistake of buying a chintzy one from a street vendor which had everyone laughing and it was blowing to shreds.
Do Some Local Cinque Terre Shopping – Even in a rainstorm, the streets of Monterosso near the main square were filled with tables selling local goods and dried fish.
Hunker under an umbrella, meet some locals, and find some souvenirs to take home to friends and family.
Partake in a Pesto Tasting – Cinque Terre is famous for their pesto.
While wandering the streets of Monterosso, we popped into a pesto shop to taste the different varieties.
In addition to traditional pesto, you'll also find walnut cream pesto and other variations.
The Artisanal Pesto Lab also offers a pesto making class which is a fantastic option for an indoor adventure.
There are a number of pesto shops in Cinque Terre, so taste away!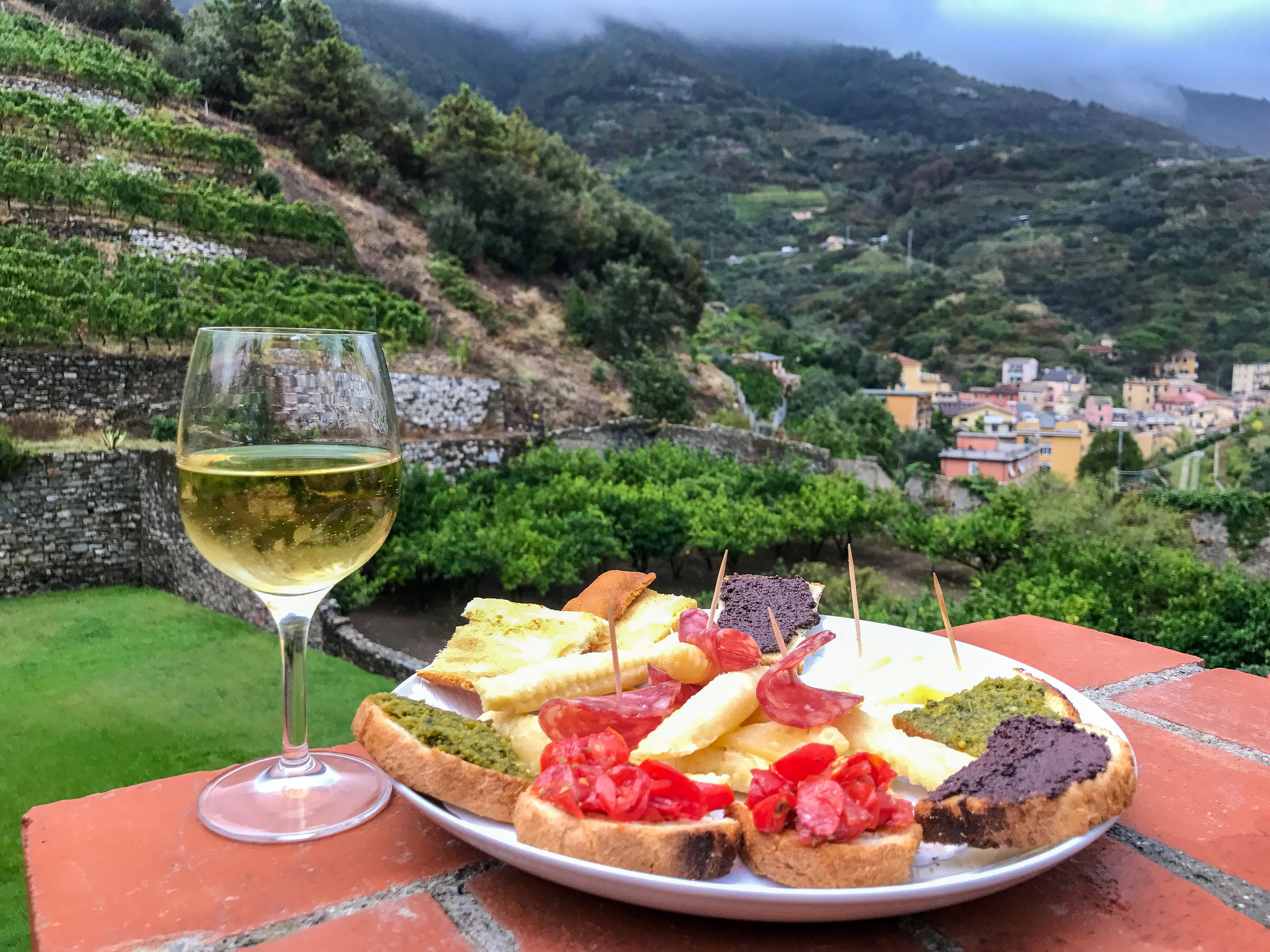 Visit an Italian Winery – During the rainstorm, we searched to find local vineyards in the Cinque Terre and stumbled upon Buranco. This was the BEST detour we could have ever asked for.
The vineyard is in Monterosso and is only open for a few hours per day (4-6pm during our trip) so make sure to call and make a reservation.
For 25 Euros, buy the most extensive tasting. It comes with five GLASSES (not samples) of their wines, an appetizer plate and a dessert plate that is served with their sciacchetra dessert wine and limoncello.
Relax in their lounge chairs and take in the breathtaking scenery.
This Monterosso winery was one of our favorite parts of our trip to Cinque Terre.
If you are using Google Maps to locate the address, keep in mind that you need to keep walking all the up the narrow cobblestone hill to reach the vineyard. GPS will only take you to the base of the road.
Via Buranco, 72, 19016 Monterosso al Mare SP, Italy http://www.burancocinqueterre.it/
Whip up a Delicious Meal at an Italian Cooking School – Here is another cool option to schedule if your day is looking rainy.
The Cinque Terre Cooking School is a three-hour cooking course where you learn to prepare a four-course Italian meal.
Plus the best part is indulging in your meal on their terrace!
Unfortunately, the class was booked up so we were not able to join, but it seems like a great indoor experience if you are food lovers like we are.
Cinque Terre Cooking School, Monterosso, Cinque Terre Italy, 19016 https://www.cinqueterrecookingschool.com/
All in all, what seemed like a disappointing start to our trip due to poor weather, led us to some incredible experiences that we would not have encountered if we were able to maintain our original itinerary.
Planning a trip? Read about where to stay in Cinque Terre.
We hope that you are blessed with incredible Cinque Terre weather, but if you're faced with rain and storms, we hope our recommendation are helpful in brightening your trip.
Click this link to pin this post for future reference. If you visit one of these spots based on our recommendations, let us know by tagging @coupleinthekitchen on social media!