We're nearing Autumn and we're bringing you our guide to the best haunted houses in Austin to celebrate!
Gavin normally doesn't like haunted houses, but since we love writing about fun date nights, we couldn't think of a better fall roundup to share.
Grab your friends, family, and significant other and try not to scream too loud as you experience these haunting activities!
Scariest Haunted Houses in Austin
House of Torment Haunted House
There are a number of attractions like The Abominations, a haunting experience based on flesh eating zombies.
Tormented in another House of Torment attraction, is based off of your favorite scares from the past 20 years.
The last attraction is Return to Illusion Maon featuring soul snatching supernatural ghouls.
In addition to all three of these House of Torment haunted house experiences, they offer a number of other activities to add excitement to your visit.
For $5, you can entertain yourself with their mini escape games. This 5 minute challenge will have your group solving clues and riddles to solve the objective.
Class Axe Throwing is another entertaining activity you can experience while at House of Torment.
Y'all know we love a good cocktail. Head to Torment Tavern is a bar and cocktail bar
General admission ticket prices vary by date, from $19.99 to $32.99.
Be sure to view the House of Toment ticket calendar to determine prices for your desired weekend.
Generally, Friday and Saturday nights will be more expensive than going on a Sunday night.
You can purchase fast pass tickets for ~$10 more per ticket and the line is only ⅓ of the general admission line.
For ~$20 more, you can buy a skip the line ticket which ensures you have no wait when entering all of the haunted attractions.
For all tickets you can add on the mini escape games, the Neon Coffin Secret Bar, and Zombie Apocalypse Live.
House of Torment's Zombie Apocalypse Live is a new attraction where you are outfitted with a Gellybell Gun, an electric pistol that is more gentle than a paintball gun, that is used to hunt zombies for 5 minutes.
Talk about one heck of an interactive haunted house!
A Platinum VIP ticket at House of Torment includes all attractions.
House of Torment, 2632 Ridgepoint Dr. Austin, TX 78754
Scream Hollow Mansion of Terror Haunted House
Just East of the Austin area in Smithville, Texas you'll find the Scream Hollow Wicked Halloween Park.
Wicked Halloween Park features five haunted attractions across 25 buildings and 20 acres of the woods.
Talk about a MASSIVE way to get into Halloween season!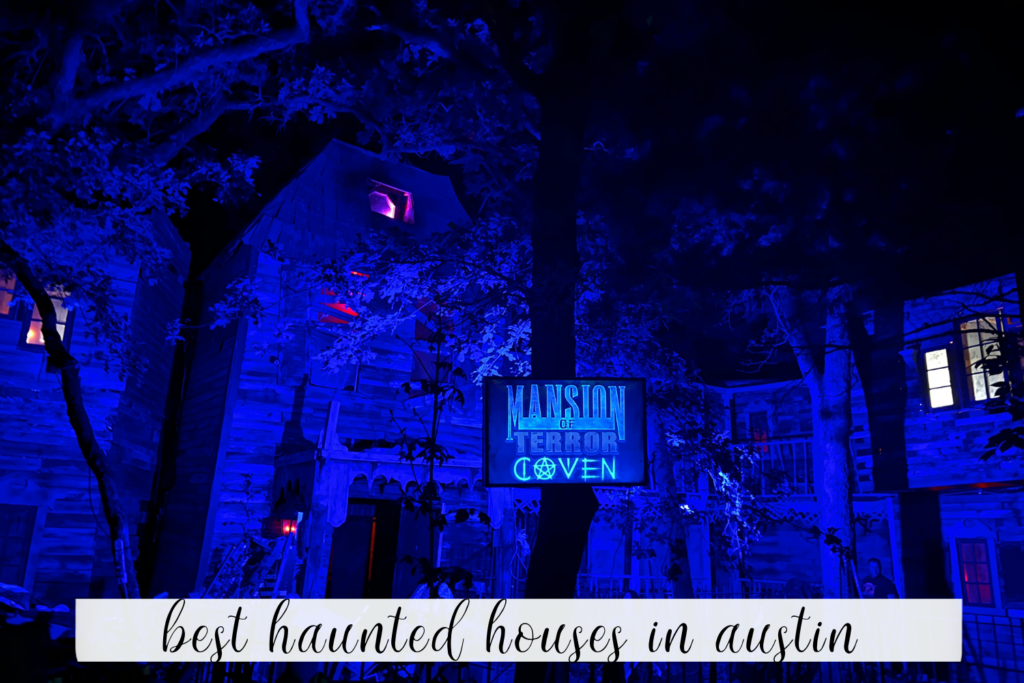 Enter the Mansion of Terror Coven to find orphaned child Saint Adella playing along the wilderness.
You can also explore Lost Pines Asylum to find bodies of victims from horrible mental and physical experiments.
Wicked Darkness, The Maze, is an attraction that is a sinister and demonic paranormal experience.
It also features plenty of evil clowns in the new Sinister Circus Haunted Attraction.
Other than all the scary haunted house attractions, Scream Hollow offers fortune tellers, a live bands, a beer garden, the Frank-N-Stein pub has beer, wine, drinks, hot dogs, and adult grilled cheeses.
You can also get a drink at the Coffin Cat Bar and the Dragon's Breath Tavern.
Additional food options are at the Cackling Witch Cafe and Bakery and the Deadful Delights Carnival Eatery.
The Hell on Wheels is the only haunted hayride in Texas, venture through the woods as your encounter forest demons!
As if all these experiences won't haunt your dreams, if you want to take home a memento, head to Madame Tinkers Magic and Gift Emporium.
Unlike the House of Torment, there are no time slots. When you buy tickets to Scream Hollow for Friday, you can use them on any Friday night during the season.
The same goes for Saturday and Sunday night tickets.
The 1-haunt ticket on Thursday, Friday, Saturdays is $31.95.
If you'd like to experience all five attractions, it is $35.95 on Thursdays and Fridays and $39.95 on Saturdays,
For the best deal, head to Scream Hollow on Sundays for family night, which is only $30.95 and grants access to five attractions.
Not into spooky stuff? For $6 gain entrance to see the band, have some drinks, and experience some fun without the fright.
After Halloween you can experience the Scream Hollow Pitch Dark Experience. All haunted houses will be pitch dark in dark hour. All haunted houses will be pitch black and you'll only be given one glowstick for every two people to explore the haunts!
In December, if you're still in the mood for some scaries, head to Scream Hollow's Twisted Christmas.
This was featured on the Travel Channel in 2019. You'll find Krampus leave his mark on darker Christmas traditions.
Scream Hollow Mansion of Terror, 149c Split Rail Lane, Smithville, TX 78957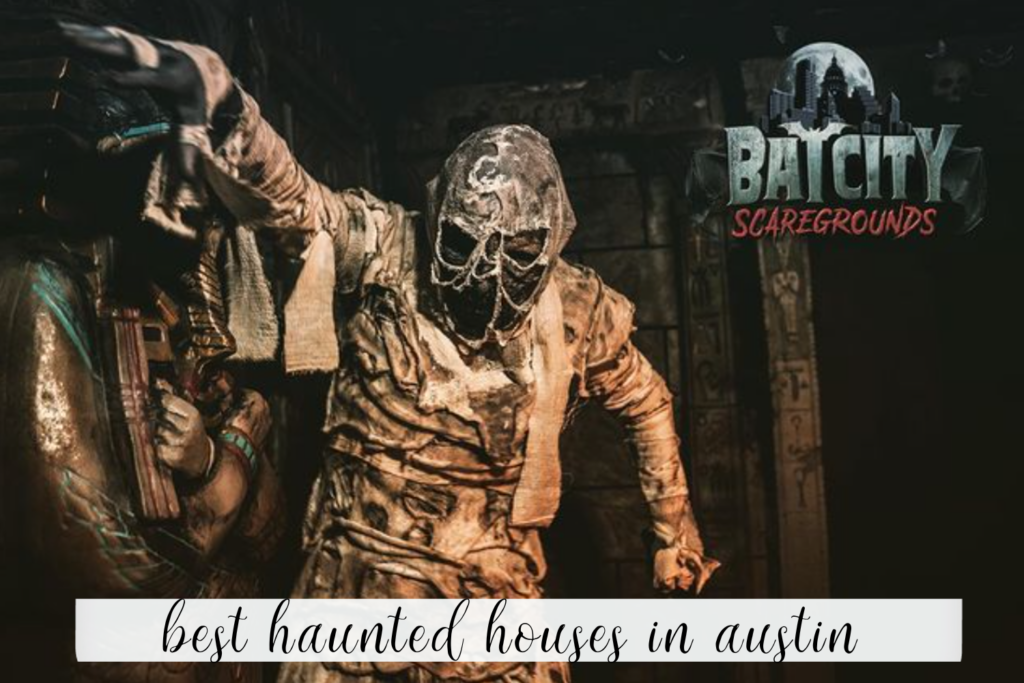 Bat City Scaregrounds Haunted House
Head south of Austin to Buda, Texas to find Bat City Scaregrounds.
Starting on September 30th, 2022, you'll be able to stumble your way through 15 acres of frightful sights.
Haunted houses include Castle Orlock, Ancient Evil, and Clownocalypse 3D.
Clowns are terrifying to begin with, so the Clownocalypse 3D sounds extra bone chilling!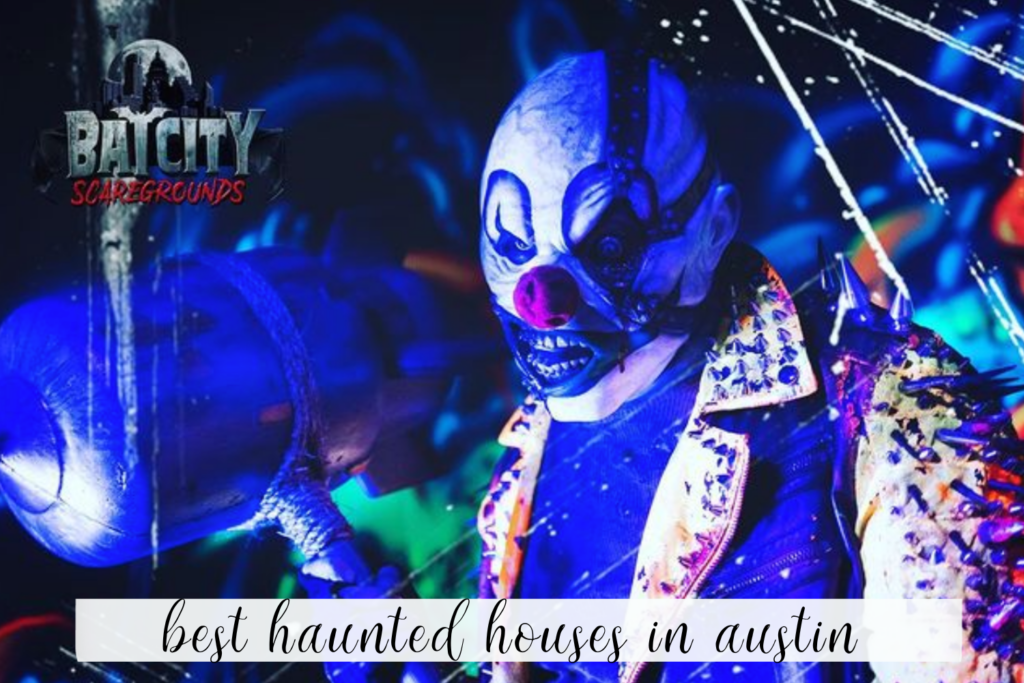 General admission prices are $25 for Fridays, Saturdays, and Halloween Night and $20 for select Thursdays and Sundays.
The cost of your ticket includes a number of chilling attractions such as three haunted houses, Vegas-style stage performances, live music and eats and treats.
This is a newer haunted house, but based on the lower ticket price and the attractions offered, it might be a good choice!
Bat City Scaregrounds, 14101 South Turnersville Road, Buda, TX 78610
Fatal Fear Haunted House
Are you ready for a "pro-level" home haunt? This haunt group is volunteer based out in Steiner Ranch, and they do it to raise money for local non-profits.
The theme is "Back to the Slashers" with a nod to a 1989 Back to the Future setting. We love the unique twist this haunted house group brings to Halloween.
Ticket reservations are available on their site, and their hours are 7PM – 11PM.
Fatal Fear Haunted House, 3509 Cowden Dr. Austin, TX 78732
Haunted Corn Maze
Scare for a Cure
Get your frights with a charitable delight. Scare for a Cure in Manor, Texas is a volunteer run organization raising money for local cancer-related charities.
In 2021, they raised over $30,000!
You can join their volunteer staff to build sets, do special effects makeup, make costumes or even be part of the spooky staff!
Donate money to get access to their haunting for over an hour including a haunted maze.
Have some scary fun for a scary good cause!
Scare for a Cure, 14219 Littig Rd, Manor, TX 78653
Austin Ghost Tours
The Original Austin Ghost Tours
This OG ghost tour has been sharing Austin's spooky history for the past 25 years.
There are two haunted tours offered in Austin and an additional tour offered an hour away.
On Thursday through Sunday evenings at 8pm, join the Austin Haunted Walking Tour for a tour of downtown's haunted spots. Adults are $25 and children are $10.
The Matrimony, Murder, and Mayhem is the tour on Thursdays at 8:30pm that is perfect for bachelor and bachelorette parties, date nights, and anniversaries. The 90-minute tour tells haunting stories of love gone wrong. This adults-only tour is $25 per person.
Travel one hour from Austin to Bartlett, Texas for the Metaphysical Night Gallery and Paranormal Tour. This six-hour tour includes a visit to downtown Bartlett, an art gallery, school house museum, quilt show, antique store, library and even a wine and cheese tasting!
The Original Austin Ghost Tours, 303 Red River St, Austin, TX 78701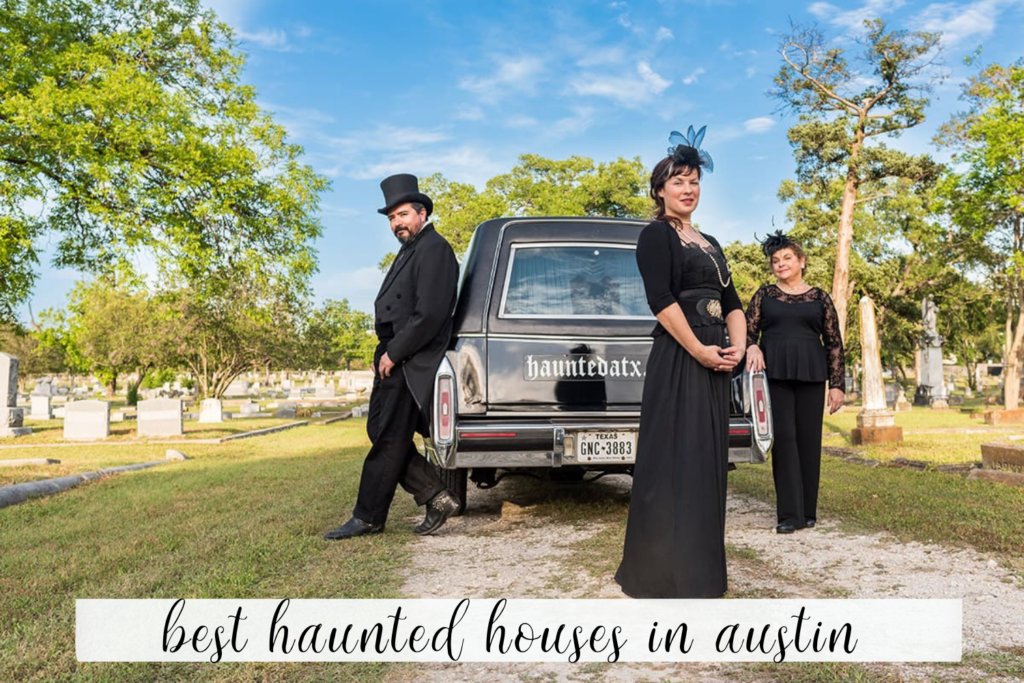 Haunted ATX
The only mobile haunted tour in Austin is through Haunted ATX.
Their Private Hearse Tour features a private, spooky limousine that visits Austin's spookiest places. These tours run every day except Mondays at 7pm and 8pm.
This three hour tour visits haunted Austin spots like the Clay Pit, The Tavern, and the Littlefield House fits up to six guests.
Another perk of the private hearse tour is it is BYOB! Bring your favorite libation to take the edge off as you look for ghosts in Austin's historic spots.
We recommend reaching for our apple cider mimosa recipe or our large batch apple cider sangria recipe for a nice fall-inspired cocktail!
They provide ice, cups, water, and bottle openers, you just bring the boo-ze!
If you're looking for a more budget option, Haunted ATX also offers all the same perks with a larger group with their Public Haunted Van Tours.
For a more immersive experience, book a Thursday night Tavern Paranormal Investigation.
You'll join paranormal investigator YouTubers, The Unearthly, to use ghost hunting equipment to try to contact three of the active spirits at The Tavern.
This is much more of an intimate experience than a large haunted house and operated year-round.
Haunted ATX, 501 N Interstate Hwy 35, Austin, TX 78702
There you have it! This list of six of the best haunted houses in Austin will keep you terrified all season long.
Keep in mind that some of the ghost tours are offered year-round so even if you don't snag a spot this fall, you can still plan some spooky excursions all throughout the year.
Did you make it to any of these haunted house attractions?! If so, leave a comment and tell us what you thought!
Click this link to pin this Guide to the Best Haunted Houses in Austin on pinterest.
Also, don't forget to follow us on instagram and facebook for more recipes and recommendations, we love to see when you make our recipes or visit our favorite places!