We're always down to dine at an Austin sushi restaurant, so after tasting our way through most of the city, we've compiled our list of the best sushi in Austin.
All of these Austin sushi restaurants are places we love for one reason or another.
Whether it's a great temaki hand roll, the best sushi value, or the most mind blowing omakase date night, we have them all covered in this list.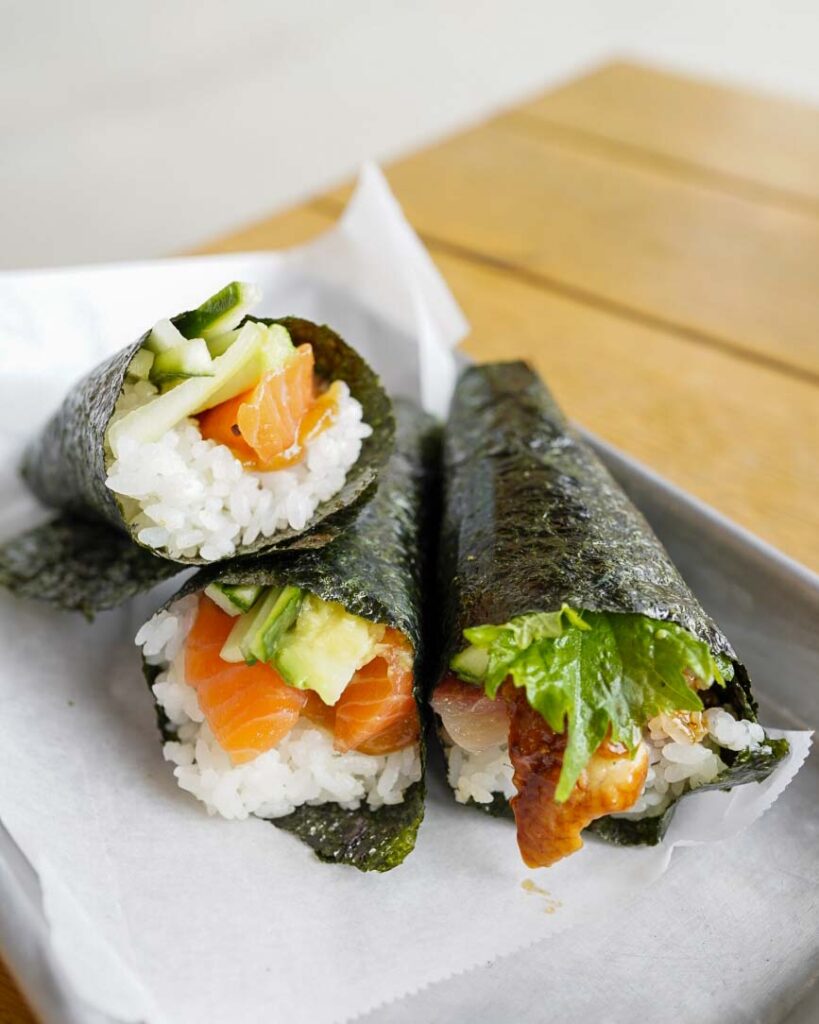 Best Hand Rolls in Austin – Uroko
To be honest, we both didn't love hand rolls prior to visiting Uroko.
In the past we had our fair share of bad hand rolls with a mushy nori wrapper and the hand roll falling apart.
Uroko completely changed our minds on hand rolls.
This small sushi spot is located in the cool new Springdale General development and is surrounded by patisseries and coffee shops.
Uroko's space is small, but you are able to take your hand rolls to the communal seating area at Springdale General to enjoy your sushi.
Uroko also offers take home temaki sushi kits, sushi making classes, and a limited number of seats to a 12 course, 45 minute omakase dinner on Fridays and Saturdays, which we have yet to experience, but it's high on our list.
1023 Springdale Road Bldg 1 Suite C, Austin, TX 78721
Top Sushi Food Truck – Texas Sushiko
We were first introduced to the chefs at Texas Sushiko through Tare, an incredible in-home pop-up omakase experience. 
Since having an amazing meal with the chefs through the omakase, Gavin introduced them to his business partners who own Texas Sake at The Yard Austin, and Texas Sushiko was born.
While eating sushi out of a food truck may seem odd to many, Texas Sushiko will provide you some of the best sushi in Austin.
Place your order at the truck, have a seat inside Texas Sake and enjoy some nigori or junmai, and wait for your order to arrive.
The sushi comes out temaki style, but in the shape of a taco in a special handmade Texas Sushiko holder.
The wagyu tartare and king crab with truffle hand rolls will blow your mind.
440 E St Elmo Rd Ste B-2, Austin, TX 78745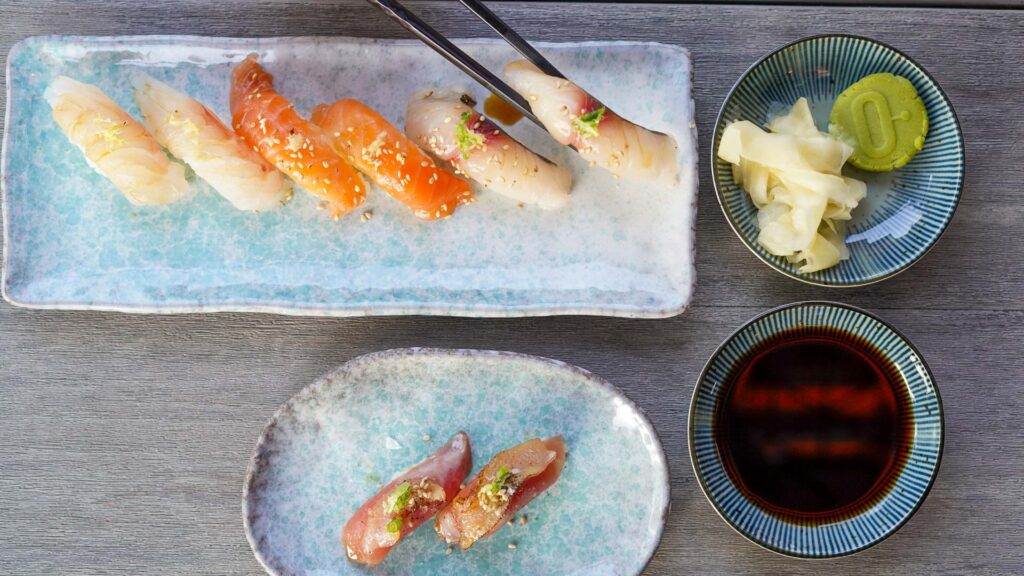 Best Dry Aged Fish and Best Vegan Sushi – Lucky Robot
The Lucky Robot has always had a close place in our hearts because it's our neighborhood sushi spot.
You can usually find us getting Lucky Robot happy hour since it is half-off cold plates, hot plates, and a discounted "lucky bites menu". Hot tip, get the wagyu hot rock and the pork belly nigiri on happy hour.
Recently, this South Congress sushi spot brought in a dry aging machine. The Lucky Robot dry ages a number of fish for you to view inside the restaurant.
The result? Sushi that is even more flavorful and incredible than your typical sushi joint.
The Lucky Robot also offers the best vegan sushi in Austin. While definitely not vegans, it's jaw dropping how they transform fruits and veggies into bites that taste just like fish!
Even the vegan potsticker is unreal, it's one of our favorite items on the menu.
Lucky Robot is also the first sustainable sushi restaurant in Texas, being awarded the James Beard Smart Catch Leader designation.
This means that they only serve sustainable fish in order to protect the fish populations in our oceans. Bravo!
1303 S Congress Ave, Austin, TX 78704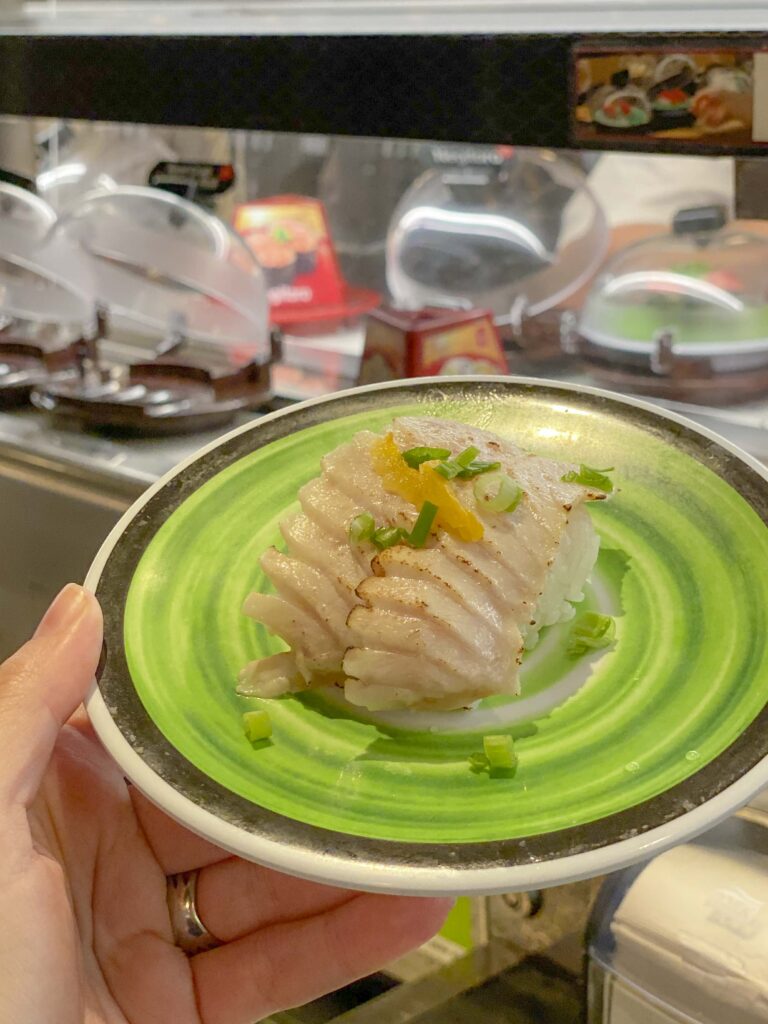 Conveyor Belt Sushi in Austin – Kura Sushi Austin
When we want sushi but don't want to drop $150 on a meal, we head to Kura Revolving Sushi Bar.
Plates will circle around you on the conveyer belt. Just grab the plate you want as each one costs $2.85 each.
Then pop the empty plate in the slot on your table. Not only does that count up your total, but you get prizes based on how many plates you eat.
You can also order a la carte via the touch screen at your table to have a dish sent directly to you on the express conveyor belt.
While most nigiri and rolls are included at the $2.85 price, you can also order some ala cart items like ramen, udon, and appetizers at an additional cost.
Is it the best sushi in Austin? No.
Is it the most fun experience? Yes.
What's great about Kura is that you can try a lot of different items. At only $2.85 per plate, if you grab one that you don't like, it's not going to cost you an arm and a leg.
After dining at Kura many, many, many times, we have figured out our favorites and usually stick to only ordering those items.
Our favorite dishes are the Japanese mayo seared salmon nigiri, toro negiri, aburi eel with miso cream cheese nigiri, the umami oil salmon nigiri, and the crispy rice with spicy tuna.
Here's a tip: The wait can be really long and the restaurant does not take reservations. Download the Kura app and join the waitlist before you head to the restaurant, it will give you an approximate wait time once you register.
6929 Airport Blvd Suite 125, Austin, TX
Best All-You-Can-Eat Sushi in Austin – Sushi Junai Austin
Similar to Kura Revolving Sushi, Sushi Junai is one of the sushi restaurants we love because of the value.
Not all dishes are our favorite, but when we want to crush a ton of salmon belly nigiri, we head to Sushi Junai.
This Austin sushi restaurant offers an all-you-can-eat sushi format.
The offerings feel endless, but we learned to "stick to the hits" at this spot.
In order to reduce waste, you will be charged for dishes you order that you do not eat so it is best to order small amounts at a time, and add on if you're still hungry.
The all-you-can-eat option includes appetizers, salads, noodles, fried rice, entrees, classic rolls, hand rolls, nigiri, and dessert for $32.92 (90 minute time limit).
You can also head there for lunch from 11am-3pm and the price is discounted to $24.95 (60 minute time limit, excludes sushi items).
Two locations: 1612 Lavaca Street, Austin, TX and 2500 W Parmer Ln, Austin, TX
Best Omakase Sushi in Austin – Sushi Bar Austin
Sushi | Bar is comprised of 10 seats within a small room at Bento Picnic (get there early to enjoy some of the amazing natural wines served at Bento Picnic's Saba San's wine collection), serving up a 17 course omakase experience.
This sushi spot is actually an LA based restaurant and started as a limited-time Austin pop-up during the pandemic. It is now a permanent part of Austin's sushi scene.
Sushi | Bar was already in high demand, but once new Austinite Joe Rogan tweeted that it was the best sushi he has ever had in his life, things got crazy.
As you can imagine, that tweet started the pandemonium which is Sushi | Bar.
Reservations for Sushi | Bar are very sought after and are only released at noon on the first of the month.
Be sure to join their email list and waitlist because once a cancellation comes in, it is a free-for-all on who can snag that spot first.
You'll be treated to some incredible bites in a very intimate setting.
2600 E Cesar Chavez St, Austin, TX 78702
Best Austin Sushi Happy Hour – Uchi
Uchi was the first sushi restaurant that really put Austin on the map.
Executive chef Tyson Cole was awarded the James Beard Best Chef Southwest in 2011, so you know the sushi is mindblowing.
Uchi is a fantastic sushi restaurant and the fact that you can get their iconic dishes at a discount over happy hour is a win.
Happy hour is from 4-6:30pm every single day. Don't you just love a spot that offers happy hour deals on the weekends?!
They key to getting a seat at this high-demand happy hour is to arrive even before the sushi restaurant opens. Typically if you arrive at 3:45pm and line up outside Uchi, you'll snag a seat.
You'll find $4 sapporo beers, $4 sake, $5 handrolls, as well as discounted sushi, sashimi, cool tastings, and hot options.
801 S Lamar Blvd, Austin, TX 78704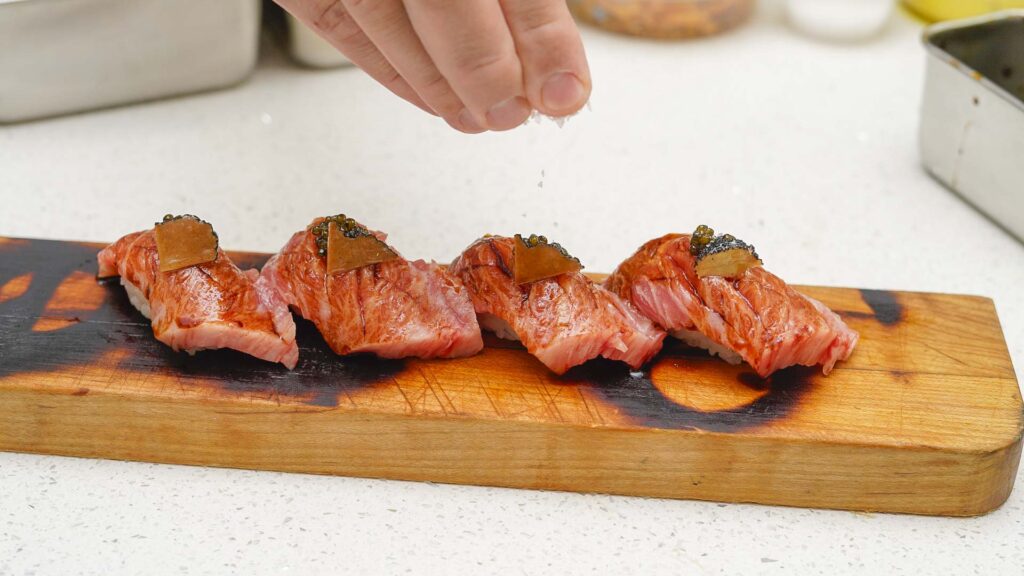 Austin At Home Sushi Experience – Osome
If you haven't had the chance to experience an at-home omakase, you need to add this to your wish list for your next special occasion.
We discovered Osome while eating and drinking our way through the Austin Food and Wine Festival, and out of allllll of the chefs, Osome had the best bite.
We knew we needed to book them for an at-home omakase experience.
Osome brings everything to your kitchen: plates, glasses, cookware, ingredients, even menus.
You'll sit back and relax with your guests as you watch them prepare a 17 course omakase sushi feast complete with sake pairings.
It was one of the most memorable meals we've experienced, and yes, they even do the dishes for you!
We hope this list of best sushi in Austin inspires you to try a new sushi spot if you're a local.
Or, if you're traveling to Austin and craving sushi, this collection should help you find the perfect sushi spot!
Did you try out any of these recommendations? If so, tag us on social media at @coupleinthekitchen and let us know what you thought!
Click this link to pin this guide to Best Sushi in Austin, Tx on Pinterest.
Also, don't forget to follow us on Instagram and Facebook for more recipes, dining, and travel recommendations, we love to see when you make our recipes!
If you'd like to automatically receive our posts in your email, register here.