19 Things to Eat, See and Do in Singapore: Bucket List Experiences in Singapore
While traveling to Thailand earlier this year, we decided to take a quick stop in Singapore for the weekend. Singapore is one of the smallest countries in the world, and is comprised of only one city. Although it is only 26 miles wide, it is a global business hub with glorious architecture and fantastic food! Here are the top things to do in Singapore.
What to Eat in Singapore:
Hainanese Chicken Rice – One of the national dishes of Singapore! This dish is cooked by boiling the chicken, which helps to keep the meat super moist. Then, the rice is prepared with some of the chicken fat, garlic and ginger. The meal is a simple plate of chicken and rice, but the care the cooks put in the preparation really makes this dish shine.
Kaya Toast – This is the most common breakfast in Singapore. It is a simple dish of kaya jam on toast. What is kaya jam, you ask? It is made of eggs, sugar, and coconut milk. While eating a jam with a photo of eggs on the label seems somewhat off-putting, kaya is seriously delicious. So tasty in fact, that we bought three jars to take home. Think of it as a tropical custard. You can find kaya toast all over Singapore.
Laksa – This was the last meal we had in Singapore and it was our favorite! (Why didn't we discover this on day one?!?!) It is a cross between a curry and a soup. Our bowl was made with noodles, shrimp and coconut milk. It was a bit spicy and packed with flavor!
Singapore Sling – This sweet and tropical cocktail is enjoyed worldwide, but originated in Singapore back in 1915, even before Singapore was established as a country! Get the original at the Long Bar at the Raffles Hotel.
Carrot Cake – No, this isn't the dessert that you are thinking of. Carrot cake in Singapore is a savory dish, and it doesn't even use carrots! Made with radishes (which the Chinese call white carrots), egg, and rice flour. This dish is almost reminiscent of a hashbrown omelet, but way better!
Things to do in Singapore:
Eat everything at a hawker center – We love to do as the locals do! When in Singapore it is customary (and super delicious and clean) to eat at the local street food stalls. There's at least one hawker center within 15 minutes walking distance wherever you are in the country, and they're a true melting pot of Asia. Hawker centers are similar to a really big food court, with many casual stands and a general dining area. You will also find many shops selling clothing, shoes, and home goods.
Make your own custom perfume/cologne – For a really fun and customized experience, swing by Ja't'aime Perfumery. In a 2-hour session, you get to customize your perfect scent. Start by completing a personality assessment to determine your fragrance profile, then pick your flavor notes and start making your creation. You get to make 3 different test scents (all of which you get to take home too) and then pick your favorite to fill a full bottle. 90 Goodman Rd, Singapore 439053 https://www.jetaime-singapore.com/
Relax (and giggle) at a fish spa – For those daring enough to try it out, stop by Allivate Fish Spa in Chinatown. For around $25 Singapore Dollars, you can enjoy 30 minutes of fish sucking on your toes. This practice has been around Asia for many years, yet there are only a few fish spas left in Singapore. The fish will remove bacteria from your feet and remove dead skin cells. In addition to having smooth tootsies, this treatment is said to help improve sleep. What's it like? Check out our video to see our reaction! (About 5 minutes into the pedicure you get used to the tickles and it actually is quite enjoyable!) 70 Pagoda St, Singapore 059229
Explore the Gardens by the Bay – Conservatories usually don't top our travel lists, but this place was extra special. We particularly liked the Cloud Forest. This exhibit had a massive waterfall and provided you the opportunity to "walk among the clouds" in a simulated rain forest. We also recommend Garden by the Bay for the beautiful architecture and the air conditioning! Both the Cloud Forest and Garden Room are kept a cool temperature, be sure to pack a shawl or cardigan. 18 Marina Gardens Dr, Singapore 018953 http://www.gardensbythebay.com.sg/en.html
Take a tour of Chinatown – Singapore has a large Chinese population, and the city's Chinatown is probably the cleanest, nicest, and most beautiful Chinatown we've seen in the world. Enjoy shopping at vendors and stop by the Buddha Tooth Relic Temple. Admission is free to the temple. Keep in mind that the dress code states that you are not allowed in the temple with shoulders or legs exposed, and shawls are available to use to cover up prior to entering.
Head to Haji Street – This is stretch of Little India really puts off a cool vibe. The murals on the storefronts are vivid and colorful, there are lot of boutiques to explore as well as a few cool bars. Head to #selfiecoffee to get your mug in your (coffee) mug. After ordering they will hand you their cell phone to snap a pic, and a few minutes later you have your very own customized beverage. 11 Haji Ln, Singapore 189204
Swim in the clouds – Probably the coolest pool in the world is in Singapore at the Marina Bay Sands hotel. This is the world's longest rooftop infinity pool and it is located 57 floors high. In order to be able to access the pool, you do need to be a guest at the hotel. Can't spring to pay for a room? You can still head to the top in order to grab cocktail or dine at one of the restaurants. This is a cheaper option to take in the best view of the city. 10 Bayfront Avenue, Singapore 018956 http://www.marinabaysands.com/
Get your gamble on – There is something about gambling with a foreign currency that makes you feel like you are invincibly gambling with monopoly money. Although there are only two casinos in Singapore, and they are positioned third in the world behind Macau and Las Vegas in terms of gross gaming revenue. While visiting the casino at the Marina Bay Sands it was pretty interesting to see some table games that we have never seen before. Sic Bo was by far the most popular game and took up the majority of tables. It is a Chinese dice game. We decided since it was the start of our Asian trip, we should avoid gambling on games that we have never played before! 10 Bayfront Avenue, Singapore 018956 http://www.sandscasino.com/singapore/casino-marina-bay-sands.html
Where to Eat in Singapore:
Chinatown hawker center – This is the home to the worlds cheapest Michelin star restaurant. Head to Hong Kong Soya Sauce Chicken Rice and Noodle and be prepared to stand in line. We went around 1pm and (miraculously) they were not sold out and the line only took roughly 25 minutes. We have heard that there is usually about a two-hour wait for this spot! While it was the best Chicken Rice we ate while in Singapore, I think we mainly stood in line for the chance to add another Michelin star restaurant to our list, at the low cost of only $2 Singapore dollars. 335 Smith Street #02-127 Chinatown Complex, Chinatown, Singapore 050335
Maxwell hawker center – This is known as the hawker center with the best food. We ate at Tian Tian chicken rice, it was good, but we far preferred Hong Kong Soya Sauce chicken. If you want to save the wait in line, check this place out. It was good enough for Anthony Bourdain! This is also the hawker center where we enjoyed our carrot cake. Keep your eyes peeled for that dish while at Maxwell. 1 Kadayanallur Street, Singapore 069184
Beach Road Kitchen – This was the brand-new restaurant that just opened at the JW Marriott. Singapore has a very prominent buffet culture and the Beach Road Kitchen was the most outrageous buffet we have ever seen! Think of everything you know about buffets and forget it. This buffet is in a league of its own. One thing that makes it unique is that it is a vertical buffet. Plates were displayed running up the wall in some sort of a modern foodie bookcase. The vertical salad bar included dozens of smoked fish options, there was a charcuterie stand, made-to-order dishes, a pizza oven, a candy bar, a crepe station, and some of the most gorgeous desserts all elegantly presented vertically up the wall. Try all the things, order the laska, and then try everything once again. Note: we heard our hometown of Austin will have a Singaporean buffet opening soon, if it is anything like this one, we are in for a treat! 30 Beach Rd, Singapore 189763 http://www.marriott.com/hotels/hotel-information/restaurant/sinjw-jw-marriott-hotel-singapore-south-beach/
Adrift – Even though we did not stay at the Marina Bay Sands, we found us going there daily whether it was for dining, a cocktail, gambling, or shopping. There are a number of restaurants in the Marina Bay Sands Hotel and we stopped into Adrift by David Myers for their fantastic happy hour. The food was so delicious, the décor was modern, and the bartender was an expert mixologist. 10 Bayfront Avenue, Singapore 018956 http://www.marinabaysands.com/restaurants/celebrity-chefs/adrift.html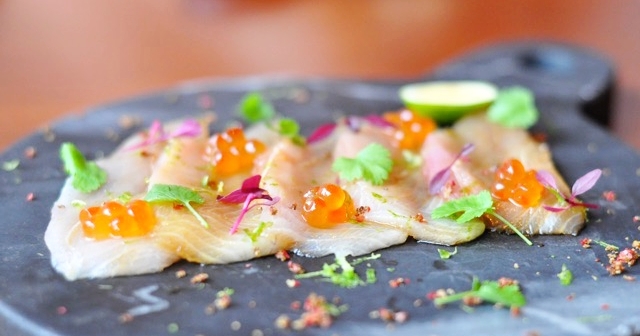 Long Bar – The birthplace of the Singapore Sling, this drink was actually created as a way to slip the ladies a cocktail in a time when women were not allowed to drink alcohol. The long bar is the only place in the country where it is legal to "litter". Guests can enjoy free peanuts where they are allowed to throw the shells on the ground. 1 Beach Rd, Singapore 189673 http://www.raffles.com/singapore/dining/long-bar/
Zam Zam Indian – If you are hanging around little India or Haji Street, this is a good spot to check out. Known for their Muslim Cuisine, this place is a bit of a hole in the wall, but it provides you the opportunity to try their Murtaba. Think of it as an Indian Calzone: Made to order Roti bread stuffed with chicken and spiced. We also had the beef biryani, which was really flavorful as well. 697-699 N Bridge Rd, Singapore 198675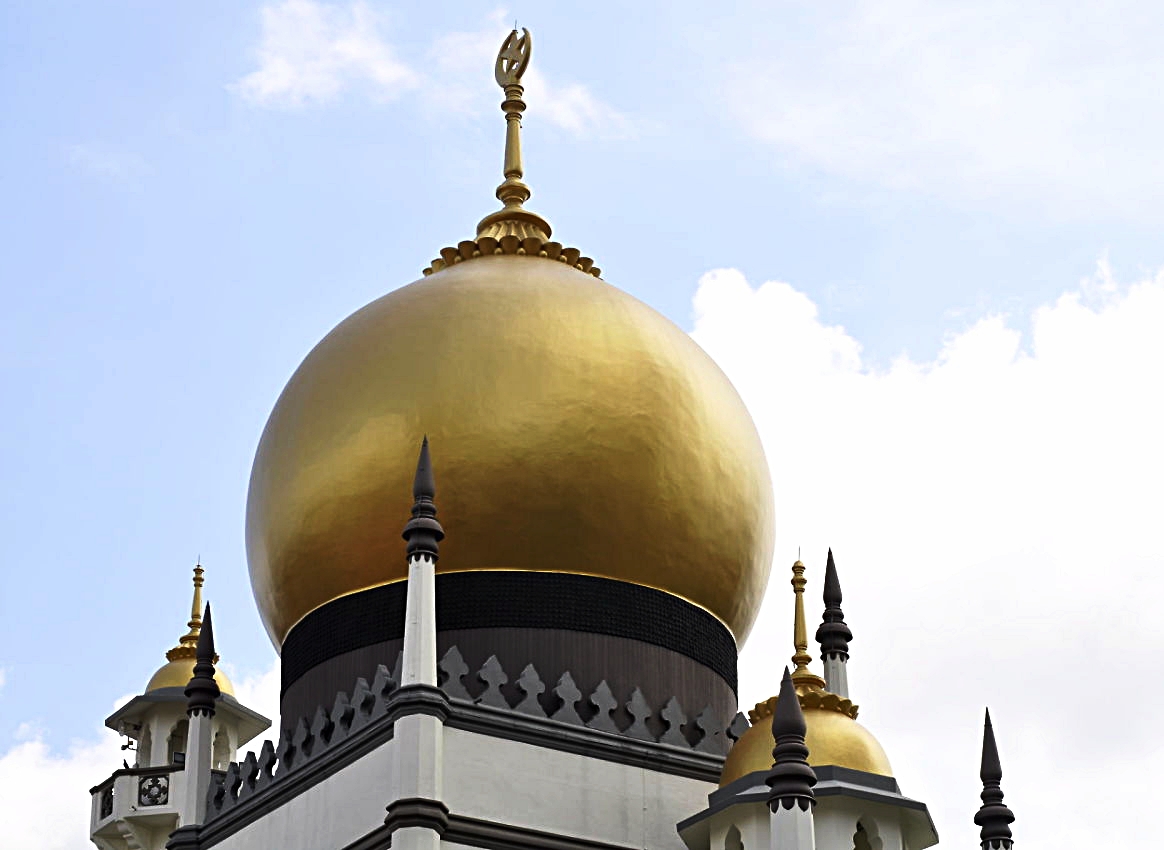 Where to Stay in Singapore:
AirBNB – There are a number of nice condos in skyrise apartments available to rent for around $140 US a night. We stayed at a modern, luxury condo in the Central District. Our pad had a great view of Singapore, saunas, rooftop pools, and even an in-pool treadmill and spin bike! (So COOL!) We recommend that you target something in the central district or Chinatown to be close to most attractions. Even if you want to save more money by staying in another neighborhood, the entire city is easy accessible by the MRT public train transportation system. If you have never used Airbnb, use this link to get a discount on your first booking.
Raffles Hotel – Arguably one of the most historically iconic properties in all of Singapore, many global celebrities and politicians have stayed at the Raffles since it was built in 1887. The hotel was named after British statesman Sir Thomas Stamford Raffles, the man who founded Singapore. The property is the epitome of old world charm with antique furnishings, gorgeous shutters, and real silver in the dining room. Make it a point to see the Raffles, even if it is just a visit to the Long Bar for an original Singapore Sling. 1 Beach Rd, Singapore 189673 http://www.raffles.com
Marina Bay Sands – This modern hotel boasts the most epic rooftop infinity pool in the world (see above). It also offers many amazing restaurants, a casino, and all the luxury shopping you could ever need! Even if you are not staying at the Marina Bay Sands hotel, take some time to check it out. 10 Bayfront Avenue, Singapore 018956 http://www.marinabaysands.com/
JW Marriott South Beach – This hotel literally opened a few weeks before our trip aka our Uber couldn't even find it. We had a fantastic dining experience at their restaurant and you can never go wrong with a brand-spanking-new property in a terrific location. 30 Beach Rd, Singapore 189763 http://www.marriott.com/hotels/hotel-photos/sinjw-jw-marriott-hotel-singapore-south-beach/