We recently returned from a trip of a lifetime, an African safari!
Getting to Kapama Private Game Reserve was actually pretty simple. We flew from Johannesburg to Hoedspruit airport, a short one-hour flight.
As our plane landed, we even saw monkeys and antelope on the sides of the tarmac. Talk about a wild welcome!
A guide from Kapama greeted us, helped us with our luggage, and we loaded into the land cruiser.
Kapama is on a 16,000 private game reserve and the entrance is located basically across the street from the airport.
Our drive through the private reserve to the Karula resort took about 30 minutes and we saw a number of wild animals on our journey in.
Safari Lodge Luxury Accommodations
The Kapama has four lodging options to choose from: the luxurious and intimate Karula resort, the Buffalo Camp nestled in the tree tops, the larger River Lodge resort, and the family-friendly Southern Camp.
We stayed at the Karula villas which offered a spacious area complete with a king bed overlooking a patio with a private pool.
Yes, you heard that correctly, we had our own private pool on our villa balcony!
The suite was nestled next to a river and we fell asleep to the tranquil sounds of water trickling down the rocks.
The bathroom was massive with a huge vessel tub, rain shower, and even an additional outdoor shower.
We spent time in the living area as we enjoyed wine and spirits from the complimentary in-room bar and gleaming decanter of sherry.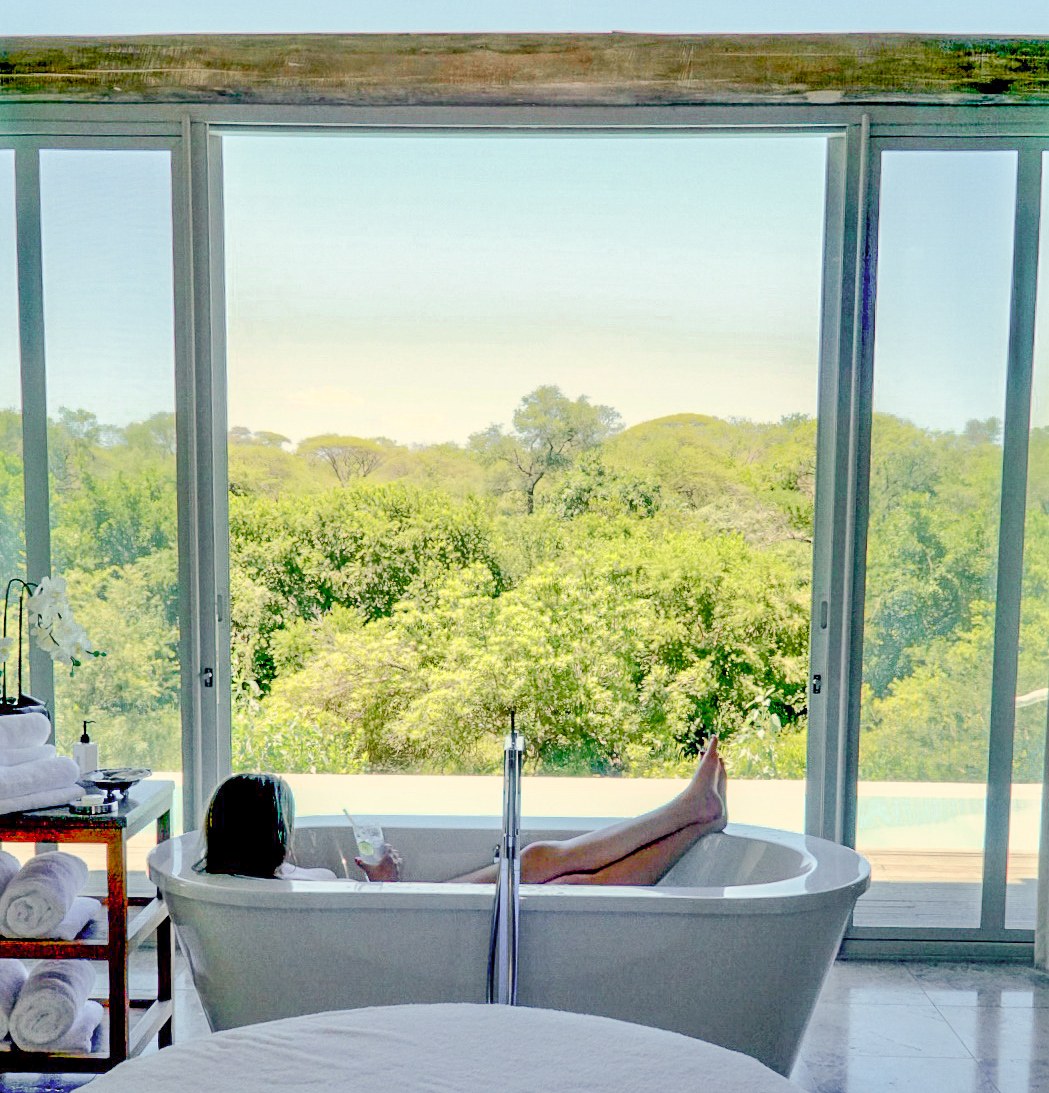 Karula also had a public, communal infinity pool, library, and a lounge with a complimentary full bar and patio where monkeys perched in the trees above (and stole fruit from the bar).
South Africa Safari Experience
We started our safari experience bright and early.
A 5am wake up call gave us time to get ready as the sun rose with a cup of coffee or tea and light bites to start the day.
We climbed aboard the land cruiser at 6am for a multiple hour journey of searching for wild animals.
Halfway through the morning drive, we stopped in a serene field to enjoy pastries and coffee with a splash of Amarula, a local creme liqueur made of an indigenous fruit that you can find growing in the bush (a fruit that animals love to snack on!).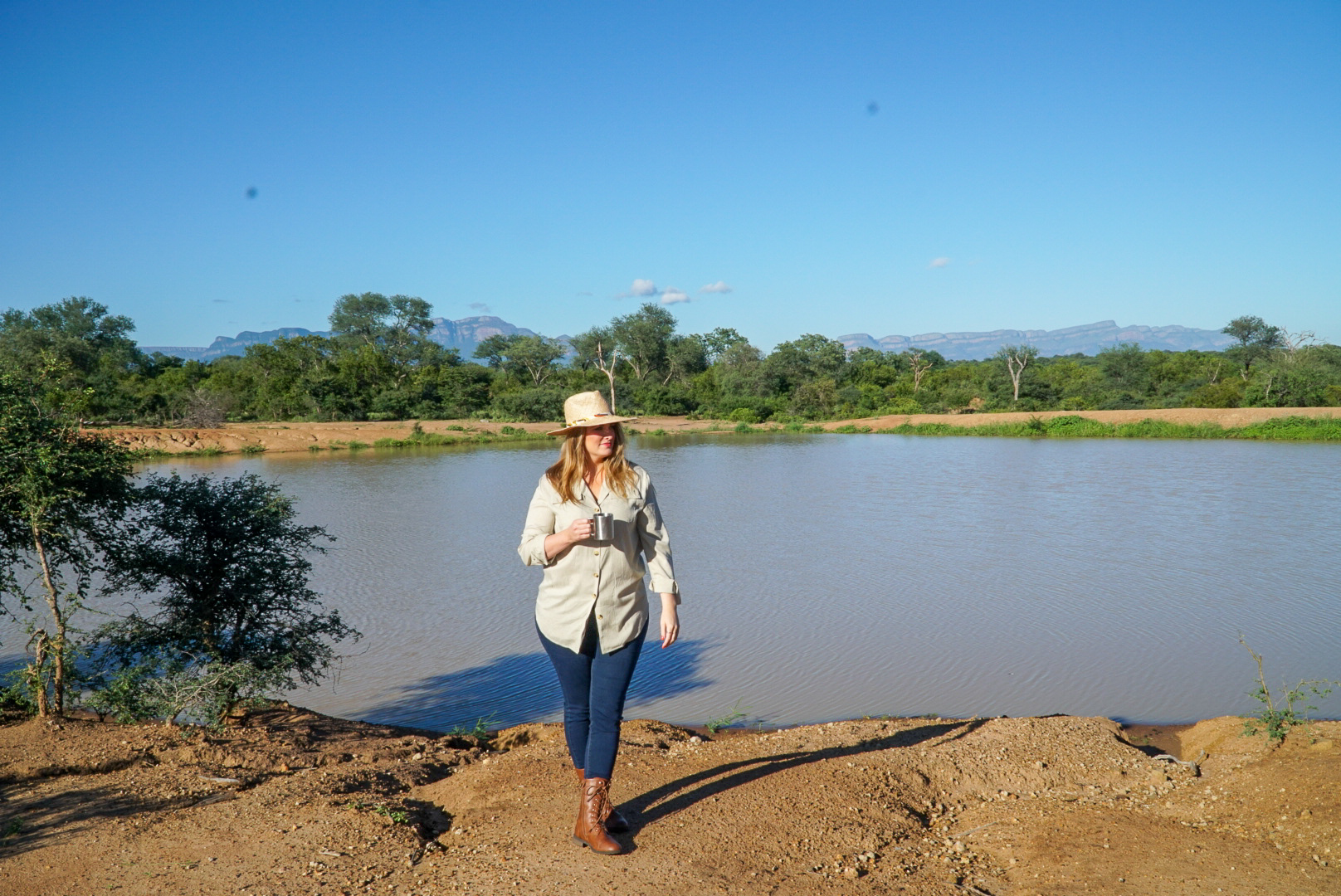 Afternoon game drives departed at 4pm and continued until dusk.
We loved the brief break for happy hour cocktails midway through. Enjoying South African wine or a cocktail from their popup bar was an intimate and romantic pause to enjoy the beautiful sunset and landscape.
Our safari ranger and tracker was so talented at following animal tracks and droppings, we saw the big five (White Rhino, Lions, Leopards, African Buffalo, and Elephants) within our first day during our stay at Kapama.
African antelope were everywhere, including impalas, kudu, steenbok, and waterbuck.
We would often see vegetarians hanging out together, especially giraffes and zebras.
Booking our safari during February meant that it was the summer season and many animals recently gave birth to babies.
We saw baby warthogs almost run in front of our vehicle, lions cubs playing in the shade, a 13-day old baby elephant nursing, as well as a one day old African buffalo learning to walk.
On a game walk we encountered a cute jerkyll as well as a pod of about 10 hippopotamuses.
Additional unique sightings were a water monitor (looks like a mini komodo dragon), a porcupine, wildebeest, and even a large African land snail slowly crossing the gravel road.
The highlight of our animal-filled adventure? Seeing a leopard unknowingly walk into a pack of 6 lions.
Don't worry, he got away, but it was quite the encounter to witness!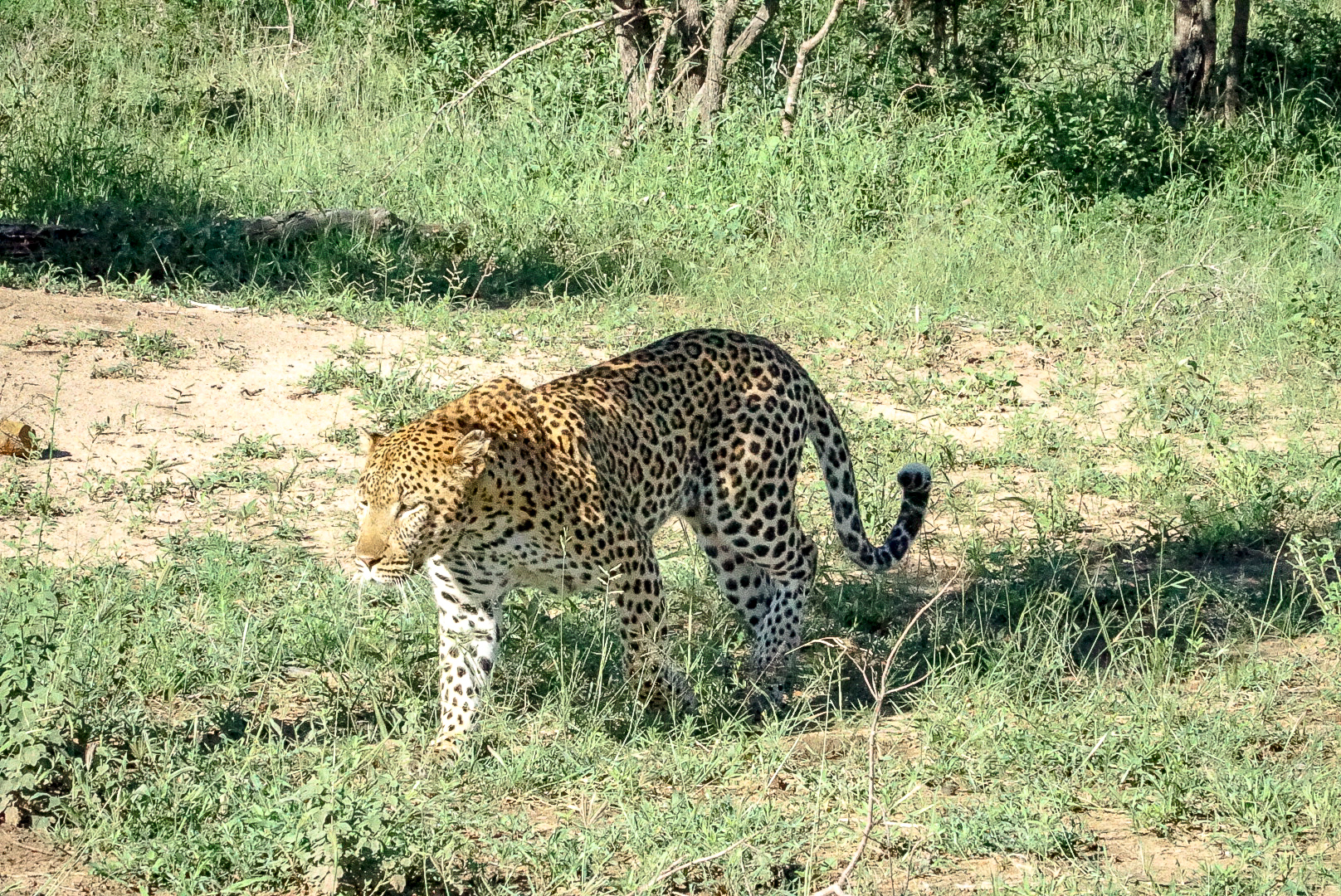 The Food: Safari Dining
After arriving back from our morning game drive, we sat down for a full breakfast in the modern, outdoor dining room.
We loved the "rangers breakfast" complete with venison steak, wild game sausage, and bacon served intermingled with french fries and hollandaise sauce. Our kind of breakfast!
We also loved the hash brown breakfast dish made of rosti, a favorite food that we actually initially discovered in a bar in Krabi, Thailand.
It was topped with eggs and as a nod to a traditional English breakfast it was served with baked beans and roasted tomatoes.
For lunch, we had the chance to try an exotic wild game platter of wildebeest and crocodile sashimi that was so delicious!
We also enjoyed a simple lunch of fried fish and a burger, which we brought back to our private pool for a sun-filled, poolside picnic.
Dinners were a bit more formal with a multi-course meal, complete with local wine pairings.
We dined in the fresh outdoor air by candlelight and savored gourmet Michelin-star quality meals with beautiful plating.
We can't stop thinking about their caramelized onion soup – this is something we absolutely want to recreate at home!
Additional Game Reserve Activities
In the midday in between game drives there is the opportunity to partake in a number of optional activities.
Go on a game walk with a guide to spot some animals on foot, sign up for the elephant experience, or visit the Hoedspruit Centre for Endangered Species.
In the mood to relax? Lounge by the pool, belly up to the open bar, or head to the spa for a relaxing treatment.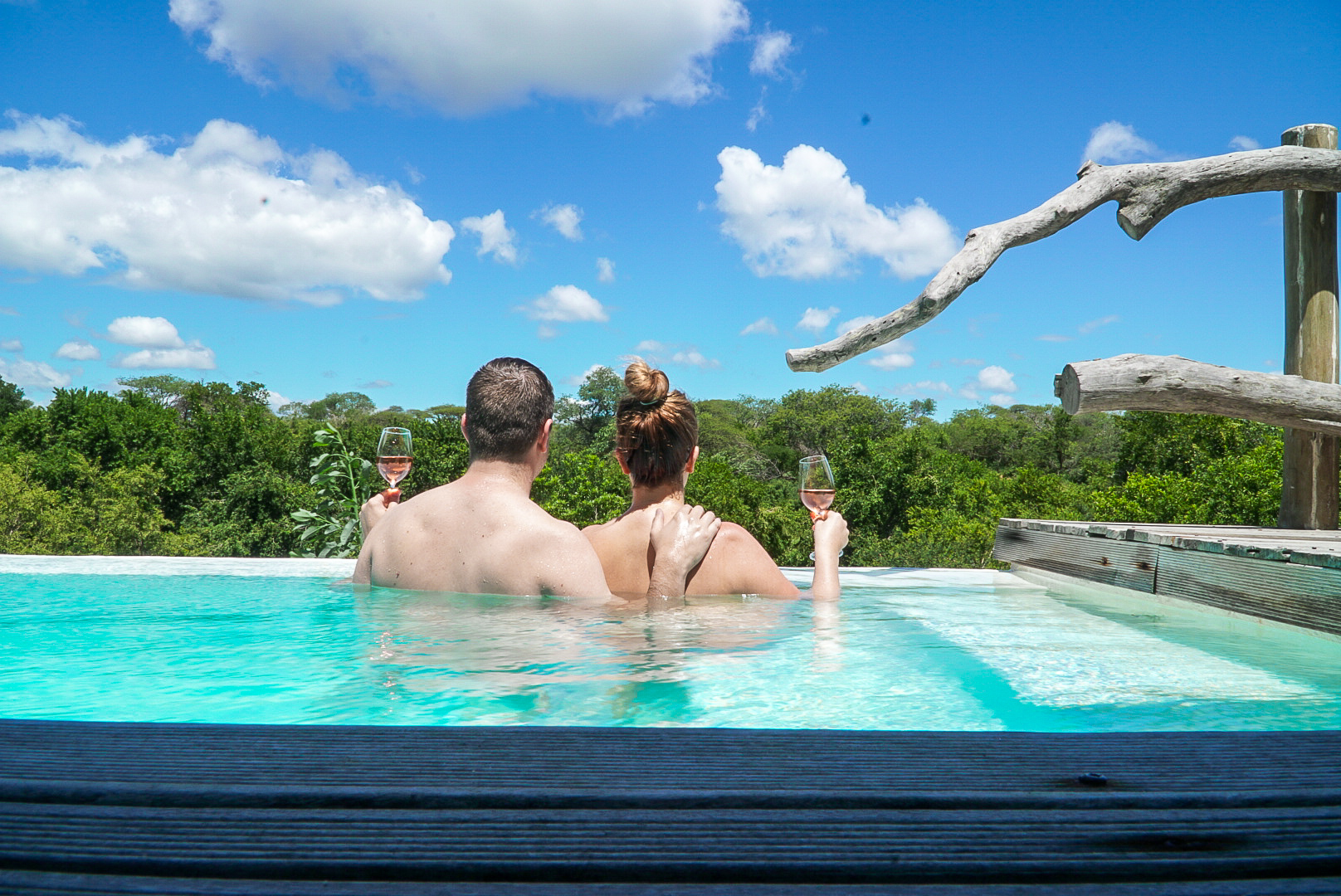 Due to our jam packed itinerary in South Africa, we only allocated two nights for our stay at the Kapama, but we'd recommend booking at least 3 nights to really take advantage of the amazing amenities.
We couldn't recommend Kapama enough.
From the fantastic safari rangers, to the incredible accommodations, to the delicious luxury food, our experience far exceeded expectations on this bucket-list trip of a lifetime.
Click this link to pin this post for future reference. If you visit one of these spots based on our recommendations, let us know by tagging @coupleinthekitchen on social media!