Discovering all the best things to do in Frankfurt Germany in only 10 hours. This sounds like a television show!
While traveling to South Africa, we had a significant layover in Frankfurt, which gave us the opportunity to explore a new city.
Even though Karen spent two weeks traveling across Germany a number of years back, she never made it to Frankfurt.
Additionally, it was Gavin's first trip to Germany so we had big plans of getting rowdy at a German Beer Hall.
A word to the wise, if you're planning a mini-trip during your layover, you must force yourself to sleep on the flight over.
Our initial flight left Texas at 4pm CST, to arrive to Germany at 8:30am (which was 2:30am CST).
This was a tricky red eye flight time if you're naturally a night owl, and unfortunately we both only got a minimal amount a shut eye, which made hustling through our layover a major challenge.
We envisioned getting rowdy at a beer hall, while in reality, we were falling asleep while nursing our half liters of German beer.
We know it's easier said than done, but you might want to bring some sleeping pills to help aid your rest during the flight over.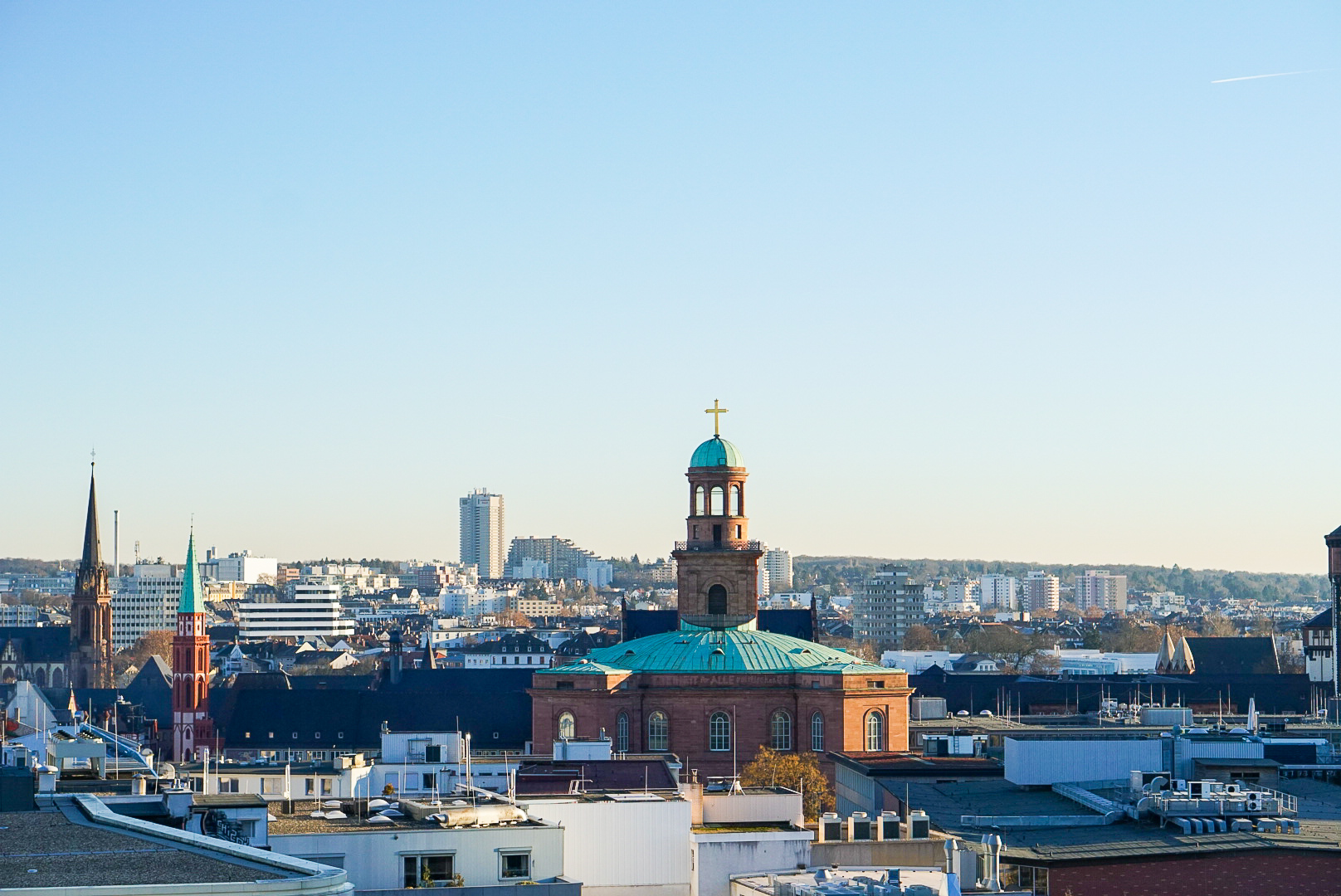 Anyways, even though we were exhausted, we popped in air pods and filled our ears with upbeat dance music as we walked around the streets of Germany's financial hub.
Truth be told, having downloaded party music woke us up waaaaay more than the 3 espresso shots we consumed throughout the day!
We found some amazing places to visit (and some to skip) to help you plan the perfect layover adventure in Frankfurt.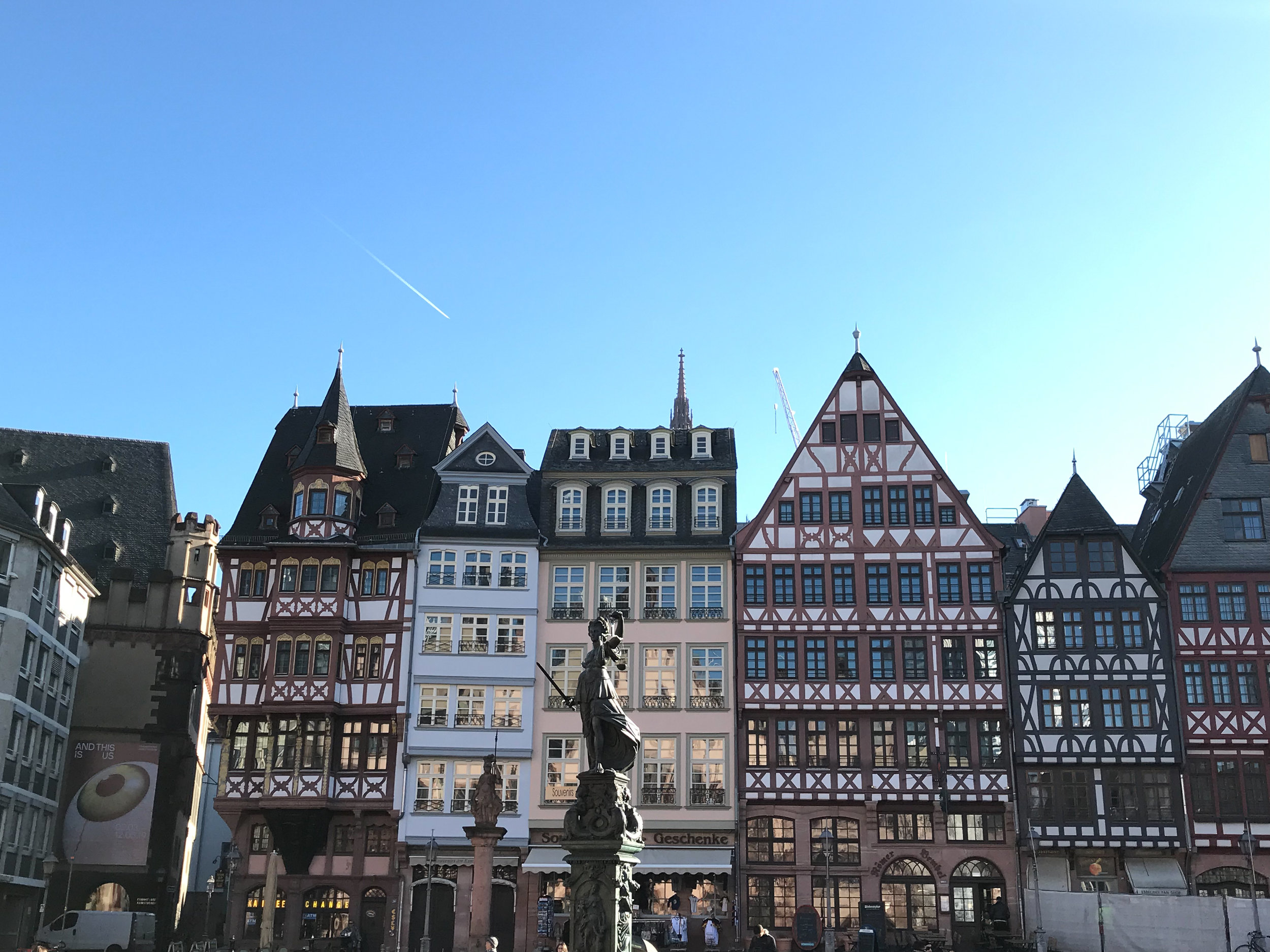 Getting from the Frankfurt Airport to Downtown:
When you're on a time crunch, you want to get to the city as quickly as possible.
Lucky for us, the regional train S9 or S8 leaves right from the airport, and is almost as fast as an uber or taxicab.
Another bonus? The $4.95 euro ticket price compared to a $30 euro Uber ride.
The train is located on level zero of terminal 1. Take the train east a total of five stops and you'll arrive in the heart of the city and are now walking distance to all of our recommendations in this guide.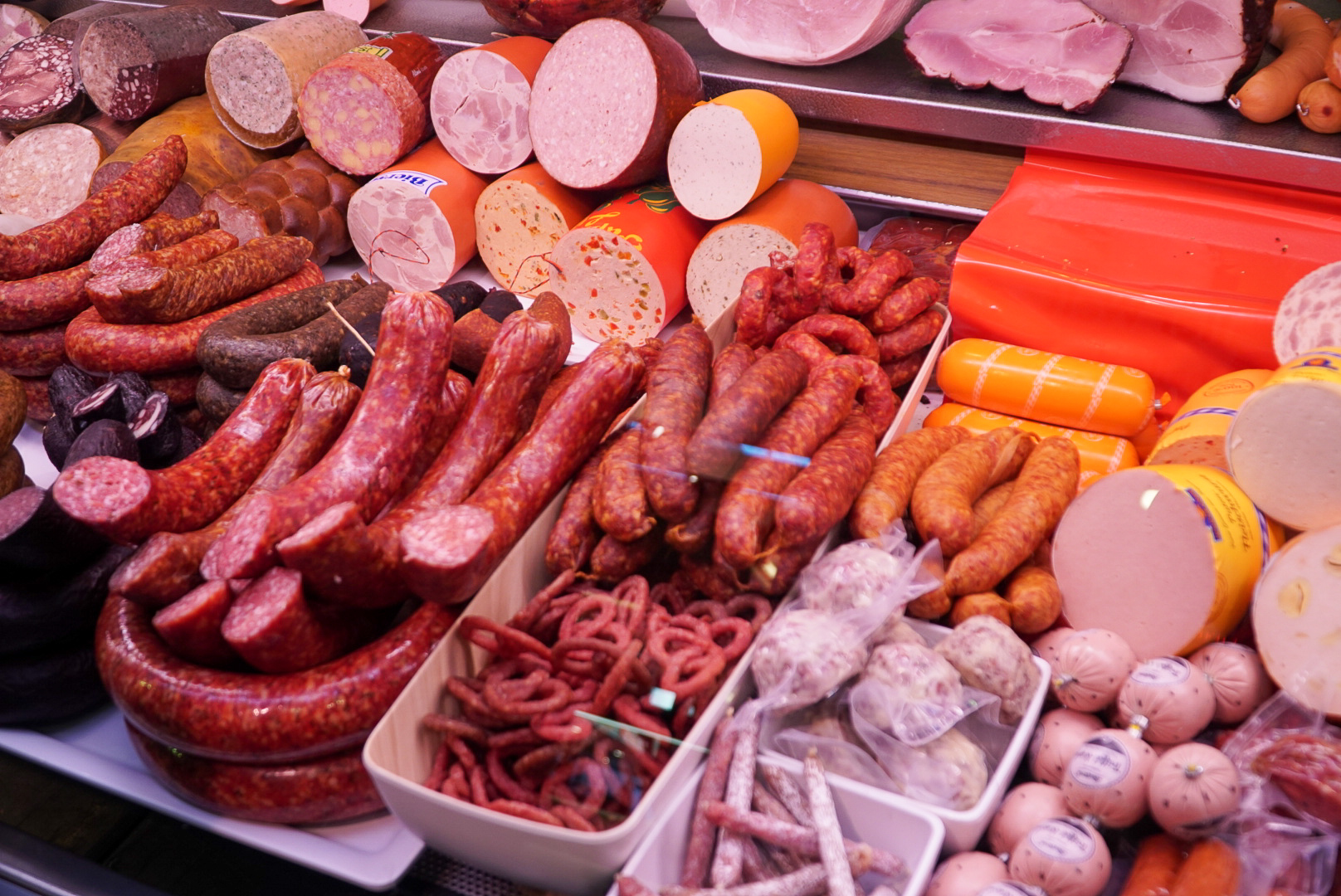 What to do in Frankfurt (and What to Eat!):
Right outside the train station, we were lured into this Gummy bear by the unique display window.
All flavors are available to sample (yay to free sweets) and we ended up buying a huge bag of Prosecco gummy bears for our upcoming flight.
Make a pit stop for for some authentic German gummies while you visit Frankfurt.
While heading from our train arrival spot to Romerburg square, we were drawn to this decade-old cafe.
We shared a coffee to get that much-needed post-flight caffeine kick and also ordered a donut pastry loaded with powdered sugar.
It initially looked like it had a chocolate filling but alas, it was a delicious (and very German) tart, black cherry. Heavenly!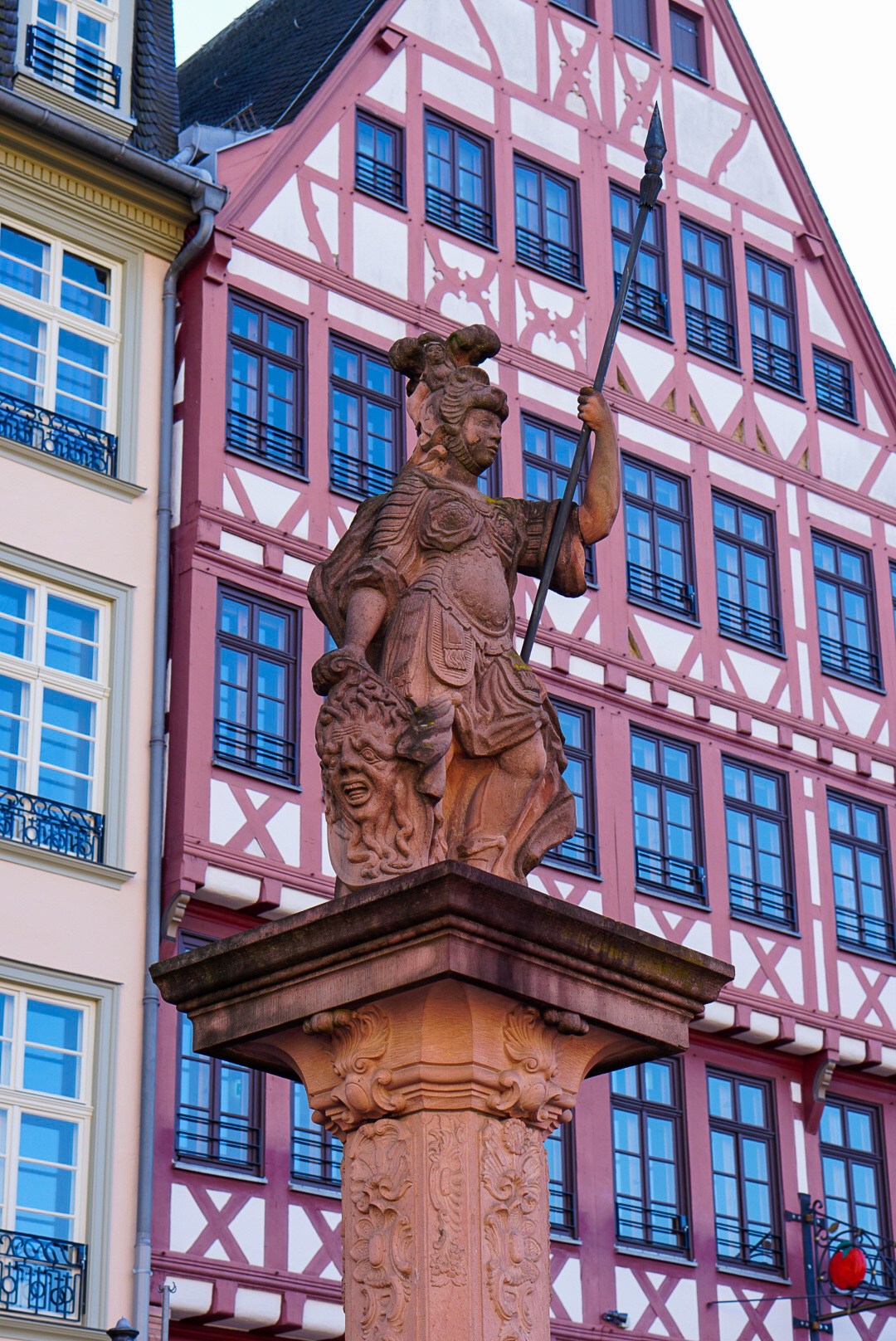 Next we headed to the square to take some photos of the charming buildings.
Most of Frankfurt's historical buildings were ruined in past wars, but Romerberg square was rebuilt to the facade of a charming German town like you'd expect from a storybook.
There are not a ton of things to do in the square expect marvel at the buildings and take some photos, so this was a quicker stop than we originally planned.
While there are some restaurants in the square, we were cautious that these could be tourist traps so we decided to save our appetite for the Kleinmarkthalle German culinary market, and that was definitely the right choice.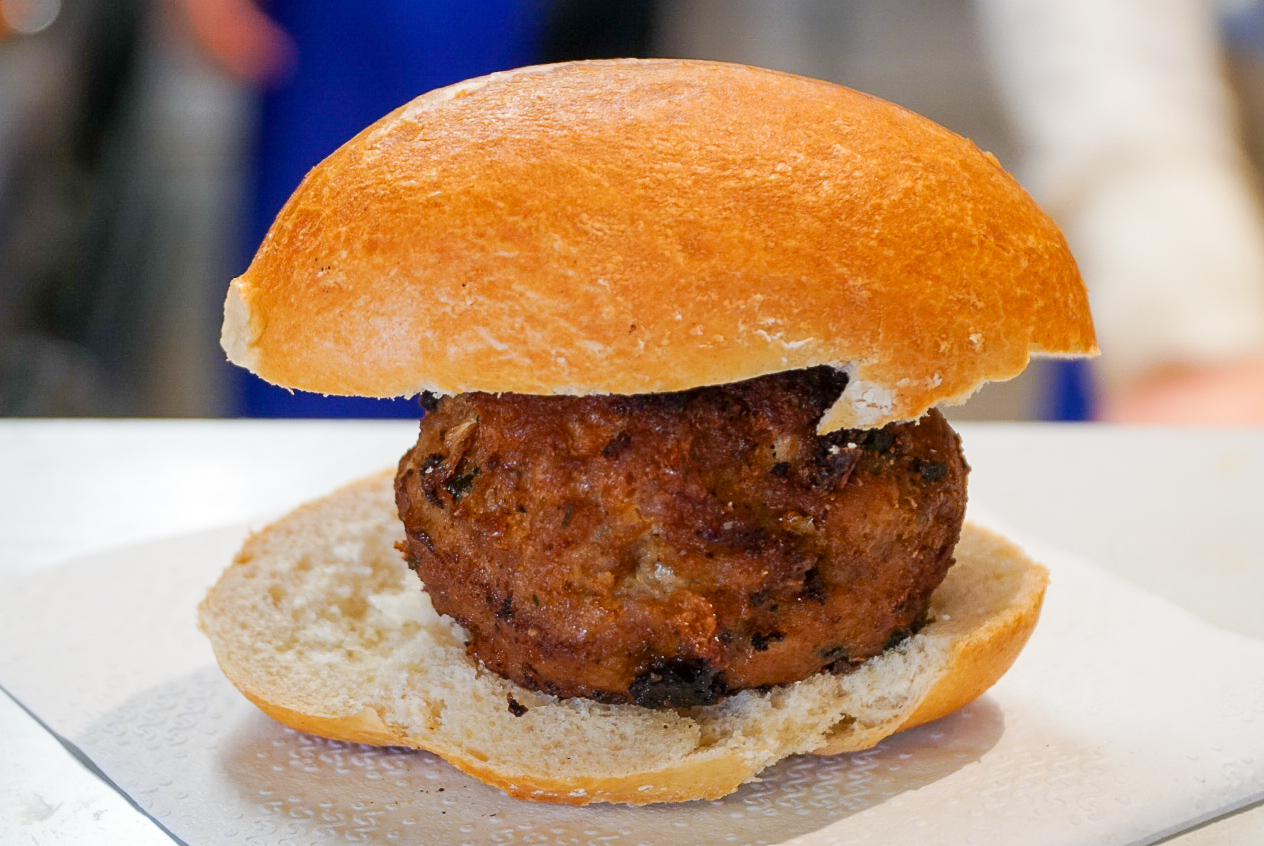 We love going to markets while traveling. As foodies, we find joy in learning about regional ingredients and historic recipes.
The Kleinmarkthalle has a mix of meat markets, produce stalls, pastries, as well as ready-to-order German specialties.
We took to the heard mentality and when we saw a long line at Schriber Sausages, we joined the pack only to unknowingly decide what to order since we don't speak or read German.
The beef sausages were plump and juicy, but the star of the show was a few stalls down.
A hammer freakadelle dish is basically a giant meatball comprised of onion, beef, pork and seasonings. Get it on a fresh roll and you won't regret it.
When you're ready for a break, go upstairs to the wine bar terrace. It's a great way to take in some fresh air while enjoying VERY full pours of German wines, we're talking filled to literally the glass's brim, for only 4 euros.
We recommend this highly acclaimed German restaurant for their amazing spaetzle. It's tender, perfectly seasoned, and loaded with cheese and leeks.
Be sure to enjoy one, or two, or three of their house beers and a local apple cider wine drink that is popular in Frankfurt. You'll enjoy authentic decor and food.
If you're visiting over dinner hours, take advantage of sitting on their patio.
Close to Klosterkof, we wandered around this quaint park and checked out some of the local sculptures on our way to explore the red right district, which we recommend skipping.
Prostitution is actually legal in Germany, and the red light district seems like rows of adult clubs, just with men nonchalantly popping out of brothels. It's nothing worth seeing.
At this point, we were tired and needed a great place to relax. Getting a drink and a great view of the city at the rooftop of the galleria was perfect.
We lounged on outdoor sofas to trendy upbeat music, which sounds like the soundtrack of a boutique. Taking a break from heavy beer, we savored Aperol Spritzes, they just always taste better while in Europe!
Towards the end of our layover, we took a route to head to a different train station that led us on a sunset stroll along the Rhine River.
It was a calming conclusion to our adventure prior to hopping on a plane for another long flight.
Getting from the Frankfurt airport to downtown was a breeze, if you have an extended layover in Frankfurt exploring the city is a no-brainer!
Be sure to grab some Euros at the airport before you take the train into the city, cash is more common in Germany than credit cards are.
We hope these recommendations help you to make the most of your time in Frankfurt. If you're headed across the pond, don't miss these other Europe Travel Guides.
If you use these tips in Frankfurt, let us know by reaching out to @coupleinthekitchen on social media!