There are some truly remarkable cocktail bars in Austin, Texas.
As food bloggers, we have had the opportunity to try a lot of different liquors and a ton of craft cocktails (tough gig, eh?).
We're rounding up the best cocktail bars in Austin, from speakeasies to large patios to unique libation spots.
Cool Cocktail Bar with a Secret Mezcal Bar in Austin: Whistlers
If you are looking for a hip spot with a patio, Whistlers is the place to go.
Located on East 6th street, this Austin cocktail bar features hip, eclectic antique décor and a moody vide inside the bar.
Whistlers cocktail bar features a large outdoor area complete with a food truck.
Most people don't realize that Whistlers even has a secret speakeasy mezcal bar upstairs.
Mezcalera Tobal is only open on Friday and Saturday nights and creates an intimate space for any Mezcal owners.
They also come up with some creative cocktails that you won't find elsewhere.
1816 E 6th St, Austin, TX 78702
Cocktails in a Secret Parking Garage: Garage Bar Austin
Garage Bar Austin is one of our favorite places to bring guests who are visiting.
Go figure, Garage Bar is literally a cocktail bar located in a parking garage. It's the quirky vide that supports our city's slogan "Keep Austin Weird".
This unique bar isn't just a novelty, Garage Bar whips up a mean cocktail. The Indian Paintbrush is a crowd pleaser that has won awards in past years.
We love to listen to vinyl records while sipping on some fancy cocktails in this moody lounge with retro vibes.
503 Colorado St, Austin, TX 78701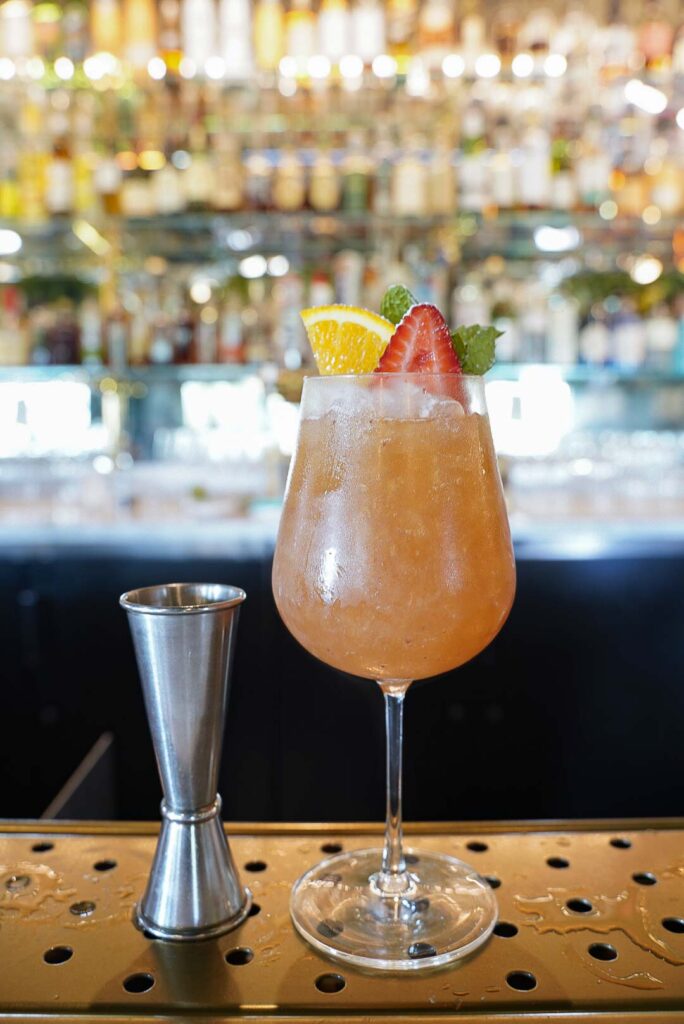 Chicest Cocktail Bar in Austin: Luties
For the most swoon worthy décor overlooking the lush gardens of the Commodore Perry Estate hotel head to Luties.
The decor is so stylish and the jawdropping bar is the focal point of this restaurant and bar.
Curl up on a lush velvet barstool and enjoy a craft cocktail.
Or opt for a patio seat overlooking the yard and fountain of the grounds. Even though this estate resides in the city, you'll feel transported into an oasis.
4100 Red River St, Austin, TX 78751
Speakeasy in Austin with a hidden door: Firehouse Hostel
We're a sucker for a speakeasy and the Firehouse Hostel cocktail bar lets you enter in through a hidden entrance, a sliding bookcase!
What could be more fun than that?! Many of their cocktails are stellar, but lately, we have been into the Gold Rush.
Firehouse Hostel sometimes offers live music so check the calendar for a taste of Austin's famous live music scene.
Note: This Austin cocktail bar is also a fully functional hostel with beds to rent, right in the heart of the infamous Dirty 6th Street.
605 Brazos St, Austin, TX 78701
"Floppy Disk Repair Company" Speakeasy: Red Headed Stepchild
Another speakeasy to add to the list!
This Austin speakeasy is located in a storefront called "Floppy Disk Repair Company" with a one way mirror.
You'll need a numeric password to punch into the door to get in (it changes monthly and is shared via text message if you're lucky enough to get on their list).
They serve up some really funky drinks like the "I'm in love with the CoCo" which come complete with CoCo Puffs cereal as a garnish.
Red Headed Stepchild's decor is odd, funky, and borderline creepy, but it is all in good fun.
Hopefully you are able to snag one of the bar stools that are actually swings!
119 E 5th St, Austin, TX 78701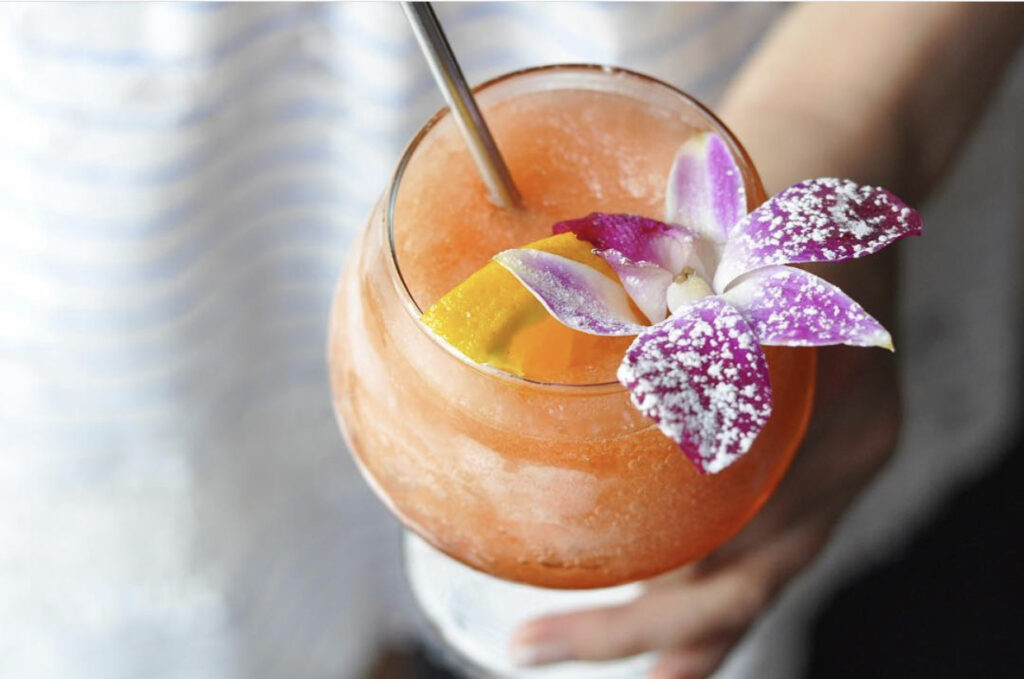 Austin's Best Place for a Craft Cocktail: Roosevelt Room
The Roosevelt Room has chic, art deco-inspired decor and this bar KNOWS know to make a good cocktail.
Choose from their custom creations, a traditional cocktail (which they display based on the year the drink emerged), or tell them what flavors you like and have them mix up something special just for you!
If you're around during the holidays, the Roosevelt Room Christmas bar called "Miracle on 5th Street" is located next door. Get the scoop on our blog post on Austin's Christmas Bars.
307 W 5th St, Austin, TX 78701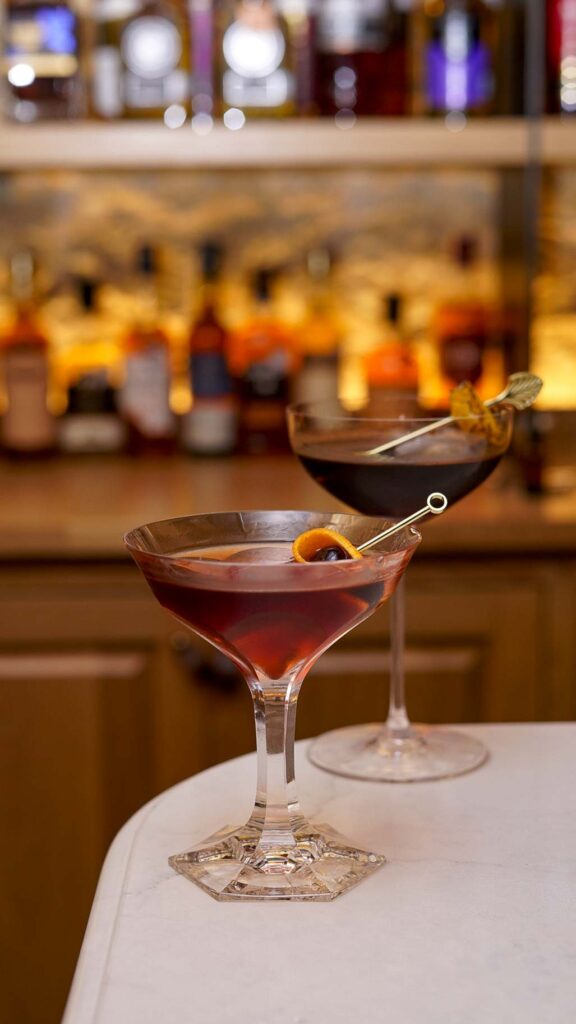 Best Cocktail Bars in Austin for Whiskey: Kinfolk
Moonshine Grill has been a restaurant operating for years in one of Austin's oldest buildings.
With the pandemic causing restaurant closures, the team decided it was the perfect time to put a speakeasy-style cocktail bar in the basement.
Kinfolk Austin is a small bespoke cocktail bar with an incredible spirits collection.
You'll find a large number of rare whiskeys as well as other premium liquors.
Be sure to make a reservation is seating is limited and grab our favorite drink, The Prospector.
303 B Red River St, Austin, TX 78701
This post on Best Cocktail Bars in Austin has been updated January 2022.
If you are a mixologist at heart, our blog also offers a number of cocktail recipes that you can make at home. Find them on our recipe index page.
If you end up at a new cocktail bar as a result of this post, please tag us on social media and let us know what you think!