If you want inspiration on what to pack for a safari, while still feeling stylish, look no further. I've curated some of my favorite looks from our romantic getaway to South Africa. Plus, a few tips on planning for your African adventure!
What Shoes to Wear on a Safari
This might be the best purchase I've made on Amazon, ever. I knew I wanted cute (and practical) boots for our South African safari, but I didn't want to spend a fortune. I'd rather save that money for an incredible trip!
For $27 bucks, you can't go wrong with these brown combat boots. They are really lightweight, which is crucial when you're packing your bags in order to fly across the world.
Since they were light, I wasn't dealing with super hot feet either. For the price and lightweight transportability, you can't go wrong ordering these boots for a safari. I've worn them with skinny jeans and dresses back home in Austin, too!
What to Wear on a Safari
There are a few things to keep in mind when packing for a safari. First of all, you'll need to be able to get in and out of the land cruiser. If your dress is too tight or short, you'll totally be in a predicament.
We read that is it also important to wear neutral colors. Anything too vibrant and bright might scare off the wildlife that you're looking to see. These items are lightweight and breezy and are all pieces I wore on my safari.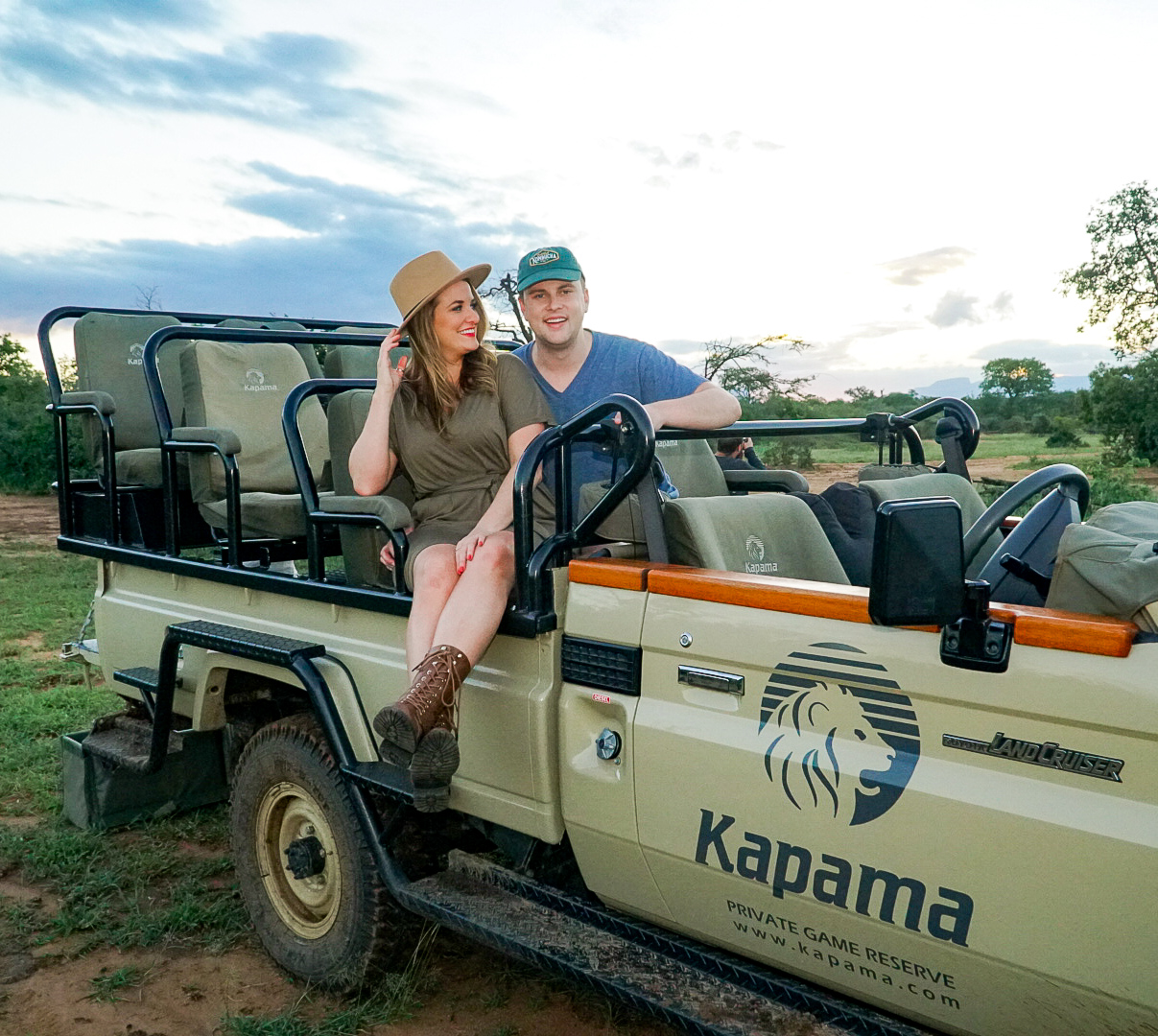 Be Sure to Bring a Hat
The African sun is NO JOKE!
Keep in mind that a side effect of many malaria medications are increased sensitivity to sunlight. We always had sunscreen on, and still ended up getting super sunburned.
Thankfully, I live in hats as it is, so my face was pretty protected from the sun while on our safari.
You'll definitely want to do the same as well. This adorable hat from Amazon is my favorite. They are decent quality, adjustable to fit your head, and really affordable.
I'm not kidding, I have this hat in FOUR colors and wear them all the damn time.
Pack a Swimsuit
if you haven't read our guide on planning for a safari, be sure that you do. You'll learn that there are typically two game drives a day, the morning drive starting at sunrise. That means you have a fair amount of free time mid-day.
As you can imagine, the African sun gets hot and most safari camps have swimming pools.
Our luxury resort, Kapama Karula lodge even had a private pool on our balcony!
Here's a suit I bought that I thought was perfect for the safari – it's figure flattering too! I love the ruching on the high waist bottoms.
The fluttering sleeve is a great camouflage if your arms aren't as toned as you'd like.
Also, the straps are removable! I actually like the suit better with the straps taken off.
South Africa Power Adapter Plug and International Power Converter
You'll be looking adorable on your safari and definitely will want to have a full camera battery for sneaking selfies with the wildlife.
One of the first questions we asked while preparing for our South African vacation was if our universal travelers converter would have the prongs that we'd need in South Africa.
That answer was a surprising NO, because South Africa has very special plugs that don't come standard on any multi country converter.
We invested in this one for our trip to South Africa. It's amazingly fast and we love the ability to charge multiple electronics at once.
The good thing is that this international power adapter is also a voltage converter so you don't risk frying your electronics (or your hair with a faulty curling iron).
We hope this post helped you to plan your wardrobe for your trip of a lifetime.
If you're going on a safari and use any of our tips, please tag us on social media, we'd love to say hello! Cheers!