Visiting the Grutas de Tolantongo hot springs was one of our favorite travel highlights of all time.
We had the opportunity to visit Mexico City once again this past January; if we only knew that travel would be completely up-heaved in a few weeks as a result of the pandemic!
We've been enjoying the extra time at home, cooking together all the time (ohhh the dishes!), and publishing a lot of recipes. But we're really starting to get that travel itch once again.
While we can't hit the road just yet, we're reliving our favorite memories while creating this guide for Tolantongo for you. We hope that by the time you are reading this, the globe trotters and explorers are able to safely discover our amazing world once again.
Until then, enjoy the photos of the magical Grutas Tolantongo and start planning your trip to Hidalgo, Mexico.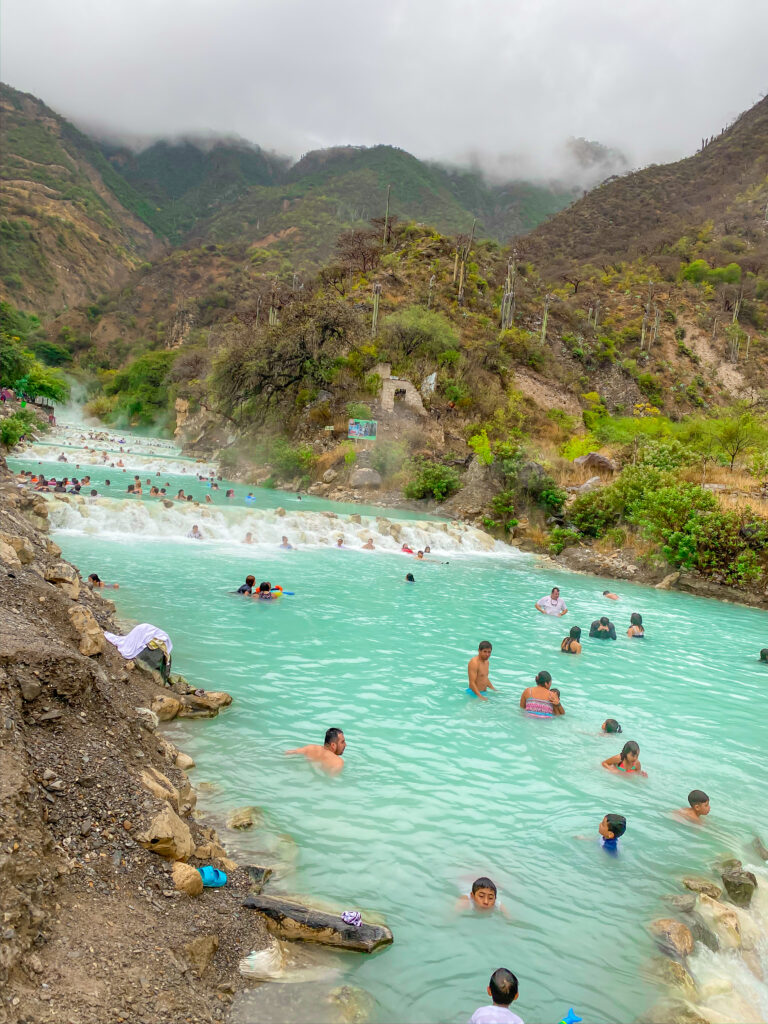 What are the Grutas de Tolantongo?
A few hours north of Mexico City, in the state of Hidalgo, you'll find an incredible oasis amidst the mountains.
Tolantongo features natural hot springs running through valleys, in caverns, and climbing the cliffs in spring pools.
We're big fans of hot springs. From the Blue Lagoon during our trip to Iceland to the unique small town of Hot Springs, Arkansas, we always seek out this natural wonder.
When we learned that hot springs existed in Mexico, we had to check it out.
Gruta means "cave" in Spanish and it is a characteristic that makes Tolantongo so very special.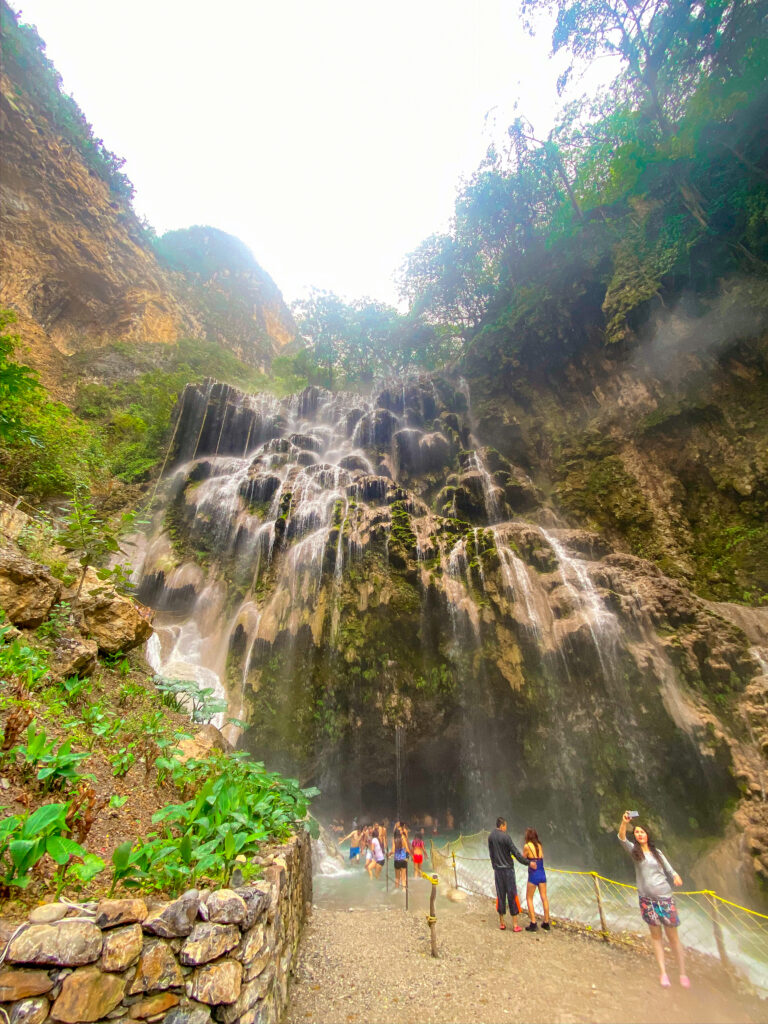 The Gruas Tolantongo features a hot spring cave that you can swim through! You'll pass by stalactites and stalagmites and get pulled by a natural current through passageways and waterfalls.
Above the main cave that is covered in waterfalls, you'll find the entrance to a second tunnel.
This second mini cave was steep, dark, and very humid. We even had to boost each other up to climb through! This one was cool to see, but if you're claustrophobic stick with the main big relaxing cave.
For a more mellow Tolantongo experience, consider lounging in the broad rivers that stretch throughout the valley.
The light blue waters are warm and frame up the surrounding mountain range.
Finally, head up to the pools. You'll need to either hop on a resort bus or take a walk to get to the tolantongo pools, but it was well worth it. Our favorite part of the whole excursion was relaxing in the natural hot springs nestled on the sides of the cliff.
It was a natural wonder that we'll never forget.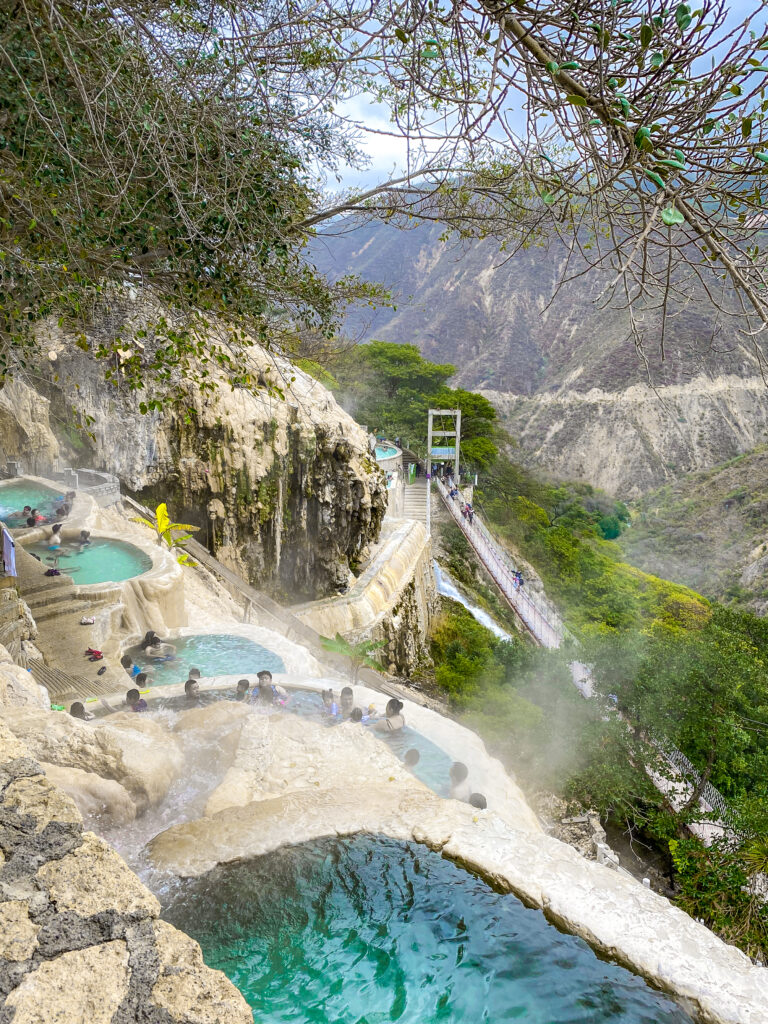 How to get to Tolantongo
We booked a day trip to Tolantongo from Mexico City via Airbnb Experiences.
This included transportation from Mexico City to Tolantongo, entry fees, lunch, and guide services.
We didn't know what the drive would be like to Hidalgo, so we splurged on a tour instead of driving ourselves.
Looking back on the trip, the drive was very safe and peaceful. During our journey, we passed farm lands of sheep being herded, nothing of danger at all.
While the actual drive seemed easy enough, we will say that once you arrived at the mountaintop entrance to the tolantongo, it was pretty confusing on which gravel road to take to reach the caves.
If your Spanish is limited and you could have unreliable GPS service, we recommend taking a tour instead of driving.
If you're up for the adventure and already have a rental car, drive there! It's a much cheaper option as entry to the hot springs is only $150 Mexican Pesos (around $7 USD).
What to bring to the Grutas Tolantongo hot springs
Water shoes are essential! In fact, these are required to enter the caves. Pack your own or opt to purchase some water shoes at the bodegas at the base of the grutas de tolantongo. Gavin needed to buy a pair and they were reasonably priced, but be sure to carry cash.
We're sure you've thought about bringing a towel to tolantongo, but bring two towels! Towels are not provided at the hot springs. You'll use your towel a lot as you towel off from area to area. When it was time to head home, we showered at the public changing room but our towel was already soaked! Having a towel for the springs and a towel for after you shower will ensure your visit to tolantongo is the most comfortable
One thing we wished we packed on our journey to the Hidalgo hot springs was a bathrobe.  When we visited Tolantongo the air was a bit chilly but we stayed warm in the hot springs. Throwing on a robe to walk from the Tolantongo caves to the hot springs would have been really nice… and much easier to climb hills in compared to being wrapped in a beach towel.
The Grutas Tolantongo are so picturesque. You'll want to take a million photos. If you want to capture moments in the cave, a waterproof cell phone case holder or a GoPro is critical. The caves have heavy currents and waterfalls so there is no way you can bring your phone in for photos unless it's protected.
If you're not going with a guide, bring a headlamp. This might sound crazy but it is needed; you're going to be swimming in a hot spring cave after all! You will not be able to see much of anything in the cave and you'll want to ensure you stay safe while navigating narrow tunnels.
Grutas de Tolantongo hotel
There are a few hotel buildings on the property at Tolantongo but they do not take reservations.
The hotel is a motel-style layout right on the banks in the valley.
These are a great option if you are searching for air conditioning, but are simple in that they do not feature wifi or televisions.
Get there early (before 9am!) to reserve your room as they do get booked up.
Be sure to bring cash as credit cards are not accepted anywhere in Tolantongo. For more details on lodging, access their main site.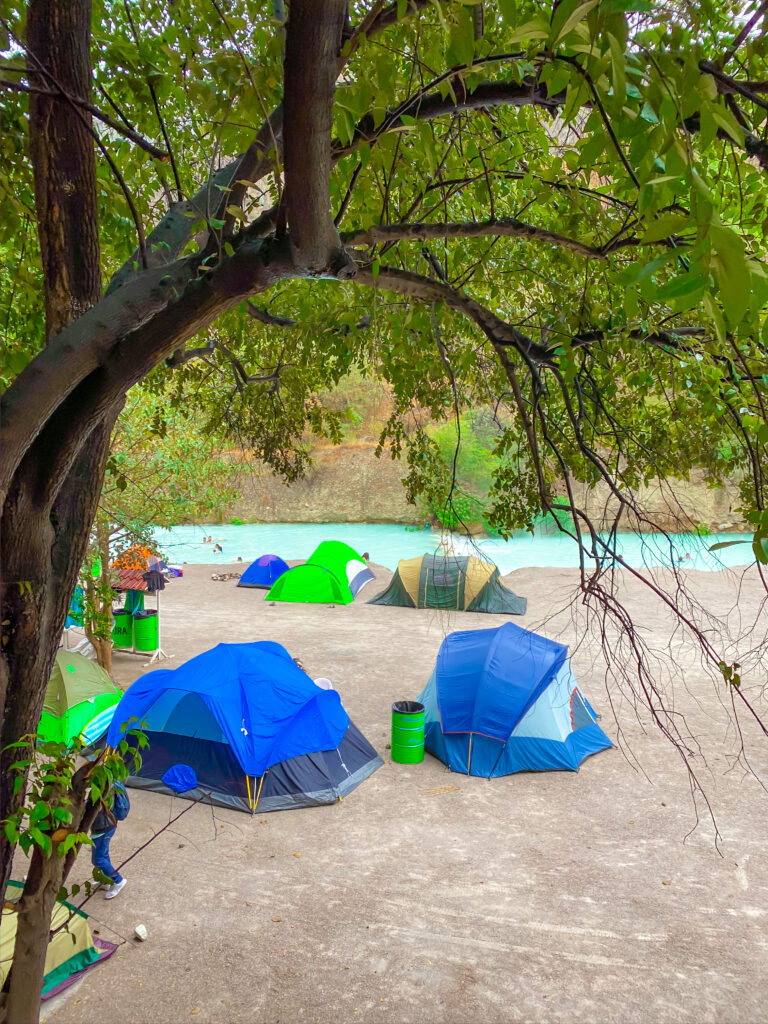 Camping Tolantongo
There is also the option to camp at the Grutas de Tolantongo.
Our tour guide gave us the option to camp as part of our package. Since it was raining, we decided to opt out upon departing Mexico City.
If we had known better we would have absolutely packed what we needed in order to spend the night in a tent!
You can bring your own tent (if so, the camping is free!) or rent a tent on the property.
A tip if you decide to camp, be sure to leave early in the morning, promptly before checkout or you will be charged for another day pass to the park.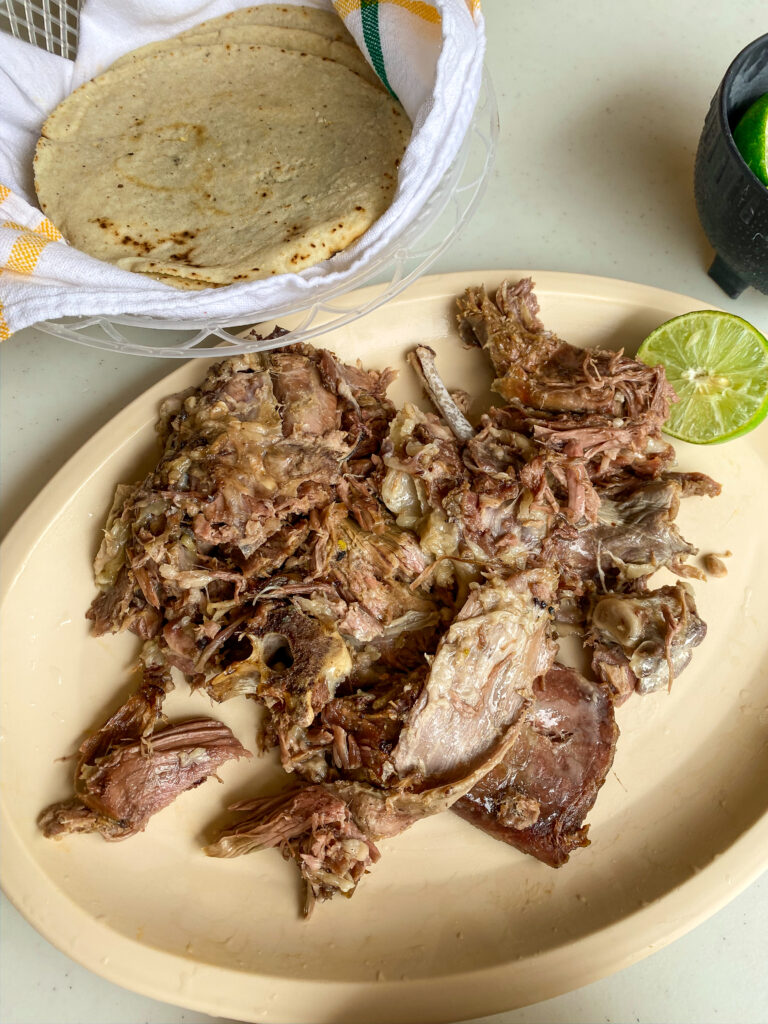 Tolantongo food
There is also a spot to dine while visiting Grutas de Tolantongo.
Know that Hilado is the birthplace of barbacoa and Sundays are the day for barbacoa.  We were so ecstatic that we chose to visit on a Sunday.
Locals prepared a traditional whole lamb barbacoa under banana leaves in a dedicated pit.
The scent wafted through the air as you took in the majestic view of the waterfalls. We enjoyed a plate of meat served with fresh tortillas, cilantro, and white onions.
If you miss barbacoa day, just make our beef barbacoa recipe at home instead!
Can you visit Tolantongo if it is raining?
The forecast was dicey during our day trip to Tolantongo. We even considered canceling the trip as it was a 100% chance of rain.
Know that Tolantongo is open 365 days a year, rain or shine.
Our guide assured us that it wouldn't be a problem and he was totally right.
A misty day did not rain on our parade (pun intended).
Even if it is cold outside you'll stay warm in the springs. When the rain got heavy, we escaped to the cave. No problemo!
Grutas de Tolantongo was the most incredible day trip! What made it so special is the fact that this is a hidden oasis. While the springs were packed, they were all filled with locals. 
Out of thousands of people across the massive valley of springs, we were two of about five total tourists.
You'll splish and splash next to families who are local to the area or groups of Mexico City residents who are taking a short getaway.
Now is the time to book a trip to see this natural wonder before it becomes overpopulated with tourists!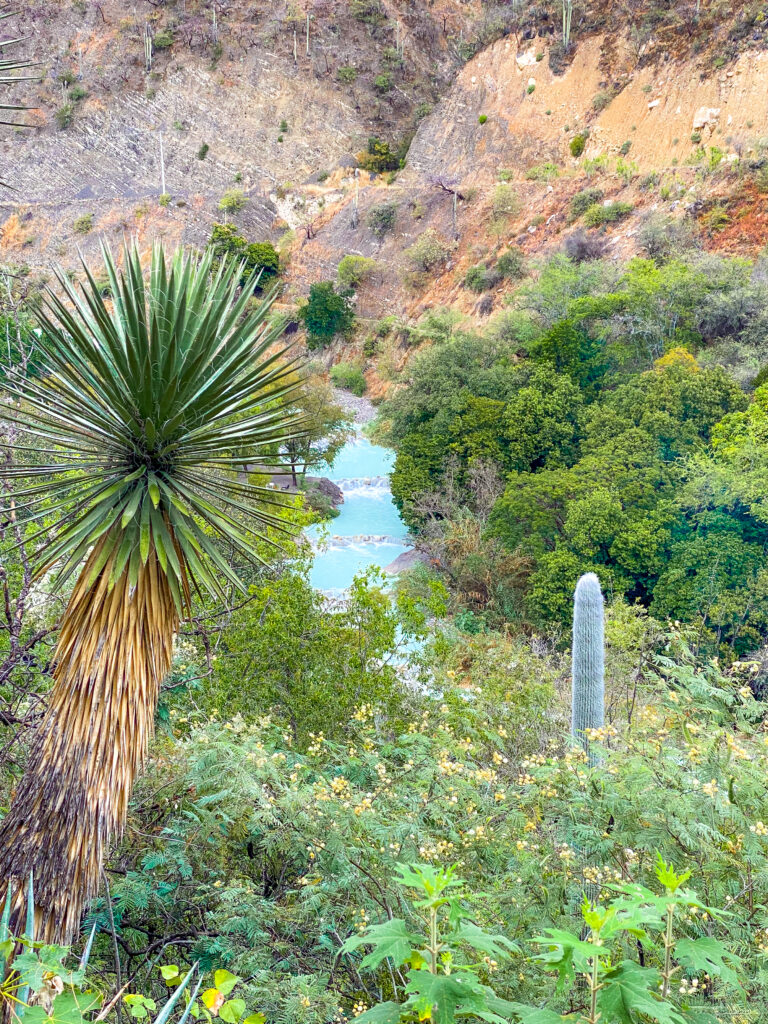 Traveling to Mexico? You can't miss learning about our all-time favorite taco shop located in Centro Mexico City or the best neighborhood in Mexico City in our travel guides.
Click this link to pin this post for future reference. If you visit Tolantongo based on our recommendations, let us know by tagging @coupleinthekitchen on social media!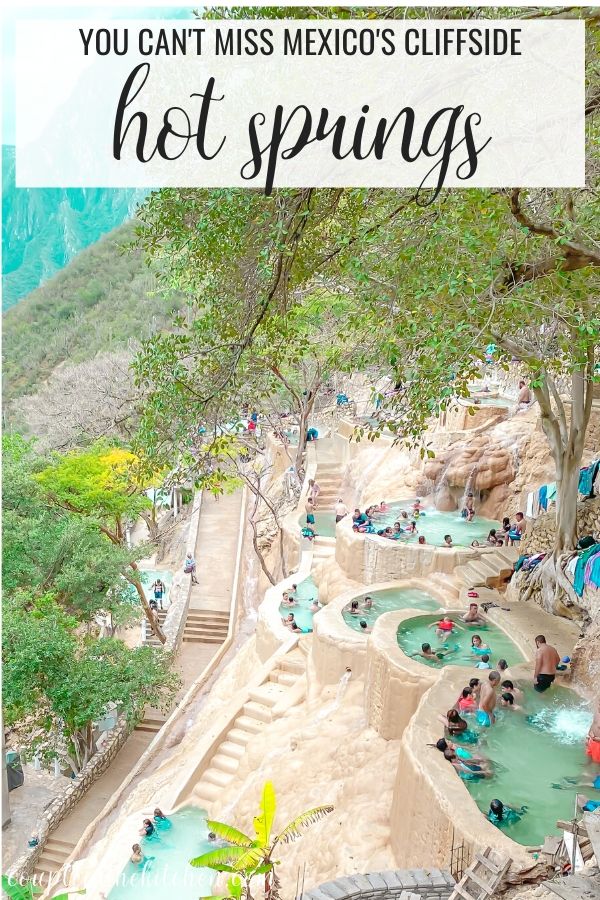 If you'd like to automatically receive our posts in your email, register here.