Mexico City was such a terrific destination filled with good food and history.
It was night and day compared to staying on the coast of Mexico.
After spending a few days in the La Condesa area of Mexico City, we transferred our lodging to Centro to be closer to the Historic Downtown Area and to experience a different type of vibe.
We booked a room at Chaya Bed and Breakfast which is a fairly new boutique B&B located in the Alameda district and park area of Centro.
Most tourists stick to Condesa and Roma to avoid the hustle and bustle of Centro, but Chaya is definitely unique for the area because it is in the heart of a beautiful park where you can see people dancing, skating, kissing, and enjoying the outdoors.
The park itself was also extremely safe as there's always a police officer or two within a minute's walk.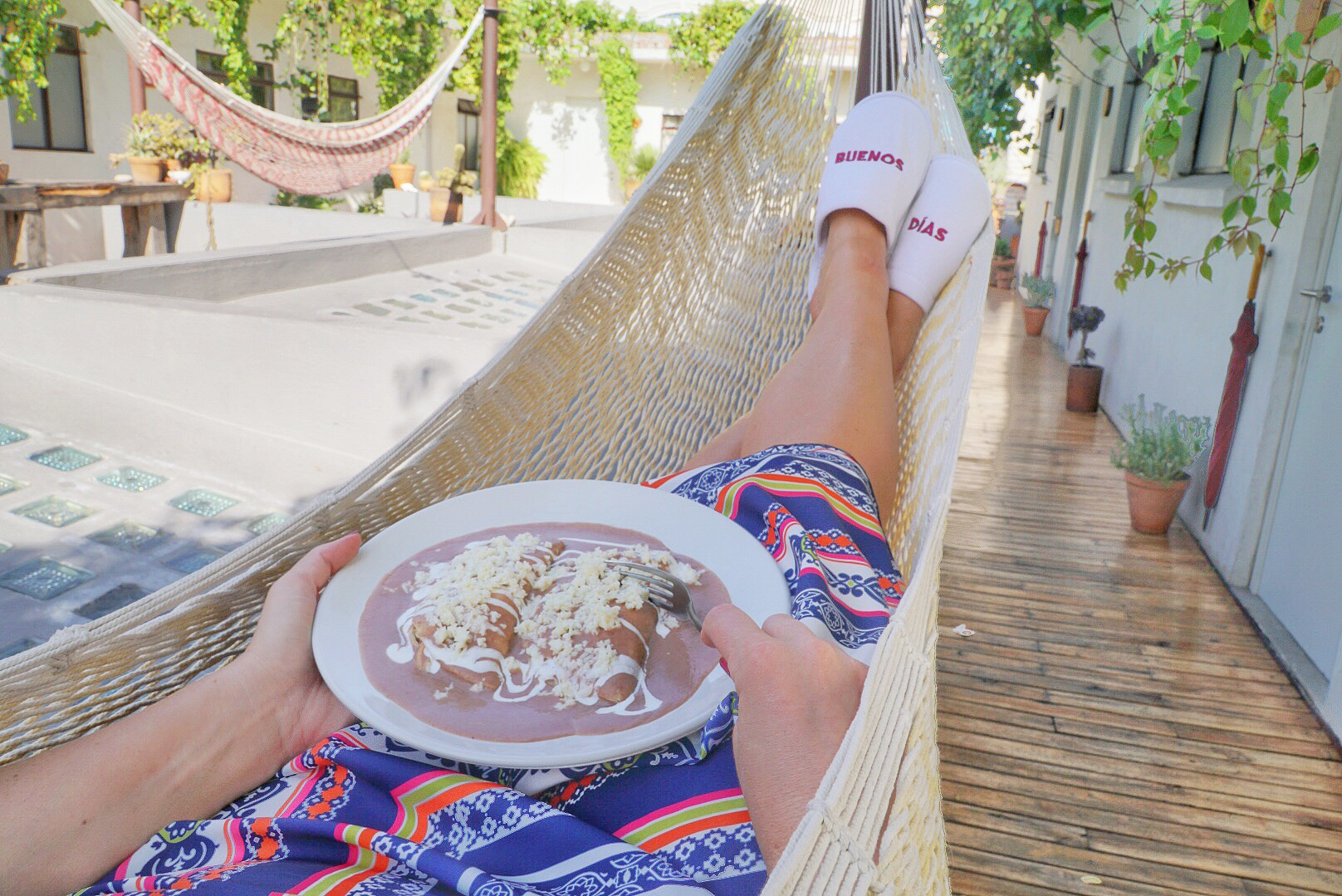 Chaya B&B is on the top of a boutique artisan shopping center and connected to a historic yellow building that you can admire while swinging on a hammock in their rooftop oasis where you're surrounded by lush plants.
What's amazing about this place is they whip up complimentary breakfast every morning.
Chaya offered fresh fruit, eggs cooked up international or Mexican style, and a unique traditional Mexican breakfast option each day.
Our favorite of the whole trip was Chaya's enfrijolada which was chicken enchiladas covered in a special bean sauce.
We had never tasted enchiladas like this before and we will definitely be using this inspiration to create a new recipe for y'all!
When traveling to Mexico City we highly recommend experiencing and staying in different areas, because Mexico City is HUGE.
With Chaya's arrival in Centro, don't let anyone tell you that Centro is to be avoided because this B&B is a major gem!!
Things to do in Mexico City Centro Area
Zócalo – The historic center of Mexico dates back to the 15th century where Aztecs used this area as the main ceremonial area.
Visiting the zocalo, you will see stunning architecture and a giant Mexican flag waving.
Plaza de la Constitución S/N, Centro Histórico, Centro, 06010 Ciudad de México, CDMX, Mexico
Palacio de Bellas Artes – This beautiful building is known as "Cathedral of Art in Mexico".
It is free to enter and features a number of murals from notable Mexican artists.
The Palace has hosted important events in music, opera, theatre as well as exhibitions.
https://palacio.inba.gob.mx/ Av. Juárez, Centro Histórico, 06050 Ciudad de México, CDMX, Mexico
Historic Post Office – It might seem crazy to visit a post office while on vacation, but it worth it.
The Mexico City Post Office, Palacio de Correos de México, was built in 1907 and is still in operation today.
The marble and gold details throughout the building are breathtakingly beautiful.
It's a quick stop that's across the street from the Palacio de Bellas Artes, and was designed by the same architect.
It is totally worth 10-15 minutes for a few quick pictures and to admire this historic building that's off of the typical tourist path.
https://www.gob.mx/correosdemexico C. Tacuba 1, Cuauhtémoc, Centro, 06000 Ciudad de México, CDMX, Mexico
Taquería Los Cocuyos – Literally the BEST taco stand in all of Mexico City.
We were actually walking towards dinner at Limosneros when we passed this taco stand full of locals.
Even though we were only a few blocks away from our dinner, we stopped for a champacano taco.
It was so delicious, we immediately got back in line for another two!
The fact that they dunk the tortilla into the juice of the meat makes all the difference.
Locals say it's one of their favorite taco stands in all of town, so you can't go wrong.
Plus, it's open until 5:30am. Late night munchies, anyone?
Calle de Bolívar 57, Centro, 06000 CDMX, Mexico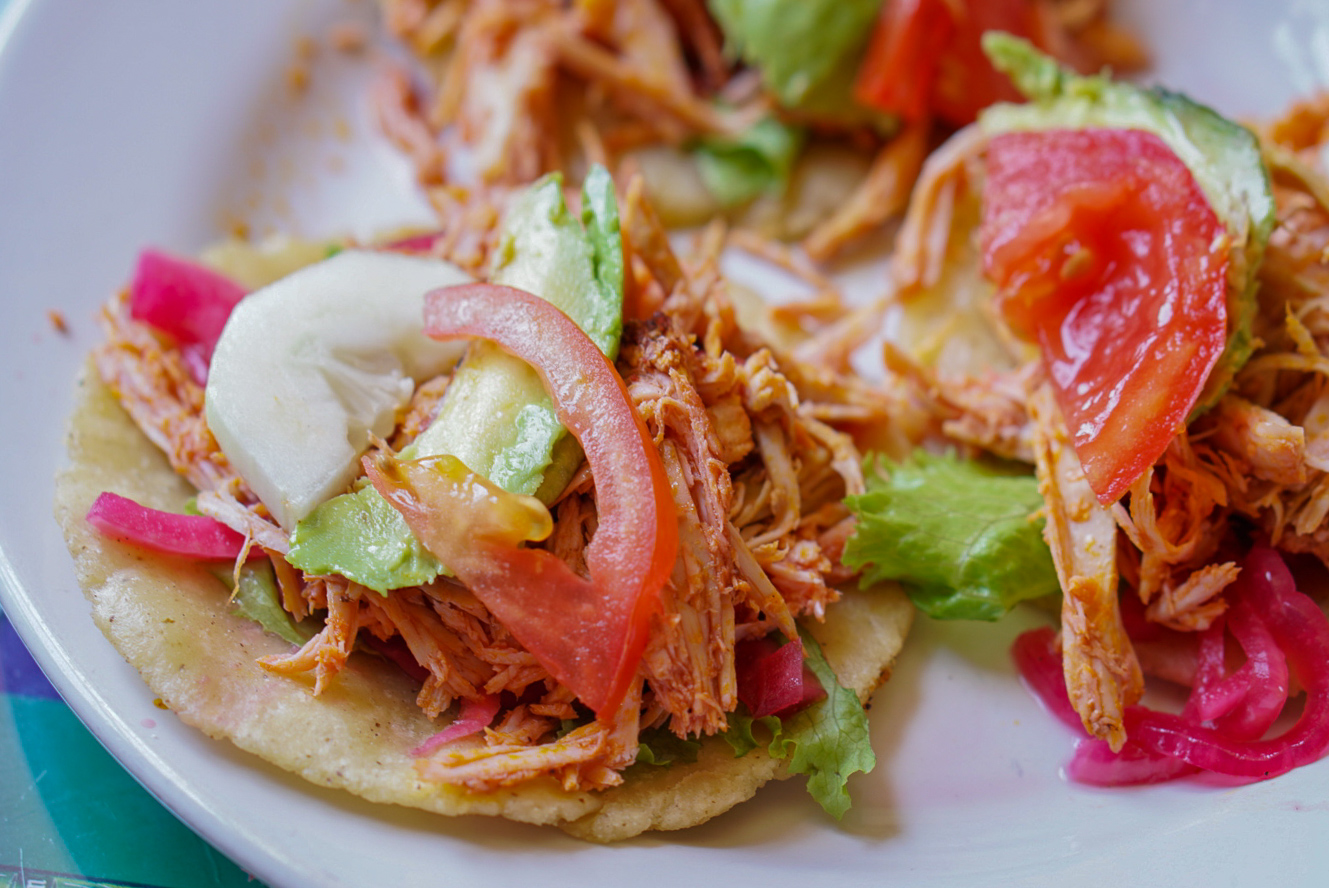 Coox Hanal Yucatan Food – If you're a foodie like us, Mexico City is a great way to taste a variety of Mexican cuisine.
Coox Hanal is a little tough to find (it's upstairs) but we were told this is one of the best places to visit for Yucatan food.
Known for cochinita pibil, a suckling pig that is slow roasted in orange juice and achiote.
They are also known for their sopa de lima (lime soup), but our favorite was the salbutes, which is similar to a tostada but on a thicker, softer tortilla.
http://www.cooxhanal.com/ 2o piso, entre Mesones y Regina, Isabel la Católica 83, Cuauhtémoc, Centro, 06000 Ciudad de México, CDMX, Mexico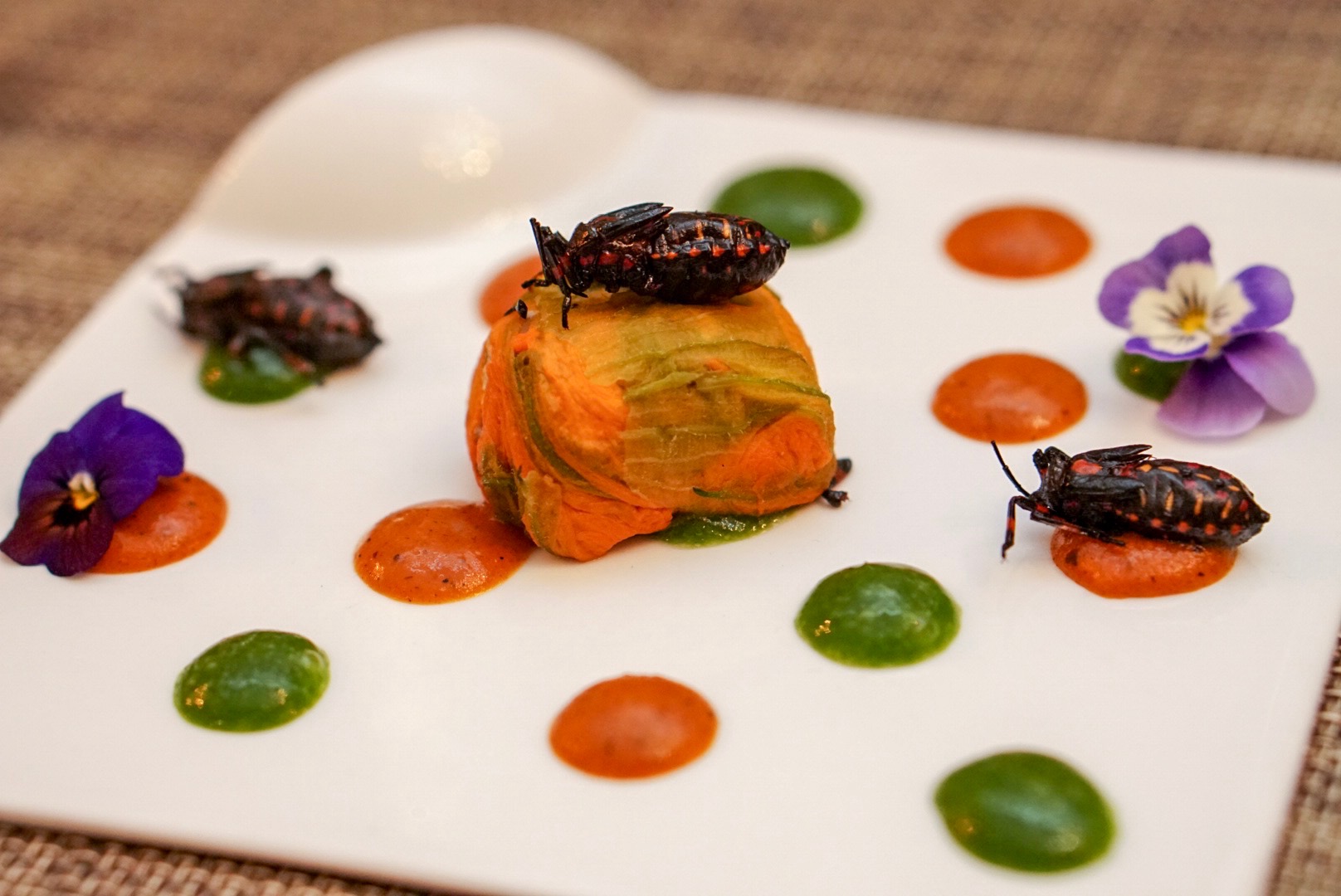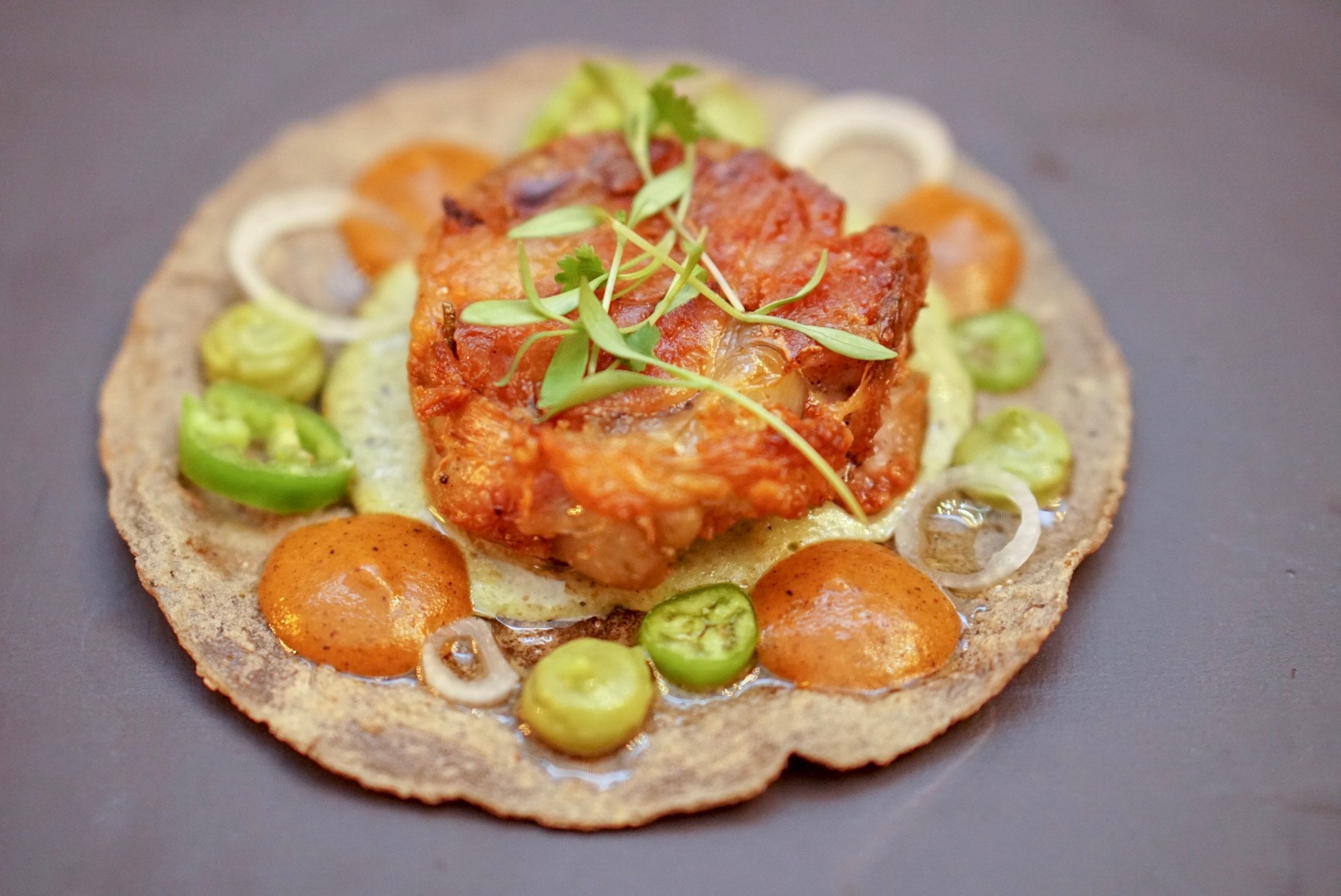 Limosneros – This is hands down one of the best restaurants we've ever experienced.
They put a modern spin on some of Mexico's historic and regional dishes that range from the most incredible sweetbread tacos to hyper-seasonal flying ants and other traditional insects.
The dish with the flying ants (which are rarer than truffles due to their one to three-week seasonality) are ground into a mole fondue that you dip different veggies and proteins into.
What's special about these ants is that like peppers, they have capsicum in them which gives them a spicy meaty flavor, which is perfect for Mexican cuisine.
Y'all may think we're crazy, but we also tried their beetle dish and we both were shocked on how much we loved both bugs when made properly.
Limosneros also has one of the best wine and mescal portfolio in all of Mexico, and they have pairings for everything.
We cannot stress how good this restaurant is, and it's shocking that it doesn't have the same notoriety and global restaurant ranking as Pujol.
http://limosneros.com.mx/ Ignacio Allende 3, Centro Histórico, Centro, 06010 Ciudad de México, CDMX, Mexico
El Balcón del Zócalo – We hired a photographer to take us on a historic Mexico City photo tour.
He brought us to gorgeous buildings and murals and snapped some photos of us along the way.
At the end, we took a few photos on the rooftop overlooking the Zocalo.
We stopped in for a cocktail and were in awe by the stunning decor, sweeping views of old buildings, and super creative cocktails.
This rooftop bar is inside the Zocalo Central Hotel. It's a bit pricey compared to most spots in the city, but worth it for the view and a drink.
https://www.balcondelzocalo.com/ Av. 5 de Mayo 61, Centro, 06000 Centro, CDMX, Mexico
Historic Mexico City Photo Tour – When possible we highly recommend searching for photo tours on AirBnB or Viator, because photographers always know the best unknown spots in town, unique history, and there's nothing worse than having to ask strangers for your picture where the shots either don't come out or they run away with your phone or camera.
What's amazing about photo tours is that with a bit of research you can find fairly reasonably priced photographers and you'll end up with an experience and shots that you'll cherish for years to come.
Centro Food Tour – If you're staying in Centro and are looking for a food tour Tasty Bites offers a Centro Taco Tour.
We did not go on that specific tour, but did go on two other tours with Tasty Bites and were very impressed with the tours.
San Juan Food Market – We always love to visit local markets while we travel.
The San Juan Food Market was one of the most "interesting" ones we've visited.
Initially, we visited the fruit stands, sampling some unique fruits that we've never seen before like Mamey.
Further into the market, we found lots of bugs for sale, a common ingredient in traditional food from Mexico City.
You'll pass by beetles, crickets, scorpions and even centipedes.
If that wasn't unique enough, you'll also find butcher shops and restaurants selling non-traditional proteins like lion, tiger and kangaroo.
Calle Ernesto Pugibet 46-48, Colonia Centro, Centro, 06000 Centro, CDMX, Mexico
Craft Market and San Juan Mexican Curiosities – Located across the street from the San Juan market, this craft market offers souvenirs and Mexican handiwork.
We picked up bright colored blankets, leather shoes, and purses in this indoor market.
It's not as busy as the Ciudadela Market, which means shopping was less cluttered, typically cheaper, and they were much more willing to negotiate.
Ayuntamiento 22-28, Colonia Centro, Centro, 06000 Cuauhtémoc, CDMX, Mexico
Ciudadela Market – A few blocks away from the San Juan market is the Ciudadela Market.
This is the most well-known spot for shopping for artisan goods.
A large outdoor area is PACKED with vendor stalls. We picked up a straw bag, hat and luche libre mask.
Compared to most markets we've been to in the world this one wasn't as open to negotiating, and all the stalls, for the most part, had the same prices as their competitors.
S/N, Balderas, Centro, 06040 Ciudad de México, CDMX, Mexico
Other Mexico City Souvenir Shopping – You'll find pop-up markets all across the city, just look for the white tents.
We bought fringe earrings and a wool poncho at the pop-up market outside the Palacio de Bellas Artes, cool sandals right outside Chaya Bed and Breakfast in the Alameda Park, and additional gifts outside the Anthropology Museum.
We had a terrific time in Mexico City and appreciated the cuisine, architecture and history. We always felt safe and we wished we had more time to explore this massive city!
If you're looking for recommendations on another fantastic neighborhood in Mexico City to stay, check out our guide on La Condesa and Roma.
Where to next? Rome? Thailand? Morocco? Be sure to read all of our foodie travel guides.
Click this link to pin this post for future reference. If you visit one of these spots based on our recommendations, let us know by tagging @coupleinthekitchen on social media!