We're your romantic travel experts so of course we curated a list of the top 33 things to in Maui for couples!
Whether you're planning a Maui honeymoon, celebrating an anniversary, or just looking for a romantic vacation to share with your partners, we've curated a massive list of romantic things to do while you're in Maui.
Maui is such a beautiful island, it's romantic in its own right.
Our trip to this tropical island was an extra special trip, because we celebrated Karen visiting all 50 states with this final stop in Hawaii and we celebrated Gavin's birthday!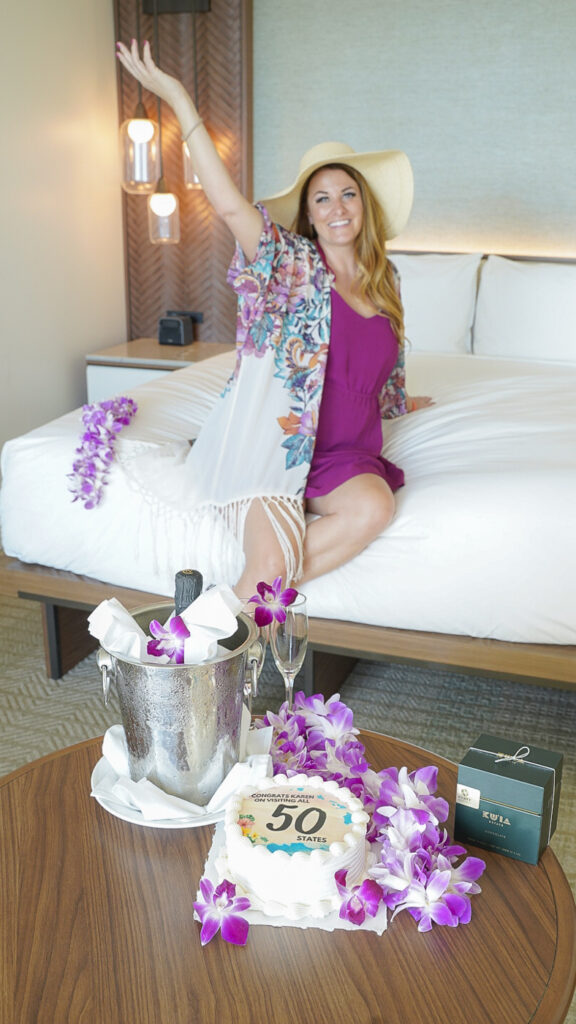 During our 12 day trip to Hawaii we spent the whole trip on the island of Maui. Since we had so much time, we dedicated this trip to finding the best spots in Maui for couples.
No matter what you do, you'll be surrounded by Hawaii's natural beauty as you experience the most romantic things to do in Maui.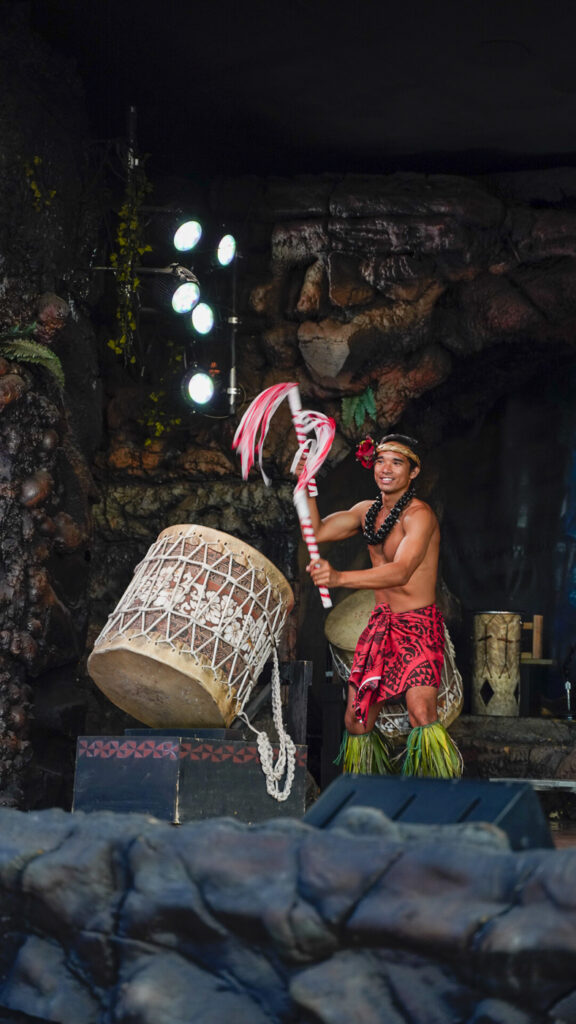 Experience a Hawaiian Lu'au
You can't come to Hawaii and NOT join a lu'au, it's one of the best ways to take in Hawaiian culture!
We attended the Drums of the Pacific lu'au while we were staying at the Hyatt Regency Maui Resort and Spa.
A lu'au is not only a dinner, but a whole celebration of tradition.
You'll start with an open bar of tropical cocktails, beer, wine and seltzers.
Then, watch hula performances and learn about traditional South Pacific instruments while eating appetizers like poke, macaroni salad, and cucumber onion salad.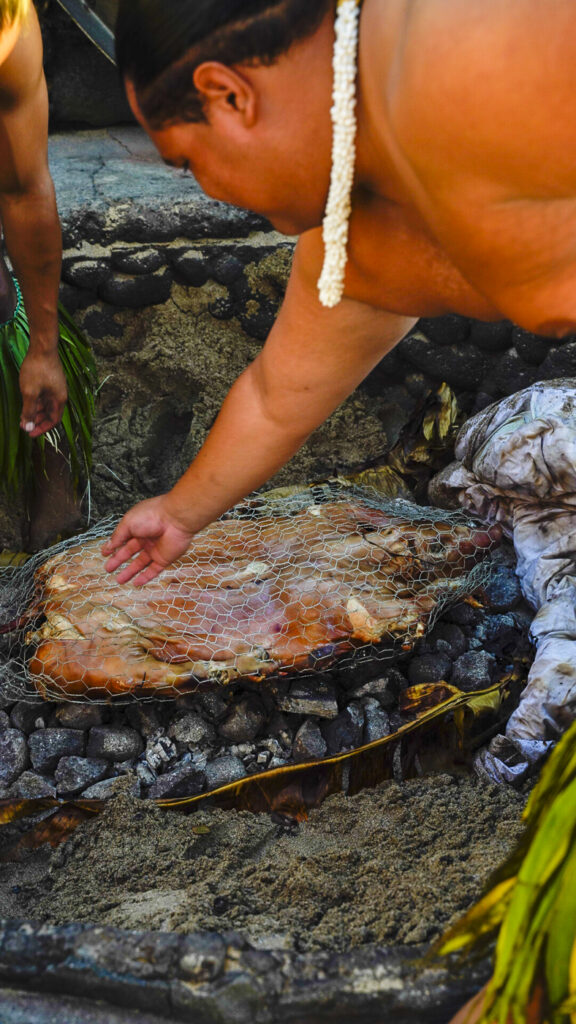 Watch a whole roasted pig get pulled out from the earth oven before you are served kalua pork, mahi mahi, and teriyaki beef for your dinner entree.
The best experience was watching the fire show finale as you savor coconut pineapple cake.
200 Nohea Kai Dr, Lahaina, HI 96761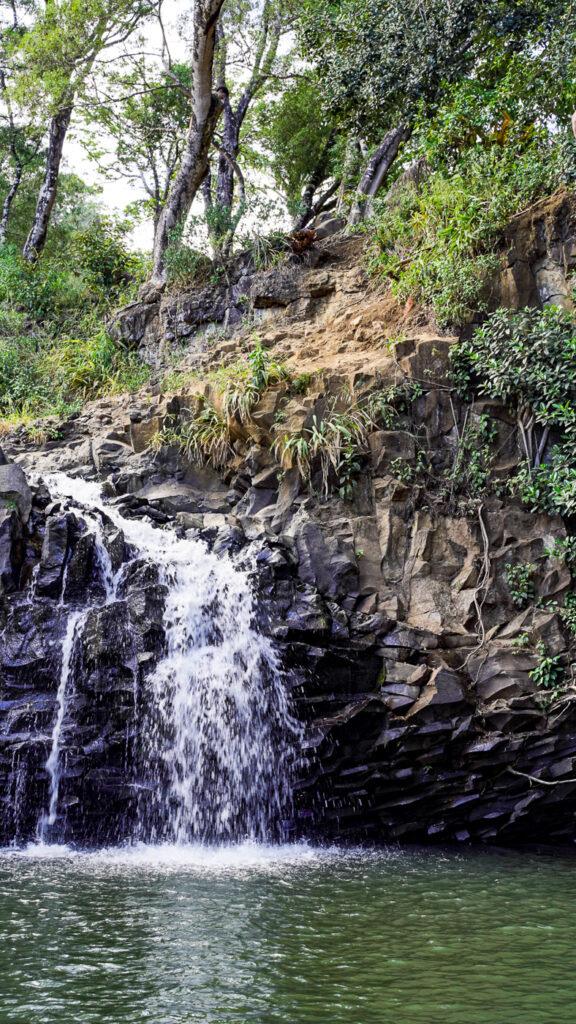 Swim in a Waterfall
Hiking into majestic waterfalls was a lovely day trip.
The road to Hana is also jokingly known as the Divorce Highway due to the long drive and hairpin turns.
Many friends shared that the road to Hana is all about the journey, not the final destination.
You can still enjoy so many wonderful aspects of the road to Hana without making the full 10 hour round trip drive.
This is why we hopped in our rental car and scheduled a day trip to a waterfall spot on the Hana Highway,
The Twin Falls waterfall is a short hike to a waterfall with a swimming lagoon at the base.
On your way to the natural pool you'll also cross paths with a towering bamboo forest.
Take a dip, cliff jump off of the top of the waterfall or just relax on the stoney shore as you take in beautiful Maui.
6300 Hana Hwy, Haiku, HI 96708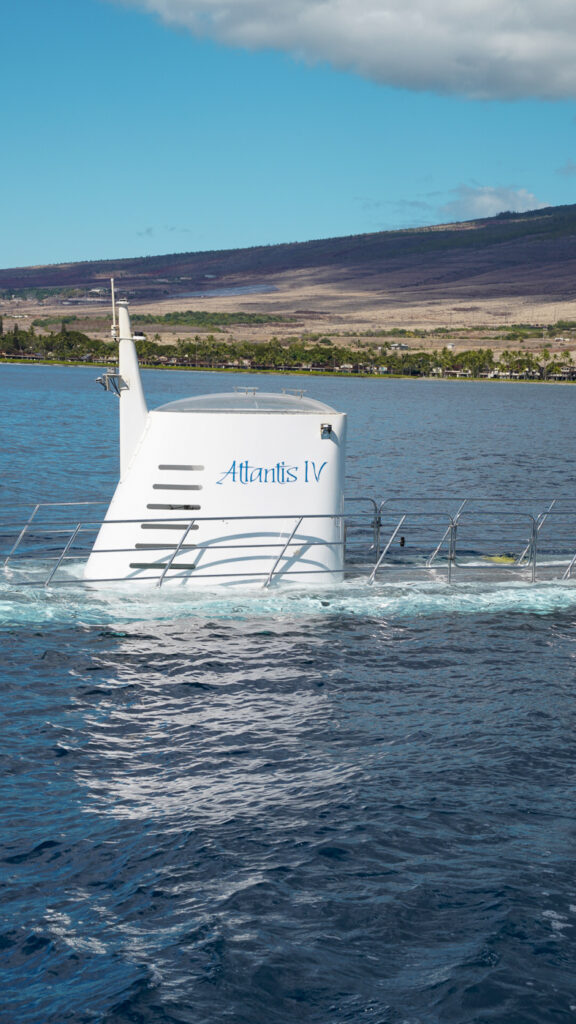 Submerge on Submarine Tour
One of our favorite Maui excursions was taking a trip in a submarine.
Although we are both avid scuba divers, neither of us have journeyed in a submarine before.
What's great about taking a submarine tour is that you can talk and experience the underwater sights together.
We booked a submarine tour with Atlantis Adventures.
After boarding a ferry boat, we listened to a safety briefing and then cruised for about 20 minutes to the location of the submarine.
Upon boarding the sub, you'll take a seat in front of a window, the hatch is sealed, and you're underwater in no time.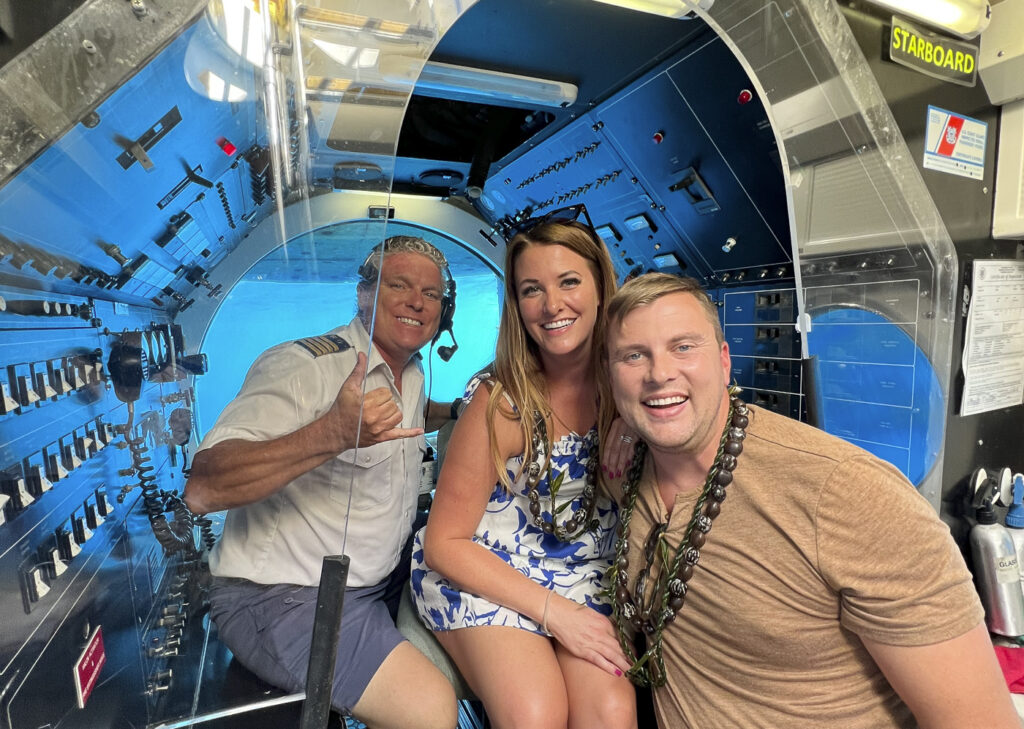 During the tour we spotted some sharks within mere minutes.
Tropical fish literally float right up to your submarine window!
One of the best parts of the tour was exploring a shipwreck that serves as a reef farm for coral, crustaceans, and fish.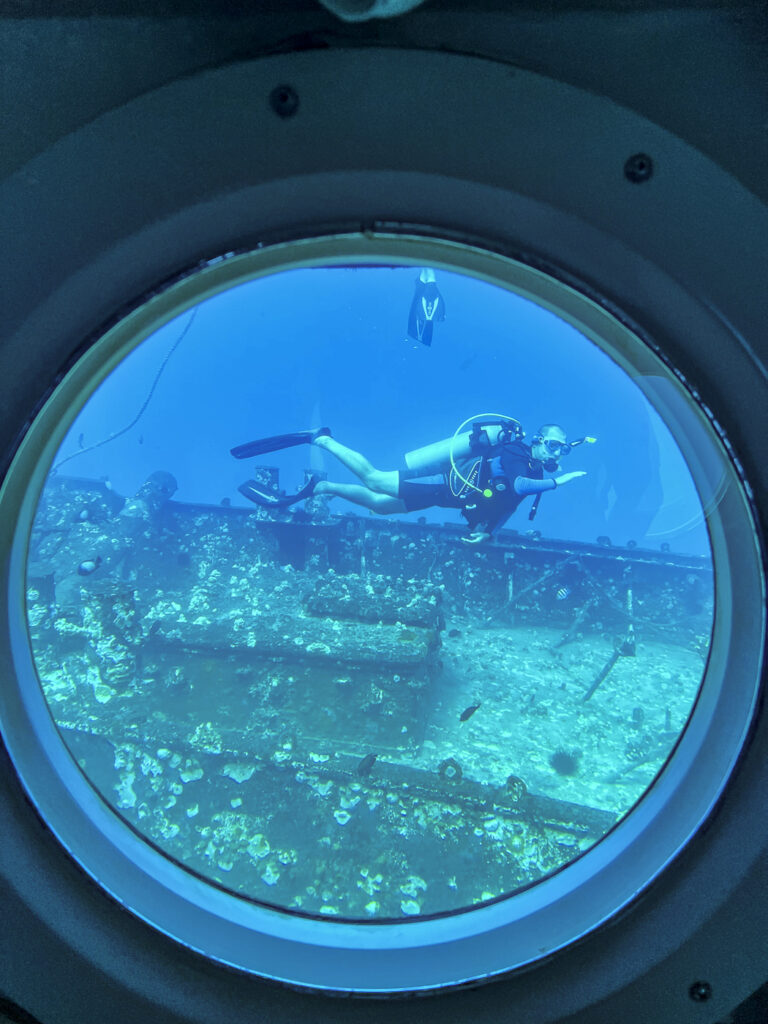 We even spotted some scuba divers while we were 130 feet underwater.
If you're looking for a better way to see the ocean floor without needing to go through scuba certification, a submarine tour is the way to go.
Check out this short instagram video for a preview of the experience!
658 Wharf St suite 11, Lahaina, HI 96761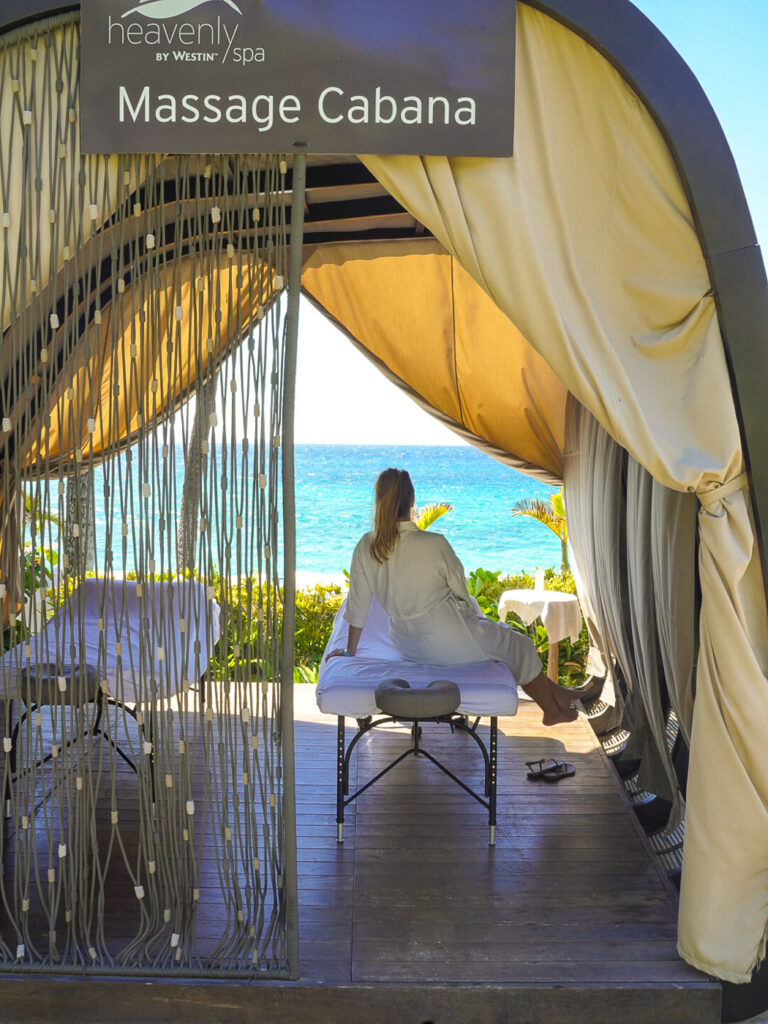 Get Pampered with an Oceanfront Couples Massage
Why is a massage so much better when you're getting pampered next to your sweetheart?
Our trip to Maui was packed with good food and romantic excursions, but we still made time for some R&R.
We had the opportunity for the most amazing spa experience while we were in Maui.
We were scheduled for a massage at the Westin Hotel and Spa for the first full day we were on the island. This was the perfect way to get the knots out from sleeping in a pretzel shape on the long flight from Austin to Maui.
We were also adjusting to the five hour time difference, so starting the trip with some dedicated relaxation was a smart way to unwind and connect as a couple.
After checking into the Heavenly Spa, we walked to a beach side massage cabana.
We listened to the waves crash and the slight sound of the pool band playing live island music while both of our massage therapists worked out our knots with a tropical massage oil that was made locally.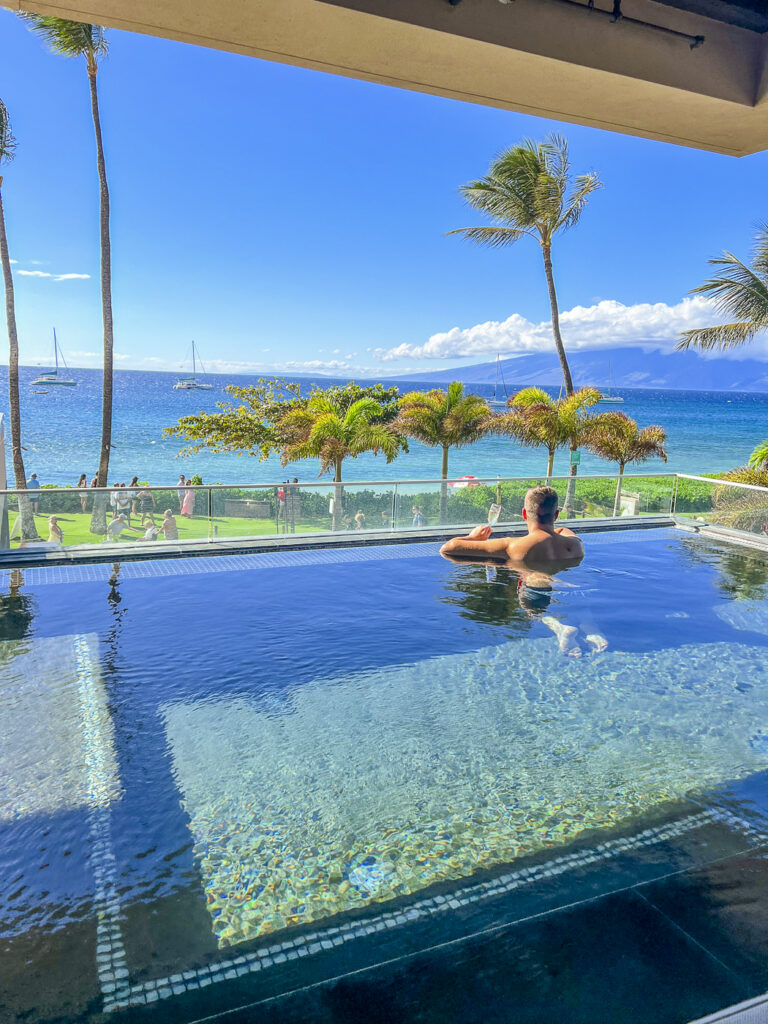 As if that 50 minute experience wasn't blissful enough, we were surprised to learn that after the massage we were treated to a glass of champagne at the private spa pool.
The infinity plunge pool even had loungers in the water.
We relaxed in our bath robes, sipped bubbles, and gazed at the ocean to complete our spa experience.
Talk about pure bliss.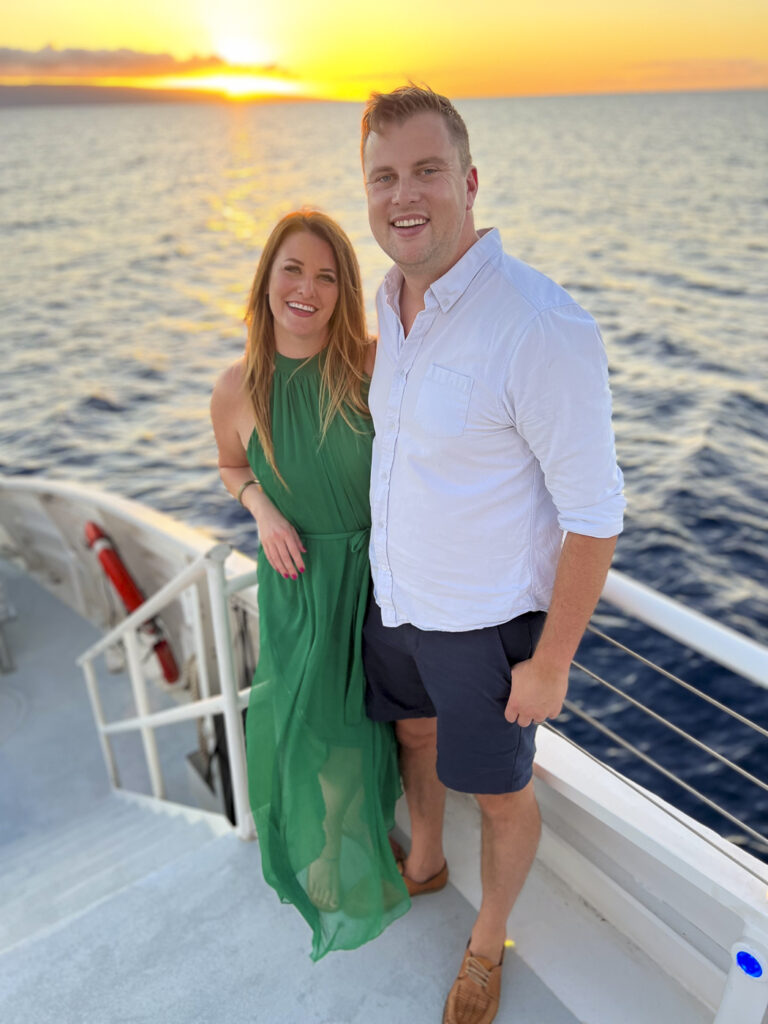 Enjoy a Sunset Dinner Cruise
The PacWhale Eco-Adventure's sunset dinner cruise is a good option for a romantic date night on the ocean.
Start by enjoying your choice of unlimited drinks. They offer craft cocktails, beer, hard seltzers as well as a number of wines to choose from.
Enjoy starting your meal with a salad as you cruise around the west side of the island, learning about Maui's history.
For an entree, it's your choice of chicken, beef, or shrimp.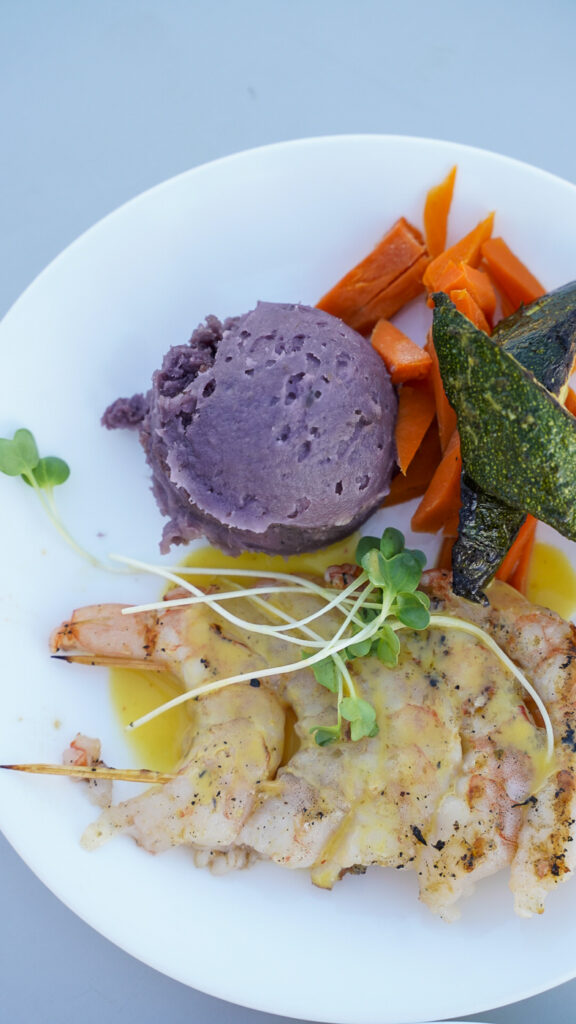 We both really enjoyed the plump grilled shrimp complete with a sweet sauce.
Maui always shows off with a spectacular sunset, so obviously watching the vibrant colors from the water is the best place to get an unobstructed view.
After the sun goes down, you'll also enjoy a sweet treat for dessert as you cruise back into the harbor.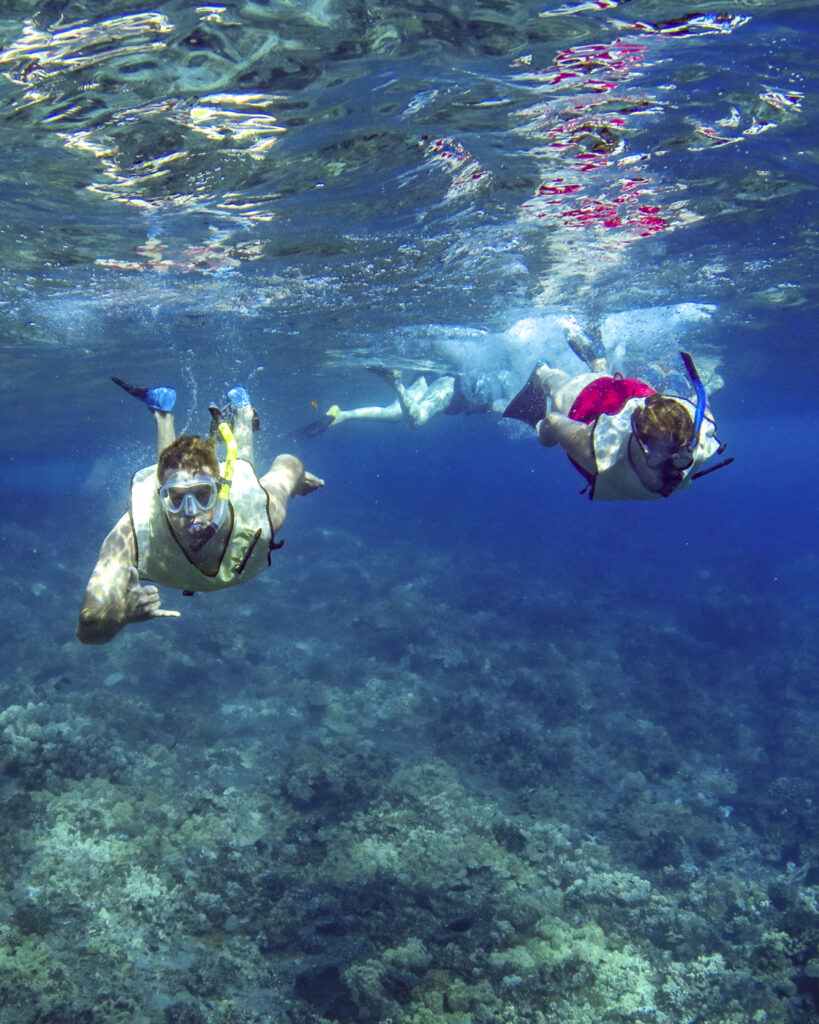 Go on a Snorkeling Tour
Check out Hawaiian marine life in crystal clear water with a snorkel tour.
The benefit of a snorkeling tour is that guides will take you to specific parts of the ocean where certain sea creatures like to hang out.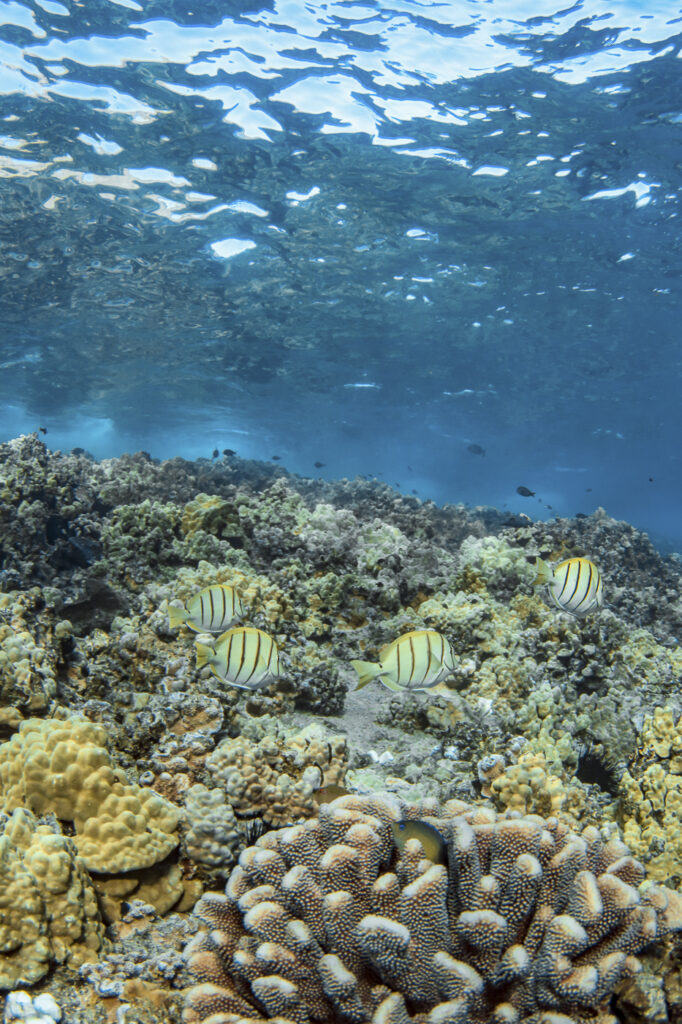 While they can't guarantee sea turtles will be around during your snorkel tour, it helps to have guidance.
Plus, going on a snorkel tour typically includes some cocktails on your boat cruise back to the bay, which feels like a two-in-one excursion.
We booked our tour with Sail Trilogy, which included a crater snorkel, more on that below!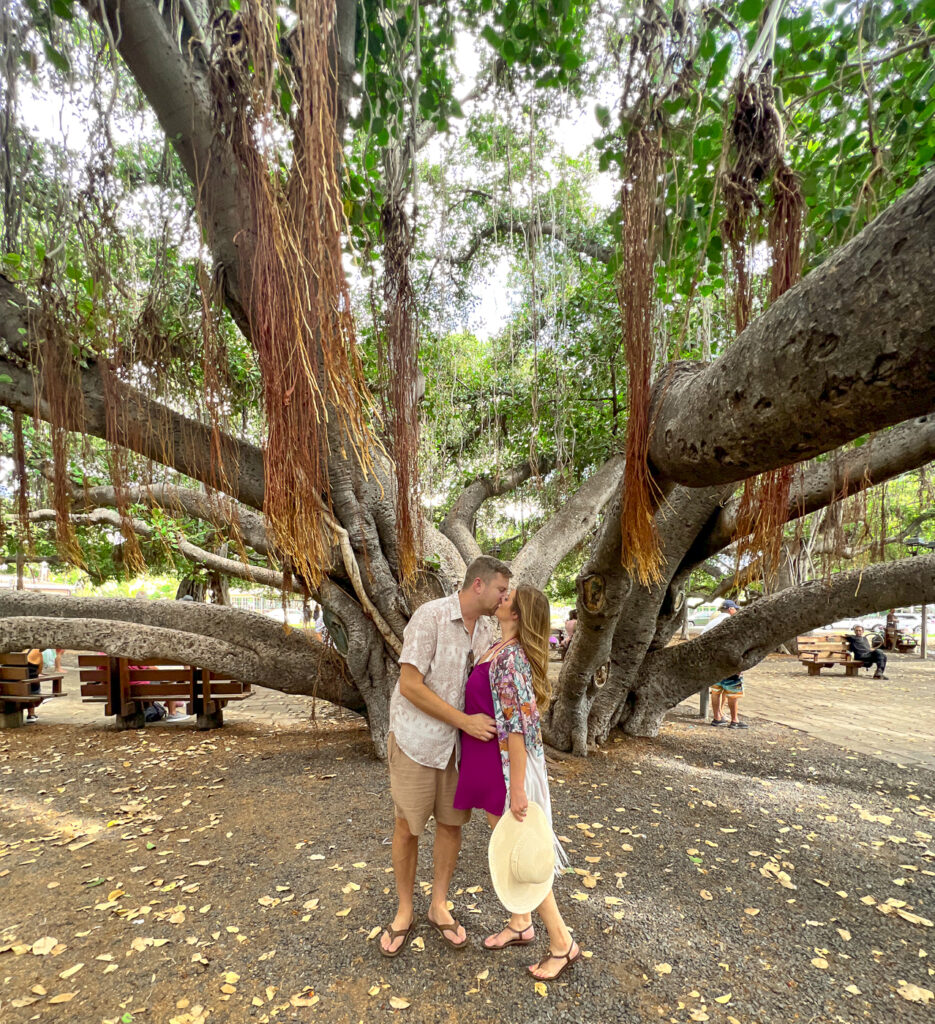 Sneak a Kiss under the Banyan Tree
Right off of Front Street you'll find a small park that is just the most magical place.
A single banyan tree sapling was planted in 1873 and has transformed into a mystical grove of interlocking roots and branches.
The banyan tree sprawls across the 1.94 acres, and if you look closely, the branches of one tree turn into the roots and trees of another. It is a total of 16 tree trunks from 1 single banyan tree.
This is the largest banyan tree in the United States and one of the biggest trees in the world.
Gaze at this feat as you walk from the shops of Front Street to the ocean harbor.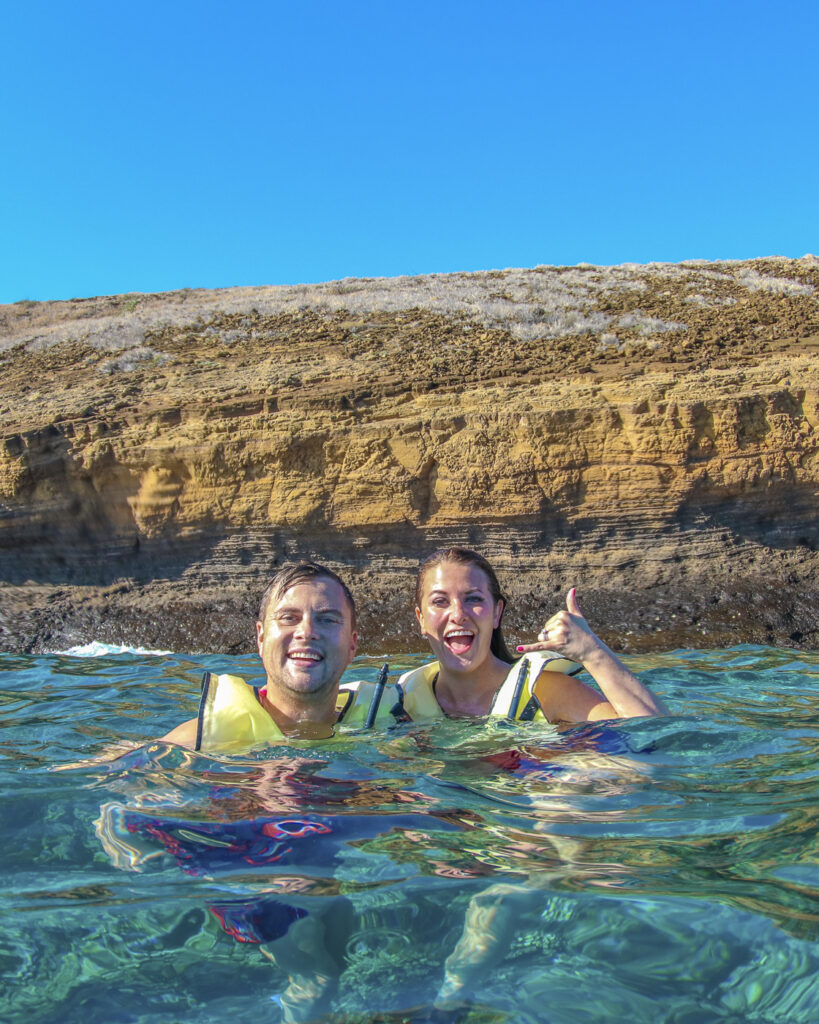 Snorkel in the Molokini Crater
If you're looking for an excursion for adventurous couples, how about a snorkel session in an underwater crater?
One of the coolest geological gems in Maui is the Molokini Crater.
It is a crescent-shaped, partially submerged volcanic crater that was created from an eruption over 230,000 years ago.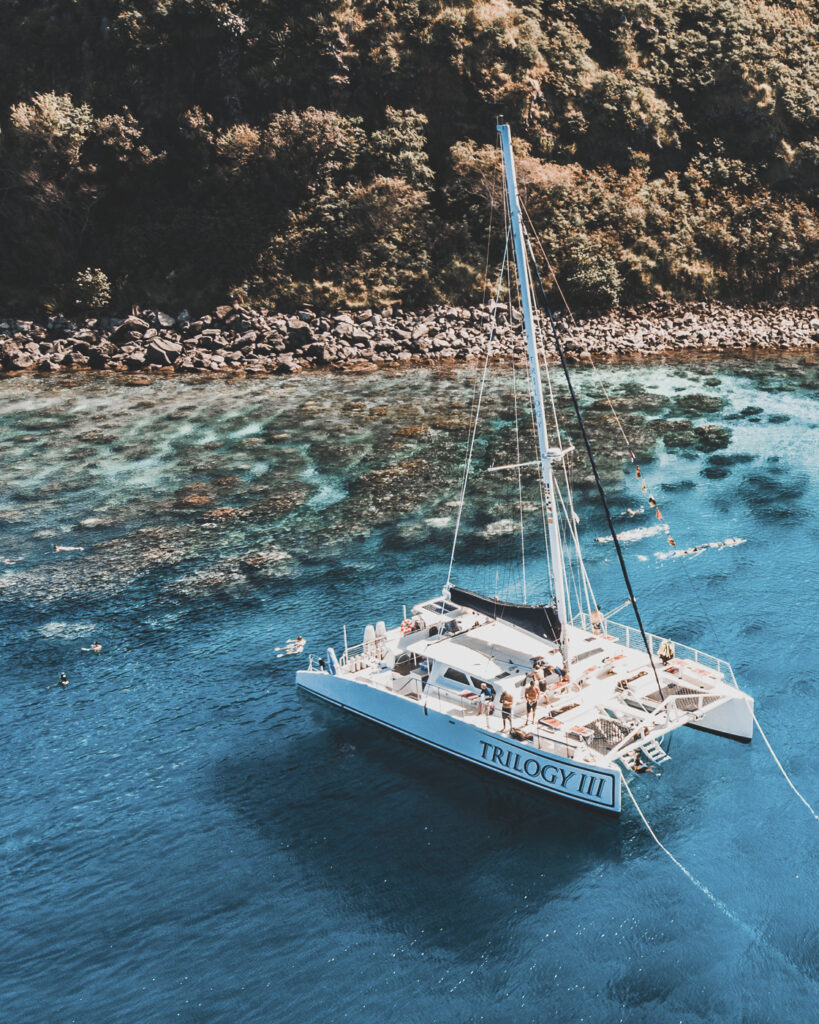 We booked a tour with Sail Trilogy. This five hour tour took off early in the morning, but it was completely worth it.
The tour begins with a breakfast of fresh fruit and cinnamon rolls as you cruise out to the crater.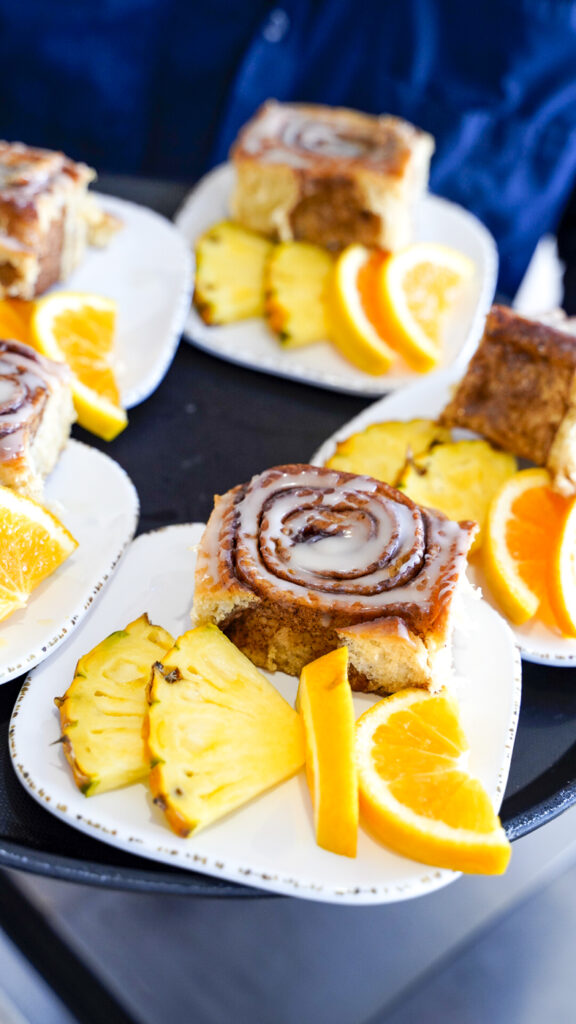 Once you arrive at the Molokini crater, you can either pop on your snorkel gear or book special SNUBA equipment.
SNUBA is a cross between snorkeling and SCUBA diving.
You'll be outfitted with oxygen and a long hose that floats on the surface, allowing you to breathe freely while swimming down 10 feet.
After exploring the crater, you'll enjoy lunch on the boat. Enjoy teriyaki chicken, rice, and Hawaiian rolls as you take a boat cruise.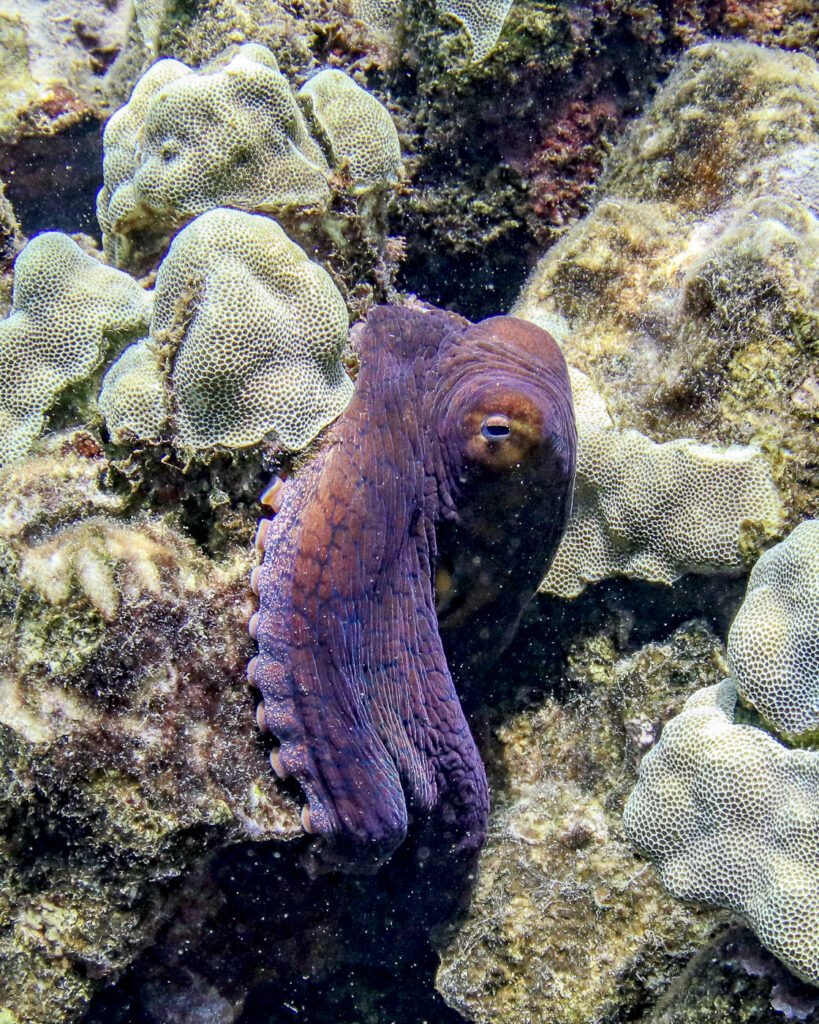 Our tour also featured a second snorkel location focused on seeing sea turtles.
Once you've checked out turtle town, your final cruise back to the port will include a few afternoon cocktails and even ice cream for dessert.
From the boat ride, to lunch, to the crater, to swimming with sea turtles, this tour is loaded with romantic moments to share with your partner.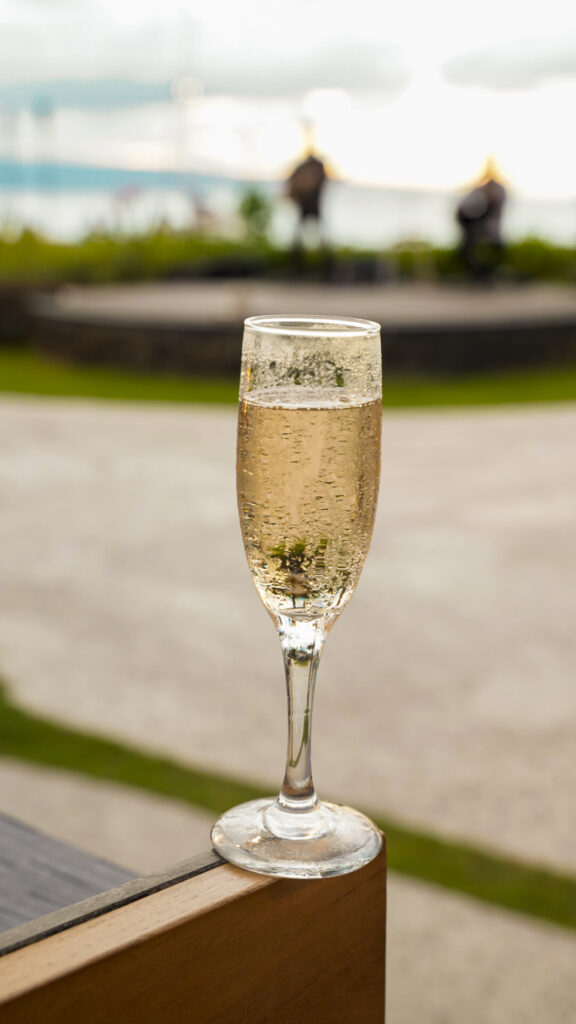 Go on a Hawaiian Wine Tasting
We tasted plenty of wines at Hawaii Food and Wine Festival, but if you're not visiting Maui in October, you can still go wine tasting.
Head to Maui Wine for their tasting room.
This Maui winery features a wine variety of wines.
From the standard red blends and roses, to sparkling, to some fruit forward Hawaiian varietals. The fruity wines come in flavors like pineapple, raspberry, and passionfruit.
You can also find some bottles of Maui Wine in a number of local restaurants on the island.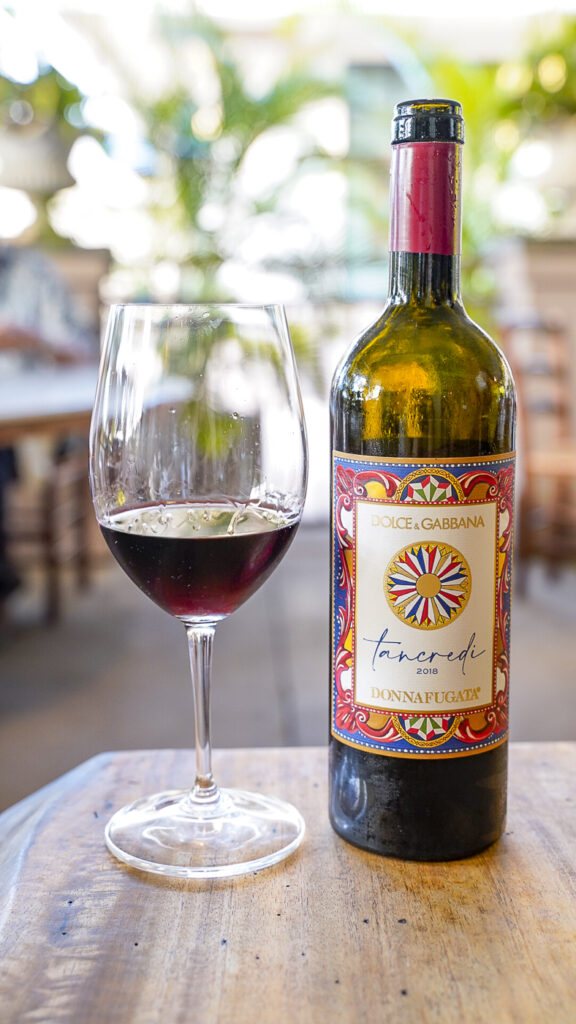 If you're a big wino we also recommend heading to Matteo's Restaurant in Wailea.
In addition to some great Italian food that was featured in Diners, Drive-ins and Dives, they have a terrific wine selection.
We were able to snag a bottle of really rare Dolce and Gabbana wine that was seriously fantastic.
14815 Piilani Hwy, Kula, HI 96790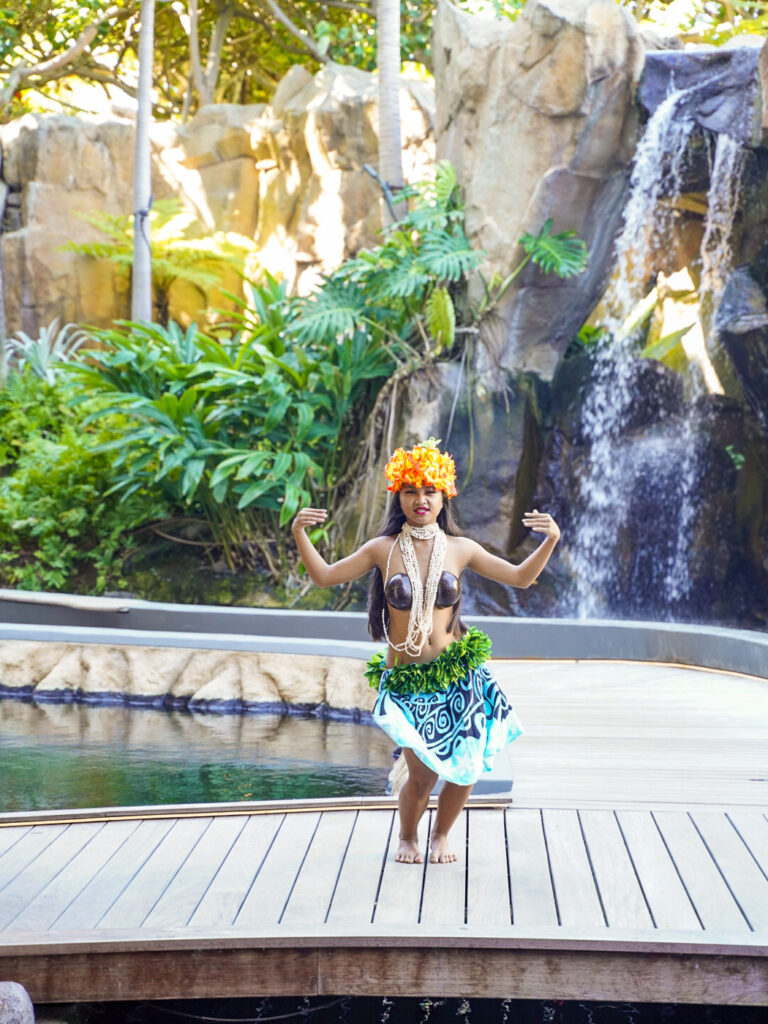 Take Hula Lessons
Hula is all about the lifestyle, not just the dance!
While in Maui, you'll find hula performances at lu'aus, during dinners, and at hotel presentations.
Why not learn more about this iconic tradition, by taking a hula class?
We learned four types of hula steps as well as prepared a whole hula dance to music.
Watching your loved one sway their hips can definitely cause a giggle.
Hula lessons were one of many free cultural classes offered at the Ka'anapali Beach Hotel.
2525 Kaanapali Pkwy, Lahaina, HI 96761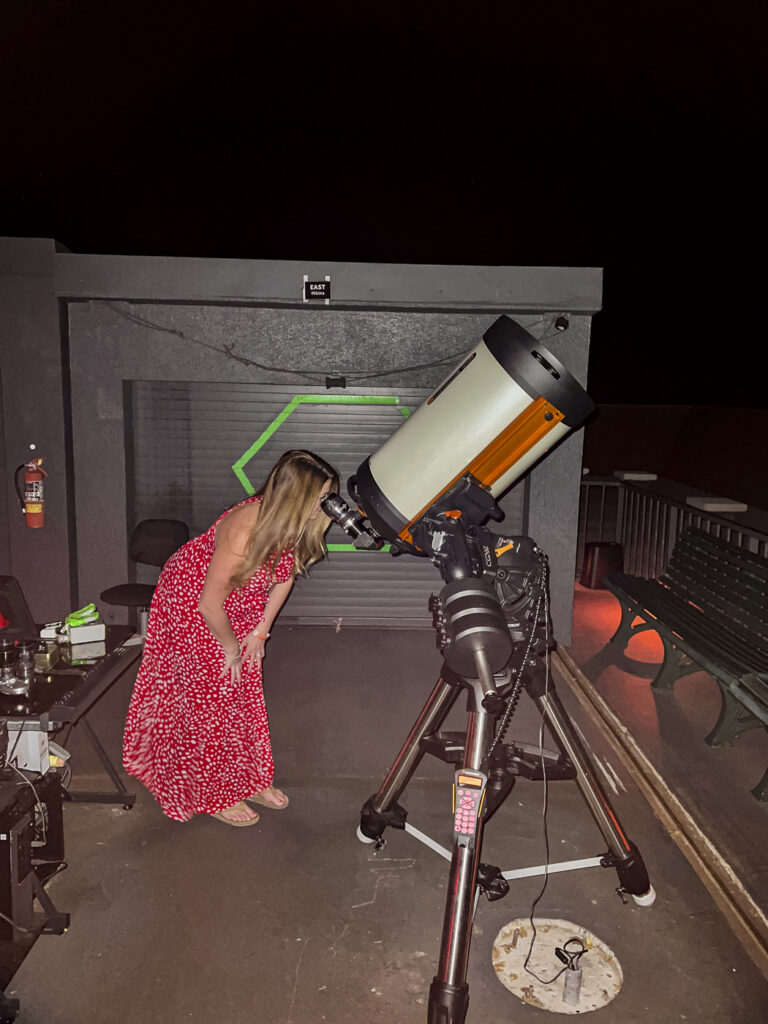 Stargaze in Maui
If you're into astronomy, check out the Tour of the Stars excursion at the Hyatt Regency Maui.
You'll spend 45 minutes looking through telescopes on the roof of the hotel.
An astronomer will tell you all about celestial ties to Hawaii.
You'll get the chance to see nebulas, pulsing stars, and even a few planets up close. Far out!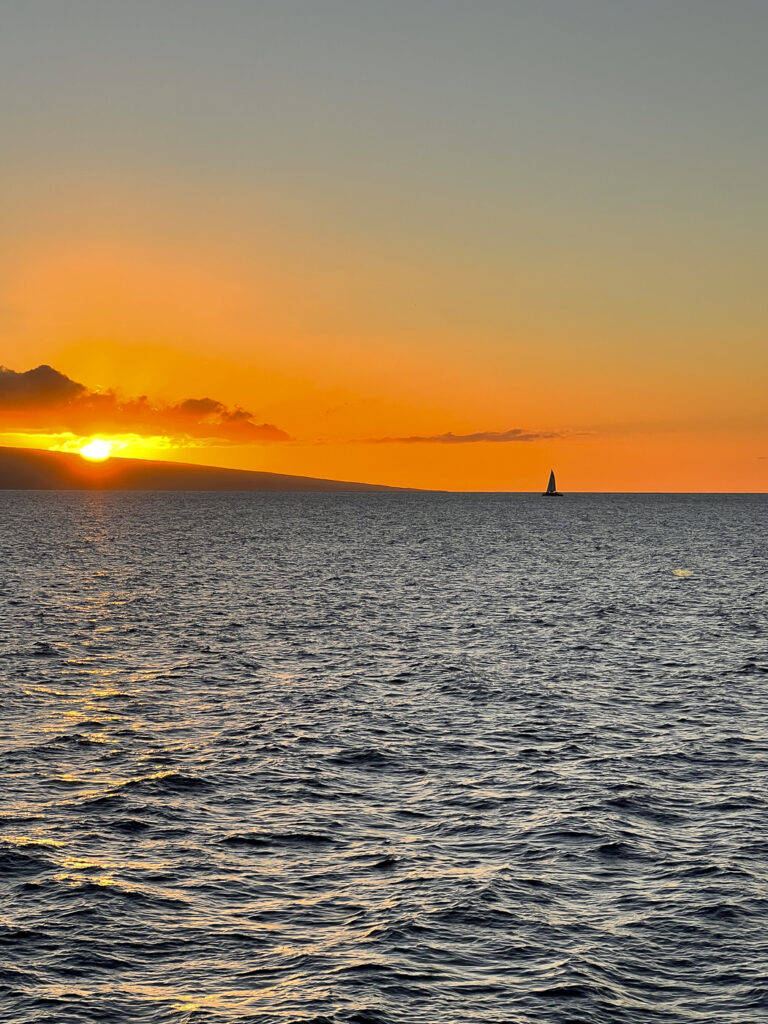 Go Whale Watching
If you are traveling to Maui during the winter months you're in for a special treat.
The winter season brings whale migration to Maui's coast.
You'll be able to start spotting some whales as early as November, but it is recommended to plan your trip mid-January to March for the best odds to catch the action.
Most boat companies offer whale watching tours, check out this 2 hour whale watching tour experience we found with great reviews.
You might even see some baby humpback whales as the birthing season takes place in Hawaii as well.
It sounds like we need to book another trip to Maui this winter!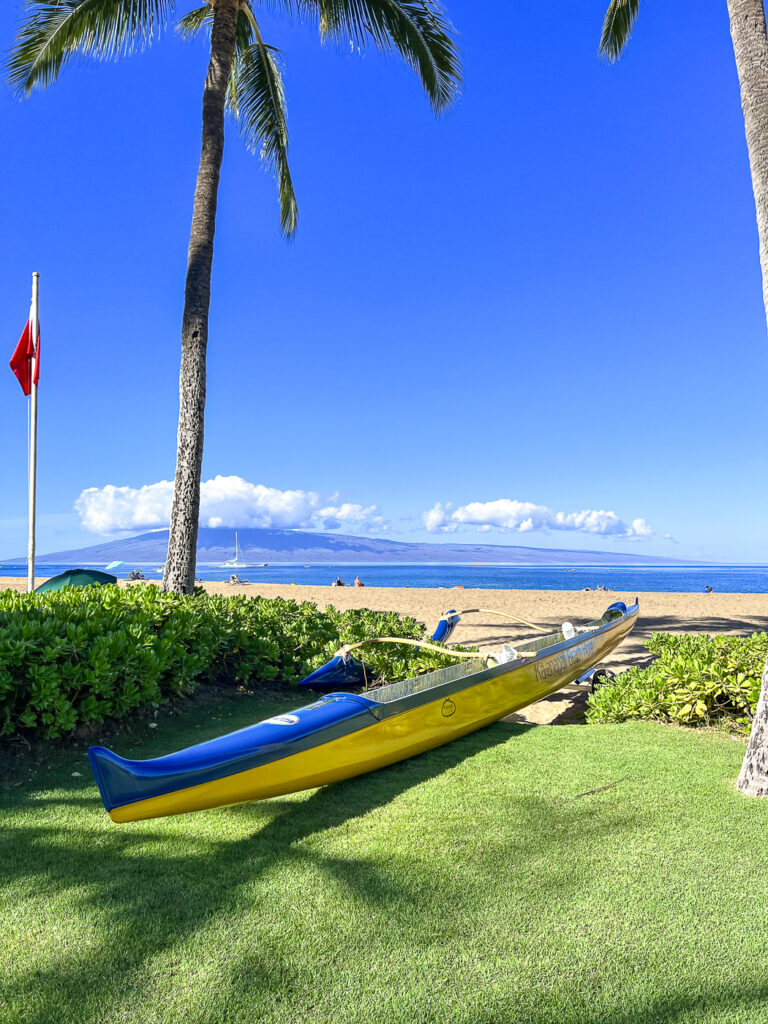 Paddle an Outrigger Canoe
A Wa`a (vah-ah) is a traditional Hawaiian outrigger canoe and it was one of the best things we did while on Maui.
It is different from a typical canoe because it is more narrow and it has a large float attached to the side.
We booked this morning excursion through the Ka'anapali Beach Hotel with a Hawaiian guide.
If you're staying in Wailea, you can also book this outrigger canoe tour on that beach as well.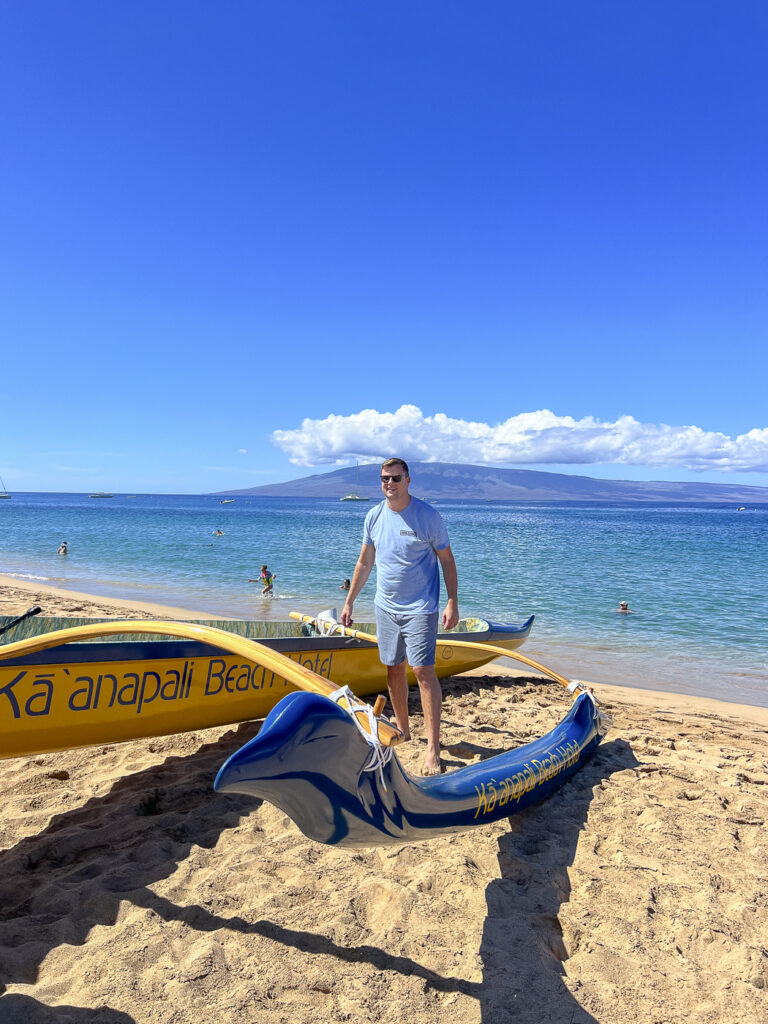 Our guide provided us with a paddling lesson, a tour of the shoreline, and explained some history of Hawaii.
The highlight of the outrigger canoe tour was floating next to a group of over 100 spinner dolphins.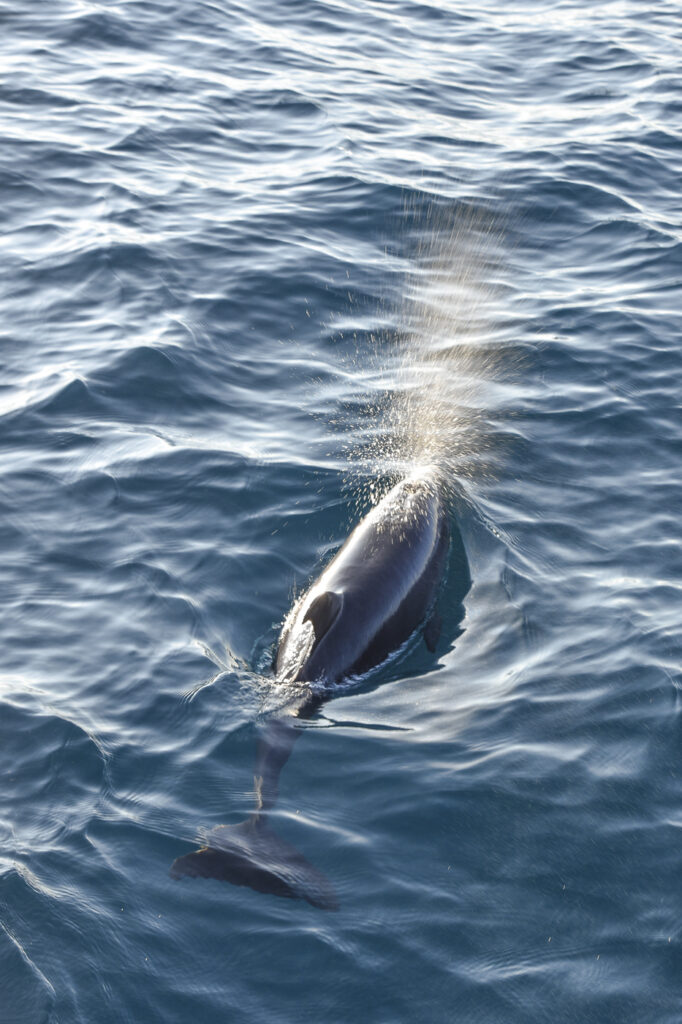 These majestic animals were jumping out of the water, spinning on their tails, and put on quite the show for us.
We loved soaking in the sunshine, taking a cultural tour, and getting in a little bit of a workout.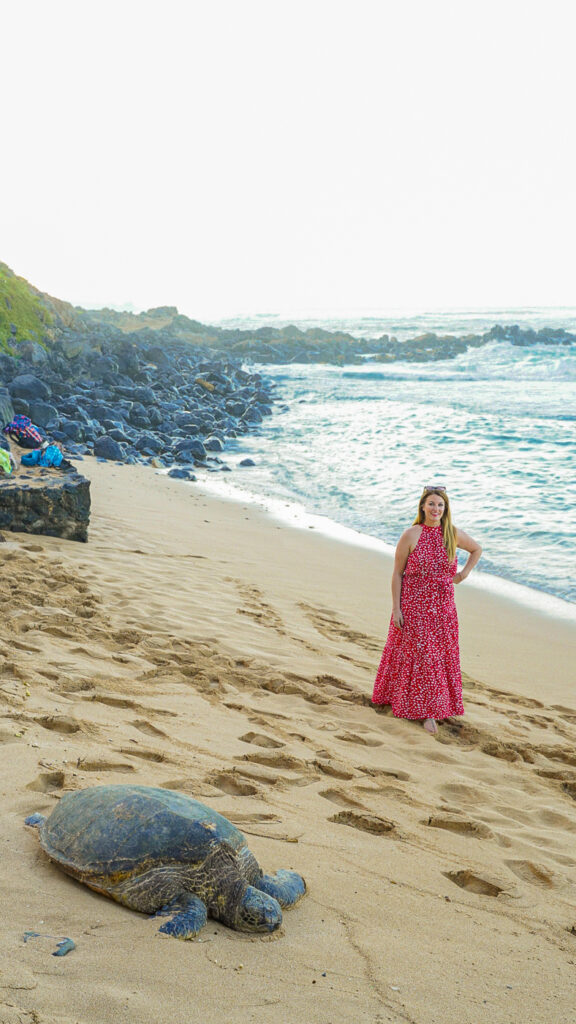 See Sea Turtles
After our guide from the pineapple farm tour recommended visiting Ho'okipa Beach, we took an unplanned detour to check it out.
The waves were enormous at this beach on the north side of the island, which makes it a popular place for surfers.
We plopped down on beach towels to watch the waves and we're amazed to find a number of sea turtles, literally "surfing" the waves!
As a swell approached, you could see 2-3 sea turtles through the transparent wave.
This spot is also known to have sea turtles sunning themselves on the beach, so we highly recommend stopping by Ho'okipa Beach.
We also got up to scope out a sleeping sea turtle on the beach in front of legendary restaurant Mama's Fish House.
If you can snag a reservation, head there early to try to find a sea turtle on the shore!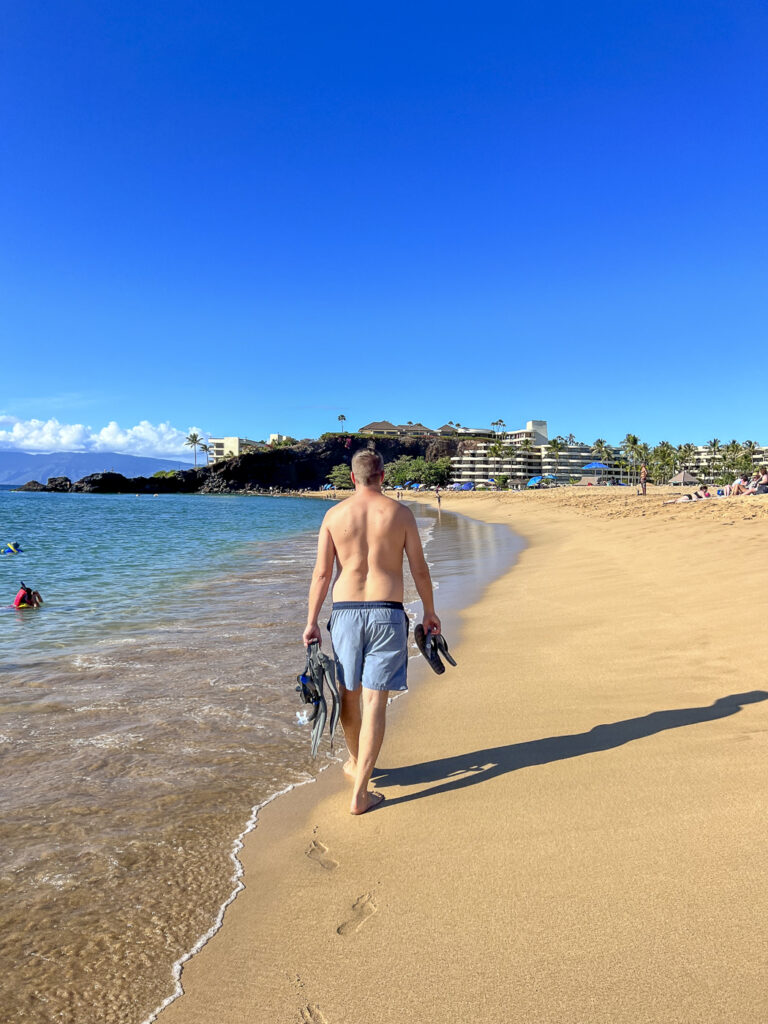 Explore Black Rock Beach
Pu'u Keka'a is actually the Hawaiian name for what is now commonly known as Black Rock Beach.
This spot is the most spiritual point on Maui for Hawaiian locals.
You'll sometimes find tourists cliff jumping off of Black Rock, but this is typically frowned upon by locals.
In Hawaiian culture, the most western point of the island, which is Black Rock, is where the spirits of deceased loved ones would go to transition to the afterlife.
They think it is bad luck to jump off of the cliff because it could be signaling to spirits that you are ready to transition to the afterlife.
You can still enjoy black rock without cliff jumping. In fact, the snorkeling around Black Rock is some of the best on Maui.
It is notoriously known as a sea turtle hang out spot.
We rented snorkeling equipment from the beachside rental stand at the Kaanapali Beach Hotel, went in right from the shore and had one of the best snorkeling trips.
Within minutes of being underwater by black rock we encountered eels and large spotted eagle ray mantas. It was one of our favorite memories.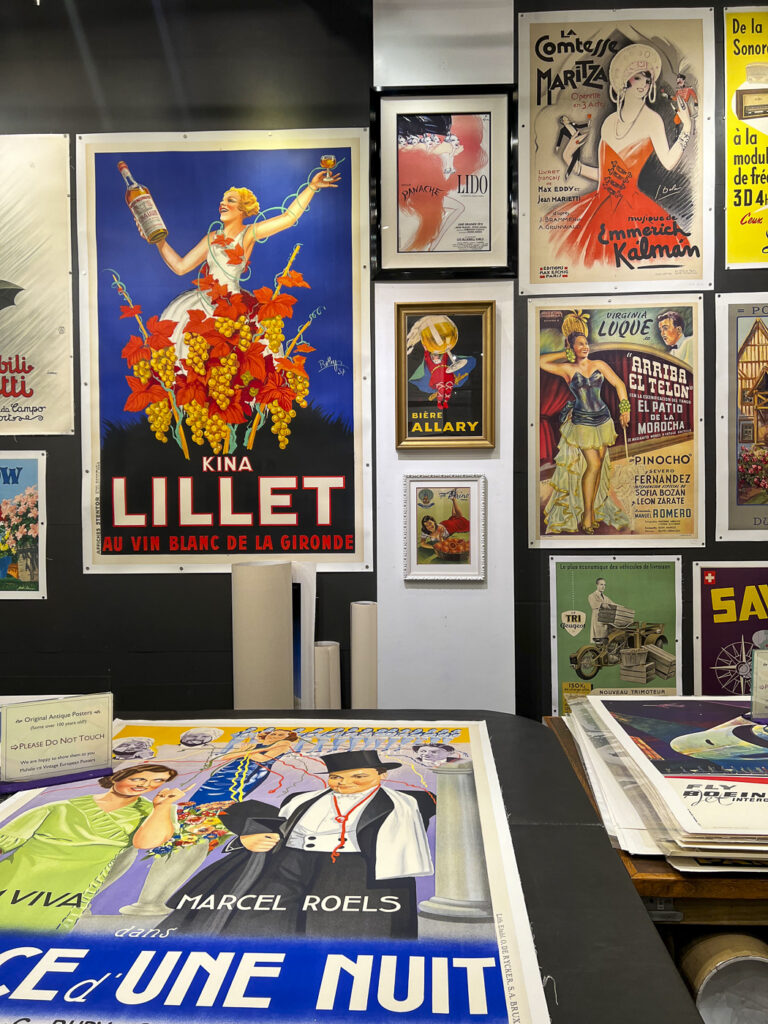 Browse an Art Gallery
Lahaina's Front Street is a great spot to spend the day.
The street is lined with art galleries, gift shops, restaurants, ice cream shops, and breweries.
From blown glass works of art, to masterpieces from Picasso to Dali, the galleries have something for everyone.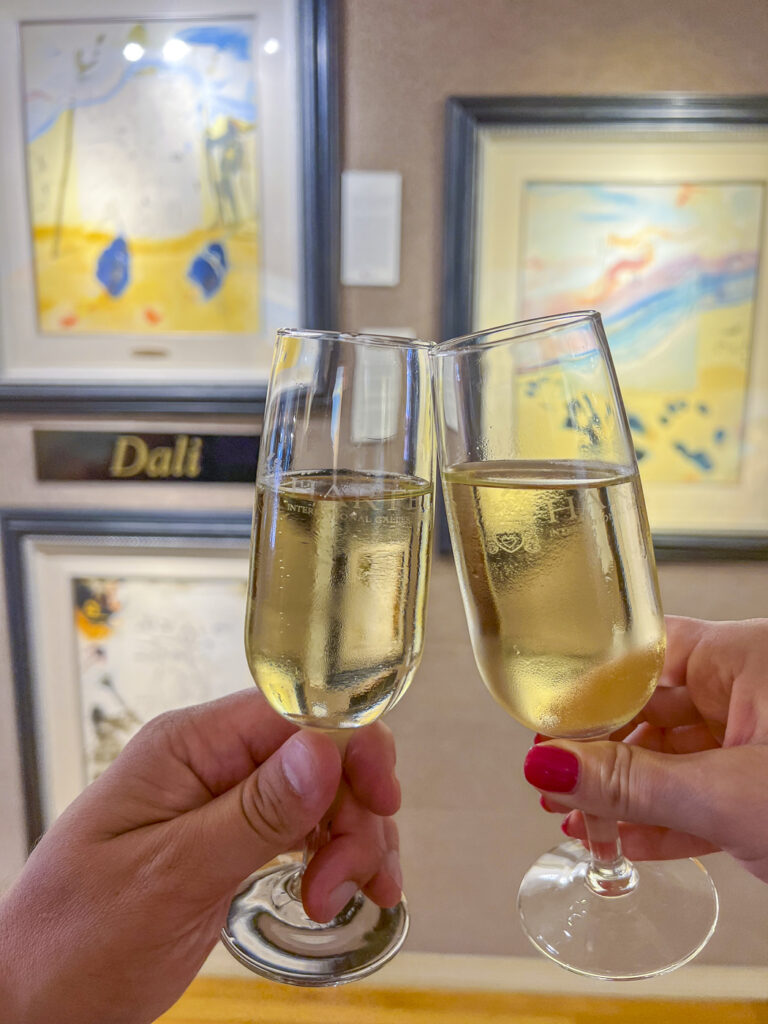 Be sure to head to Harte International Gallery. They offer free mimosas or glasses of wine every day while you peruse the art.
Or for something a bit more unique, stop by Vintage Antique Posters to check out their massive collection of antique posters.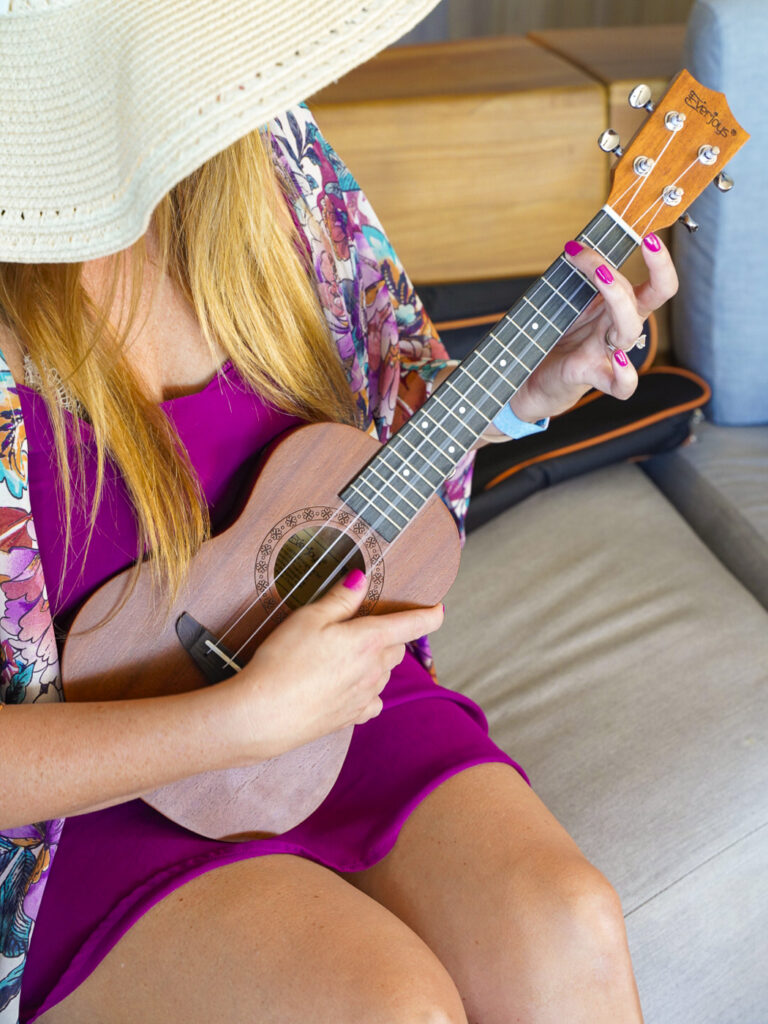 Learn to Play the Ukulele
The ukulele is an iconic Hawaiian instrument that you'll find at lu'aus and featured in live music performances on many restaurant patios.
Why not learn how to play while you're visiting the Hawaiian islands?
We took a ukulele class while staying at the Westin Maui Resort and Spa Ka'anapali.
In a small group class of ten people, we each were lent our own ukulele in order to learn four chords, which was enough to be able to play ten songs!
While we aren't starting a band anytime soon, it was a Hawaiian experience to learn together.
2365 Kaanapali Pkwy, Lahaina, HI 96761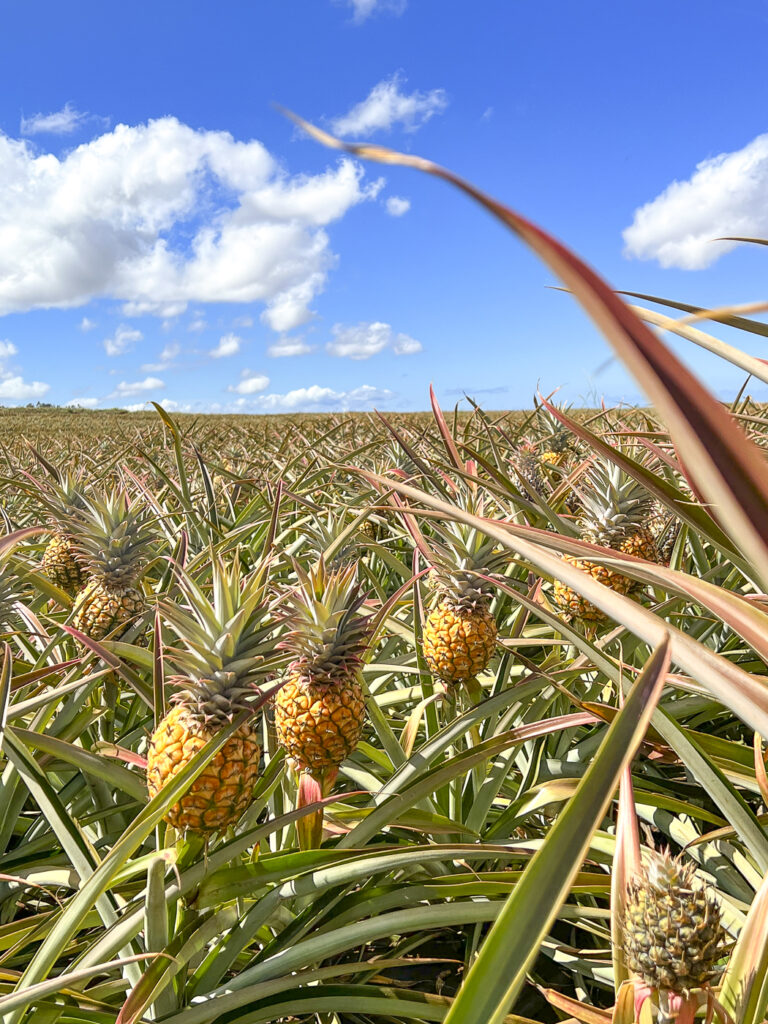 Join a Pineapple Farm Tour
While many people want to spend all their time on the coast, upcountry Maui has a lot to offer as well.
We thoroughly enjoyed learning about all things pineapple with a Maui Pineapple Tour.
This guided tour tells you all about Maui Gold, a special type of pineapple grown in Maui that has a higher sugar content than the typical pineapples that you'd find in the grocery store.
Most pineapples that you'd find stateside are picked when they are still green so that they have a longer shelf life, which equates to a more acidic, less sweet fruit.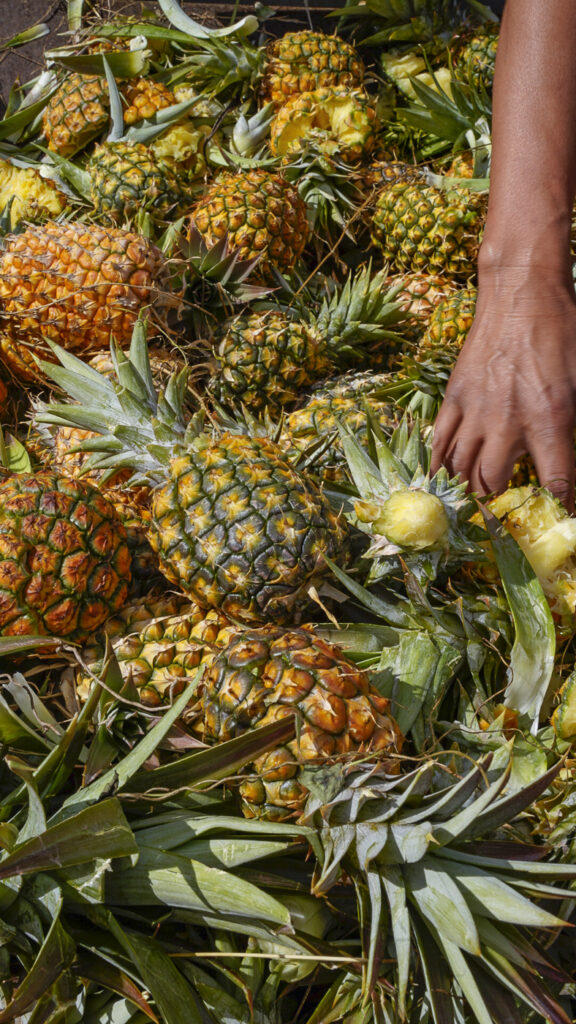 Maui Gold pineapples are picked at the peak of ripeness, making them sweet, juicy, and less acidic.
Many people assume pineapples are grown on trees, but they're actually grown from the ground.
On the tour you'll actually learn how to grow a pineapple from a pineapple top!
After tasting some fresh picked pineapple right in the heart of pineapple fields, you'll even get to take a box of Maui Gold pineapples home with you.
883 Haliimaile Rd, Makawao, HI 96768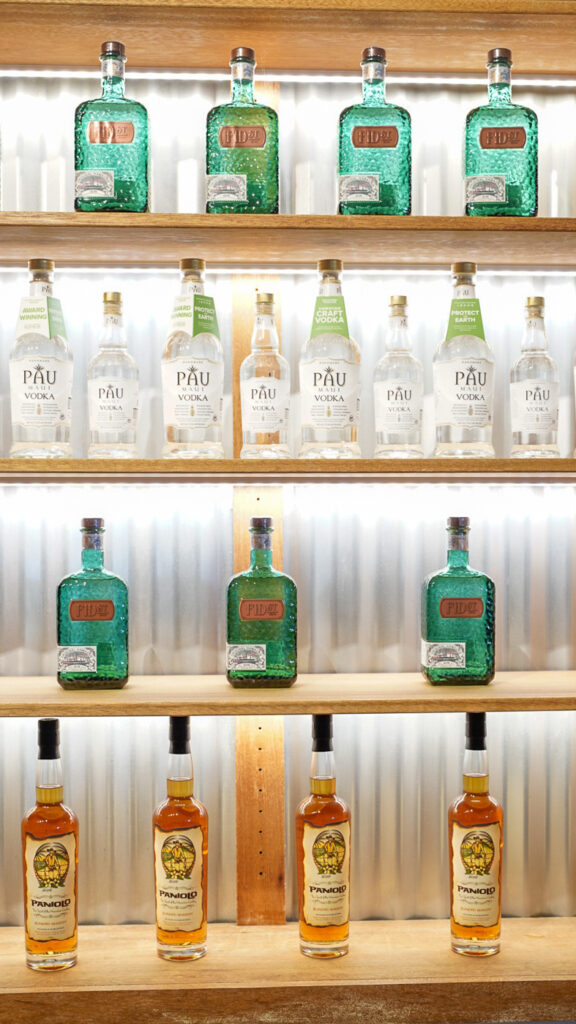 Visit a Distillery
If you decide to visit the pineapple farm, pop next door to Haulimaile Distilling for a tasting.
Haulimaile Distilling is really unique because their vodka is made from pineapple!
Maui Gold pineapples have a higher sugar content than other pineapples, so their juice can be used to distill alcohol.
The distillery uses a unique glass still in order to make some of the purest vodka on the market.
Even though the vodka is made from pineapples, it does not taste like pineapple.
You'll get the opportunity to taste it for yourself, as well as their gin and whiskey, at the end of the tour in the tasting room.
883 Haliimaile Rd, Makawao, HI 96768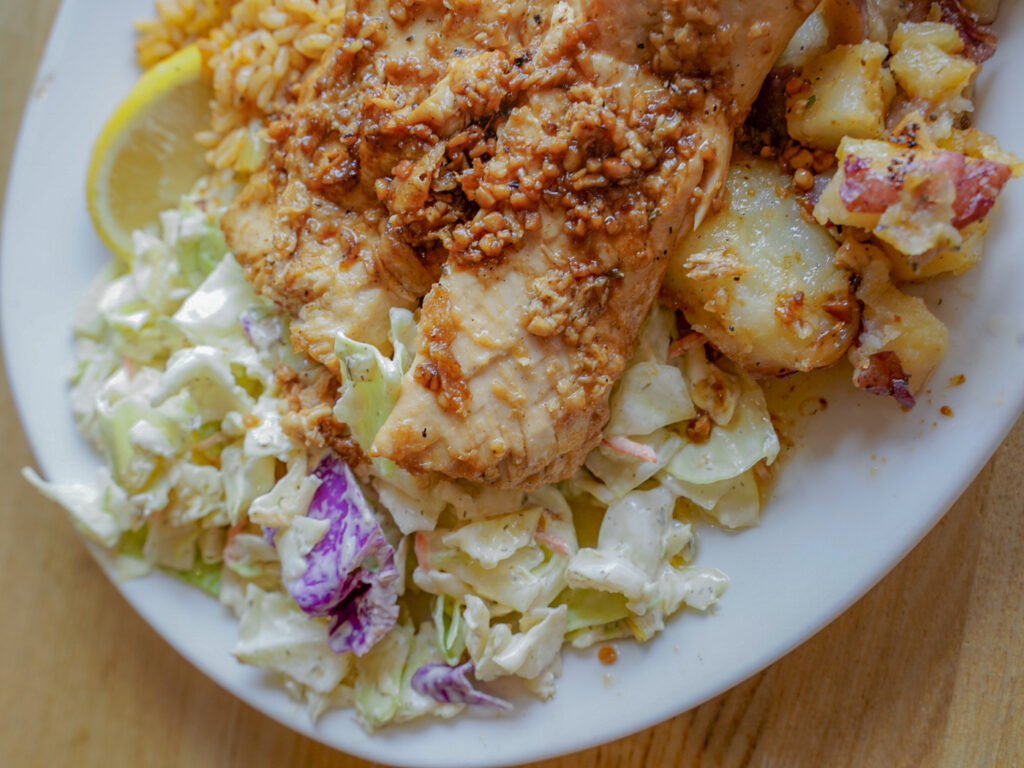 Explore Paia
For a quick day excursion, head to the hippie town of Paia to check out local shops and artisans.
We ate ice cream, checked out boutiques, as well as gift shops.
This is also where we went to the Paia Fish Market.
We were introduced to fresh caught fish from the waters of Hawaii that we have never ever heard of before, such as Opah and Ono.
Once you pick your fresh catch, you can choose from four preparations: blackened, cajun, sauteed, or charbroiled.
We had the Ono sauteed in lemon, garlic, white wine sauce and it was unreal!
The Paia Fish Market also has another location off of Front Street, so even if you can't make the trip to Paia, you can still savor this iconic restaurant in Lahaina.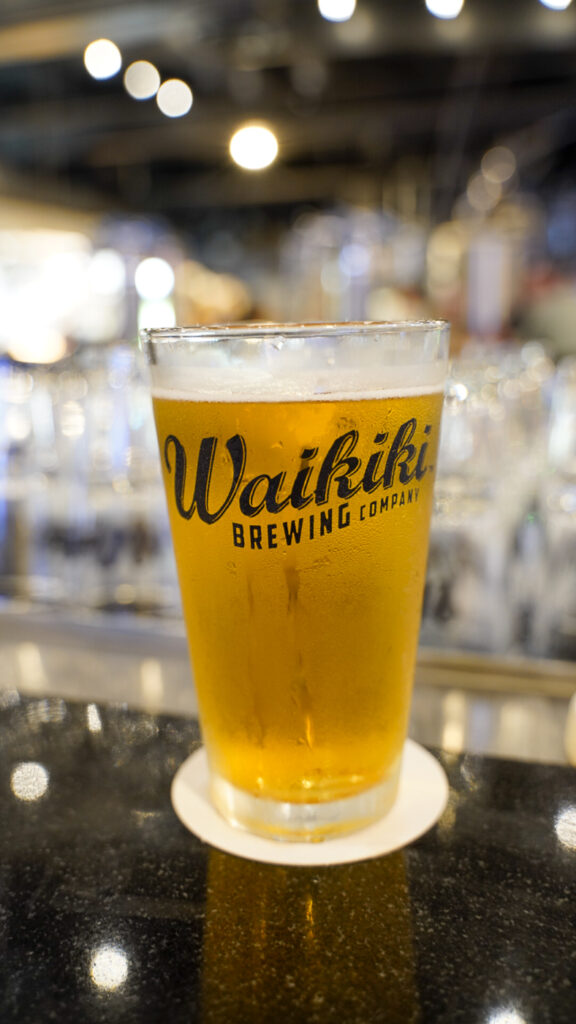 Taste some Hawaiian Craft Beers
There are a number of craft breweries in Maui, so if beer is your thing, head to get a brew!
Many breweries even create brews that have a fruity Hawaiian influence.
We also loved some of the tropical flavored hard seltzers available at a few brewpubs.
Here are all the breweries that you'll find across the island of Maui: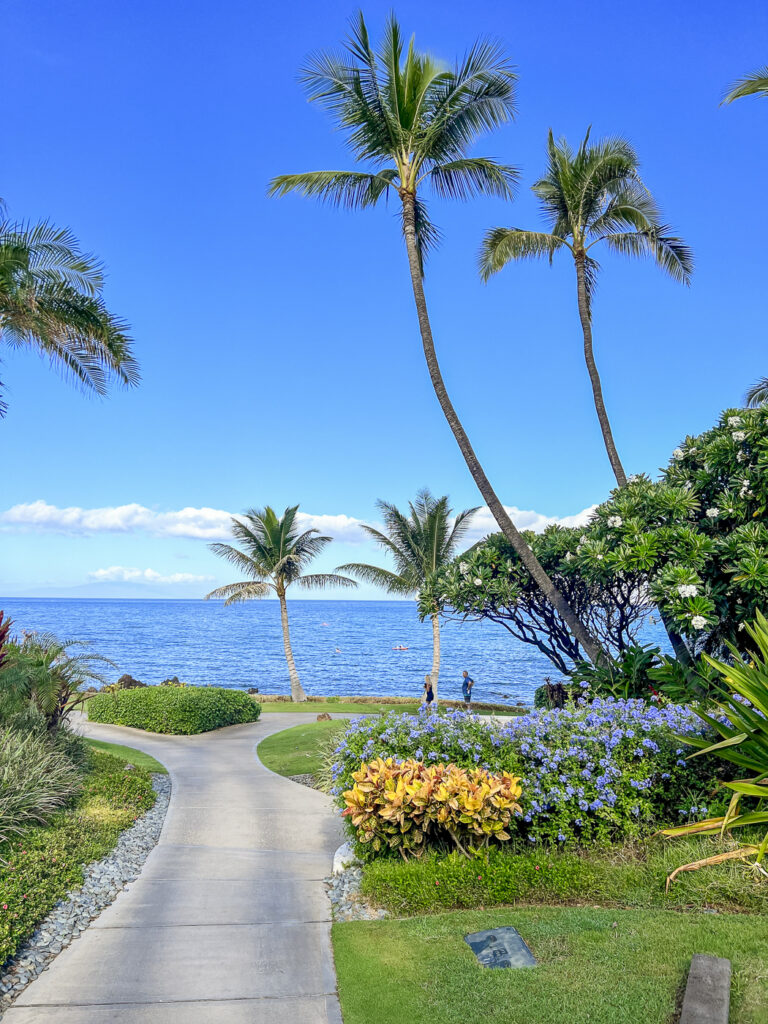 Take a Romantic Walk on the Coastal Trail
One great thing about Maui is the coastal trails.
When we stayed at the AC Hotel in Wailea, we took a quick walk down towards the beach to access the Wailea Coastal Trail.
It's a great way to see the coast while also getting some exercise.
It's also one of the best places to take a sunset walk on the beach, on a safe, flat sidewalk overlooking the sea.
The Kaanapali area also has a similar beach walk section available.
Burn off all the calories you'll consume from eating through our guide of the 27 Best Things to Eat in Maui.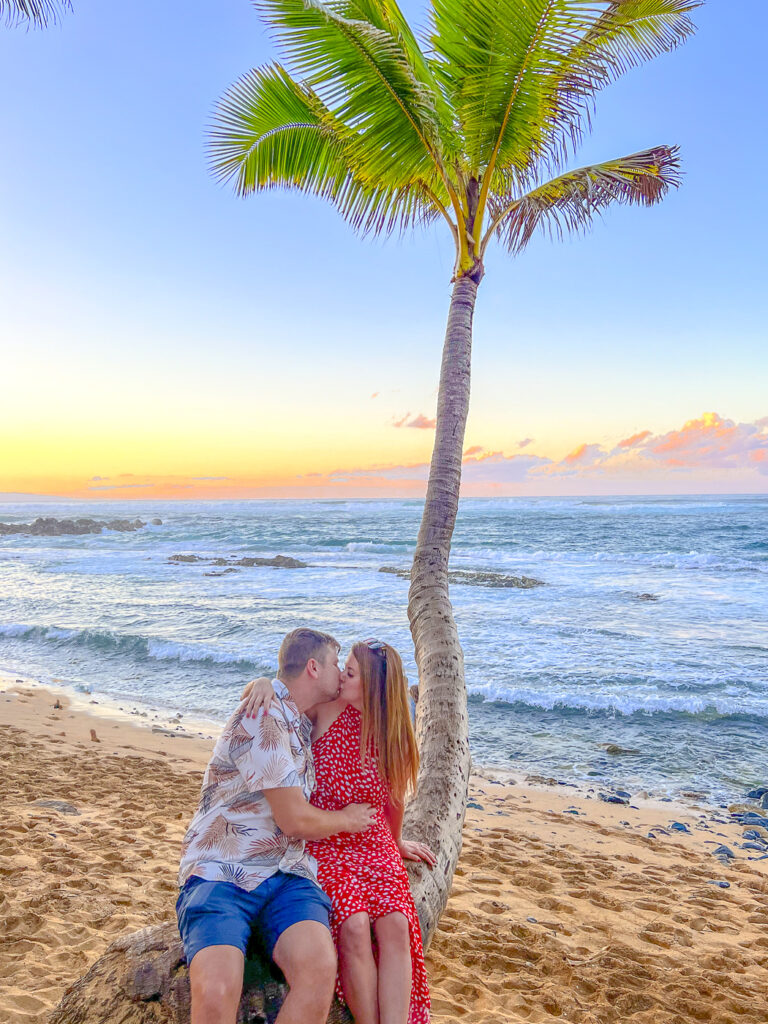 Get a Romantic Photo Shoot
One way to always remember a vacation is to schedule a photoshoot with a local photographer.
We love doing this because it's typically much more affordable than you'd imagine.
They will get much better photos for you than asking someone random to take a picture of you on your phone.
Plus, hiring a local photographer is also hiring someone to be a tour guide because they will be taking you to the best spots for photography.
In Maui most hotel concierge desks have photographers they can recommend to you, or you can find a few Maui Photography options on Viator.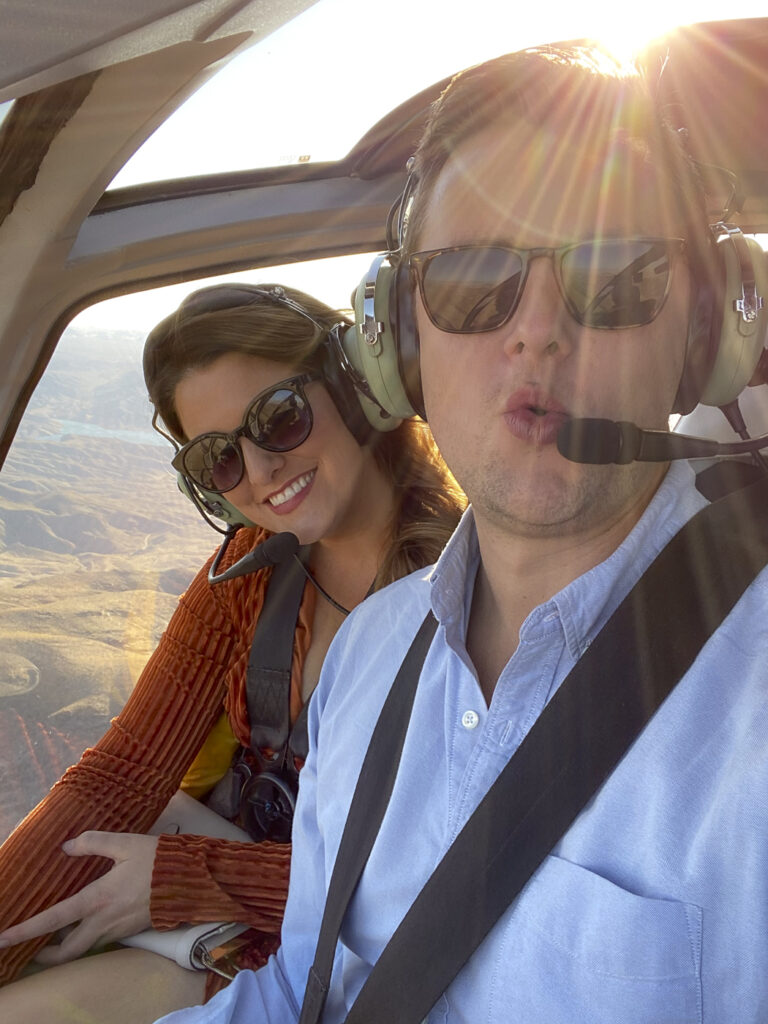 Book a Helicopter Tour
Maui is a tiny island, but the island roads have so many twists and turns that it actually takes hours to get from one end to the other.
The quick solution for that is to take it to the air for a helicopter tour.
We recommend booking with Maverick Helicopter who we've flown with from Las Vegas to see the Grand Canyon.
They're a professional team with tour offerings to do everything from seeing the Hana Rainforest, a tour of all of Maui, and even a tour that hits both Maui and the close island of Molokai.
Flying in a helicopter is truly a bucket list romantic experience for a couple because you can see so much in such a short amount of time.
Plus, you can sip champagne like you're on an episode of the Bachelor.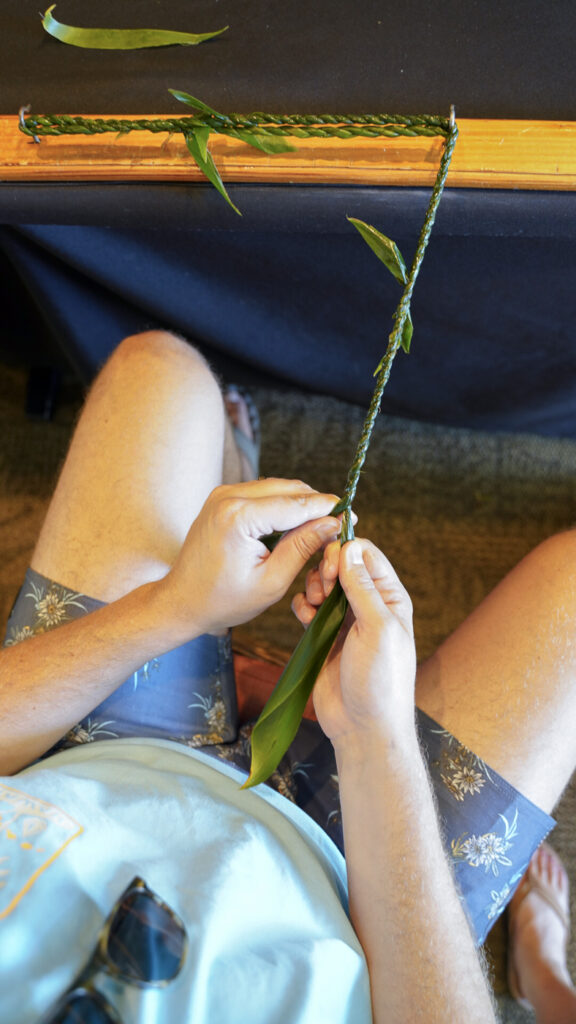 Get Lei'd
The Ka'anapali Beach Hotel has been awarded the title of "Most Hawaiian Hotel", and offers a number of cultural classes.
While staying at the resort, we had a chance to join a lei making class.
This wasn't the easy floral lei garland that we expected.
During our class we learned about the Ti Leaf plant, prepared the leaves for a lei, and learned how to twist the leaves to create a lei.
Your creation is the perfect gift to share with a loved one.
2525 Kaanapali Pkwy, Lahaina, HI 96761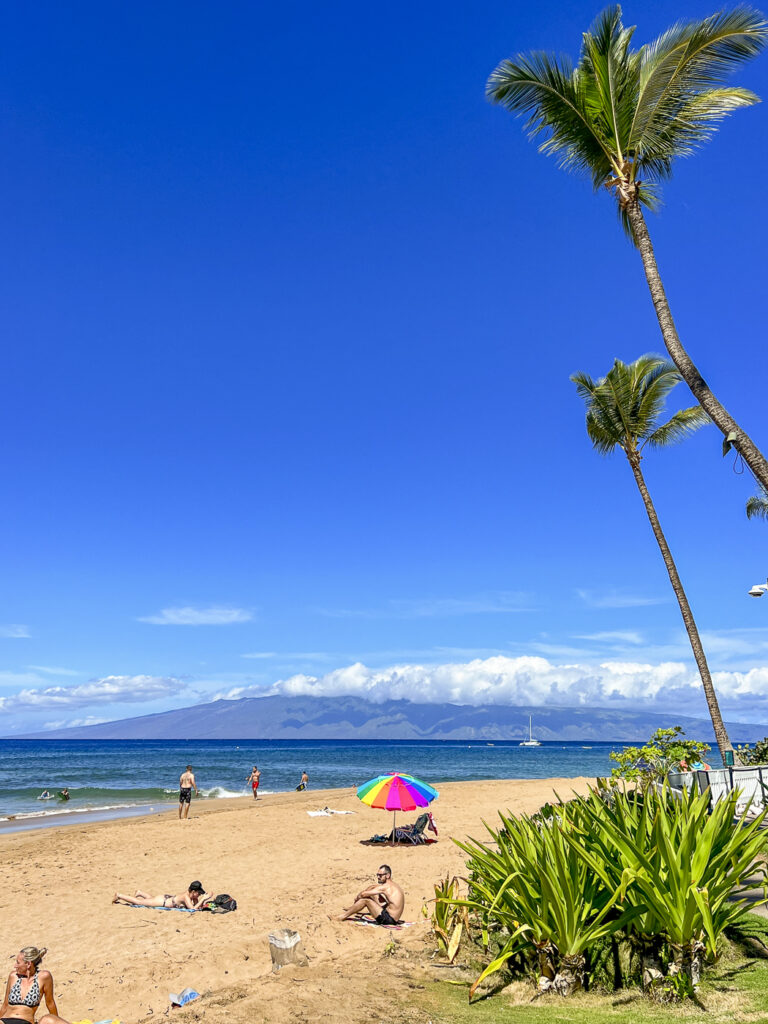 Sunbathe on Hawaii's Amazing Beaches
There are parts of Maui's coast where the beach is actually pretty narrow.
That's why so many resorts have impressive pools, waterslides, and a swim-up bar.
A good option for enjoying the shore is heading to Kaanapali beach.
This is a long thin beach that spans the full resort row of Kaanapali Beach Hotel.
The water is crystal clear, and even if you're not a guest of a resort there's plenty of beautiful beach to enjoy.
Be sure to bring your own towels and beverages.
You can even rent chairs and umbrellas from the activities kiosk near the sand at the Kaanapali Beach Hotel.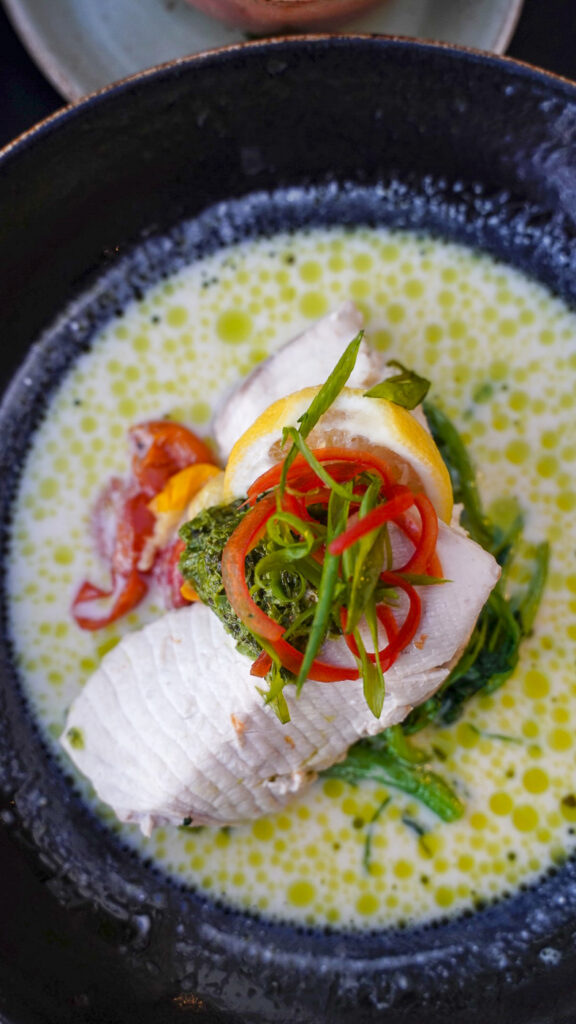 Explore Wailea
Head to the highly desirable Wailea town in Maui for the beach, luxury shopping, luxe hotels and spas.
We had some delicious wine and food at Matteo's, an Italian spot that was even featured in Diners, Drive-ins, and Dives.
For upscale seafood, head to award-winning Ko Restaurant.
The fresh catch in lemongrass coconut broth was some of the best fish we had in all of Maui.
Additionally, the fresh ahi seared tableside on a hot rock was an experiential appetizer that was seriously tasty.
If you're in the mood for something fried, don't miss the tempura lobster.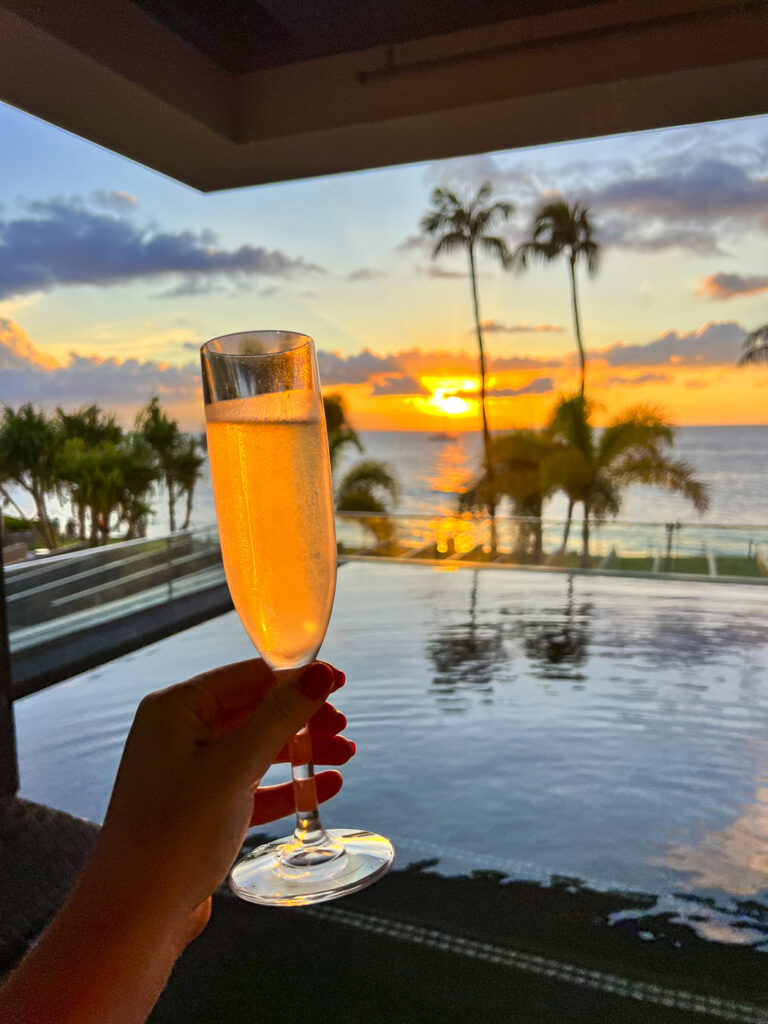 Share a Romantic Meal
Check out our blog post on the 27 Best Things to Eat in Maui to get a good foundation of Hawaiian cuisine and restaurant recommendations.
In the meantime, we couldn't go without mentioning one of the most romantic restaurants in Maui.
Set up a reservation well ahead of time at Mama's Fish House.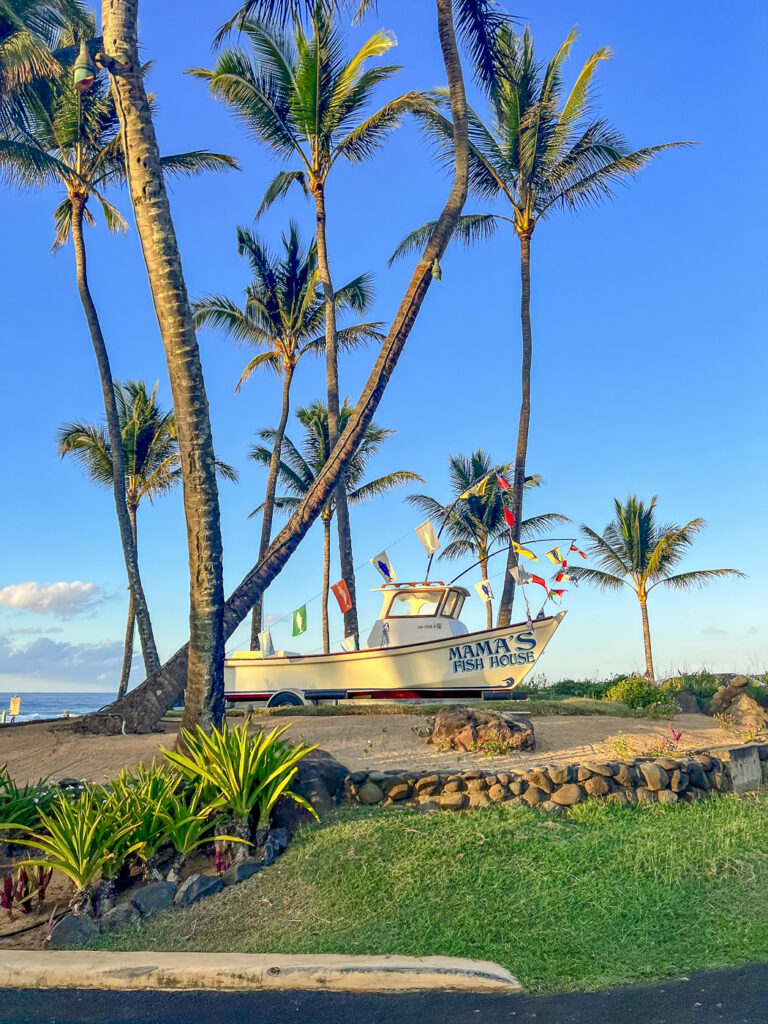 This hot spot has ocean views, fresh seafood, and it is the perfect place to celebrate a special occasion.
That's a key reason why their reservations book 4-5 months in advance.
Once you book your flight to Maui, your next move should be trying to get a reservation at Mama's Fish House.
There are many oceanside restaurants, many of which with live music, so be sure to reach the full guide for our Maui food recommendations.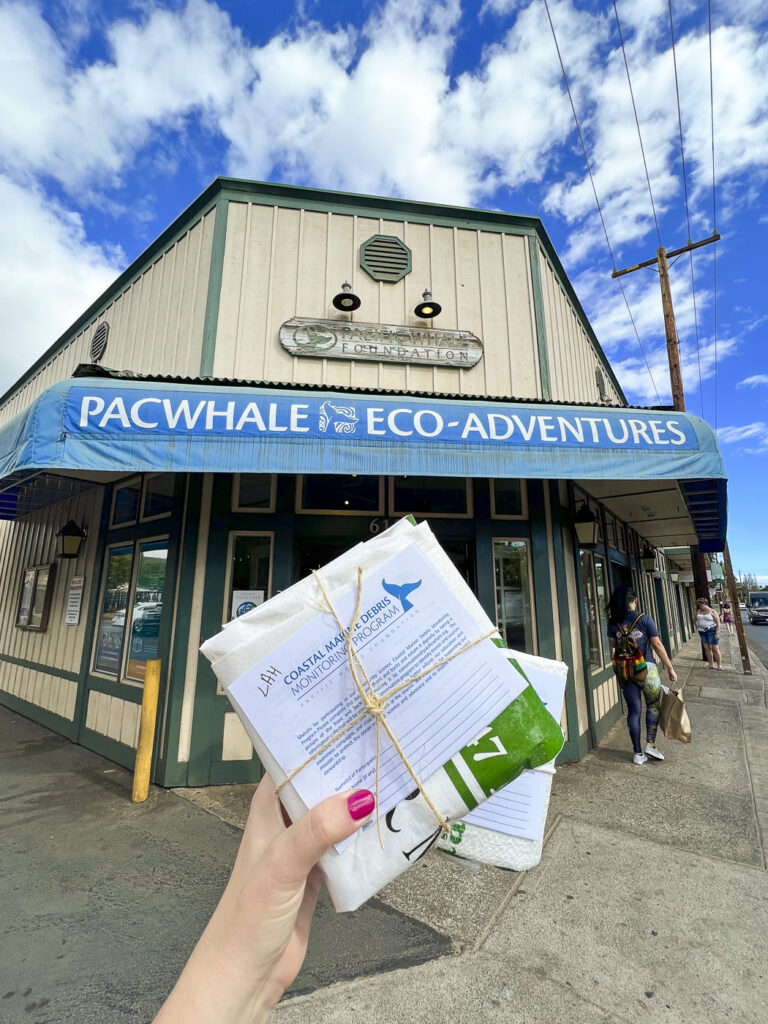 Volunteer Together
Whether it's the Gulf Coast, the shores of California, or Mexico, whenever we visit a beach, we bring a garbage bag on our morning coastal walk.
In Hawaii, you can pick up a free beach clean up kit at the Pacific Whale Foundation building off of Front Street.
We found that the beaches in front of the hotels were pretty pristine, so you will likely have to head to some public beaches in order to do a true beach clean up.
There are also volunteer opportunities through Maui Cultural Lands.
Check it out, give back, and feel good.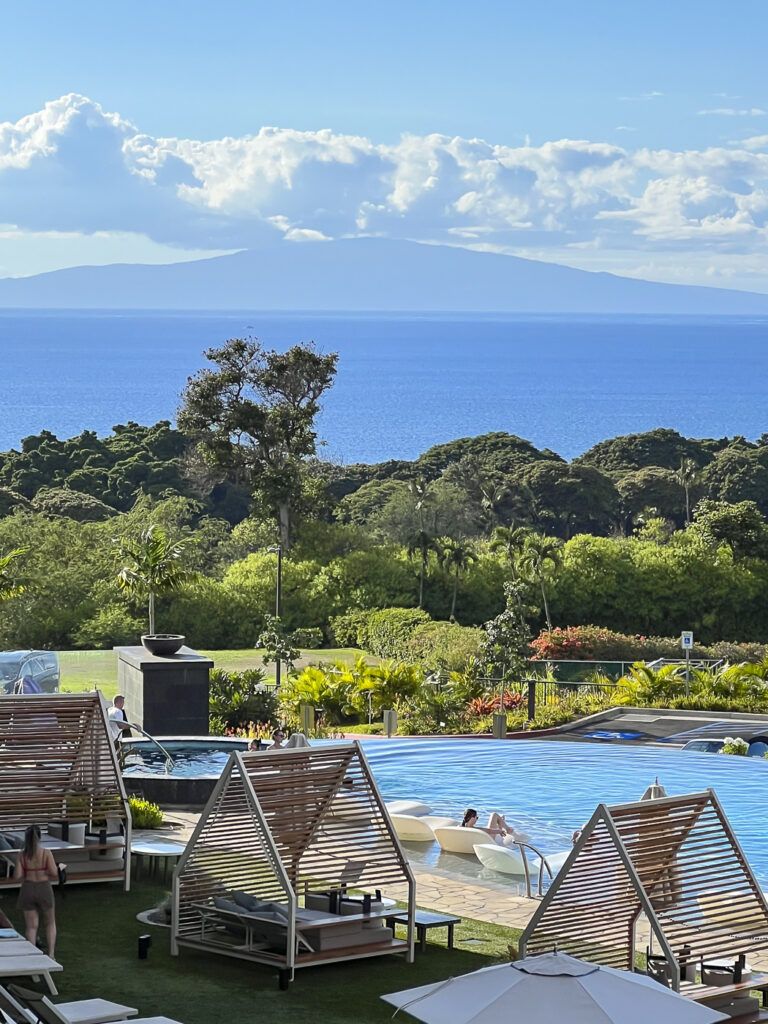 Lounge at a Private Cabana
Most luxury hotels give you the option to rent a private cabana.
It's a great way to add a little privacy and romance to a lazy day at the resort.
The Westin Maui featured a decked out cabana, complete with TV, next to the adults-only pool at their resort.
We bought some local hard seltzers and relaxed in the shaded cabana as well as outside in the sun on our dedicated loungers.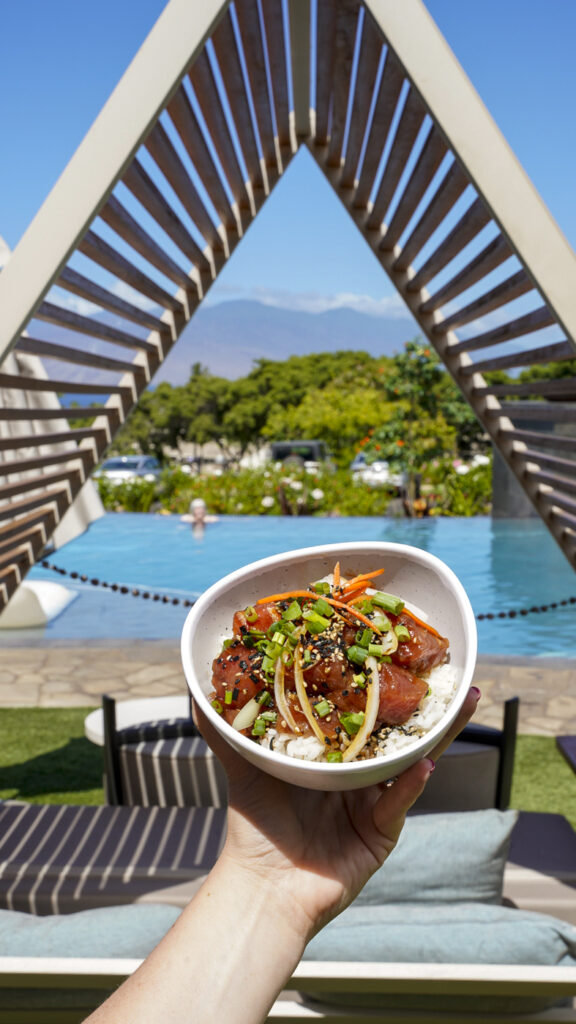 The brand new AC Hotel Wailea had modern cabanas that overlooked the ocean from the hill above. It's a relaxing spot to enjoy a bowl of poke in between your activities.
To have your toes in the sand, we got a beach cabana at the Kaanapali Beach Resort, which was a treat since most hotels offer pool cabanas but not beachside cabanas.
We could use the beach cabana as a home base in between snorkeling sessions at Black Rock.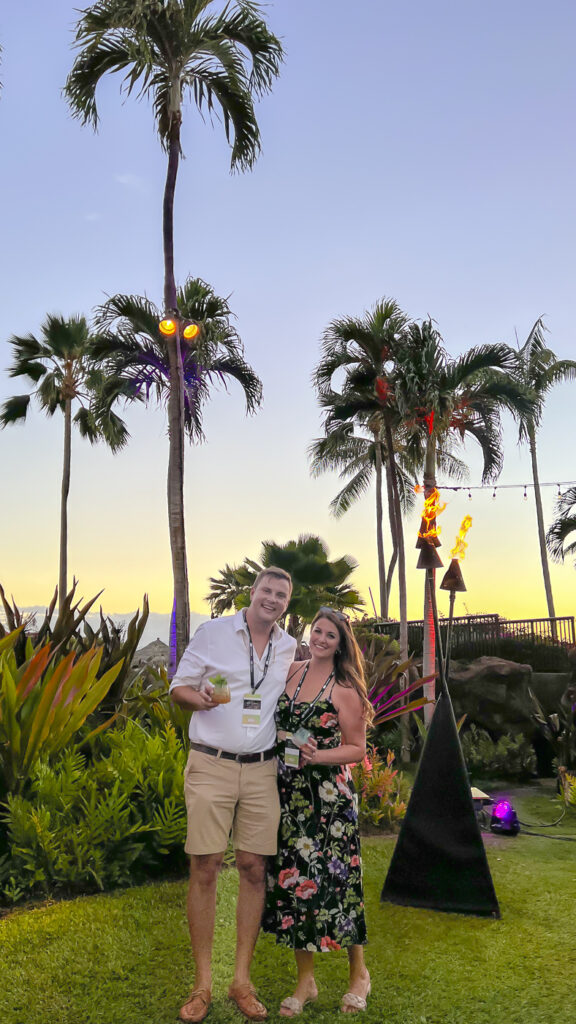 Attend a Food and Wine Festival
If you're a foodie like we are, plan your trip to Maui during the month of October to experience the Hawaii Food and Wine Festival.
This food festival actually lasts over a handful of events across a number of islands in Hawaii, but we were able to join two of the events in Maui.
The tasting was similar to a typical food festival with a number of chefs serving their best bites in a walk-around style setting.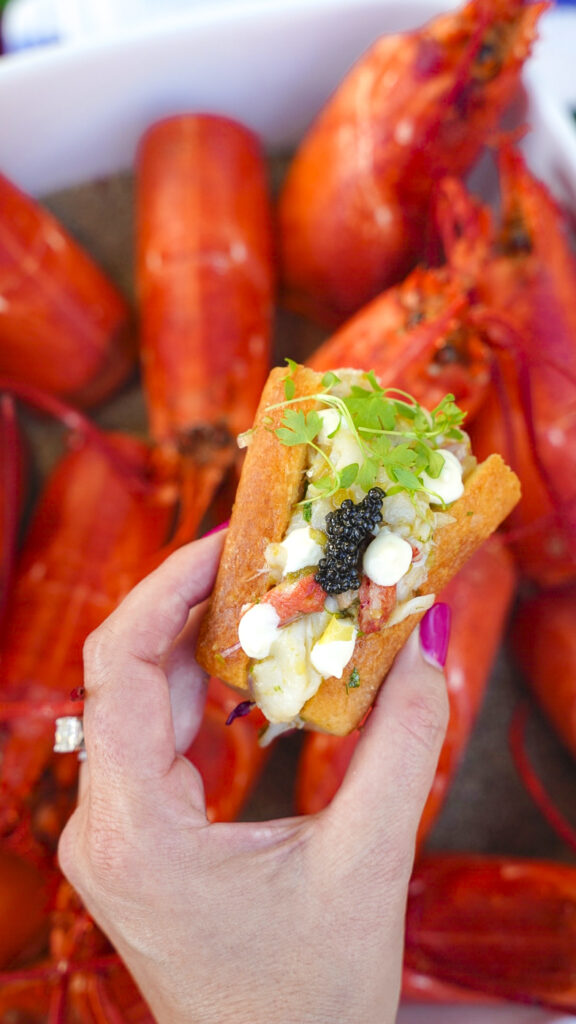 What we loved about Hawaii Food and Wine specifically, is that the portions were larger than other food festivals we've been to and the lines were not long at all.
Being able to enjoy a Maui sunset on the beach while tasting works of art from top chefs from both Hawaii and the mainland was a real treat.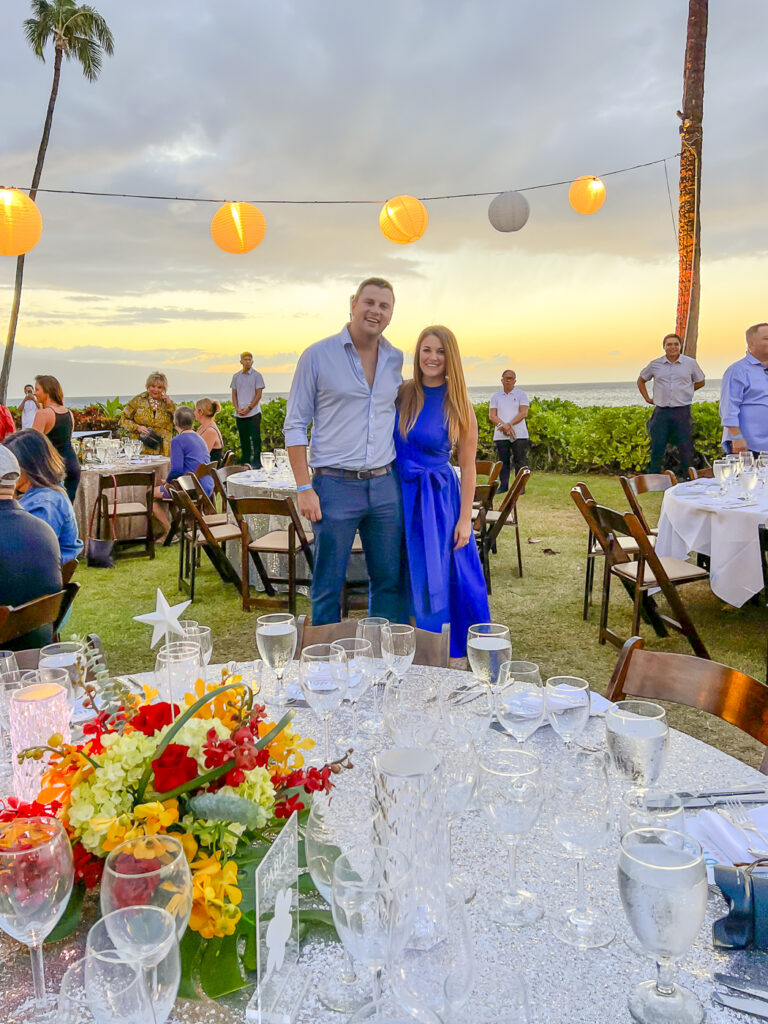 For an even more intimate and romantic food and wine experience, we headed to the Royal Lahaina Resort and Bungalows for their Stars, Beards, and Diamonds event.
This seated five-course dinner featured a dish from each chef and a dedicated wine pairing.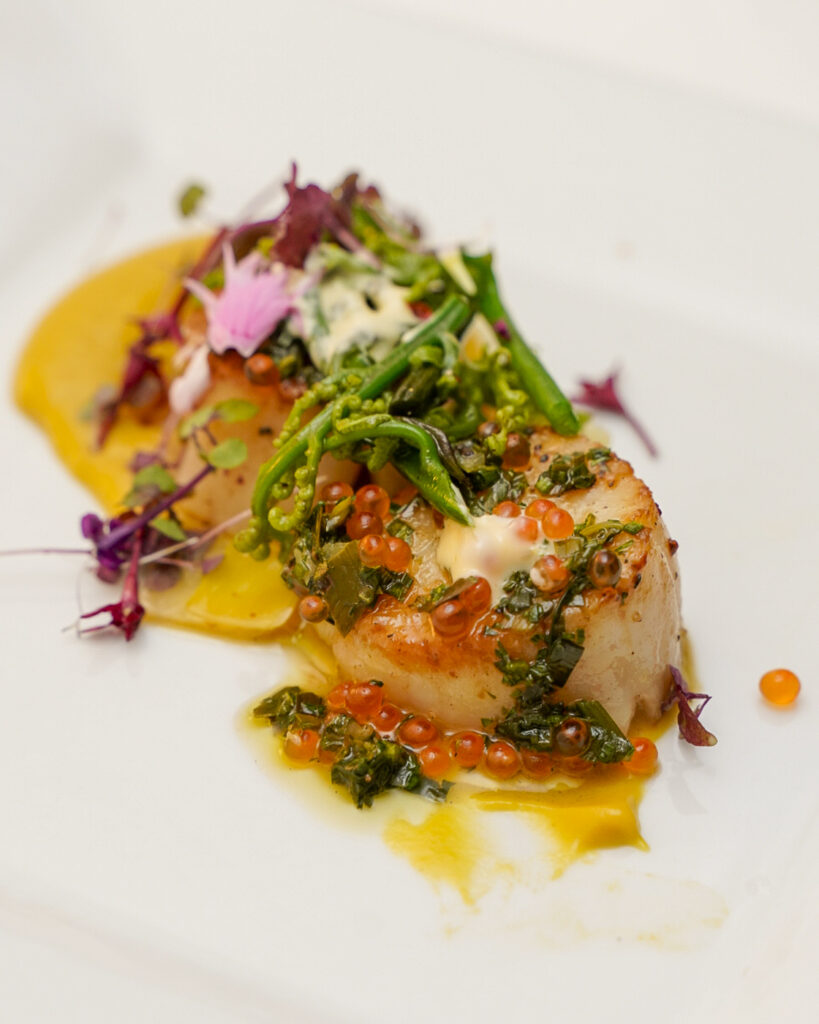 All the chefs were those who have been recognized from James Beard, have a Michelin recognition or a Triple Diamond award.
Our favorite dish was the scallop from Hawaii's own Roy Yamaguchi, how fitting!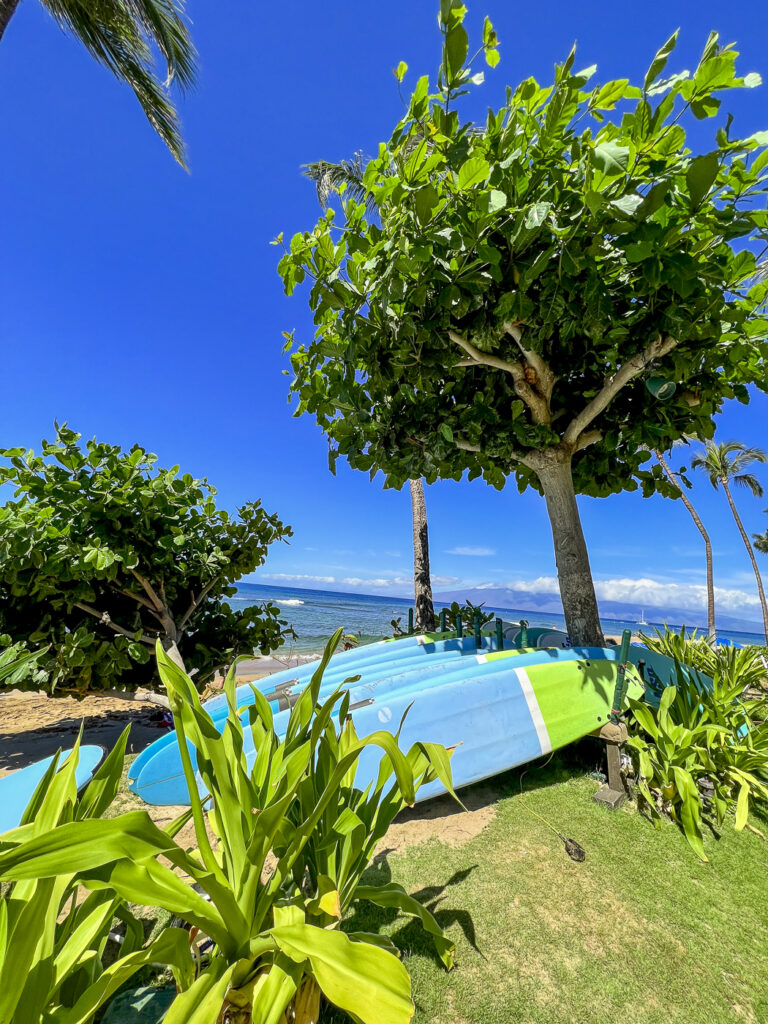 Go Surfing
Sadly after breaking her ankle in Italy a few years ago, surfing just wasn't in the cards for Karen.
However, Hawaii is a world renowned surfing destination so why not go to surf school together?!
There are a ton of surfing shacks offering lessons and surfboard rentals near Whalers Village by Kaanapali Beach.
It's best to plan ahead a book a surfing lesson ahead of time online.
Why not get some exercise while learning a new skill together?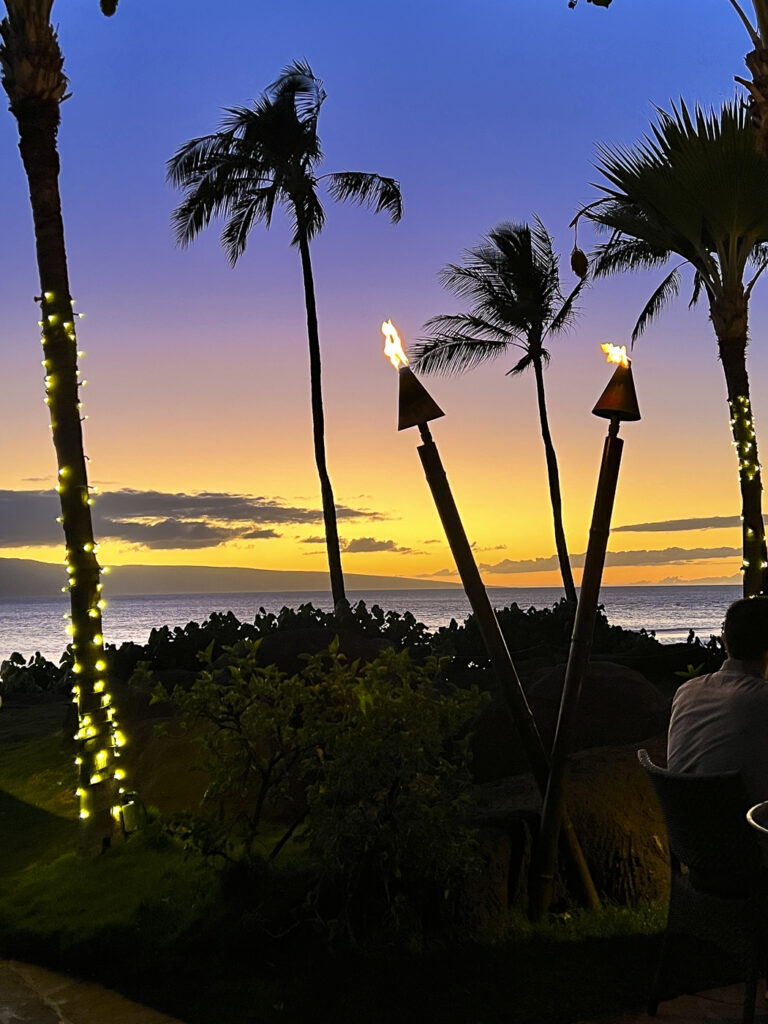 There you have it! From fun things to do as a couple to romantic excursions, we shared details of 33 Amazing Things to do in Maui for Couples. We want to ensure you have the best experience when traveling as a couple.
Looking for more romantic travel ideas? Access our list of detailed travel guides to explore romantic and foodie travel recommendations from around the world, all organized by continent.
Are you planning a trip to Maui? If so, tag @coupleinthekitchen on Instagram or Facebook and let us know!
Click this link to pin this guide of The Best Things to do in Maui for Couples.