After a twelve day, food-filled adventure, we've uncovered the 27 best things to eat in Maui.
We always research the best places to eat wherever we travel, but for this trip we also had the privilege of attending the Hawaii Food and Wine Festival in Maui for 2 days.
From Maui's best restaurants to great food finds in grocery stores, we've curated a list of our favorite dishes to eat and recommendations on where to find these Hawaiian foods that will titillate your taste buds and represent true Hawaiian culture.
Without further ado, here are the 27 best things to eat in Maui, complete with restaurant recommendations.
27. Lomi Lomi Salmon
Lomi lomi in Hawaiian means "massaged".
Thus, lomi lomi salmon is a salted salmon salad that has been massaged with tomatoes, onions, and green onions.
You can eat lomi lomi salmon as a salad with a spoon, or eat it like we did at Huihui at the Kaanapali Beach Hotel: lox style!
We covered a toasted bagel with cream cheese, added the lomi lomi salmon, and then topped it with pickled red onions and their addicting chili water hot sauce.
It was a unique take on a traditional Hawaiian dish!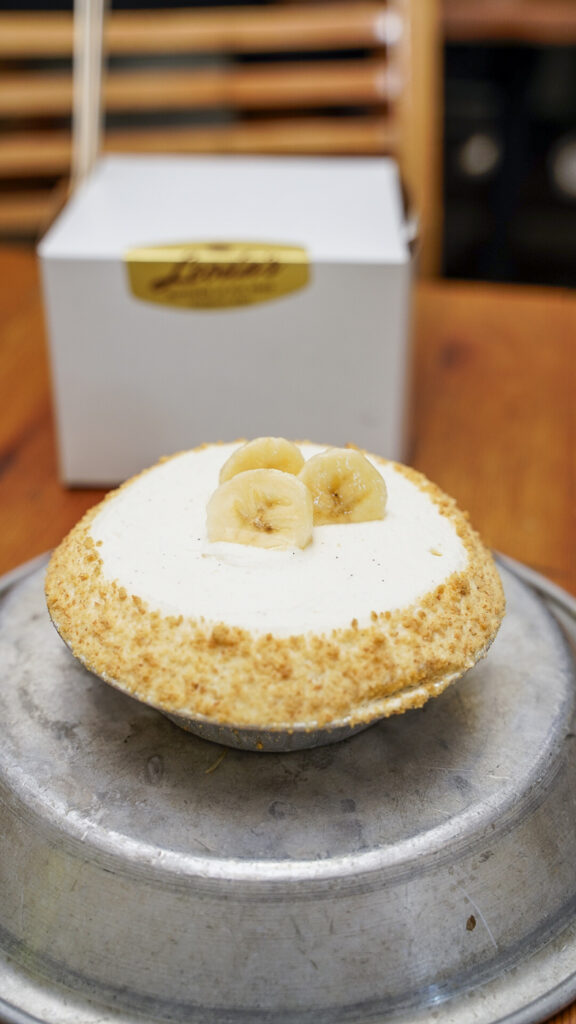 26. Banana Cream Pie
There's always a line outside Leoda's Kitchen & Pie Shop (don't fret, it moves fast), and it's for a good reason.
We originally came here to try their banana cream pie, but also asked the cashier which pie was her favorite.
She said without question, the guava chiffon pie.
Both were delicious, but the guava was definitely the major winner (and more on that pie below). Banana cream pie is really close to Texas banana pudding, but just an added crust.
Other pie flavors that looked amazing were their iteration of a Hawaiian key lime pie and a pineapple macadamia nut pie.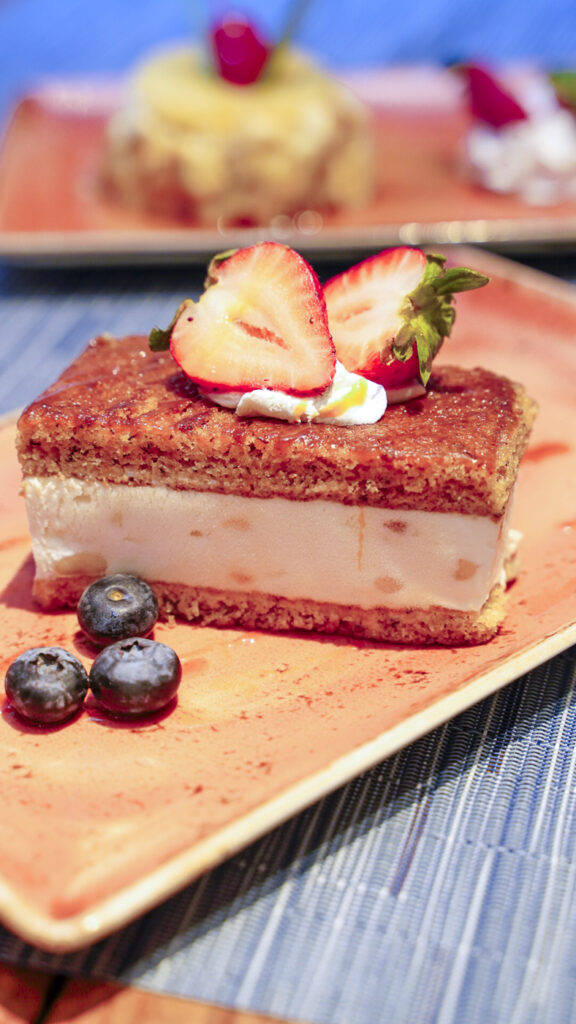 25. Banana Bread
You'll find banana bread for sale all across Hawaii, from gas stations, to gift shops, to fancy restaurants.
What's unique about banana bread in Hawaii is that you can also find it served in creative ways.
While dining at Huihui, we even had a banana bread ice cream sandwich!
Two thin slices of homemade banana bread stuffed with macadamia nut ice cream.
Talk about yum, we're going to have to recreate this at home as well!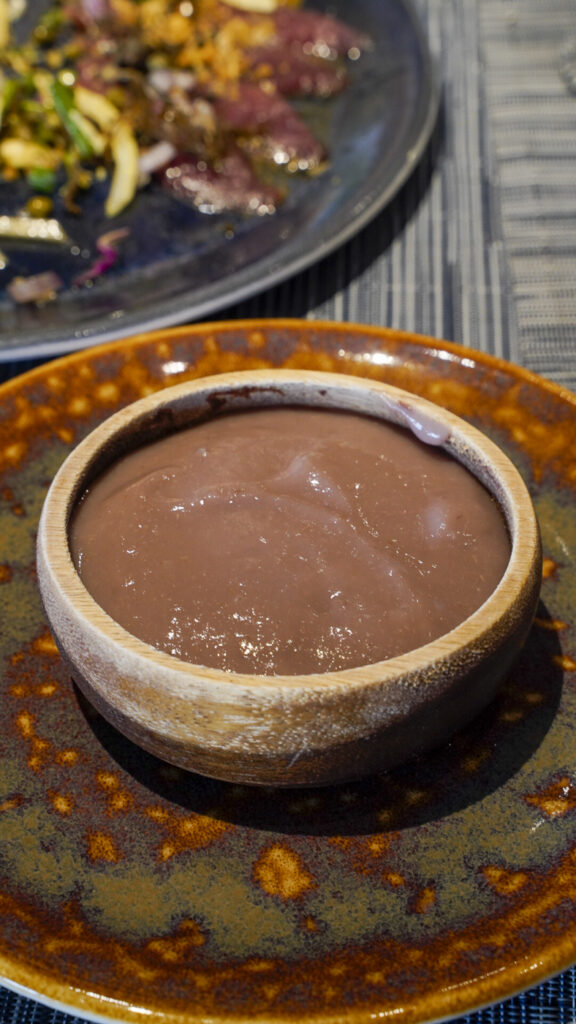 24. Poi
Poi is a traditional Polynesian and Hawaiian staple made from mashed taro.
Poi has a unique texture between yogurt and grits, and can be served both cold and hot.
It can be found with different levels of thickness.
Traditionally poi is served in a bowl and used as a base for any protein from meat to fish.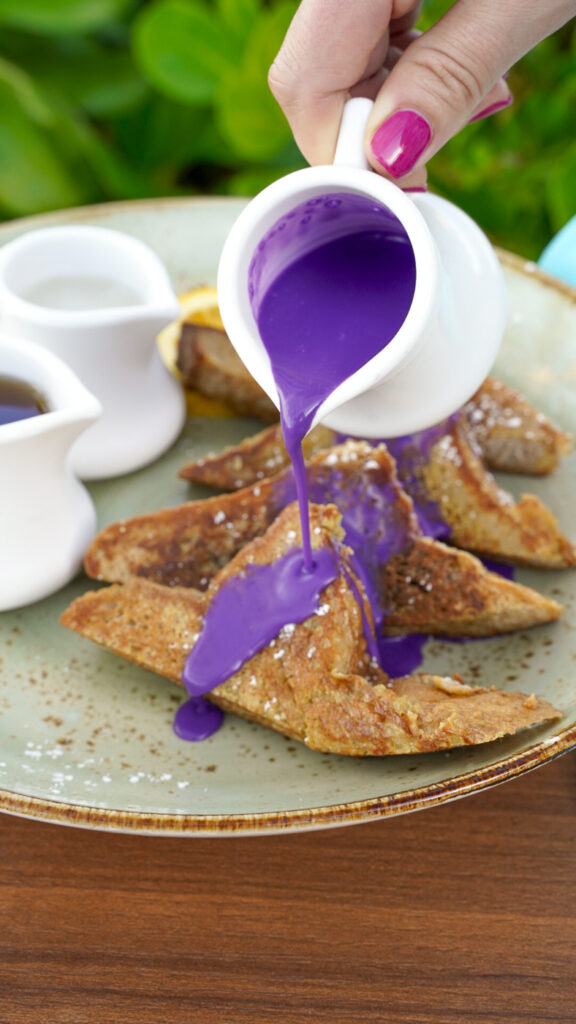 We tried poi on its own, but especially loved the poi French toast at Huihui.
At the restaurant they made French toast with Hawaiian sweet bread an poi was used in the dough prior to baking.
This delicious breakfast dish is served with maple syrup, niu (coconut) syrup, and ube (purple yam) sauce.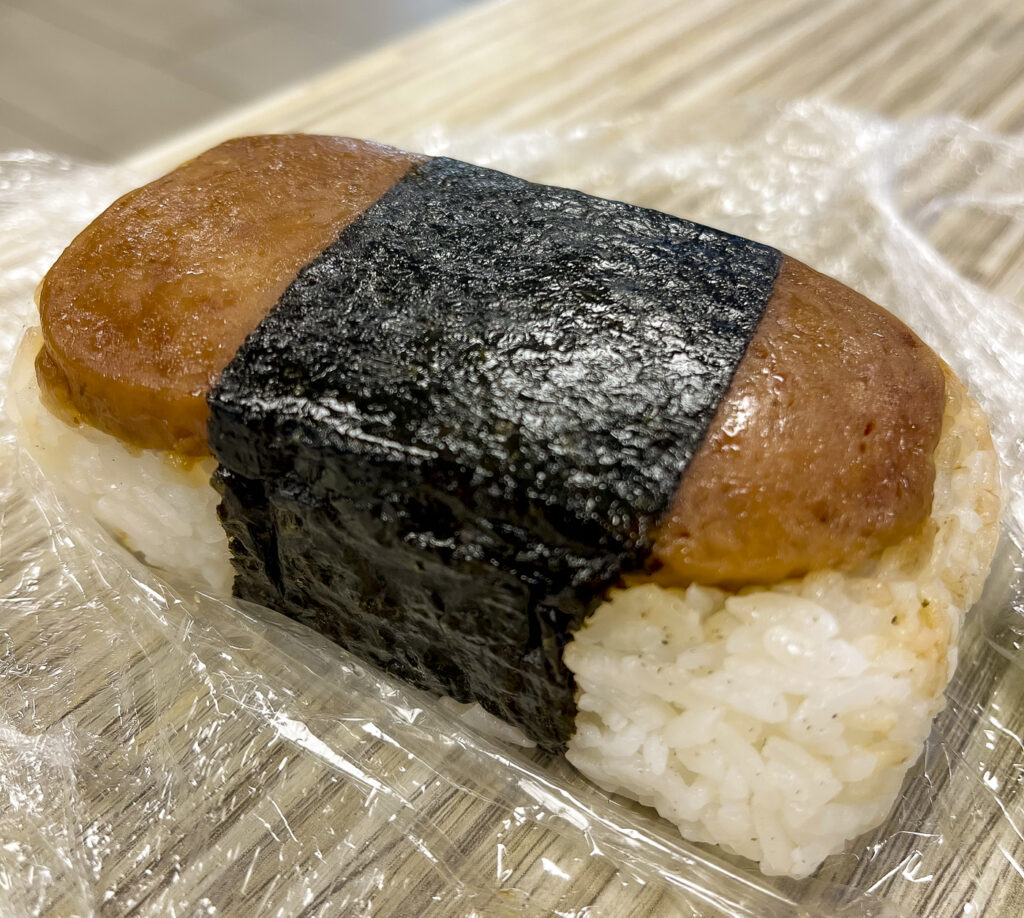 23. Spam Musubi
Spam is the classic pork based canned meat product that Hawaii has taken to a whole new tasty level.
In Hawaii, it is a cheap and easy snack that you can find at ABC stores, convenience stores, and even fancy restaurants where they essentially make large Spam sushi.
Musubi in its most basic form is a slice of spam, sushi rice, and a seaweed nori holding it all together.
You can find this dish both cold and hot, and you can also find it with an egg to make it breakfast-friendly.
Another form of musubi you can find is Portuguese sausage musubi which we thought had more flavor if the spam hasn't been sauced up.
Fun fact: Even though Spam could be the food of Hawaii, it was actually invented and produced in Austin, Minnesota.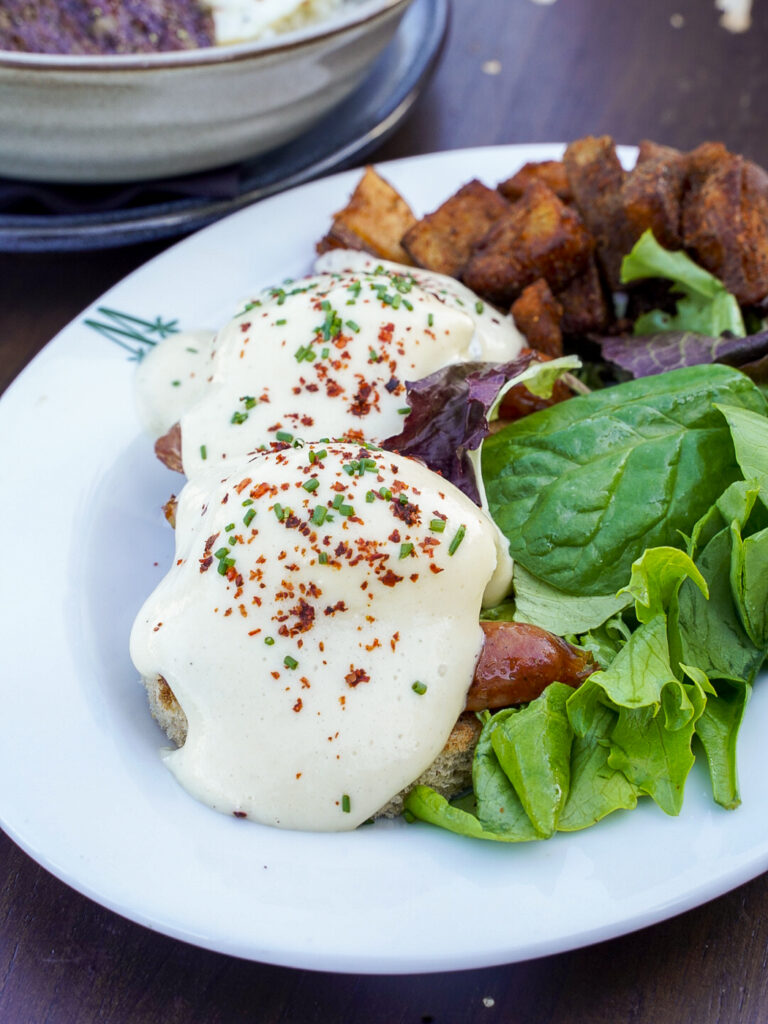 22. Portuguese Sausage
One thing that was surprising to us while in Hawaii was that we found Portuguese sausage everywhere.
In the late 1800s, immigrants from the islands off of the southwest of islands of Portugal arrived in Hawaii and portugal sausage arrived as well.
Over 150 years later, Portuguese sausage is still a mainstay in Hawaiian cuisine.
This thin sausage has a lot of pork flavor but is also slightly sweet.
We tasted Portuguese sausage in everything from breakfast egg benedict at Waicoco to Portuguese sausage musubi from neighborhood convenience shops.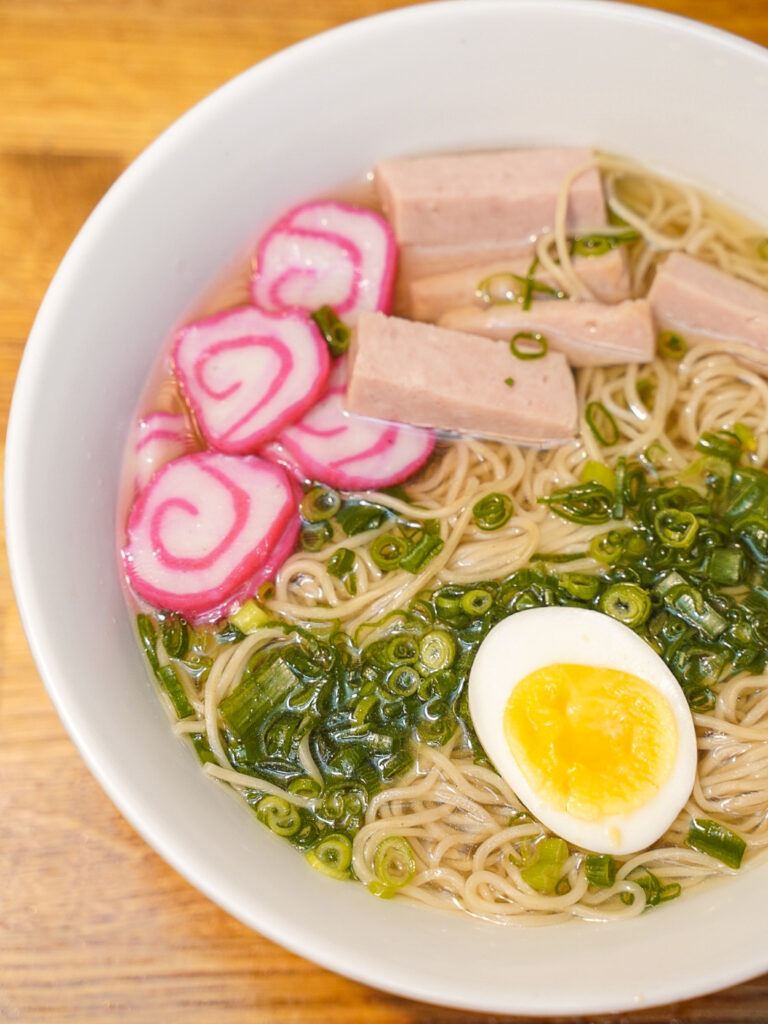 21. Saimen
The first time we were looking at a menu with Saimen, we thought it was salmon, just misspelled, haha.
Think of traditional Hawaiian saimen as if chicken soup and ramen had a baby.
The noodles in the soup are just like the noodles you'd find in a bowl of classic ramen, but the broth is light like chicken soup over a pork tonkatsu.
On top of the noodles, you can find green onions, bean sprouts, an egg, and traditionally spam as the protein (much like many other dishes found in Hawaii).
We tried saimen while at Star Noodle. Since they make their own noodles it sounded like the best spot for a taste!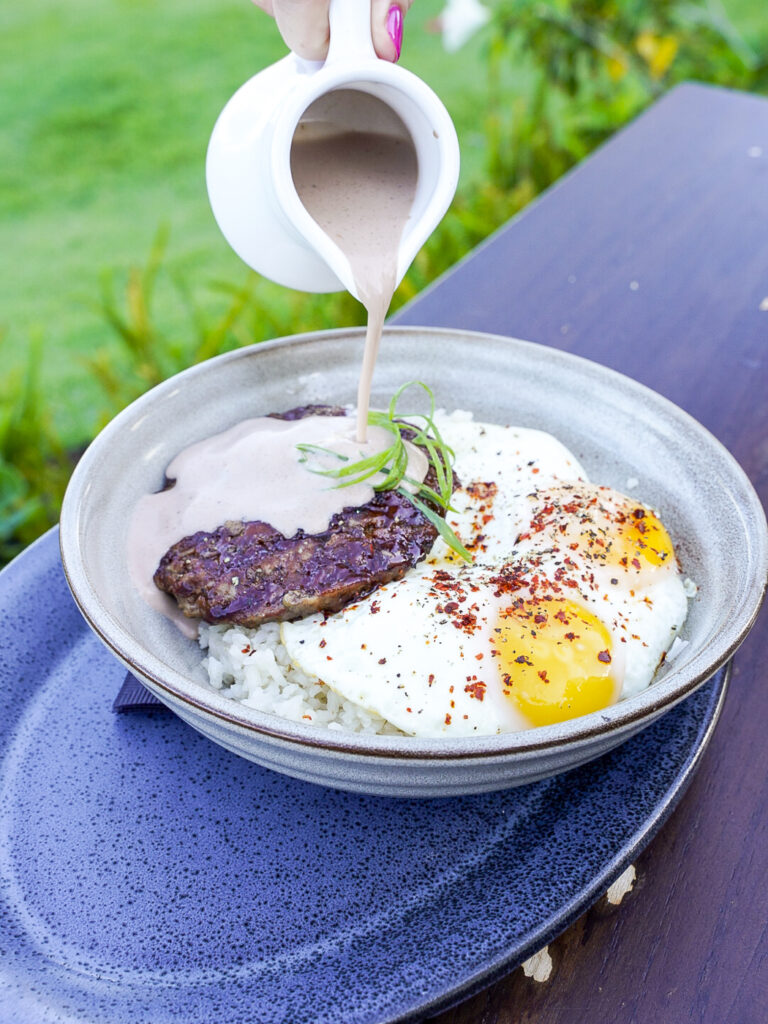 20. Loco Moco
If a hamburger patty on white rice sounds a little loco, you're right.
While this dish sounds really different compared to anything you'd find stateside, loco moco is actually a local favorite of many Hawaiians.
In fact, we had the opportunity to have dinner with one of Maui's top chefs, and when we asked what his favorite Hawaiian food was, he shared that it was loco moco!
We ate loco moco for breakfast overlooking the surf at Waicoco, a restaurant at the Westin Resort and Spa Kaanapali as well as at Huihui at the Kaanapali Beach Hotel.
It was savory and filling before big days of excursions while we discovered the most romantic things to do in Maui for couples.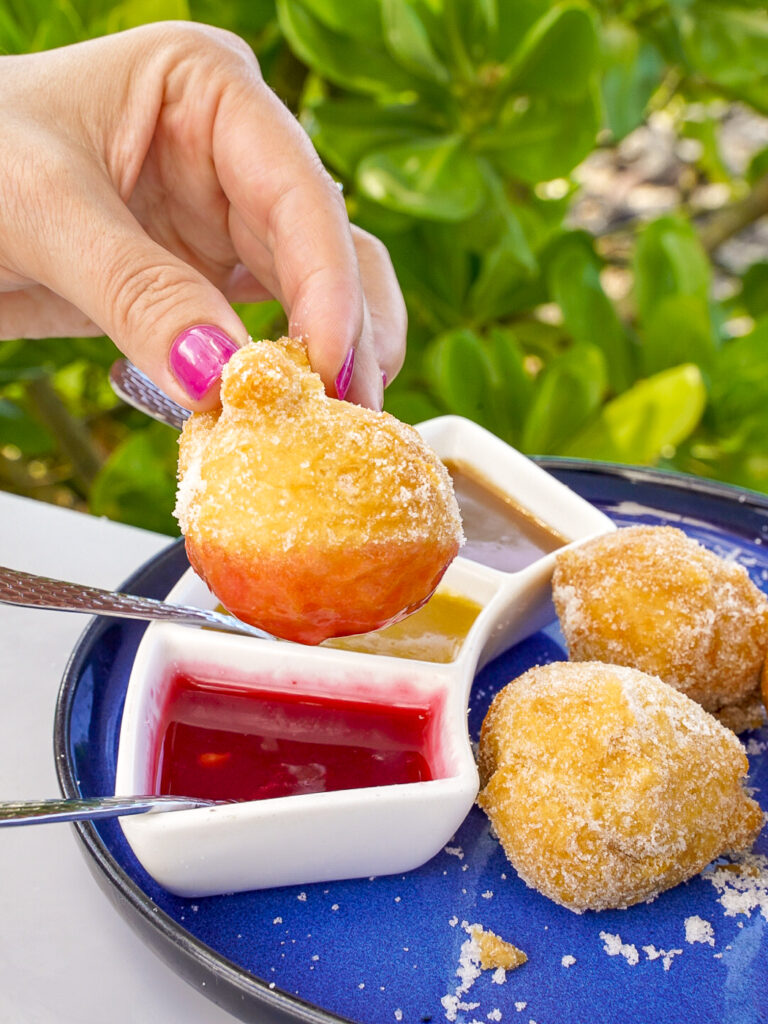 19. Malasadas
A malasada is a Portuguese donut without a hole, and it is the main donut found throughout Maui.
Traditional malasadas don't have any filling and are coated in sugar and cinnamon. They're slightly larger than a donut hole.
Today in Maui you can find malasada food trucks as well as restaurants with it on the menu.
They all serve malasada with a ton of sauces, fillings, and toppings.
We first experienced this sweet ball of joy at the oceanside Mala Tavern where they give you a bag of mini ones.
With their mini malasadas we got three dipping sauces consisting of lilikoi curd (aka passionfruit curd), salted caramel, and a hibiscus shrub.
Another famous location that has been on Maui for years is Leonard's.
At Leonard's they're famous for their malasada puffs filled with unique fillings. They also have toppings other than sugar like li hing mui powder.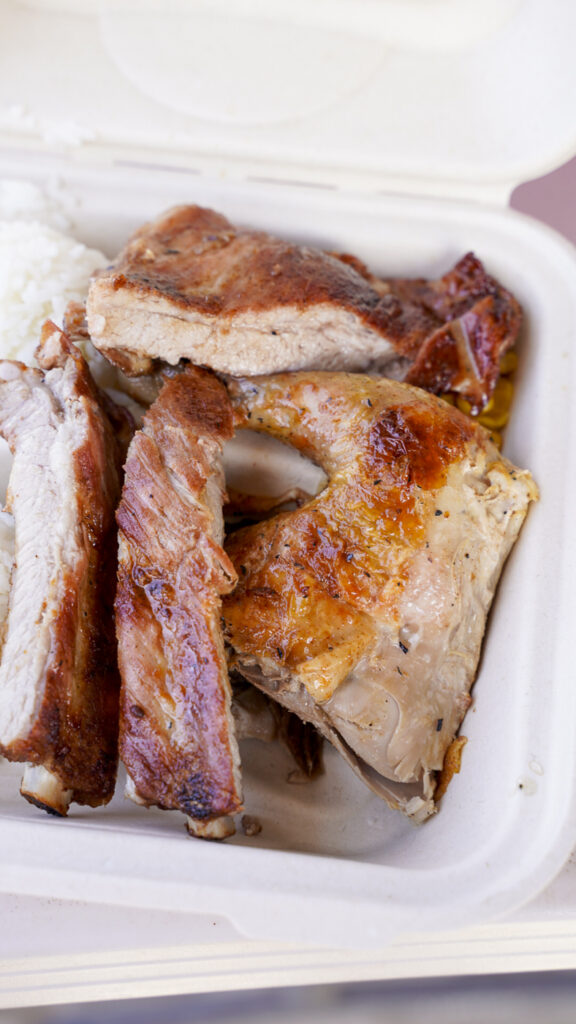 18. Huli Huli Chicken and Huli Huli Ribs
We always thought huli huli chicken and ribs was a specific marinade or seasoning, but it's actually the Hawaiian method of cooking where the food is flipped.
They're typically found at swap meets, random parking lots, strip malls, and around churches on Saturdays.
The cooking method of huli huli chicken begins with the birds being spachcocked and seasoned.
Then they spread the two meats laid out throughout long metal cages that are attached to a pole.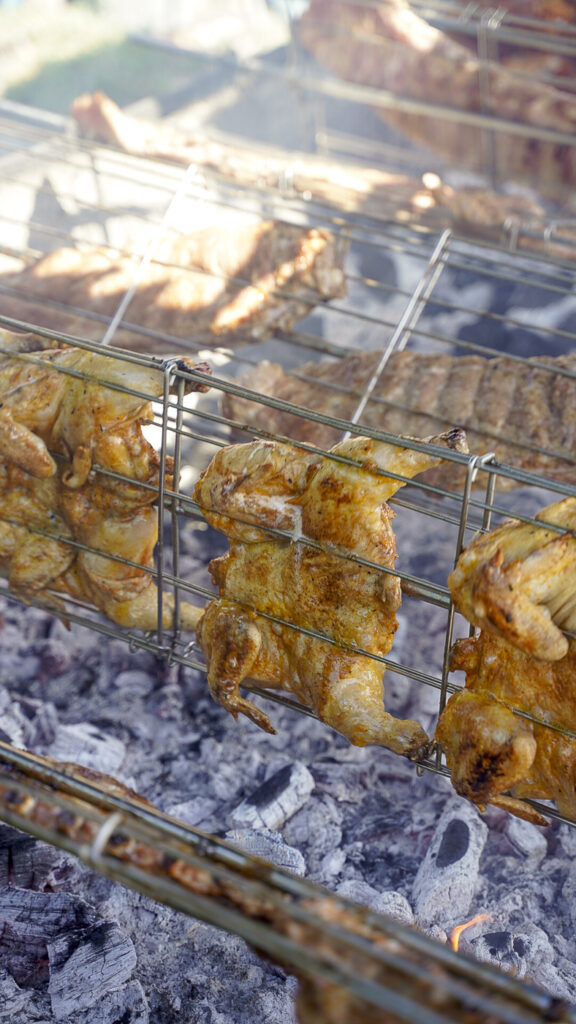 When the cages are secured they place them into a device that spins the cages constantly over hot coals. This constant spinning motion is what makes it huli huli, and the meats are cooked equally throughout the two proteins.
We went to a loved huli huli shop that had a long line at the swap meet.
We ordered the combo of meats, and it also came with corn and rice.
Our personal favorite of the two meats was the huli huli ribs, but both are worth ordering.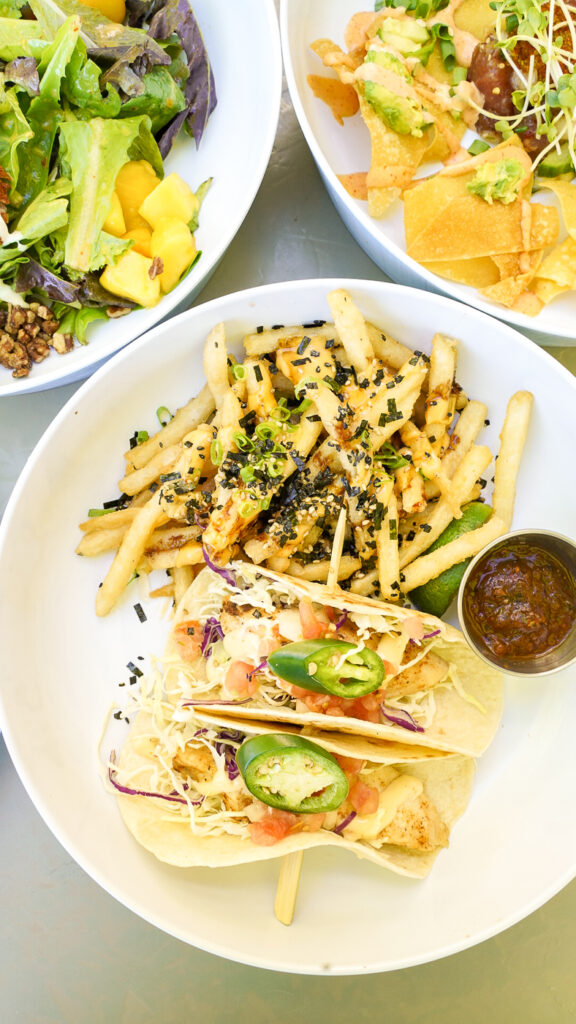 17. Fish Tacos
As you've maybe noticed from this article, when in Maui we ate allll of the fish.
Coming from Texas we had to order fish tacos for a perfect light lunch.
Poolside fish tacos at the Hyatt Regency Maui were stuffed with fresh mahi mahi, a delicious roasted salsa, lime, and veggie toppings.
Typically tacos could be too heavy for poolside eating, but not when the protein is Hawaiian fish.
Mahi mahi is likely the most common fish you'll find in fish tacos, but you may even find some unique Hawaiian fish that were caught fresh that morning.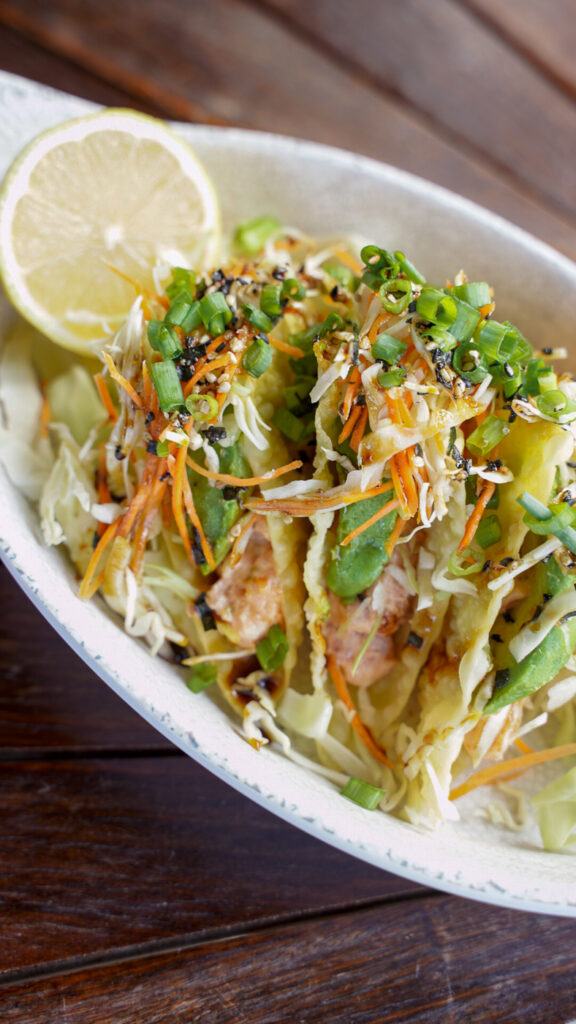 If you love poke, then you can even get poke ahi fish tacos.
They are typically served as an appetizer in a wonton shell, like what we ate while in Wailea at the AC Hotel by Marriott.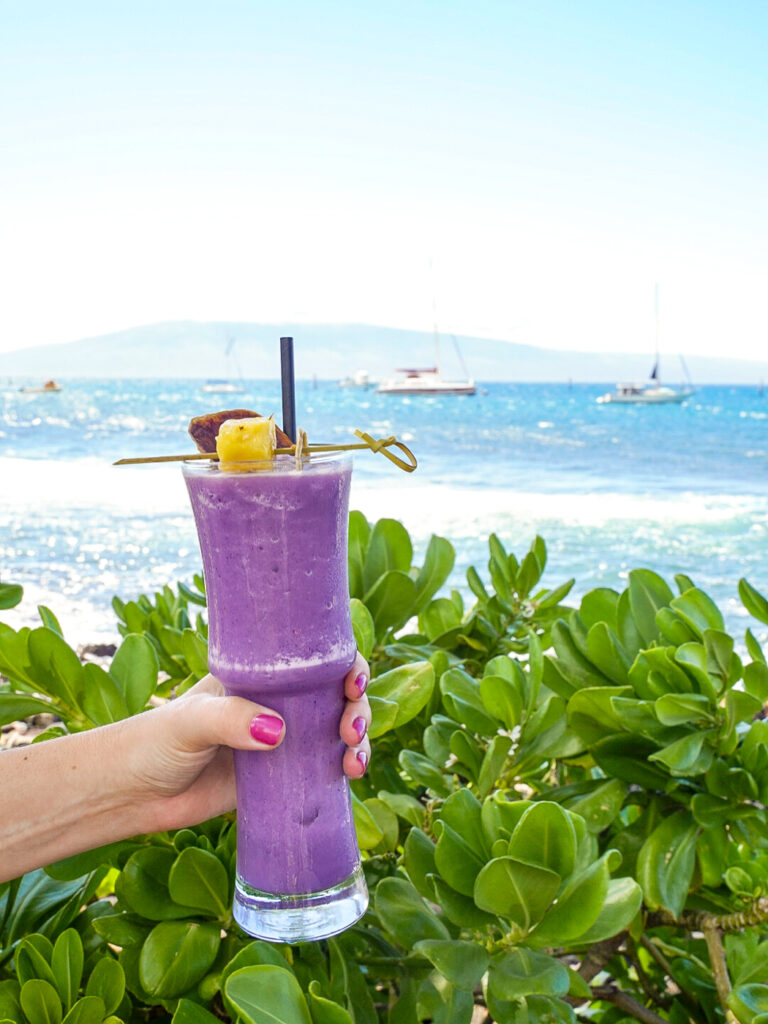 16. Ube Everything
From pancakes to cocktails, ube can be found all over the island on menus.
Ube is also known as a purple yam or purple sweet potato.
Unlike a traditional orange yam or sweet potato, ube definitely has a distinct taste.
Its flavor has sweetness, but it also has clear nutty and vanilla flavor profiles which is why it makes a perfect base for so many food uses throughout the island.
Our favorite use of Ube came from Mala Tavern with their Ube Bang Bang cocktail.
It's pure purple (that alone is really cool) and it's made with rum, pineapple juice, coconut cream, lime, ube + their house-made caramelized banana mix.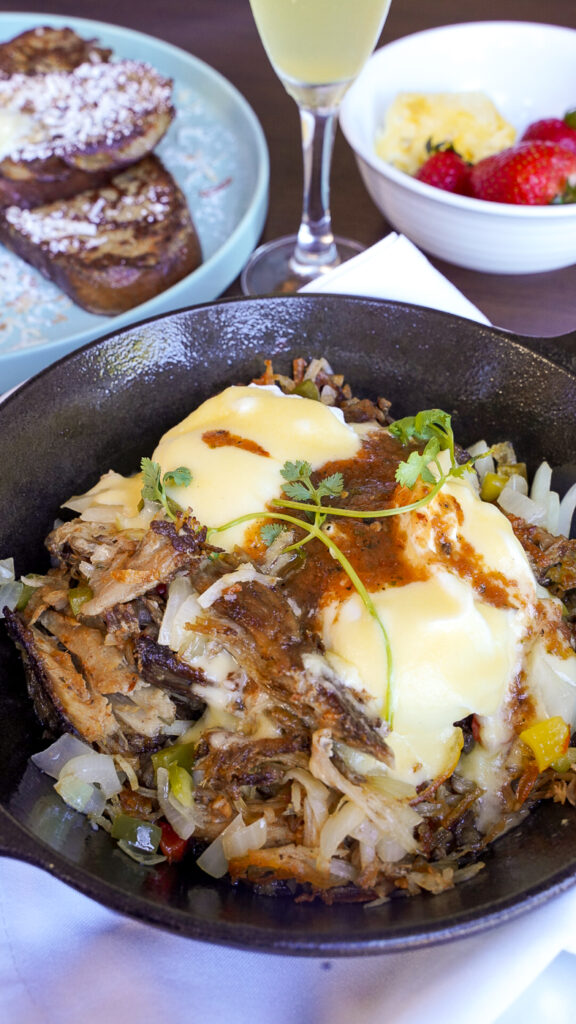 15. Kalua Pork
Kalua pork is a traditional style Hawaiian dish where the pig is cooked in an earth oven.
While at the Drums of the Pacific Lu'au, we have the opportunity to watch the ceremony when locals uncovered the pork after it was cooking in the ground all day long.
From there they ceremoniously carried the suckling pig to the kitchen to be pulled and prepared for our plate dinner.
In addition to being a typical lu'au food, kalua pork is highlighted in a number of dishes on menus across Maui.
From sandwiches, to tacos, we even had Kalua pork hash for breakfast at Swan Court, a restaurant onsite at the Hyatt Regency Maui.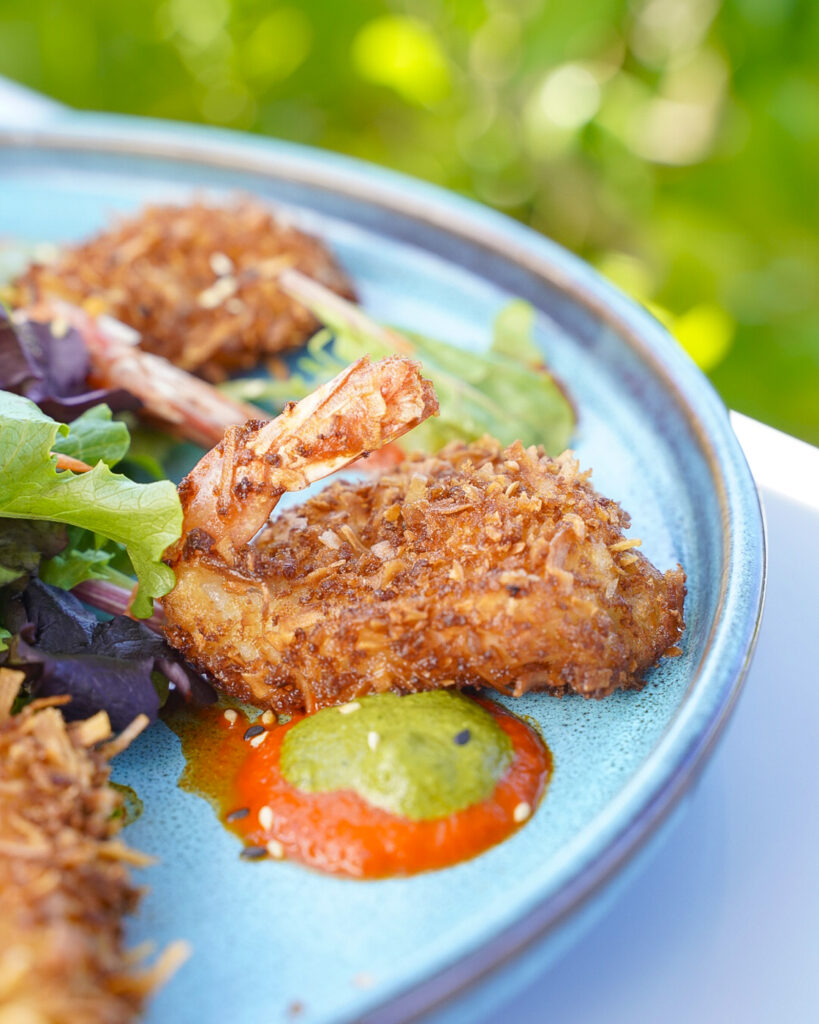 14. Coconut Shrimp
Crispy, golden brown coconut shrimp just hits differently when you're savoring them on the Hawaiian islands.
Our bloody mary at Mala Tavern was a coconut shrimp lovers dream.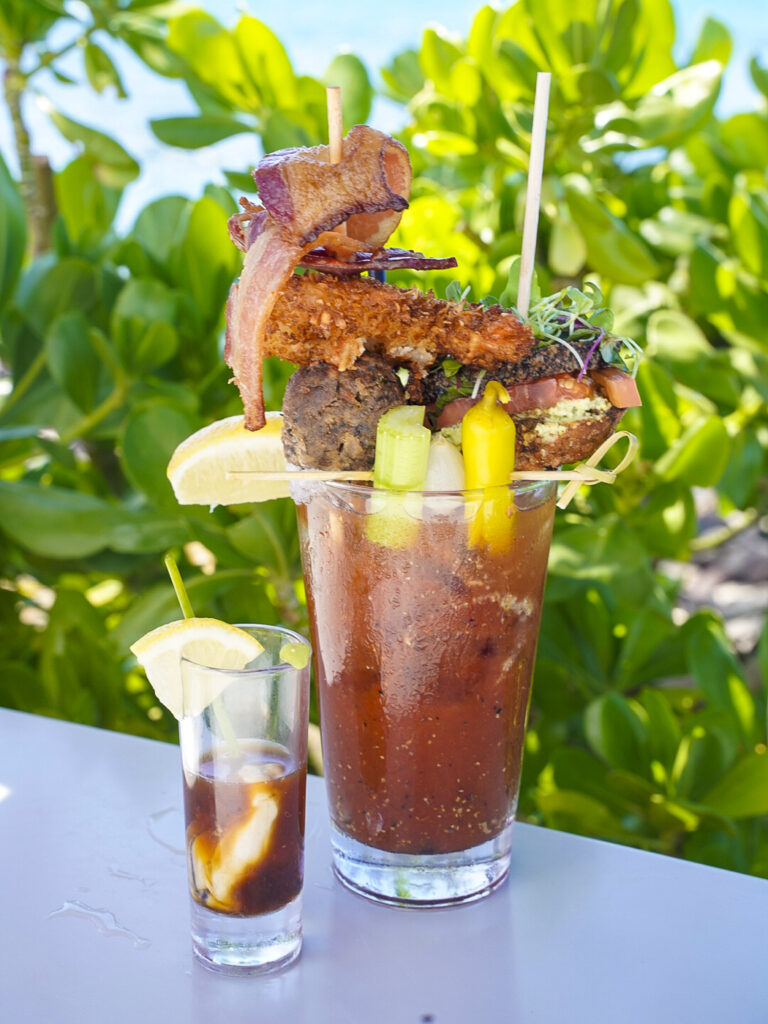 This work of art was even topped with a piece of coconut shrimp, among other garnishes like ahi bruschetta, bacon, and an oyster shooter.
If you're not looking for a loaded cocktail, don't worry, you can also just order a whole small plate portion as well.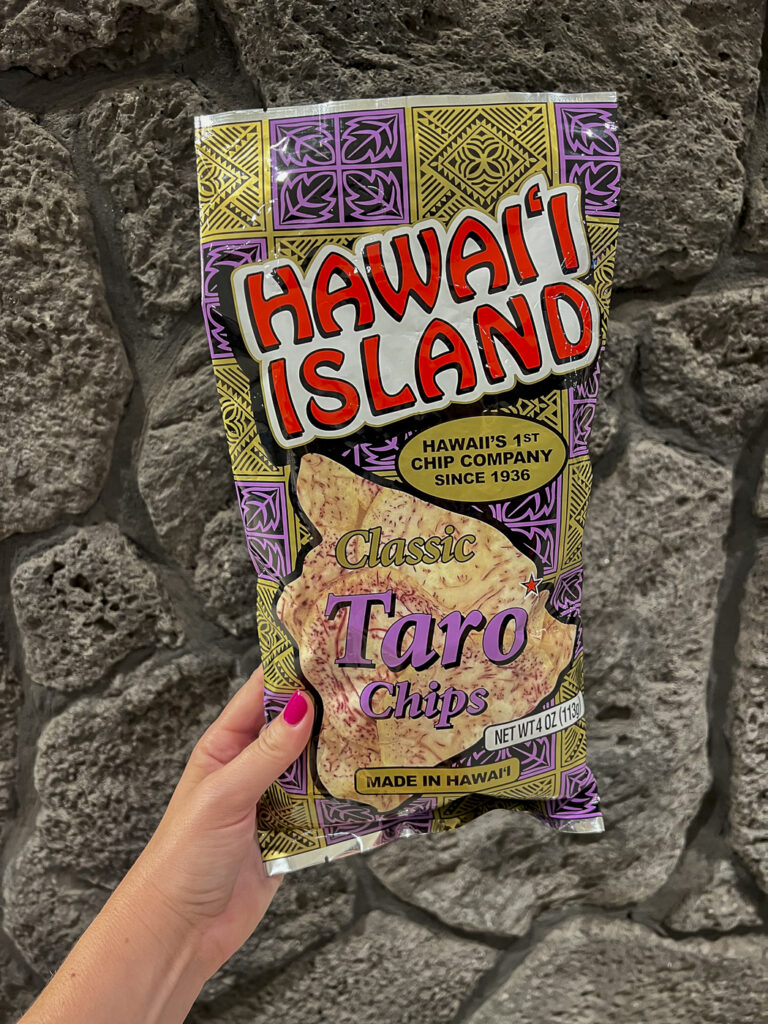 13. Taro Chips
Taro chips are the potato chips of Hawaii.
They're made from the root vegetable taro which provides a similar chip to traditional potatoes with a slightly nutty flavor.
We loved the crispness compared to traditional potato chips, and our favorite flavor was plain with a touch of salt to get the true taro flavor.
The constant taro chip bags that we kept buying came from Atebara's Chip Company.
They were founded in 1936 and were Hawaii's first potato chip company.
That later turned to Hawaii's first taro chip company in the 1940's when they wanted to focus on local produce over the traditional potato chips when potatoes weren't readily available.
Now you can find their taro chips and purple sweet potato chips in multiple flavors like furikake, haupia, and sweet onion.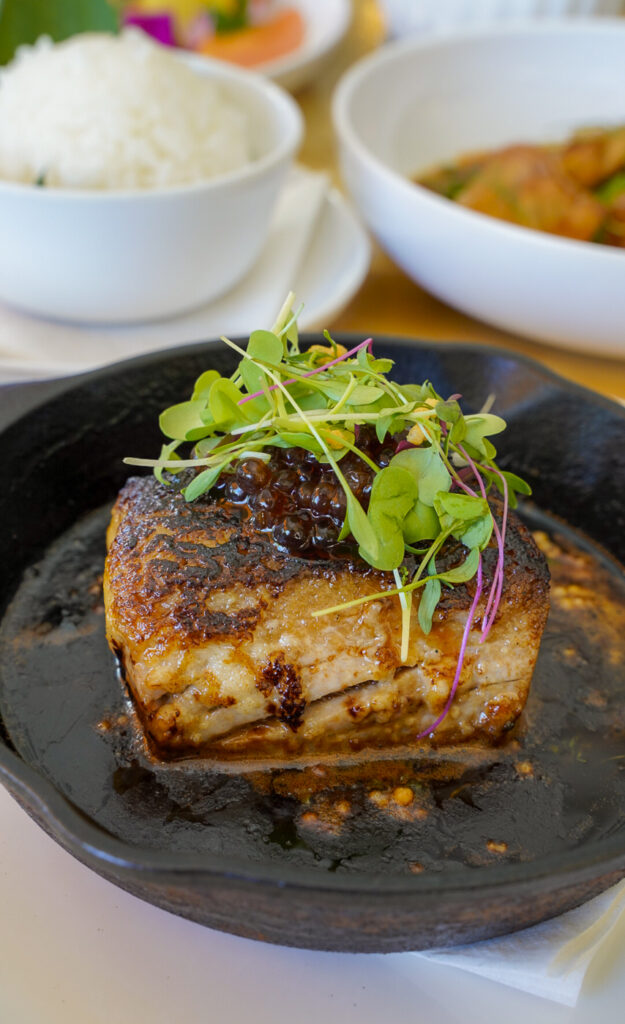 12. Ahi Tuna
Yes, you'll find seared ahi tuna on sandwiches and salads all across the island.
For a unique experience, hunt out an ahi tuna belly filet.
The ahi tuna belly at Papa'aina was another dish that was one of the favorite things we ate in Maui.
It was savory and flavorful, almost like pork.
Served in yuzu ponzu butter, be sure to order a side of rice to help you sop up all that incredible sauce.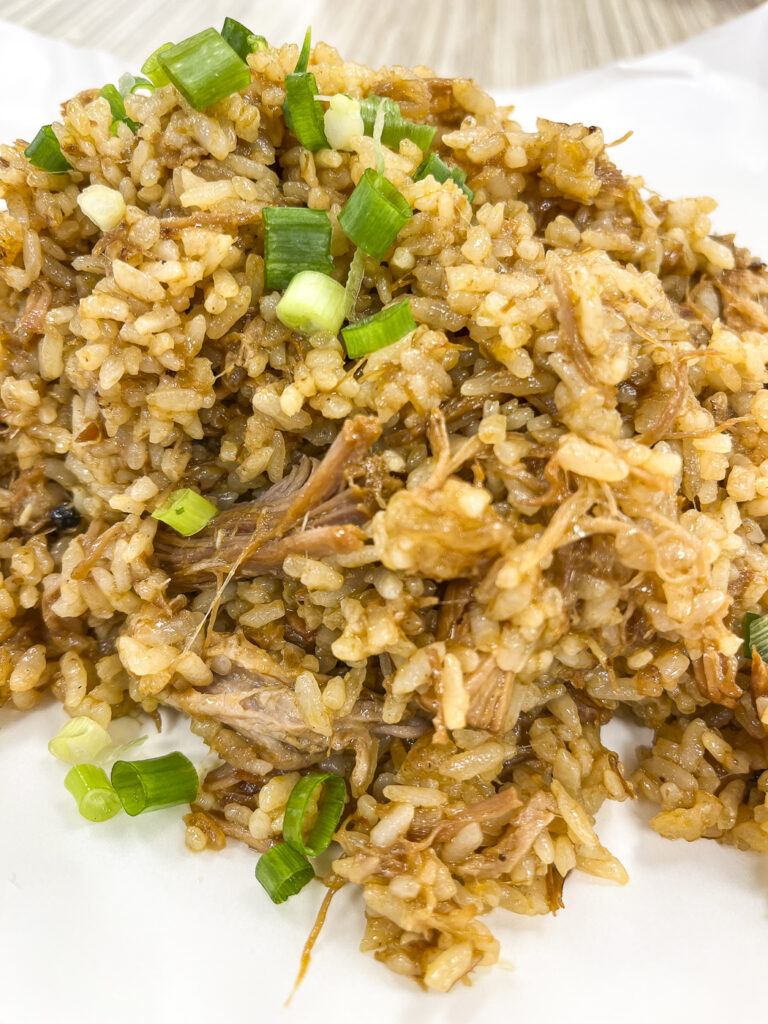 11. Pork Adobo
There is a large Filipino population in Maui, and their delicious cuisine can be found throughout the island with a touch of Hawaiian ingredients added to it.
Pork adobo is soy sauce and other spices marinated with pork shoulder and/or pork belly.
When the pork is cooked, it comes in chunks and is very tender.
It's typically served over rice, but you can also find it in fried rice like the version we loved from Joey's Kitchen in Whalers Village.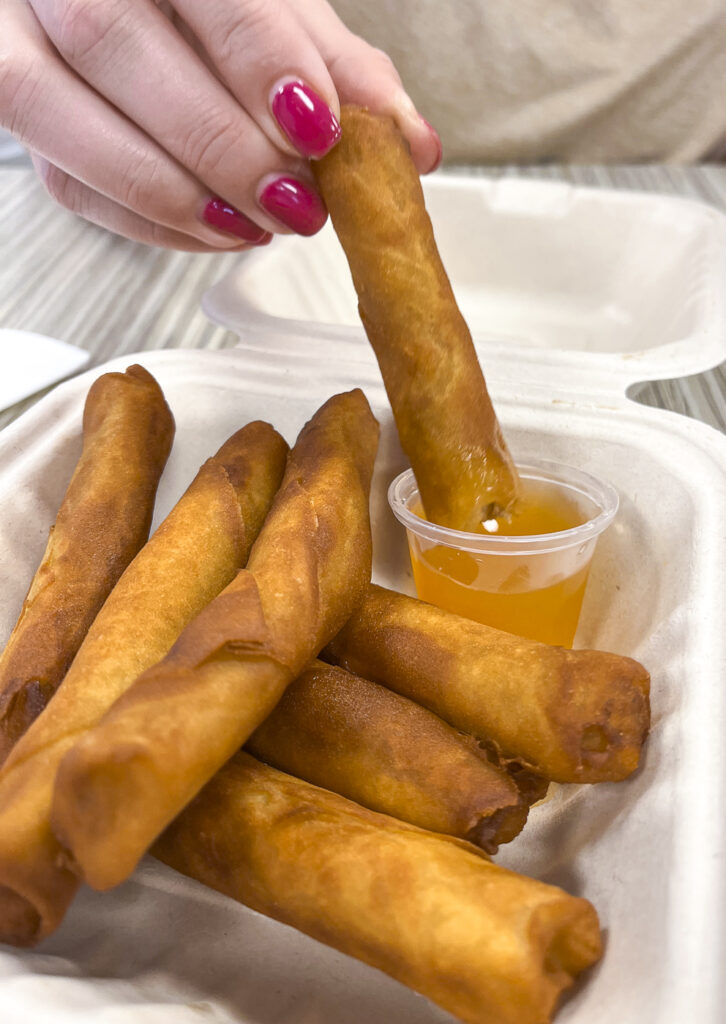 10. Lumpia
Hawaiian ingredients packed in lumpia can be found at any Filipino and Filipino fusion restaurant in Maui.
If you've never had lumpia, they're similar to egg rolls. What's different is that they're thinner.
These fried spring rolls that are packed with flavor.
We love the crunchy thin wrappers of lumpia over the larger egg roll cousin that most people in the US are definitely used to.
Also, with lumpia being thinner you typically get a decent number of them in each order to snack on or share.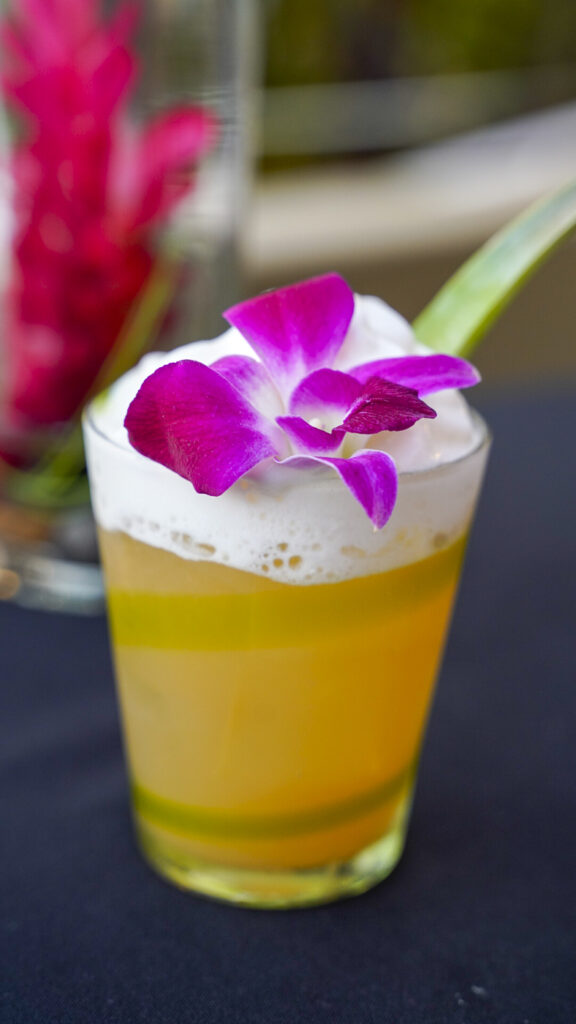 9. Mai Tais
If you're heading out for happy hour, you need to get a mai tai! What you should specifically seek out in Maui is a Mai Tai with a unique foam.
A mai tai is a cocktail made of rum, curaçao liqueur, orgeat syrup, and lime juice.
We went to three different restaurants that did their foam-topped iteration of a Hawaiian mai tai.
Ko Restaurant in Wailea was not only our favorite restaurant in Wailea, they probably had our favorite mai tai on the island.
Their mai tai wasn't overly sweet, and the foam was inspired from another tropical cocktail: the pina colada.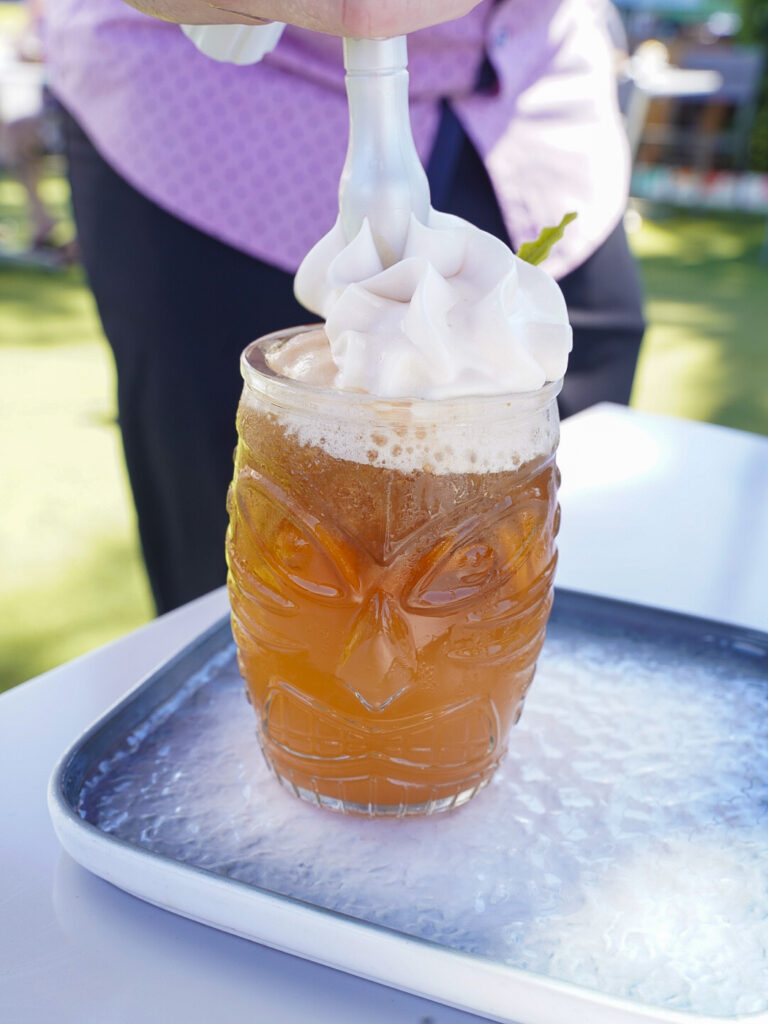 Mala Tavern's foam topped mai tai was our favorite mai tai in Lahaina. There's nothing better than sipping on a tropical cocktail right on the water as the sun goes down.
We went to Monkeypod in Whalers Village and while we were underwhelmed by our dinner choice, we were delighted by their mai tai cocktail.
Their drink is special because in addition to the light and dark rum, the libation has house-mase macadamia nut orgeat.
The mai tai is also topped with a sliver of fresh pineapple and an irresistible honey-lilikoi (aka passionfruit) foam.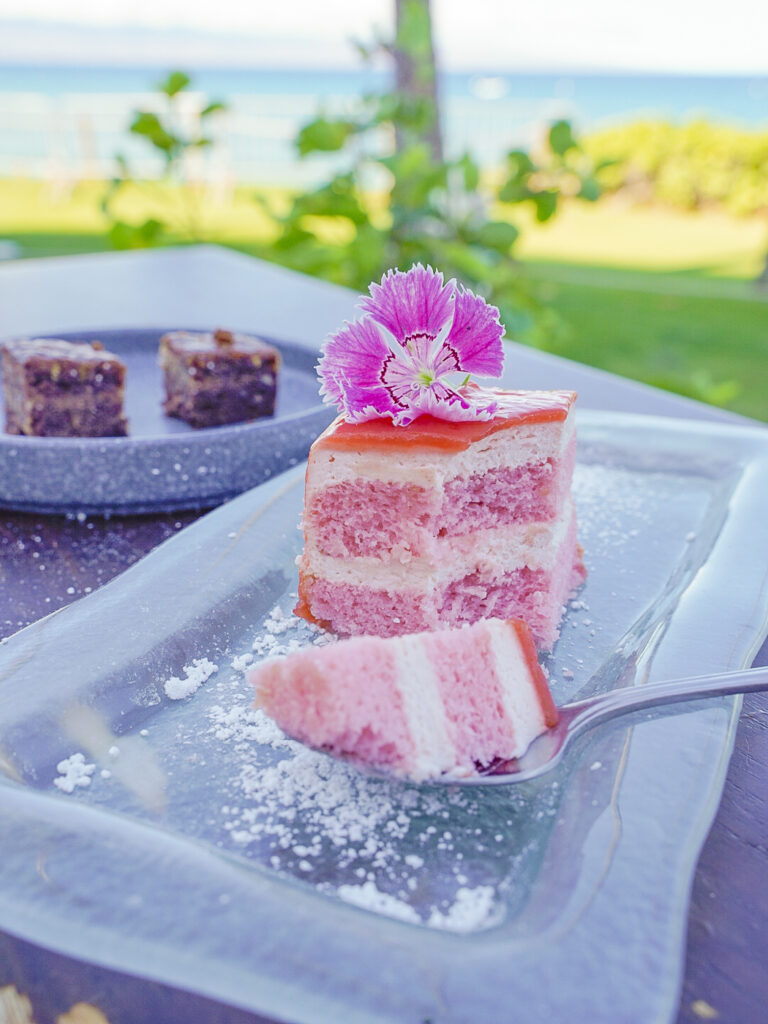 8. Guava Anything
Coming to Maui we liked guava, but it was never a fruit or flavor that we sought out because when we got it stateside it's typically pretty sour.
That all changed when we got to Maui, because when you eat it fresh or in a desert it was a perfect balance of sweet and sour.
Our favorite way to eat guava on the island was the two different times we got guava chiffon cake.
Our brunch at Waicoco was our first taste of the amazing guava chiffon cake, and it was definitely our favorite.
Chiffon cake is traditionally comparable to a cross between a light sponge cake and a butter cake, but with the guava added in it adds a light sweet juice moisture so it's almost a tropical fruit chantilly.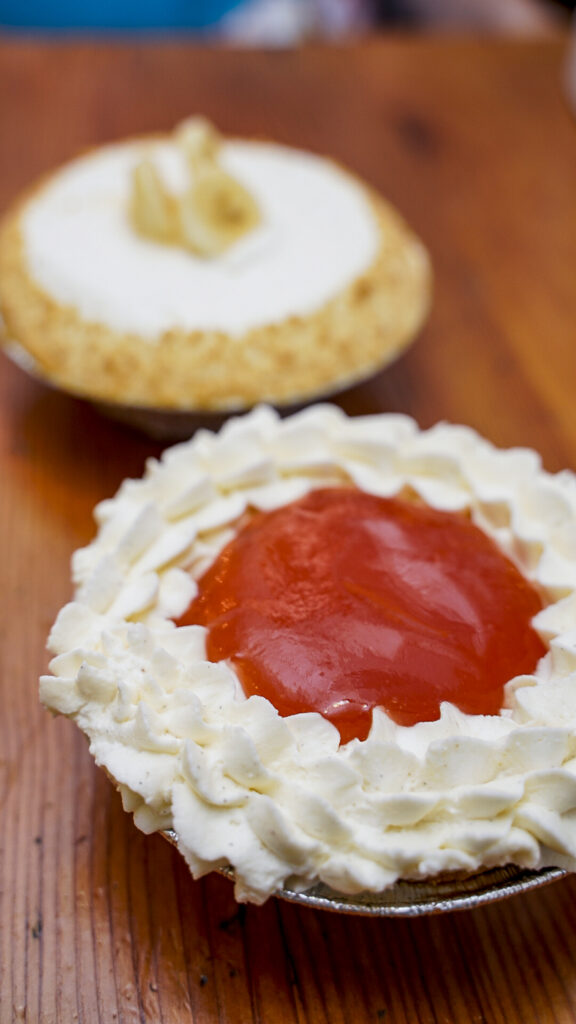 Leoda's Kitchen & Pie Shop was the second location we tried this cake, and it was definitely worth an order as they also note it as a staff favorite.
The difference between this cake and the first we loved is that the cake is cooked in a pie crust like they do for their other pies.
We ended up enjoying theirs without the added crust, but it's an interesting cross with a cake cooked with a crust.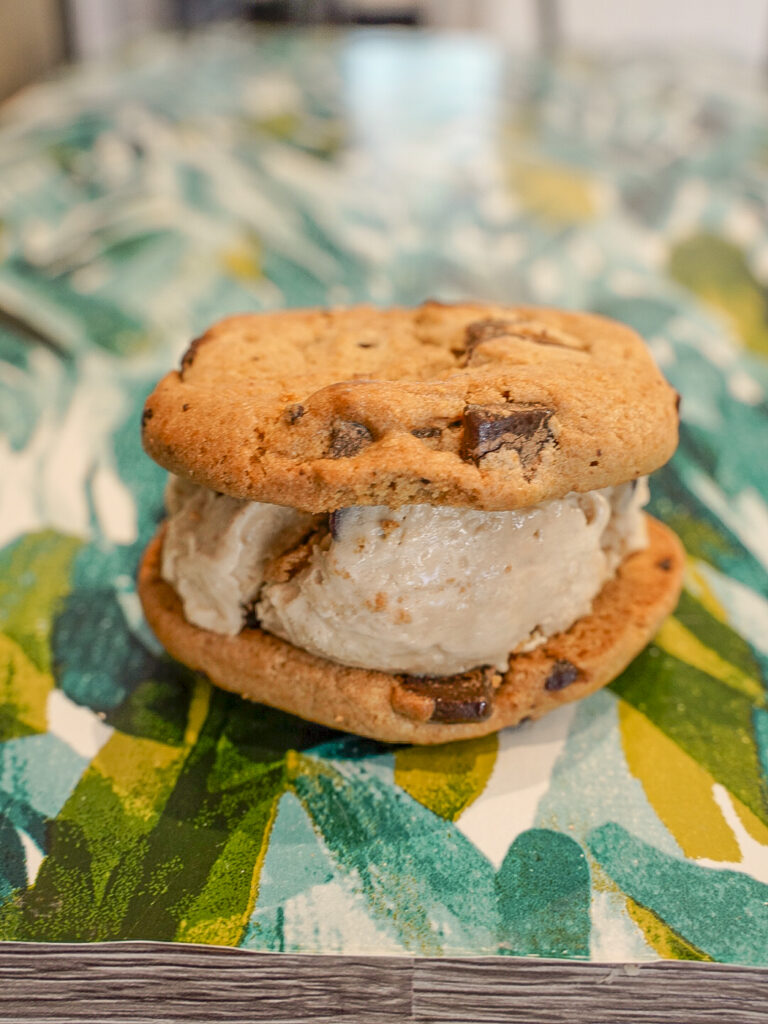 7. Macadamia Nut and other Hawaiian Ice Cream Flavors
We tasted a LOT of ice cream while in Maui!
Macadamia nut ice cream is a local speciality that you'll find in many scoop shops.
At Paia Gelato, their macadamia nut ice cream was integrated into a coffee crunch ice cream. We even got it sandwiched between two cookies!
You'll also find a lot of coconut macadamia nut options which are naturally vegan.
Maui-made Roselani's ice cream is a local favorite that you can find in stores, and we were lucky enough to get a bowl with our snorkel tour through Sail Trilogy.
The boat captain said their ice cream is smoother because of the heavy cream count that is used when making the ice cream, and they weren't lying, it is a delicious and smooth ice cream.
6. Shave Ice
Ululani's Hawaiian Shave Ice is known as the best shaved ice on Maui. They have perfect reviews!
When it was time to visit, we were a bit overwhelmed by their wide variety of flavor options.
We ended up ordering a trio of flavors, pineapple, mango and li hung mui, which is a sweet and salty Chinese plum.
Feel free to customize your shave ice with a scoop of ice cream or azuki beans (chinese red bean paste) on the bottom of your shave ice.
Or top it with a sweetened condensed milk "snow cap", toasted coconut, or some mochi pieces like we chose to do.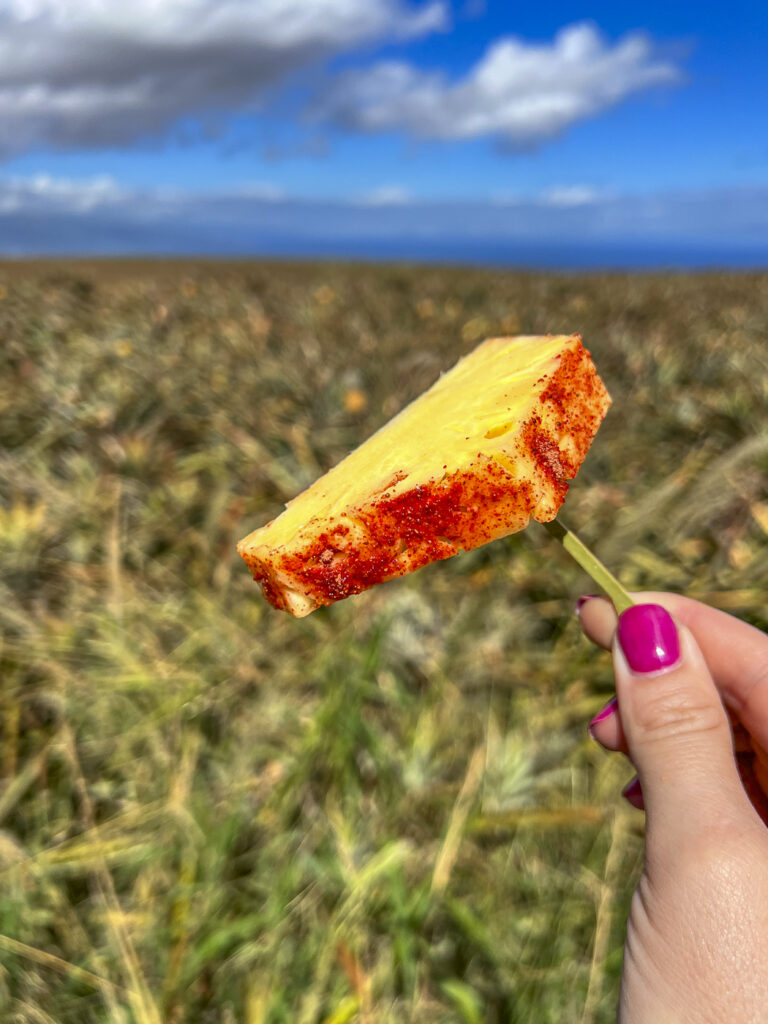 5. Li Hing Mui
Before Maui we had never heard of li hing mui before, but after our first bite we fully understood why it's so popular in Hawaii.
Li hing mui is a Hawaiian dried plum treat that you can find in many different forms from candy, to powder, to syrup for Hawaii's famous shaved ice.
It was our favorite flavor from Ululani's Shave Ice of all the syrups we tasted.
Additionally, during our tour of the Maui Pineapple Farm, we tasted li hing mui on the outside of pineapple and it was a delicious addition!
We bought three packs to bring home to add to fruits and cocktails.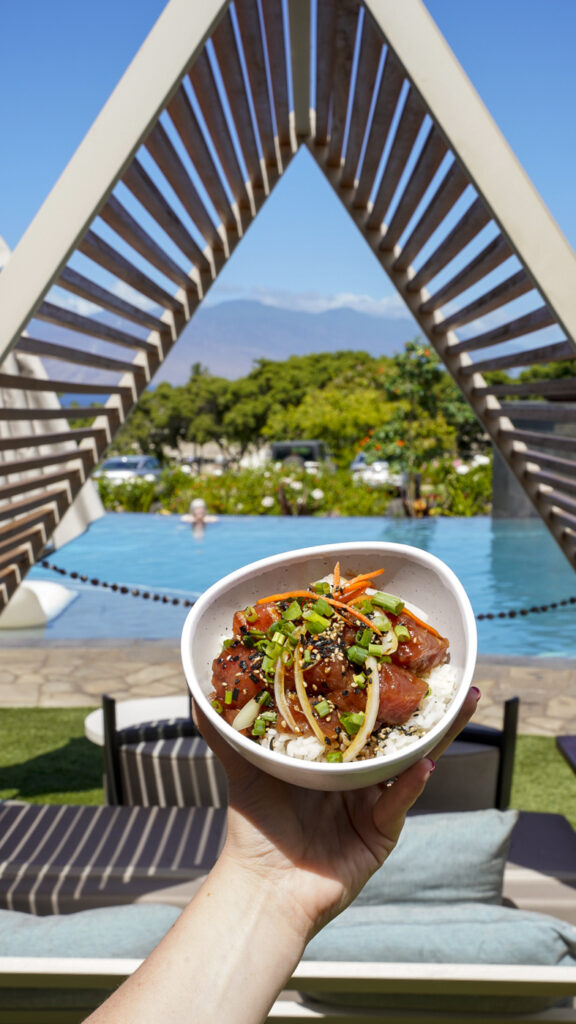 4. Poke Bowl
Fresh poke is raw fish like sushi, but sauced up and cut into small cubes.
Typically the two traditional poke fish are sushi-grade salmon and tuna.
You can also find poke in a bowl over rice, with a salad, in tacos, and even poke nachos.
We spent a few hours sunbathing at a luxurious cabana at the Westin Resort and Spa.
Ordering their poke was the perfect midday bite to enjoy the fresh fish without feeling bogged down and stuffed in our swimsuits.
Before coming to Maui we would order poke for a healthy lunch or dinner at least once a month, but in Maui we don't know if there was a single day we went without ordering it in some shape or form.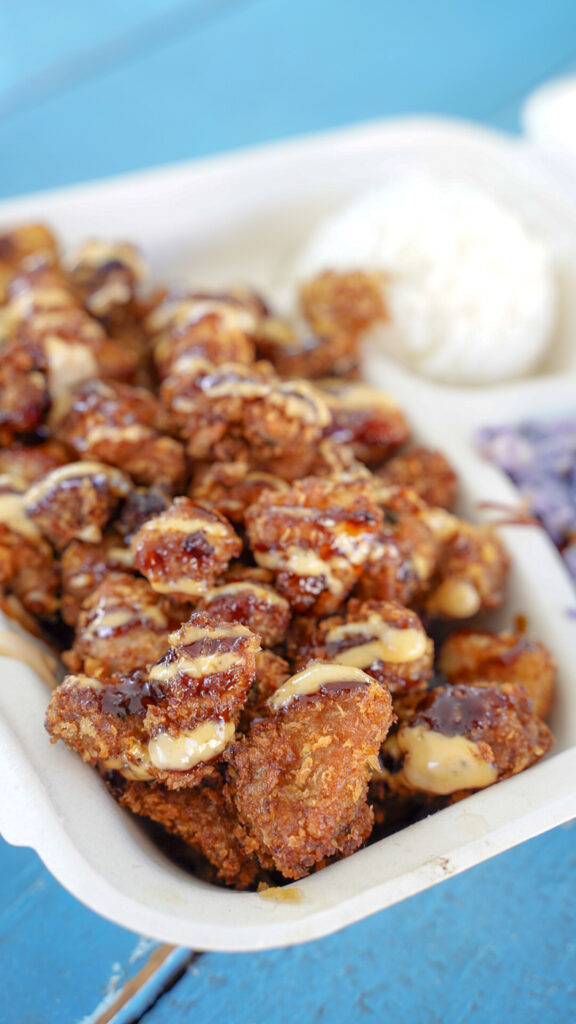 Another unique form of poke that you really can only find in Hawaii is fried poke.
We ordered it from the famous food truck park across the street from Costco (everyone on the island knows it), and it's essentially lightly battered fish that's been quickly fried, tossed in a poke sauce, and served with rice.
It was tasty and a huge portion, but personally we love traditional raw poke so much more.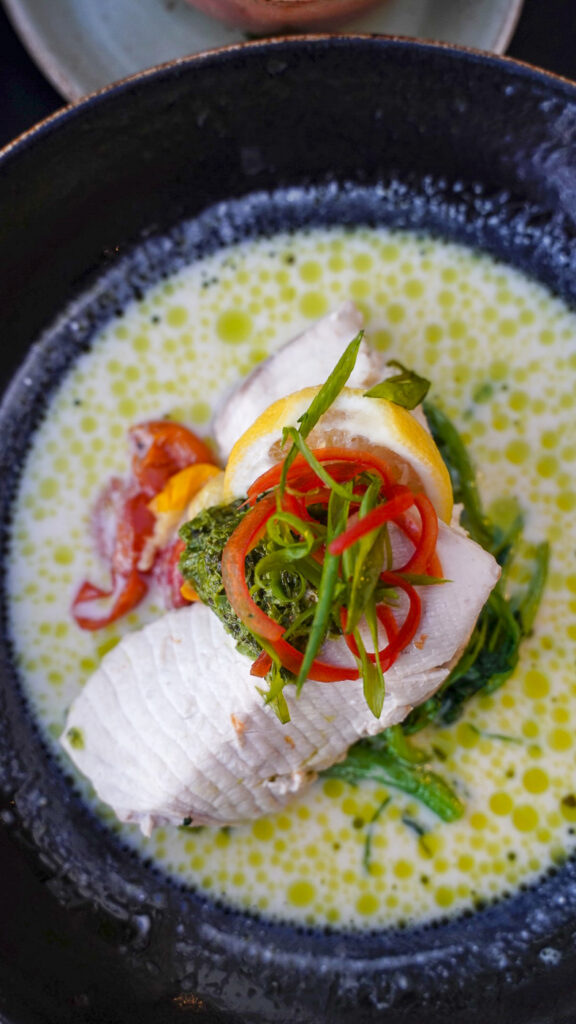 3. Fresh Fish
Fresh fish is king when in Hawaii.
The first thing we did at practically every restaurant was find out what their fresh fish of the day was, how it was cooked, and if it was a unique Hawaiian fish we've never tried before we ordered it.
Mama's Fish House highlights local fishermen in a fish centric restaurant on the beach. It's the top rated restaurant on Maui for good reason.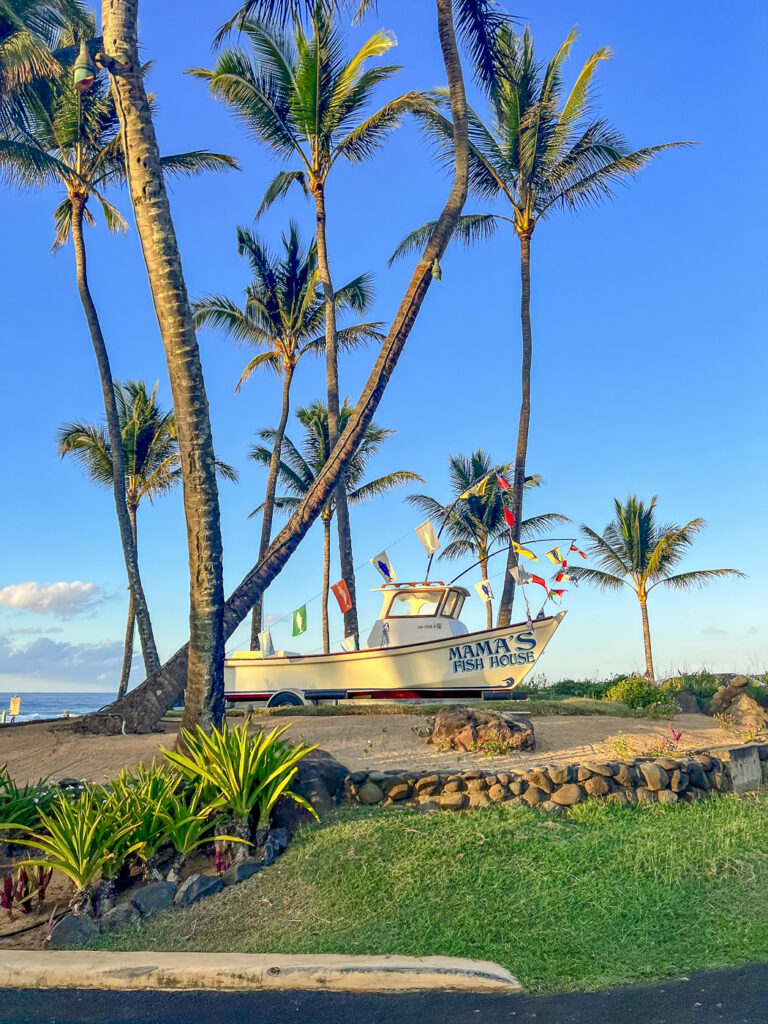 Mama's fish house is the perfect place for a special occasion. In fact, we celebrated Gavin's 35th birthday at this restaurant.
Be sure to make reservations well in advance, because this spot books up months ahead of time.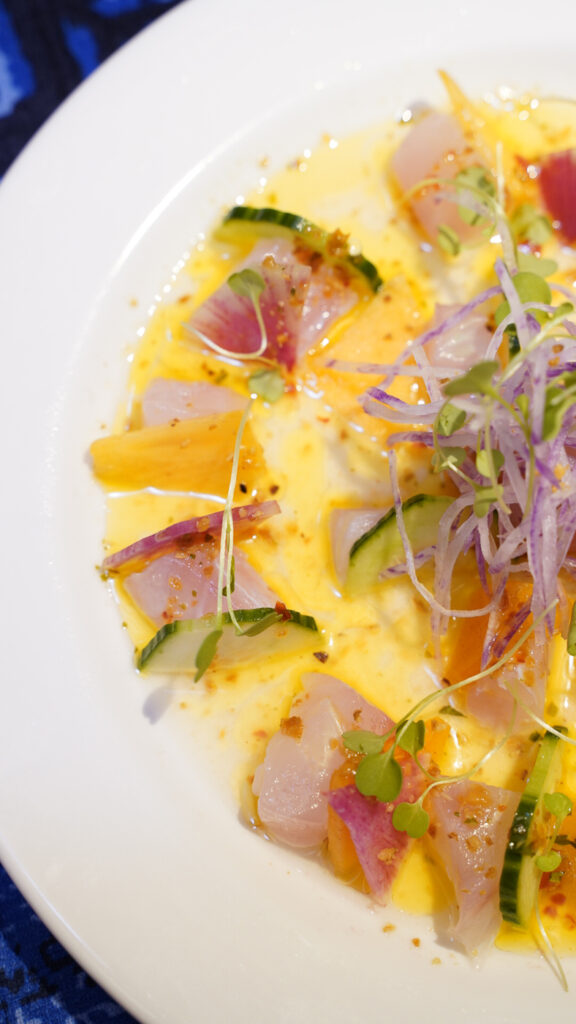 You know the fish is especially fresh because the menu even prints the name of the fisherman who caught the fish for each fresh catch dish.
If you can't snag a dinner reservation, try getting a lunch reservation or try some of the other restaurants we recommend in this guide.
Another amazing spot is Paia Fish Market. It's the best way to try unique local fish! They featured filets that we've never heard of like Ono and Opah.
Ono is a firm white fish and Opah is a tender, moist, pink filet.
Once you choose your fish, you can pick how you want it prepared.
Options are charbroiled, sautéed, Cajun, or blackened.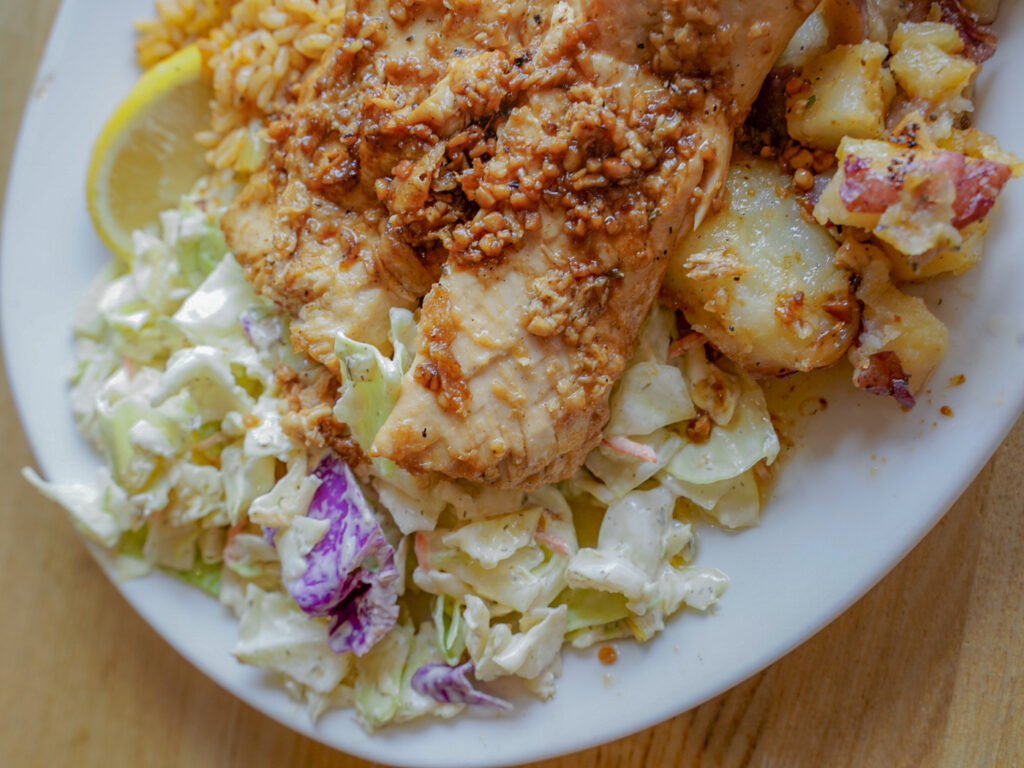 We opted to try the Opah sautéed, which means it was cooked with butter, garlic, wine and lemon.
They also feature classic fish that you're probably more familiar with like salmon, mahi mahi, snapper and ahi.
Picking the sautéed preparation was buttery and flavorful.
The coleslaw was unique, featuring dill in the sauce, but we loved it (we might need to add dill to our coleslaw at home now!)
The potatoes don't look like much, but they were packed with flavor and paired with the buttery lemon sauce.
Paia Fish Market also features fish tacos, pastas, salads, and fried options.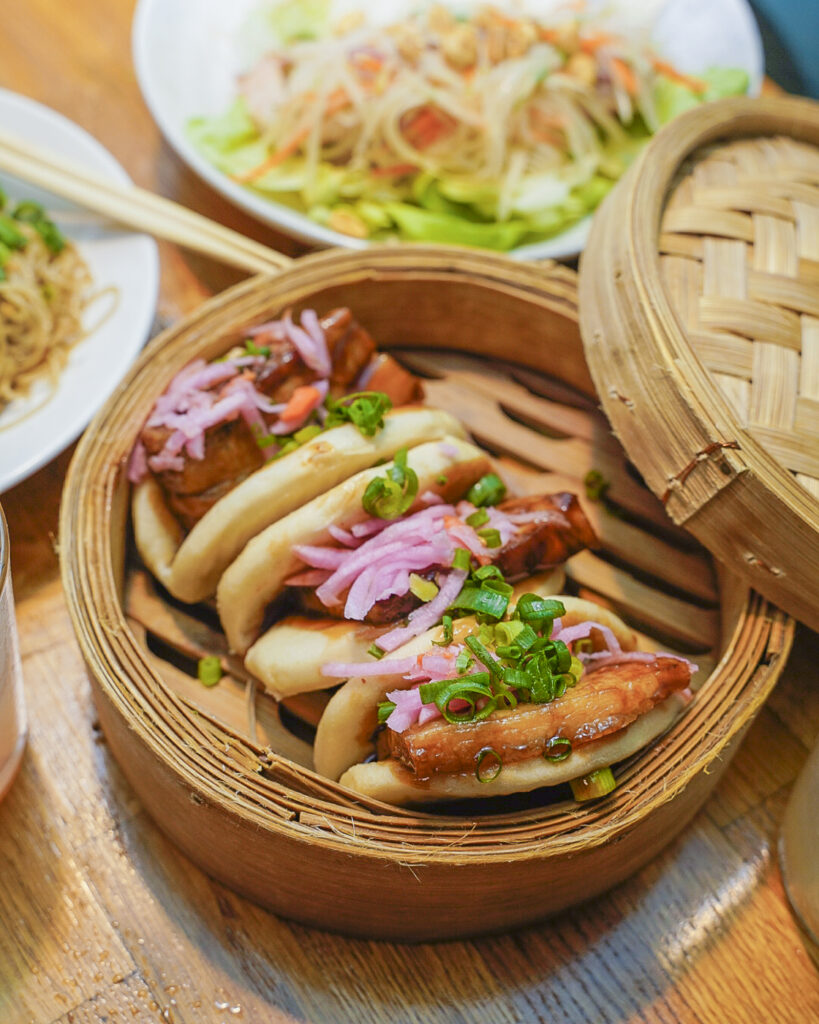 2. Pork Belly
Pork in general in Hawaii amazing. It's juicy, tender, and full of flavor.
Pork belly bao buns at Star Noodle were actually the best pork belly Bao we've had, anywhere.
The pork was basically melt-in-your-mouth delicious.
Star Noodle is such a hot spot. You either need reservations in advance, or to even get carry-out, you need to call hours before you even want to eat to make sure you secure your carry-out order.
Unlike some other popular Maui restaurants, we can truly say that Star Noodle is worth it so much that we ordered carry-out two nights after dining at the restaurant.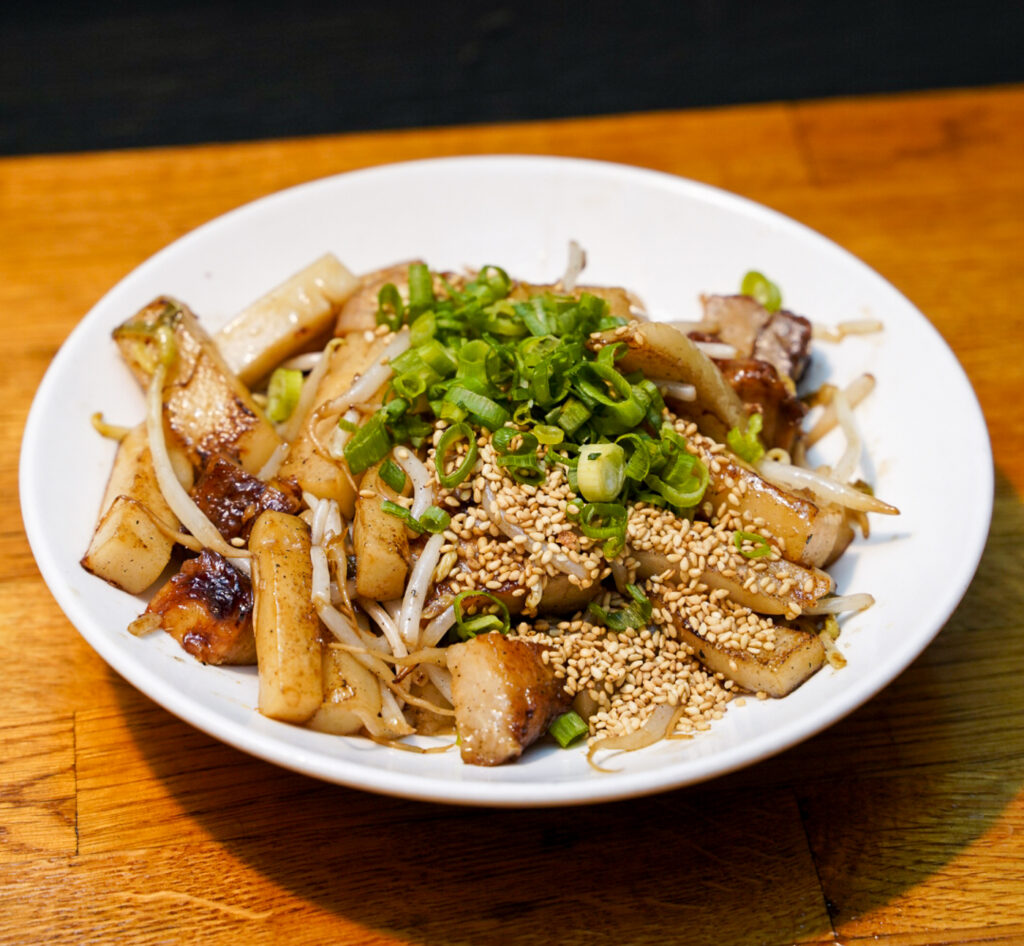 1. Fried Noodle Soup
Another surprisingly incredible pork belly dish was the Fried Soup at Star Noodle.
We had no plan to order this, in fact, we already had ordered FIVE dishes there, but when we unsuspectingly asked what the heck Fried Soup was, the restaurant brought us out a small order to sample. And it was MIND BLOWING.
Tender but thick handmade noodles were pan fried with pork belly, a savory sauce, and topped with sesame seeds and scallions.
The history of Fried Soup originated just down the road further down Front Street.
It was a savory street food served to-go in a newspaper cone.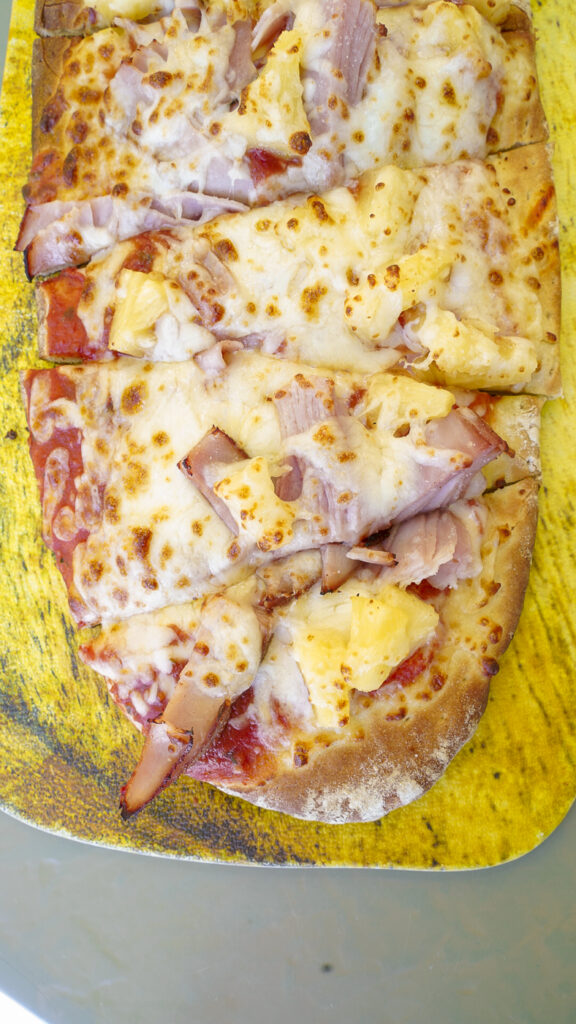 Hawaiian Pizza
PSYCH! Hawaiian pizza isn't actually Hawaiian.
Fun fact! Although you can now find Hawaiian pizza in Hawaii and the country, this pizza was actually invented in Canada.
Do yourself a favor and order some of the traditional Hawaiian dishes we listed in the guide before resorting to Hawaiian pizza.
There you have it! These traditional foods are definitely things to eat in Maui.
We ranked them in order of our favorites and hope these restaurant recommendations make your stay in Maui the best vacation ever.
If you book a trip to Maui, let us know by reaching out to @coupleinthekitchen on social media!
If you're as interested in food-focused travel, you should check out our other guides: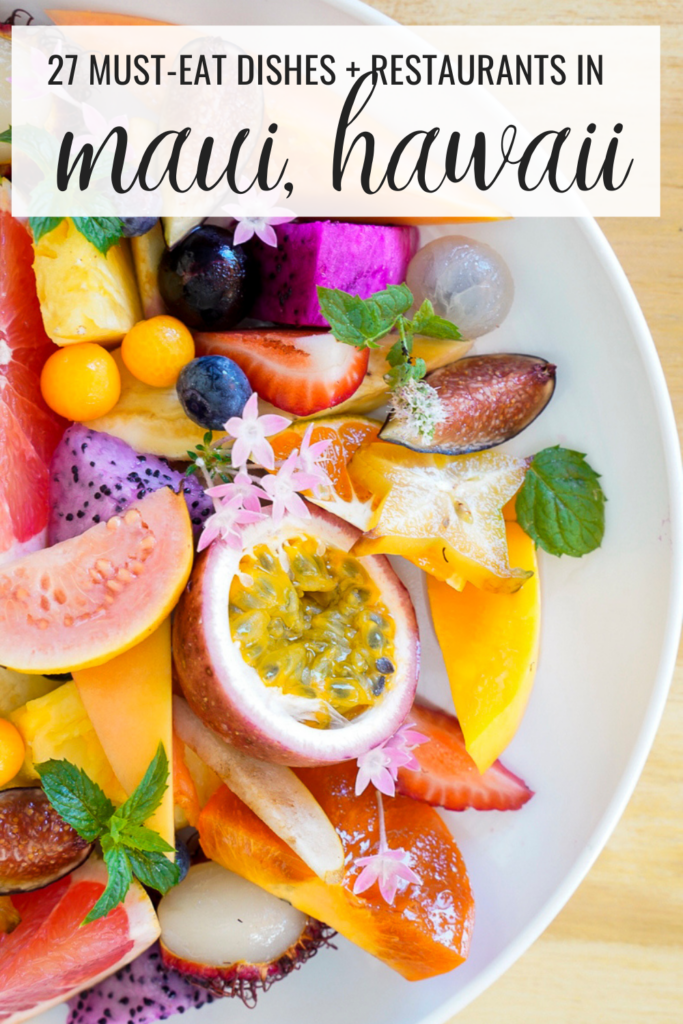 Click this link to pin this guide to the Best Things to Eat in Maui on pinterest.
Also, don't forget to follow us on instagram and facebook for more recipes and recommendations, we love to see when you visit our favorite spots!
Looking for more US travel recommendations? Read all of our USA travel guides.
If you'd like to automatically receive our posts in your email, register here.