We tend think of our ourselves as pretty well-versed in the barbecue sphere, and Kansas City BBQ is our favorite in the country. We live in Texas, which takes barbecue very seriously but we're always wanting Kansas City barbecue.
We tasted some of the most acclaimed smoked meats at the Texas BBQ Festival and Hot Luck Food Festival and we have savored the diverse offerings of BBQ around the world from South America to Asia.
When we planned our trip to Kansas City this past fall, we definitely carved out a significant amount of time to learn about KC Barbecue and try a number of hot spots in the city.
Barbecue can look very different even regionally across the United States.
Our home of Texas is famous for their beef, specifically brisket.
South Carolina is famous for their Carolina-style BBQ sauce which features a mustard and vinegar-based sauce.
Head to Alabama for a white barbecue sauce featuring mayonnaise, horseradish, and vinegar.
In Kansas City, you'll find barbecue sauces that are traditionally sweet and spicy, commonly made with molasses.
You'll find a number of meats being grilled up in KC, from chicken to pork to beef, and even fish.
The star of Kansas City Barbecue is most definitely the burnt ends. This piece of meat usually comes from a beef brisket. It is the crusty, moist, and flavorful bits from the smoked brisket.
We were so impressed that not only did we find amazing burnt ends everywhere, they were used in super creative ways such as adding burnt ends to dishes like eggs benedict, mac and cheese, and french fries.
We were also really impressed with the flavor of Kansas City pulled pork. The pork ribs were also cooked to perfection.
There are over 100 Kansas City Barbecue restaurants.
The best way to navigate the barbecue scene in KC, is to download their new KC BBQ Experience app.
This new resource was just published by Visit KC.
It provides fantastic context to KC Barbecue history and includes practically every single barbecue joint in the city.
They are categorized by "trails" and you can easily search by neighborhood and check off the ones you have visited.
While we didn't have time to dine at all 100 spots, we were blown away by the three notable spots we dined at as they all had their own unique charm.
Here are our recommendations.
Char Bar:
This hip and massive space boasted a huge patio.
It was a beautiful Autumn day, so we beelined it to the patio and sat next to the "free aromatherapy" mural (aka their bbq pits) which had us drooling at first sniff.
The food menu was pretty large and the beer menu was even grander.
Since it was mid-morning, we decided to indulge in a BBQ-based brunch.
We ordered burnt ends eggs benedict, which were rich, flavorful, and one of the best benedict's we've ever had.
We also couldn't pass up the charred bits and grits, which were burnt ends, bacon, sausage links on top of grits with pickled jalapeños and bbq sauce. Seriously, what a genius idea.
We complimented all these smoked meats with one of their massive sticky rolls and a sesame seed salad, for good measure.
We also loved that their brunch menu offered three bloody Marys.
We usually never pass up a good bloody, but stuck with their beer selection for some local brews with our BBQ: Boulevard Brewing Company's Pale Ale and delicious Dunkel Lager from KC Bier Co.
This was a popular spot to spend the day at as they offered yard games like ping pong, bocce ball, corn hole, and even offered a full croquet green on the patio.
Char Bar. 4050 Pennsylvania Ave #150, Kansas City, MO 64111. https://charbarkc.com/
B.B.'s Lawnside BBQ:
This Kansas City BBQ restaurant is SO charming.
Once we walked in, we were greeted with smoke-soaked floorboards, festive Christmas lights strung across the ceiling, traditional red and white tablecloths, and were surrounded by posters of Blues music greats.
We perused the menu while listening to a full band.
B.B.'s offers talented musicians playing live music every night, which makes this restaurant a great spot for dinner and entertainment.
B.B.'s Lawnside puts out some huge servings.
Of course we needed to try their burnt ends, but we also were inclined to try their rib tips. They are short, meaty sections of ribs that are usually cut off when the spare ribs are trimmed.
This spot has been highlighted on Diners, Drive-Ins, and Dives, so we had to try the BBQ Sundae that Guy Fieri endorsed.
It featured a mound of amazing tender pulled pork, coleslaw, and sweet and smoky baked beans. It was served layered in a mason jar and was topped with a pickle.
Once we poured it out on a plate, we realized how much food was packed into the jar. It was the highlight of the meal since we loved their pulled pork so much.
There are two sauces to choose from, we liked their spicy barbecue sauce.
We also adored their spiced up skillet fries, but you can also get battered fries which are big like jojo potatoes, if your heart desires.
This is a great place for dinner – come for the tasty food, stay for the live music and nightlife!
B.B.'s Lawnside BBQ. 1205 E 85th St, Kansas City, MO 64131. Bbslawnsidebbq.com
Joe's Kansas City Bar-B-Que:
This is not only one of the most iconic barbecue restaurants in Kansas City, it's probably one of the top 5 most esteemed barbecue destinations in the country.
We arrived 10 minutes prior to their opening at 11am on a Monday and a line was already forming.
By the time we finished eating our meal around 11:30am, the line was clear into the parking lot.
A word to the wise, get there early and expect a line. It is TOTALLY worth it.
Located in a gas station convenience store, there are beers in the cooler surrounding a small market with memorabilia for sale. Joe's also has beers on tap.
Rock and blues music fills the air and you'll find a whole roll of paper towels featured on each table, since you'll want to bathe your plate in their delicious sauce.
The walls are adorned with old photos and past awards from BBQ cookoffs throughout the years.
Service is counter-style ordering and the food came out super fast at Joe's, which is why it makes a great lunch spot.
This legendary restaurant is famous for the Z-Man sandwich, which is smoked brisket topped with provolone cheese, onion rings, and BBQ sauce on a toasted Kaiser roll.
You can also order Joe's Z-Man with pulled pork, chicken or portobello mushrooms as your protein. Man, that sandwich was super filling and delicious.
We also ordered the burnt end and rib plate. These were by far the Best burnt ends we tasted while in Kansas City. Hell, the best burnt ends we've tasted anywhere!
We also snagged a bite of the pork ribs from a friend, which were solid.
Joe's Kansas City BBQ offers two terrific BBQ sauces, we loved the spicy sauce so much, that we bought some to bring home.
In terms of side dishes, we loved the potato salad, which was comprised of firm potatoes and a creamy sauce with mustard seed.
You also can't go wrong with their fries. Only order one for the whole table, it is a massive side of fries.
If you're interested in KC BBQ, you can't miss dining at this famous eatery.
Joe's Kansas City BBQ. 3002 W 47th St, Kansas City, KS 66103. Joeskc.com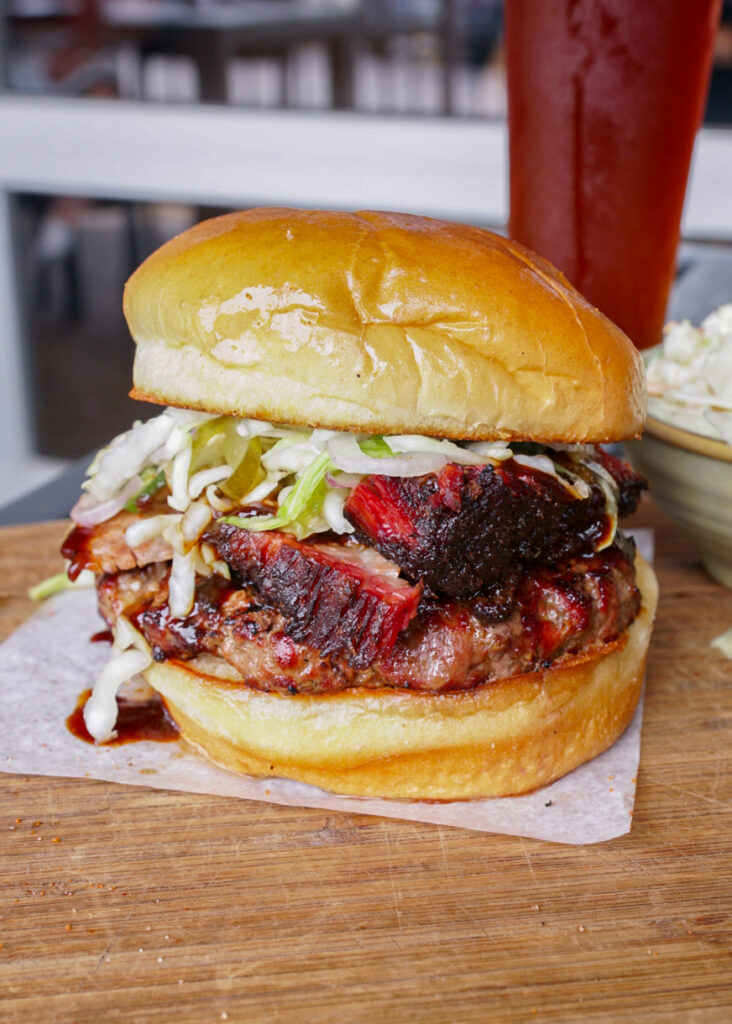 Q39 KC BBQ
You know a bbq joint means business when a menu item is called "Best Wings on the Planet!".
Q39 puts in a lot of care in their wings. The jumbo sized chicken wings are baked, smoked, AND fried and covered in their Chipotle BBQ sauce. 
They aren't playing! These were indeed the best wings in Kansas City (and maybe on the planet).
The wings are so big that there is a 100% chance that your face will be covered in barbecue sauce.
The meat is tender and the texture is thick, yet crispy.
In an appetizer, you get six wings to a platter. We were full after 2-3 wings!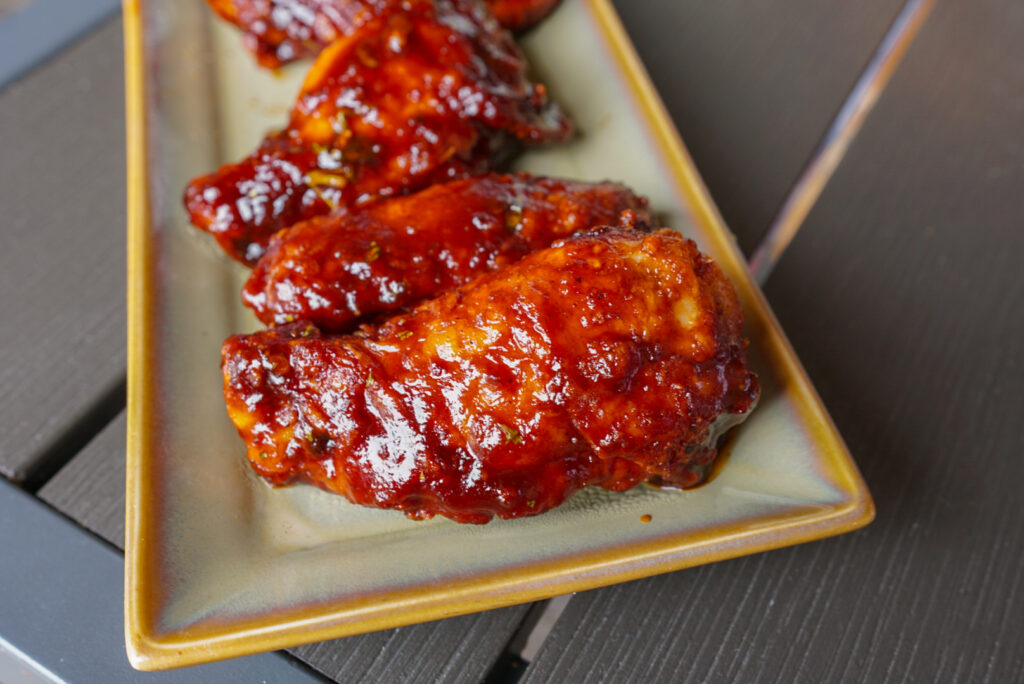 We did save a tiny bit of room for a few tastes of their Burnt End Burger which is a burger topped with their famous burnt ends, slaw and barbecue sauce.
It was delish but next time we would prefer to order the Mr. Burns Sandwich instead because we wanted more of those tender burnt ends between our buns!
1000 W 39th St. Kansas City, MO 64111 and 11051 Antioch Rd. Overland Park, KS 66210 https://q39kc.com
The barbecue was incredible in Kansas City. Now we need to book another trip to taste the other hundred BBQ restaurants in the city!
Click this link to pin this post for future reference. If you visit one of these spots based on our recommendations, let us know by tagging @coupleinthekitchen on social media!
This guide was created in sponsorship with Visit Kansas City, a terrific resource for planning your trip!