With so much history, royal fare, and pints to drink, we set out to experience a good mix of local hot spots, English classics, and foodie tours that everyone should experience in the United Kingdom's most famous city.
What to Eat in London:
High Tea – The royal wedding was a few weeks away when we were there, and there's nothing more royal than experiencing a high tea so we did a classic high tea at the The Grosvenor Hotel and a high tea royal tour through B Bakery on their classic Routemaster bus.
You'll enjoy unlimited teas from vast tea menus, pastries, finger sandwiches and scones.
We even added in a glass of bubbly.
Sunday Roast – Sunday roasts are a traditional British dish that every family makes on Sundays for gatherings.
The meal consists of roasted beef (or other meats), vegetables like mushy peas, yorkshire pudding, and chips.
This dish is such an English classic that English pubs and restaurants all over the world do their own renditions of this combo, and Gavin fell in love with it while living in Australia.
Luckily, we happened to be in London on a Sunday to drink it up at a pub and experience this classic.
English Breakfast – It's quite the smorgasbord!
A traditional English breakfast includes bacon (traditionally Canadian bacon), eggs, grilled tomatoes, mushrooms, baked beans, sausages, black pudding (aka blood sausage) and toast.
It also might come with bubble and squeak, which can be described as a potato and cabbage cake.
Fish and Chips – You'll find fish and chips all over the city, but they are not all created equal!
Traditionally English fish and chips is either cod or haddock, deep fried to perfection and served with malt vinegar.
The chips are not potato chips, but french fries that are of a thicker cut. They are also scrumptious when served with malt vinegar.
Fish! Kitchen at the Borough Market was easily the favorite we tried, and it was light years ahead of the famous Poppie's which you'll find in most London guides.
Sausage Rolls – This UK snack is a sausage wrapped in pastry dough.
The dish can be served hot or cold and you can pick up English sausage rolls at some bakeries.
It's such a simple dish, but the good ones out there are incredible and easily portable when sightseeing.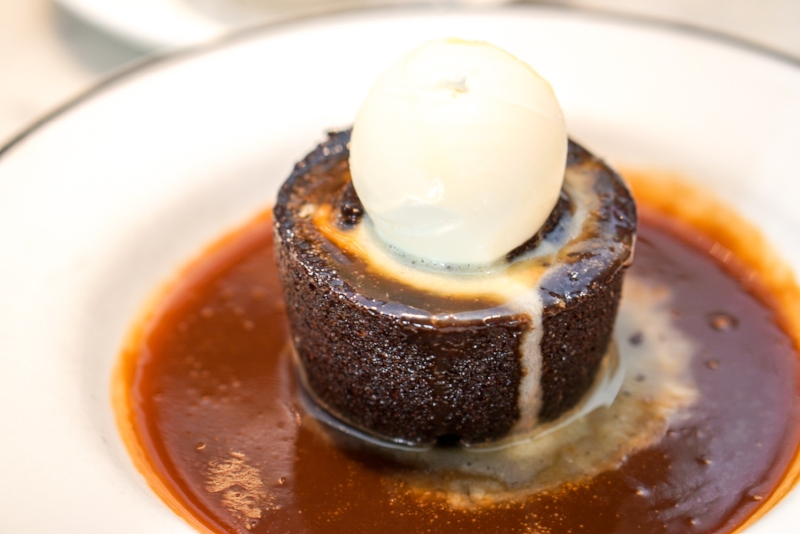 Sticky Toffee Pudding – This British dessert is a sweet one!
A super moist cake is covered in a delicious toffee sauce, sometimes chopped dates, and served with clotted cream. One of our favorite dishes of our trip!
Pasty – A British meat pie that is filled with various meats and vegetables.
A pasty is usually half-moon shaped, but you can find a number of meat pies in London stuffed with a variety of scrumptious fillings.
Scones with Clotted Cream – We traveled across the pond to realize we've been mispronouncing scones all of our lives.
Pronounced "scah-nes", these biscuits are usually served at high tea with clotted cream, a mouthwatering spread that is a cross between whipped butter and cream.
Scones taste exceptionally more moist and delicious than in the USA.
Karen was so obsessed with clotted cream that she was plotting ways to bring some home with her.
If you think you don't like scones because of what you've tried in the states throw that out the window, because you'll love scones in London.
Top London Food Tours
Everyone that reads our guides knows that we LOVE doing food tours whenever we hit a new city because there's no better way to learn about your surroundings, culture, and local delicacies than through locals who do food tours.
London has potentially the most food tour options we've ever seen, so we did a ton of research on the different types of tours and each London neighborhood highlighted prior to selecting our guides.
We lucked out, because all of our guides, cuisines, and London locations were completely different.
We truly got a taste and understanding of the city as a whole after going through all of these London food tours.
Secret Food London Bridge Food Tour – If you're looking for traditional local delicacies, and a tour of London's best food market, look no further than this food tour.
We started our British food journey at Borough Market where we tasted everything from a traditional on-the-go breakfast sandwich, to tasty oysters, to far-and-away the best fish and chips in London.
From there we toured the surrounding area learning about the history of the true London Bridge.
At the end of the tour, we finished with the best sticky toffee pudding we've ever had, and were sent on our way to explore the Tower Bridge.
https://www.secretfoodtours.com/london/
Soho Food Tour – Soho is a really unique area of the city with a ton of history.
The neighborhood transitioned from plush beginnings, to a dramatic downturn, to its current cultural and business renovation.
As a result, the food you can find in this area is extremely diverse.
Within this small portion of London we ventured into one of the oldest Italian butchers and pastarias in the city, to a Michelin-starred Japanese restaurant, to London's Chinatown where we ate from the city's best authentic dim sum shop.
Our two favorite stops on the tour were the Italian market where Gavin loved their fresh pasta so much that he had to order seconds, and the final stop which is a high-end chocolate shop where we sampled the most luxurious hot chocolate ever created.
You can top your cocoa with cinnamon or cayenne to make it spicy.
B Bakery Tea Bus – This was one of our favorite activities during the whole trip!
What better way to tour London than in a double-decker bus while sipping tea and eating scones?!?
A picturesque tea party on wheels, it's a lovely way to spend a few hours, learn about London's history and get a view of beautiful abbeys, palaces, and museums.
Outside of the delicious scones, we were put through a brief, royal etiquette course while learning about the city.
At the end of the tour we were even interviewed by a local entertainment channel on our experience learning about British culture and etiquette!
Best Restaurants in London:
Fish! Kitchen – We assumed that coming to London meant we would be noshing on amazing fish and chips everywhere.
Nope, in reality, we were underwhelmed by the fish and chips at most restaurants.
Fish! Kitchen was awarded the best fish and chips in London and we think that award was spot on.
The fish is perfectly cooked and crispy. It is 100% worth making the trip to Bourough Market for these fish and chips alone.
Cathedral St, London SE1 9AL, UK https://www.fishboroughmarket.com/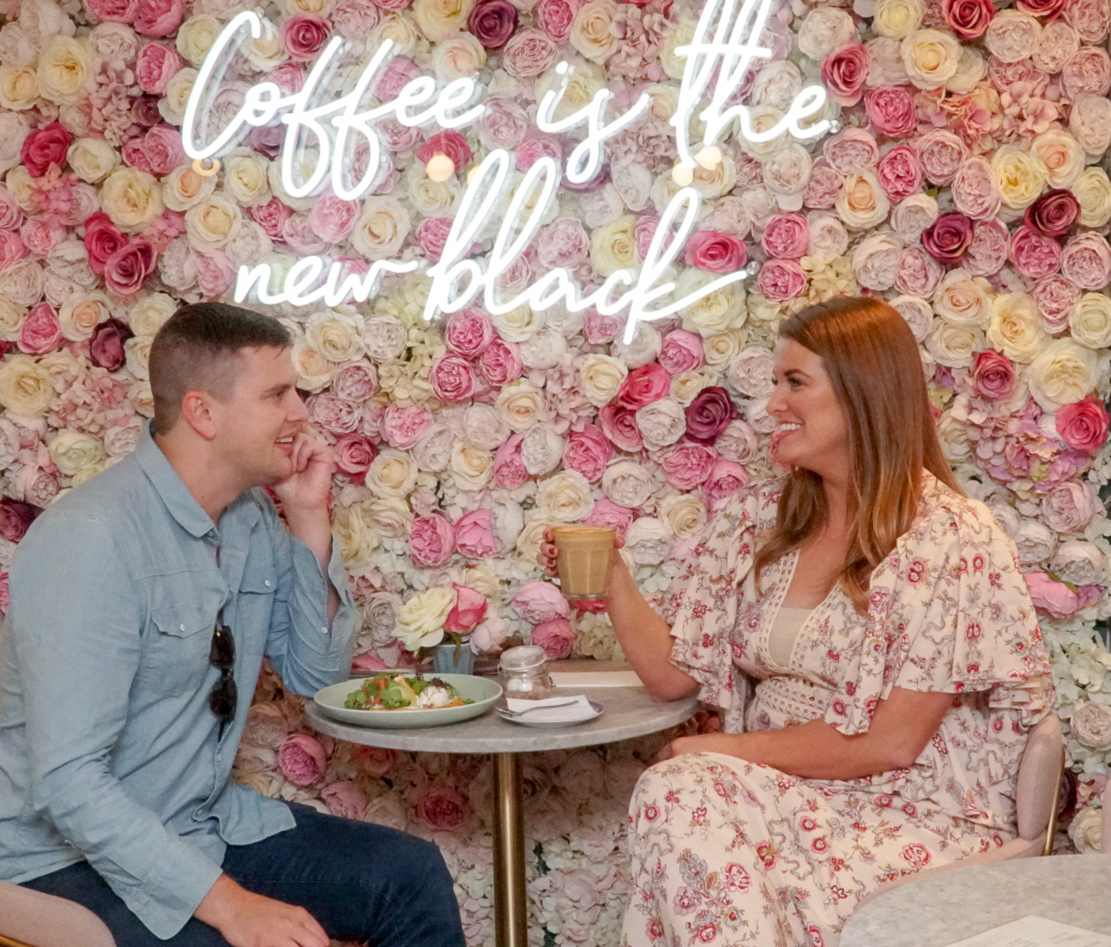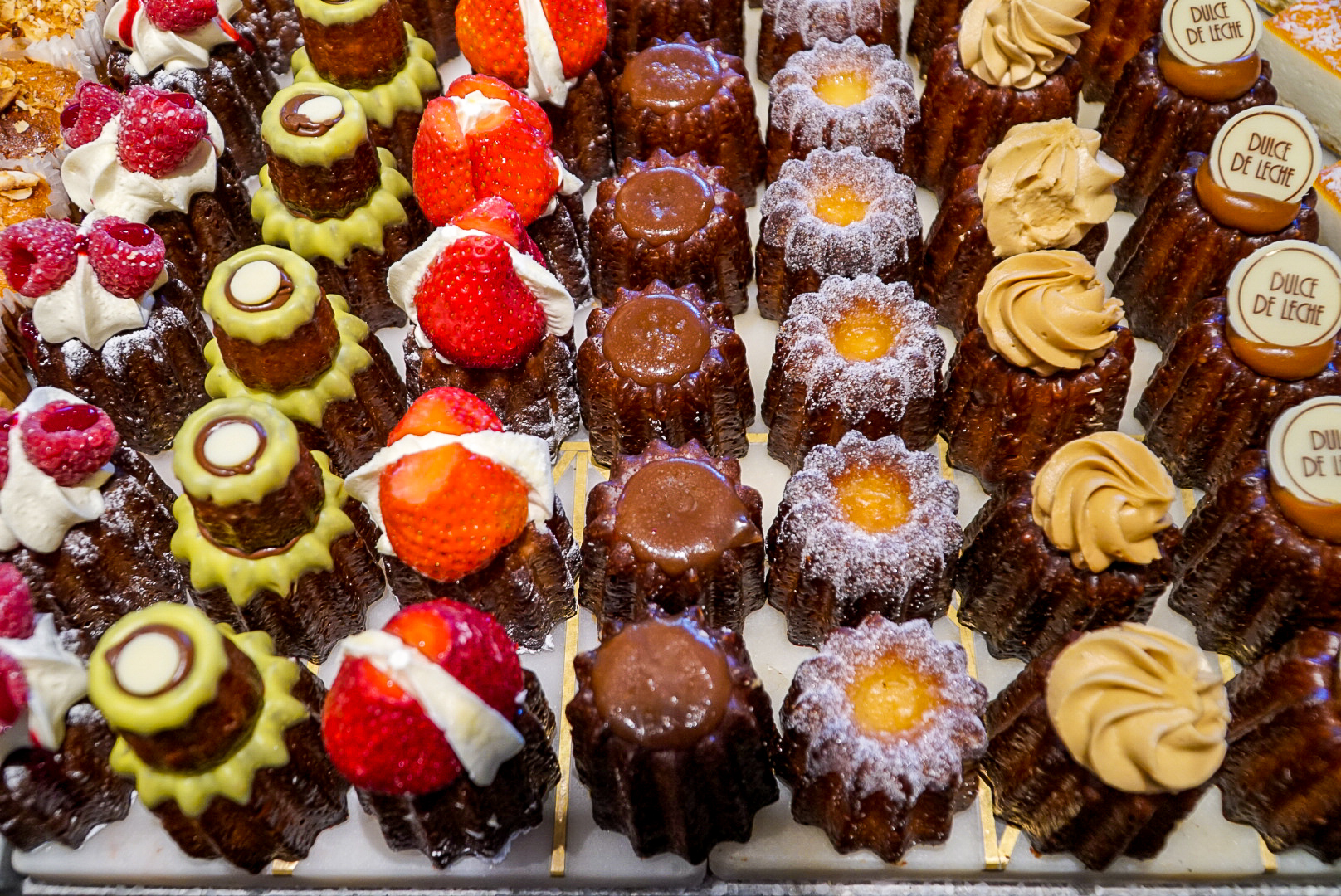 Elan Café – Let's face it, you'll want to visit Elan Café just for the instagram photo alone.
The floral walls and desserts are so photogenic that you'll want to get there early. This patisserie and cafe gets crazy busy and forms a line at peak times.
Stop in early to grab a coffee and a salted caramel cannelle.
Multiple Locations. https://www.elnlondon.co.uk/
Butlers Wharf Chop House – Come here for the beautiful view of the Thames River and the Tower Bridge.
The restaurant is right on the river and offers a patio as well as large windows to take in the view while you rest your feet and grab a bite.
We came here to close out our Secret Foods tour, and their sticky toffee pudding was the best we've both ever had.
Karen isn't a dessert person, but she couldn't resist going for seconds and thirds with their cake sitting in a pool of salted caramel and topped with an ice cream scoop size of clotted cream.
36e Shad Thames, London SE1 2YE, UK chophouserestaurants.co.uk
Rascals – Another hip spot. Rascals is comprised of cool décor, inventive cocktails and crazy events.
We loved seeing our margarita being made with liquid nitrogen tableside and loved the buffalo cauliflower appetizer.
They have tons of events always going on so this is easily one of the most fun restaurants in London.
97 Curtain Rd, London EC2A 3BS, UK
The BoxPark Food Hall – We stopped at the Shoreditch BoxPark Food Hall in the evening and were engulfed in music from the DJs while we walked around with a beer perusing the various food stalls.
This unique food hall is built within urban shipping containers and is a great place to get a snack before or after your dinner.
Multiple Locations, 2-10 Bethnal Green Road, London E1 6GY https://www.boxpark.co.uk/
Meraz Café – Outside of India, London is extremely well known for their Indian food. Some even say London's version of Indian food is even better than what you can find in India.
There's an endless number of Indian options, and most basic tour guides will lead you to the tourist-focused Brick Lane, where there's an entire street of competing Indian restaurants with employees standing outside trying to lure you into the restaurant with a deal or special of some kind.
It's also hilarious, because almost every restaurant on the street has a sign that claims to be the top rated Indian restaurant on TripAdvisor.
When traveling, one rule you should always follow when it comes to restaurants is that if a restaurant needs a "sales" employee pitching their restaurant to everyone walking by, you need to skip it.
With all of that said, and after a ton of research we found Meraz Café. It is a few blocks off of Brick Lane and was packed with locals right up until closing time.
Meraz Café is seriously a gem in the rough and a terrific choice for Indian and curry lovers.
Our favorite dishes were their tandoori lamb chops which can be ordered as a main or an appetizer, as well as their meat biryani and chicken curry of the night.
Insider tip: Meraz Cafe is BYOB so be sure to pick up a bottle of white wine or beer to add to your dining experience.
56 Hanbury St, London E1 5JL, UK
Yauatcha Soho – This is THE PLACE for amazing desserts and macarons.
We came in for a taste of their pastries and it was no wonder why they were awarded a Michelin star, it was the best macaron we've both tasted.
Yauatcha also offers a great deal on their weekday tasting menu so get there early to early to indulge in a top-rated restaurant at a discount.
15-17 Broadwick St, Soho, London W1F 0DL, UK http://www.yauatcha.com/
Lina Store Italian Market – This adorable market is the best spot for charcuterie and homemade pasta in London.
While it seems like a market to buy your goods and go, if you ask, they will make the raviolis for you in house.
The pasta was so fresh Gavin ordered a second helping!
18 Brewer St, Soho, London W1F 0SH, UK https://www.linastores.co.uk/
Best Bars in London:
Worship Street Whistling Shop – A terrific speakeasy to pop into for a stellar gin and tonic.
There are over 80 gins on the menu.
We described what flavors we liked and their master mixologists crafted two completely different, but equally amazing, gin & tonics.
This eclectic cocktail bar also introduced us to our new favorite gin distillery, Bathtub Gin.
It's no surprise that this spot has been named as one of the 50 best bars in the world.
63 Worship St, London EC2A 2DU, UK http://www.whistlingshop.com/
Ballie Ballerson – One of the most creative and memorable bars in all of Europe!
This quirky hotspot is next door to Rascals, in fact, you can even enter via a secret door in Rascals.
Order a cocktail that's filled with sour skittles and set on fire, then jump in the ball pit with the rest of the tipsy adults.
97-113 Curtain Rd, London EC2A 3BS, UK https://www.ballieballerson.com/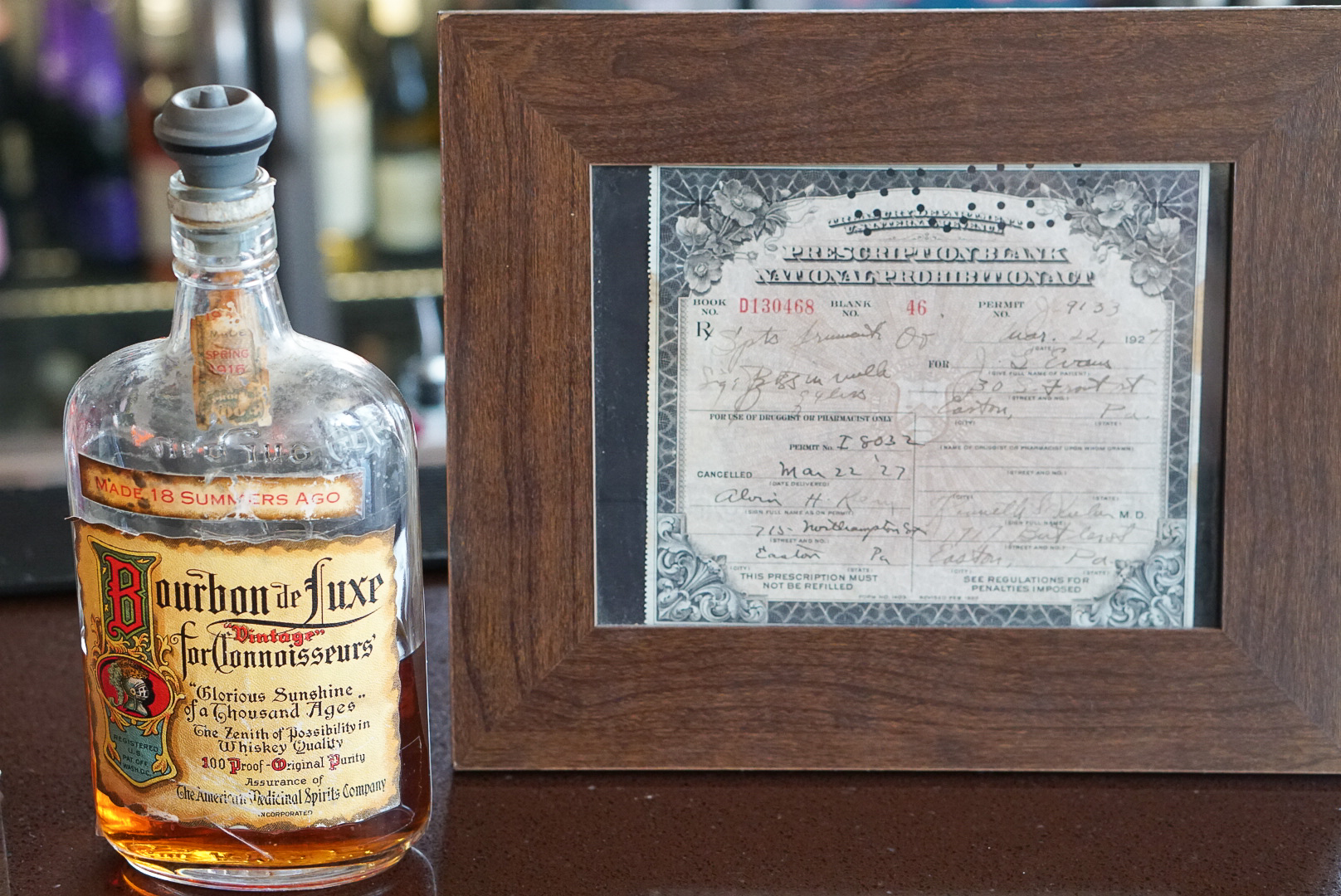 Whiskey Bar at JW Steakhouse – This is the place to go for one of the largest whiskey collections in London.
They curate a menu of whiskeys from around the world, including rare finds that go for hundreds of Pounds an ounce.
Some british royals were hanging here the night before our arrival and we bumped into some professional soccer (aka football) players during our visit.
86-90 Park Ln, Mayfair, London W1K 7TN, UK https://jwsteakhouse.co.uk/
Well, there you have it. We did a ton of research and ate A LOT while in London and these were our most memorable foodie experiences.
Have you been to London and have a restaurant you love? Leave it in the comments so we can try it on a future visit!
Click this link to pin this post for future reference. If you visit one of these spots based on our recommendations, let us know by tagging @coupleinthekitchen on social media!