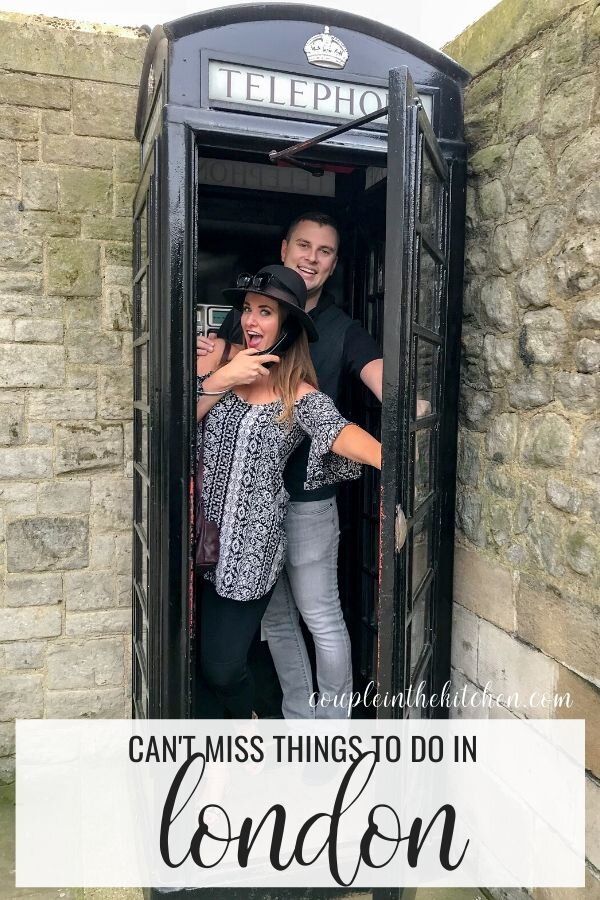 London has always been on our list to visit, but other than layovers and rushing from one airport to the other to visit other destinations in Europe, we've never had time to explore London other than drinking a quick pint and noshing on fish and chips at the airport.
Truthfully, London was lower on our destination bucket list because we always pictured it as a major city that would feel just like any major economic city in the US.
Man, were we wrong!
We absolutely loved London. The charm of the cobblestone alleys and old pubs, mixed with the essence of royalty was captivating. If you haven't been to London and an appealing flight opportunity pops up, go!
We loved it so much we both thought we could move there.
With so much history, attractions, and pints to drink, we set out to experience a good mix of local London hot spots, English classics, and British tourist activities that everyone should experience in the United Kingdom's most famous city.
What To Do in London:
Buckingham Palace –
Most people think of the royal family when they think of London, which means you need to stop by the Buckingham Palace. The palace is over 300 years old and is still an operating government building and residence. The palace is open for 10 weeks during the summer and select dates in the winter.
Because it is a working palace, there are dates when Buckingham Palace is closed for visitors. Be sure to check the Buckingham Palace ticket information page for the visitation schedule.
Even if you don't tour the palace, you can join the crowds outside the gates to witness the changing of the guard. The Buckingham Palace's changing of the guard occurs at 11am on Monday, Wednesday, Friday and Sunday.
In the summer the changing of the guard occurs at 11am every day. Westminster, London SW1A 1AA, UK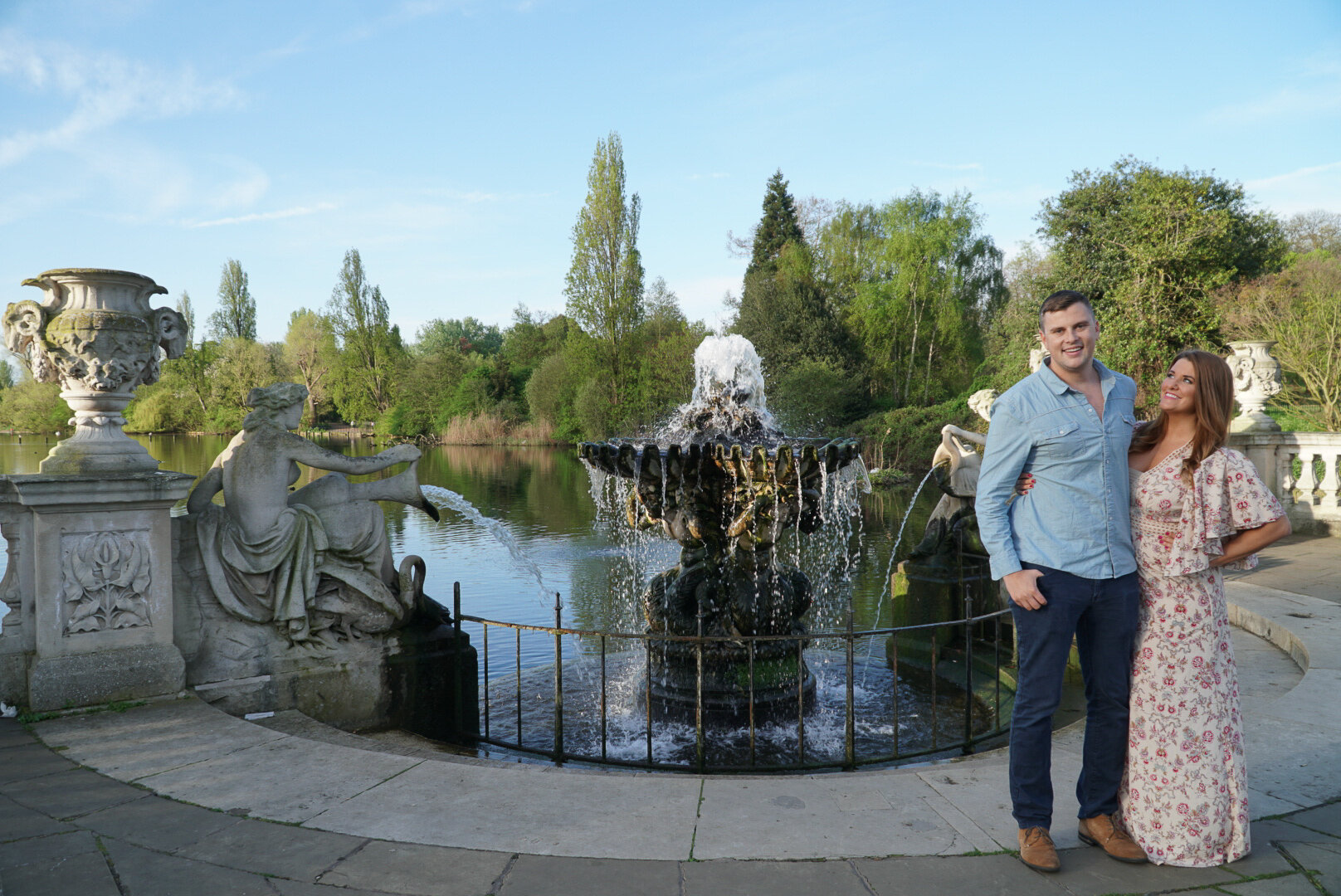 Kensington Gardens –
We woke up at 5am the first morning as a result of jet lag. There are very few attractions open at that early hour, but the Kensington Gardens are an exception.
We spent the early morning watching the sunrise at the Kensington Gardens which have fountains, flowers and trails that lead to the Kensington Palace.
The Kensington Palace is the home to many of the younger royals, such as Meghan Markle and Prince Harry when they're in London, and you can actually tour parts of the palace. Unfortunately tours were not running when we were visiting the Kensington Gardens in the early morning, but touring the palace is near the top of our list when we get back to London. London W2 2UH, UK
London High Tea –
We landed in London early in the morning. The first thing we had scheduled was the high tea at noon at The Grosvenor House.
The tea room was bright, posh, and luxurious. We were greeted with the champagne cart where we selected two glasses of bubbly to enjoy while we perused the tea menu.
The Grosvenor House offered more than 30 teas, a number of which were hand picked teas specifically for the Grosvenor House – you can't get them anywhere else!
We enjoyed finger sandwiches, scones with clotted cream, and delicate pastries while ordering multiple cups of tea off of the menu.
One of the joys of high tea is once you enjoy one cup of tea, you can choose another tea that caught your eye, it is all included. 86-90 Park Ln, Mayfair, London W1K 7TN, UK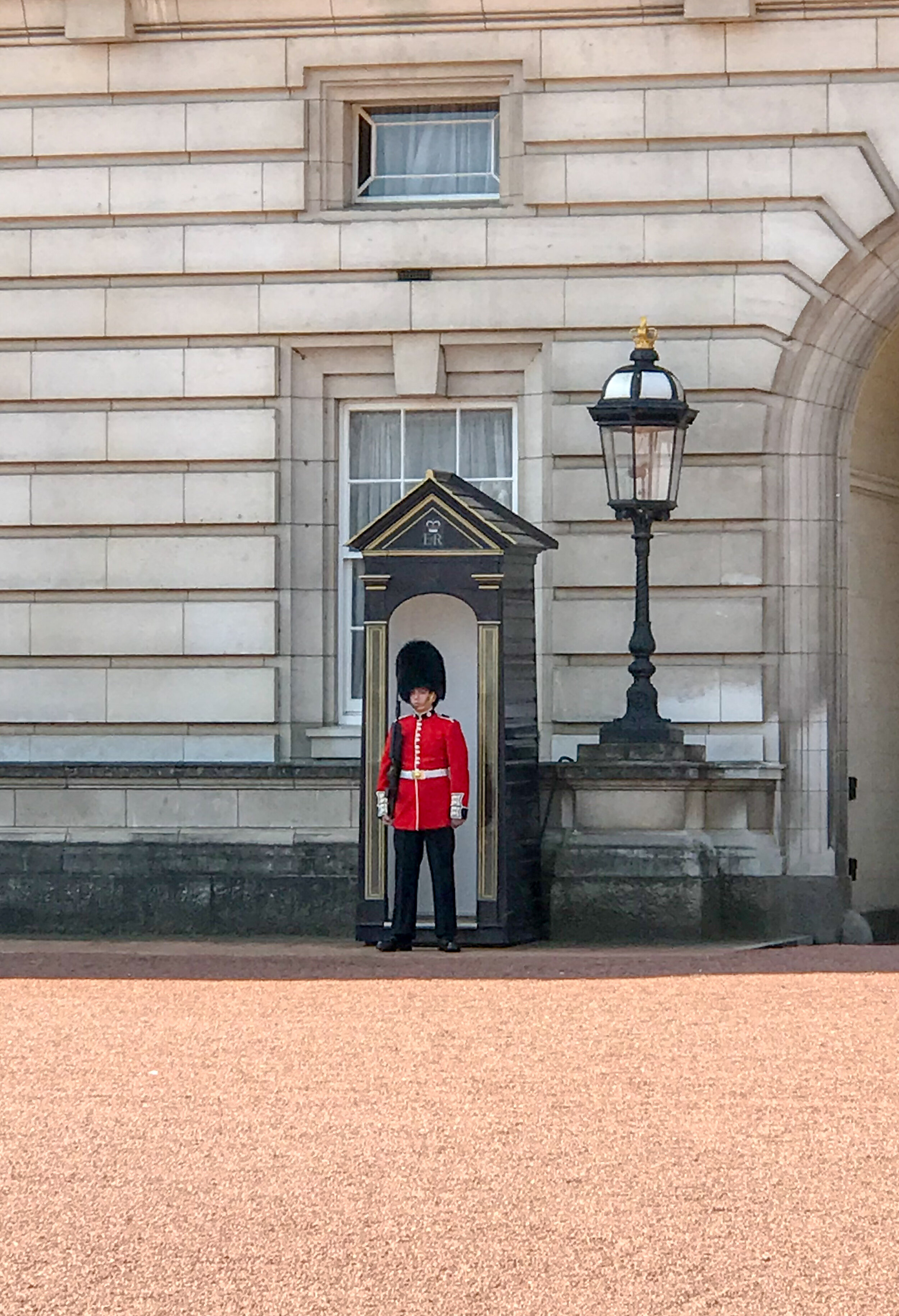 Tower of London –
We set our sights on visiting the Tower of London specifically to scope out The Crown Jewels. Learning the history of The Crown Jewels was almost as interesting as seeing all the sparkling crowns and tiaras.
In addition to housing The Crown Jewels, the Tower of London offers a display of armory, old coins in the mint, and even a torture museum! St Katharine's & Wapping, London EC3N 4AB, UK
Borough Market –
A must-stop for any food lover. Borough Market has the history of an operating market dating back to the 12th century.
Previously acting as the wholesale market for London restaurants, now, you'll find tourists and locals buying artisanal goods and foods.
We loved tasting fresh-shucked oysters from a seafood stall and finding our favorite fish and chips in all of London, Fish! Kitchen. Read more about that restaurant in our London Food Guide. 8 Southwark St, London SE1 1TL, UK
Old Spitalfields Market –
If you're into markets, head to Shoreditch to hang out at the Old Spitalfields Market.
Here you'll find cool shops, craft goods and antiques, surrounded by a number of food carts and delicious restaurants. 105a Commercial St, Spitalfields, London E1 6BG, United Kingdom
Tower Bridge –
Not to be confused with the London Bridge, The Tower Bridge is the gorgeous bridge stretching across the Thames River.
Take a stroll across this landmark after wrapping up your tour at the Tower of London. Tower Bridge Road, London, SE1 2UP, United Kingdom
Junkyard Golf Club –
After hitting up the pubs, we headed to the Junkyard Golf Club for fun, boozy, cocktails while we played the most creative mini golf holes seen to man!
We were impressed that we both got a hole in one after getting our golf balls up the skull ferris wheel – score! 91 Brick Ln, London E1 6QL, UK
London Food Tour –
There are a LOT of food tours offered in London. In fact, we went on three different food tours during our trip!
From high tea in a double-decker bus, to a global culinary adventure in Soho, to an introduction to traditional London food, each offered something different. Read about each of these tours in our Food Guide to London.
These ideas of the top things to do in London will keep you busy (and full)!
If you're traveling all across the UK, don't miss these places to visit in the north of england as well.
If you book a trip to London, let us know by reaching out to @coupleinthekitchen on social media!