Many people don't realize how massive Mexico City really is.
With a population of 8.8 million people, Mexico City is the largest city in North America. There are many neighborhoods, all with their own identities and charm.
If you're planning a trip to Mexico City, we highly recommended staying in the La Condesa or Roma neighborhoods.
La Condesa is a charming area with tree lined streets, parks, and lots of restaurants in walking distance.
While we didn't stay in Roma, we still got a thorough tour of the neighborhood during our top chef food tour with Tasty Bites Food Tours.
You'll find a lot of great restaurants, vibrant street art, pretty fountains in the plazas, and stunning architecture.
The neighborhoods are relatively safe and offer a lot of culinary delights!
Here are eight great foodie experiences and restaurants in La Condesa and Roma.
Molino El Pujol
Pujol is one of the top restaurants in Mexico City, let alone the world!
While dining at Pujol requires a sought after reservation and a significant amount of pesos, you can get a taste of their world-renowned cuisine right in Condesa.
Molino El Pujol is a more casual, cafe-style restaurant from the owner of Pujol, which means no reservations are required and your lunch won't break the bank.
We were so lucky that Molino El Pujol opened mere weeks before our visit so that we were able to enjoy their unique, leaf wrapped taco called a hoja santa.
We also enjoyed Mexican alote, a traditional warm drink made of corn.
Gral. Benjamín Hill 146, Hipódromo Condesa, 06100 Ciudad de México, CDMX, Mexico http://pujol.com.mx/en/molino/  
Tasting Pulque
Known as the "spirit of the Aztecs"  this is likely the most unique alcoholic beverage you'll taste anywhere.
Some may think pulque is more delicious than others do, but nevertheless, it is still a food experience to try while in Condesa.
Derived from the maguey plant and traditional to central Mexico, pulque is sometimes referred to as the "consistency of snot". The color is milky, the texture is viscous, and you'll find it flavored with options like mango or mint.
If you're not feeling that adventurous, you can order a beer, mezcal or sotol instead.
LaNuclear Pulqueria Calle Querétaro 96, Roma Nte., 06700 Ciudad de México, CDMX, Mexico
A Full Blown Taco Tour
While in Mexico City, we legit ate about 10 tacos per day.
The best way to learn about the history of tacos and central Mexican cuisine is to join the Tasty Bites taco tour.
You'll visit the best taco joints in the Condesa neighborhood and learn about (plus taste!) different varieties like campechana, arabic tacos, cochinita pebil, and even dine at the restaurant that invented tacos al pastor.
There's even time for mezcal and sweets! You will leave STUFFED.
https://www.tastybitesfoodtours.com.mx/tour/mexico-city-condesa-taco-tour/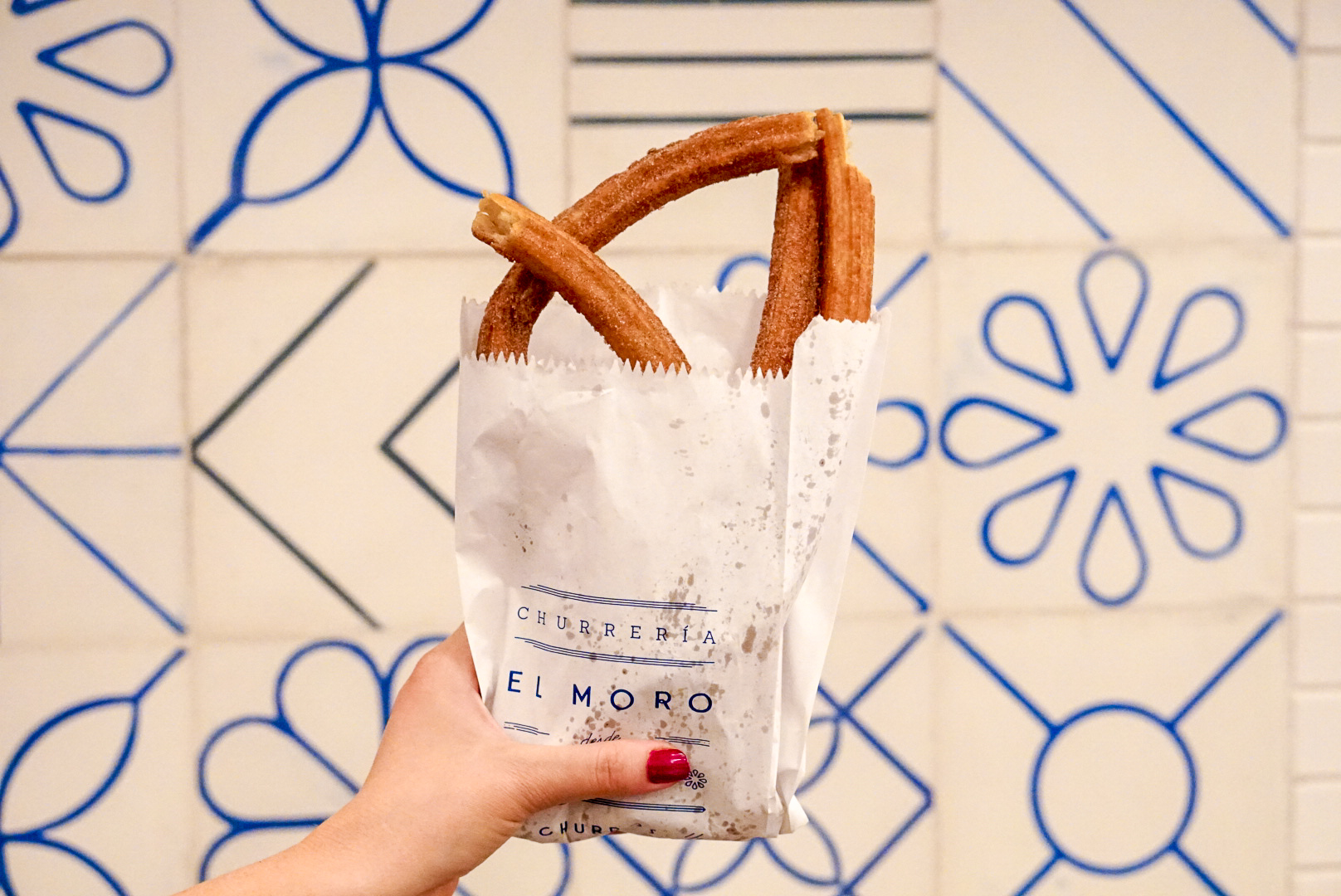 Churreria El Moro
Churros. Sold yet?
Well these churros also come with optional dipping sauces like chocolate (EIGHT to choose from) and cajeta!
They also serve up churro ice cream sandwiches in this very popular and oh so instagrammable spot.
Multiple locations. http://elmoro.mx/
Condesa Haus
This adorable bed and breakfast has a free, full breakfast each morning, that features a Mexican specialty.
We enjoyed chilaquiles and tlacoyo, an oval-shaped dish made with blue corn, beans and cheese.
The rooms at the Condesa Haus were spacious, ours even had a full modern kitchen, laundry, and an adorable patio that overlooked the market that popped up on the street on Monday morning.
The communal areas included an artfully decorated dining room, kitchen and gorgeous patio with a living wall.
Cuernavaca 142, Condesa, 06140 Ciudad de México, CDMX, Mexico https://condesahaus.com/
Top Chef Roma Food Tour
This is the best way to experience food from some of the most highly-regarded chefs in Mexico City.
Usually, you need to pick one fine dining restaurant, hope to secure a reservation, and spend money on a full meal. Then you're too stuffed to try another spot.
This tour brings you to the best restaurants, lets you try some of the best dishes, and then you stroll to the next hot spot, no reservations required.
We enjoyed amazing salsas and a Chiltamle from star chef Jorge Vallejo.
A Carnitas sandwich from the top baker in Mexico, Crudo and cocktails at a chic rooftop, and the most amazing pastries from Panaderia Rosetta.
https://www.tastybitesfoodtours.com.mx/tour/mexico-city-colonia-roma-walking-food-tour/
Carnivoro
Can't go wrong with a meat feast!
Channel your inner carnivore at Carnivoro.
The decor is beautiful and we sat on the rooftop balcony overlooking the streets of Roma.
Surrounded by lush plants and greenery, we enjoyed dry aged steak that came straight from their aging room that is on full display in the restaurant.
A number of fish dishes are also featured on the menu.
This is perfect for a fancier date night while visiting Roma.
138, Av. Yucatan, Roma Nte., 06700 Ciudad de México, CDMX, Mexico http://carnivoro.com.mx/
Hanky Panky
Ok, this is technically just outside of Roma, but it's too cool to not include in this guide.
Perhaps one of the best speakeasy bars in world, finding out how to make a reservation and even locate Hanky Panky was a feat all in itself (tip, try facebook messaging them).
Once you get there, enter through a small hole-in-the-wall taco shop to be transported to a dark and chic cocktail bar with cozy booths, sparkling glassware, and impressive cocktails.
The fun doesn't end when you leave – you exit through the trap door in a beer fridge!
Mexico City is a fantastic destination loaded with culture and amazing food. From street vendors to gourmet restaurants, we were always stuffed and happy.
Luckily, Mexico City is just a short flight from our home in Texas. We're already planning our next trip!