Marrakech was the most progressive city we encountered in Morocco. While throughout most of the country you would see women completely covered up with kaftans and headscarves, in Marrakech the younger generations were opting to drop some of those traditions. In fact, there are a number of massive clubs in Marrakech and a representative at our hotel, The Palm Plaza, said it's becoming the new club-centric Ibiza. We skipped the clubs in order to experience more culture-centric activities.
Eat Tangia – Only Found in Marrakech!
A delicious Moroccan dish, mainly made in Marrakech! We stayed outside of the medina at the Palm Plaza Hotel for one night.  The hotel property itself had gorgeous lush gardens filled with roses and a luxurious pool and sundeck. In fact, it was so impressive that a Moroccan reality television show was filming a wedding in the courtyard the evening we arrived! The Palm Plaza offers a bar area, an Asian restaurant (after eating tagine for almost seven days straight, we enjoyed taking a break from Moroccan food to indulge in sushi rolls, egg rolls, and a cashew chicken Chinese dish) and a Moroccan restaurant. This is where we first tasted tangia, one of our favorite bites of the entire trip! Tangia is cooked low and slow, which makes the meat incredibly tender. Tangia is a very traditional dish and is only prepared by men, and the cooking contraption looks like a large terra cotta flower vase.  Traditionally, if you get this dish in the old city, tangia is cooked slowly in the hot ashes of hammam bathhouses.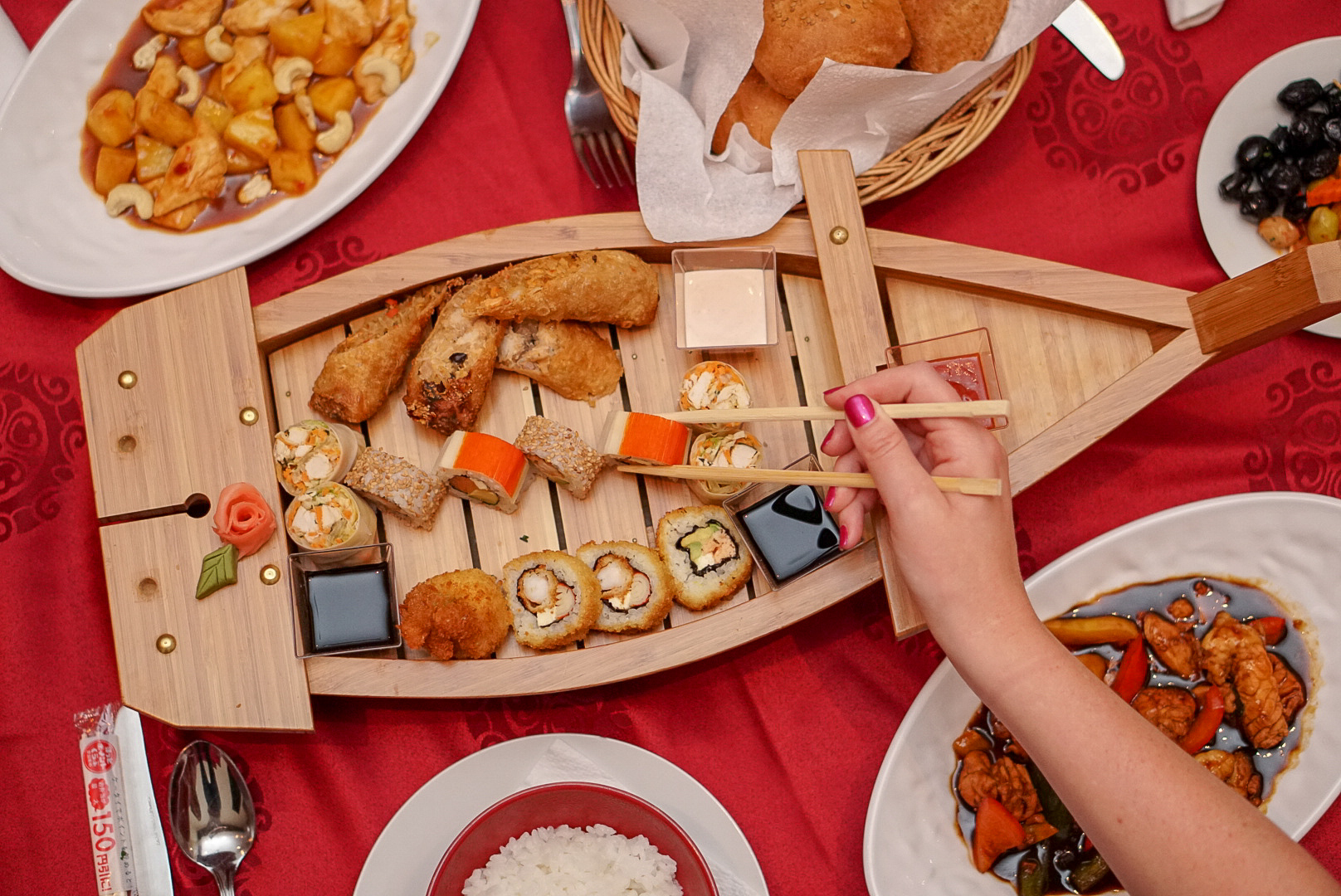 Shop for Souvenirs
The next day we decided to journey to Marrakech's medina. We did a lot of shopping in Fes and were a bit a disappointed that we didn't save more shopping for Marrakesh as this medina offered more modern styles than Fes. When shopping in the medina, no prices are listed and it is the most extreme haggling we have ever encountered. The first price quoted was often FOUR TIMES higher than the final price resulted. Don't be afraid to walk away. Our best piece of advice is to read this post on how to get the best deal on Moroccan Souvenirs.
Experience a Hammam
We decided to stay for two nights inside the medina in Marrakech at the Riad Star. The décor was unbelievable, and something we wish we could fully replicate back home. Traditional Moroccan design was monochromatically coordinated in whites and silver. The Riad Star has a stunning communal area and rooftop oasis. They also offered a Moroccan hammam and spa onsite. A hammam is similar to a wet sauna or Turkish bath. We did a couple's hammam where a woman joined us in a steamroom-like oasis, splashed us with buckets of water, scrubbed our skin like crazy with special soap and a Moroccan exfoliating mit, and covered us in a Moroccan clay mask. It was likely the deepest exfoliation that we have EVER experienced. After we were squeaky clean and dropped about 10 layers of skin, we traded off getting relaxing and moisturizing Argan Oil massages.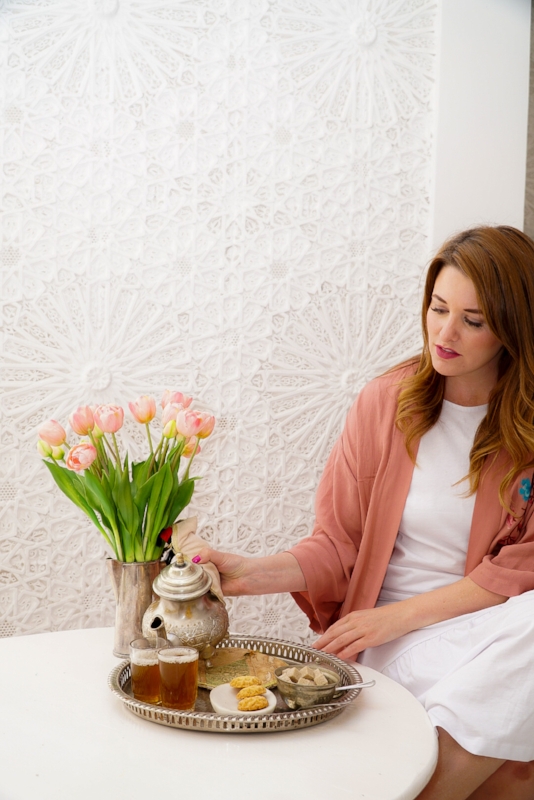 Take a Moroccan Cooking Class
The Riad Star also offers their own cookery school, onsite. A local chef met us at the riad where we planned out what we wanted to cook. Then we headed into the busy medina to purchase ingredients. We spent the next few hours in the Raid Star's gorgeous kitchen whipping up a beef and prune tagine, a veggie salad, and browaits. Learn more about those foods in our traditional Moroccan Food Guide. Once the meal was nearing completion we set up our dining area near the tranquil pool and prepared to feast!
Go on a Moroccan Food Tour
While in the heart of the medina, it was the perfect time to go on the Marrakech Food Tour. Joining a group of 10 other tourists, our guide navigated through the medina bringing us to his favorite food stops. We tasted many of the foods that we shared on our Morocco Food Guide and thankfully, our guide helped us find the Moroccan donut stand in order to taste Moroccan Donuts straight from the hot oil! Medinas are very hard to navigate, so if you're looking to experience street food from the medina, booking a food tour is the way to go. Come hungry!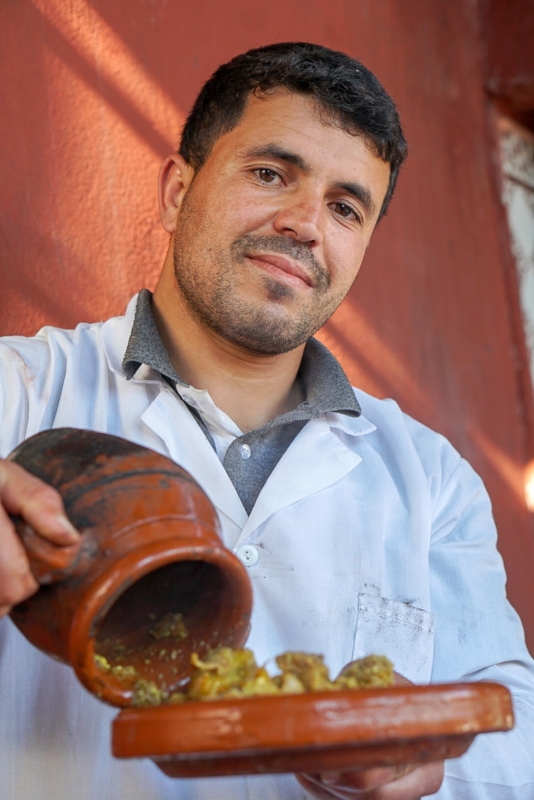 Get the Perfect Picture at the YSL Gardens: Jardin Majorelle
A very short cab ride from the medina, lies the Jardin Majorelle. This garden and colorful space was an estate of Yves Saint Laurent. Here you will find lush gardens and landscaping and vibrant buildings. In addition to the gardens, there is the Islamic Art Museum of Marrakech, the Berber Museum, and the Musee Yves Saint Laurent. The line to get into the Jardin Majorelle can get INSANELY long. Everyone is dressed up in their chic-est outfits and waiting to get their perfect Instagram photo. A few tips to save yourself an hour or two wait: Come early. The gardens open at 8am everyday. It's best to beat the rush. Additionally, note that there are two lines at the Jardin Majorelle. One for just the gardens and one for the museum/garden combo. If the line is shorter for the museum and you don't mind spending more on your ticket for an all-access entry. Choose that line (it is the second line further down the road) as once you are inside you will be able to explore the gardens after your museum tour.
Eat for a Charitable Cause
Enjoying fresh juices, good food, henna, language courses, and art, all while supporting multiple non-profits can be found at Marrakech Henna Art Café.  We stopped in this cute café after checking into the Riad Star. They recommended we take a short stroll to try a traditional Moroccan sandwich called a khleer, and as a bonus, the café supports a ton of non-profits and local arts.  This was a fantastic recommendation if you're in the medina and want to escape the madness for a quick, fresh bite.  A khleer, which we learned is getting harder and harder to find, is a cured lamb sandwich with eggs and tomatoes.  At the table we also ordered from their fresh juice menu, ate all of the marinated olives, and ordered a kefta tangine.  Also, if you have extra time to spare you can get natural henna done by their certified artists.  We were scheduled for our hammam treatment that afternoon so we needed to skip the henna, sadly.
Tips on Staying Safe in Marrakech
Marrakech was a fun city with a massive medina. The Jemaa el-Fnaa public square is packed with snake charmers, monkeys, food, and shopping vendors. If you're not a fan of snakes, don't snap a photo of the charmers, they will come over and plop a bunch of serpents on your shoulders in order to sell more photographs. Any time you are in an area with lots of tourists, crime can occur. Be mindful not only of pickpockets but also be aware of having your cell phone out in your hand. We shared a riad with a woman where her phone was snatched out of her hand and the thief hopped on a scooter and sped away. Additionally, try not to look lost (which is hard to so because the medina is crazy hard to navigate). You'll find locals approach you if you look confused, offering to guide you to your destination. They will befriend you and try to take you to vendors in order to get a kick-back. Once you arrive at your destination they will demand a tip and can become aggressive if they feel they deserved more than what you offered.
We hope this guide provided you with some useful tips on what to do in Marrakech, how to avoid long lines at the Jardin Majorelle, and how to stay safe.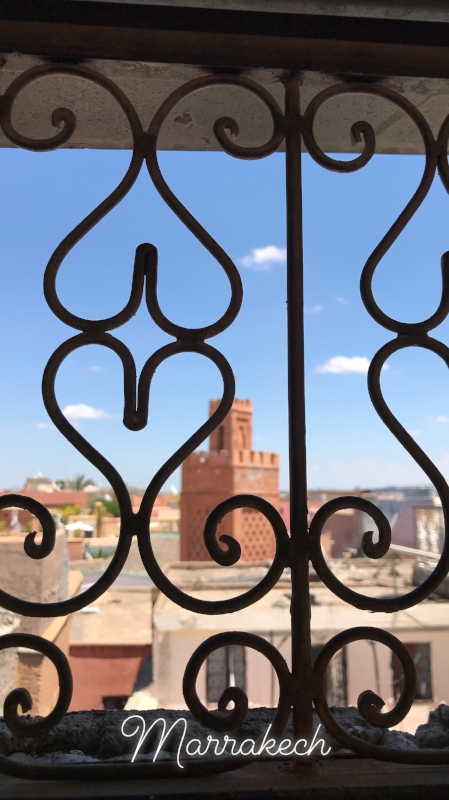 Check out our other Guides on Morocco: