We've traveled all throughout Mexico from the heart of Mexico City to the beaches, and Tulum Mexico (and all the fantastic Tulum restaurants) is easily our new favorite destination city in the whole country.
We always center our travel guides around romantic experiences and finding the best food, no matter where we go.
Of course when we traveled to Tulum, we spent most of our days trying out all the top restaurants in Tulum in between our beach walks and sunbathing.
Tulum Mexico restaurants feature incredible boho decor and ambiance in lush jungle settings.
Some of the top restaurateurs in the world have opened up posh spots in Tulum.
We spent time frequenting the top Tulum hotspots as well and spending time downtown with the locals, finding the best bites, from budget to high-brow cuisine.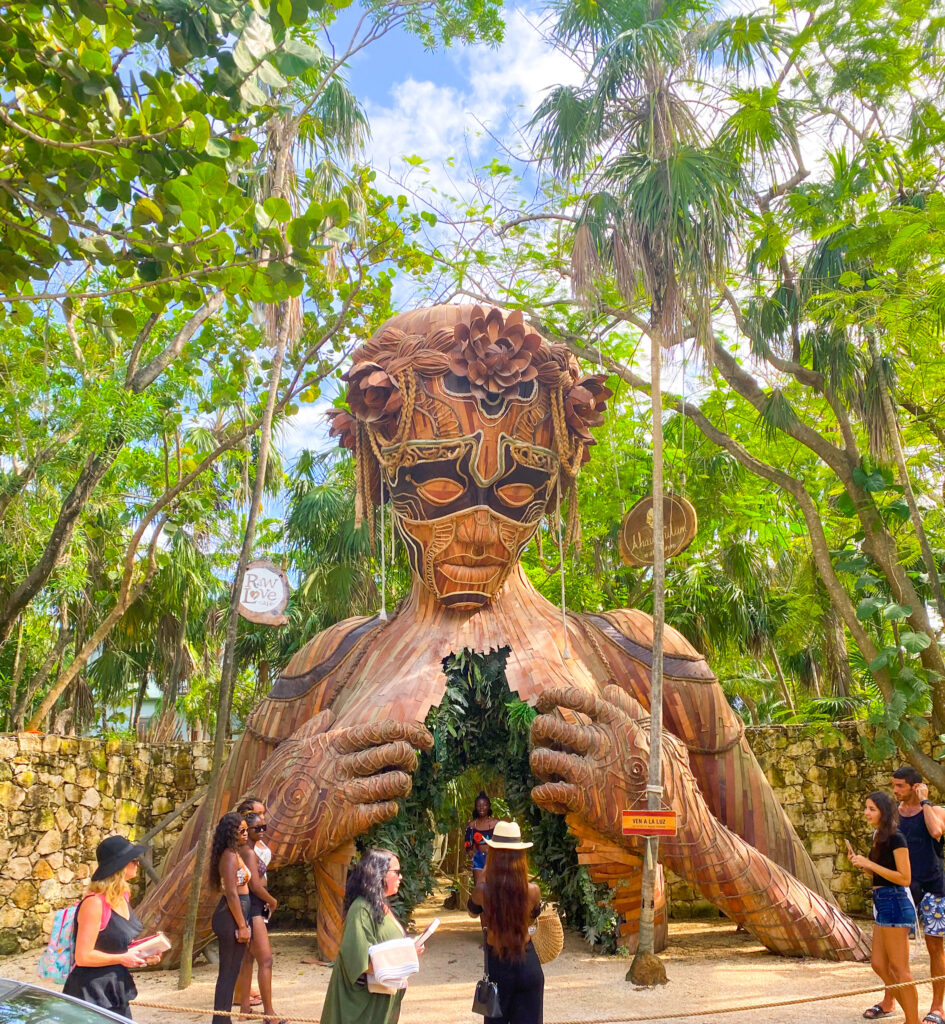 Where is Tulum?
Tulum is located in the Mexican state of Quintana Roo, and is far and away one of if not the best preserved natural destinations of Mexico.
Tulum is special because it is a city where the jungle touches the coast, and the beaches of Tulum are out-of-this-world pristine.
Tulum doesn't have a major international airport yet, but it's only a short 1.5-2 hour drive from Cancun's Airport.
We usually take a shuttle from the airport directly to our Tulum resort.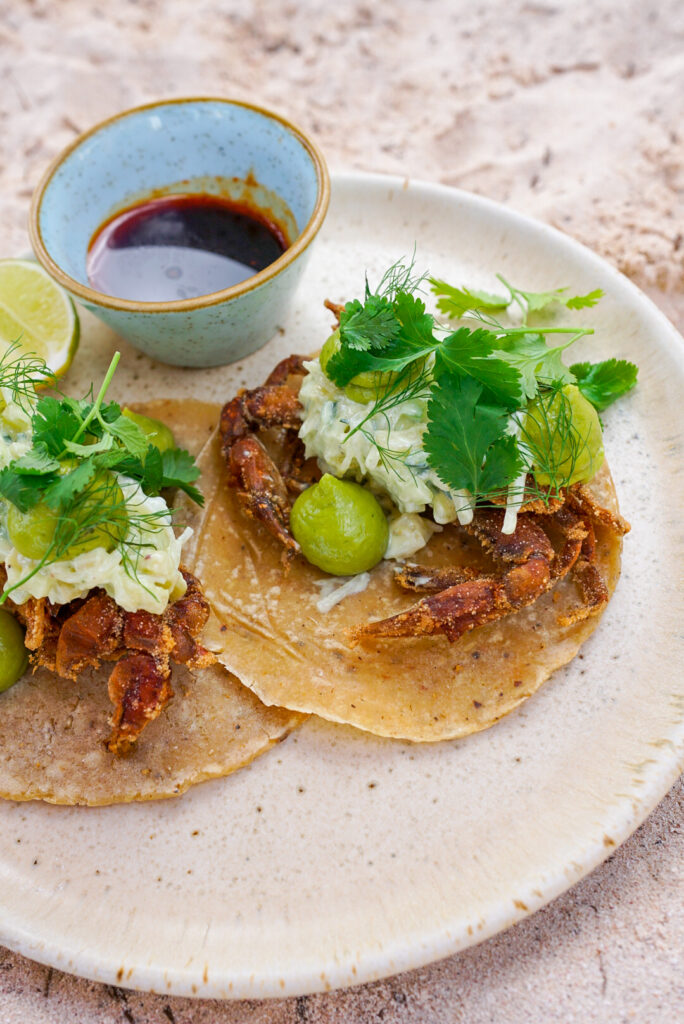 Tulum beach restaurants
There are a ton of beachside resorts in Tulum, but finding the right beach restaurant can be difficult because most of Tulum's "famous" restaurants aren't actually beachside.
Luckily for us, the boutique hotel we stayed at, El Pez, had an incredible restaurant!
We dined at our hotel's restaurant everyday for breakfast, because is there anything better than waking up to ocean waves with your coffee and made-to-order chilaquiles?
Outside of breakfast, we were told by friends to order soft-shell crab tacos at one of the most famous restaurants in town, and the soft-shell crab tacos at El Pez blew all other restaurants out of the water.
These tacos come on homemade tortillas, and are topped with pickled cauliflower and an apple slaw.
We loved these tacos so much we ordered them multiple times throughout our stay.
We would have them delivered to our beachside cabana with a cold cerveza while we sunbathed and made sure it was the last thing we ate before checking-out to head home.
Carretera Tulum-Bocapaila Km. 5.5,Zona Costera, 77780 Tulum, Q.R.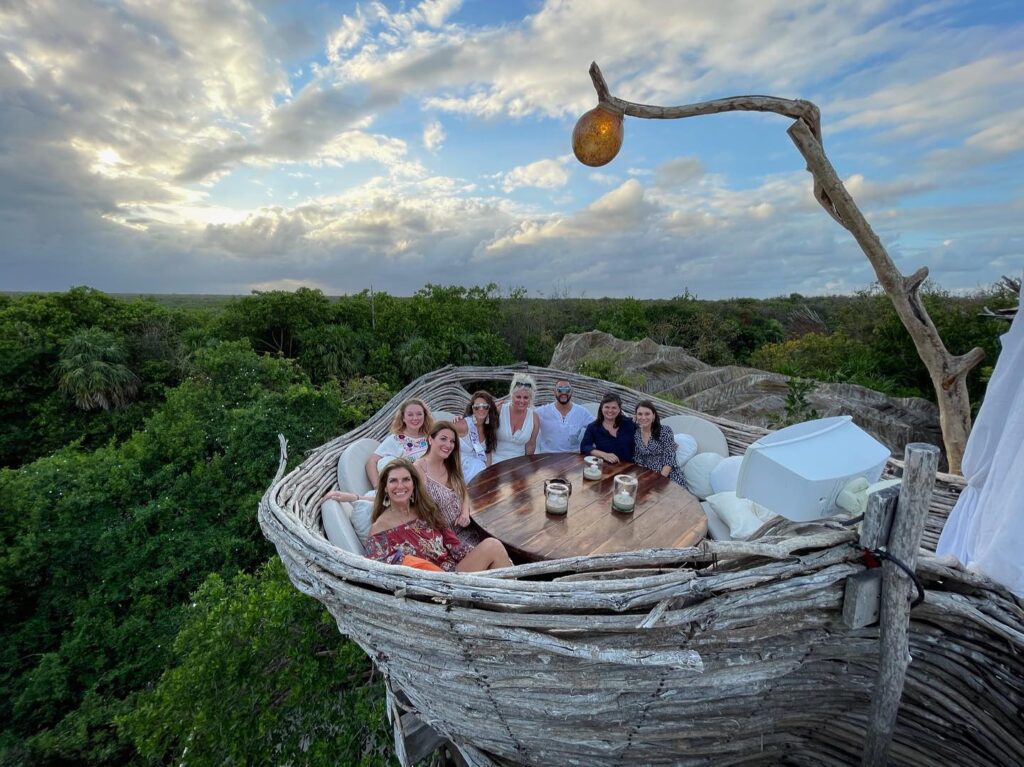 Azulik Tulum
The Azulik Tulum restaurant is one of the most famous spots in Tulum, they feature a few different dining concepts but the Mayan-Mexican restaurant is named Kin Toh.
The architecture of Azulik is stunning, from treetop walkways, to netted lounges dangling over the resort below, to the unique dining "nests" that can be reserved.
If you are looking for an unforgettable experience, although a bit of a splurge, you can rent a nest for a rental fee on top of a food and beverage minimum.
Although when we dined there with a group, we decided to not pay for the nest, Azulik did offer to let us explore and get photos in a nearby vacant nest while we waited for our cocktails.
The inside of Azulik is also super cool and chic even if you don't reserve nest dining.
The Azulik Tulum restaurant offers a five-course pre-fixed menu with wine pairings or you can order ala cart from the Kin Toh menu.
The best dishes at Azulik were the appetizers. Mexico's special mushroom huitlacoche made into a dip, clams in a coconut broth, and the caribbean octopus were all incredible.
Carretera Tulum-Punta Allen KM 5, Zona Hotelera, 77780 Tulum, Q.R., Mexico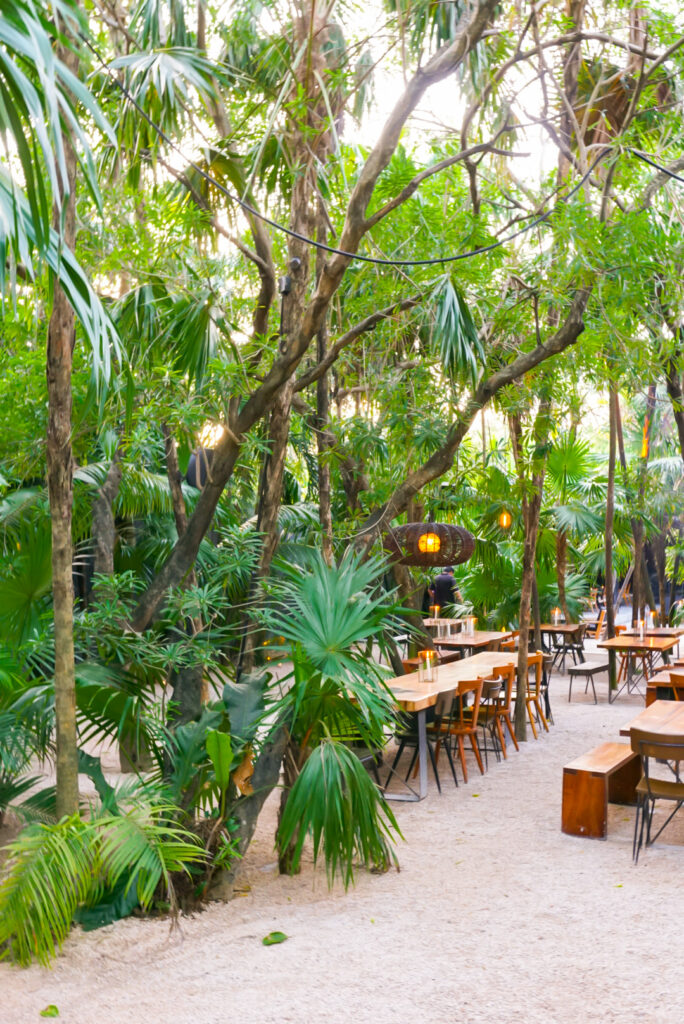 Best jungle restaurant in Tulum
There is a large list of fine dining in Tulum, and the Kitchen Table was our favorite in that category.
From their in-the-jungle vibe, to their top notch service, to delicious hyper seasonal food we were fans.
Kitchen Table is known for their ever changing menu that's updated daily on their chalk board at the front of the restaurant.
It's difficult to name a specific dish that will be there when you visit, but what we can say is their octopus carnitas was the best octopus dish we've ever had, so if octopus is on their menu, order it.
Outside of the octopus, all of the appetizers, like their sope with fresh huitlacoche which is a corn mushroom authentic to the region, was tasty.
Kitchen Table's cocktail menu also takes a ton of inspiration from the region by using local ingredients to put their spins on classic cocktails.
A few ingredients that we loved seeing them use were tepache which is kind of like a pineapple kombucha, and pulque which is fermented sap and has the consistency of alcoholic yogurt.
If you are planning on having one splurge date night while in Tulum look no further than Kitchen Table and make a reservation.
Carr. Tulum-Boca Paila km 6-km 6, Tulum Beach, 77780 Tulum, Q.R., Mexico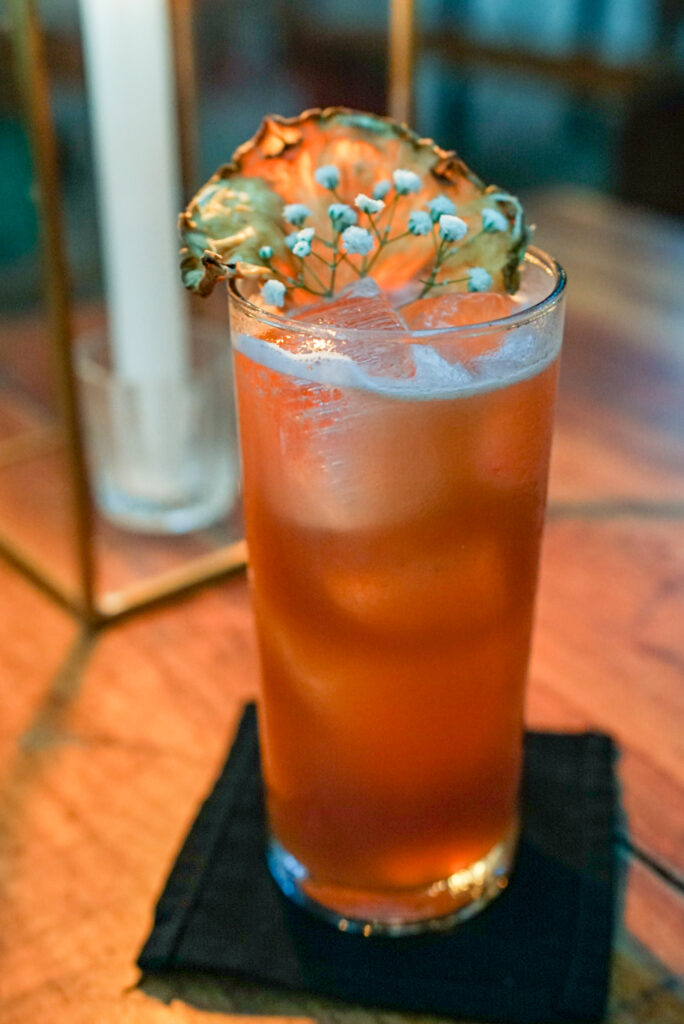 Top trendy restaurant in Tulum
If you want to go to the restaurant where all of the cool kids are going, Arca is your place!
Arca was founded by Chef Jose Luis Hinostroza who's background includes the multi-Michelin star restaurants Alinea, Noma, and De Kromme Watergang.
The restaurant's cool vibes are paired with a menu that is super seasonal with plates made to share.
Their menu had a ton of options to fit any dietary need, and one of their famous dishes is actually vegetarian tartare of roasted peppers.
This is a hearty veggie packed appetizer, and embodies a meaty texture thanks to the addition of slivered almonds.
To finish the veggie tartare you top it on their grilled house pulque bread. It's a really interesting bread that you won't find anywhere else.
The cocktail program at Arca was intensive, and we definitely recommend picking cocktails over wine when here.
One of our favorite drinks was their Har Mar Superstar with mezcal, ginger, lime, and thyme.
Av. Boca Paila, Tulum Beach, Tulum, Q.R., Mexico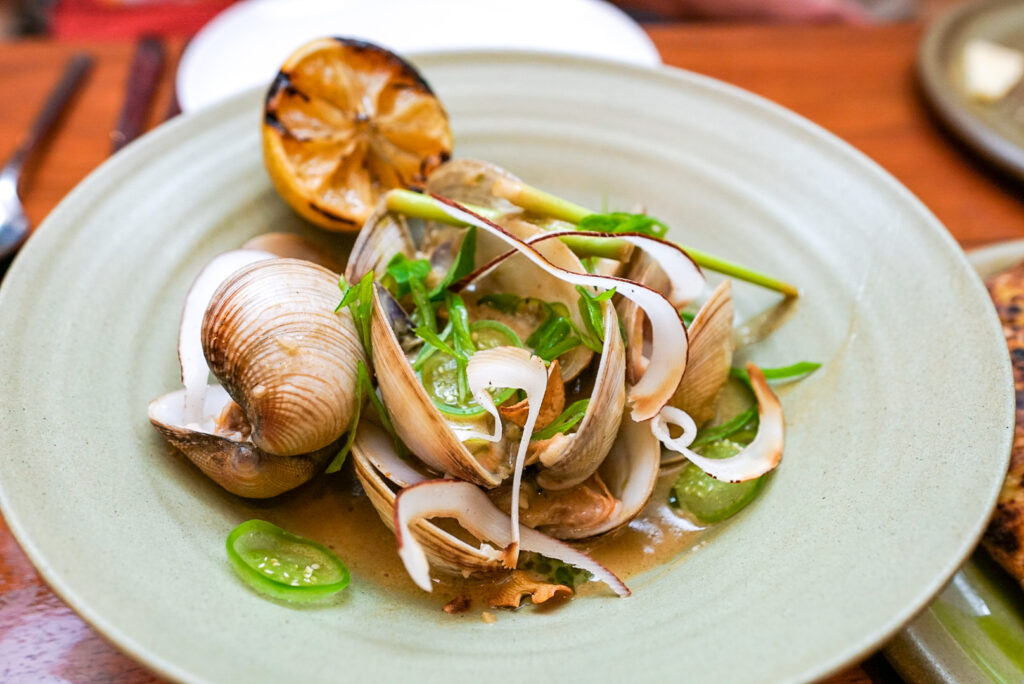 Top restaurant in Tulum for wine
One of the newest trendy restaurants of Tulum, Atila,is the sister restaurant of Arca.
Atila is a restaurant and bar focused on natural wine.
This Tulum wine bar sources their natural wines both locally and internationally.
Atila describes themselves as a Yucatecan Brasserie, and like at a traditional French brasserie we wanted to guide our food choices by their wine.
After talking to their knowledgeable waiter and trying a few wine samples, we selected a bottle of one of their orange wines.
We paired the unique and tasty orange wine with their Mexican cheese plate, heirloom tomatoes, and their star dish of steamed chione clams.
If you're not super hungry, stop in for a glass of natural wine and their clams because they were beyond incredible.
The clams were cooked perfectly in a broth of coconut, ginger, basil, and lemongrass, and we couldn't get enough of it.
We licked the bowl clean, and had to order extra coconut flatbread to make sure that we soaked up every drop.
Carr. Tulum-Boca Paila km 7.6, Tulum Beach, 77780 Tulum, Q.R., Mexico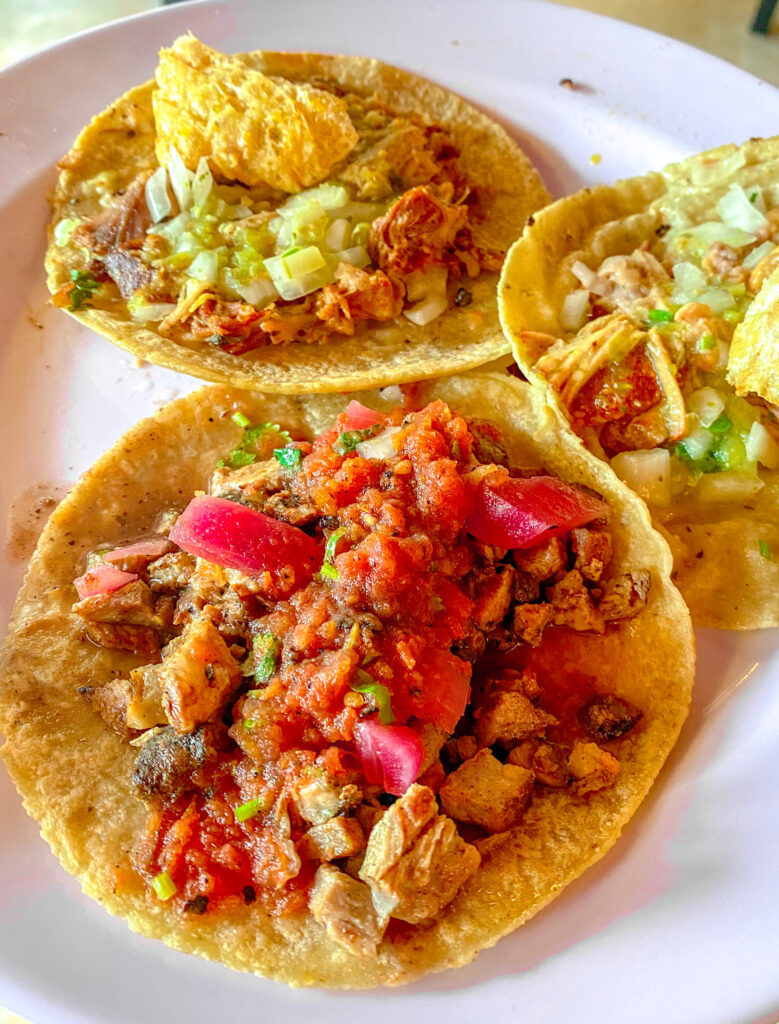 Best tacos in Tulum
When the Mexican locals share where their favorite taco shop is, you have to go!
The best taco shop in all of Tulum is easily Taqueria Honorio, and it's packed with both locals and tourists.
What once started as a small street stall, their business has grown but their quality didn't drop.
Although they have risen in popularity and typically have a wait, their prices remain extremely affordable.
All of their tacos are 20 pesos, and their quesadillas are only 35 pesos.
Known for their slow roasted pork, we tried a ton of options and they were all good, but the best taco by far was the lechon (suckling pig) option.
With this taco be sure to ask for their homemade salsas because they're a great compliment for the rich pork.
Satélite Sur Sm10 lote 3, Centro, 77760 Tulum, Q.R., Mexico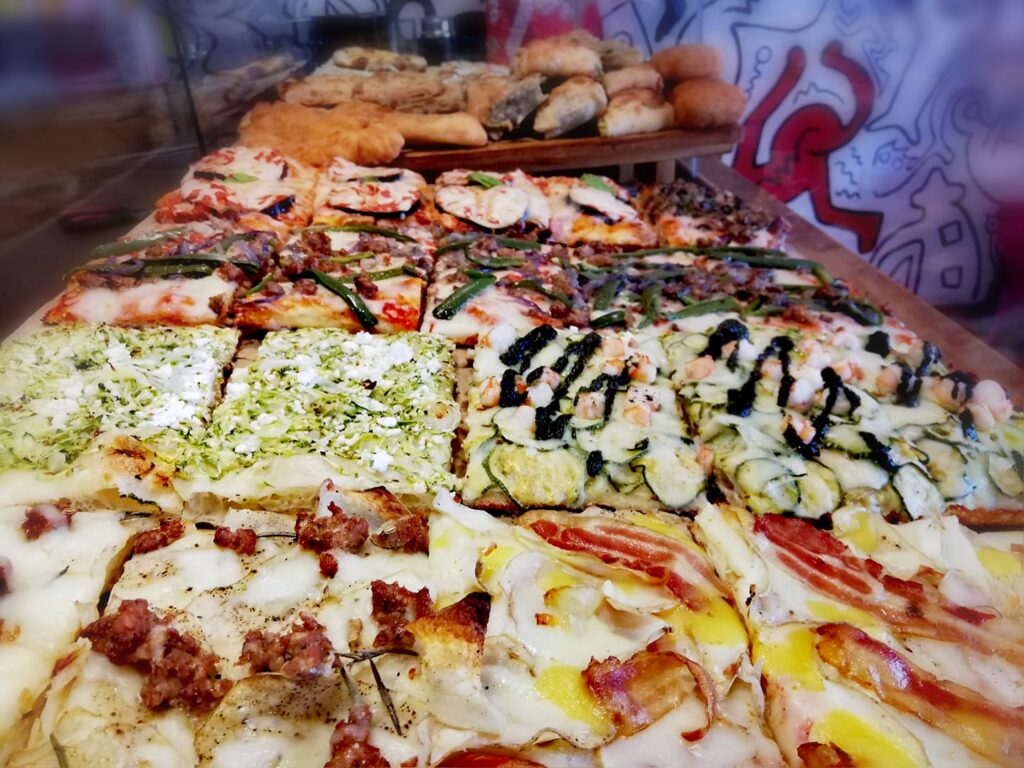 Best Italian restaurant in Tulum
We never ever thought we'd recommend a pizza shop in a restaurant guide within Mexico, but Pizzeria 85 Ciento La Vera Pizza al Taglio was the best Roman pizza we've had outside of Rome (check out our Rome travel guide!).
Pizzeria 85 Ciento is not a fancy restaurant but it is the most authentic Italian food that you'll find in Tulum.
Run by Italian owners, they ship most of their ingredients from Italy, but their prices are equivalent to going to a taco stall because they're off of the tourist path in downtown Tulum.
If you've never had Roman pizza it's much different than your traditional pizza delivery.
Roman pizza is like a focaccia bread topped with an incredible mix of toppings, and cut into squares with scissors.
Our favorite slices you should order when visiting are the classic margarita, a cheese-less potato and rosemary, and shrimp with zucchini and pesto.
Calle Sol Ote., Tulum Centro, 77760 Tulum, Q.R., Mexico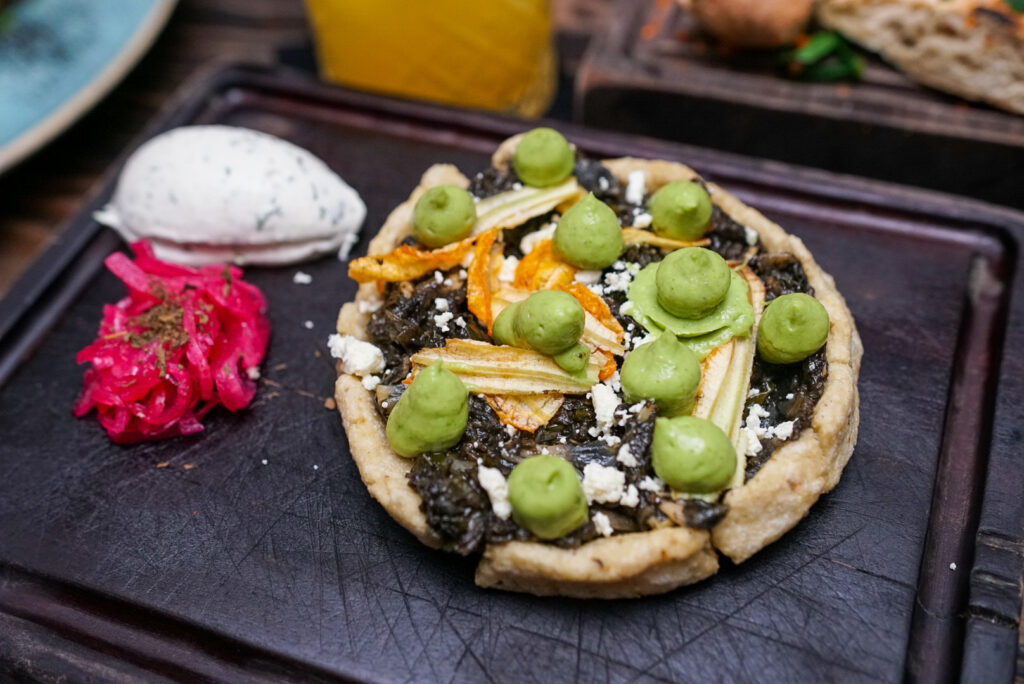 Tulum has an incredible culinary scene and it's only growing!
If you are looking for another culinary hub in Mexico, be sure to book a flight to Mexico City.
Our guide for Centro Mexico City includes a tip for our favorite taco stand in the whole world, while our guide to La Condesa and Roma Mexico features some of Mexico's top gourmet culinary talent.
Better yet, plan an escape to Grutas de Tolantongo, Mexico's cliffside hot springs in the land where barbacoa was created.
Click this link to pin this Tulum restaurant guide on pinterest. Also, don't forget to follow us on instagram and facebook for more recipes and recommendations, we love to see when you visit our favorite places!
If you'd like to automatically receive our posts in your email, register here.