Italy has ALWAYS been on the top of our list for destinations. Mainly because the food is so iconic and it is a destination that neither of us has traveled to before. Many people ask how we determine where to travel to next. In reality, it is often budget related. When we find a screaming deal on a flight, we book it right away and that determines our next destination. We lucked out and found a flight to Rome, Italy from San Antonio for only $440 earlier this Spring and so we started to plan our travels.
Traveling to Italy has so much to offer that you almost need to break it into multiple trips: Northern Italy vs. Southern Italy. We traveled to Rome, Capri, Florence, and Cinque Terre on this trip. We had every intention of publishing these travel guides sooner, but in the final days of our trip, Karen shattered her ankle which required extensive medical care over the past few months (that whole fiasco of a story will have to come in a future blog post!). Even considering the medical issues, Italy was one of the most memorable trips of our lives, and we are so excited to share our recommendations with you and make it back ASAP! Also, don't miss this guide on landmarks of Rome as well as the mistakes to avoid in Rome.
Foods of Rome:
Suppli – These fried rice balls look like arancini, but they are different. Arancini is a Sicilian dish, usually larger and filled with a meat ragu, while Suppli is a Roman dish that is smaller, cheese-filled, and less round. Chefs can get pretty creative with their fillings in both arancini and suppli, but it is always addicting.
Italian Pasta – Something to keep in mind is that Italians like their pastas al dente. While most tourists aren't used to this and it can cause them to not appreciate the pasta, we loved it. The texture provided more chew and actually make the pasta dishes more filling and satisfying. Some pasta dishes that you'll find in Rome is Cacio e Pepe which is Spaghetti-style pasta with black pepper and cheese, stuffed raviolis, and carbonara.
Fritti – AKA Fried stuff (of course it is going to be tasty)! Roman snack food includes breaded and deep fried specialties such as fried artichokes, squash blossoms, apples, and seasonal vegetables. They are a deliciously salty-snack to much on while you scope out the Roman sights.
Roman Pizza – During the day, bakeries make pizza bread. Essentially a flatbread or focaccia bread topped with sauces or oil, meats, veggies, and cheese. Not all Roman Pizza is topped with cheese. If it isn't, the pizza is served cold. This pizza is sold by weight based on the size of the piece you ask them to cut. Typically, Pizzerias are only open for dinner, as the wood-fired pizza ovens are very expensive to have running. Keep reading to learn where to find the BEST pizzeria in Rome, Italy.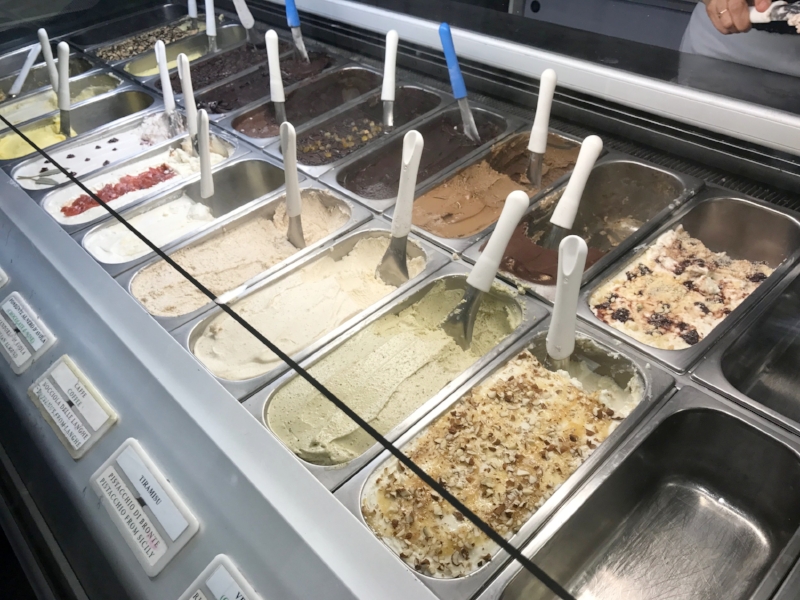 Gelato – Italy Tip: 85% of the gelato in Rome is fake! This means it is made with a powder substance vs. using real ingredients. The way to ensure your gelateria is authentic is to look at the way the gelato appears. If it is displayed in a mound, it is fake as real gelato's consistency would not hold that shape. Additionally, check out the color. If it is unrealistically vibrant, it is made with artificial ingredients. We ate gelato multiple times per day and it is recommended to always say "si" to adding fresh whipped cream. It is actually illegal for a gelateria to charge extra for whipped cream!
Wine – We didn't have one bad glass of wine this whole trip! Ordering the house Italian table wine is SUPER affordable and never disappointed us. We also tried some varietals that were from some specialty regions during some wine-paired tasting menus.
Best Restaurants in Rome, Italy:
This is super important everyone: pick the wrong spot and you'll end up at a tourist-trip with bad food and overpriced menu items. From a food stand to a Michelin-star gourmet meal, here are some of our tried-and-true places for a great meal.
Pizzeria da Remo – And now for our favorite pizzeria in Italy! We ate at a few pizzerias all across Italy and were honestly, a bit disappointed by many. During our last few days in Italy we did a lot of research and we finally found the holy grail of Italian 'za. Even in a thunderstorm, dozens of locals were waiting outside under umbrellas to pick up their pizza to go or to get seated. We're not sure if it was the language barrier, or if the sixty-year-old owner just fancied American girls, but to our shock, we were immediately seated. The servers and cooks were all boisterous old Italian men, chugging beer during their shift, and make the experience all the more memorable. You order on a sheet of paper where everything is in Italian. When we saw that most pizzas were only about 5-6 Euro, we went crazy with our order. At one point they even summoned their only server who spoke a smidgen of English to ask if were really wanted to order two appetizers and three pizzas for the two of us. They actually couldn't fit three whole pizzas on the table at once, so they had to bring out the pizzas in shifts, haha! The pizza was made fresh in the brick ovens in front of us, was super crispy on the edges, and was made with the freshest ingredients. Do NOT eat at a pizzeria in a touristy area, come here instead. It's cheaper, it's more delicious, and it's authentically memorable. Piazza di Santa Maria Liberatrice, 44, 00153 Roma RM, Italy
Masto – This was a stop on our Eat Europe Food Tour. This is the perfect place to stop in for a beautiful charcuterie board with fresh salamis and prosciuttos, great cheese, olives and pesto. We enjoyed our snack so much that we returned back to try out their pasta. It's a fantastic dining option for lunch or a nice place for an aperitivo for happy hour. Via Galvani 39/41, 00153 Roma RM, Italy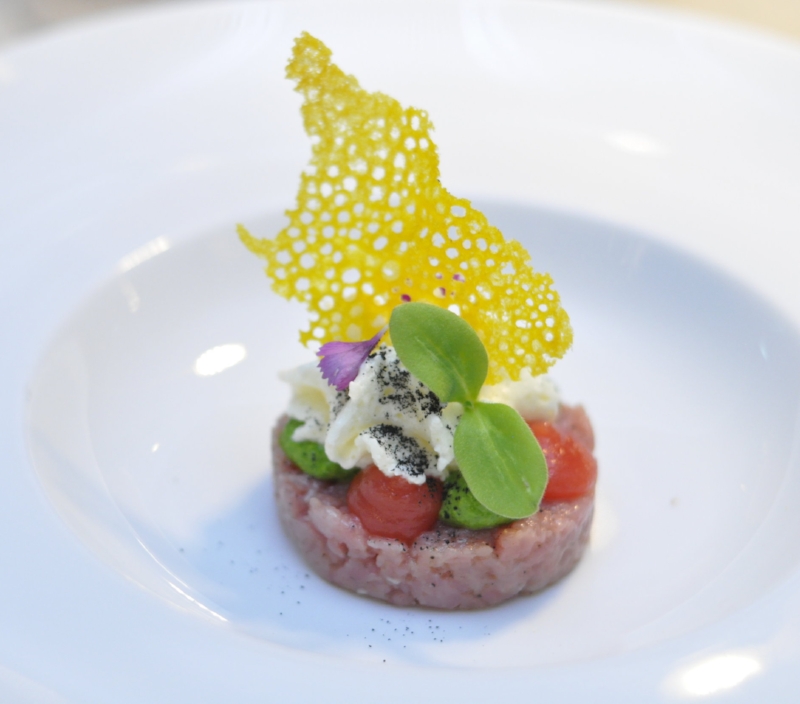 Aroma – This was one of the most incredible dining experiences we have shared together. Aroma is a Michelin-star restaurant on top of the Palazzo Manfredi Hotel. It has the BEST view of the colosseum of all of Italy and is one of the most romantic places in Rome. Get the full run-down of the dishes we experienced at one of the best restaurants in Italy here. Palazzo Manfredi, Via Labicana, 125, 00184 Roma RM, Italy www.aromarestaurant.it/en/ 
Meccanismo cocktail bar – The best area to go out for a drink and nightlife is in the Trastevere neighborhood. There are a number of pubs and wine bars along the narrow, cobblestone streets and it makes for a romantic midnight stroll through the streets of Italy. We stopped into Maccanismo while initially looking for a Morretti Beer (our favorite classic Italian beer) but ended up ordering Aperol Spritz. We don't know what is different about Aperol Spritz in Italy, but for some reason they taste 100% better than they do in the US. This bar had a cool vibe with craft cocktails and we highly recommend it. Piazza Trilussa, 34, 00153 Roma RM, Italy http://www.meccanismoroma.it/
La Botticella – We initially arrived to Rome late and quickly looked for a good restaurant in our Trastevere neighborhood. We totally lucked into this restaurant. This quaint little spot was really lively with a number of patrons waiting outside. The tables were tightly packed into the restaurant, so much so that half the restaurant would have to scoot out if you needed to escape to the bathroom. Gavin ordered the traditional cacio e pepe and it was served in a bowl made entirely of cheese (how could one go wrong?!). Karen chose the ravioli of the day which was fresh made pasta stuffed with ricotta, porcini mushrooms, and truffles (another goal of ours was to consume as many truffles as possible while in Italy). The quality of the food was outstanding and the bill was relatively affordable, especially when you consider that we ordered a liter of their house white wine for only 10 euro! Vicolo del Leopardo, 39/a, 00153 Roma RM, Italy http://www.ristorantelabotticella.com/
Gelateria del Teatro – We ate a LOT of Gelato in Italy. Once the Eating Europe Food Tour taught us how to spot the real stuff, we were on the hunt for the best gelato. Gelateria del Teatro was definitely one of our favorites. The gelato was velvety smooth and really flavorful. Each batch is made individually in-house and they accommodate those with dairy, gluten and egg allergies. Be sure to try our favorite, the "Vecchia Roma". This taste evokes the traditional cake of the Jewish ghetto in an irresistible combination of Ricotta cheese, sour cherries and butter crumble. Via dei Coronari, 65-66, 00186 Roma RM, Italy http://www.gelateriadelteatro.it/
Food Box – This very casual stand is located inside the Testaccio Market. Pull up one of their few bar stools and enjoy one of the Italian craft beers that they carry and scrumptious snacks. Our favorite suppli is from this spot! Via Beniamino Franklin, 12, 00153 Roma RM, Italy
Salumeria Volpetti Cheese Shop – if you're looking for a cheese shop to purchase fresh Italian meats, cheese, and prepared foods to take back to your hotel room, swing by Volpetti. We had a heyday checking out (and of course sampling) their artisan goods. Located in Testaccio, it is where the locals go!  Via Marmorata, 47, 00153 Roma RM, Italy http://www.volpetti.com/salumeria.html
La Renella – This cute bakery-style pizza shop was literally located outside of our first Airbnb in the Trastevere  neighborhood and was the very first bite we tasted in Italy. As we were dropping off our luggage, our apartment rental was full of the scent from the ovens, so it didn't take us long to stop by. They will cut your pizza with scissors based on how large of a piece you want and it is sold by weight. We enjoyed two beers (Moretti, of course) and two massive slices for only a few euros. Via del Moro, 15, 00153 Roma RM, Italy  http://larenella.com/en/
Flavio al Velavevodetto – Another notable restaurant that we dined at was special due to the history behind (or should we say above it?). In ancient times, Romans stored goods in vessels. The area of this restaurant was used to stack the waste material from broken pots and after the great fire of Rome. The hill grew and grew until it was finally turned into a cave to store wine at a lower temperature. This wine storage cave is still a cellar but also now a restaurant. The unique history of this destination and the glass walls were you can see the piled up terra cotta is what makes it a fun destination for a lunch or dinner. Via di Monte Testaccio, 97, 00153 Roma RM, Italy http://www.ristorantevelavevodetto.it/en/
Things to do in Rome, Italy:
Food Tour – We always try to schedule a food tour right at the start of the trip when we travel internationally. It is helpful to get advice and recommendations from another foodie and helps provide more insight and history to the foods that make the region famous. We booked the Taste of Testaccio Tour with Eating Europe. They have a number of different food tours to pick from, but this specific one took us to the "foodie neighborhood of Italy". Testaccio has been the hub of food production for a number of years and this is where the locals go for their cuisine. Many of the top spots we list in this guide were found as a result of the tour. We couldn't recommend this tour company enough, they also offer tours in other European cities! https://www.eatingitalyfoodtours.com/rome/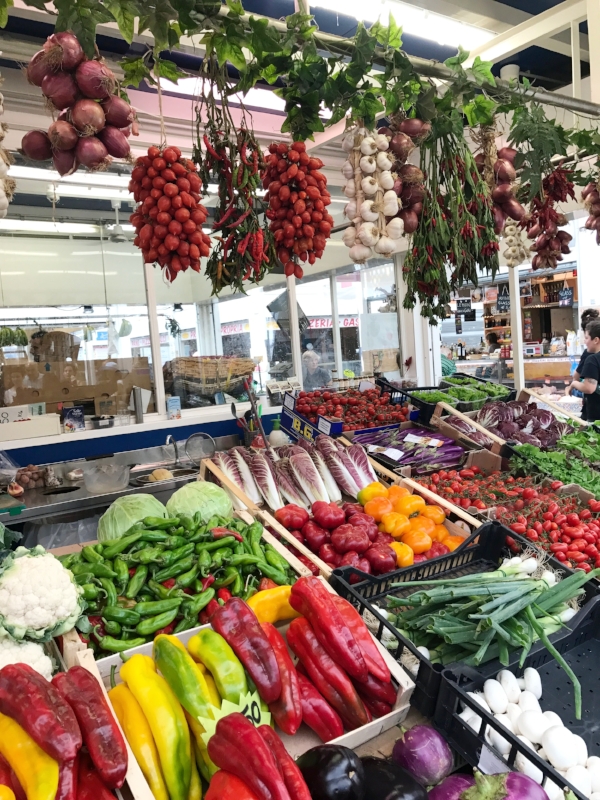 Head to a Roman Market – As part of the Eat Europe Food Tour, the group visited the Testaccio Market. We made our own bruschetta, sampled craft beer and munched on suppli. The market has fresh produce stands, meat markets, cheese shops, and small restaurants whipping up their specialties. Note: the market closes at 2pm so plan accordingly. We wanted to go back a second time to try a delicious looking sandwich vendor, but were too late and the market closed. Via Beniamino Franklin, 00118 Roma RM, Italy
Pyramid of Cestius (Rome's Pyramid) – Can you believe that one of the oldest sites in Rome is totally free to visit? The pyramid is actually older than the colosseum and it is nestled in a cemetery where famous poets and designers are laid to rest. After visiting the grave site of poet John Keats, all of our photos has this mysterious ray of light shining through it. Do you think this was attributed to the spirits around us?! Via Raffaele Persichetti, 00153 Roma RM, Italy
Roman Forum Ruins – Right down the street from the Coliseum is the Roman Forum Ruins. This is was one of our favorite things to do in Rome. There was not a line to get in and buying a simple admission ticket allowed you to roam around some of the oldest buildings in the world. There is something really majestic about the juxtaposition of old columns still standing solo with modern Rome in the background and being able to have a seat on an old Roman marble roof that has not fallen to create a bench, that makes you feel intimately close to the history of this city. Via della Salara Vecchia, 5/6, 00186 Roma RM, Italy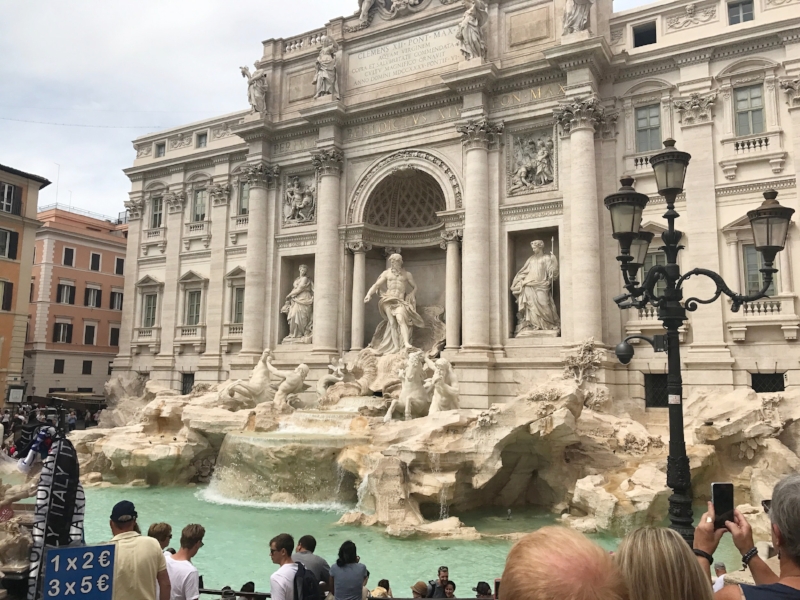 Fontana di Trevi – This famous Rome attraction is filled with tourists from all around the world. the cool thing about Rome, is if you download an offline map, you can just wander from landmark to landmark. After leaving the Roman Forum Ruins we walked to various piazzas, stopped into the Parthenon and threw a coin into the absolutely gorgeous Trevi Fountain. Fight your way down the steps to the front and grab a coin (or three). Remember to always throw your coin with your right hand and over your left shoulder into the fountain. This legend claims that you should throw three coins into the fountain. The first coin guarantees your return to Rome, the second will ensure a new romance, and the third will ensure marriage. Piazza di Trevi, 00187 Roma RM, Italy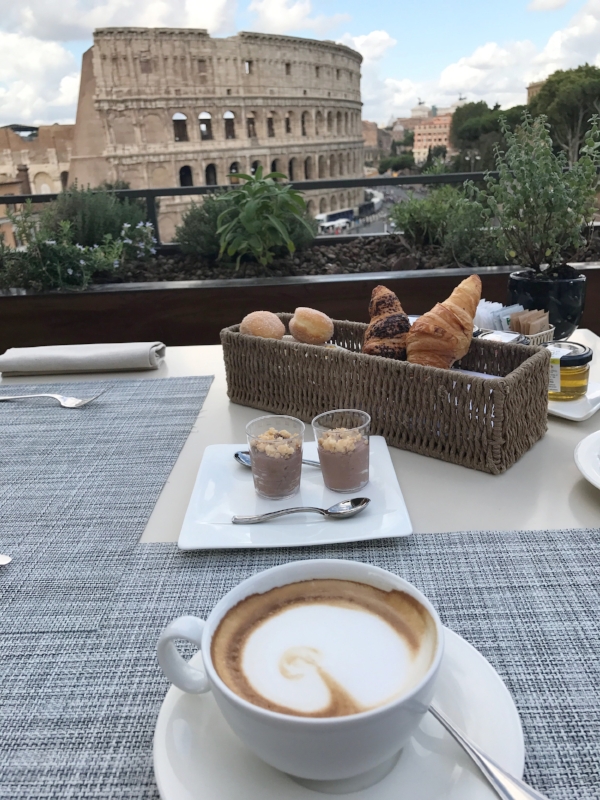 Colosseum – We were so excited about seeing the Colosseum while visiting Rome. We were lucky enough to stay right next to this historical landmark during part of our trip. We also were planning on attending a Colosseum Night Tour but when Karen ended up in the hospital with a broken ankle we needed to cancel, sadly, but we will be back for this. Piazza del Colosseo, 1, 00184 Roma RM, Italy
Vatican City – We were also planning on allocating a full day to visit the Vatican city. After Karen's accident, we were stuck on bedrest watching Netflix (and eating Gelato) instead. So this is something we will just need to return to Rome to see.
Where to Stay in Rome:
Planning a trip to Rome can be overwhelming. We did a lot of research on the best areas to stay. Initially we rented an adorable airbnb in the Trastevere neighborhood. We loved this area so much that even when we ended up staying in another neighborhood, we came back to Trastevere for the pub scene.
The neighborhood called the Jewish Ghetto was also an area with a lot going on, but the scene seemed a bit younger, with a lot of study-abroad college-aged students stumbling around after one too many Aperol Spritzes. This could be another good area to look at if you are like us and want something always going on, close to your accommodations in Rome.
Roman Luxury Hotel Palazzo Manfredi – This was the most incredible hotel accommodations we have ever experienced – do you SEE that photo?!? Upon check in, we were initially escorted to their rooftop for a complimentary welcome drink, an Italian glass of Valdo Prosecco, overlooking the Colosseum and the ruins of the gladiator training facility. The basement of this iconic hotel is actually on top of these ruins! The room was modern luxury with lush fabrics, an in-mirror television, and a spa tub with rain shower overlooking the Colosseum. The Palazzo Manifredi also offered chocolates on our pillows, designer spa products, lush robes and slippers, and even a pillow menu with four varieties to choose from. Breakfast on their rooftop terrace was also included. The restaurant offered eggs to order and a buffet with Italian charcuterie, buffalo mozzarella, fresh pastries, and even a fresh-made juice station.  Via Labicana, 125, 00184 Roma RM, Italy https://www.palazzomanfredi.com/en/
We hope that sharing our experiences from our trip to Rome, Italy will help you plan the perfect Roman holiday! Take advantage of all of the terrific Rome attractions, tours, and Italian restaurants.
Headed to Italy? Bring us with you! Kidding (kind of), but be sure to check out our Italy guides before you leave for your trip: