Picture-perfect Capri boasts glistening waters and remarkable cliffs, the ideal framework for the famous Blue Grotto.
Among the awe-inspiring scenery, you'll find some seriously delicious food.
This guide gives you tips on what to eat, where to dine and what to do on the Isle of Capri.
Capri was a last-minute change to our Italy itinerary.
Originally, we planned on visiting Venice and Burano for a few days instead.
When the marketing manager of the Palazzo Manfredi and Aroma Restaurant invited us to experience the hospitality and cuisine at the Punta Tragara hotel and restaurant in Capri, we ate the cost of our non-refundable train tickets and scrambled to make last-minute travel changes to head to the Isle of Capri.
Capri looks just like a postcard and is even more beautiful in person.
The water is the most vibrant blue, the cliffs jet straight out of the water, and the island is lush green and full of tropical flowers.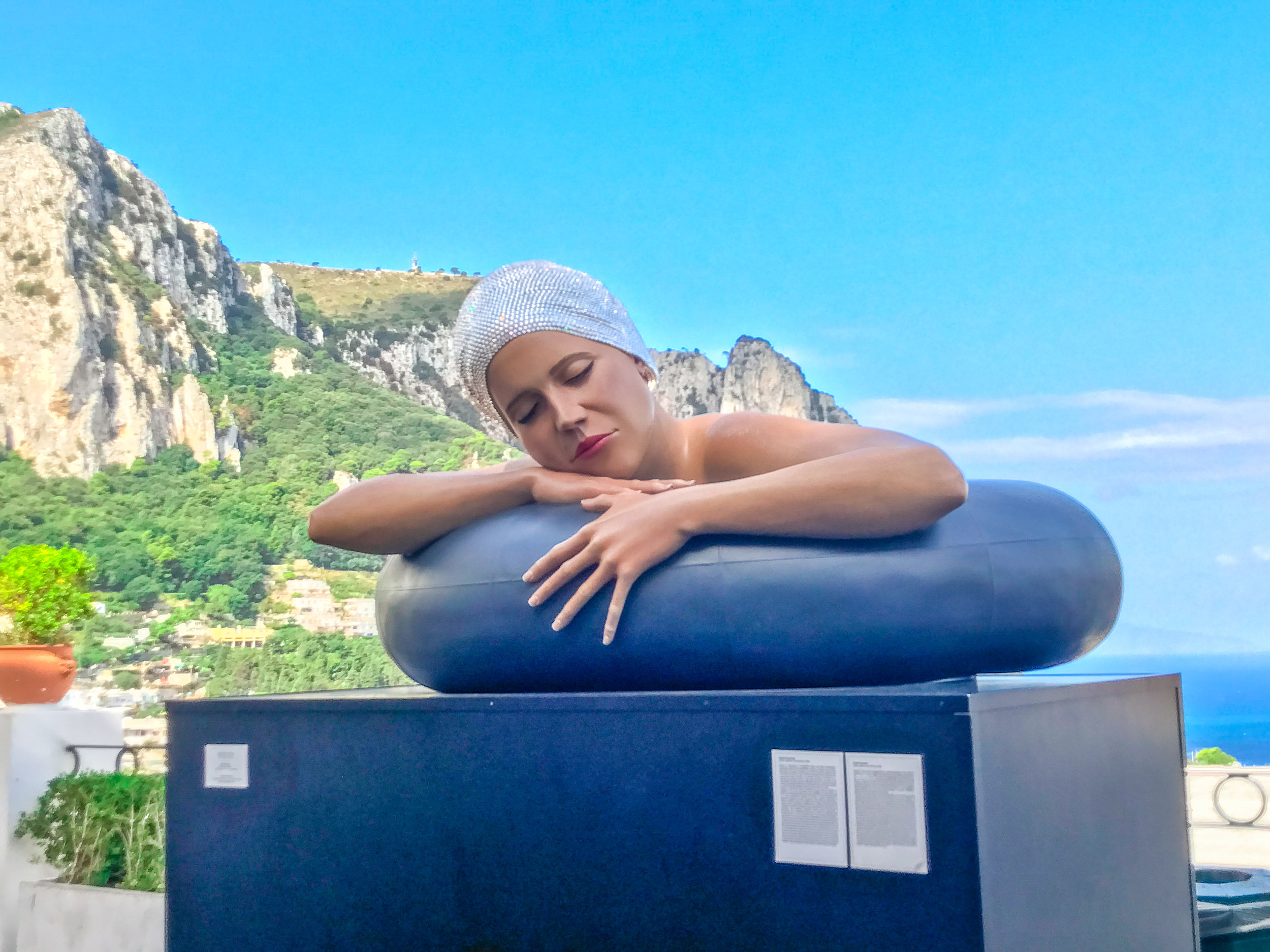 Our first day of travel was basically charging through a tropical storm.
We took the train into Naples, hit some horrible traffic leaving the station (be sure to leave yourself at least an hour to get from the train station to the ferry dock), and scrambled to make our ferry boat.
The rain and high winds made our ferry ride feel like an episode of the Deadliest Catch television show.
So many people on the boat were screaming as we bobbed over large swells and a number of folks got really seasick.
Luckily, we both avoided getting sick, we were actually enjoying a Italian beer and giggling like we were on an amusement park ride.
Even through the torrential rainstorm, we enjoyed seeing the Amalfi Coast as we passed by Mount Vesuvius via ferry boat.
Arriving to Capri is unlike anything we've experienced.
A bellman from our hotel waited for us at the dock and took our heavy luggage on a itsy, bitsy vehicle (we're talking smaller than a golf cart).
We headed to the Capri funicular tram to make our way up the cliff. For about 2 Euros you climb aboard the tram as it lifts you through the greenery and above the picturesque sea below.
After the short ride up the cliff, you walk through the narrow pedestrian streets of Capri passing restaurants, art galleries and designer shops like Chanel, Gucci, and Armani in order to arrive to your hotel.
Note: Since we were arriving during a tropical storm, it was more like us fighting over the umbrella and Karen trying to not lose a flip flop as we tried to run through the puddles on the walkway.
After checking into our room, we knew it was all worth it, as we stayed in one of the most gorgeous hotel rooms in the entire world.
The Best Capri Food
Caprese Salad
Many don't realize that Caprese Salad (comprised of mozzarella, tomatoes, and basil) actually originated on the island of Capri.
During our travels to Florence, we asked "Juilio the Truffle Hunter" what his favorite food was and he shared that Caprese salad in Capri was unlike anything else.
We didn't really know how such a simple salad of very few ingredients could taste much different, but we made it a point to try a REAL Capri caprese salad as our first bite on the island.
Italy eats dinner VERY late compared to most countries.
Once we were finally settled at around 5:30pm, we were searching for a restaurant for to taste the famous caprese salad. EVERYTHING was closed.
In fact, most restaurants in Capri don't even OPEN until 6:30pm at the earliest.
We searched and searched and the only place we could find open at the time (and in the rainstorm) was Da Pasquale "snack shop".
This spot reminded us of a Seven-11 convenience store, with wine.
Honestly, we just needed to duck out of the rain so we ordered two Moretti beers and decided to try a caprese, mainly for "comparison purposes".
Our minds were blown!
Capri tomatoes don't look particularly red or plump. In fact, they almost looked a little underripe… but the taste of the salad was phenomenal.
The saltiness of the sea performs magic on the Italian buffalo mozzarella, fresh-picked tomatoes, vibrant basil, and floral olive oil.
We ate this at least twice a day while in Capri, and you should too.
Torta Caprese
Upon checking in to the Punta Tragara, we were welcomed with a bottle of Italian prosecco and a caprese (not to be confused with the salad) in our room.
When we asked the sweet receptionist the name of the dessert, she replied "caprese" and we were so confused.
We probably asked her to repeat it four times until she explained that is a traditional island dessert, made with chocolate and almonds.
Think of it as a not-as-sweet brownie with nuts, topped with powdered sugar, and fresh fruits.
Lemon Everything
Probably the most surprising thing about food in Capri was the presence of lemon in so many dishes.
Even a lot of the plateware featured hand-painted lemons and bright yellow colors.
Beyond limoncello, you find dishes like lemon risotto or lemon gnocchi.
These dishes use fresh lemon that is grown throughout the island, and it is a refreshing twist on popular Italian fare.
Limoncello & Capri Shandy
Speaking of lemon, you NEED to enjoy lots of limoncello while in Capri.
This boozy beverage is made of lemons and sugar which ferment into a sweet and tart liquor.
You'll find street stands pouring limoncello, gift shops offering samples, and restaurants send you a shot as an after-dinner drink.
We even found a restaurant in Anacapri that offered a "Capri Shady". A refreshing combo of Italian beer topped with a frozen limoncello float.
Try one at Scive Scive Ristorante.
Baba Bread
Italy has no shortage of carbs.
Aside from the pizza and pasta, every meal in Italy comes with a basket full or various breads and crackers to enjoy.
This is prevalent all across the four places we visited in Italy: Rome, Florence, Capri, and Cinque Terre.
But our favorite bread of all can be found in Capri (and nearby Naples) and it is called Baba.
It is light, fluffy, somewhat sweet, and shaped like a popover.
In one meal, it also came in dessert form, filled with a sweet filling.
Fresh Seafood
You can't go wrong ordering seafood dishes while in Capri.
Enjoy fresh lobster, clams, and fish and load up on pasta topped with calamari and mussels while overlooking the brilliant blue coast.
Traditional Octopus Potato Dish
A traditional Capri dish of octopus and potatoes.
It was featured in some sort in almost every one of our dinners, from a gourmet spin or the rustic original preparation.
As lovers of polpo, we enjoyed how light and well prepared this dish was. Especially since we knew the seafood was SO fresh!
Best Isle of Capri Restaurants:
Buonocore Gelateria
The smell of the fresh cones will lure you to this very popular gelato stand.
After learning about how to tell if gelato is fake in Rome, we can wholeheartedly confirm that this gelato is in fact "real".
Since this is the best gelato in Capri, there is often a line, but it moves pretty fast considering how popular it is.
Via Vittorio Emanuele, 35, 80076 Capri NA, Italy
Limoncello Di Capri Srl Limoncello Factory
While exploring Anacapri, we discovered a limoncello factory.
While it seemed more similar to a gift shop with a distilling still in the back, they informed us that they make the majority of the limoncello for Capri.
Stop in for samples of their limoncello, limoncello cream, or limon grappa, which is made with the lemon skins.
We thought the grappa was unlike any liquor we've tasted before, and picked up a bottle for home.
15 Localita' Maresutto, Anacapri, NA 80071, Italy. http://www.limoncello.com/en/
Ristorante Mamma
For an impressive Capri gourmet restaurant, head to Michelin star Mamma restaurant.
The restaurant is situated at a high elevation so the dining room features a stunning view of the ocean below.
We absolutely loved the cuddlefish, octopus, and lobster salad. Additionally, we also enjoyed other seafood-focused menu items like their decedent sea urchin pasta.
Like most of Capri, lemon was also featured in a number of the dishes, including a lemon gnocchetti. These were the teeny tiniest gnocchis we have ever seen.
A final highlight of the meal was the coconut cream ice cream that was served with a sweet, mango passionfruit dessert.
Via Padre Serafino Cimmino, 6, 80076 Capri NA, Italy. https://www.ristorantemamma.com/en/
Ristorante Monzu
For another romantic meal, we didn't have to travel far.
Ristorante Monzu is located inside the Punta Tragara hotel.
As you can imagine, just like the hotel rooms, this dining room also boasted stunning views.
The most memorable part of dinner was surprisingly the pork dish. It was by far, the best pork belly we have tasted.
We asked their secret and found that they only use young suckling pig and braise it for such a long time that is basically melts like butter. It was remarkable.
Via Tragara, 57, 80073 Capri NA, Italy. https://www.hoteltragara.com/it/ristoranti-e-bar/ristorante-monzu.html
Ristorante La Fontelina
About an hour before needing to leave to take the journey to our departing ferry, we took the trail that was right outside our hotel.
It was a somewhat steep trail down to the cliff. At the bottom was the Fontelina. It offered a beach club as well as a restaurant.
This was pretty out of the way to get to, so we were shocked that at 1pm they didn't have lunch seating available unless you had a reservation.
Maybe it was our big camera that convinced him, but we were able to charm our way into securing a table.
It was the perfect final meal to take in the beautiful view as we drank a bottle of white wine while we ate seafood pasta and grilled baby octopus.
While the food wasn't specifically noteworthy, the view sure was, see below.
Come here to take in the views of waves crashing the ocean and enjoy a bottle of wine (but not a drop more as the hike back up the trail was QUITE the workout).
Via Faraglioni, 2, 80073 Capri NA, Italy. https://www.fontelina-capri.com/
What to do in Capri Italy
Visit the Blue Grotto
This was our top pick for experiences in Capri (as with the majority of people traveling to Capri).
The Blue Grotto is a sea cave that is illuminated a vibrant blue color (similar to the Malta blue lagoon).
Visitors enter the Blue Grotto via a row boat, needing to duck in order to fit through the entrance of the cave.
Unfortunately, the Blue Grotto is only open when the sea is calm and tides are low. As you can imagine, the night after a tropical storm equated to large waves which made the Blue Grotto unsafe to enter so it was closed for the day.
We only had a small amount of time in Capri, so we rearranged our travel (again) and paid for an changed train ticket (again) in order to get more time in Capri on our final day, in hopes to experience the Blue Grotto.
Sadly, it was also closed on our final day.
The moral of the story is that the Blue Grotto is quite contingent on the weather and sea conditions.
Make sure you leave a flexible schedule and attend this attraction the first day if it is open and available.
If you go, tag us in pics on Instagram (link) so we can live vicariously through you since we weren't able to see it!
Relax at a Beach Club
If your lodging accommodations do not have an amazing pool, make your way to a beach club.
These are gorgeous areas on the coast where you pay a cover charge to lay out and bask in the sun.
The Fontelina restaurant that we dined at was overlooking a beach club, and it was breathtaking.
Although we stayed at our hotel pool instead of joining a beach club, we recommend this as a terrific option for budget travelers who decide to forgo a pool view at their hotel or rental.
The cover charge at the Fontelina was 25 euros per person.
Keep in mind that towels, chairs, and umbrellas were an additional cost.
Visit Anacapri
Ana is an ancient Greek prefix which means "above". It is a very fitting name as Anacapri is the highest point on the island of Capri.
It is a terrific day trip while you're vacationing on the isle of Capri Italy.
In terms of getting to Anacapri, head to the city center to find the cabs or buses.
Cabs are literally the coolest in Capri. They look like minivans that were turned into convertibles! Their unique charm also means they are more expensive, as a ride to Anacapri will run you about 20 euros.
Capri has the most easy-to-use bus system of anywhere we've traveled and getting to Anacapri is only 2 euros per person via bus.
Whichever method of transport you choose, you'll find joy in taking the hairpin turns, riding the edge of the cliff until you reach Anacapri.
There are lots of shopping options and food. You can even a chairlift ride to Mount Solaro get an even higher view of Capri's brilliance.
Buy Some Custom-made Capri Sandals
The sandals of Capri are absolutely gorgeous.
From luxe leathers, to metallic materials, and glistening rhinestones, it's mesmerizing to watch the shoes get made.
The more elaborate the shoe, the more expensive they become. Karen got a simple leather pair which ran about 70 euros. A pair with lots of crystals can run over 300 euros for the sandals.
Whatever your style, it is a perfect souvenir to commemorate your time in Capri.
Best Hotels in Capri
There are many beautiful hotels in Capri, but we were so grateful for the opportunity to stay at the Punta Tragara, one of the best hotels in Capri.
We basked in the most breathtaking views of the faraglioni rocks, right from our balcony.
This five-star luxury retreat features two pools overlooking the ocean, one of which had massage jets!
Near the pools were brilliant gardens and lounge chairs for you to enjoy an aperol spritz while gazing at the brilliant blue coast.
Of course their restaurant had a unbelievable view as well.
This boutique hotel was built in the 1920s as a private residence.
Over the years, dignitaries like Winston Churchill and Dwight D. Eisenhower visited the Punta Tragara.
We stayed in a number of incredible hotels together, but this Capri hotel was the most beautiful.
Via Tragara, 57, 80073 Capri NA, Italy. https://www.hoteltragara.com/it/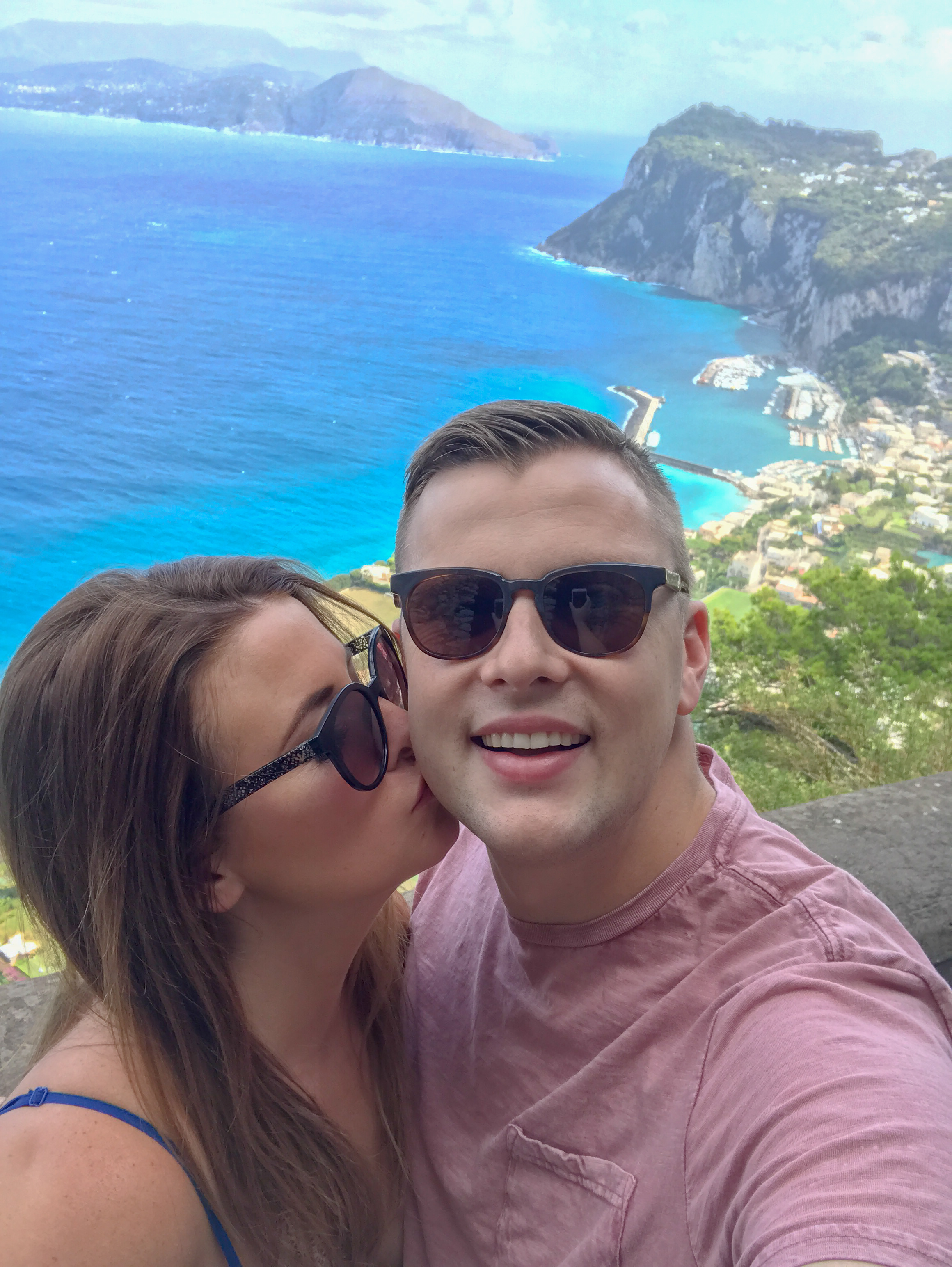 Writing this guide has us dreaming of visiting Capri once again.
It is the perfect spot in Italy to relax, catch some sun, and appreciate the beauty of the Amalfi Coast.
You better bet that next time we WILL make it to the Blue Grotto!
Click this link to pin this post for future reference. If you visit one of these spots based on our recommendations, let us know by tagging @coupleinthekitchen on social media!