New Orleans: a city filled with history, culture, Southern food and its fair share of ghost stories!
There is something so special about the charming architecture and brass band music filling the streets of Nola.
Cuisine from "the big easy" is big and heavy. Most regional dishes include seafood pulled right from the gulf.
Food is often deep fried and commonly has a Cajun kick.
Sounds pretty awesome, right!?!
Keep reading to learn about the best food in New Orleans, Louisiana.
Top New Orleans Food:
Beignets – Deep fried pillows from heaven aka fried dough covered in powdered sugar.
These are an iconic (and messy) part of Nola culture.
You'll notice a massive line outside Café Du Monde, the most famous beignet spot in town, although they are delicious, keep reading to learn where we prefer to get our beignets instead!
Gumbo – This New Orleans tradition stems from the 18th century and can be found prepared in a number of ways.
It is usually served over rice and contains sausage and shellfish, celery, onion and bell peppers.
What is interesting about Gumbo is that it has been around for over 300 years and combines influence from many cultures: French, African, German and Spanish.
Gulf Oysters – Typically larger in size compared to East or West coast oysters, you'll find Gulf oysters all over New Orleans.
Eat 'em raw, grilled, broiled, fried, you name it!
Karen was once in an oyster eating competition and devoured 29 oysters in 60 seconds.
Gavin usually just sticks to a half of a dozen!
Crawfish – Locals can throw down 5 pounds in one sitting!
Although it can be a lot of work, crawfish boils are a great way to experience crawfish and Southern tradition.
Be prepared to dive into massive amounts of seasoned and boiled "mud bugs", corn, potatoes and sausage.
If you are looking for a less messy meal, keep your eyes peeled for crawfish added to pastas and dips.
Po' Boys – Legend says these sandwiches were originally created as a cheap way to feed streetcar workers who were on strike.
The fillings can be very diverse, but po' boys always feature New Orleans style French bread.
You can find these sammies stuffed with all types of goodies: shrimp, crab, oysters, roast beef, catfish, or even alligator.
Muffuletta – Italian immigrants created this delicious sandwich made of its infamous marinated olive salad, layers of meats, cheeses, and a soft circular round sesame bread.
They are seriously huge in size so consider getting a ¼ or ½ sandwich to avoid a total food coma.
Hurricane – This boozy and sweet drink originated from Pat O'Briens in the 1940's.
This rum-based cocktail remains popular in the French Quarter ever since.
Honestly, it is not our favorite drink because it is really sweet, but we still order one every time we are in the city… because tradition.
Things to do in New Orleans:
Get spooked on a Voodoo Tour – The Big Easy is known for their tales of ghosts and voodoo.
Take a free walking tour to hear learn about the folklore and history!
We opted to take the Voodoo Tour where we learned the history of voodoo, its presence in Nola, walked by some haunted houses, and ended our journey at a voodoo shop.
Did we buy a voodoo doll? You'll never know.
Explore Mardi Gras World – It was a total washout during two days of our trip.
We found ourselves searching for what to do in New Orleans when it's raining.
Mardi Gras World was the perfect break from the rain! This venue acts as both a museum and a production facility.
Start by learning the history of Mardi Gras and the common traditions.
Then take a tour around the warehouse to see props and floats being made right before your eyes.
You'll also have a blast looking at all the previously used props and statues.
Mardi Gras World, 1380 Port of New Orleans Pl, New Orleans, LA 70130
Check out some gators on a Swamp Tour – The rain finally stopped on our last day, so we headed to the bayou to hopefully see an alligator on our swamp tour.
We were picked up right at our hotel and driven on a tour bus to a wildlife sanctuary about an hour away.
From there, we hopped on an airboat and cruised across the swamp in search for alligators.
Within only minutes, we saw 5 alligators.
We were amazed by the size of some of them and were mesmerized when they swam toward to boat to eat… marshmallows.
Who would have thought, right?!
This is a perfect half-day adventure to get out of the city to explore more of the state of Louisiana.
Louisiana Tour Company, https://louisianaswamp.com/
Stumble down Bourbon Street – Love it or hate it, Bourbon Street is a sight that you must see while in Nola.
Take a stroll down this iconic cobblestone street and pop into bars for live music and drinks.
You'll find many walk-up shops along the way selling "Big-ass beers" in cups that are shaped like butts and sugar-filled daiquiris and hurricanes in overpriced commemorative glasses.
Have a drink at the oldest bar in the US – Just a short stroll down Bourbon Street will bring you to Lafitte's Blacksmith Shop.
This is regarded as not only the oldest bar in Nola, but in the whole US!
This spot is also considered one of the most haunted places in Louisiana.
The bar is small and dimly lit, but it also includes a patio area.
They are known for their Frozen Voodoo Juice, a boozy, frozen purple daiquiri served in a Styrofoam cup.
We tried it, we didn't really like it, but hey, it's all about the experience, right?!
Lafitte's Blacksmith Shop, 941 Bourbon St, New Orleans, LA 70116 http://www.lafittesblacksmithshop.com/Homepage.html
Party on Frenchman Street – When it comes to nightlife, we prefer heading to Frenchman Street over Bourbon Street.
It still features a line-up of many bars, live music and the occasional pop-up brass band in the street, but it is a bit cleaner.
We also love that it has an outdoor art market that goes until late in the evening and you'll even see some late-night street food vendors set up to feed the booze-filled crowd.
Rather than eating the street food being cooked out of someone's pick-up truck, we headed to Dat Dog for a beer, a Chicago Dog, and some of the tastiest bacon cheese fries!
Dat Dog, 601 Frenchmen St, New Orleans, LA 70116 http://www.datdog.com/
Go Ghost Hunting – Karen joined some friends for a ghost tour around the French Quarter.
During the second half of the tour you get to try out some ghost hunting equipment in a house with a lot of spooky history.
It was one of the most memorable (and scariest!) activity to experience.
We highly recommend this as the best ghost tour in New Orleans.
Book the French Quarter Supernatural and Ghost Hunting Tour at http://bloodymarystours.com/tours-html/.
Try your luck at the Casino – Harrah's Casino was also our savior during a night of torrential downpours.
Gavin hit up the Texas Hold 'Em tables, while Karen even made some cash money at a slot machine! (Then she tried to play Hold 'Em at a casino for the first time and lost all her winnings, UGH).
Harrah's Casino, 228 Poydras St, New Orleans, LA 70130 https://www.caesars.com/harrahs-new-orleans
Best Restaurants in New Orleans:
Central Grocery – This is a great place to get an authentic muffuletta sandwich.
The Italian market is simply charming with its old school, casual dining set up.
It's a perfect spot for a quick bite while walking around the French quarter.
We even picked up a jar of their muffuletta to bring home (tip: try mixing it into your scrambled eggs)!
http://centralgrocery.com/ 923 Decatur St, New Orleans, LA 70116
Turkey and the Wolf – This restaurant has drawn a lot of praise from publications and food critics, so of course we needed to taste this hip, New Orleans restaurant.
Even though we were road tripping through Nola in a massive RV, we somehow found a way to park it along the neighborhood near The Turkey and the Wolf.
They are known for their fried bologna sandwich, which was topped with potato chips and so uniquely tasty.
We also loved their deviled eggs and more specifically, their cabbage salad! It was packed with big flavors and great textures.
739 Jackson Ave, New Orleans, LA 70130 http://www.turkeyandthewolf.com/
Stein's Market Deli – Another scrumptious spot for one of the best sandwiches in New Orleans.
This Jewish Deli is packed with attitude. The no-nonsense vibe (have your order ready or the cashier will likely give you a hard time) paired with a massive canned and bottled beer selection attracts an audience young and old.
The corned beef and pastrami is so juicy and tender so we recommend ordering a Rueban, Rachel, or Sam sandwich.
2207 Magazine St, New Orleans, LA 70130. http://steinsdeli.com/
Lula Restaurant & Distillery – This spot is the only distillery & restaurant in Louisiana.
Their vodka, rum, and gin is made onsite in copper kettles at the gorgeous restaurant, and the bartenders have crafted some pretty tasty cocktails.
The food was also terrific, make sure to order the crawfish mac and cheese.
1532 St Charles Ave, New Orleans, LA 70130 http://www.lulanola.com/
Redfish Grill – One of our most memorable dishes during our getaway was at Redfish Grill.
We can't stop thinking about the BBQ crab claws.
Sweet and luscious crab was deep fried, placed in a buttery gravy sauce, complete with a cheddar-scallion drop biscuit.
Make sure you try this dish while you are visiting The Big Easy.
115 Bourbon St, New Orleans, LA 70130 http://www.redfishgrill.com/
Napoleon House – This 200+ year old mansion was once home to the first mayor of New Orleans.
It now acts as a landmark in the French Quarter, offering iconic New Orleans style cuisine.
If you grab a drink at the bar, you should try one of the Pimm's Cups.
They are also well known for the 'Po Boys and Muffuletta Sandwiches.
Rumors share that the Napoleon House is supposedly haunted.
During our visit, we received a private tour of the upstairs levels. Although we did not see any ghosts, we definitely felt on edge when shutters were opening and slamming shut during the rainstorm.
500 Chartres St, New Orleans, LA 70130 napoleonhouse.com
Down By the Bayou (DTB) – This was a brand new restaurant that opened in the neighborhood near Tulane University that we needed to check out.
Their entire menu is sourced from Louisiana and they provide upscale comforting favorites, like perfectly fried catfish and a crawfish hand pie eggs benedict (both were favorite of ours).
The décor was enchanting as air plants hung from the rafters and the space was filled with lots of light from modern light fixtures and tall windows.
Be sure to try out a few of their specialty cocktails while you're there.
https://www.dtbnola.com/ 8201 Oak Street, Suite , New Orleans, LA 70118
Cochon Butcher – If know us, then you know we are big fans of bacon!
After exploring Mardi-Gras World, we went down the road to the famous Cochon Butcher for a local beer and handcrafted meats, all of which are being sliced on-site.
We absolutely recommend the Buckboard Bacon Melt, which tasted like a high-brow BLT seriously loaded with meat.
cochonbutcher.com 930 Tchoupitoulas St B, New Orleans, LA 70130
Commanders Palace – If you are looking for the ultimate dining experience and want to splurge, head to this iconic institution for their tasting menu.
You'll experience gourmet dishes in a romantic atmosphere and some of the best service we have experienced, anywhere.
Be sure to order their world-famous turtle soup, which takes three days to prepare, as well as the souffle.
1403 Washington Ave, New Orleans, LA 70130 commanderspalace.com
Poke Loa – Like we shared above, New Orleans food is delicious, but it can be really heavy.
If you are looking for a lighter bite, we totally recommend stopping by Poke Loa, a new poke shop on Magazine Street.
It was a nice break to have a bowl loaded with raw, fresh fish, crunchy veggies (see Mom, we eat veggies sometimes), and scrumptious sauces.
3341 Magazine St., New Orleans, LA 70115 https://www.eatpokeloa.com/
Luvi – This is another great spot for fresh, light fare.
This newly opened sashimi spot crafts lovely flavors to complement the freshest fish.
The dumplings, which are made from the owner's mother's Shanghai recipe, are tender and come soaking in a bowl of terrific sauce.
Gavin was obsessed with the dan dan noodles. They weren't as spicy was traditional dan dan noodle dishes and had a smooth peanut taste in the sauce.
The décor was equally as stunning.
5236 Tchoupitoulas St, New Orleans, LA 70115 http://www.luvirestaurant.com/
Shaya – This modern Israeli restaurant has received TONS of accolades in the past few years, including a James Beard Award.
We enjoyed getting a bottle of wine and noshing on their fresh from the pit pitas!
Stick to sampling all the hummus and small plates and you'll still leave stuffed!
4213 Magazine St, New Orleans, LA 70115 http://www.shayarestaurant.com/
Sucre – Take a break from beignets and switch up your pastries at Sucre.
This cute café offers gelato, rows and rows of macarons, and other sweet indulgences.
Named one of the best eclairs in the world, we spent Sunday morning with a latte and the cream filled pastry. We agree, it was one of the best eclairs we have tasted!
We even flew one back 1,200 miles to family and it surprisingly survived the long journey!
Multiple locations. https://www.shopsucre.com/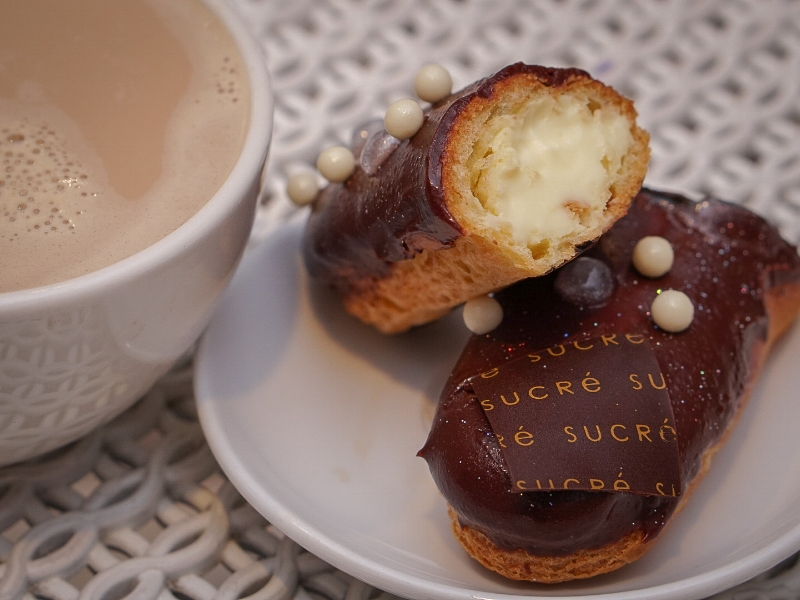 Where to stay in Nola: New Orleans Hotels
Royal Sonesta – We couldn't be more satisfied with our stay at the Royal Sonesta. The location just couldn't be beat.
This luxury hotel is arguably the nicest hotel on Bourbon Street.
The room décor has been updated to a modern ambiance, yet you can still experience the historical flair of this old hotel through the chandeliers, fountains, and charming registration area.
The hotel holds Desire oyster bar, where upon arrival we sat overlooking Bourbon Street, toasted campaign, slurped gulf oysters and people-watched!
They also offer the Jazz Playhouse inside the hotel. An iconic and cozy Jazz Club that even has Stevie Wonder throw a surprise show there in recent years!
300 Bourbon St, New Orleans, LA 70130 https://www.sonesta.com/us/louisiana/new-orleans/royal-sonesta-new-orleans
Photo: Royal Sonesta
Airbnb – On a previous trip to Nola, Karen and a friend were able to find a really charming condo on Airbnb right around the corner from Bourbon Street.
If you are into old architecture, New Orleans definitely take a peek at Airbnb to what kinds of unique lodging options you find!
Loving Louisiana? Check out this Guide on Where to Eat in New Iberia, Louisiana.
Get $40 off your first stay with this link: https://www.airbnb.com/c/gbooth Click this link to pin this post for future reference. If you visit one of these spots based on our recommendations, let us know by tagging @coupleinthekitchen on social media!