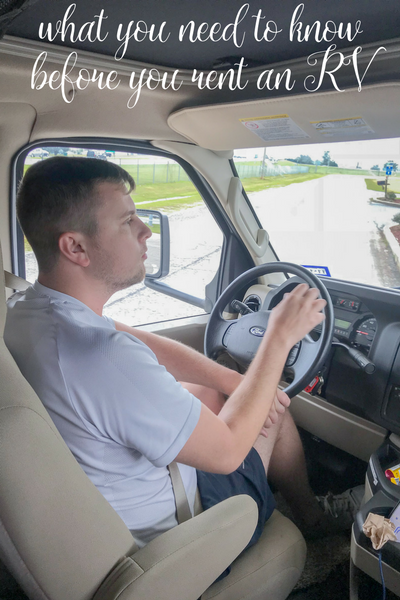 After completing our first road trip with an RV we rented from Outdoorsy, we look forward to our next road trip – and you should too! We wrote about 6 Reasons to Road Trip with an RV Rental. Here are some facts we learned about RV life that might answer some of your questions!
Do you need a special license to drive an RV?
It depends. For most RV rentals, a standard driver's license is fine. There may be limitations if you rent a Class A RV (gross combination weight rating of 26,001 lbs. or more). For our RV road trip, Gavin drove a 32-foot motorhome with his standard driver's license with no problem.
Is it difficult to drive an RV?
Driving an RV is similar to driving a car, but there are certain things to keep in mind. Since RVs are so long, you want to be mindful of your turns. Additionally, keep in mind that you'll need a lot more room to park. Make sure you allow plenty of room for your turns, use your mirrors, and you'll be fine.
What do you need to know to operate an RV?
Although we have been in RVs before with our parents, it was our first time renting ourselves. When we picked up the RV prior to the trip, we went through a 90-minute orientation on the vehicle. This included how to turn the water and electricity on and off, how to manage your hook-ups once you get to your campsite, and of course… how to empty the crapper. Trust us, if we can manage all of this at 1am in New Orleans after a few drinks, you'll be fine. Also, if you have any questions, the RV owner was just a text away!
What's included in the RV?
Be sure to check on what is included in the RV prior to picking up the rental. Most RVs available for rent on Outdoorsy offer extra amenities at an additional cost. It certainly helps to take the thought out of remembering everything you want to bring for a fun road-trip (camping chairs, grill, kayaks, oh my!). However, to save costs you may consider providing your own bedding, pillows, towels, and cookware. It's good to figure this out beforehand so that you are prepared to load up your RV rental and hit the open road, quickly.
What else do I need to know about driving an RV?
One thing that we did not consider until we went through our RV orientation is that travel takes a bit longer in an RV. Most RVs cannot go over 70 miles per hour and your pit stops take longer to fill up the tank. We were anticipating our drive to New Orleans would only take 8 hours, but in reality, it took close to 11 hours. Plan on leaving earlier so you don't end up like us where we arrive at our RV resort at 1am!
Check RV Rentals in your Area:
We're an open book! What other questions do you have about RV life?!
If this post inspired you to take an RV roadtrip, drop a note or tag us in social media!