Let's talk about the best Texas wines!
We have been drinking our way through Fredericksburg and the Hill Country to rate every Texas winery on quality of wines and the overall ambiance of the vineyard and tasting room (read our Complete Guide to Fredericksburg TX Wineries for detailed notes and our most up-to-date ranking of the wineries) and wanted to share more about the wine region we know and love.
Texas may not be the first state that comes to mind when you think of wine production, but it is actually the fifth-largest wine producer in the United States.
In fact, Texas is the site of the very first vineyard in North America, which was established by Franciscan priests in about 1662.
Some of the oldest wineries in Texas, such as Val Verde Winery founded in 1883, were founded by European immigrants who brought their winemaking expertise to the state.
With its rich history, diverse geography, and ideal grape-growing climate, the Lone Star State has emerged as a world-class wine region, producing high-quality wines that have been recognized at international wine competitions.
The Texas wine region is spread out across the state in eight different wine regions.
There are three main wine regions: Texas High Plains, Hill Country AVA, and the Pedernales River Valley.
Each region has its own unique characteristics and produces a variety of wines that are reflective of the local terroir.
Today, the Texas wine industry continues to thrive, with over 500 wineries and tens of thousands of acres of vineyards.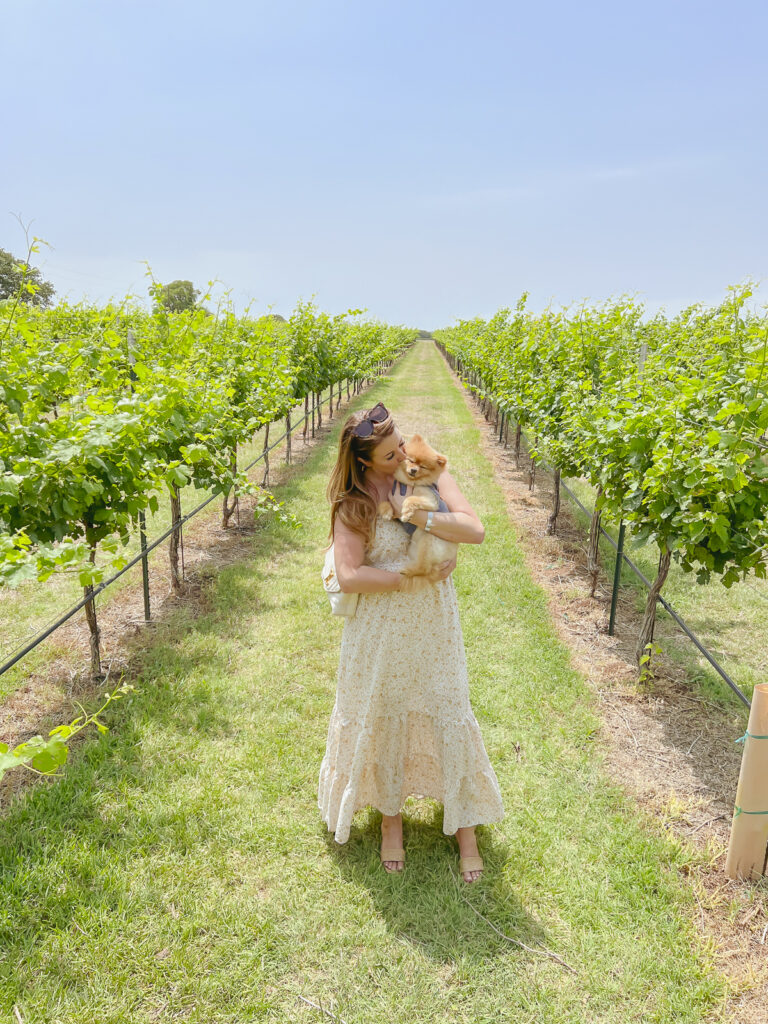 Characteristics of Texas Wines
One of the key characteristics of Texas wines is attributed to the state's hot and dry climate.
The summers are long and hot, with temperatures often exceeding 100 degrees Fahrenheit, while the winters are mild and dry.
These extreme temperature variations can be challenging for grape growers, but they also provide the perfect conditions for certain types of grapevines to thrive.
The hot and dry climate helps to concentrate the flavors and aromas of the grapes, resulting in rich and complex wines.
Another important factor that contributes to the unique flavor profile of Texas wines is the soil.
The state's wine regions are characterized by diverse soil types, including sandy loam, limestone, and granite.
This soil diversity provides different levels of nutrients and minerals to the vines, which can impact the flavor and texture of the grapes.
For example, limestone soils are known to produce grapes with higher acidity, while sandy loam soils produce grapes with softer tannins.
Finally, Texas wines are known for their unique flavor profile.
Texas wines are known for their full-bodied, bold flavors and high acidity.
Many Texas wines have a distinct boldness and complexity, with flavors of dark fruit, tobacco, and spice.
This is due to the hot and dry temperatures, which helps to develop the intense flavors and aromas in the grapes.
Due to the hot climate, Texas wines tend to have higher alcohol levels and lower tannins than wines from cooler regions.
Texas wines are also known for their fruity flavors, with notes of ripe berries, stone fruits, and citrus. Overall, Texas wines are unique and diverse, with each winery producing its own distinct style.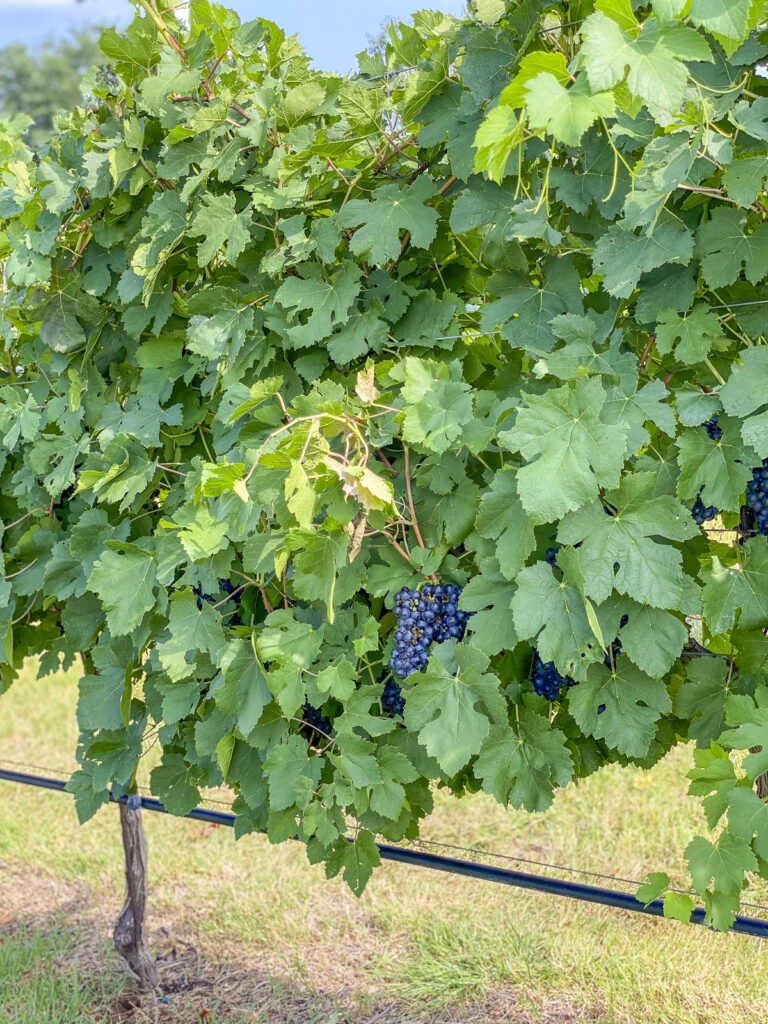 Types of Grapes that Grow Best in Texas
The grape varieties grown in Texas are also a key characteristic of Texas wines.
The state is home to a wide range of grape varieties, including both European and hybrid varieties.
The Texas wine industry has focused on growing grape varieties that thrive in the state's hot and dry climate.
Some of the best grape varieties for Texas include Tempranillo, Mourvèdre, Sangiovese, and Viognier.
These Texas grapes are known for their ability to handle high temperatures and dry conditions, resulting in wines with bold flavors and high acidity.
However, some Texas wineries also grow other grape varieties, such as Cabernet Sauvignon, Merlot, Chardonnay, which are better suited for cooler climates.
These varietals, along with Rhone-style wines, red blends, and dry roses, have helped Texas become a top producer of award-winning wines.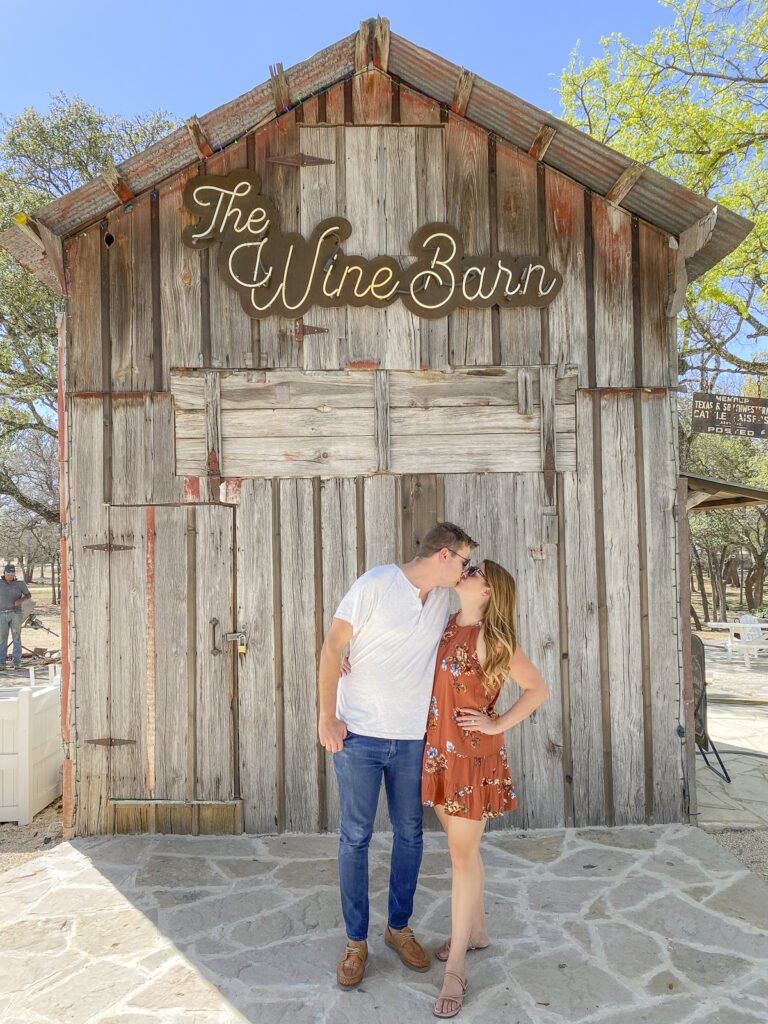 How are Texas Wines Unique?
Texas is over a quarter million square miles in total size, which means there is a lot of space to grow grapes. They can vary differently from one part of the state to the next.
Wines in Texas are unique due to the state's diverse climate, geology, and soils.
Texas is divided into eight different wine regions, each with its own microclimate and soil type.
The state's wine regions range from the High Plains in the north, where the elevation and dry climate create ideal conditions for grape growing, to the Hill Country in the south, where the soils are more varied and diverse.
These unique conditions contribute to the diverse and distinct flavors found in Texas wines.
You'll likely find wines that are a bold red blend, dry rose, and white wines with a touch of minerality and acidity.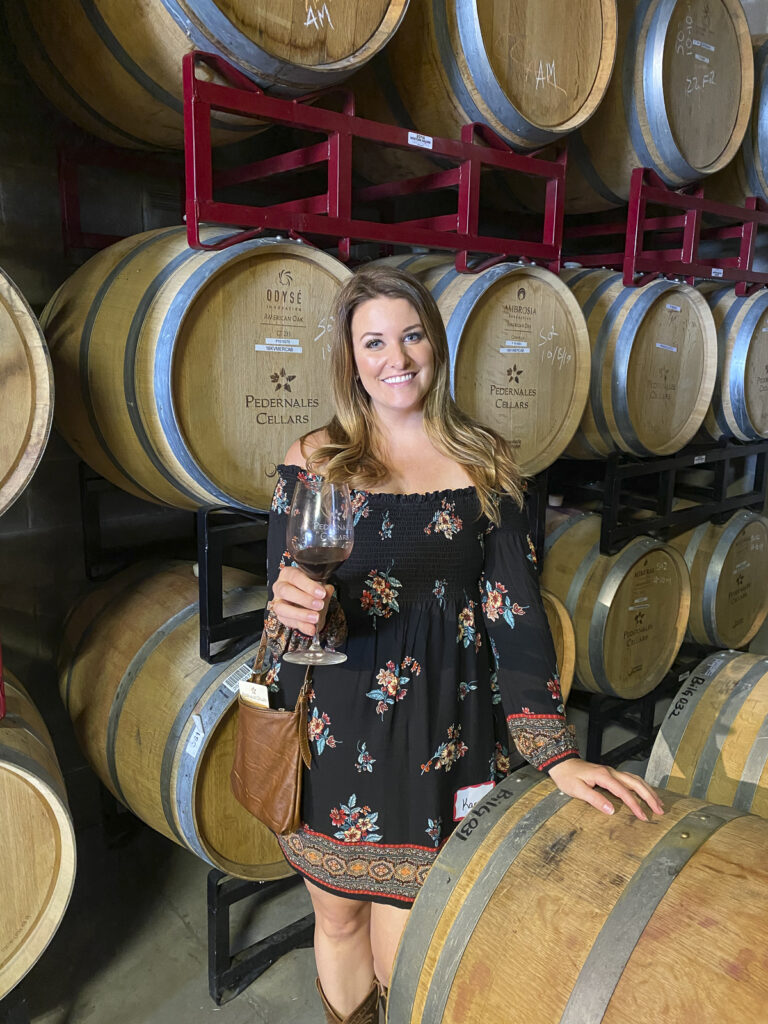 Award-Winning Texas Wineries
Texas wineries have been making a name for themselves in the wine world, with many winning awards and recognition for their wines.
Visitors to Texas can experience the world of wine by visiting some of the best wineries in the state.
Becker Vineyards, located in the Texas Hill Country, has won numerous awards for its Cabernet Sauvignon, Barbara, and other varietals. They've even hosted multiple Presidential dinners with their wine.
Pedernales Cellars, Spicewood Vineyards, and William Chris Vineyards are also top-rated wineries in Central Texas that you can usually find in Spec's.
In addition to local favorites, Texas wines have gained national and international recognition, winning awards at prestigious competitions like the San Francisco Chronicle Wine Competition and the International Wine Competition.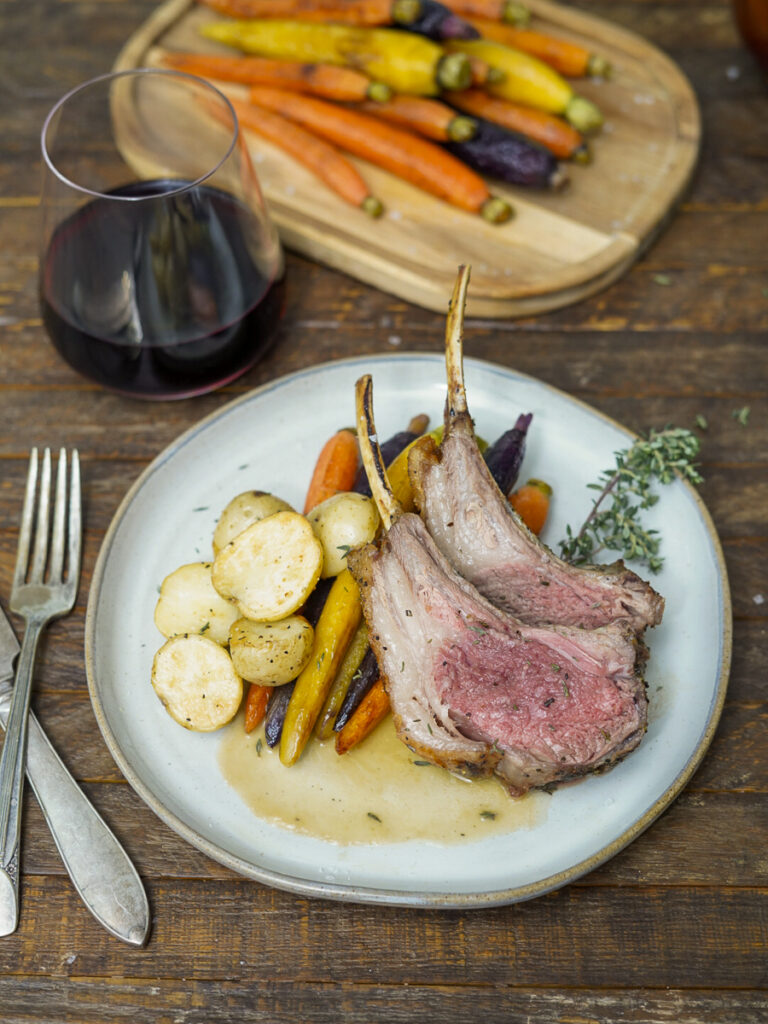 What to Pair with Texas Red Wines
Obviously we are HUGE foodies, so let's talk about pairing Texas wines with delicious food!
Tempranillo is a grape variety that grows really well in Texas.
It is known for its bold flavors and full body, making it an excellent pairing with a variety of foods.
The wine's high acidity and bold tannins help to cut through the rich and savory flavors of these dishes, while its fruity and spicy notes complement the flavors of the food.
Thus a great pairing for Tempranillo is grilled or roasted meats; this is a match made in heaven with Texas barbecue!
The wine's bold flavors and full body make it an excellent pairing with rich and hearty meats such as beef, lamb, and pork. The wine's tannins help to cut through the richness of the meat, while its fruity and spicy flavors complement the flavors of the meat.
Dry Texas red wines also help to compliment spicy foods, which can work perfectly with Tex Mex dishes.
The wine's bold and spicy flavors help to balance out the heat of spicy dishes, while its high acidity helps to refresh the palate between bites.
If all else fails, just make yourself a nice charcuterie board, open up a few bottles of wine, and create your own wine tasting party!
These recipes of ours pair really well with a nice dry, Texas red wine:
A big juicy steak (don't miss our tutorial on How to Cook a Tomahawk Steak), topped with bright, herbaceous Cilantro Chimichurri compliments the wine perfectly.
Texas BBQ will pair really well with a big, bold Texas wine. Pick up your favorite sliced brisket or smoke some BBQ at home. We love making our Smoked Prime Rib Recipe for a nice Sunday dinner to pair with Texas red wine.
Another great pairing with Texas red wine is flavorful lamb. The wine's bold flavors help to balance out the rich flavor of the lamb. Try our Herb Roasted Rack of Lamb Recipe for a fancy meal that is ready in under 30 minutes!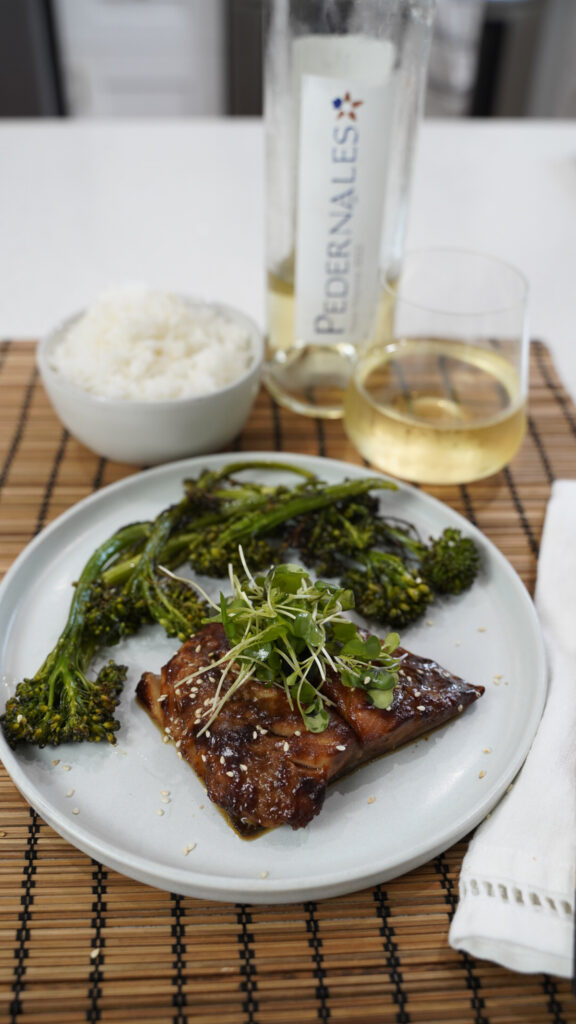 What to Pair with Texas White Wines
While you'll also find some common varieties, like Chardonnay, one of the most common white wine grapes you'll find grown in Texas is Viognier.
It is a white wine that has become increasingly popular in recent years. It is known for its fruity, floral, and sometimes spicy notes, making it a versatile wine that pairs well with a variety of foods. Viognier has a natural spiciness that makes it a great pairing for spicy foods. Thai curries, Indian dishes, and spicy Mexican cuisine are all great options to pair with Viognier. The fruity and floral notes of the wine help to balance the heat of the dish. These types of wine also pair well with fish and seafood.
Additionally, higher acidity white wines work great with rich, creamy dishes to counteract the heaviness of the meal.
These are our favorite recipes to pair with a Texas white wine:
Most varieties of Texas white wines pair really well with seafood. Open up some Texas wine, make our Seafood Boil Recipe and host a party! Or make our Nobu Black Cod Recipe for a great fish pairing.
Asian dishes with a kiss of spice work well with this type of wine. Our Thai Curry with Scallops recipe is bursting with flavor. Feel free to substitute scallops for shrimp, chicken or even just veggies!
To offset heavier, creamy dishes, like our Creamy Chicken Risotto Recipe, pair it with a Texas white wine that has some acidity.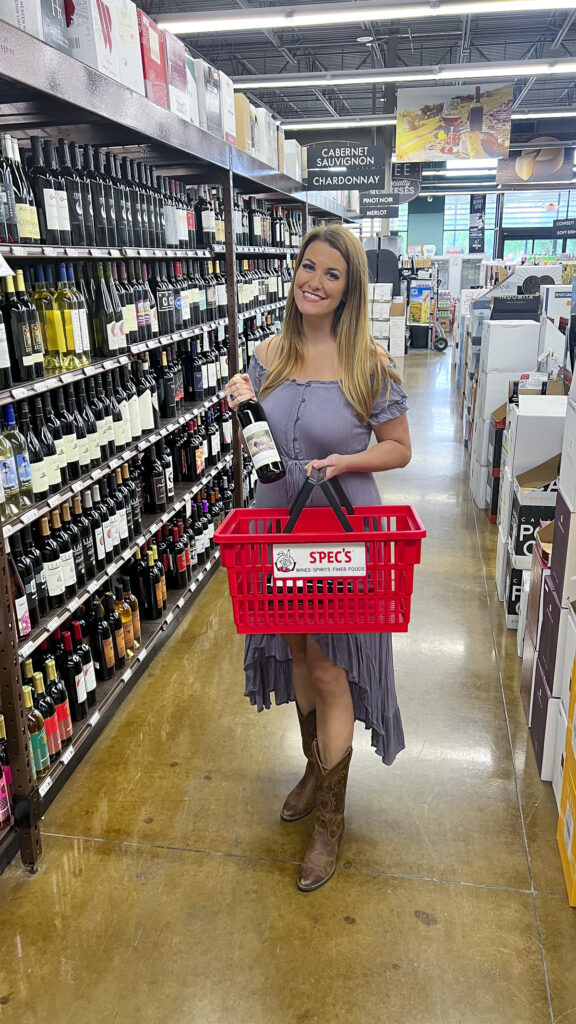 Recommendations for Best Texas Wines
Rather than having to travel to wineries to get your hands on Texas Wines, you're able to purchase a wide variety of Texas Wines right at Spec's!
Varying in style, Spec's offers Texas wines from all across the state.
Here are some of the best Texas wines to pick up from Spec's:
Becker Reserve Tempranillo:
We're a huge fan of Becker Vineyards. We've been wine club members for a number of years and visit the vineyard pretty often. Spec's has a wide selection of world-class wines from this winery. Becker Reserve Tempranillo is rich in garnet color and is a balance between earthy notes and dried figs.
William Chris Skeleton Key:
One of the first Texas wineries that we have come to love was William Chris. In the past few years, this vineyard continues to grow and garner national accolades. This award-winning winery recently added a new gorgeous tasting room. Their Skeleton Key wine is a rich Cabernet Sauvignon that has been aged in oak barrels.
We've also spent a lot of time at Pedernales Cellars, which is not far from Fredericksburg, Texas. Pedernales Cellars' Viognier is a white wine that's perfect for a hot, Texas day. With tropical flavors, it reminds us of a fuller-bodied Sauvignon Blanc.
Messina Hof has been a Hill Country winemaker for decades. They have experience making Texas wines long before the notoriety made its way to Texas wine country. While we typically drink more dry wines, Messina Hof's Beau has a kiss of sweetness that can still hold up next to spicy foods or bold barbecue dishes.
Texas SouthWind Blackberry:
If you are someone who is looking for a fruit wine, Texas South Wind offers a number of fruit-centric wines. From peach, to cranberry, to blackberry, there is a flavor for everyone. The Texas SouthWind Blackberry is a gold medal winner!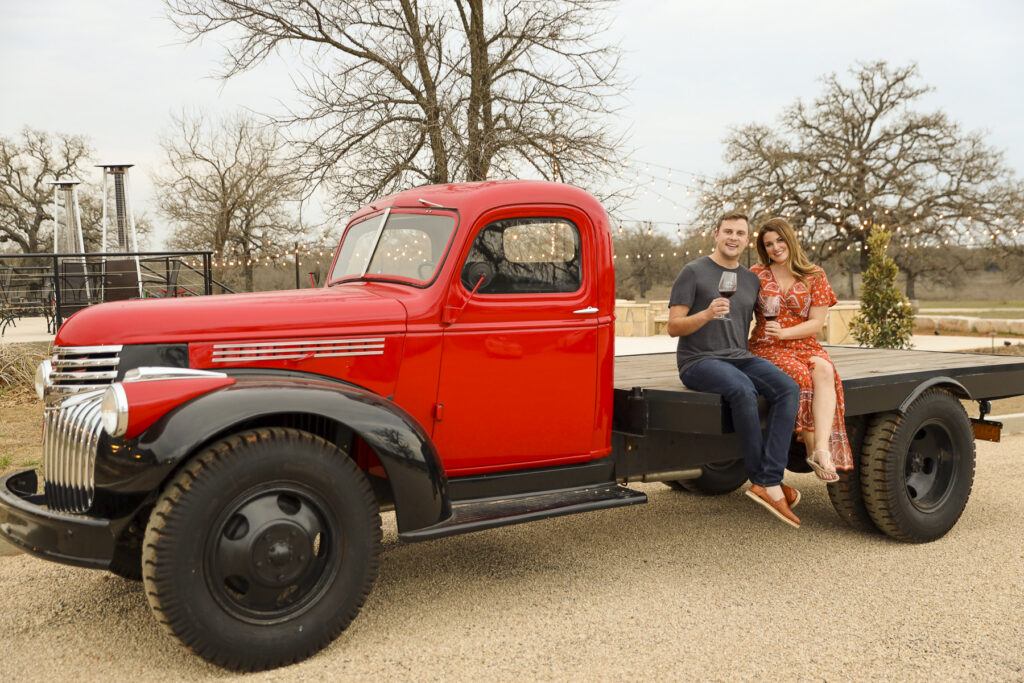 Plan a Trip to Fredericksburg
We love the Hill Country wine region so much that we actually bought a vacation rental! Read about our Fredericksburg Bed and Breakfast and reserve your stay at our Fredericksburg Airbnb.
These guides will ensure your trip to Fredericksburg wine country is memorable:
We are exploring the Texas High Plains next month and will be sure to share our winery recommendations as well as the Best Things to do in Lubbock for Couples!
Whether you are a seasoned wine connoisseur or just beginning to explore the world of wine, Texas is a great place to discover some of the best wines in the world.
With its diverse geography, ideal grape-growing climate, and passionate winemakers, the Texas wine region continues to produce some of the most high-quality wines that are appreciated by wine lovers all over the world.
Click this link to pin this guide on Texas Wines on Pinterest.
Also, don't forget to follow us on instagram and facebook for more recipes and foodie recommendations.
If you'd like to automatically receive our posts in your email, register here.