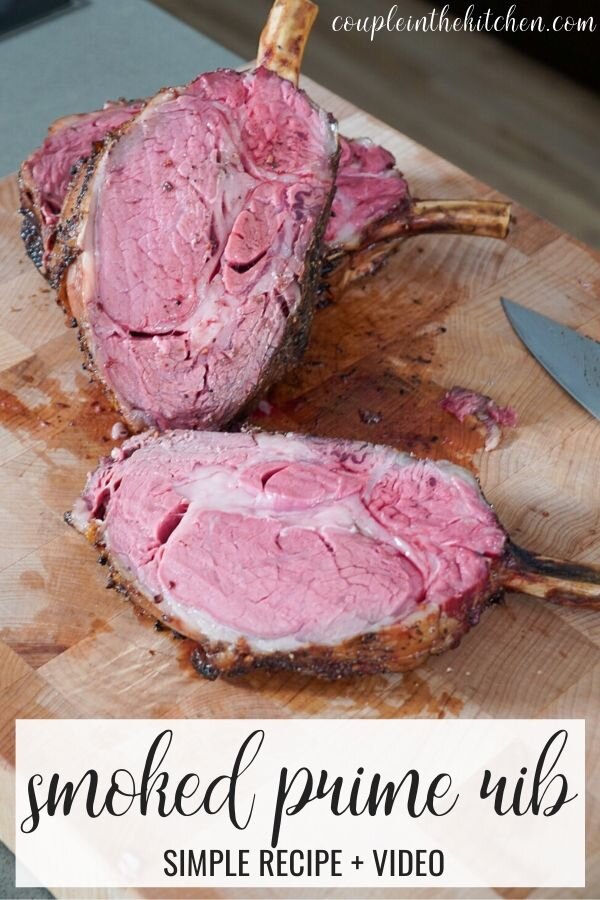 Prime rib is delicious, but have you tasted a smoked rib roast?!
We think that the perfect prime rib is created by cooking a rib roast in a smoker. It's not just the fact that we're from Texas and love to barbecue everything, we're confident that you once try a smoky, slow roasted prime rib, you'll agree that it is without a doubt the best prime rib recipe.
We partnered with Omaha Steaks to show you the ropes on cooking prime rib using a smoker. We reach of a beef rib roast that is bone-in, because they are hand-selected and perfectly trimmed by hand from Omaha Steaks' expert butchers.
Check out this video:
Smoked prime rib time per pound
On your day of smoking start by getting your smoker to a temperature of 225 degrees fahrenheit.  
For a rare to medium rare roast you should plan between 35-37 minutes per pound at this temperature, but to be safe having a meat thermometer in your roast while smoking will help you achieve optimal smokey results.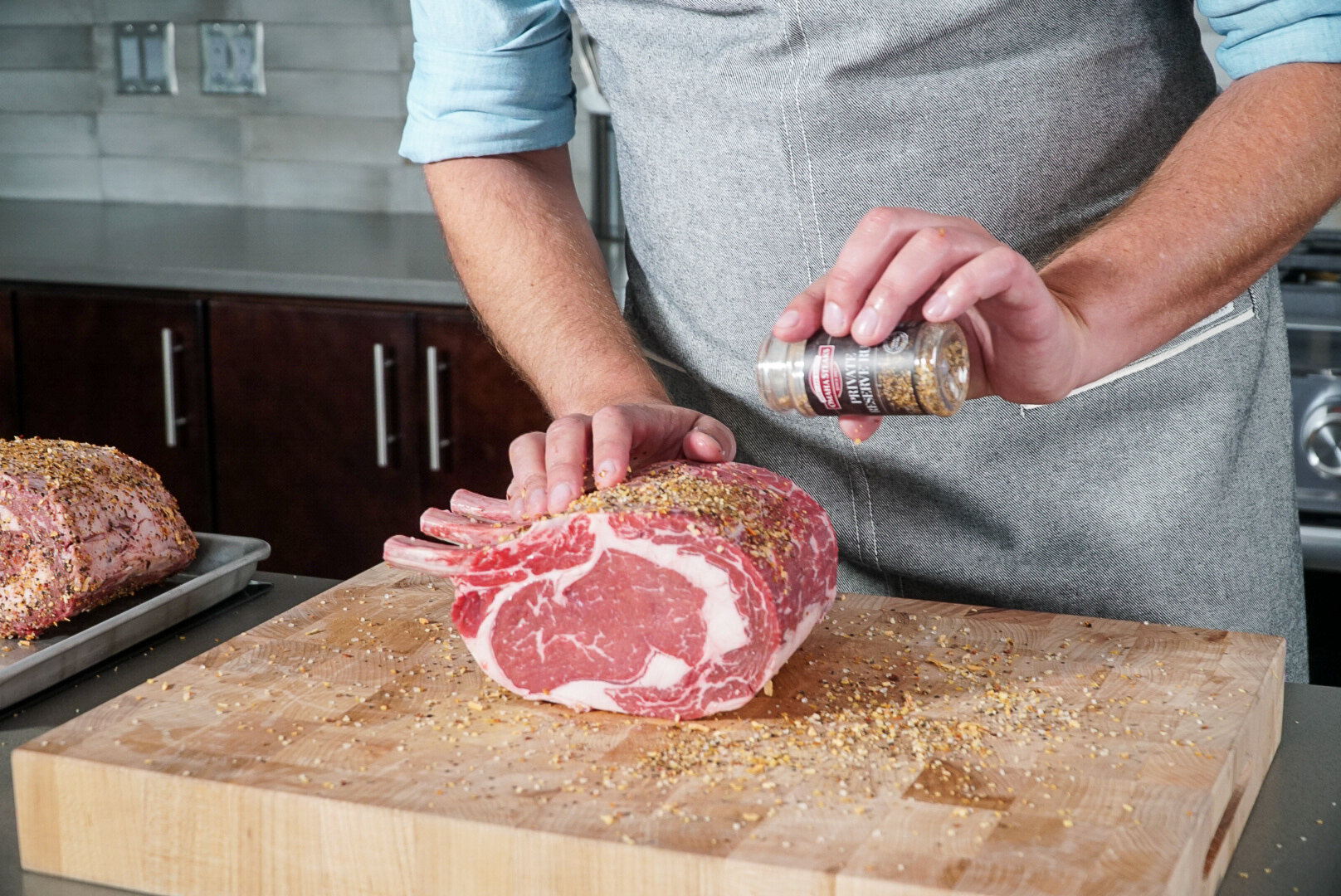 Preparing prime rib
Be sure to start with a quality piece of prime rib. Omaha Steaks offers the option to order your prime rib that is bone in or boneless. Whatever you choose, you'll experience fantastic marbling and meat that has been ages at least 21 days, which creates an extra-tender texture.
Start by coating your roast with a seasoning that includes course salt the day prior to cooking. We reach for the Omaha Steaks Reserve Rub.
We like to do this the day prior to smoking the meat, and leave salt encrusted prime rib in the fridge uncovered. Applying a generous amount of salt and coarse spices helps to permeate the prime rib and draw out the juices.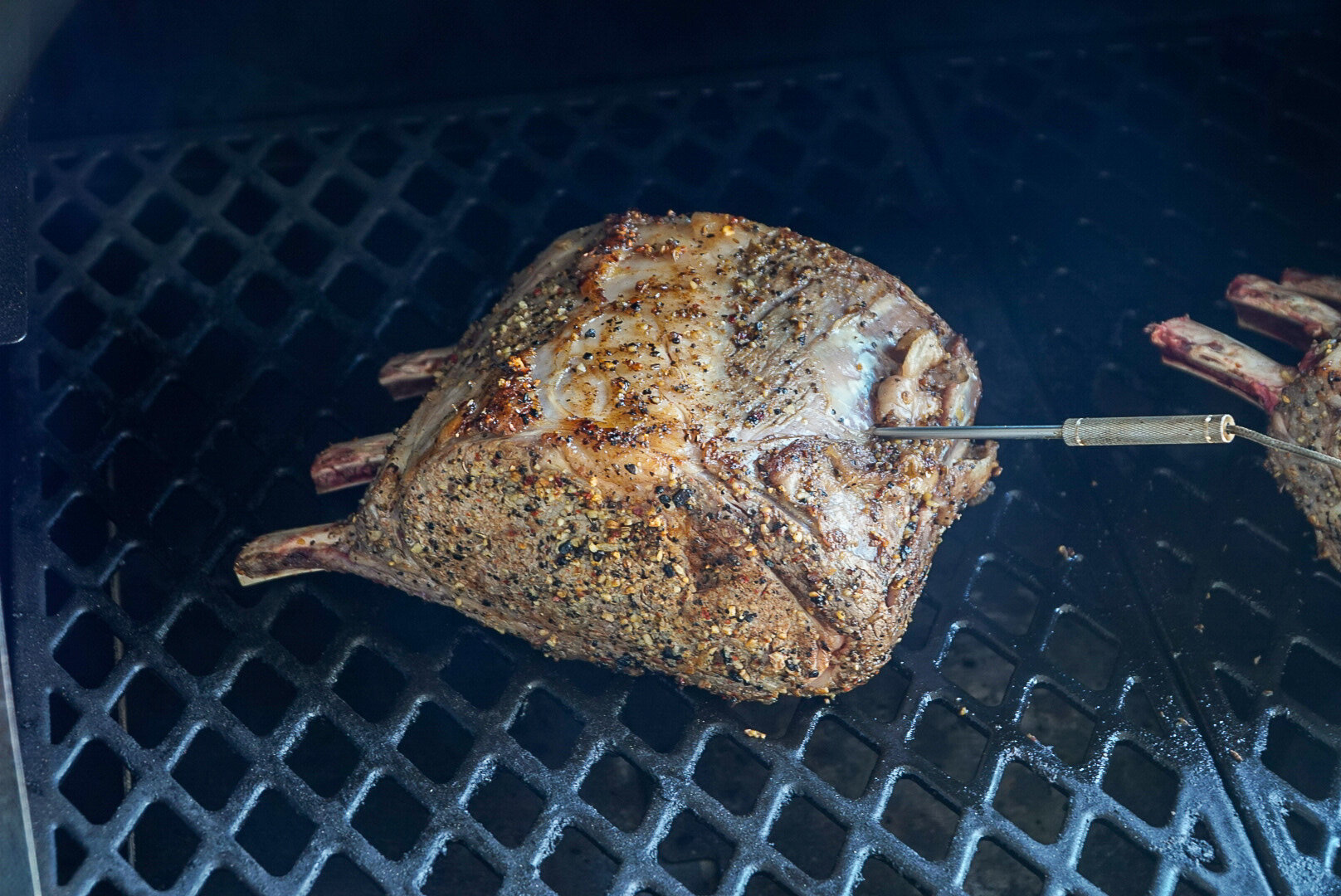 Why make prime rib in an electric smoker?
Any smoker will work for this, but from a consistency standpoint we prefer electronic wood pellet smokers to maintain more precise smoking temperatures.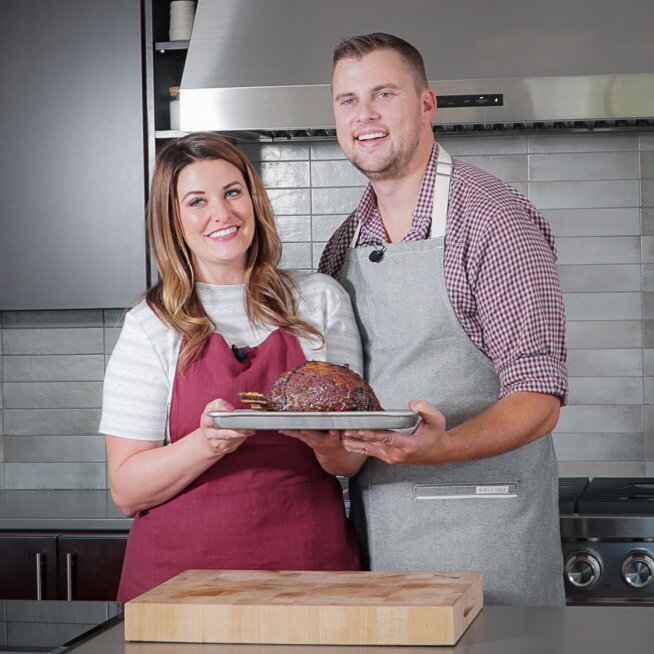 Smoked Prime Rib Recipe
Ingredients:
Tools:
Meat thermometer 

Smoker 

A good sharp knife 
As mentioned above, season your prime rib generously, preferably the night before cooking.
On your day of smoking start by getting your smoker to a temperature of 225 degrees fahrenheit.  
While your smoker is getting up to temperature, take your prime rib out of the fridge and sear the beef on all sides using grapeseed oil.  
Grapeseed oil is great for searing meat because the oil has a super high smoke point. You can get your pan scorching hot for a quick sear (and are less likely to set off your fire alarms).
The goal of the sear is to lock in the juices and flavor during the long, low and slow smoking process. 
Once your prime rib has been seared on each side, let the roast rest for 5 minutes prior to placing it in the smoker.  
Now your smoker should be up to temp, so place the prime rib roast directly on the grill grate, fat cap up.  This is important because fat is flavor; as the fat cooks that flavor will melt into the meat.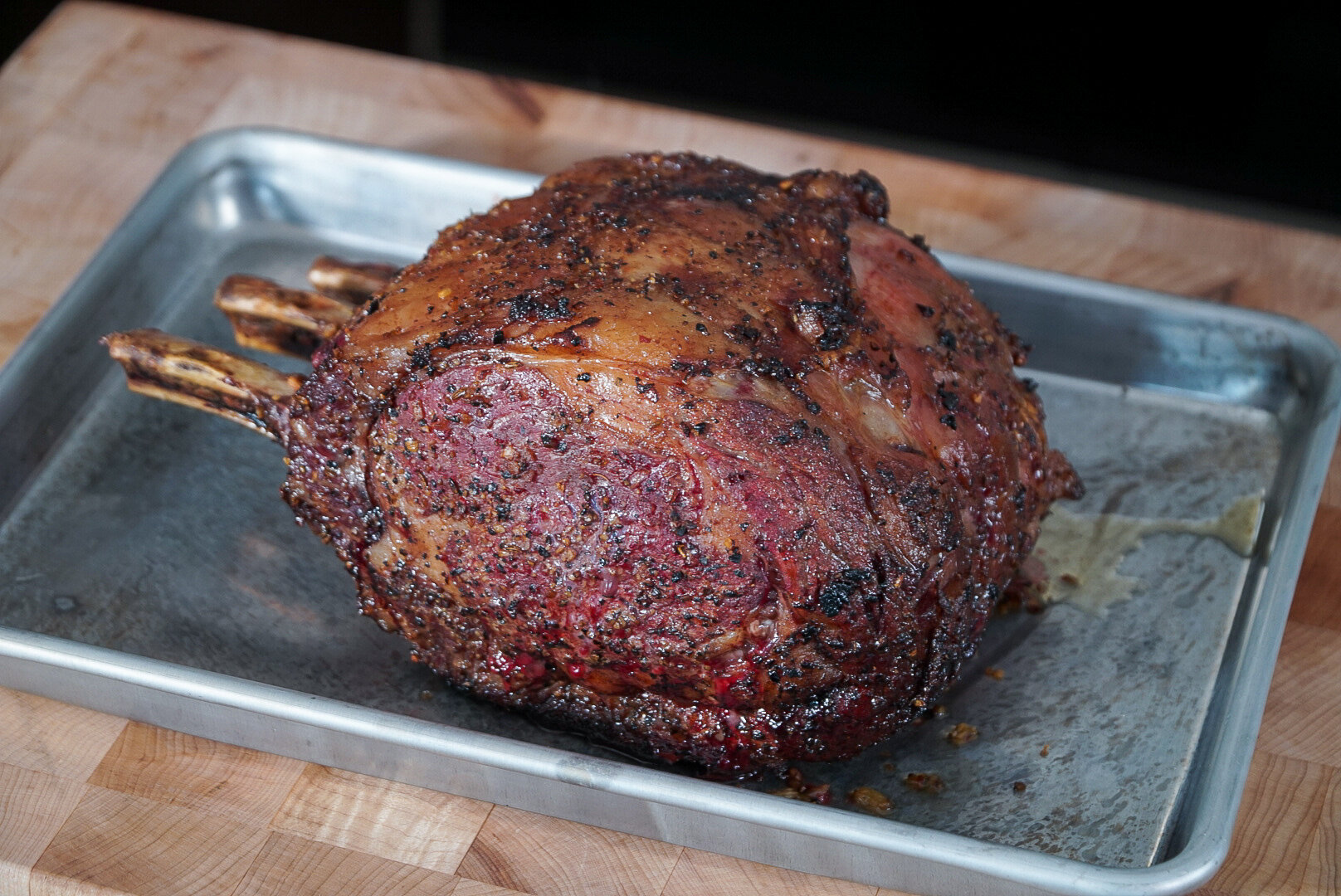 With a 4 lb prime rib roast you should plan for the meat to take around 2 hours to cook, but place your meat thermometer in the meat at the beginning to watch the temperature grow throughout the smoking process. Here is a meat thermometer that we use at home.
We love our smoked prime rib medium rare, so we pull it off the smoker when it reaches an internal temperature of 125 degrees fahrenheit.  
Once pulled from the smoke, allow it to rest for at least 15-20 minutes before slicing. The rest period causes the temperature to continue to rise internally, and the tasty juices settle back into the smoked prime rib roast. 
Waiting is the hardest part! You'll want to slice in right away from the moment you pull the prime rib off of the smoker.
Click this link to pin this recipe on pinterest. Also, don't forget to follow us on instagram and facebook for more recipes and foodie recommendations. If you'd like to automatically receive our posts in your email, register here.
Whip up this recipe? Be sure to tag us on social media as @coupleinthekitchen and we'll share it with our foodie followers!
This recipe was made in partnership with Omaha Steaks, thanks for supporting the brands that we love.