We've been researching the best things to do in Fredericksburg for years!
We visited Fredericksburg so often that we ended up buying our vacation home there. You can enjoy our space by renting our Fredericksburg Airbnb as well!
Obviously Fredericksburg Texas is known as the sweet little town at the center of Texas Wine Country, but there are also a lot of other things to do in Fredericksburg.
From museums, to shopping, to hiking, here are our picks for the top things to do in Fredericksburg.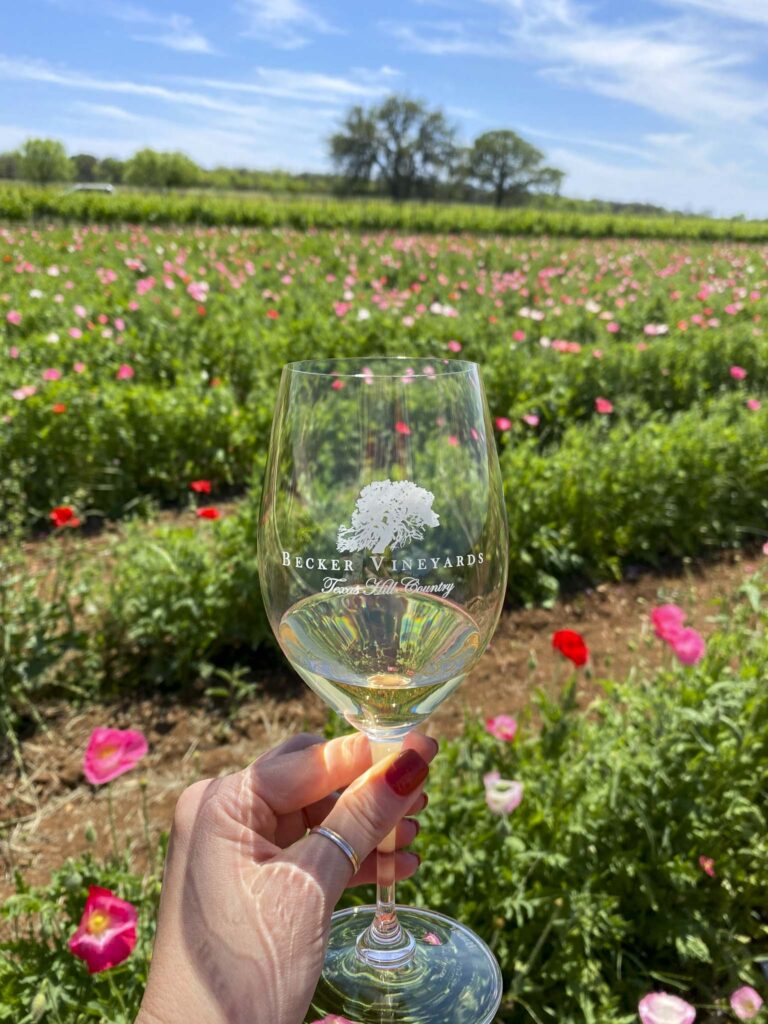 Drink Wine!
Texas Hill Country is home to over 120 vineyards. (A massive blog post rating all these vineyards is coming soon!)
In the meantime, book a wine tour or access the Fredericksburg wine shuttle to safely explore the vineyards and wineries.
The Fredericksburg 290 Wine Shuttle is a hop-on, hop-off shuttle available on Saturdays that is $39.99 per person and it visits a number of selected wineries, arriving every 10 minutes. If you are taking the wine shuttle, you may still need to plan on making reservations at the tasting rooms, so book your reservation in the order of the shuttle loop.
Our favorite stops on the 290 wine shuttle are Inwood Estates Vineyards for bold red wines and Barons Creek Vineyards for a variety of wines and a nice patio. If you like sparkling wines, you can also stop at Heath Sparkling Wines (which feels a lot more commercial than other Texas vineyards, to be honest).
Other recommendations for our favorite vineyards are:
Head to Pontotour Weingarten on the weekends! This is only a few blocks away from our Fredericksburg Airbnb and it is our favorite spot in town, but it is only open Friday through Sunday. Enjoy some of the wines or opt for the super refreshing sangria. You can also order a picnic basket with goodies made by the winemaker's wife.
Augusta Vin is just a short drive away from our vacation home and is situated on a beautiful vineyard. They have very nice patios and are also dog friendly.
Becker Vineyards, although they have a Main Street tasting room, the actual vineyard is the place to be. The wine list is massive which means there is a wine for every palate. Also, the space is gorgeous, you'll typically sip wine while facing rows of lavender or poppies nestled amongst the grapevines.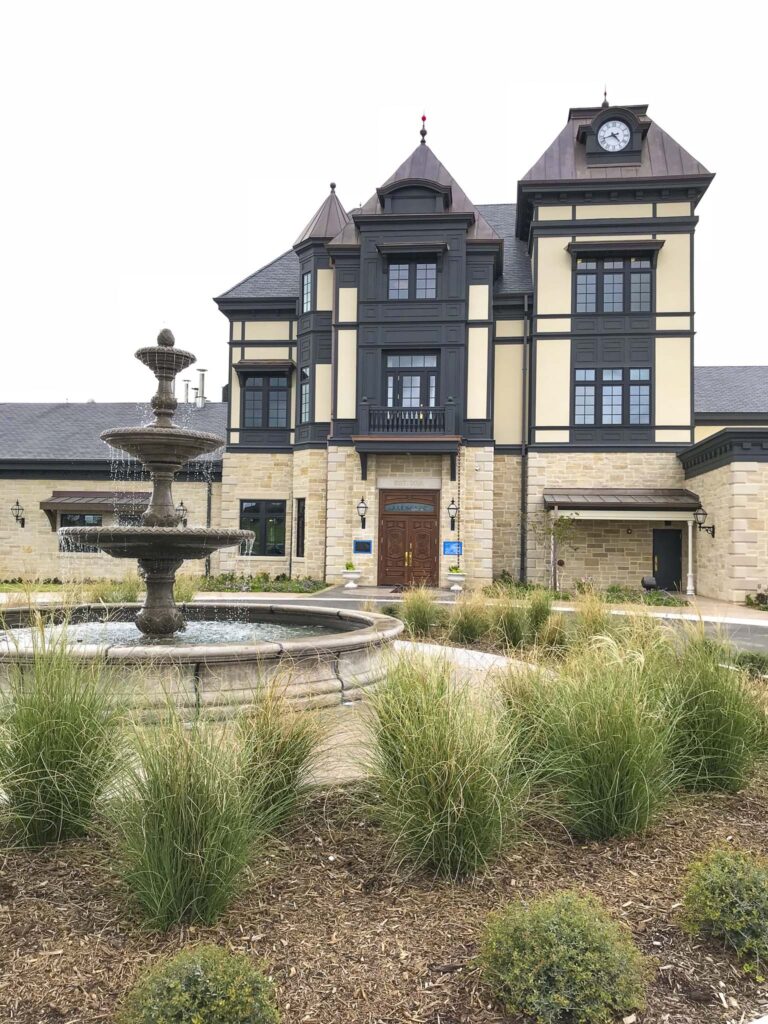 Drink Beer!
Head to Altstadt Brewery to be transported to a fairytale German Beer Hall. This is a destination for anyone, beer lover or not.
The multi, multi, multi-million dollar building is simply magical. Grab a drink by the bar, in the restaurant, in the traditional beer hall, or even in the (secret) downstairs lounge.
Both beer and wine are served at Altstadt. Tip: If you are taking the 290 wine shuttle and want to stop at Altstadt, just hop off at Fiesta Winery and walk to Altstadt, which is next door.
You may also choose to stay near downtown Main Street and grab a beer from one of the many German restaurants.
It is totally legal to drink beer and wine on the streets of downtown Main Street, so ask for a to-go beer and sip away while you wander and shop.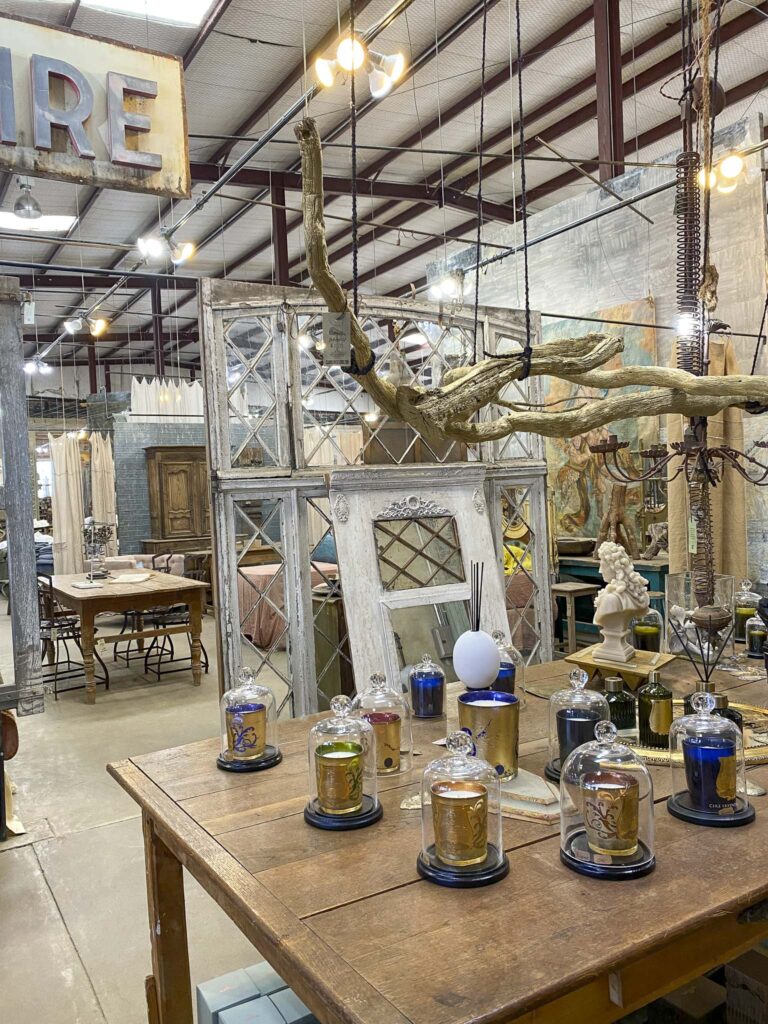 Go Shopping in Fredericksburg
While most people think of Fredericksburg and imagine antique shopping, (and yes there are a number of antique spots) there are also some more modern shops sprinkled throughout town.
For high-end antiques curated from Europe, head to Carol Hicks Bolton Antiquities.
Across the street you'll find a great home decor store called Blackchalk Home and Laundry.
Another great home store located a half block off Main Street is Haus Home Goods.
Our favorite gift shop on Main Street is Fritztown Mercantile. This has a great curation of books, home decor, jewelry, and some clothing.
A luxury store that's also fun to peruse is Vaudeville, head downstairs for a cute cafe and lunch spot.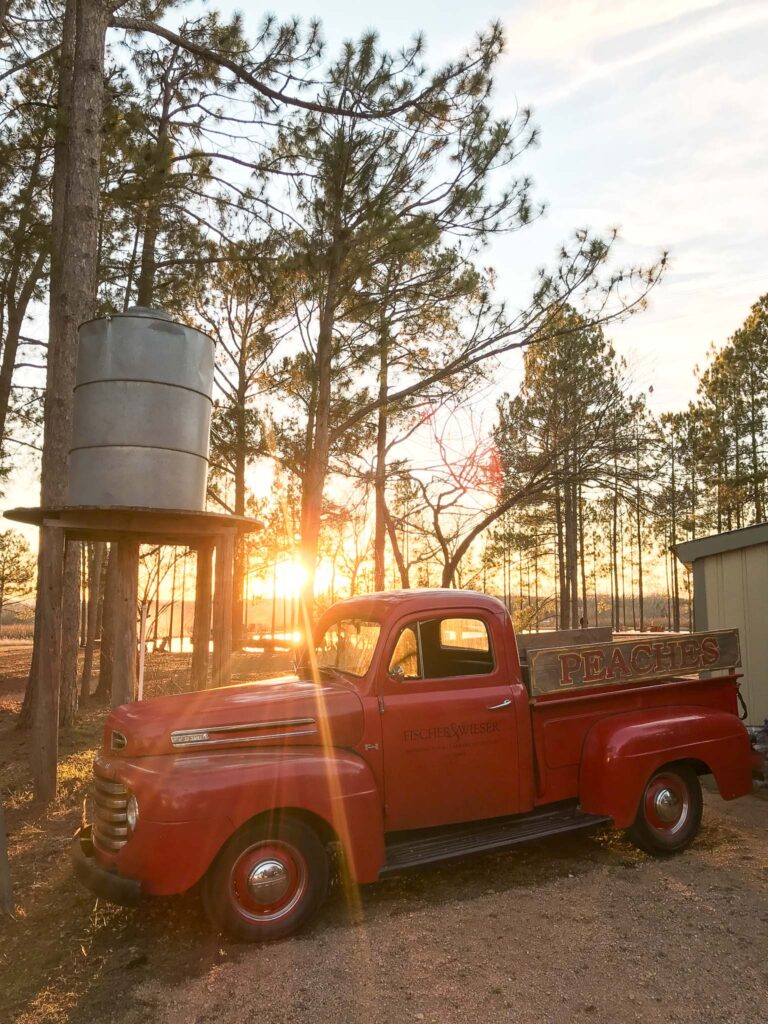 Pick Famous Fredericksburg Peaches
Forget Georgia peaches, it's all about Fredericksburg peaches!
In between the hundreds of vineyards on Highway 290, you'll find peach groves.
There are a number of peach farms in the area but we usually head to Jenschke Orchards to pick own peaches during the growing season.
You can also head to Das Peach Haus, which is backed up to a picturesque pond with tranquil waterfront seating. Here you'll find produce, jams, wine tasting, and even cooking classes!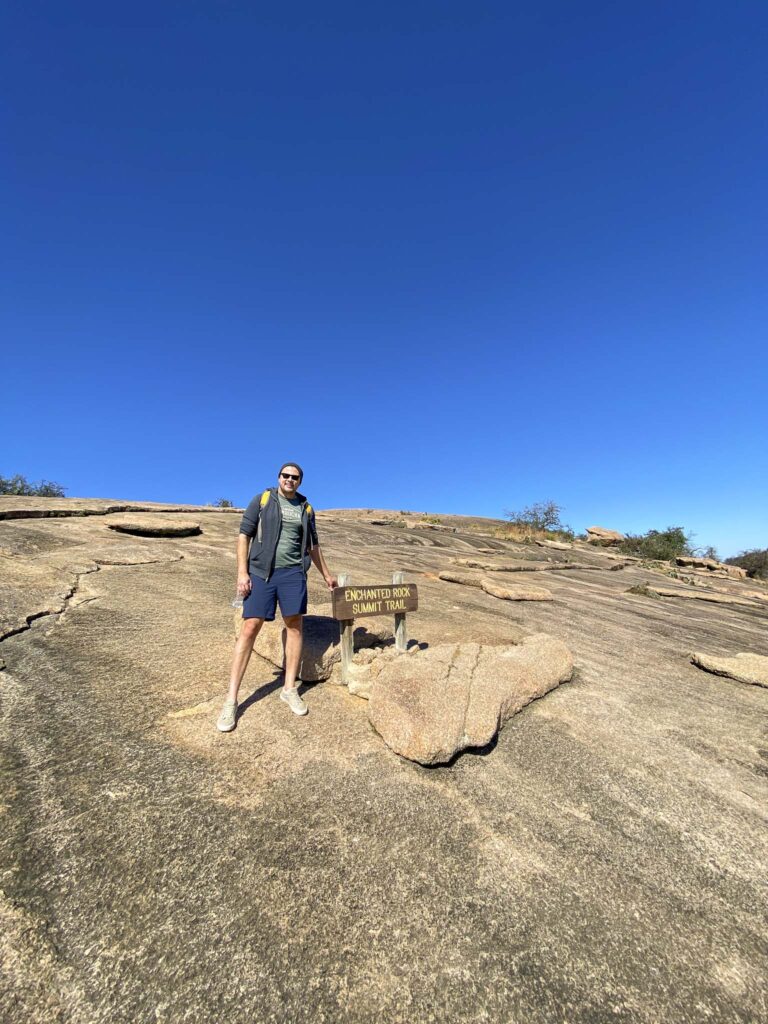 Hike Enchanted Rock
If you're looking for adventure, drive 20 minutes north on Milam to reach Enchanted Rock State Park.
Be sure to research if you need a reservation by clicking this link, reservations are required on select days, based on the season.
For an $8 entrance fee you can access hiking trails and climb Enchanted Rock, a mini mountain made of one large heap of granite that feels like you are walking on the moon.
Per Wikipedia, Enchanted Rock human habitation can be traced back at least 10,000 years.
Paleo-Indian arrowheads, up to 12,000 years old, have been found in the area.
This place is rumored to have high spirituality tied to native legends.
Visit a Fredericksburg Museum
While Fredericksburg is a small town, it is home of one of the biggest museums tied to WWII history.
The National Museum of the Pacific War is nestled right on Main Street. Ticket prices are $20 each to access this massive museum. Come early as the museum takes hours to complete.
Additionally, there are two areas that are free to access. The Memorial Courtyard and Japanese Garden of Peace are open daily until 5:00 PM free of charge. The Pacific Combat Zone is open Friday through Sunday from 11:00 AM to 3:00 PM and is also free (donations accepted).
If you are looking for something to educate you on Fredericksburg's roots, the Fredericksburg Pioneer Museum is situated on 3.5 acres.
For $7.50 you can take a self-guided tour through historic log cabins, historic schoolhouse, bathhouse, and smokehouse. This is just a three block walk from our Fredericksburg Airbnb.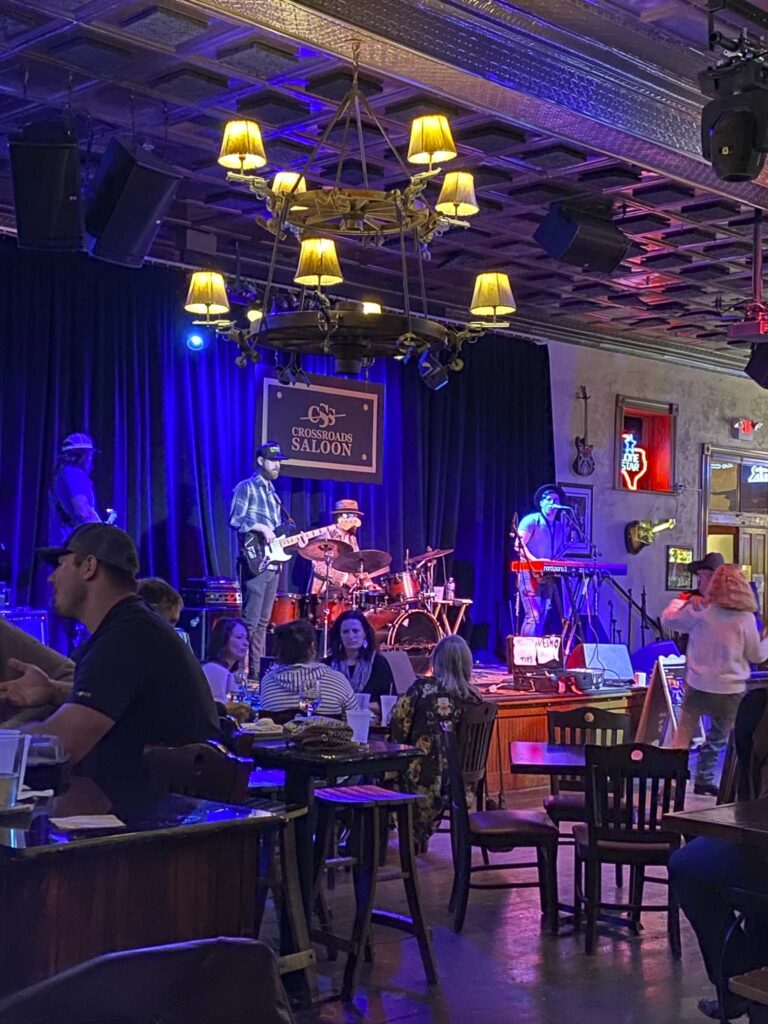 Enjoy Fredericksburg Nightlife
Live music can be found most nights in Fredericksburg.
Check out the live music schedule at Crossroads Saloon and Bar, Hondos, Lonestar Bar & Grill, or The Club at Barons Creekside.
You can sing your heart out at karaoke at the Velvet Lounge and Bucs Bar & Grill.
Grab a cocktail at the Elk Store. This loungey spot has both a wine tasting room and a distillery. Psst.. try their espresso martini.
Our favorite local spot for a nightcap is Lincoln St. Wine Market. They have a massive wine collection. Simply share what types of wines you like. Lincoln St. will pour you some curated samples to see which wine you prefer, and you'll get a MASSIVE glass of wine at an affordable price. They also offer live music most days of the week, an outdoor patio with fireplaces, cigars for sale, and cheese boards.
Take a Fredericksburg Haunted Tour
We haven't taken a Fredericksburg haunted tour but it's at the top of our to-do list!
There are a few fun options to learn about the history of Fredericksburg with a few ghost stories sprinkled in.
This Fredericksburg haunted trolley tour includes a ride on a trolley and a complementary Texas beer.
Or consider a haunted Fredericksburg walking tour (remember you can BYOB on the streets of Fredericksburg!) to hear some ghost stories on Friday and Saturday evenings.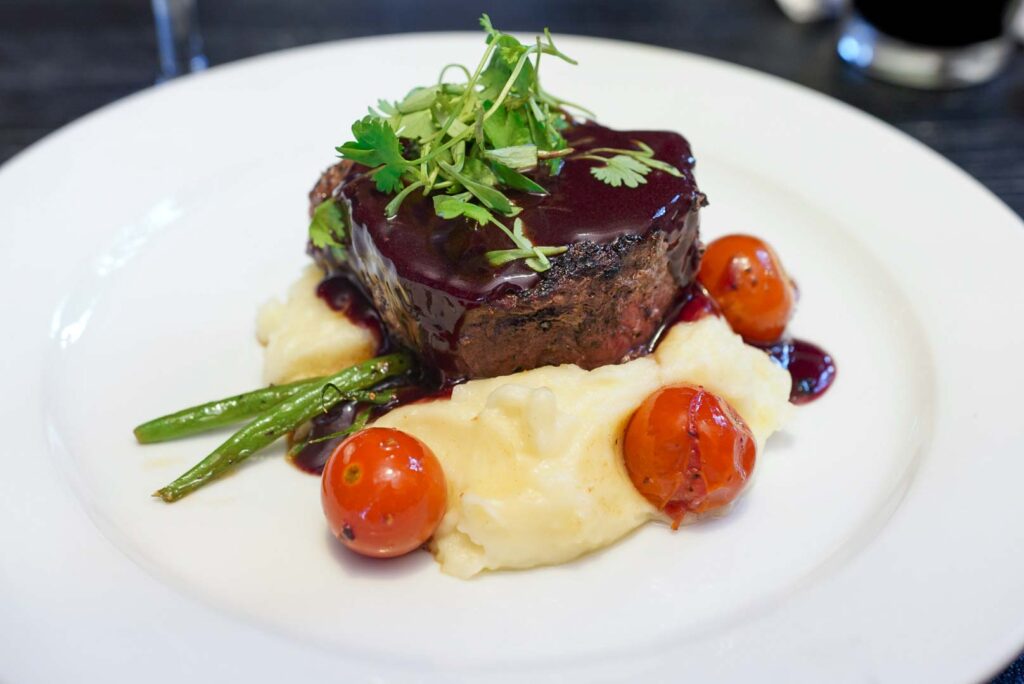 Dine at the Best Fredericksburg Restaurants
Of course while you are visiting Fredericksburg, Texas, you need to put a priority on dining!
Please note that many restaurants' hours don't always match what is on google or yelp. Be patient and plan ahead. We highly recommend making reservations in advance for some of the nicer restaurants in town.
For the full roundup of our favorite places to eat in town, check out our full blog post on the best Fredericksburg restaurants.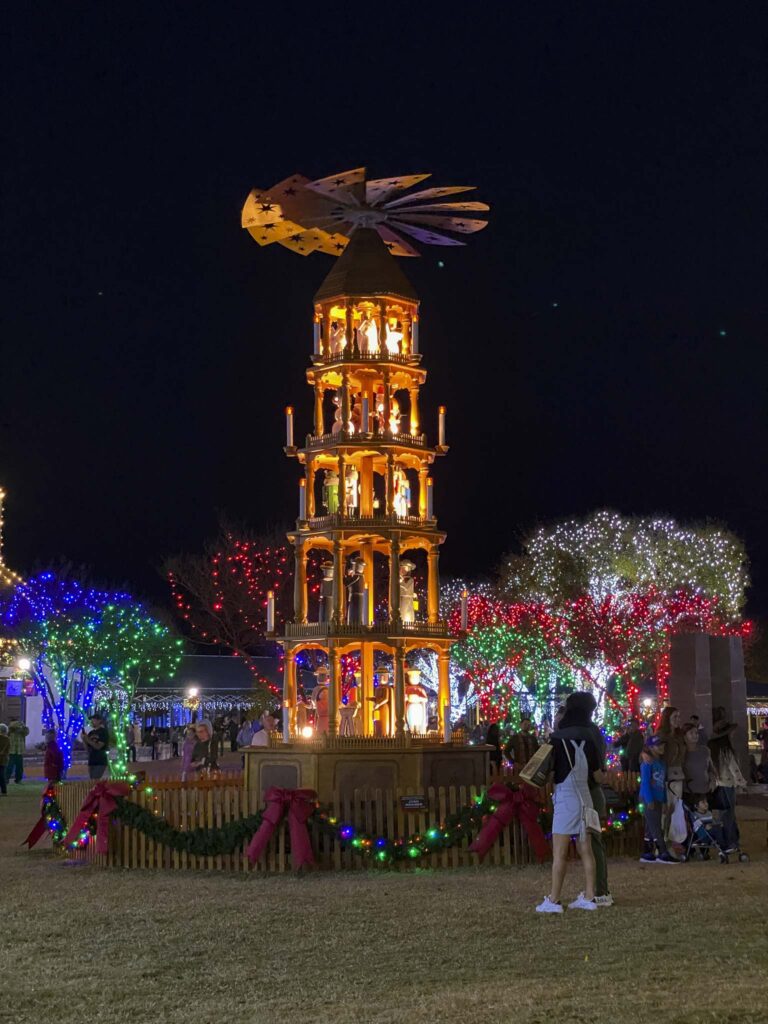 Bonus: Visit Fredericksburg at Christmastime
If you're not visiting Fredericksburg at Christmastime, you need to book another trip just to explore this adorable town dazzled in lights.
A massive German weihnachtspyramide adorns the Fredericksburg Marktplatz. This is where you will also find outdoor ice skating, nightly christmas music at 6pm, large Christmas trees, hot cocoa and snacks.
Take a peek at this blog post on the top things to do in Fredericksburg at Christmas for even more festive ideas.
We know you'll adore your time in Fredericksburg as much as we do!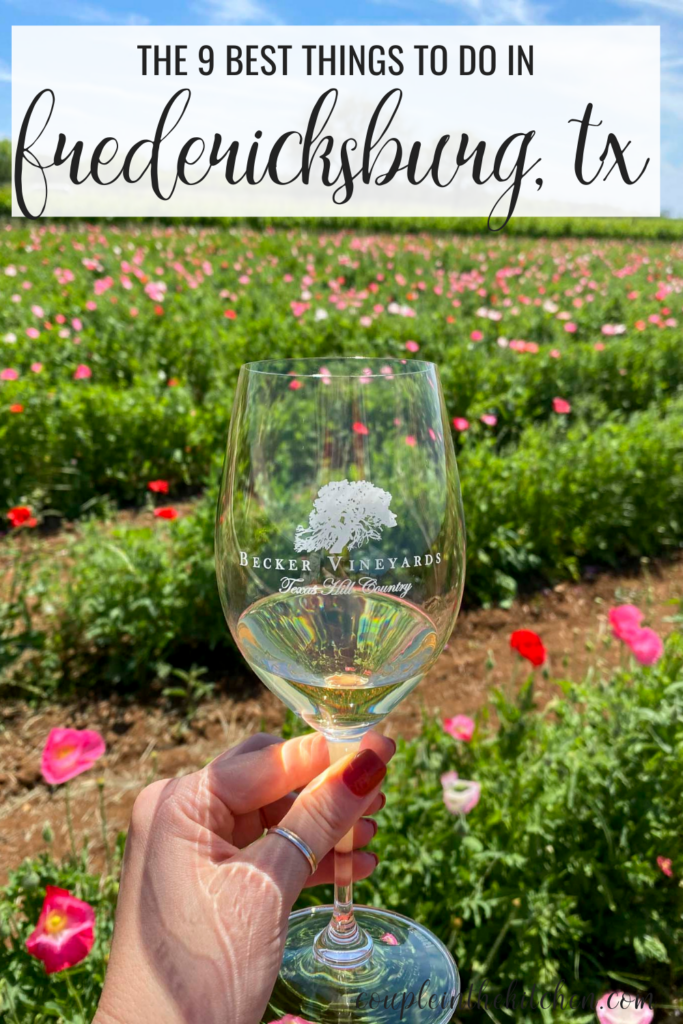 Click this link to pin this guide on the Best Things to do in Fredericksburg Texas on Pinterest. 
Also, don't forget to follow us on Instagram and Facebook for more recipes and recommendations, tag us when you whip up something special, we love to see when you make our recipes!
If you'd like to automatically receive our posts in your email, register here.