Chimichurri is the easiest sauce you can make to elevate any meal.
Last night we even used chimichurri on tacos! We eat them alllll the time. Starting with breakfast tacos and sometimes ending with choco-tacos.
We're lucky enough to live in Austin, Texas where you can pick up homemade tortillas at the grocery store that are still warm from the oven.
We never get sick of them!
We were planning on making sous vide steak for taco night at home and this cilantro chimichurri recipe totally took our dinner up a notch.
Chimichurri is an acidic and herbaceous spread that requires minimal preparation, as it is an uncooked sauce.
Originally from Argentina, we encountered chimichurri all across our travels in South America.
While traditional chimichurri is made solely with parsley, we added cilantro as well.
It adds additional flavor and is perfect for someone who isn't a parsley fan (aka Karen).
This chimichurri recipe can be stored in the refrigerator for future recipes and really brings another level of flavor to your dishes.
Try it in tacos, on sandwiches, or as a flavorful sauce for any protein.
For our taco night we topped fresh flour tortillas with refried black beans, grilled onions and sweet peppers, and then topped our masterpiece with steak and our homemade cilantro chimichurri.
We can't wait to hear what delicious meals you top with this cilantro chimichurri recipe!
Cilantro Chimichurri Sauce Recipe
Makes ¾ cup of chimichurri
Ingredients:
4 cloves garlic, minced

1 Tsp crushed red pepper

1 Tsp oregano, dried

½ cup parsley, chopped

½ cup cilantro, chopped

1 tbsp red wine vinegar

¼ cup of olive oil

Salt and pepper
Mix all ingredients in a small bowl until well combined. Enjoy!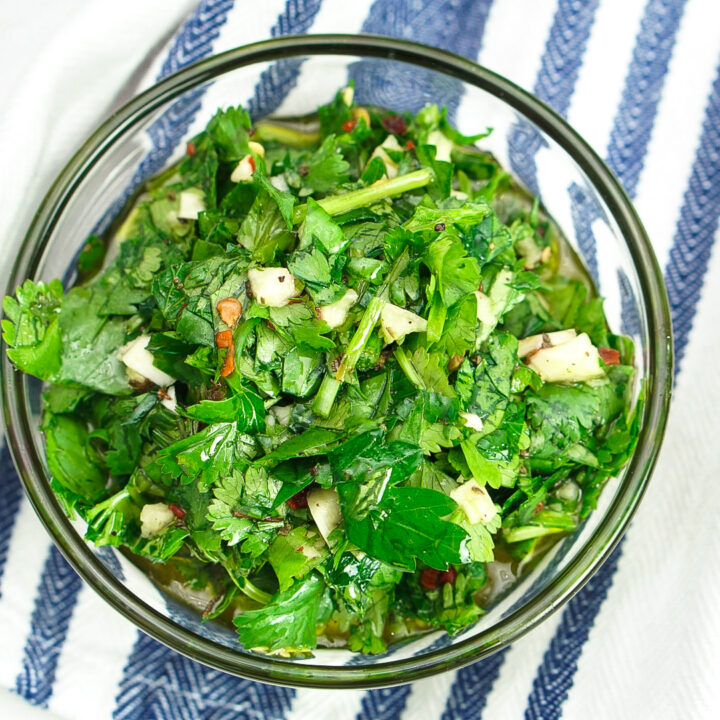 Cilantro Chimichurri
Elevate any dish with this simple cilantro chimichurri recipe. It's great on steak and chicken!
Ingredients
4 cloves garlic, minced
1 teaspoon crushed red pepper
1 teaspoon oregano, dried
½ cup parsley, chopped
1/2 cup cilantro, chopped
1 tablespoon red wine vinegar
¼ cup of olive oil
Salt and pepper
Instructions
Mix all ingredients in a small bowl until well combined.
Click this link to pin this recipe on pinterest. Also, don't forget to follow us on instagram and facebook for more recipes and recommendations, we love to see when you make our recipes!
If you'd like to automatically receive our posts in your email, register here.