Hey y'all, Gavin here! As you all may know Karen and I have been dating for many, many years now, and with our love of travel it was always my dream to propose to her on an incredible international destination.
I always had Machu Picchu in mind because it's absolutely gorgeous, one of the wonders of the world (like Karen), and we'd be on top of the world as Machu Picchu is 8,000 feet above sea level.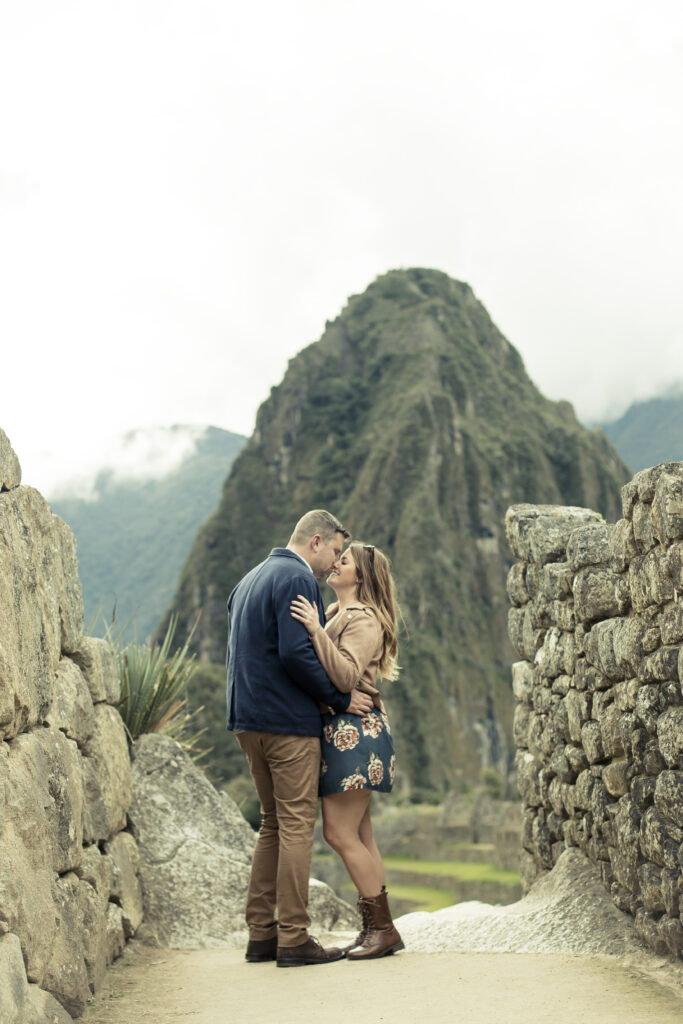 A Very Peruvian Proposal
Peru has been at the top of both of our travel destination lists for years, and when the custom ring I had made was ready a few weeks before the trip, I started my proposal plan.
I had a few Peru destinations as options for the proposal, but none stood out more than Machu Picchu because everything was perfectly falling in line.
For Machu Picchu I found a gorgeous resort, Inkaterra Pueblo Hotel, where we'd be surrounded by tropical orchids, relaxing swimming ponds, and lush greenery everywhere.
This location was also right next to the train station and a short walk to the Machu Picchu bus to the top, but you'd never be able to tell because once you step foot inside their grounds you're in a lush romantic paradise.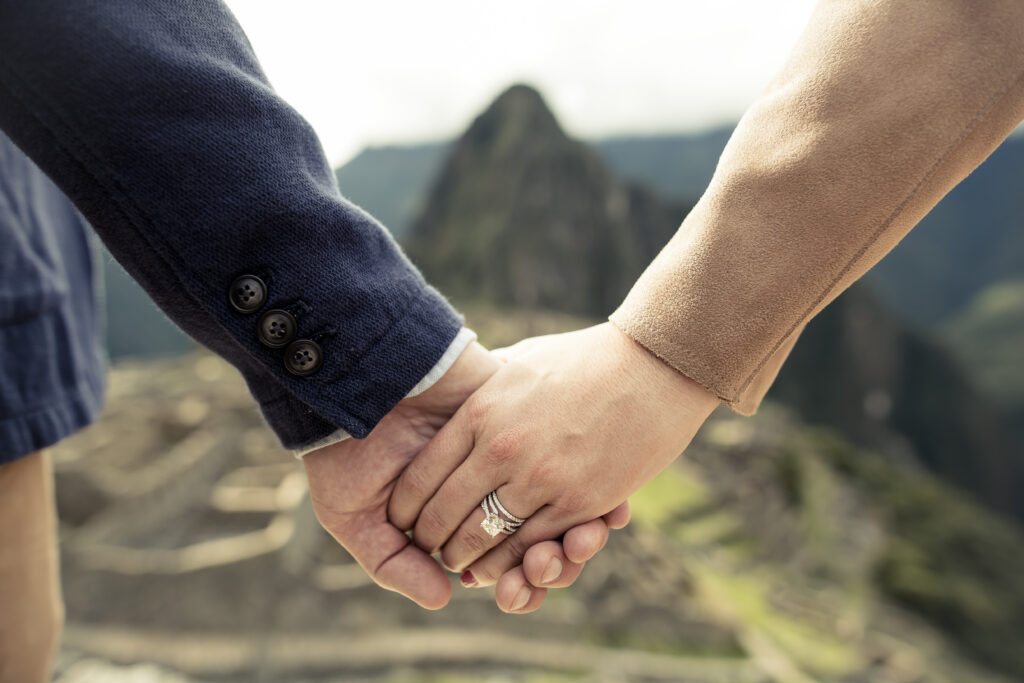 The Ring
Karen has a pretty specific style and taste, so I was hunting for a ring and diamond for well over a year.
Although she had no idea how or when I'd propose, I did get some ring style "tips" from her on what she would like if/when I ever did propose.
With her specific ring taste in mind, I went to so many different jewelry shops with no luck between Austin and Minnesota.
For my ring shopping I experienced every jewelry sales tactic, and wasn't the biggest fan with pressure sales. On top of that, I really couldn't find that perfect ring for her.
What was funny for my experience was that after listening to my friend Alex's radio show on Mix 94.7, I heard him do a Diamonds Direct ad so I decided to give them a try because they promised no pressure sales, the ability to cut out the middle man, and that they educate their customers on diamond buying.
I was really glad I listened to my friend on the radio that morning because no joke Diamonds Direct was a complete game changer for me!
When visiting the store it was a relaxed atmosphere because they don't operate on commission, and we walked through both diamond stones and rings to pair with them.
Well, with Karen's specific taste after looking at 10 plus stones they actually didn't have the perfect diamond cut/size in their Austin store that day, so they shipped more options from their other store for me to look at a few days later.
They also didn't have the exact ring styleI was looking for, so I was actually able to work with their team to design a custom ring for her and I was completely shocked it wasn't crazy expensive.
After working with the Diamonds Direct team on a rough design, they sent it to their designers to create a few 3D models for me to pick between.
When I came back the following week, they had those ring designs ready for me and they had more stones shipped in for me to evaluate
The Diamonds Direct team worked quickly and blew all my expectations because they sourced the perfect stone for me, it was all really well priced, beating other competitors, and their designers created a ring that I knew would make Karen very excited.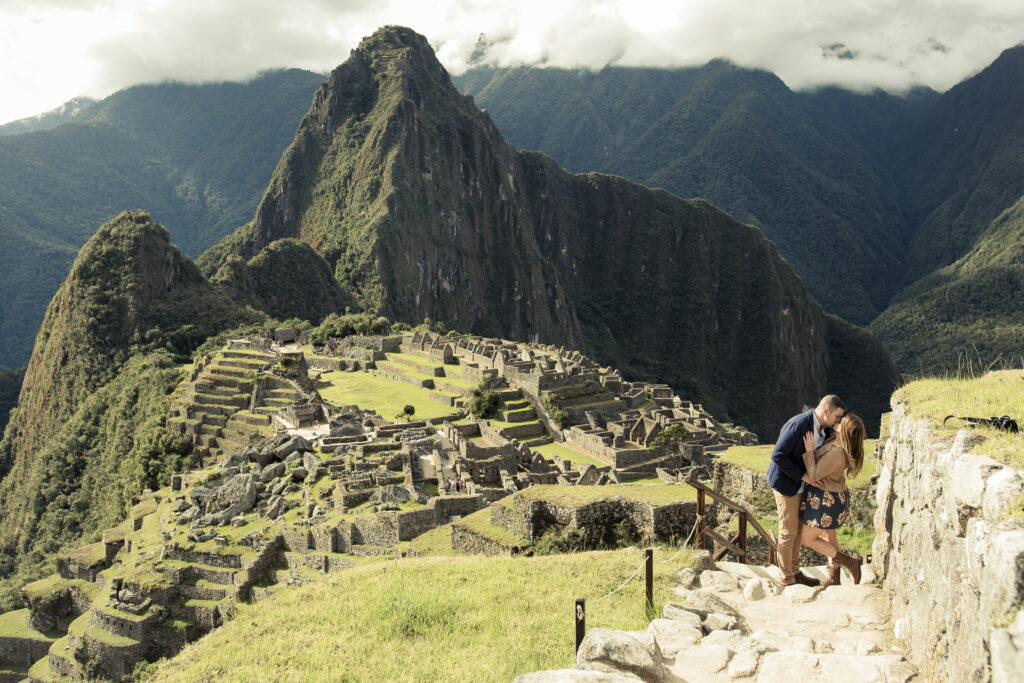 How to win your proposal
For a proposal I've always heard from others a few tips to pull it off seamlessly.
The number 1 rule is to always hire a professional photographer so you have those memories forever.
The other top rule is to always make sure your future fiancé has her nails done, and make sure it's an occasion to dress up for.
For Machu Picchu rule the number 1 rule of hiring a photographer wasn't the easiest because it's a few hours by train from the closest major city so start searching a few weeks to a month in advance.
I got very lucky by finding Local Lens, a photographer website, and found one (the only one) photographer with experience shooting on Machu Picchu.
He happened to be available, and gave me the best advice of doing the proposal during the last Machu Picchu entrance slot which is 2-5 PM so he will have optimal lighting conditions.
I couldn't recommend this service enough because without the photographer we would've ended up with 1-3 cell phone pictures at best that would maybe turn out.
Through Local Lens we got shots all over Machu Picchu, a full tour experience, and he professionally edited the pictures.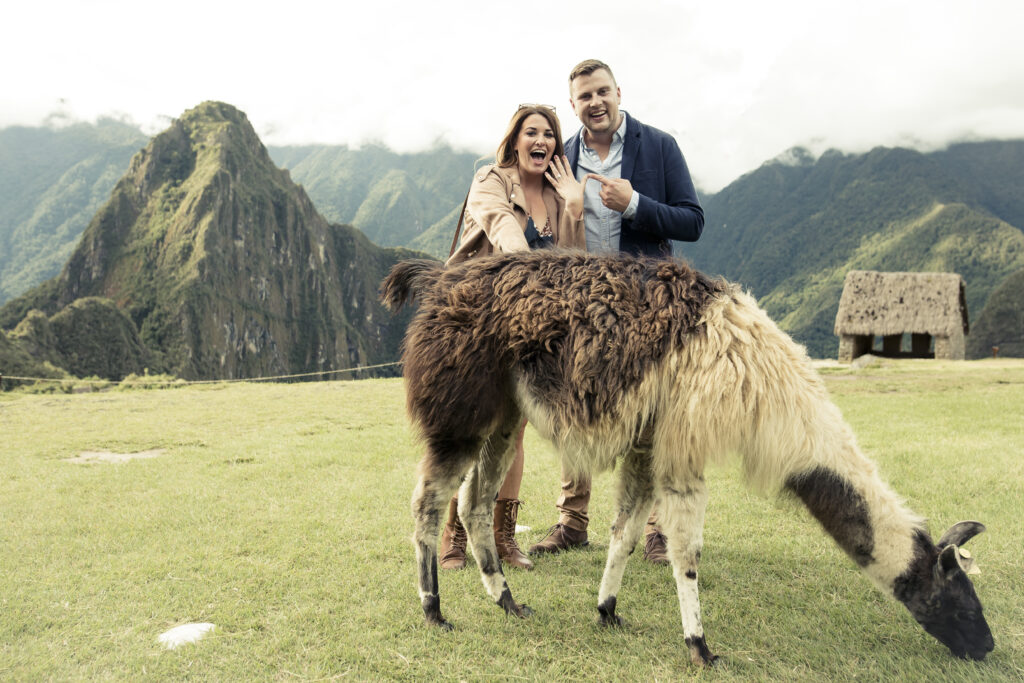 The Proposal
Now for the main event! We got to the top of Machu Picchu with our photographer and it was magical.
Due to Covid, there were maybe 30 people in the entire reserve, when in normal times there'd be over a thousand.
The weather and lighting were in great condition for photography.
The only thing that was sweaty/nervous was me, but that may have just been the incredibly high elevation.
With the photographer we made a plan for me to drop my backpack and camera off with him, and while doing that I slipped the ring case into my jacket pocket.
From there it was the signature moment. He had us do a few poses, and that was my sign that it was "go time" to pop the question.
He had us face to face and told us both to close our eyes to rest them from the sun.
When he said that and Karen closed her eyes I got down on one knee, and he told us both to open our eyes.
I asked Karen to marry me and that she makes me feel on top of the world every single day, so there's no better location to ask her than on top of the world.
Karen was surprised and said YES, and I fumbled the ring around but eventually got it on that finger.
From that moment we toured around the world wonder of Machu Picchu with the photographer, taking candid photos while learning about the history of the magical location.
From the romantic hotel, to being at the top of the world with my now fiancé I couldn't have asked for a better trip and proposal.