We have been dreaming for attending the Feast food festival for the past 3 years!
Unfortunately, assignments in Louisville, Kentucky and Italy conflicted with our ability to attend Feast in the past.
We headed into Oregon a few days prior to Feast to enjoy all that the state has to offer.
Then, we prepared for 5 days of eating, drinking, and chatting with other foodies from around the world.
Feast is unlike any other food festival as it has many, many events (large and small) spread all throughout the weekend.
It's also notable to share that Feast collaborates with Partners for a Hunger-Free Oregon and Urban Gleaners to donate a portion of income to help feed hungry children across the state. In seven years, they have raised over $400,000.
It's good to know that the while we are feasting, we are helping to contribute to feed others as well.
Here is what you can expect when attending our new favorite food festival in the country, Feast Portland.
80s vs 90s Event
The first official event of Feast was quite the fun mashup. Top chefs faced off head-to-head in an 80s vs. 90s battle for best dish, using iconic retro foods as inspiration.
Funky dishes like hot pockets and pizza rolls were made with artisan ingredients and with a cool, culinary spin.
Our favorite bites were the "McRib" sandwiches from Sammich PDX and a double-stuffed grilled cheese waffle cone with vanilla ice cream and fresh local figs from the craftsmen at Salt and Straw.
In between plates of food, we took photos with cool art installations that included a bigger-than-life sized game boy.
We also jammed out to competing DJs who spun tracks from their assigned genres.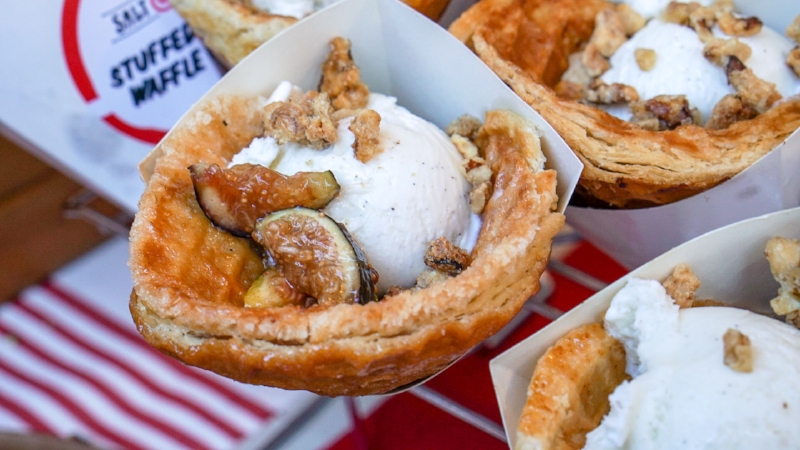 Feast Portland's Night Market
Friday's main night event took on the theme "Ring of Fire" with the 20+ all star chefs pulling inspiration from regions along the Pacific Rim.
We noshed on upscale spam hot dogs, Peruvian-inspired dishes, and bowls of noodles from Portland's best ramen shop.
Our top bite came from Toro Bravo, who served three different burgers from classic to wild.
This event is at Zidell Yards which is a fantastic event space overlooking the Willamette River and the Ross Island Bridge.
"Bite-sized" Events
Throughout Feast, there were large tasting events but also smaller "drink tanks", classes, and fun sized events.
These smaller group sessions allowed you to sign up for topics you're interested in like "Macramé and Rose" or "Inside the World of Mezcal".
We had a fantastic wine lunch with Washington State Wine at Enoteca Nostrana. We tasted a ton of wine from three winemakers crafting vino in Washington.
A lunch with TWELVE wines was complemented with a spread of cheese and meat plates, plus a four-course meal.
Our favorite bite? The dungeness crab pasta which was loaded with seafood and was sweet and delicate.
After trying the bounty of delicious and diverse wines Washington State has to offer, we know we need to add Washington wine travel to our upcoming travel calendar to taste and learn more.
A fun sized event we attended was Bon Appetite's Basically Bar Trivia.
Gourmet charcuterie and crudites decorated the table, and wines from Santa Margarita were enjoyed while we solved food trivia questions.
Did you know McNuggets come in four standard shapes?! They are known as the bell, boot, ball, and bowtie. Yeah we didn't either… which is probably why we came in fifth place.
The chic French wine lunch with Pineau Des Charentes dessert wines featured tastings (including a 20 year aged dessert wine!), cocktails made with the wine, pate, oysters, charcuterie, rillette and all things French!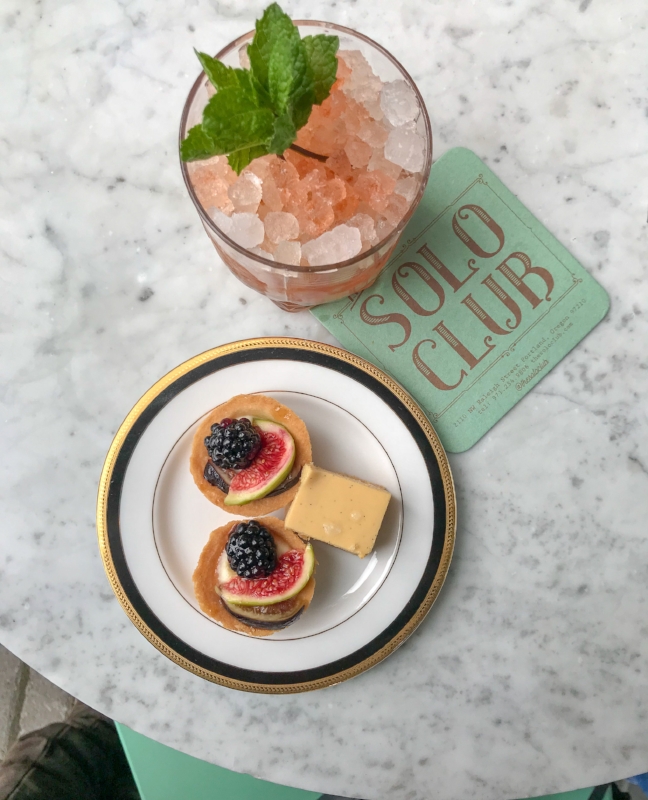 Feast Food Festival After-Parties
So so so many after-parties.
It takes skill, dedication and a lot of Stumptown Coffee to be able to make the late night after-parties, especially taking into account all the eating and drinking we indulged in alllll day.
The "you must be this tall" after party event was a spin on a carnival theme.
We ate Olympia Provisions corn dogs, got tea readings from Steven Smith Tea, and won some pints of ice cream once completing Tillamook's strongman game.
Washington State Wines gave us all the house party vibes with retro couches, bottles of wine chilling in a kiddie pool and ping pong tables outfitting the event space.
Someone even accidentally had too much backspin on their ping pong ball, which ended up landing in our glass of syrah. Let's just call that a nod to Wine Pong.
The Porter House Hotel hosted an after-party on their rooftop which featured a view of the twinkling city lights below, upscale atmosphere and even complementary hand-rolled cigars!
On Saturday night there was even an after, after, after-party (we can't make this stuff up!) hosted by our friends at Visit Austin that featured live music, queso, and brisket tacos from no other than Aaron Franklin.
Feast Portland's Grand Tasting
The Grand Tasting event occurs both Friday and Saturday, midday.
There were lots of wine with solid sized pours. We especially loved the limited edition Feast Beast beer from 10 Barrel Brewery.
Hestan Cue was showcasing their smart burner skillet combo with a make-your-own-crepe bar.
The Hestan Cue activation was a great fit for all cooking levels because it can help train new cooks through its app, while also providing a superior smart product for more seasoned chefs that focus on cooking foods to precise temperatures.
After you make you crepe with their products, you head over to their with 4 flavor stations.
Gavin was all about the marionberry sauce, a local fruit in Oregon, and Karen indulged in the homemade hazelnut spread, as hazelnuts are also a local good harvested in Oregon.
All in all, our favorite bite of the Grand Tasting was from New Seasons Market who featured an Olympia Provisions kale and parmesan sausage.
Feast Portland Smoked Event
This was by far our favorite event!
Flames were raging and meat was (literally) on display!
We loved so many dishes at this event but our favorites included the skewers from Pok Pok and Noraneko.
The smoked oysters from Olympia Oyster Bar were also delicious.
Finally, the peach galette with smoked whipped cream was an amazing end to the feast.
There were also numerous vendors who were featuring our new favorite beef provider, Snake River Farms, including one restaurant that was handing out giant wagyu beef ribs at the end of the night to gnaw on.
Karen fulfilled a bucket list goal of crushing grapes with her feet at the Willamette Valley wines pop up, which was actually therapeutic to her tootsies after all the walking we had completed that week.
Also, the party amplified throughout the event. Perhaps it were the shots of Fernet Branca down an ice luge that got a crowd of Feasters breaking out into dance in front of the DJ?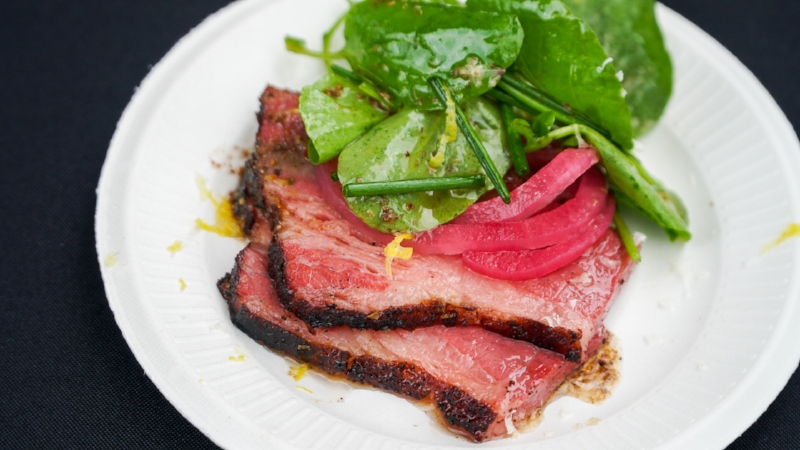 You can customize your Feast experience by buying tickets based on the type of events you want to experience.
Tips for a successful Feast Portland Food Festival experience:
Wear good walking shoes – Many events are held in grassy, outdoor areas so skip the heels! Flat walking boots or sneakers are definitely the way to go.
Prepare for sprinkles – Even though the forecast was supposed to be clear, there were often days where light rain popped up for a bit.
That's just what you need to expect while in the Pacific Northwest.
We wish we would have packed a waterproof coat with a hood!
Luckily, Karen's felt hat did a solid job acting as a makeshift umbrella from time to time, and the amazing Feast team were well prepared for the chance of rain providing ample tents to stay dry while noshing on unlimited plates.
Get there early – Being one of the first people into the tasting events will save you a lot of time dealing with lines at the food stands.
The more time you can spend eating and drinking instead of waiting in lines, is a win!
Focus on food first – The food lines are what queue up the longest, while the booze usually had shorter lines.
Start by getting there early and hit your food tents first. If a highly acclaimed chef is in attendance, go to their booth first.
If you're with a partner, have one person stand in a long line while the other picks up plates from tents with a minimal line. Then, grab 2 plates and split up your bounty.
Once you're stuffed or you've conquered most tents, transition over to the wine, beer and spirits.
Bring a festival plate – We were so impressed with Feast-goers who had brought plates with wine glass holders!
Here is what to buy for your future food festival:
Well, that's everything you need to know about Feast Portland!
We hope to see you in attendance next year because we will absolutely be back.
With the niche food festivals Gavin throws, and the number of food festivals we go to annually, we can without a doubt say that Portland's Feast Festival is the best food festival in the country.
Click this link to pin this post for future reference. If you visit one of these spots based on our recommendations, let us know by tagging @coupleinthekitchen on social media!